What Is Ethical & Sustainable Beauty?
We're all about supporting beauty brands (or rather, ALL brands) that do the right thing, which requires us to ask (and answer): what is sustainable beauty?
When it comes to beauty products, we want to make sure that we're voting with our sustainable wallets for products that are a better choice for the planet and the beings that inhabit it—and that includes ourselves who are actually wearing the products.
A better question might be: what is ethical and sustainable beauty?
Since these terms aren't regulated, they can mean just about anything!
If you're confused about how to figure out whether a brand or product is a good choice, you're not alone.
Greenwashing is rife in the ethical beauty arena and it requires a fair amount of detective work to look behind the marketing claims and decide whether a brand or product is truly sustainable and ethical.
Thankfully, there are an increasing number of ethical beauty certifications we can lean on to help us navigate the various considerations.
To help you find the good stuff, we'll share our tips and tricks for tracking down the crème de la [eco] crème of beauty brands…whether they make actual creams or not.
The Full List Of Ethical & Sustainable Beauty Criteria & Considerations
---
1. Defining Ethical & Sustainable Beauty: What We Look For When Choosing Beauty Products & Brands
We look for brands and products that are both ethical and sustainable so let's take each of those terms in turn and break them down.
Defining Sustainable Beauty
1. What is a sustainable beauty product?
Defining sustainable beauty can be a bit like looking at the Sephora counter and feeling overwhelmed by all the options.
To simplify things when considering the sustainability of an individual beauty product, we break it down into two key factors:
Sustainable beauty ingredients:
Sustainable beauty ingredients are those which don't harm our own health or that of the planet. There are plenty of ingredients to avoid in skincare, after all.
Instead, we look for non-toxic, organic, natural skin care ingredients that we can trust to benefit our skin and body, not harm it.
Sustainably grown and responsibly wild-harvested plant-based ingredients have a much lower impact on the planet than synthetic chemicals like parabens and phthalates, which not only endanger our own health but are also linked to ecological harm.
We also try to avoid palm oil (and its many derivatives) due to its impact on rainforest habitats. Fortunately, palm oil-free products like palm oil-free shampoo and palm oil-free toothpaste are becoming increasingly easier to find.
Sustainable beauty packaging:
It's as important to look for sustainable beauty product packaging as it is to look for sustainable beauty ingredients.
The most sustainable packaging for beauty products is zero waste (think: reusable glass jars, compostable cardboard, and "naked" products like soap bars).
2. What is a sustainable beauty brand?
In a nutshell, a sustainable beauty brand is one that considers the impact of its business operations on the future of the planet.
AND it takes steps to lower its impact throughout its entire supply chain—from raw ingredient sourcing to sustainable beauty packaging to shipping of the final product.
We'll look in more detail at what these green business practices might be later.
Now that we've covered green beauty goods, we can examine the question of what is ethical beauty?
To define ethical beauty we could start by asking: what are some of the ethical issues in the beauty industry?
Sadly, there are many. From animal testing, to child labor involved with mining the mica in make-up, to the use of toxic ingredients that are harmful to health (ours and the planet's), a teeny-tiny bottle of serum can have a big negative impact.
But it can also help to create a more just, sustainable world.
1. What does an ethical beauty product look like?
An ethical beauty product is one that has been consciously created with the well-being of animals, people, and the planet in mind.
It's vegan and hasn't been tested on animals, and workers at every stage of the supply chain have been treated fairly and respectfully.
With the health of our planet (as well as workers and ourselves) in mind, an ethical beauty product avoids toxic ingredients.
It's contained in sustainable product packaging so that our beauty routines aren't associated with single-use plastic waste that disproportionately harms developing countries.
2. What does an ethical beauty brand look like?
An ethical beauty brand is committed to ethical ingredient sourcing and ethical manufacturing with high labor standards (no child labor or forced labor, living wages, no harassment, and safe and healthy working conditions).
Toxic skincare ingredients aren't just dangerous for the end user; they can pose a serious risk for those involved in manufacturing the product, too. Brands that have a lengthy list of prohibited substances and/or practices in place to protect workers generally get a green light from us.
An ethical brand is also one that takes steps to reduce its environmental impact by minimizing waste and conserving energy and water.
To compensate for the impact they do have, it's likely that they give back to their local and global community through support of environmental or social organizations.
There is of course a lot of crossover between the terms: ethical and sustainable. By putting our ethical and sustainable beauty considerations together, we can create a set of criteria for tracking down eco-friendly and conscious brands and products.
---
2. Sustainable & Ethical Beauty Certifications & Labels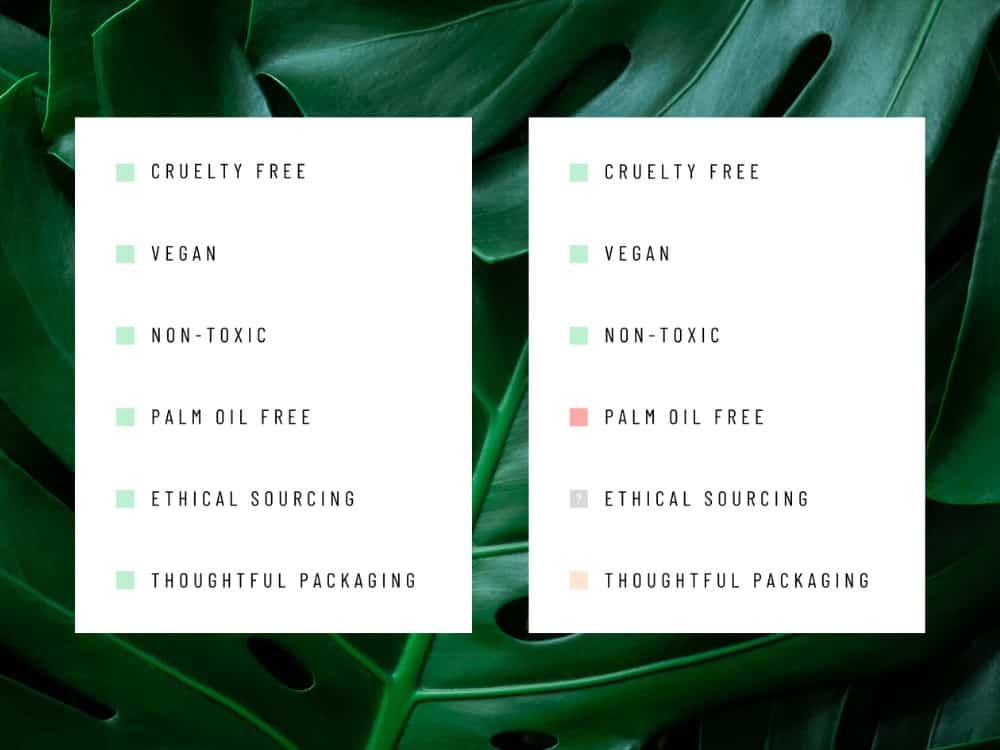 No that we know how to answer, "What is sustainable beauty?", we need to ask a more important question:
How do you know a beauty brand is ethical and sustainable?
Fortunately for conscious consumers, there are some well-known certifications and labels that address several ethical and sustainable issues.
Let's dive in.
Cruelty-Free
We look for products that haven't been tested on animals at any stage in their development. This means that both the individual raw ingredients and the final products have been tested on the brands' friends and family—never unwilling animals.
To muddle the mixture, a product might be cruelty-free and still contain animal ingredients, which begs the question: is that product (or the brand that manufactured that product) truly cruelty-free?
The product may also contain palm oil, an ingredient responsible for the devastation of thousands of hectares of rainforests and consequently all the animals that live in them—again making it not altogether cruelty-free.
Finally, if not organic/natural, then it's possible—or even likely that—the sourcing or manufacturing of a product has had some negative effect on the health of our environment and wildlife habitats.
So, whilst cruelty-free is an important criterion, there are other certifications we need to look for.
Vegan
We opt for products that don't contain any animal ingredients.
If an animal-based ingredient is used, it must be one that can be obtained without harming its source (i.e. beeswax, which can be ethically harvested). So we look for brands that practice ethical sourcing but also provide 100% vegan alternatives.
As mentioned above, vegan products may contain palm oil. Though not an animal product, it's responsible for the destruction of rainforests and the death and displacement of millions of species.
Vegan products may also contain ingredients that are not organic or natural and the production of which is also harmful to our environment and animals.
Shockingly, some vegan beauty products may actually be tested on animals—so it's important to look for both cruelty-free and vegan if wanting totally animal-friendly beauty products.
Non-toxic
Unfortunately, the term non-toxic isn't regulated. At all.
Since there's no legal definition, we took matters into our own hands and came up with our own:
Ingredients or products that have reliable scientific evidence to ensure that they will not have adverse implications for human health or the environment.
We look for products that don't contain any GMOs, preservatives, parabens, or any other ingredients known to be toxic. By looking at sourcing practices, we check for the avoidance of chemical herbicides, pesticides, and artificial fertilizers.
However, while the ingredients in organic—and in some cases natural—products are sourced from sustainable means, they may be tested on animals and contain animal by-products and/or palm oil.
There is also a huge amount of greenwashing when it comes to "organic," and even more so with "non-toxic" and "natural." Third-party certifications are crucial.
Palm oil free
We look for products that don't contain palm oil or any of the almost 500 palm oil derivatives.
If palm oil is used, we look for that which has been sourced sustainably.
In fact, some argue sustainable palm oil is sometimes the better alternatively because A) It encourages industry change at a holistic level simply boycotting can't; and B) Palm oil substitutions (i.e. coconut oil) can lead to similar ethical issues in the beauty industry like deforestation.
However, palm oil-free products may be tested on animals and may contain animal ingredients.
Palm oil-free products may also contain ingredients that aren't organic/natural and as a result, they may still have a negative impact on the environment and wildlife.
Certifications: Certified Palm Oil Free by the Orangutan Alliance, RSPO
---
3. On The Hunt For Ethical & Sustainable Beauty Ingredients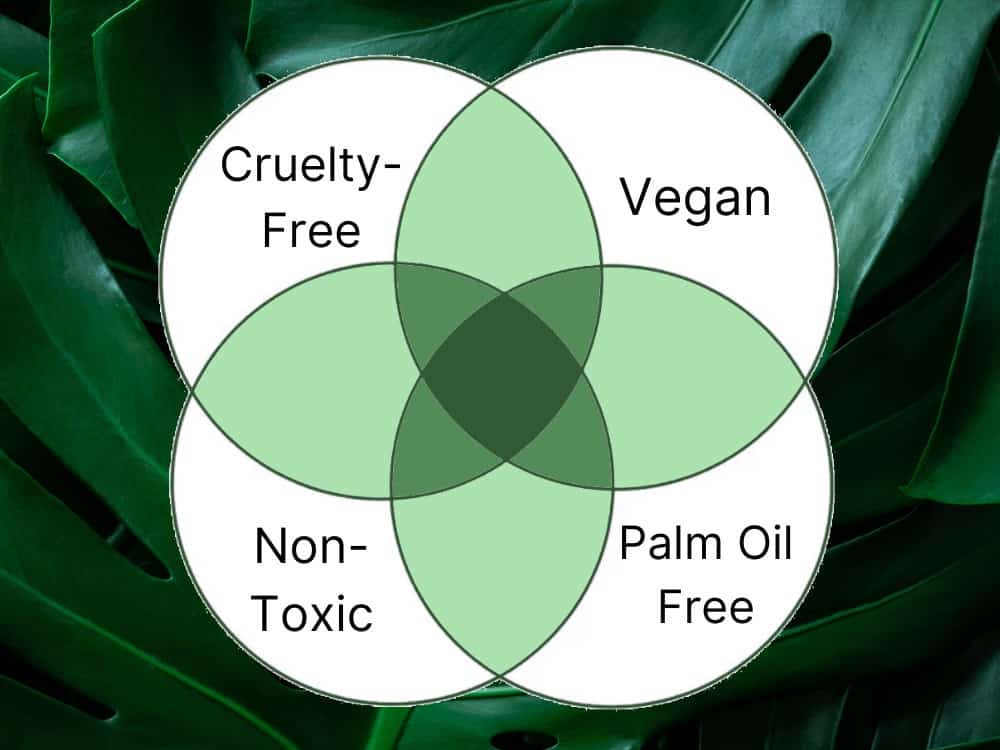 We aim to tick all of the boxes: cruelty-free, vegan, non-toxic, and palm oil-free.
With that in mind, we thought it would be fun to create a Venn diagram (who doesn't love a good Venn diagram)?!
When looking out for sustainable beauty products and brands, we review each of them against these criteria with the aim of ticking as many as possible—and hitting that magical bullseye smack bang in the middle.
---
4. What Does It Mean To Have Sustainable & Ethical Business Practices?
How do you know a beauty brand is ethical and sustainable?
The concept of sustainable and ethical business practices is an evolving one. We believe the following key practices are indicative of a truly sustainable and ethical business ethos.
Thoughtful Packaging
Waste is a major problem for the planet.
Brands that do really well here allow you to reuse your existing packaging (think: refills and reusable containers) or use compostable packaging. Zero waste beauty brands are fortunately becoming easier to find.
We also give high points to brands that use post-consumer recycled materials and packaging that is widely recycled (glass, aluminum).
At a minimum, we want to see packaging that is recyclable (and hopefully made from recycled goods too).
Ethical Sourcing
What is ethical beauty without ethical sourcing?
A commitment to ethical ingredient sourcing is a clear sign of a sustainable and ethical company.
It means that a brand not only considers the ingredients themselves but the people involved in obtaining them, and if they were treated fairly.
It requires a brand to be aware of what's going on in its supply chain, pay a fair price for the raw materials and goods, and ensure its suppliers are committed to positive environmental and social impact.
It's worth noting there are a lot of different fair trade certifiers and an equally large amount that claim to be fair trade when they don't have a single one to back it up.
However, certifications should still never be trusted as sole evidence of ethical practices. If B Corp greenwashing has taught us anything, it's that sustainability sells and there are plenty who would take advantage of ethos purely for the earnings.
Resource & Waste Management
Brands that truly care about the impact they're having have excellent waste and resource management policies in place.
This includes, but is not limited to:
water recycling and energy efficiency practices
use of renewable energy
minimizing any manufacturing by-products (e.g. zero waste policies)
office recycling programs
Charitable Giving
It's inspiring to see ethical beauty brands with a dedicated giving policy.
Some are fellow 1% For The Planet members, giving 1% of their earnings to charity.
Others emulate this philosophy by giving a portion of proceeds to social or environmental charities every year. Some brands give by sharing their time or donating products, or simply using their platforms to support causes they are passionate about.
Some brands have even set up their own charities to drive impactful work in the areas they care about.
All of these for-profit—but socially conscious—brands get our attention.
---
5. Sustainable & Ethical Beauty Guides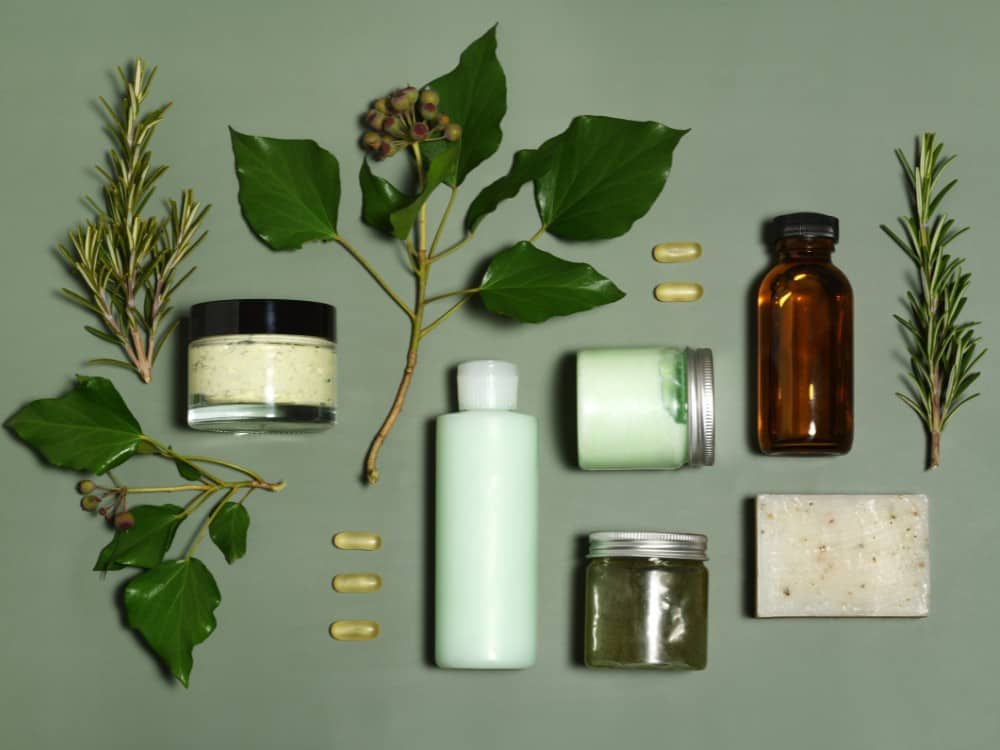 Here's a list of the best sustainable and ethical brands we've found using these criteria. We'll continue adding to these as we do more research:
Zero Waste Beauty & Personal Care Guides
Cruelty-free & Vegan Beauty & Personal Care Guides
Other Ethical & Sustainable Beauty Guides
---
Did you know we Have a Newsletter?
We cover the latest in sustainable living, fashion, zero waste, beauty, travel, finance and more…
Final Thoughts On Ethical & Sustainable Beauty
Our ethical and sustainable beauty criteria help us track down brands that are committed to making the world a better place. We hope they do the same for you!
No brand or product is perfect, but it's heartening to see an increasing number of brands that are consciously creating their products with people and our planet in mind.
Beauty is only skin-deep but the impact of buying ethical and sustainable beauty products is far-reaching.
Whether you already support sustainable and ethical brands or you're just starting out on your ethical journey—you're helping to support a healthier, fairer beauty industry for every being.
Share this article with your eco-minded peers to help them find the best eco-friendly and conscious brands and products.
Pin these: