Zero Waste Sunscreen: 12 Plastic Free Brands Protecting Your Skin & Our Planet
Ahhh, summer…. long days, sunshine, and for some worriers like us, the ever-present fear of skin cancer.
Unfortunately traditional sunscreens are filled with all sorts of chemicals you can't pronounce (like methylisothiazolinone, aka the American Contact Dermatitis Society's "allergen of the year").
These chemicals also block the body's ability to absorb vitamin D (a deficiency which can, ironically, eventually lead to cancer), as well as disrupt your body's hormone and endocrine systems, according to the Environmental Working Group.
The damage doesn't end there.
When millions of sunscreen-sporting beach-goers take a dip, about 4,000 to 6,000 tons of sunscreen ends up in the ocean yearly.
This devastates coral reefs, affects the fertility of marine life and contributes to coral bleaching.
We've talked about reef-safe vegan sunscreen before, but this time we're taking it a step further and looking for the best zero waste sunscreen. After all, plastic bottles aren't good for the sea either.
Of all the sunscreen options on this list, a few are especially sunny… like Butter Me Up Organics, who create an almost entirely organic certified sunscreen in a compostable stick or reusable jar. 
By Robin Creations offer a highly rated and super effective zero waste vegan sunscreen in a tin.
While EmpireSquid has beach lovers in mind with a range of plastic free sunscreen alternatives like face sunblock and after sun spray.
Since sustainable sunscreen in particular requires some extra considerations beyond our normal sustainable and ethical beauty criteria, the bottom of the article has all the sunscreen specifics we considered when researching the best brands for this list.
*This post contains affiliate links
QUICKLINKS FOR ZERO WASTE SUNSCREEN BRANDS
---
1. RAW ELEMENTS
*Note: We have attempted to confirm this brand's policies with no response to date
About Raw Elements Face + Body Sunbalm
This next brand is better known in the US (but it still meets just about all our sustainable beauty criteria).
Raw Elements Sunbalm is an Environmental Working Group top-rated sunscreen. It's approved for all ages, skin types, and for daily use.
Aside from providing a broad spectrum SPF 30, this biodegradable and waste free sunscreen contains 95% organic and 100% non-GMO and natural ingredients filled with antioxidants for your skin.
The active sun protection comes from the 23% non-nano zinc oxide, but there's also sunflower oil, green and black teas, coffee bean, hemp seed oil, cocoa butter, mango butter, vitamin E, rosemary oil extract, and beeswax.
While it isn't vegan, due to the beeswax, it is Leaping Bunny-certified cruelty-free, as well as soy, gluten, and nut free.
They make a whole ar-ray (get it?) of different kinds, but most of them come in plastic packaging except for this tin pot pictured above and their tinted zero waste sunscreen.
About Raw Elements
Raw Elements specializes in plastic free sunscreen.
The company was founded by former beach lifeguard Brian Guadragno. In the beginning, he turned his own kitchen into a lab, experimenting to find a safer, more environmental sunscreen that was suited for active people.
Raw Elements USA was born. All their products are sourced, made, and sold in the USA. The company is certified by Non-GMO Project, Natural Products Association, Leaping Bunny, and Environmental Working Group.
Aside from making a great product, they're also passionate about sun safety and environmental education.
We haven't yet been able to confirm their sourcing policies.
---
2. BUTTER ME UP ORGANICS
About Butter Me Up Organics Plastic Free Sunscreen
Butter Me Up Organics believes, "Sunscreen doesn't need to have all the nasty chemicals in it to be effective!"
That's why they've created a reef safe and totally plastic free sunscreen that's suitable for everyone. Zero waste babies, kids and adults.
Made of coconut oil, shea butter, mango butter, non-nano zinc oxide, grapeseed oil, vitamin E, and beeswax it's guaranteed to give nourishing, water-resistant protection for those long summer days. The only ingredient not certified organic is the grapeseed oil, which is still non-GMO.
Choose between reusable glass jars or (our favorite) compostable cardboard sticks for your packaging. They also have a thinner sunscreen that comes in a BPA-free plastic squeeze bottle which, while recyclable, is best avoided.
Plus the jars and tubes are made into a thicker formula to avoid melting in your beach bag. Don't worry, it still absorbs clear and isn't difficult to apply.
About Butter Me Up Organics
Butter Me Up Organics is "a modern day apothecary" founded in 2008 that infuses the spirit of ancient holistic healing into distinctly modern products (like yoga mat cleaner!). From skin care to home cleaning products, Butter Me Up Organics has oh so many useful items for a non-toxic lifestyle.
Their belief is that we shouldn't "put anything on your body that you wouldn't put in it."
We'll toast to that.
Everything is cruelty free and palm oil free and most are vegan, the exceptions being their salves, moisturizers, lotion/balms, organic milk soaks and goat milk bath bombs.
Not only are Butter Me Up Organic's products clean for you to use, but they're clean for the planet, too. Almost every one comes in zero waste packaging like glass, tin, or paper. Remaining plastic-free may cost a bit more but it's a cost they're willing to cover.
Even still, they find it in their budget to donate to animal welfare causes and organizations fighting California wildfires and leukemia.
Available: Etsy
---
3. BY ROBIN CREATIONS
About By Robin Creations Vegan Sun Lotion
By Robin Creations' vegan plastic free sunscreen is a simple little bar that's both waterproof and effective with an SPF 30.
So it's a long-lasting and durable sun solution for beach goers and pool partiers alike.
Its main ingredient is non-nano zinc oxide. It also includes a host of other natural ingredients that all carry their own degree of natural sun protection. These include organic shea and cocoa butters, sandalwood, myrrh, and carrot seed oil.
It comes in a compact tin pot that's both reusable and highly portable. Great for on the go!
About By Robin Creations
Based in the USA (in the very sunny state of New Mexico!) By Robin Creations started small, with some experimental dabbles in vegan lip balm and vegan deodorant.  
After a lot of success and great reviews (particularly about the balance of quality and affordability!), she expanded her line to haircare, tooth products, and more.
All vegan, all cruelty-free, all natural!
Plus, she really cares about those personal touches and each order comes with a hand written thank-you note along with a free trial size gift.
Available: Etsy
---
4. EMPIRESQUID ORGANICS
*Note: Not vegan by default but can easily be made vegan upon request.
About EmpireSquid Sunscreens
EmpireSquid's has individually designed some of the best zero waste sunscreen for the face and body.
Their Facial, Zinc Oxide, and Red Raspberry sunscreens are all pretty similar at the ingredient level, but the facial sunscreen is designed to be lighter and even easier to rub fully in with no greasy residue.
Aside from the three options, you can also choose "original" or "extra protection" for each kind.
"Original" provides an estimated 20-40 SPF and the "Extra Protection" a bit higher, due to a higher non-nano zinc oxide content. However, they clearly state they "have not laboratory tested this sunscreen […] regarding its exact SPF rating".
All three sunscreens contain non-nano zinc oxide, shea butter (which helps not only provide consistency but also filter the sun) and essential oils, which they will omit upon request.
Note these zero waste sunscreens are not strictly vegan because each also contains beeswax, but since they're handmade to order, they will make you sunscreen without beeswax upon request.
Each product comes in a reusable 8oz glass jar. They also make Sunshade Natural UV inhibitors but these come in a type of plastic spray bottles.
About EmpireSquid Organics
This quirkily-named and family-run zero waste brand aims to provide affordable, yet "amazingly wholesome" and responsible zero waste skin care for men, women, and children alike.
Since their 2013 upstart, they've gained a ton of great reviews for their large range of products from organic face moisturizers to zero waste soap.
Everything is handmade to order with about 70% organic ingredients (though they keep growing that percentage!) that are purchased through fair trade channels and ethical suppliers.
Each product is all natural, cruelty-free, and palm-oil free.
For vegans, don't worry; they have a lot of options, too.
Available: Etsy
---
5. BEE YOU ORGANICS
*Note: Many of this brands products are not suitable for vegans but there are vegan options available, including for sunscreen.
About BeeYou Organics Plastic Free Sunscreen
BeeYou Organics' broad-spectrum zero waste sunscreen not only has tons of 5-star reviews on Etsy, but is also made with entirely USDA-certified organic ingredients.
These include unrefined Shea butter, beeswax or carnauba wax, unrefined coconut oil, sweet almond oil, and sunflower oil.
They make both zero waste vegan and non-vegan sunscreen, meaning you'll either get beeswax or Carnauba wax as the waterproofing agent. Note that Carnauba wax is not quite as effective at waterproofing and will simply need to be reapplied a bit more often.
For something a little bit lighter for the face, they also make sun protective Organic BB Cream.
In the ordering options, you can also select to get sunscreen with (added lavender and tea tree oils) or without (unscented) bug repellant properties.
They come in either reusable tins or compostable paperboard push-up tubes. They even offer a "no-label" option to reduce further waste.
About BeeYou Organics
In the lush natural forests of the US's Pacific Northwest, BeeYou's founder Larissa creates healing and soothing skincare and cosmetic products.
With holistic roots, Larissa is meticulous about each ingredient's purpose.
Aside from providing clear list of her ingredient choices, she assures us that they're all natural (and almost all organic), ethically sourced, non-GMO, cruelty-free, alcohol-free, palm oil-free (including derivatives), and preservative-free.
Some products do contain non-vegan emu oil and beeswax but they offer plenty of vegan options and support ethical beekeeping by donating to WSU bee research projects.
Bee You Organics supports small business, various local charities, and are beginning to employ economically disadvantaged women as they grow and need more hands on deck.
Available: Etsy
---
6. HERBAL CHEST
Herbal Chest Green Tea Sun Butter
If you have extra sensitive skin, so much so that coconut oil can bother it, try Herbal Chest's Green Tea Sun Butter.
Not only is it coconut oil free, but also free from parabens, synthetic dyes, fragrances, animal byproducts, and gluten.
It combines the moisturizing powers of shea butter with the sun blocking power of non-nano zinc oxide and red raspberry oil (with a cumulative SPF 25).
What's more, they've added in antioxidant-rich ingredients like green tea-infused olive oil and elderflower infused grapeseed oil, to add some serious restorative powers
About Herbal Chest
Herbal Chest started small as the passion project of a Pacific-Northwest mama looking for better products for the family.
While still small, this up and coming brand has an extensive line of zero waste skin care products boasting hundreds of 5-star reviews.
Botanical based and cruelty-free, this brand goes beyond skin-deep beauty but rather aims to promote "self-care and wellness".
They are palm oil free and prioritize organic ingredients or those still grown without chemicals if not certified.
Everything comes in zero waste packaging, such as the compostable cardboard tubes for their lip balms and tiny glass jars with metal lids that house just about everything else.
Available: Etsy
---
7. DIRTY HIPPIE COSMETICS
*Note: Dirty Hippie has confirmed that one of their suppliers no longer guarantees certain ingredients to be palm oil free. This does not pertain to their sunscreens but see below for products it does affect.
About Dirty Hippie Sunscreen Balm
Dirty Hippie's Coconut Sunscreen Balm is a broad spectrum, sustainable, and SPF 30+ balm that you can purchase in either a compostable cardboard tube, compostable sample pot, or reusable tin pot (your choice!).
The base is non-micronized zinc oxide and raspberry seed, which has natural sun protective properties.
Best yet, its low concentration of essentials oils (or 0% concentration if requested) is especially great for those with sensitive skin. In addition to this regular "sensitive skin" formula, you can also purchase a bug repellant balm for two products in one.
About Dirty Hippie Cosmetics
We hope we're not sounding like a broken record by mentioning this awesomely sustainable company yet again.
But seriously, they make so many awesome products AND donate considerably to various charities, from The Stroke Foundation (their current charity of choice) to animal rescue organizations.
Aside from sunscreen, Dirty Hippie makes tons of organic zero waste makeup, and skin and haircare products.
Their entire handmade range is also cruelty-free, vegan, and will soon be entirely palm oil-free again once they find a new supplier for some of their ingredients.
Each item is packaged in compostable recycled cardboard tubes or reusable tin and glass, with vegetable ink labels.
Appropriately, this 50% carbon offset zero waste brand is based in an entirely zero waste community. At their headquarters in Bywong, Australia they use materials at their disposal, from naturally collected rainwater to a totally solar powered headquarters.
They grow many of their own ingredients locally and only purchase externally (and definitely certified Fair Trade) where necessary.
If shopping for other Dirty Hippie products, please note their Olive and Coconut oils (aka Cetearyl and Sorbitan olivate, respectively) suppliers no longer guarantees they are palm oil free.
Dirty Hippie is in the process of moving to a 100% Palm Oil Free supplier, but for now this impacts their concealers, Hydrating Hempseed and Red Raspberry Facial Primer moisturizing creams, mascaras, and eye liners.
Available: Etsy
---
8. SUNBUTTER
About SunButter SPF 50 Vegan Plastic Free Sunscreen
Here's one for our Australian zero wasters.
This super-powered plastic free vegan sunscreen is the answer for all fair-skinned summer lovers.
SunButter is currently one of the only companies making a natural 50 SPF zero waste broad-spectrum sunscreen that also happens to be cruelty-free.
They do ship to China but since they fulfill online orders only, Chinese law does not mandate animal testing on their products).
The SPF 50 sunscreen is completely vegan but they do sell a hand-made surf zinc that contains beeswax locally sourced from a small-scale beekeeper.
Because the base of the formulation is candelilla wax and castor and coconut oils rather than water, it lasts much longer than traditional sunscreens – up to four hours. These oils also help moisturize your skin while being exposed to drying salt water and sun.
The main sun protective power comes from non-nano zinc oxide.
This and all other ingredients are approved by No Sunspheres as nano particle-free and the Therapeutic Goods Administration as safe for sensitive skin and children.
For a tone-matched tint to your SPF, you can try their Surf Zinc, available in three different skin tones. Just be aware these contain locally sourced beeswax and are not vegan.
About SunButter
Australian company SunButter is acutely aware of the importance of protecting your skin from sun.
They make all products locally in Australia with respect to the "Traditional Custodians of the land throughout Australia and […] Elders past, present and emerging."
They ship globally but offset these emissions to make them a carbon neutral business. Their factory is even solar powered!
As a fellow 1% for the Planet member, they actually donate a full 10% of their profits to various environmental charities, like those involved in fighting and rescuing animals during Australia's recent bushfires. Beyond donating money, they are involved in lot of environmental activism, like Save Westernport.
SunButter is also totally plastic-free (down to compostable shipping parcels) and they even have a social media campaign for extra incentive to reuse their tin containers. Just snap a pic of however you opt to reuse your tin, post the photo with the tag #spreadthebutterfurther, and get featured!
AU residents can also send back their empties for a refill.
---
9. ALL GOOD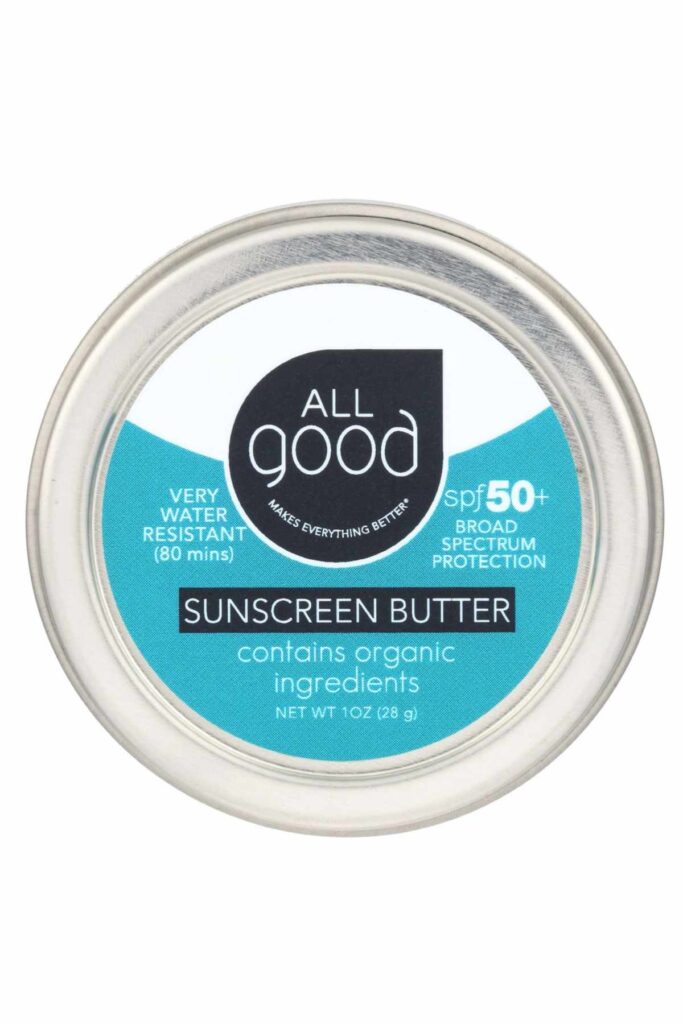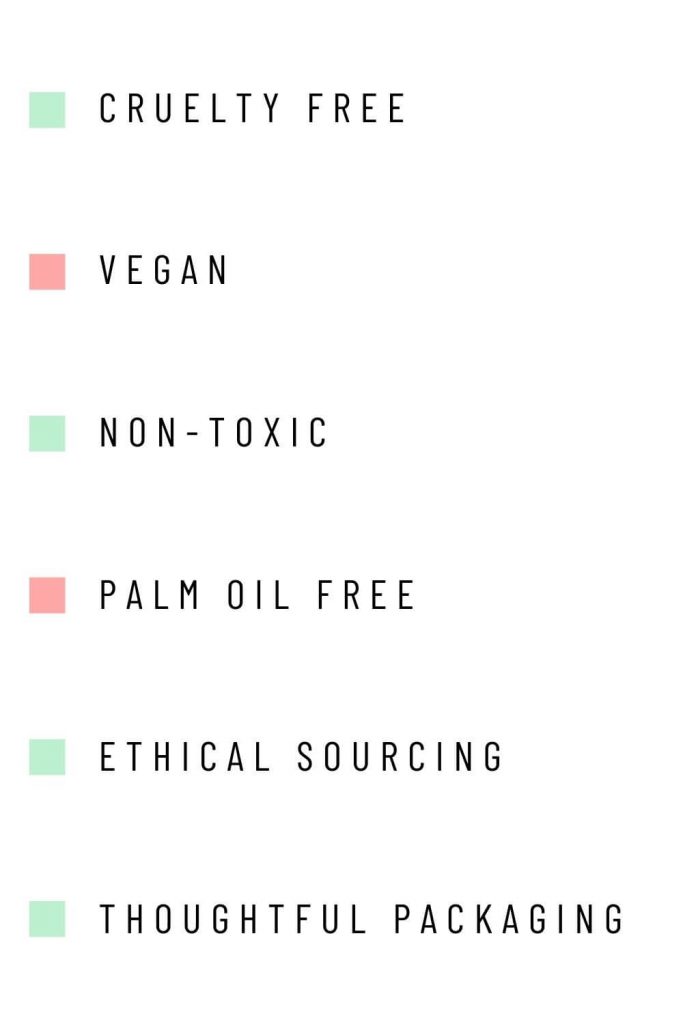 *Note: These sunscreens contain sustainably sourced beeswax. See below for their stance on palm oil.
About All Good Zero Waste Sunscreen Butter
Here's the only other company we found making zero waste SPF 50 sunscreen.
Available in either regular white or tinted versions, All Good sunscreens provide broad spectrum protection and water resistance for a full 80 minutes!
Unlike so many other sunscreens, this unscented bar bears a hard consistency, which is why it fits so well in a compact tin pot.
All Good sunscreens are suitable for sensitive skin types. It's made of just six certified reef-safe ingredients: non-nano zinc oxide, organic coconut oil, organic beeswax, organic calendula flowers infused in organic jojoba oil, and vitamin E.
While not vegan, the beeswax is sourced from a fellow B-Corp that treats its bees ethically and sustainably.
About All Good
All Good actually has seeds all the way back in 1997, when founder Caroline created the very first All Good Goop, a healing salve made with nature's finest ingredients. After receiving amazing feedback from friends, she went big. The rest is history!
Over two decades later, their offers have expanded to include even more healing salves and sprays, lip balms, deodorants, lotion, and coconut oil. Still, they maintain small-business vibes and a "vision to inspire others to live in balance with nature, as it should be".
They're not only a woman-owned certified B-Corp, but Leaping Bunny and PETA certified cruelty-free (they don't sell into China), Green America approved, and a member of Campaign for Safe Cosmetics.
Also members of 1% for the Planet, 1% of their profits are donated to either Save our Snow and United Plant Savers.
All their products are certified by Oregon Tilth Certified Organic (OTCO), which ensures they meet either USDA's or NSF's body care specific organic standards. They source only non-GMO ingredients from suppliers that deal in fairly traded goods.
While they do not use palm oil directly, they could not confirm if their ingredients are free of all derivates: "If palm oil extracts or derivatives are ever used in our products, it would be palm oil in alignment with Palm Done Right standards."
Oh, and the Morro Bay Community Center kitchen, which serves as their production facility, is solar powered!
While not all their containers are zero waste, they do attempt to minimize packaging waste as much as possible but using recycled and recyclable shipping products (including the labels).
They write, "We recognize we have a long way to go here, and we will not ever stop looking for better packaging solutions."
They currently use plastic-free shipping materials and use much post-consumer-recycled plastics as possible (65% currently) in their tubes.
---
10. SUNTRIBE
*Note: The Mineral Day Cream sunscreen is vegan but the others contain organic beeswax
About Suntribe SPF 30 Zero Waste Sunscreen
And here is a zero waste and plastic free sunscreen for our UK readers.
Suntribe makes "worry free" organic sunscreens designed in collaboration with surfers to be extremely water and sweat resistant. Plus, the fully recyclable aluminum tubes and tins will prevent a mess in your beach bag.
All sunscreens are made with uncoated, non-irradiated and non-nano zinc oxide, which is the absolute purest and most non-toxic form of this mineral.
Suntribe sunscreens are then laboratory tested to verify their SPF 30 rating and broad spectrum capabilities with the ISO 24443 and 24444 tests, respectively.
Their basic formula combines the zinc with just two organic ingredients: beeswax and coconut oil to nourish skin and neutralize free radicals.
The shorter the list, the more we love it!
If you don't mind adding a few more ingredients, they also make tinted versions and an anti-aging mineral day cream version, which only has a total of nine ingredients and can be used either under or as a replacement for foundation.
All formulas are 100% cruelty-free and free from synthetic chemicals, preservatives, and perfumes. Most are not vegan thanks to the organic beeswax, but their Mineral Day Cream is vegan.
About Suntribe
This Sweden based zero waste sunscreen brand is just a few years old, started by outdoor sports enthusiasts Karl, Hampus, and Julia, in order to "contribute to change". In their words:
"The state in the sunscreen business today is that anything goes – you can use ingredients that are proven dangerous for nature and humans and it's all perfectly legal. Crazy, right?" Absolutely bonkers, if we do say so ourselves.
That's why you won't find any of these dangerous chemicals in Suntribe products, which are cruelty free and certified by New Generation Natural Cosmetics.
They're also palm oil free and sourced within Europe from accredited suppliers they know personally.
We also love that "Transparency is the Suntribe way" which is why you can view explanations of the entire production process (development to testing) here.
While not all Suntribe packaging is zero waste, a large percentage of them are and they only use labels printed on 100% recycled paper with eco friendly inks.
---
11. SURFDURT
*Note: This zero waste sunscreen contains sustainable sourced beeswax.
About SurfDurt Bamboo Refillable Sunscreen
SurfDurt is an "extreme adventure sunscreen" made with surfers in mind, who spend more time in the sun and ocean than most, so it better do its part for both.
With a chemical and toxin-free formula that's effective for 80 minutes of use in the water and an SPF 30 broad spectrum protection, it does its job.
It is cruelty free though not technically vegan as it does contain beeswax sustainably sourced in West Africa from a program vettedby the third-party Koster Keunen agency.
Of this proud partnership they write:
"Sourcing this way makes it affordable to regenerate beehives instead of overharvesting them and this in turn creates a 30% income increase for local farmers who then care for those hives […] It is uplifting both the bee population and the community where this program exists."
Most of the ingredients, including cocoa butter, coconut oil, jojoba oil, avocado oil, carrot seed oil, and raspberry seed oil, are certified organic. The exceptions are the beeswax, and the non nano zinc oxide and iron oxide pigment.
This formula does not contain any added fragrance oils but they do claim it smells like cookies. Who doesn't love the smell of cookies?!
Plus these guys totally win the award for most stylish packaging. Their aluminum-lined reusable bamboo pots are so neat and we can think of so many ways to reuse them.
You can also order a travel size in a slimmer, all metal tin.
In case you're up to your ears in reusable containers, you can send back your old container via their refill program to receive 25% off your next order. This is the first refillable zero waste sunscreen we've come across.
About SurfDurt
The Original DurtHeads behind SurfDurt were an unlikely pair: two California girls and their chemist dad from Hawaii. All three were raised with a healthy love for the sun and the ocean, and they needed a reconciliatory way to protect both.
As exemplified with their beeswax, they source from "the most ethical sources possible" including those that are free from conflict and animal testing. That often means they pay premium prices for these ingredients which also contributes to the slightly higher cost.
A little more money for less negative impact? Worth it.
And get this… it's produced in the USA using 100% solar powered technology! They even produce in house to have sole control over their waste management.
They also give back to a different non-profit (depending on the color of the product) with every purchase. Their charitable endeavors support everything from coral reef restoration to surf therapy for underserved children of color.
But as great as the brand is, they remind us something important: "We just make the formula. You are the solution."
As conscious consumers, we need to support brands like these so their sustainable endeavors have an impact.
---
12. TRAIL BOTANICA
About Trail Botanica's Zero Waste Vegan Sunscreen
Trail Botanica (formerly Apothecary Muse) Sun Stick is designed for exactly that.
Its durable push-up cardboard stick is portable and designed to be thrown in a backpack for a long day out.
Not only does it provide 2-hour SPF from sun and wind, but from insects, due to a unique blend of naturally insect repellant herb infusions and essential oils.
Made of a gentle blend of organic Shea butter carrot seed oil, rosehip seed oil, and neem oil, it's safe for both face and body. It goes on clear and dry, and won't clog your pores.
Plus this sustainable sunscreen brand is vegan friendly, cruelty-free and reef-safe (per the latest guidance from EWG and the National Park Service advisory on included ingredients).
Eryn, the maker, recommends reapplying after swimming or excessive sweating and notes that the essential oil blend is also formulated to be safe for pollinators while repelling other insects.
About Trail Botanica
Trail Botanica specializes in "Adventure Skin Care: Nature, Adrenaline, Science and Art", despite being based in the bustling metropolis of Pittsburg.
The company started to fill what founder Eryn Hughes saw as a gap in the market geared toward the needs of outdoor enthusiasts and athletes. These guys are durably designed for the dirty, sweaty, and sore.
Aside from award-winning cold process soaps, the 100% cruelty-free, all-vegan product line includes deodorants, muscle salves, and more.
She uses many ethically wild harvested ingredients and grows much of the rest herself. For everything else, she sources organic (where possible – some ingredients like minerals can't be classified as "organic") and local from companies that have ethical practices of their own.
There are no SLS, detergents, or synthetic dyes and fragrances in any product. Eryn also makes sure she researches the safety of even natural ingredients (given the definition of "natural" is broad, to ensure the safety for users and herself during production.
We have confirmed with Eryn that no palm oil or its derivatives are used in any of her products (she reformulated a few years ago).
Deodorant, zero waste lip balm and sunsticks come in compostable cardboard tubes (typically composts in 90 days in a commercial facility, a bit longer in home-based composts).
Salves and testers are packaged with reusable stainless steel tins, sticks are in organic cotton muslin bags, soaps in plantable paper embedded with North American wildflower seeds, and gift sets in plant cellulose bags.
All finished with environmentally-safe adhesive labels printed with wax-based ink.
When it comes to shipping, she uses reused and recyclable filler and Forestry Initiative packaging – no plastic in her shipping at all!
For local orders, she actually delivers herself using a bicycle. As for the bulk packages which raw materials arrive in, they either get sent back to the manufacturer for reuse or donated to local compost organizations for expanding their reach.
Eryn also donates a considerable amount of time (40-100+ hours a year) and donates excess product to trail users and women's shelters and she keeps her product price points accessible to people of many income levels.
Finally, Eryn teaches soap classes and has a code of conduct that works to establish a safer space for people of color, various genders, age and ability:
Available: Etsy  
---
WHY CHOOSE SUSTAINABLE SUNSCREEN?
Ok, time for some zero waste sunscreen-specific lingo. We promise we'll be brief since we've discussed this previously in another vegan sunscreen article.
Here are a few terms you might encounter in this article and an overview of what they mean.
Nanoparticles: Just like you don't want to breathe in particles, your skin doesn't want to absorb them. Nanoparticles are particularly crafty because they can pass the skin barrier and causes cytotoxicity (i.e. toxic to cells). Look out for nano zinc-oxide and nano titanium dioxide.
Free Radicals: The skin cancer-causing derivative of nanoparticles if they pass the skin barrier. That's right: traditional sunscreen itself can actually cause skin cancer! Research is still being done on this, but both the EU and New Zealand have in place strict regulation around nano-particle containing beauty products.
UVA: Part of the non-visible light spectrum released by the sun that is 95% of the UV spectrum our skin experiences. It's even present on cloudy days when you don't "feel the burn" but still damages and wrinkles your skin and causes skin cancer. It even penetrates glass!
UVB: The part of the sun that is most damaging to the skin, causing sunburn and discoloration. Generally, these types of rays are present in sunnier or reflective conditions.
Broad Spectrum: This just means it protects against both UVA and UVB rays. As such, it's ideal your sunscreen is labeled as broad-spectrum.
SPF: This stands for "sun protective factor". It basically indicates the amount of time it protects your skin from the sun. This time, of course, varies based on UV index (or strength of the UV rays) and your natural melanin levels (i.e. skin tone) so play it conservative
What about non-nano zinc oxide?
The best "active ingredient" (which is to say U.V. blocking ingredient) alternative to those toxic, unpronounceables is zinc oxide. More specifically, as mentioned above, non nano zinc oxide.
But it actually goes even deeper than that. Non-nanoparticle zinc oxide was a non-negotiable criterion for us in creating this list, but we favor brands that go above and beyond that and use uncoated, non-irradiated and non-nano zinc oxide.
This is zinc oxide in its purest form, the closest in which it is found in nature.
Uncoated zinc oxide is extremely photostable, so it won't break down as easily when exposed to UV light. This breaking down is what causes the release of free radicals.
Free radicals, as mentioned above, cause skin damage and even promote skin cancer.
According to all the latest research, this is the most stable and safe form of zinc oxide. While free radicals can still form, it also helps trap them at the skin's surface, keeping them from getting at the deeper, living tissues.
---
HOW WE FOUND THE BEST ZERO WASTE SUNSCREEN
If this is your first time visiting Sustainable Jungle, we search for products using our beauty & personal care criteria.
We want things to be:
non-toxic (Not just to you, but most importantly, to the world's oceans, where up to 6,000 tons of sunscreen end up each year. Avoiding reef damaging chemicals like oxybenzone, avobenzone, octisalate, octocrylene, homosalate, octinoxate, 4-methylbenzylidene camphor, PABA, and triclosan is of the utmost importance to preserve marine ecosystems)
palm oil free
have ethical ingredient sourcing policies and
use zero-waste packaging (meaning either compostable or reusable glass or tin containers – NO plastic, unless it's returnable).
That leaves us with a lot of research to find the most thoughtful products out there. While we don't always find options that meet every requirement, we try to hit most of them.
---
FINAL THOUGHTS ON PLASTIC FREE SUNSCREEN
While completely covering up is really the only way to escape UV rays, there's no summer fun in that!
Why not show some skin with a little zero waste sunscreen protection.
By opting for one of these sustainable sunscreens, you'll have peace of mind knowing you're protecting your skin and the environment. So go out and eco-consciously catch some rays!
We hope we've been able to shed some (sun)light on sustainable sunscreen brands!
---