It's no secret we think plastic stinks, so what could be better than finding a plastic free deodorant solution to keep yourself from stinking, too?
Well, we've done the finding and selected a handful of the best zero waste deodorant options to help do just that.
WHY ZERO WASTE DEODORANTS?
As a quick reminder, the goal of going zero-waste is to send no trash to landfills or incinerators, instead minimizing toxic impact by relying on biodegradable, compostable, or reusable products.
Finding zero-waste deodorant alternatives is so important in striving for a zero waste or just less wasteful lifestyle.  Not only are conventional deodorant tubes plastic, but sadly are rarely ever recycled properly due to a composite plastic combination of #2, #4, and #5 plastics even within the same tube.
For example, the roller dial and cap are often different plastic than the tube itself, and would thus need to be completely disassembled to be recycled properly and avoid recycling contamination (which can ruin the whole batch!).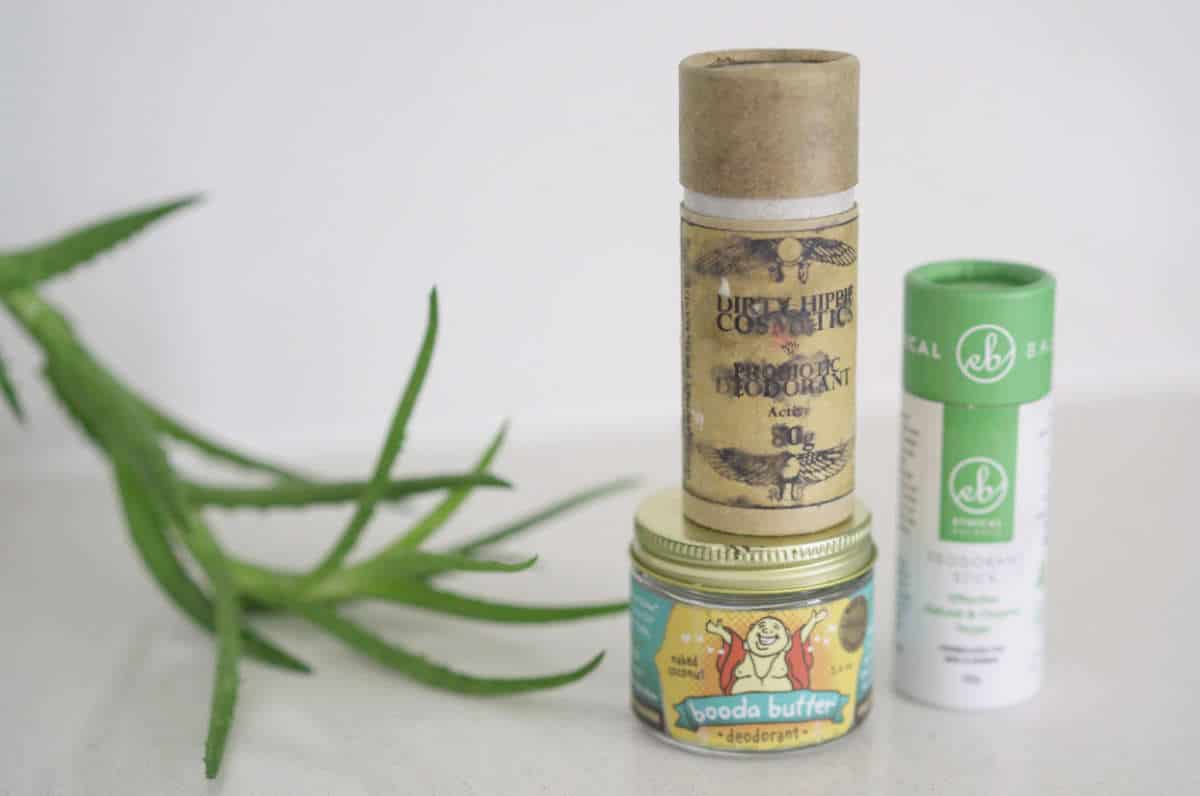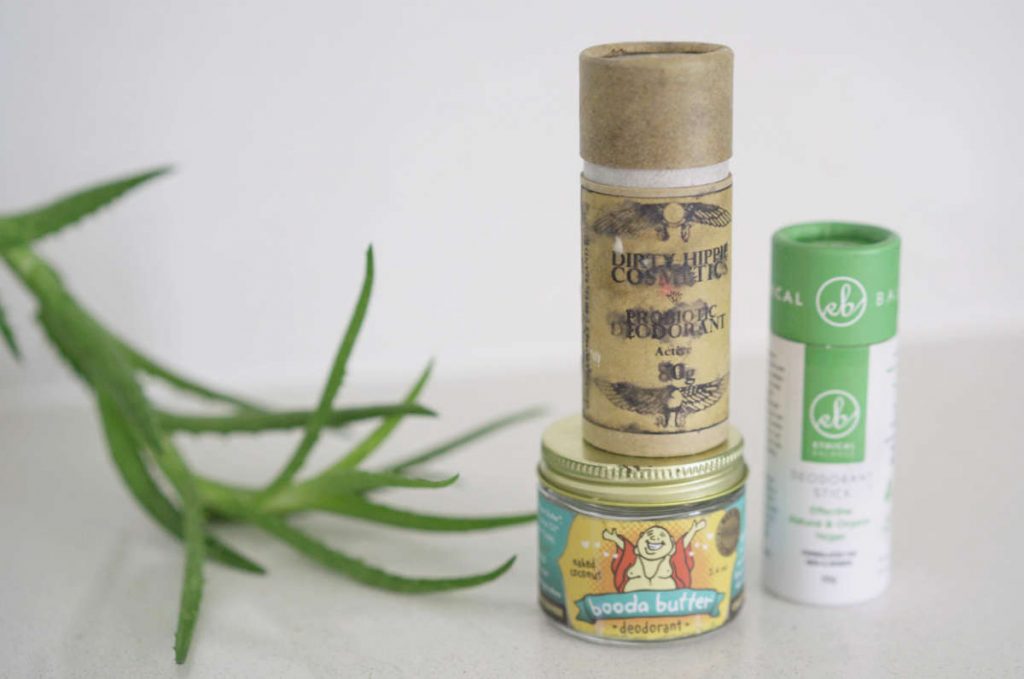 ZERO WASTE DEODORANT WITH OR WITHOUT BAKING SODA
Before we dive into deodorant, let's address the elephant in the room: baking soda.
Sodium bicarbonate, aka baking soda, is a common ingredient in many natural deodorants, though it is not, strictly speaking "organic".
Technically it's a "chemical compound", but it's still a naturally occurring substance.  So it's a natural chemical? We know that's confusing, and plenty of people have debated over whether baking soda belongs on the skin.
We hold the position that baking soda can fall under the banner of "organic/natural" so long as it is, in fact, all-natural baking soda, in a pure state, exactly as it is the moment it is mined from the ground.
Bob's Red Mill, for instance, sells this, while others brands, like Arm & Hammer, actually synthesize the baking soda during production with a chemical crystallization process.
How do you know the difference?
Most natural baking sodas will advertise being "aluminum-free" which is a bit misleading since baking soda (even chemically altered ones) do not actually contain any aluminum.  The plot thickens. Whichever your preference, there are options below for you!
One word of caution, baking soda doesn't work for everyone. Especially if you have sensitive skin it can cause an adverse reaction, so do be mindful if you are choosing a deodorant with this additive. Otherwise, it is a really effective ingredient at combating the odor causing bacteria on your skin.
FINDING ZERO WASTE DEODORANT BRANDS
If this is your first time visiting Sustainable Jungle, our approach to sustainable beauty is to look for brands and products that are:
have ethical ingredient sourcing policies and
use thoughtful, zero-waste packaging (meaning it either has no waste at all, or waste that is compostable or widely reusable).
We know that's a tall order and it takes a fair bit of time to find these brands! While we can't always get every box ticked, this list prioritizes zero waste and cruelty-free.
We hope this is a helpful resource!
QUICK LINKS FOR ZERO WASTE DEODORANT PRODUCTS
1. DIRTY HIPPIE COSMETICS DEODORANTS
About Dirty Hippie Zero Waste Deodorants
Dirty Hippie is one of our favorite brands (you may have seen them on many of our lists!) because they just tick all the boxes for us.
They offer a "Natural Probiotic Deodorant" paste that you rub into your pits. The product comes in either compostable packaging or aluminum tins (depending on which size you get).
You can choose from 4 scents Active (Virginian Cedar, Lime and Eucalyptus – this is the one we use and it's great); Fresh (Rose Geranium, Mandarin and Cypress); and Earthy (Patchouli, Lavender and Vanilla).
They also offer a zero waste deodorant for sensitive skin. It's a Spray On Deodorant that's Magnesium based (aluminum free) and also baking soda free which come in the same scents as the pastes and are packaged in a 100ml recycled brown glass bottle.
All Dirty Hippie's products are cruelty-free, vegan, certified organic and palm oil free. They also accept empties and provide refills!
About Dirty Hippie Cosmetics
Hailing from Bywong, Australia, Dirty Hippie Cosmetics are one of the most sustainable zero waste brands we've had the pleasure of covering.
They create handmade, organic and clearly top quality products (based on hundreds of super reviews).
They're a 100% cruelty-free, palm oil free and vegan friendly brand.
They source all their ingredients ethically, either purchasing through fair trade channels, buying local or growing their own raw ingredients!
As for packaging, they haven't skipped a beat, their lip balms, sunscreens, deodorants and small and large eco tubs are made using recycled paper (which can be composted!). Otherwise they use tins and glass bottles which can be recycled or reused of course!
Their labels are printed with refillable veg-ink and their operations (which currently have a 50% carbon offset) will be powered with solar when they move into their new HQ.
They're based in a zero waste community (read more about it here). Their lab also makes use of naturally collected rain water!
And if that wasn't enough, they're involved in a number of charitable initiatives and projects from raising awareness for suicide prevention to animal rescue to support for cancer sufferers. Truly inspirational!
2. MEOW MEOW TWEET CARDBOARD STICKS
About Meow Meow Tweet Plastic Free Deodorants
Meow Meow Tweet offers small batch deodorant in both stick and cream form (these are one of the few zero waste deodorants on amazon).
All their deodorants are 100% vegan, cruelty free, palm oil free and natural. Many of their ingredients are USDA certified organic.
They have a huge fan base around the world because they're not just ethical but also extremely effective.
The packaging is 100% recyclable, but since biodegradable packaging is always preferable to glass, we recommend the compostable cardboard sticks. Plus, then you don't have to use your fingers to apply!
Like many on our list, they offer a zero waste deodorant with no baking soda for sensitive skin, as well as mini sticks perfect for travel or for just trying it out to see if MMT is right for you.
About Meow Meow Tweet
Meow Meow Tweet is a small batch skin care company offering a cute range of body care, facial care, soaps and deodorants.
All their products are 100% cruelty-free, organic / natural, vegan and palm oil free.
Theysource all of their ingredients ethically including their cocoa butter, shea butter, sugar, coconut oil and coffee which are all from fair trade suppliers.
All their packaging is 100% recyclable and they support an impressive number of charities with ongoing monthly donations.
3. BOODA ORGANICS CREAM DEODORANT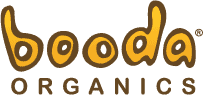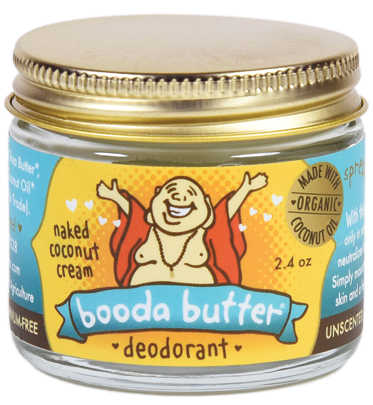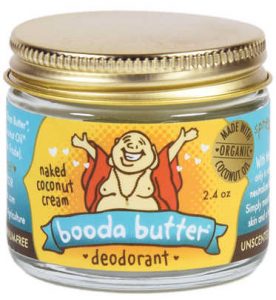 About Booda Butter Creams
Designed to create an "all day zen fresh" feeling, Booda Butter creams are 100% USDA certified organic, using only food-grade non-GMO ingredients purchased through Fair Trade suppliers.
It's also cruelty-free, vegan, bee free, palm oil-free and gluten free and come in plastic-free glass jars.
They believe in product pureness.
It only comes in unscented Naked Coconut (which is delicious by the way!) working by blocking body odor, rather than just covering it with other fragrances. Check out our more in-depth review here.
About Booda Organics
Booda Organics began in 2010 and prides itself on its award winning sustainability (being completely palm-oil free and vegan certified by Leaping Bunny and Vegan.org) and strict ethical sourcing policy.
Each handmade item is backed with a 100% Happy Guarantee and company profits are used to donate to over 30 different organizations.  
"Spread the love" isn't just a marketing catch phrase; it's their mission statement.
4. RAINWATER BOTANICALS EFFECTIVE ALL-NATURAL DEODORANT
About Rainwater Botanicals All Natural Deodorant
Rainwater Botanicals chemical, irritant and plastic free deodorant is comprised of a blend of skin soothing oils, bacteria fighting arrowroot powder, and scented essential oils.
They even offer a zero waste deodorant for sensitive skin, which uses clay instead of baking soda.
All deos now come in compostable paperboard tubes.
Their deodorants are also 100% cruelty free and contain no palm oil or palm oil derivatives.
About Rainwater Botanicals
Rainwater Botanicals began in 1999 with a simple, natural multi-purpose healing solution to fill what they saw as a large gap in the natural market.
By 2004, their salve was so popular they expanded into making a larger line of handmade products.Which they still create in the kitchen and test on themselves 
They have three core philosophies: Natural Ingredients, no animal testing and sustainability, focusing on local, organic and sustainable ingredients, sourced ethically.
They have recently removed all palm oil from their products and all their products are suitable for vegans (except their healing salve which contains local beeswax).
They support North Beach Paws (a no kill animal shelter) and some local charities for kids.
They are focusing on creating an entirely zero waste range which will include paperboard, glass or metal packagingand they plan to offer refills in compostable bags, where possible.
They have switched to 100% recycled paper mailers for all small packages and use biodegradable vegetable starch peanuts.
For larger and heavier orders, they ship using recycled and recyclable/reusable boxes wherever possible. They also print their labels on recycled paper and their office recycles, re-uses and composts what they can.
5. SUDS & SALVE ORGANIC NATURAL DEODORANT
About Suds & Salve Organic, Vegan Zero Waste Deodorants
Suds & Salve describe their Paperboard Tube Packaged Deodorant sticks as "just simple". Which sounds about right considering it's made of a blend of only 7 ingredients that are 100% organic (where possible), right down to the oils.
Baking soda is the only exception, but for those with sensitivities, you can request a product sans baking soda.
All Suds & Salve products are 100% cruelty free & vegan and come in plastic free, compostable paper/card packaging. Their deos are also palm oil free.
About Suds & Salve Organic Soapery
Suds & Salve was created to suit the founder's family (including a child with eczema).
They wanted something non-toxic and gentle, fueled by the philosophy that:
"you should not put something on your skin that you wouldn't be happy to put in your mouth". Their "focus from the outset was to be kind to humans with natural, chemical free items and remain friendly to the planet."
They refuse plastic packaging as a whole. They use card and paper, including postage materials. They also buyingredients in bulk to reduce the amount of packaging from suppliers. And they're working to make their supply chain plastic free too.
All their products are cruelty-free, vegan, organic and plastic free.
Suds & Salve are now also entirely palm oil free and support organizations like the Sumatran Orangutan Society(their founder, Jamie, ran 10K to support the charity!).
6. THE NATURAL DEODORANT CO. DEODORANT BALM
*Note: We have attempted to confirm the policies directly with this brand 
About The Natural Deodorant Co. Deodorant Balm
The Natural Deodorant Co., as the name suggests focuses purely on creating long-lasting deodorants.  Quality over quantity!
These balms are both moisture absorbing and anti-bacterial, to keep you fresh and healthy all day long in a variety of scents for both men and women.
You can choose form three main formulas to best fit your body and lifestyle. The full-sized pots come in 100% plastic free jars and travel sizes are soon to follow suit.
These deodorant balms are also cruelty-free, natural & organic, vegan and palm oil free. The tubs are made of glass and can either be reused or recycled.  Read our more in-depth review here!
About The Natural Deodorant Co.
After a lot of trial and error to create a natural deodorant that lasted all day, The Natural Deodorant Co. launched it's Clean Deodorant Balm in 2015.
Since then, it has stuck to its same three simple and perfect recipes (which also avoids aluminum).
Their focus is is sustainability. They're registered internationally as vegan and cruelty-free by The Vegan Society and are also 100% palm-oil free.
They also donate to CoppaFeel, an organization that promotes breast cancer awareness and prevention.
7. ZERO WASTE BEAUTY AUSTRALIA DEODORANT CREAM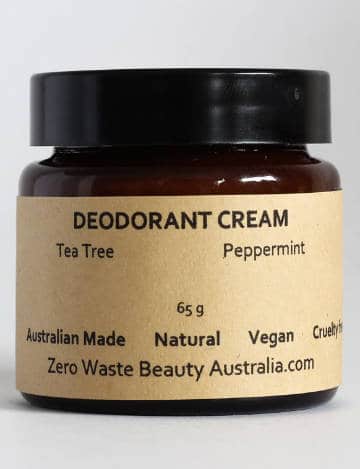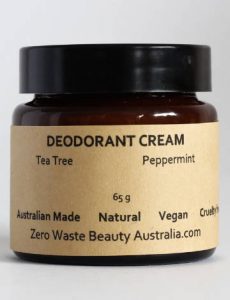 About ZWBA Deodorant Cream
ZWBA uses only raw, unfiltered ingredients in their three scented creams that each have unique benefits beyond just deodorizing.
For instance, their lavender deodorant is great before bedtime because it also helps with insomnia and improved blood circulation!
The creams are packaged in glass bottles with biodegradable labels (including double-sided tape) and can be returned via the ZWBA Recycling Program for a $1.50 discount on the next product.  This jar return program is only available in Australia, but ZWBA still encourages the re-purposing of jars if one can't participate in the program.
All ZWBA products are cruelty-free & vegan… and there's no sign of palm oil or palm oil derivatives – whoop!
About ZWBA
Based in Sydney, this sustainable beauty company aims to "create the revolution" toward a circular economy, where finished product containers can be returned and reused in exchange for a discount on future orders.
Revolutions take time, so until then, they aim for as much sustainability as possible, ordering ingredients in bulk, using only stainless steel and glass during production, and being careful to ensure no amount of ingredient or product is wasted.
Even their shipping methods are entirely plastic free. Their packaging tape is biodegradable.
ZBWA is entirely cruelty-free, vegan and palm oil free and they use organic & natural ingredients. All their ingredients are ethically sourced from Australian suppliers and handmade in Australia.
For their product packaging, they are looking into replacing their plastic lids with something other than plastic (watch this space) and they are investigating ways to make their return program accessible to more people.
*Note while Schmidt's deodorants are palm oil free, their soaps do contain a palm oil derivative
About Schmidt's Naturals Zero Waste Deodorants
Schmidt's certified vegan, cruelty-free deodorants use complimentary combinations of moisture-absorbing baking soda, soothing Shea butter, and enriching sunflower-derived Vitamin-E.
They're designed to absorb quickly, so you won't be left with a greasy or sticky feel. Their deodorants are all vegan, cruelty-free, palm oil free and natural.
Schmidt's has a next level recycling program where you can send back 5 of the re-usable glass jars and they will send you a free jar! Unfortunately, this only works if you're based in the US. For the rest of us, the jars are 100% re-usable or recyclable.
Unfortunately, this program is currently only available in the USA, though their products are available worldwide.
About Schmidt's Naturals
Portland based deodorant specialists, Schmidt's make an excellent range of natural products.
They're 100% cruelty-free, organic & natural and vegan. Their deodorants are also palm oil free (however their soaps do contain a palm oil derivative).
9. BEN & ANNA NATURAL SODA DEODORANT
About Ben & Anna Natural Soda Deodorant
These handmade zero waste deodorant bars, available in a variety of sweet scents, are designed to last, keep you fresh and dry.
They contain baking soda as an odor neutralizer and all other ingredients are certified vegan and organic. The tubes are also alcohol, gluten free and are FSC-certified recyclable (and compostable).
They're a cruelty free brand although their ingredients do contain a small amount of palm oil derivatives.
About Ben & Anna
Ben and Anna, founders and creators of the company, are based in Germany's Hessian countryside.
After searching long and hard for a suitable vegan and aluminum free deodorant, the couple decided to create their own.  A process that took "a lot of time and tinkering" but yielded a product now popular all over the world.
Their products are entirely cruelty free and certified vegan. They also have the Natrue certification, certifying that their products are 100% natural.
They use a small amount of RSPO certified palm oil in their products(you can read more about our thoughts on RSPO and palm oil here and here).
They support the German charity One Earth One Ocean and they take care to use harmless materials for their packaging.
About DIY Deodorant
Like most things zero-waste, you can also forgo the pre-made product all together and make it yourself based on your personal preferences and needs.
Remember, most the products on this list start just that way!
There are lots of different recipes out there (here's a particularly good one from Wasteland Rebel), but ultimately, it all boils down to recipes that are oil-based and those that are not.
Oil-based recipes tend to be gentler on the skin and often more effective, but they can leave oil stains on your clothes if you sweat at all. 
As such, many people prefer non-oil based, like this recipe by Kathryn from Going Zero Waste:
2 oz. water
1 tsp. baking soda or bentonite clay (for those with sensitive skin): This absorbs moisture, neutralizes odor, lowers body pH, and has alkaline properties to reduce long-term sweating.
1 tsp. Himalayan Pink Salt: This eliminates toxins, balances body pH, increases blood circulation, and provides healthy minerals.
2-3 drops essential of your choice: Tea Tree Oil or Cypress oil are great for antibacterial properties.
The Process of DIY Deodorant
Bring the water to a boil then remove from heat and let it cool just slightly before adding all other ingredients and allowing them to dissolve.  Shake to dissolve any remaining particles before pouring into a container, either a non-plastic spray bottle or a roll-on bottle (maybe recycled from an empty essential oil!).
With this recipe, Kathryn was able to go an amazing 10 days without showering and still passed an honest scent test at the end of it.  She also created an extra strength recipe for athletes, heavily active users, or those that live in hot climates.
Whether you choose to buy or DIY,remember to detox before switching to natural deodorant!
Conventional deodorants are full of harmful synthetic ingredients like phalates, parabens, aluminum and even formaldehyde (the same thing used to preserve dead bodies), which block pores that build-up in your body.  You need to let that build-up work itself out before starting a natural alternative.
During this detox, it's important to refrain from wearing any deodorant (even natural deodorant) to avoid skin irritation and an increase in smell.  This process takes about three weeks, so doing it in colder weather is ideal because you'll sweat (and smell) less while not using any deodorant.
Pro-tip: You can speed up this process by mixing bentonite clay and apple cider vinegar and applying it to your pits after a shower.
FINAL THOUGHTS ON ZERO WASTE DEODORANTS
Swopping out your off the shelf spray-on for an eco friendly deodorant is just one of the many easy zero waste alternatives out there. They're also clean, green and just as (if not more) effective! 
We hope this is helpful in your search for the perfect zero-waste deodorant. 
Feel free to throw your arms up and celebrate your great smelling pits and the fact that you've prevented so many plastic tubes from entering landfills.
Always remember, plastic stinks,
but you don't have to. Anything you'd like to add, let us know, in either the comments or send us a message.
Other articles you might like …