For as long as I can remember it was all about the "anti-perspirant". Stop the sweat at all costs. Block those pores. Dry and fresh for 720 hours straight etc.
Turns out that was bad idea. We're meant to sweat. We're mammals. It's our way of controlling temperature and eliminating toxins. We have to work with our body and not against it.
So finding the best natural deodorant for men, one that really works and is actually a natural (in the true sense of the word!) is pretty important.
ALUMINUM – THE INGREDIENT TO AVOID IN NATURAL DEODORANTS
Take for example the key ingredient in any anti-perspirant deodorant, aluminum. It literally plugs the ducts on our skin's surface (they are really small molecules). This prevents a clammy arm pit which the odour causing bacteria thrive in.
On the one hand this sounds ingenious, just stop the sweat man. On the other, it's completely unnatural. Which is why aluminum has got some bad press.
Recent studies have shown that once this ingredient is absorbed into the skin it induces estrogen-like effects (think moobs) which may be linked as a possible cause or increasing the risk of breast cancer. The jury is still out on whether or not this is conclusive. Though, personally I'm not going to take the risk, especially when there are alternative natural deodorants that work.
But it's not just aluminum. There are a host of other synthetic, chemical and other noxious compounds (e.g. all the parabens which are known to affect hormone function among other negative effects) found in just about every single off the shelf anti-perspirant / deodorant.
For me, when there are healthy alternatives that are just as effective and less damaging to the environment, this is a no-brainer. With that said, I'll get off my soap box and get onto the options!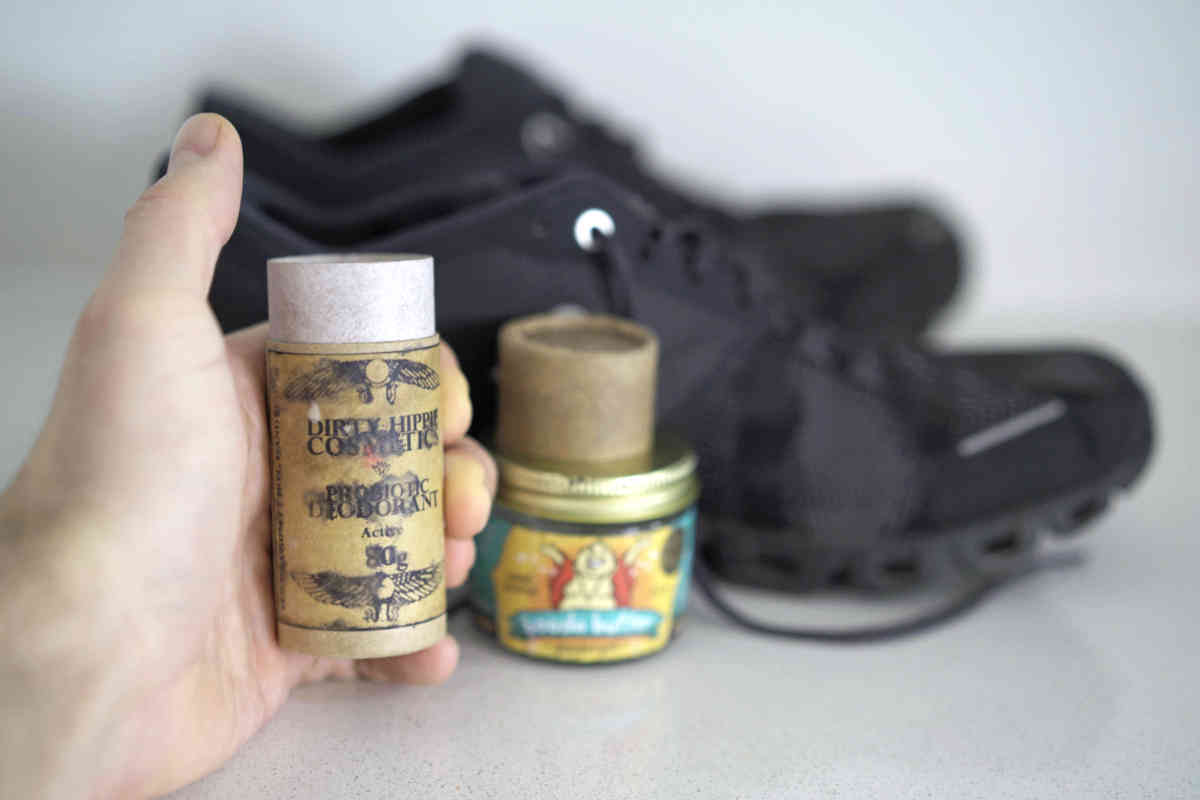 DO NATURAL DEODORANTS FOR MEN ACTUALLY WORK?
Firstly, have you tried the move from ordinary spray / roll-on deodorants to natural deodorants?
If yes, welcome to the club. If no, well it can be a bit of a lucky dip (and of course a matter of preference) to find one that properly deodorizes. Just remember that these options do not stop you from sweating. They zap (or at the least significantly reduce) the odor causing bacteria.
So how hard do I expect my eco friendly deodorant to work. It's probably best answered by describing my daily commute. I cycle for about 30 minutes to work everyday. Sweat wise, it's not enough to warrant a shower but I can smell pretty average if I'm not prepared, especially if it's a warm or hot day (in which case I should probably shower!)…
And we all know there's nothing worse than knowing that your own body odor is out of control (thanks to either using an ineffective deodorant or no deodorant at all) or getting stuck sitting, standing, working next to someone that is going al naturale…
I've been in both positions but, thankfully, with a bit of trial and error, (and to answer the above heading's question) YES natural and sustainable deodorant does work and in some cases fantastically well. And, as I mentioned before, they contain healthy ingredients which make healthy products, which is also beneficial for the environment.
WHAT MAKES A NATURAL AND ENVIRONMENTALLY FRIENDLY DEODORANT?
The term "natural" is one of the most misused marketing terms around. It's can mean just about anything. It's been slapped on all types of completely unnatural (and toxic) products. All in an effort to fool the consumer into thinking they're buying a healthy product.
As a rule of thumb, if you can't quickly understand the ingredients in a "natural deodorant" then it's probably a bad sign. In a nutshell, if there's aluminum, parabens, synthetics, phthalates, sulphates and any other ingredients containing the likes of "poly", "-eth-" or "oxy" then it's not a natural eco friendly deodorant.
Also, the list of ingridients should ideally be short and to the point. We don't need 30+ cheap additives.
Now we know what to avoid, what actually makes up a natural and environmentally friendly deodorant?
There are a bunch of core ingredients which many of the deodorants below include. Why? Because they're effective and some of the best nature has to offer in deodorizing odor and sweat. If you see these, it's a good sign:
coconut oil
kaolin clay
bicarbonate soda
shea butter
tea tree oils
arrowroot powder
carnauba wax
vegetable glycerin
clove essential oil
tocopherol (vitamin E; sunflower-derived)
heobroma cacao (cocoa) seed butter
citrus aurantium bergamia (bergamot) peel oil
citrus aurantifolia (lime) oil
Apart from the formulation of a deodorant, ideally the deodorant should be as zero waste as possible. I.e. the packaging should be re-usable, compostable and at the very least recyclable. Have a read here for a list of specific zero waste deodorant options.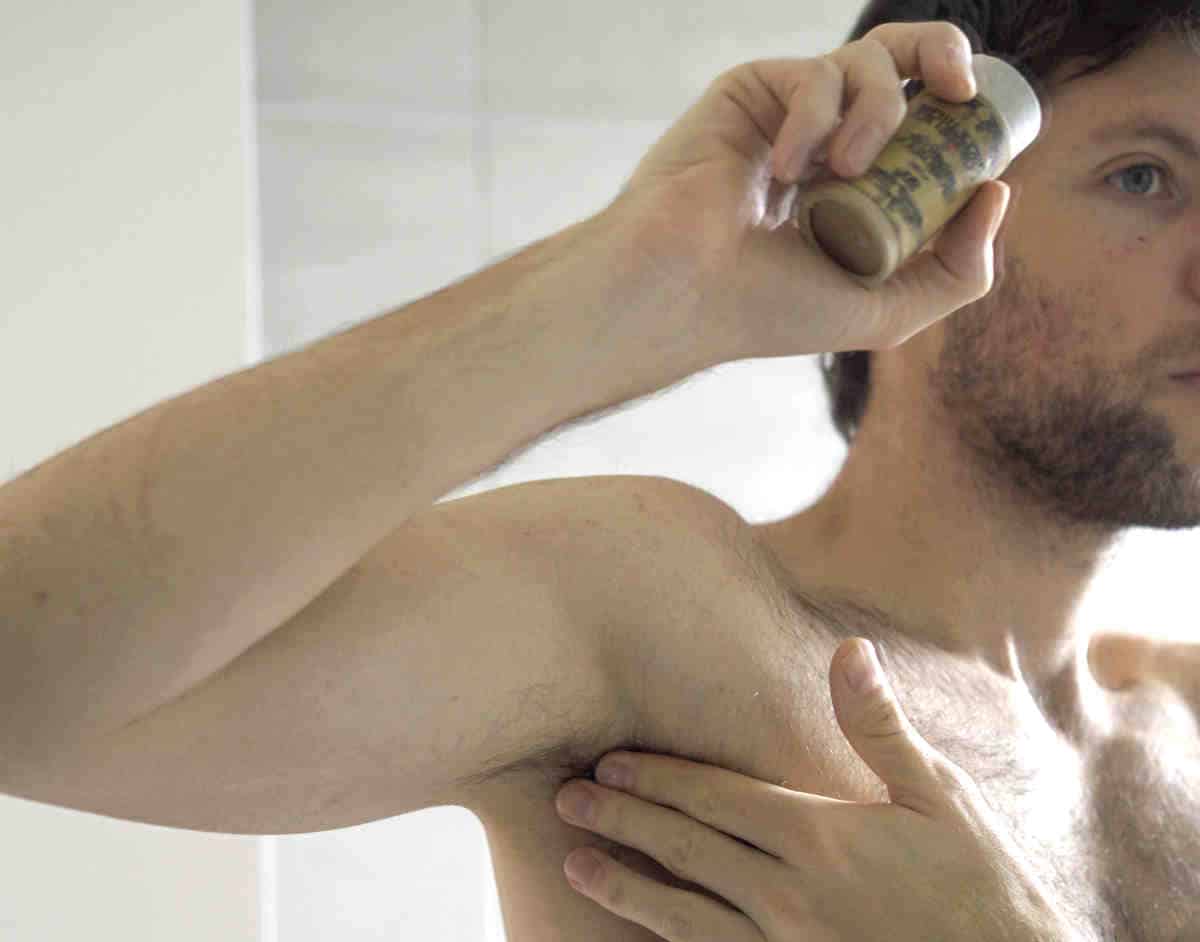 CRITERIA FOR MEN'S NATURAL DEODORANTS
And just an FYI – if this is your first time visiting Sustainable Jungle, our approach to personal care products is to look for brands and products that are:
have ethical ingredient sourcing policies and
use thoughtful, ideally zero-waste packaging (meaning it either has no waste at all, or waste that is compostable or widely reusable).
Note that some of the natural deodorants below are not always (unfortunately) available in every country. I'll continue to research and add additional natural deodorants for men to the list. But do let me know if you think there's a great product that should be featured!
QUICK LINKS FOR THE BEST NATURAL DEODORANTS FOR MEN
1. DIRTY HIPPIE ACTIVE DEODORANT BAR
About Dirty Hippie Deodorant
Dirty Hippie is one of our favorite brands because they're super sustainable and make some of the most truly natural products around (certified organic).
They offer a "Natural Probiotic Deodorant" paste that you rub into your pits. Takes a bit of getting used to but after a while it's actually a nice routine. The product comes in either compostable packaging or aluminum tins (depending on which size you get).
There are 4 different scents of this environmentally friendly deodorant. I highly recommend the Active which has a Virginian Cedar, Lime and Eucalyptus scent. I've been using it for a couple of months now and it works even on humid Aussie days. The products principal ingredients are bicarbonate soda, arrowroot and a kaolin clay base which soak up excess moisture. While the tea tree and coconut oil's anti-bacterial properties keep the odor at bay.
There's also the Fresh (Rose Geranium, Mandarin and Cypress); Earthy (Patchouli, Lavender and Vanilla).
For those with sensitive skin the Sensitive Skin Spray On Deodorant is a great natural alternative. And probably the best men's deodorant for sensitive skin. It's Magnesium based (aluminum free) which come in the same scents as the other natural deodorants and are packaged in a 100ml recycled brown glass bottle.
All Dirty Hippie's products (including their natural deodorants) are cruelty-free, vegan, certified organic and palm oil free. They also accept empties and provide refills.
These natural deodorants take the award for the best environmentally friendly deodorant.
About Dirty Hippie
Hailing from Bywong, Australia, Dirty Hippie are one of the most sustainable brands we've featured on Sustainable Jungle.
They create handmade, organic and clearly top quality products (based on hundreds of super reviews).
They're a 100% cruelty-free, palm oil free and vegan friendly brand. They source all their ingredients ethically, either purchasing through fair trade channels, buying local or growing their own raw ingredients!
As for packaging, they haven't skipped a beat, their lip balms, sunscreens, deodorants and small and large eco tubs are made using recycled paper (which can be composted!). Otherwise they use tins and glass bottles which can be recycled or reused of course!
Their labels are printed with refillable veg-ink and their operations (which currently have a 50% carbon offset) will be powered with solar when they move into their new HQ.
They're based in a zero waste community (read more about it here).Their lab also makes use of naturally collected rain water! And if that wasn't enough, they're involved in a number of charitable initiatives and projects from raising awareness for suicide prevention to animal rescue to support for cancer sufferers.
2. FAT AND THE MOON DEODORANT CREAM
About Fat and the Moon Cream Natural Deodorant
The Cream Deodorant is said to be effective for the "full spectrum of stinky". Based on many reviews, it would seem this claim is true.
Sans aluminum, it combines coconut oil and a baking soda base to eliminate bacteria growth. Arrowroot then works at absorbing excess moisture and the mix of essential oils with their natural antimicrobial magic ensure it's not an environment for unwanted organisms. This is a solid natural formula.
As with many of these truly natural deodorants the scent is not overpowering. Black pepper, bergamot and a hint of citrus – it's a bit left of field but a refreshing change.
About Fat and the Moon
Fat and the Moon make one of the widest assortment of products of the brands on our list. This includes "adornment" products, environmentally friendly deodorant, soothing balms, dry shampoo, anti-fungal creams, and so so much more.  They really can be your one-stop shop.
The plastic free deodorants come packaged in reusable tins and are shipped as minimally and unsuperfluously as possible.
Handmade to order (because "body products, like food, are not meant to last forever!") Fat and the Moon really strives for the quality and care once achieved by naturalist healers. They stay grounded in those inspired roots by calling many of their recipes "potions".
These all natural healing potions, while not 100% organic, use "plants that are abundant, ethically harvested and organically cultivated and combine them in formulations that are radically non-toxic". The explicitly mention which ingredients are and aren't organic. All Fat and the Moon products are palm oil free.
Please note that, while cruelty free, not quite everything is strictly vegan friendly (speaking to their lips stains and eye coals) as they contain ethically sourced beeswax.
Fat and the Moon also support various charities and causes in their community.
3. BLACK CHICKEN REMEDIES AXILLA DEODORANT PASTE
*Note: We have attempted to confirm policies directly with this brand 
About Black Chicken Remedies Natural Deodorant
Black Chicken's Axilla Deodorant paste is quickly gaining traction as one of the best natural deodorants out there. It's a big call, but I think this might be the most effective natural deodorant I've tested and reviewed (even for vigorous exercise). Of course, we each have personal preferences but for me, this is perhaps the best natural deodorant for men out there. 
It has an understated clove like scent, which is a little different to your usual overpowering Lynx or Old Spice but in a good non-synthetic kind of way. This product also took home the Editor's Choice in the beauty shortlist Awards 2017.
As with all deodorant pastes, the application (rubbing the product onto your armpits) takes a little getting used to but it actually becomes a surprisingly therapeutic daily ritual.  
As for its environmental impact, this product is cruelty-free, vegan, palm oil free and 100% natural. It also comes in a recyclable container. Though we'd prefer it if the packaging made this more of an environmentally friendly deodorant. 
About Black Chicken Remedies
Black Chicken Remedies are one of our favorite brands here. They tick each of our most important sustainability boxes, being 100% organic & natural, cruelty-free, palm oil free and with the exception of one product, vegan.
They also use recyclable aluminum bottles, glass bottles and PET plastic to preserve the integrity of their quality ingredients and prevent the leaching of plastic toxins.
4. SCHMIDT'S NATURAL DEODORANTS
*Note while Schmidt's deodorants are palm oil free, their soaps do contain a palm oil derivative
About Schmidt's deodorants
Schmidt's is now a well established natural deodorant specialist. They manufacture both natural deodorant pastes and, for those that prefer the conventional, deodorant sticks.
I've tested a couple of Schmidt's natural deodorants (Fragrance Free, Bergamot + Lime and Cedarwood + Juniper) and they've all worked well, getting me through 40 minutes of cycling (on a cool to temperate day) and a full day at work.
Their deodorants are all completely natural, cruelty-free, vegan and palm oil free. Their stick deodorant containers are made of 60% recycled materials and are 100% recyclable. Though, I'd opt for the glass jars which are reusable (see more below on their return scheme). 
About Schmidt's
Portland based natural deodorant specialists, Schmidt's make an excellent range of affordable products.
All their products are 100% cruelty-free, organic & natural and vegan. Their selection of eco friendly deodorant is also palm oil free (however their soaps do contain a palm oil derivative).
Schmidt's has a next level recycling program where you can send back 5 of the re-usable glass jars and they will send you a free jar. Unfortunately, this only works if you're based in the US. For the rest of us, the jars are 100% recyclable.
Schmidt's also regularly donate product to local and national organizations. 
5. BOODA ORGANICS CREAM DEODORANT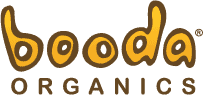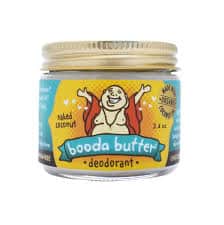 About Booda Organics's deodorants 
Booda Organics offers a single effective plastic free deodorant made with a short list of USDA certified organic butters & oils (pure baking soda, shea butter, organic tapioca flour, virgin coconut oil & cocoa butter). You don't get a much more natural deodorant than this – you could practically eat the stuff.
I found this to be the easiest natural deodorant to apply. It's not the strongest odor eliminating natural product on the market but for a non-active day it's all you'll need. It does have an understated coconut scent though.
Booda specifically mentions that only a pea-sized amount of the product is necessary as the baking soda ingridient is quite strong and may irritate sensitive skin. Other reviews suggest this is a very reliable natural deodorant.
As for the environment, the product is 100% cruelty-free, vegan and palm oil free. It also comes in a BPA free container that is 100% recyclable.
About Booda Organics
Booda Organics is a family run business, specializing in handmade skincare products made with only the highest quality, food-grade, organic, non-GMO, sustainable, vegan ingredients. All their products are 100% cruelty-free, organic / natural, vegan and palm oil free. In fact, they only contain 5 ingredients or less!
They source all of their ingredients ethically including their cocoa butter, shea butter which are from fairtrade suppliers. All their packaging is 100% recyclable and they support over 30 charities every year. These guys are ethical champions who happen to also make effective products!
6. THE NATURAL DEODORANT CO. NATURAL DEODORANT BALM
*Note: We have attempted to confirm policies directly with this brand 
About Natural Deodorant Co Deodorant
I've now tested 2 Clean Natural Deodorant Balms, both of which effectively deodorized the smells even on warm days with moderate exercise. Note this is different to an antiperspirant which is supposed to prevent sweating by blocking your pores with synthetic aluminum.
This eco friendly deodorant's formulation consists of a bunch of natural ingredients that are healthy and effective like coconut oil, sheet butter, magnesium oxide and sodium bicarbonate.
Out of all the natural deodorant balms I've tried this is the easiest to apply (next to Booda) thanks to it's creamy texture. From a scent perspective, I would say the Grapefruit + Mint edges out the Lemon + Geranium by a hair.  
Natural Co's deodorant balms are also cruelty-free, natural / organic, vegan and palm oil free. The tubs are made of glass and can either be reused or recycled. A plastic free deodorant indeed! Unfortunately for those of us in the USA, this sustainable deodorant has not made the leap across the Atlantic, yet…
About The Natural Deodorant Co
The Natural Deodorant Co is a neat little natural deodorant specialist based in the UK. It's run by Laurie who started the business when she realized how limited the options were for natural, organic deodorants.
Low production runs and high quality ingredients mean these tubs are a little more than your typical deodorants. Having said that, I found they lasted a fair bit longer as you don't need much product to do the job. Worth the price for a healthy product.
7. RAZOROCK – THE BEST DEODORANT ON EARTH!
About RazoRock – The Best Deodorant on Earth! 
When it comes to product formulation, RazoRock are purists. With only 3 base ingredients (natural soda, non-GMO corn starch and organic vegetable glycerin), there's no doubting this is truly a natural deodorant.
But that does not mean this product is ineffective, in fact it's quite the opposite. The general consensus based on a number of reviews is that this stuff is a workhorse and may just live up to it's namesake.  
When it comes to the scent, there's two varieties, citrus and tea tree. The tea tree ingredient has natural anti-microbial properties. RazorRock's deodorant balms are also cruelty-free and vegan friendly. The tubs can either be reused or recycled.
About RazoRock
Based in Ontario Canada, what started out as just a hobby for founders, Michael and Joseph, is now a thriving boutique male grooming and body care brand.
Focusing on the lost art of traditional wet shaving, RazoRock has garnered much support not only from their loyal customer base but also from those of us looking for premium and natural deodorant alternatives.
RazoRock has confirmed with us that all of their products are cruelty-free and vegan friendly (except for some of their shaving soaps which contain tallow and lanolin). They're also just about an entirely palm oil free brand too, with only one of their shaving soaps containing ethically sourced palm oil.
As for their packaging, all of it is recyclable and some of it is made from post-consumer use materials. When it comes to waste management, RazoRock also run a near-paperless office in an effort to reduce their footprint. Though we would like to see them use more sustainable materials though so we can label their products as plastic free and sustainable.
They also heavily promote their steel safety razors which are not only completely recyclable but would help eliminate and replace the 2 billion + disposable razors and cartridges that make their way to the landfills every year (this effect cannot be understated)! 
8. PRIMAL PIT PASTE NATURAL DEODORANT FOR MEN
*Note: We are confirming policies directly with this brand 
About Primal Pit Paste Deodorant
Primal Pit Paste is a unique brand.
They have four different levels of natural deodorants for men: Sensitive – without baking soda and for those who are just making the switch to natural deodorant. Level 1,also for sensitive skin, but for low to moderate exercise and cool weather. Level 2 for regular or intense activity and warm weather. And level 3 for extra stink and intense levels of activity and hot weather, apparently effective even in Florida!
Level 3 may also be another contender for the best natural deodorant for men!
You can get each of the four product levels of natural deodorants in a paste, stick or mini stick. The most popular overall seems to be the conventional sticks.
As for scents, there's coconut lime, spice and orange creamsicle to name a few. There's only a handful of ingredients found in each of these products like Organic Shea Butter, Organic Arrowroot Powder, Baking Soda, Organic Coconut Oil and Candelilla Wax. Healthy and effective ingredients for a natural formula.
These natural deodorants are also cruelty-free and vegan friendly. They use BPA free recyclable packaging but are not a plastic free deodorant alternative.
About Primal Pit Paste
First and foremost, Primal Pit Paste is a natural deodorant specialist but they also have a select range of oral and body care products too.
The inspiration for the brand came out of the founder's quest to create natural, safe and effective personal care products that the family could use.
Each is formulated with natural and / or organic ingredients and is also cruelty-free.
9. JUNGLEMAN NATURALS DEODORANT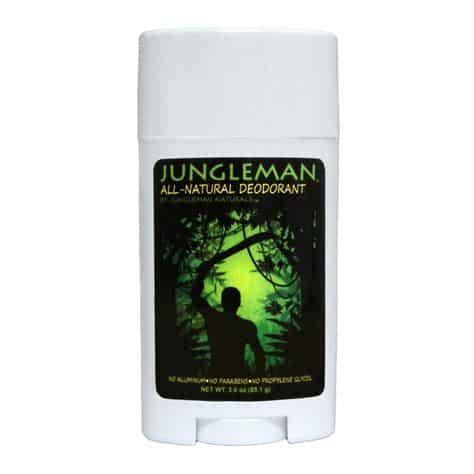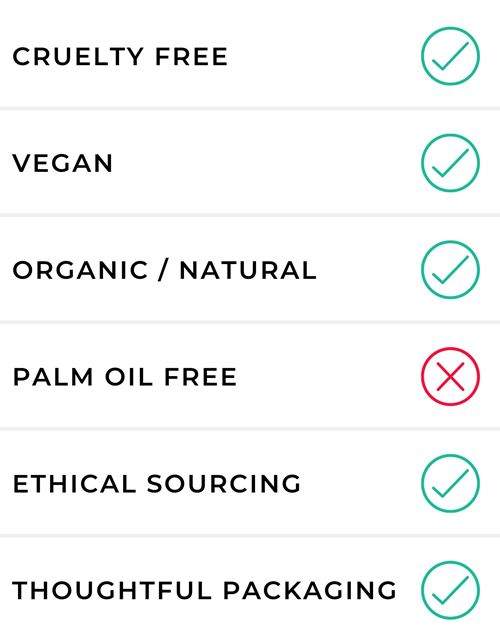 About Jungleman Natural Deodorant 
On the other side of the natural deodorant spectrum is Jungleman.
They have a super select range of hypoallergenic natural deodorants. There's one type with 4 different scents: Jungleman (non-scented), Junglemint, Junglejuice (citrus) and Junglewomen (lime).
Each of these products contain 4 completely natural ingredients, so there's absolutely no risk of being exposed to any synthetic or chemical based fillers. And, of course, this product wouldn't be on this list if it wasn't effective, other reviewers agreed that it works really well.
Watch out for hot temperatures though (and this goes for almost all natural deodorants) as the consistency can turn the product a little mushy.
About Jungleman Natural Deodorant
As mentioned, Jungleman is a "mono product" manufacturer (they stick to what they know – natural deodorants)…they're not trying to be a jack of all trades. 
Jungleman only ever test their men's natural deodorant on human-animals so we can be sure they're cruelty-free and they're also completely vegan friendly. They do contain palm oil, however, it is RSPO certified and sourced from non-peat lands.
While this isn't ideal (you can read more about our stance on palm oil here and here and most recently here), we did check the specifics with Jungleman.  They assured us that the vendor only uses small production machine press (as opposed to the large scale bio-fuel and food filler vendors) who are responsible for the excessive large scale land deforestation.
All of Jungleman's products are made from recyclable materials and can also be recycled. Though, we'd prefer it if they were more sustainable deodorants made of renewable materials!
FINAL THOUGHTS ON MEN'S NATURAL DEODORANTS
The amount of marketing around body care products is exhausting. Deodorants are no exception. We're led to believe that shiny anti-perspirant deodorant cans are the only deodorants that work. False. They're not only unhealthy for you but there are truly effective natural alternatives that work!
I hope this list has shed a little light on some of the best natural deodorant options out there.
As always, let me know if you have any comments below (and other natural deodorant suggestions you think should be added to the list) or send us a message.
Other articles you might like …