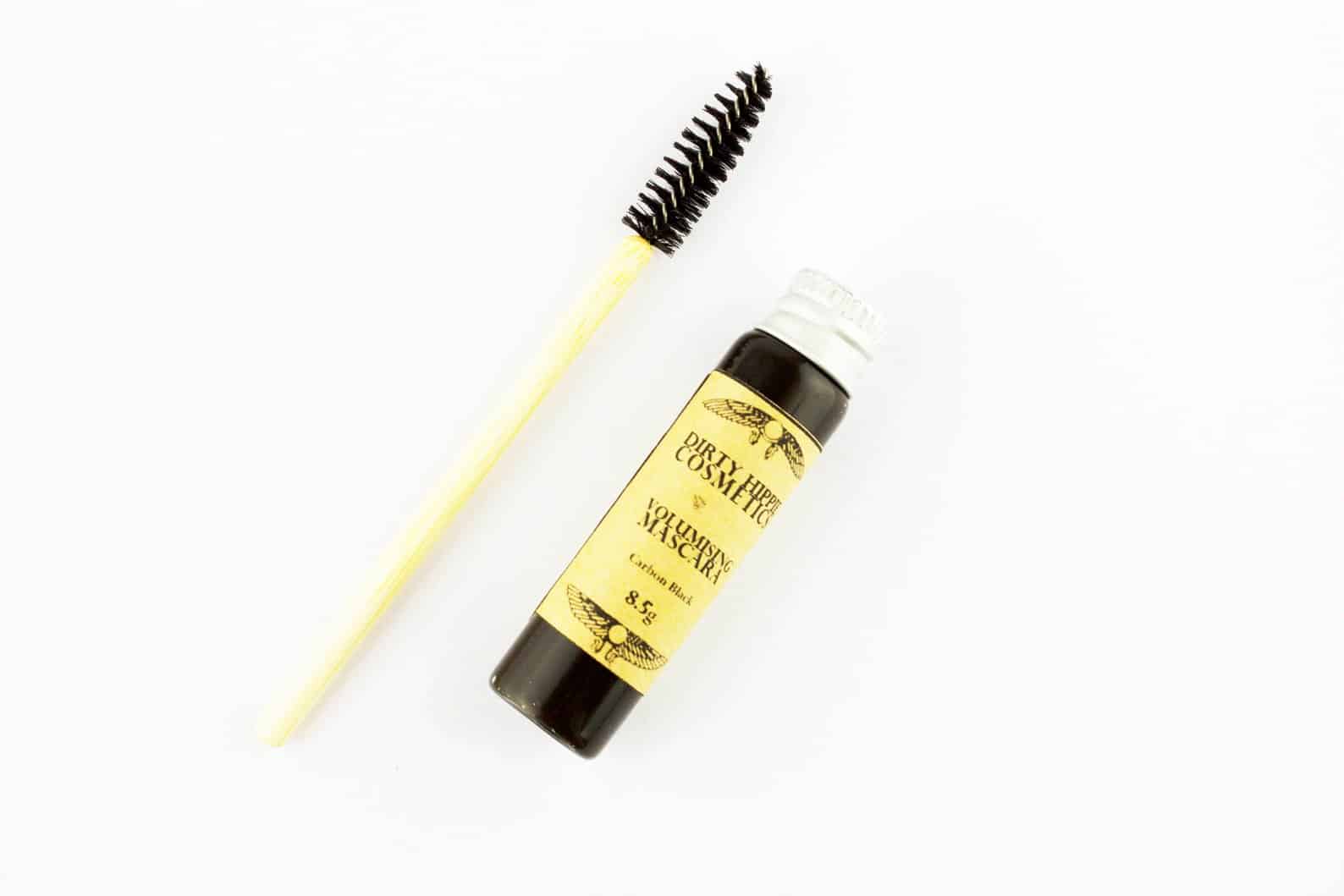 Zero-waste looks good on everyone, just like long lashes! Lucky for us, the two aren't mutually exclusive. Before we get to the glamour of zero waste mascara, let's talk briefly about zero waste principles.
ZERO WASTE (IN A NUTSHELL)
Traditionally, we approach products with a "cradle to grave" mentality: taking something new, using it, then throwing it away. Zero-waste aims to use products "cradle to cradle", using only that which can be reused or composted rather than sent to landfills or incinerated.
Going zero waste is a long and slow process that doesn't need to be achieved overnight. In fact, you may never actually feel like you've reached the finish line, and that's okay. There's no "right way" to do it.
We're on our own slow but steady zero waste journey. It's tough at times, sure, but we love how much more sustainable our lives have become, it feels good.
Ultimately, we aim to be zero waste in even the smallest of things like make-up!
Thankfully, zero-waste make-up options have exploded due to consumer demand; check out some some great zero waste make-up brands here.
FINDING ZERO WASTE MASCARA BRANDS
Mascara, however, is a notoriously tricky product to make eco-friendly.
Aside from it just being difficult to make a zero waste container and zero waste applicator (and having traditional containers be extremely hard to recycle properly), even zero waste mascaras often include palm oil and other chemicals to get the consistency "right".
Both things we don't want on our faces for various reasons.
Zero waste mascaras can also be incredibly messy which is why we've looked for those with lots of good reviews and those that have a relatively easy application process.
APPROACH TO ZERO WASTE / PLASTIC FREE MASCARA
If this is your first time visiting, we look for brands and products that meet our sustainable beauty criteria, meaning they (ideally) must be:
have ethical ingredient sourcing policies and
use zero-waste packaging (with make-up this typically means reusable or refillable containers).
That's a LOT of criteria and despite all the time we put in to searching, we don't always find products that tick every criteria but we try to get as many as possible.
If we missed any you think belong on our list, please let us know!
QUICK LINKS FOR ZERO WASTE MASCARA BRANDS
1. DIRTY HIPPIE COSMETICS
About Dirty Hippie Mascara
Dirty Hippie makes two different mineralizing mascaras: lengthening and volumizing, available in carbon black or cacao brown.
The lengthening mascara uses a thinner Aloe Vera base to coat and separate while the volumizing blends Aloe Vera with clay. Combined with nourishing essential oils and vitamins B5 and E, these mascaras promote healthy base lashes, too!
The plastic free mascara containers come in glass tubes with an aluminum cap. The bamboo spoolie brush is designed for reuse (just add "no brush needed" to the notes when reordering).
You can actually get the glass tube refilled if you live in Australia but they don't offer this take-back program for international orders as shipping emissions would negate any good done; instead just recycle or reuse the glass.
As for ingredients, they are all natural and almost all certified organic (including the one preservative used to make it shelf stable for four months). A few simply aren't certified but are grown using organic practices.
The one downside to Dirty Hippie is that, at the time of writing, their supplier of Olive and Coconut oils (aka Cetearyl and Sorbitan olivates) no longer guarantees them to be palm oil free. While Dirty Hippie is looking for a 100% Palm Oil Free alternative supplier, for the time being that change affects their mascara.
About Dirty Hippie
Aside from mascara, Dirty Hippie makes a wide range of zero waste make-up, skin, and haircare products. Each and every handmade product is organic, cruelty-free, palm oil-free (subject to them finding a new supplier), and vegan.
This super sustainable brand (which keeps popping up in our sustainable beauty lists) is based in the zero waste community of Bywong, Australia, where they grow and source ingredients locally and only purchase externally (certified Fair Trade, of course) where necessary. They even use naturally collected rainwater and are moving to a new, totally solar powered HQ. Currently, they operate at a 50% carbon offset.
All packaging is either compostable recycled cardboard tubes or reusable tin and glass, with vegetable ink labels.
Not to gush, but we also have to mention their charitable endeavors, which include everything from suicide prevention to animal rescue. Currently, portions of proceeds go The Stroke Foundation Australia.
This company gets a high-five from just about every ethical standpoint.
*Note: Not all products are vegan, however the mascaras are vegan
About Bésame Mascara
Bésame makes two different kinds of mascara, aimed at capturing a vintage aesthetic: the 1920 cake and 1940 cream.
In light of our focus on zero waste, we recommend the cake mascara.  The 1920 Cake is vegan comes in a reusable metal tin while the 1940 cream mascara comes in a plastic tube (and contains beeswax).
Inspired by the femme fatale look of the 1920s, this cruelty-free and paraben-free cake mascara is designed to give dark, defined lashes. And since leading ladies of old needed their makeup to resist smudging under movie set lights, this mascara is smudge resistant, too.
Plus it's designed for multi use as eyebrow filler and eyeliner as well. Just add an extra drop of water to the cake for these uses.
About ​Bésame
Founded in 2004 but inspired by the art and beauty of the first half of the 20th century, Bésame makes:"modern reproduction of classic luxury makeup […] designed to make women feel elegant, inspired, and empowered by their beauty." 
Based in Southern California (with Hollywood at its heart!), all products are made in the USA.
All products are gluten-free, PETA's Beauty Without Bunnies-certified cruelty free, and many of their products are vegan.
However if you plan to buy anything other than the cake mascara, do check the ingredients first as some contain responsibly sourced beeswax, Bésame is currently looking for options to replace this to ensure all their products are vegan.
Bésame's uses Ethylhexyl Palmitate, derivative of palm oil in their lipsticks, which accounts for 4% of the formula.
Bésame use a combination of natural and synthetic ingredients. These include: Mica (natural, cosmetic grade, ethically sourced), squalane (plant derived – not to be confused with squalene which is the one that comes from sharks), talc (cosmetic grade and not to be confused with asbestos) and a variety of pigments (food grade dyes).
Per Bésame: "Should we use a synthetic, it is due to it being the better alternative".
More generally, Bésame tries to keep their carbon footprint low in all aspects. Their packing materials are made from recycled paper (though on occasion, they use bubble wrap on products for shipping).
About Elate's Essential Mascara
Elate's Essential Mascara often pops up on zero waste blogs (with lots of good reviews about its water, sweat, and smudge resistance). However, we feel it's important to note they are not strictly speaking zero waste. 
They come in compostable bamboo tubes with a thin plastic liner tube. While these tubes are 100% recyclable, you can't just throw away the whole thing. Crush the bamboo shell to remove the inner plastic, wash it, and dispose of each separately.
For those lucky enough to live close by, you can donate old wands to Project Wild Wands Canada where they'll get another life aiding in the cleaning and knit removable of endangered wildlife. They may be more low waste than zero waste but at least that waste is put to good use!
They're also gluten free, Cruelty-free International certified and PETA-certified vegan.
Please note that Elate is not 100% natural yet; these mascaras use Phenoxyethanol as a preservative.  
However, they are really transparent about listing all ingredients along with a parenthetical translation in layman's terms so you know exactly what's going on your face.
About Elate Beauty
Elate strives to make "products that don't compromise the health of any person, animal or the planet." This means being meticulous about ethical sourcing and business dealings.
This does mean that they sometimes choose fair trade over organic ingredients, though they are working on going 100% organic.
As a company they do use some RSPO-certified palm oil derivatives in their products. The derivative(s) they use in their mascara are sourced from both palm and coconut.
They are moving steadily toward being a zero waste company, packing just about everything in self-regenerative bamboo, then offering refills in seed paper pouches. These are so great because you can plant the package to grow herbs and flowers!
Finally, this Canadian company uses Bullfrog Power to offset all emissions. They also donate to a variety of charities, like the David Sheldrick Wildlife Trust through which they sponsor three elephants: Maisha, Dololo, and Larr.
That's right; your mascara purchases can support these gentle giants!
*Note many of this brands products are not suitable for vegans but there are vegan options available
About BeeYou Organics Mascara 
Aside from having tons of 5-star reviews, these all natural zero waste mascaras are super simple (only 5 ingredients!) and promote lash growth, especially when primed with their minerals setting powders.
The brown shade is 100% organic and the black (while not certified organic charcoal) is mostly organic and 100% natural.  Both are free from parabens, phthaltes, and oxides.
While they are cruelty-free, Bee You (as the name might imply) is not strictly vegan as their mascaras contain beeswax, which is USDA-certified organic harvested from local Pacific Northwest beekeepers.
However, they make a vegan mascara option upon request, which substitutes beeswax with Carnauba Wax.
They used to sell sample size tubes but they are phasing out plastic mascara tubes and moving entirely over to the full size glass tubes. They are continuing to run out the last bit of their plastic inventory but even before then, you can specifically request glass in the order notes.
Their plastic free mascara brush (aka wand) is meant to be reusable and they will omit it entirely if you already have one.
If you're looking to retire your wand, however, they urge you to donate it to the Appalachian Wildlife Refuge, where it'll be used to help remove fly eggs and larva from wildlife.
About BeeYou Organics
Based in the Pacific Northwest, Bee You was started by Larissa, who was raised holistic but rebelled against the lifestyle in her teenage years.  At least until a car accident left her face scarred and sensitive.
She returned to her humble holistic beginnings and now creates soothing products designed to heal on every level, right down to each ingredient.
All ingredients are ethically sourced, non-GMO, cruelty-free, alcohol-free, palm oil-free (including derivatives), andpreservative-free.  Most are certified organic and ALL are 100% natural.  
For a full list of ingredients, their properties, and why she uses them look at her super transparent website!
While not vegan as a company (look out for beeswax and emu oil) they have so many vegan options available. Plus, they support responsible beekeeping and donate to local bee research projects through WSU.
Bee You Organics supports local and small business when possible and also supports various charities in their community. When they start hiring, they plan to hire economically disadvantaged woman and provide a daycare for their children while they work.
*Note we have attempted to confirm the policies directly with the brand
About Kjaer Weiss Mascara
Kjaer Weiss makes Lengthening Mascara out of castor seed oil (for natural antibacterial and antioxidant properties) and jojoba seed oil (for moisturizing eye skin) as a base.  
Being a bit more of a luxury brand, they are a little spendy, but the tubes are an elegant refillable metal case. Please refill because they are unfortunately not recyclable.
Plus, you get what you pay for, and the ingredients are top notch, being gluten-free and CCPB-certified organic with a minimum of 99.8% organically sourced ingredients.  No petroleum, parabens, coloring, fragrance, or emulsifiers and NO animal testing at any point.
The only downside is these mascara ARE NOT vegan, since they contain Cera Alba (aka beeswax).
About Kjaer Weiss
This luxury skin and beauty brand started in Denmark, but now makes many of their products in Italy.  
They create foundations, cheek colors, eye shadows, lip stains, and more, all packaged in beautiful (and refillable!) metal tins and compacts. All products are almost (if not 100%) organic.
They make no mention of their palm oil policy and some products do contain palm oil derivatives; we are reaching out to confirm their palm oil policy directly, as well as their ethical sourcing policies.
*Note we have attempted to confirm the policies directly with the brand
About Clean-Faced Cosmetics Zero Waste Mascara
Clean-Faced Cosmetics wins the prize for biggest zero waste mascara brand selection, creating vegan cake mascaras with options for volumizing, black, brown, clear, white, and more!
They're oil based, which reduces the chunky mess of many zero waste mascaras, and you won't need to moisten the brush before use. Just apply, let dry, and repeat for as thick do lashes as you like!
Each mascara comes either in a small reusable tin pot or in a glass vial (though the lids look plastic so we recommend the pot) with compostable bamboo applicators (although the bristles are unlikely to be compostable).
Accompany your mascara with their lash lengthening setting powder and eyebrow mascara.
About Clean-Faced Cosmetics
CFC, based in Michigan, makes custom made-to-order beauty products that are palm-oil free, vegan, cruelty-free (tested on friends, never animals), and as organic as possible.
They sometimes using tiny amounts of Yellow No. 5 FD&C Lake and Red No. 40 FD&C Lake to properly create skin tone matched foundation powders, but only when necessary.
Creator Laura is currently striving to operate the company entirely waste free, though she, just like the rest of us, knows this is very much a process.
Currently, all product packaging is either biodegradable or reusable and ships in biodegradable cello bags (which look a lot like plastic but aren't).   All labels are printed on recycled paper with eco-friendly ink.
*Note we have attempted to confirm the policies directly with the brand
About Keeping It Natural Mascara 
Keeping It Natural makes mineral cake mascaras in both brown and black.  They also double as eyeliner so you can minimize your make-up needs!
These vegan mascaras are also cruelty-free, fragrance-free, and paraben-free (they say they use "all natural preservatives").  However, they do unfortunately contain palm oil derivatives and a few not entirely natural ingredients (like stearic acid, potassium sorbate, and ceteareeth-20).
To apply, you just wet your applicator brush (which is plastic if you get the one from them, but they'll omit it upon request) and dip into the cake.  
One review cautions from getting it too wet, which makes it a little tricky to apply.  It's not smudge proof but on the flip side, that makes it super easy to remove at night!
About Keeping It Natural
After years working in commercial cosmetics, owner Linda Hoffman decided to use her expertise to create her own all-natural small batch cosmetic company in 2011.  
It's now become popular and excellently-reviewed.
All products are vegan and cruelty-free are made-to-order to ensure freshness. Because she will "pack each order exactly as you wish" you can opt to forego the plastic mascara brush and get it shipped in plastic free envelopes.
*Note Mascara can be made vegan on request, otherwise they include beeswax. Note we are confirming this brand's policies directly with them
About Ek Bare Beauty Mascara
EK Bare Beauty's Bold Voluminous Mascara  ingredients include a nourishing blend of agave, Shea butter, Aloe Vera, bentonite clay, activated charcoal, and, best of all, castor seed oil, which promotes lash growth.
All ingredients are Fair Trade, sourced sustainably, and bought in bulk quantities with minimal packaging.
They're also gluten free and easily made vegan; just be sure to specify because otherwise she uses beeswax for its waterproof qualities.
For oilier skin users, they recommend using some form of setting powder in between coats to ensure it sticks.
About Ek Bare Beauty 
EK's make-up range is huge, and we love that it all comes in compostable cardboard sticks or reusable tin pots.
The company itself is not entirely zero waste as of yet, but she is happy to alter typical packing standards upon request to accommodate zero waste lifestyles.  Plus, rest assured than any non-compostable packaging is stuff that she had gathered from her community.
Every product is handmade to order and engineered for the most sensitive of skin, being cruelty-free, dairy-free, gluten-free, and fully organic.
For full transparency, each product page comes with a clear ingredient list along with their purpose
Note: Some products (though not the mascara) do contain Vegetable Glycerin, which is a common palm oil derivative.  We have reached out directly to confirm their palm oil policy.
About Dab Herb Mascara
Here's a little something different on the list: organic powder mascara!
This one takes a little bit more time for the prep and application process, because it requires mixing together the powder and a lash serum.
They recommend first priming your lashes with just the serum, then mixing the serum with the powder to make it into a paste (which can then also be used as eyeliner and brow filler).
They'll send a bamboo brush and reusable silicone-mixing dish if you need (but you can also just use a bowl or tin you already have).
The powder and the serum are both free from parabens, heavy metals, glycols, alcohol, and silicones.
You can choose either full or sample size, as they both come in adorable little glass jars with tin lids that look like something straight from an 1800s apothecary! Once you use it, just clean it and send it back for a refill.
Mixing your own mascara every day is not for the busy, as Dab Herb point out so be prepared to invest a little extra time in your routine.
Otherwise, this brand also offers two other Mascara options: Organic Herb Mascara BLACK and Organic Henna Mascara, both of which come in glass containers and have refill options
About Dab Herb 
Dab Herb is a "Nature to Nurture" beauty and skincare company that believes "beauty and self-care are inseparable from sustainability, transparency, and wellness".
What started as small makeup made just for their founder Crissy's personal use, developed into an advocate for green beauty standards.
For every product, they use only food-grade, certified organic, cruelty-free, and vegan ingredients. Many of these of herb and plant oils to heal the skin itself, not just disguise it.
Dab Herb's products are all palm oil free (including free of palm oil derivatives). Ingredients are sourced from fair trade certified farmers and suppliers.
Dab ships their products plastic free and they re-use their own suppliers' shipping materials for larger orders. Back in the office, any printing they do is on recycled materials.
Dab Herb also support "MADE IN THE FREE WORLD" which focuses on developing and implementing high impact solutions to human trafficking by working with the most effective partners to rescue and care for victims worldwide.
If you want to really minimize your impact (and have the time), you can just make your own! 
DIY zero waste mascara is a great way to make exactly what you need and control exactly what goes in it (plus no shipping impact!), but we understand it can be quite the process.
Mascara, especially, can be tricky and time consuming to get the right consistency. It's a fine balance between clumpy and runny.
Basically, you're going to need three major components:
Creamy base substance: this is something creamy like Aloe Vera, Shea Butter, or Coconut Oil and will need to be melted down during the making process.
Something more substantial to hold it all together: many recipes call for beeswax for this but you can use various clays or soaps as a vegan substitute.
Some sort of colorant: usually this is activated charcoal, cacao powder, or burnt almond paste and it's also where the process gets messy (charcoal can get everywhere!).
These ingredients must be mixed together, usually in different layers to achieve proper mixing, so it can be quite involved by the time you're done.
One common type of DIY mascara is soap mascara (recipe here), which is supposedly amazing… until you try to remove it.  
According to Katherine of Going Zero Waste, "you will unleash hells eternal fury upon your eyeballs".  
She's actually working on experimenting with different soaps to remedy this issue, but until then, offers a simplified non-soap recipe.  Another good, slightly more involved non-soap recipe can be found here.
For you visual learners out there, watch the process of some different recipes in this video, this one, or this one.
FINAL THOUGHTS ON ZERO WASTE MASCARA BRANDS
Ladies (and others), it's time to go green, go bold, and show off those sustainably smoky eyes. After all, sustainability is essentially a habit, and zero waste can be achieved bit by bit through something as simple as your daily mascara routine.
No need to lash out at all the commercial crap out there; just support these caring brands instead. Your lashes (and the earth) are worth it!
As always, we hope you this helps you not only get glam but feel about doing it.
Reach out with questions, thoughts, suggestions, and good vibes by leaving a a comment or sending a note!
Other articles you might like …