Toothpaste is probably the most regularly used body care product around which is why it was one of the first products we scrutinized for sustainable alternatives. And, with so many healthy and environmentally friendly options available today, why not try a brand that's trying to do good!
If you want to lower your impact even more, head on over to our other article on zero waste toothpaste.
VEGAN TOOTHPASTE THAT'S NOT CRUELTY-FREE
Often the term "vegan" and "cruelty free" are used interchangeably. Which is fine for the most part. At its heart, the principle behind each term is the same. The protection of our furry and not-so-furry animal friends and their rights.
But there is a critical difference and it's important to know what it is. By doing so, we'll ensure that there's no ethical gap in the products we buy.
Cruelty-free products, are by definition products that are not tested on animals. But they still contain animal ingredients or animal by-products which would have necessitated the death of an animal. Which then surely cannot be cruelty-free?
Vegan products, are products that don't contain animal ingredients. But they may still be tested on animals, which is surely not in the spirit of veganism?
So, for example, a vegan toothpaste may not contain any animal ingredients but it has been tested on animals. On the flip side, a cruelty free sunscreen that hasn't been tested on animals may still include glycerin derived from animal parts and is therefore not vegan friendly.
Glycerin can (confusingly) also be derived from palm oil.  If you, like us, prefer to avoid palm oil (have a read here, hereand here for some background on the issue), look for a palm oil free option below.
COLGATE, AQUAFRESH, ORAL-B, SENSODYNE – CRUELTY-FREE TOOTHPASTES?
It's also worth pointing out that most of the well known conventional toothpastes like Colgate, Oral-B, Sensodyne, Crest and Aquafresh (to name a few), are just about all owned by the same 3 holding companies – Church & Dwight, GlaxoSmithKline, and Procter and Gamble.
Which means they're almost certainly tested on animals.
What is surprising though is that they're likely to be vegan friendly as they don't contain any animal ingredients or animal byproducts. The usual suspect was glycerin but now they're manufacturing a cheaper synthetic version of the ingredient which is being used in most of the off-the-shelf vegan toothpastes.
Cruelty free and vegan toothpastes are a non-negotiable!
UNHEALTHY ADDITIVES IN CRUELTY-FREE, VEGAN TOOTHPASTES
Your run of the mill toothpastes usually contain a cocktail of unhealthy and harmful chemicals. Many of which are  absorbed by the cells in your mouth (which is, like our skin, porous), like:
Triclosan, the antibacterial chemical which has been linked to antibiotic resistance and endocrine disruption.
Sodium lauryl sulfate or SLS, the foaming agent which has been known to cause skin irritation, canker sores and various dioxanes which are  carcinogenic byproducts.
Flouride, the cavity prevention ingredient abundantly found in most water supplies around the world and, of course, our toothpastes. This additive is now coming under fire as unnecessary and unhealthy. Though, the jury still seems to be out on whether or not it is actually detrimental to our health.
Microbeads, the tiny plastic pellets that are used in a variety of body care products. Our marine wildlife end up eating these plastic bits and we, as a result of eating fish, also end up ingesting them. Thankfully, most countries these days have banned this ingredient.
APPROACH TO CRUELTY-FREE VEGAN TOOTHPASTES
If this is your first time visiting Sustainable Jungle, our approach to cruelty-free vegan toothpaste is to look for brands and products that are:
have ethical ingredient sourcing policies and
use thoughtful, ideally zero-waste packaging (meaning it either has no waste at all, or waste that is compostable or widely reusable). For strictly zero waste toothpaste, read here.
Note that some of the options below are not always available in every country. We'll continue to research and add other toothpastes to the list. Do reach out and let us know if you know of any others that should be featured!
QUICK LINKS FOR CRUELTY-FREE, VEGAN TOOTHPASTE BRANDS
1. DR BRONNER'S ALL-ONE CRUELTY-FREE TOOTHPASTE
**Note: Dr Bronner's have gone the extra mile to ensure their palm oil is truly ethically and sustainably harvested. Read more here 
Dr. Bronner's Toothpastes: 
We've tried a couple of different Dr. Bronner's cruelty-free vegan toothpastes. The cinnamon and peppermint flavor. It really depends on your taste buds but we seem to be divided on which is better!
They're all 70% certified organic and made of 100% recycled packaging. They don't contain any detergent foaming agents, fluoride, artificial colors, flavors, preservatives, or sweeteners.
If you're looking for a strong natural toothpaste this probably won't do the trick, however, it's perfect for a lighter option or if you have sensitive teeth.
About Dr. Bronner's:
Dr. Bronner's are one of the most sustainable brands around.
Their large range of skincare, haircare and dental products are organic, cruelty-free, vegan and contain palm oil that is genuinely sustainable and ethically sourced.
Dr Bronner's is a B Corp company and they have an innovative approach to fair-trade.  Their packaging is made of post consumer recycled materials and is also recyclable. They also support a range of charities. 
2. MY MAGIC MUD TOOTHPASTE
My Magic Mud Toothpastes
This brand specializes in active charcoal oral care (dental floss, toothpastes and tooth powder).
It may seem counter-intuitive but activated charcoal (which is essentially oxidized and reheated version of the stuff you throw on a bbq) works thanks to it's naturally adhesive qualities that bind to all the usual food and drink that stains our pearly whites.
But just bear in mind that charcoal is abrasive so take care in using this product (some dentists suggest using it a couple of times a week) to avoid any chance of wearing away your enamel. This product also includes bentonite clay which absorbs toxins, binding heavy metals and neutralizing bacteria.
Overall, Magic Mud's vegan toothpaste's have gained some great overall reviews.
About My Magic Mud
My Magic Mud are a family owned business hailing from Texas.
They've taken A LOT of care in manufacturing oral care products (including eco friendly toothpastes and toothbrushes).
They're certified cruelty free and vegan by the EU Natural Cosmetics Standard (Ecocert) and their products do not contain any palm oil, SLS, flouride or glycerin.
The essential oils used in their products are sourced from organic growers and they're non-GMO certified. You can watch My Magic Mud's short video here for more of their story.
3. MIESSENCE VEGAN TOOTHPASTES
*Miessence products are almost all vegan including all their toothpastes. While a handful of their products contain RSPO certified palm oil, their toothpastes are free of palm oil 
Miessence Toothpaste
Miessence's toothpastes are vegan, cruelty-free, mostly organic and free of palm oil, artificial colors, flavorings, fluoride, aluminium and detergents.
They contain a couple of interesting ingredients like aloe vera and cinnamon leaf essential oil.
They come in three flavors: lemon, mint and anise.  We've tried the mint flavor and the taste is quite different to your usual toothpastes and will take a little getting used to.
There's also no foaming agent which may make the toothpaste feel sort of ineffective, however, we think this is more to do with what we're used to and not about whether the product works or not. This is another good option for sensitive teeth.
About Miessence
Miessence was the world's first certified organic cosmetic and skincare range.
All their products are organic, cruelty-free and vegan (except for a handful which contain organic beeswax). A handful of their products contain palm oil, otherwise the rest of their range are palm oil free. The palm oil they source is RSPO certified, though, as we have discussed in a previous post, this does not necessarily mean that it is sustainable. Miessence are currently on the lookout for alternatives.
Miessence are also 110% carbon negative, use renewable wind energy and only source ingredients from fair trade protected growers. Their packaging is made of recycled materials and is also recyclable. 
4. GREEN BEAVER TOOTHPASTE
*Note there are a couple of products that are not vegan – see below for more details
Green Beaver's Toothpaste
Green Beaver's Toothpaste was one of the first products they developed.
They have a range of flavors like cilantro mint, cinnamon, frosty mint, green apple, spearmint, star anise and zesty orange. We can vouch for the frosty mint, which is very similar to regular minty toothpastes.
According to a number of reviews this is a really effective cruelty free and vegan toothpaste, just make sure you get the flavor best suited to your taste buds (not everyone likes star anise!).
Otherwise, they're made from natural ingredients such as lemon / mint / tea tree extracts, silica, calcium carbonate (natural mineral whiteners) and glycerin (note this is derived from coconut oil).
As for the environment, their toothpastes are entirely organic and palm oil free.
About Green Beaver
Green Beaver is a family owned business and have been manufacturing hand-made certified organic personal care products since 2001.
All their products are 100% cruelty-free, palm oil free, organic / natural and vegan friendly (except for their lip balms and sunscreen lotions which contain organic beeswax and honey from the Hockley Farm).
They're committed to sustainability as they not only try to source as many local organic ingredients as they can to reduce their carbon footprint, but they're also involved in a number of initiatives and charitable partnerships.
Like installing life saving pond regulators to protecting beavers to raising awareness among the youth of the toxic chemicals found in cosmetics and most recently helping out a women's shelter in BC and homeless moms in Toronto! Incredible!
Green Beaver was also the first Canadian company to be microbead-free since day one.
5. GREEN PEOPLE VEGAN TOOTHPASTES
*Note this brand is 100% Vegetarian and most of their products are Vegan. Their toothpastes we checked are 100% Vegan however it's worth double checking the ingredients before you buy. We are currently confirming policies directly with this brand
Green People Toothpaste
Green People's vegan toothpastes are cruelty-free and natural / organic. They do not contain any SLSs, parabens, colourents, foaming agents, synthetic fragrances or irritating emulsifiers.
They come in a number of flavors including citrus & aloe vera, peppermint and spearmint. There are also a couple of kids options too in the same flavors.
As for the taste, it's a bit more like your standard ordinary toothpastes which will suit those of us who are a little less adventurous or are adjusting to the al natural side of things.
Their packaging is made of PP or HDPE plastics which contain no phthalates and are 100% recyclable.
About Green People
Green People specialize in organic, chemical free beauty products. They have an impressive range that includes hair care, skincare and makeup.
All their products are cruelty-free and many are also vegan friendly (see here for their vegan catalogue). They are PETA and Soil Association (organic) certified and they source fairtrade ingredients wherever possible.
Their products do contain palm oil, however, they source the palm oil from countries where there are no native orangutans. It's worth mentioning that because this ingredient is certified organic it is a condition that it must be grown and harvested sustainably. As mentioned above, we always advocate palm oil free wherever you can (to find out why see here and here).
We're currently reaching out to them on this point to get more information.
Green People's packaging is recyclable and they support a variety of charities from children's hospice to marine conservation.
6. ECO-DENT TOOTHPASTE / TOOTHPOWDER
*Note: We attempted confirming policies directly with this brand 
Eco-Dent Toothpastes / Toothpowders
Eco-Dent is an oral care specialist brand. They have a variety of toothpastes and toothpowders to choose from.
They use mostly natural ingredients like non-abrasive sodium bicarbonate, sea salt, tartric acid, aloe vera, calcium and magnesium carbonate.
All their products are free from SLS, parabens, artificial colors, flavors, fluoride and preservatives.
Eco-Dent toothpastes and toothpowders are all cruelty-free and vegan friendly.
About Eco-Dent
Based in the USA, Eco-Dent pride themselves on designing and manufacturing healthy and effective oral care products.
Apart from avoiding all the usual harmful suspects they're also committed to being environmentally friendly. Their products contain as little fillers and carriers as possible like water and glycerin, which ensures each product is concentrated, lasts longer and therefore reduces wasteful packaging and their overall carbon footprint.
They also use paper instead of plastic for their floss boxes and each box contains double and sometimes triple the amount of product compared to other brands which again saves a whole lot of waste.
Eco-Dent is a completely cruelty-free and vegan toothpaste brand.
7. UGLY BY NATURE VEGAN TOOTHPASTE
*Note: We attempted confirming policies directly with this brand 
Ugly By Nature Toothpaste
If Ugly By Nature's packaging is anything to go by, they probably produce the yummiest toothpastes around, especially with flavors like wacky watermelon, mixed berry madness and spankin' spearmint.
As for their formulation, they're purists and only use a select few ingredients like clacium betonite clay, coconut oil, aloe vera, coconut activated charcoal, birch xylitol, food grade hydrogen peroxide and diatomaceous earth (i.e. soft sedimentary earth) and organic flavors.
Their vegan toothpastes are also all cruelty-free (PETA certified) and palm oil free. The products come in BPA PVC free and recyclable packaging
About Ugly By Nature
Ugly By Nature was born out of Dr. Paul Herman's obsession with health.
Over 20 years of practice he become more and more aware of how many chemicals and toxins consumers were being exposed to. So, in an effort to change the game he and co-founder Adriana Ryan created the mono-product brand Ugly By Nature.
Apart from ticking all the sustainable boxes mentioned above, they're environmentally aware using recycled packing supplies wherever they can and always recycled paper for print. They also ask their distributors to only use digital flyers to reduce unnecessary waste.
Radius Toothpaste
Radius make a very unique cruelty free vegan toothpaste – it's the first USDA certified organic alternative.
It contains delicious ingredients like coconut and rosemary oil, chamomile flower, aloe vera and a couple of other novel ingredients like blue agave syrup (low GI and totally natural sweetener) and soapberry (natural foaming agent with antibacterial properties).
It does however, contain glycerin which is derived from palm oil. While this is RSPO certified, as we've mentioned above, this does not necessarily mean that it's sustainable.
It comes in two flavors: mint aloe neem and ginger citrus whitening. It's also comes in recyclable and BPA free packaging.
About Radius
What started out as Kevin Foley and James O'Halloran toothbrush-design brainchild back in 1980 is now a fully fledged and internationally known dental care specialist brand.
Radius is a Leaping Bunny and vegan friendly toothpaste brand except for their Natural Biodegradable Silk Floss which comes from silk worms.
Radius take a holistic and sustainable approach to their business, from the design to the manufacture and finally the disposal of their products. 
Their toothbrushes, for example, are not only designed to last three times longer than conventional toothbrushes but only the used head has to be replaced which eliminates throwing away the entire toothbrush.
They primarily use renewable bioplastics like timber, agricultural byproducts and plastic bottles. All their packaging is recyclable and in the case of their floss sachets, compostable and biodegradable.
They are also very careful in how they source their ingredients from all over the world.
In 2011 they installed a huge amount of solar panels that now generate more than half of their energy needs. 
RADIUS also supports the Whole Planet Foundation, Whole Kids Foundation, and Vitamin Angels  
*Note this brand is 100% Vegetarian and most of their products are Vegan. Their toothpastes are 100% Vegan however it's worth double checking the ingredients before you buy. We have attempted to confirm these policies directly with the brand
JASÖN Toothpaste
JASÖN manufacture a variety of fluoride and fluoride-free vegan toothpastes.
They're formulated with mostly natural and a couple of certified organic ingredients (e.g. tea tree oil and aloe vera juice). They steer clear of the unhealthy suspects like sodium lauryl/laureth sulfate, lanolin, petroleum, glycol and nano-particles.
Though, some of their toothpastes do contain glycerin which is likely to be derived from palm oil – we're reaching out to them for more info on this.
We've tried the Powersmile Whitening Toothpaste which feels and tastes very similar to a regular Colgate or Aquafresh. It's also one of the stronger natural options available.
Overall, a good alternative for those that want a bit more of a traditional taste and feel.
About JASÖN
JASÖN has been creating natural body care products for more than 50 years.
Their manufacturing plant in Culver City, California is a Certified Organic Processor – the first personal care manufacturer to be given this status by the Californian Certified Organic Farmers Certification.
They're also 100% cruelty-free and carry the Leaping Bunny logo. They're a certified vegetarian brand and most of their products are also vegan friendly though some of which contain animal derived ingredients (e.g. beeswax). They do use palm oil in their products which are obtained through sustainable palm practices – as mentioned above, we're reaching out to them for more info on this.
JASÖN have put some thought into their packaging and use bio-degradable materials and/or recyclable containers.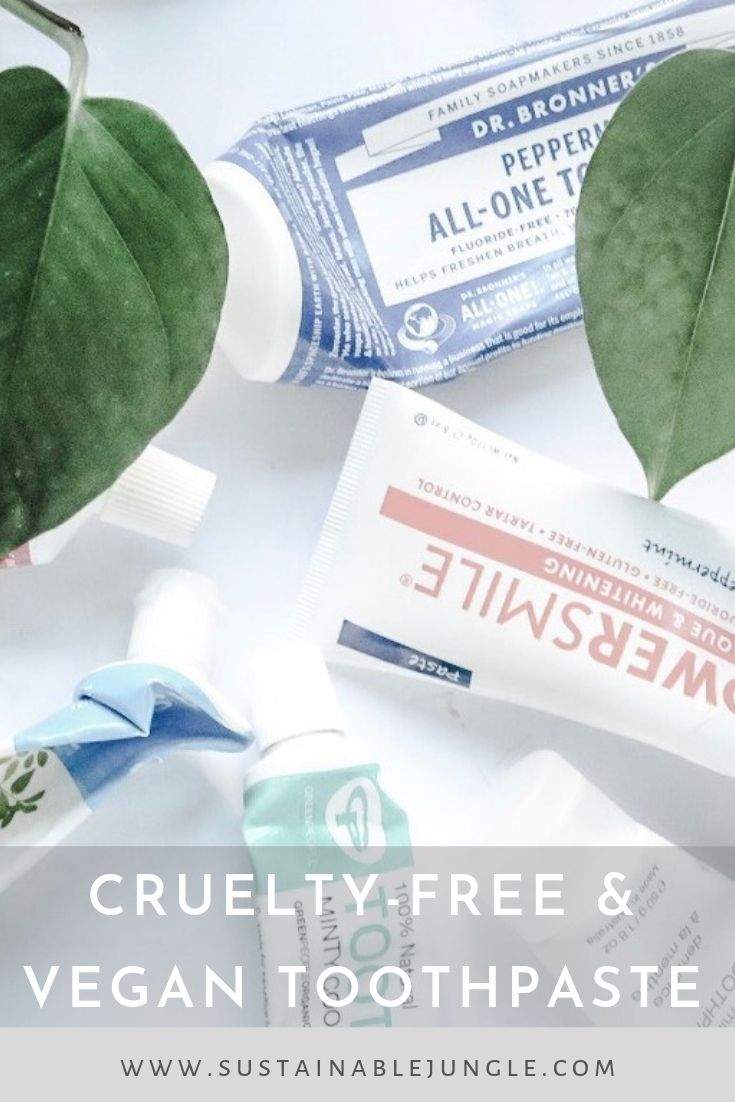 Other articles you might like …