Hi! Looking for a vegan and cruelty free deodorant that actually works?
The cruelty free and vegan market has exploded with options in the last few years which is great. The problem though, is trying to find cruelty-free deodorants that are effective. So, we've made a list of our favorites that we can safely say are fit for purpose!
We've also made sure these options are al naturale (in all senses of the word). So, we not only look after our furry friends but also ourselves (and the environment).
ALUMINUM AND WHY IT HAS NO PLACE IN CRUELTY-FREE DEODORANTS
This additive has got a lot of bad press over the last few years.
Heaps of off the shelf anti-perspirant deodorants use aluminum. It's used to prevent sweating. It does this by literally plugging the ducts on our skin's surface. Which prevents a clammy under arm and the spread of odor causing bacteria.
This would be a great solution if it wasn't totally unnatural. Unfortunately, we are mammals and that mean's we sweat. It's how we stay cool and eliminate toxins. Which is why aluminum is definitely not the answer.
Recent studies have shown that once absorbed, aluminum induces estrogen-like effects which may be increase or be the cause of breast cancer.  The jury is still out on whether this is conclusive, however, it goes without saying that it's probably best to avoid exposing ourselves until more research is done.
But it's also not just aluminum that's the problem.
There are a host of other synthetic, chemical and other noxious chemicals (e.g. sulphates, phthalates and parabens which are known to affect hormone function among other negative effects) found in almost every single off the shelf deodorant.
That's why we always opt for a truly natural cruelty-free deodorant alternative. They're healthier and less damaging to the environment.
INGREDIENTS YOU SHOULD AVOID IN A CRUELTY-FREE DEODORANT
As a rule of thumb, if you can't quickly understand the ingredients in the natural cruelty-free deodorant then our advice would be to steer clear. If there's aluminum, parabens, synthetics, phthalates, sulphates and any other ingredients containing the likes of "poly", "-eth-" or "oxy" then it's not a truly eco friendly deodorant.
Look out for the following animal ingredients to ensure it's a vegan friendly deodorant:
lanolin – also found in a lot of cosmetic products like lipsticks and makeup removers
chitin – crushed exoskeletons or shells of crustaceans (e.g. crabs, shrimps, prawns), insects and arachnids
gelatin – a variety of boiled animal parts from skin to ligaments to bones
collagen – widely used in all sorts of cosmetic products. The naturally occurring protein found in animal tissue.
elastin – another protein, usually found and extracted from the neck ligaments
stearic acid – the naturally waxy solid usually derived from animal fat but can also be derived from vegetable oils
Also, the list of ingredients should ideally be short and to the point. We don't need 30+ cheap additives.
Apart from the formulation of the cruelty free vegan deodorant, it should be as zero waste as possible. Plastic free deodorant is really the future so the packaging should be compostable, re-usable and at the very least recyclable. Have a read here for a list of specific zero waste deodorant options, many of which are also cruelty free and vegan friendly.
CRITERIA FOR VEGAN CRUELTY-FREE DEODORANTS
If this is your first time visiting Sustainable Jungle, our approach to sustainable beauty is to look for brands and products that are:
have ethical ingredient sourcing policies and
use thoughtful, zero-waste packaging (meaning it either has no waste at all, or waste that is compostable or widely reusable).
We know that's a tall order and it takes a fair bit of time to find these brands! While we can't always get every box ticked, this list prioritizes cruelty free and vegan friendly products.
QUICK LINKS FOR CRUELTY-FREE DEODORANTS
1. DIRTY HIPPIE COSMETICS CRUELTY-FREE DEODORANT
About Dirty Hippie Deodorant
Dirty Hippie is one of our favorite cruelty free brands (you may have seen them on many of our lists!) because they tick all the boxes for us. They offer a "Natural Probiotic Deodorant" paste that you rub into your armpits.
They come in either compostable packaging or aluminum tins (depending on which size you get).
You can choose from 4 scents Active (Virginian Cedar, Lime and Eucalyptus – this is the one we use and it's effective even when exercising); Fresh (Rose Geranium, Mandarin and Cypress); Earthy (Patchouli, Lavender and Vanilla) or Sensitive – which is also Bicarb Soda free (Sweet Orange, Atlas Cedar and Cypress).
They also offer a Sensitive Skin Spray On Deodorant which is Magnesium based (aluminum free) and comes in the same scent options.
All Dirty Hippie's products are cruelty-free, vegan, certified organic and palm oil free. They also accept empties and provide refills!
This is probably the most sustainable deodorant available on the market today.
About Dirty Hippie Cosmetics
Hailing from Australia, Dirty Hippie Cosmetics are one of the most sustainable brands we've had the pleasure of covering.
They create handmade, organic and clearly top quality products (based on hundreds of super reviews). They're a 100% cruelty-free, palm oil free and vegan friendly brand. When it comes to sourcing they either purchasing through fair trade channels, buy local or grow their own raw ingredients!
As for packaging, they haven't skipped a beat, their lip balms, sunscreens, deodorants and small and large eco tubs are made using recycled paper (which can be composted!). Otherwise they use tins and glass bottles which can be recycled or reused of course!
Their labels are printed with refillable veg-ink and their operations (which currently have a 50% carbon offset) will be powered with solar when they move into their new HQ.
They're also based in a zero waste community (read more about it here). Their lab also makes use of naturally collected rain water! And if that wasn't enough, they're involved in a number of charitable initiatives and projects from raising awareness for suicide prevention to animal rescue to support for cancer sufferers. Truly inspirational!
2. MEOW MEOW TWEET CRUELTY-FEE CARDBOARD STICKS
About Meow Meow Tweet Deodorant
Meow Meow Tweet makes small batch deodorants in stick and cream form. They also make baking soda free options for sensitive pits.
All their deodorants are 100% vegan, cruelty free, palm oil free and natural. Many of their ingredients are USDA certified organic. They also have a huge fan base because they're also extremely effective.
The packaging is 100% recyclable. But for a truly plastic free deodorant, we recommend the compostable cardboard sticks. Plus, then you don't have to use your fingers to apply!
Like many on our list, they have mini sticks perfect for travel or for just trying it out to see if MMT is right for you.
For an eco friendly deodorant that works, you can't go wrong!
About Meow Meow Tweet
Meow Meow Tweet is a small batch skin care company offering a cute range of body care, facial care, soaps and deodorants.
All their products are 100% cruelty-free, organic / natural, vegan and palm oil free. They source all of their ingredients ethically including their cocoa butter, shea butter, sugar, coconut oil and coffee which are all from fair trade suppliers.
All their packaging is 100% recyclable and they support an impressive number of charities with ongoing monthly donations.
One of the most sustainable deodorant brands around!
3. BLACK CHICKEN REMEDIES AXILLA CRUELTY FREE DEODORANTS
*Note: We have attempted to confirm policies directly with this brand 
About Black Chicken Remedies Deodorant
Black Chicken's Axilla Deodorant Paste is one of the most effective cruelty-free deodorant's that works. Maybe the most effective we've tried.
Besides having to rub it on it's also one of the easier pastes to apply.
With a simple list of ingredients that are simple to understand this has a pleasant and understated scent. But the most impressive factor, again, has to be that it's a workhorse of a deodorant – even for vigorous exercise.
It's also cruelty-free, vegan, palm oil free and 100% natural. It also comes in a recyclable container. Though we'd love to see Black Chicken use more sustainable packaging material to make this a truly sustainable deodorant.
About Black Chicken Remedies
Besides their off beat name, Black Chicken Remedies is a great brand.
All their products are 100% cruelty-free, palm oil free, organic & natural and with the exception of one product, vegan.
All their packaging is recyclable and every product is designed to "make a difference on a physical, mental and emotional level".
4. SCHMIDT'S NATURALS DEODORANTS
*Note while Schmidt's deodorants are palm oil free, their soaps do contain a palm oil derivative
About Schmidt's deodorants
Schmidt's vegan cruelty free deodorants work exceptionally well and keep you fresh even after moderate exercise (we often used it before cycling to work with no odors!).
It does take a little getting used to, but we now love the routine of applying the paste. It reminds us that we're going the extra mile for ourselves and the environment.
Their ethical deodorants are all vegan, cruelty-free, palm oil free and natural. Their stick deodorant containers are made of 60% recycled materials and are 100% recyclable. We're very happy customers, on our fifth Schmidt's jar!
About Schmidt's
Portland based deodorant specialists, Schmidt's make an excellent range of natural products.
All their products are 100% cruelty-free, organic & natural and vegan. Their deodorants are all palm oil free (however their soaps do contain a palm oil derivative).
What we really love is Schmidt's next level recycling program where you can send back 5 of the re-usable glass jars and they will send you a free jar! Unfortunately, this only works if you're based in the US. For the rest of us, the jars are re-usable and recyclable.
5. BOODA ORGANICS ❤ CREAM DEODORANT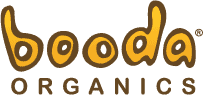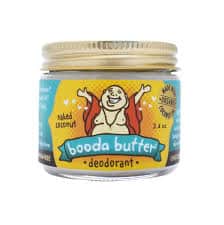 About Booda Butter Cream Deodorants
Designed to create an "all day zen fresh" feeling. Booda Butter creams are 100% USDA certified organic, using only food-grade non-GMO ingredients purchased through Fair Trade suppliers. You can eat the stuff it's that healthy!
It's also cruelty-free, vegan, bee free, palm oil-free and gluten free and come in plastic-free glass jars! A plastic free deodorant indeed!
They believe in product pureness that it only comes in unscented Naked Coconut. It works by blocking body odor, rather than just covering it with other fragrances or aluminum.
We've bought this product a number of times and the scent is delicious – one of the best smelling sustainable deodorants on market. It's also super easy to apply.
About Booda Organics
Booda Organics began in 2010 and prides itself on its award winning sustainability (being completely palm-oil free and vegan certified by Leaping Bunny and Vegan.org) and strict ethical sourcing policy.
Each handmade item is backed with a 100% Happy Guarantee and company profits are used to donate to over 30 different organizations. "Spread the love" isn't just a marketing catch phrase; it's their mission statement.
6. SUDS & SALVE ORGANIC NATURAL DEODORANT
About  Suds & Salve Organic Natural Deodorants
Suds & Salve describe their paperboard deodorant sticks as "just simple".
Made from only 7 natural ingredients that are 100% organic (where possible), right down to the oils. Baking soda is the only exception, but if you're sensitive you can request a version without.
All Suds & Salve products are cruelty free & vegan and come in plastic free, compostable packaging. Their deodorants are also palm oil free.
Another truly sustainable and ethical deodorant alternative!
About Suds & Salve
The founder created Suds & Salve to suit their family's needs (including a child with eczema).
They wanted something non-toxic and gentle. Something "you should not put something on your skin that you wouldn't be happy to put in your mouth". Their "focus from the outset was to be kind to humans with natural, chemical free items and remain friendly to the planet."
All their products are completely plastic free (they refuse to use it). Instead, they use card and paper, including postage materials. They buy ingredients in bulk to reduce the amount of packaging from suppliers. And they are also working to make their supply chain plastic free too.
Surely this is a zero waste deodorant brand if there ever was!
They're also 100% cruelty-free, vegan, organic and now also entirely palm oil free! They support organizations like the Sumatran Orangutan Society (their founder, Jamie, ran 10K to support the charity!)
7. MIESSENCE CRUELTY-FREE DEODORANTS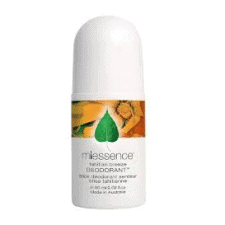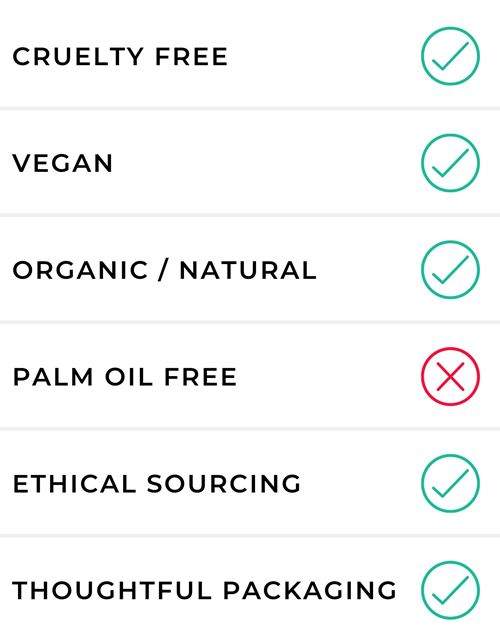 *Note while Miessence's deodorants are palm oil free, 5 of their other products do contain palm oil. We have attempted confirming these policies with this brand
About Miessence's deodorants
Miessence offers a range of vegan, cruelty-free, organic and palm oil free deodorants.
They use non-GMO ingredients and no aluminum compounds.
Their Milk of Magnesia Ultrasensitive Roll-on Deodorant seems to be the most effective for mild activity days. Probably best to use these for no exercise days. All Miessence deodorants come in recyclable containers and last at least a couple of months (depending on use).
About Miessence
Based in Queensland Australia, Miessence was the world's first certified organic cosmetic and skincare range.
All their products are organic, cruelty-free and vegan (with the exception of a few products that contain beeswax). They're also currently phasing out palm oil which is found in 5 of their 75 products.
Miessence is 110% carbon negative, they use renewable wind energy and they only source ingredients from fair trade protected growers.
8. THE NATURAL DEODORANT CO. DEODORANT BALM
*Note: We have attempted to confirm policies directly with this brand 
About Natural Deodorant Co Deodorant
At the time of writing, we're on our second tub of the Clean Deodorant Balm which has held up particularly well and smells delicious.
These cruelty-free vegan deodorant balms are also natural & organic and palm oil free.
The tubs are made of glass and can either be reused or recycled.  Next to Booda Butter, we found these to be the easiest of all the paste / balms to apply with a nice creamy texture. No white marks and highly effective – even when exercising.
Arguably the best cruelty free deodorant worth trying.
About The Natural Deodorant Co
The Natural Deodorant Co is a neat little deodorant specialist based in the UK and run by Laurie who started the business when she realized how limited the options were for natural, organic and eco friendly deodorants.
Low production runs and high quality ingredients mean these tubs are a little bit more expensive than your average deodorant. But then again we found they lasted quite a while as only a small amount is needed to do the job.
9. LIVING NATURALLY ORGANIC DEODORANT CREAM
About Living Naturally Organic Deodorant Cream
We tried this deodorant while living in London and found it most effective for our active lifestyles and easy to apply which is often less than easy with many natural deodorants. 
Key ingredients  organic shea butter, coconut oil and arrowroot, it feels lovely and the citrus scent smells delicious.
Interestingly, this deodorant is also made with Living Naturally's signature anti-fungal & anti-oxidant Organic Soapnut Extract and is free from: Aluminium, parabens, phthalates, propylene-glycol, and GM ingredients.
This deodorant is cruelty-free, vegan, palm oil free and they use organic ingredients, certified either by Soil Association or EcoCert.
About Living Naturally
Living Naturally was the first "soapnut apothecary" in the world, founded to provide biodegradable, hypoallergenic, sustainable and environmentally friendly products (for both laundry detergent and personal care).
Their range is super impressive and is also palm oil free, vegan, cruelty-free, organic (or biodynamic) and gluten free.
Living Naturally put a lot of thought and care into their sourcing policies and their packaging (they cater to those living a zero waste lifestyle) and focus on being as sustainable as they possibly can be.
While they use primarily biodegradable or compostable mailbags, they also honestly admit that packaging methods may use some plastic (which is completely recycled), though they are happy to accommodate paper-packaging requests.
They also give generously to a variety of charities!
FINAL THOUGHTS ON CRUELTY-FREE DEODORANTS
Cruelty free vegan deodorants are non-negotiable. With so many options on the market today it's so easy to tick this ethical criteria. Though, it's not so easy to find truly effective options that are also as environmentally friendly as possible.
With that said, we hope this list gives you a few options to try that satisfy exactly that. Truly sustainable deodorants that do the job!
As always, reach out if you think we should feature other eco friendly deodorants on this list or just send us a message.
Other articles you might like …