Let's talk teeth. 
More specifically, let's talk about how we all need to make some serious improvements to our dental routine. And no, we don't just mean brushing twice a day and flossing every night (but do check out our recent zero waste floss article if you want to start!).
According to this eye-opening video on the Life of a Toothbrush, the average person uses 300 toothbrushes in their lifetime. That equates to billions toothbrushes finding their way to landfills every.single.year. That amount of waste is incomprehensible. 
That's why we're taking a bite out of plastic dental care and diving into zero waste toothbrushes, or rather lower waste toothbrushes, as you'll see shortly. 
Remember, the zero waste lifestyle doesn't always literally mean zero waste; it means doing the best we can to reduce our waste, and unfortunately zero waste toothbrushes are one of those things where we simply have no choice but to accept that caveat of imperfection. 
Let's look at why.
WHAT ARE ZERO WASTE TOOTHBRUSHES?
There are a lot of misconceptions about what constitutes a zero waste toothbrush. It doesn't help that innumerable companies falsely claim their toothbrushes are compostable. 
An ideal zero waste toothbrush would be 100% home compostable, including the packaging, handle, and bristles with no disassembly required. If it doesn't satisfy that then the product is not truly zero waste. 
Packaging is pretty self-explanatory. The same rules apply to every zero waste product we seek: it must be either naked or come in reusable (i.e. glass and metal) containers or compostable ones.
Compostable solutions to plastic handles are also pretty easy to find in the form of a wooden toothbrush. This generally means either bamboo or locally sourced hardwoods.  For this article we'll be focusing on the much more common and sustainable bamboo handle toothbrush.
ZERO WASTE BAMBOO TOOTHBRUSH
For generically sustainable toothbrushes, the easiest zero waste swap would be switching to a bamboo handle toothbrush. Not only is bamboo antibacterial and 100% compostable when you retire your toothbrush, but it's a quickly replenishing plant that can be harvested without actually killing the plant. 
A lot of companies even sell bulk bamboo toothbrushes which are more economical and reduce both packaging waste and shipping emissions.
Bamboo Charcoal Toothbrushes
In the search for bamboo toothbrushes, we came across a lot of bamboo charcoal toothbrush options. 
These are essentially bamboo toothbrushes that use activated charcoal in the bristles (usually nylon). Aside from the nylon bummer, it's worth being cautious about a bamboo charcoal toothbrush. 
While charcoal is lauded for its tooth whitening properties, it actually isn't proven to whiten or remove plaque. Some dentists claim it strips tooth enamel, which is the single best defense your teeth have against bacterial and decay. 
We're not saying it's a gimmick but we're also not saying it's something you should be placing bets on. This article does a good job of laying out the facts for both sides.
So if bamboo charcoal options still ultimately have plastic (nylon) bristles, what about a bamboo toothbrush with natural bristles?  It's time we finally get to that tricky third component of the zero waste toothbrush.
BEARING THE BURDEN OF FINDING ZERO WASTE TOOTHBRUSH BRISTLES
"Zero waste" toothbrush bristles are by far the most controversial part of the zero waste toothbrush and it's where most brands fall a bristle short as greenwashing can sometimes be used. 
We were pretty disappointed to find out that a number of toothbrush brands make false claims about the biodegradability of the their nylon bristles. My Plastic Free Life revealed this after having their brushes lab tested. 
Just about every eco-friendly toothbrush out there has the words "100% biodegradable" somewhere on the packaging. To that we say, "Duh!" Every single form of plastic and petroleum byproduct technically biodegrades… but it can take hundreds of years and biodegrading can simply mean breaking up into micro plastics! That's why it's super important to aim for (and distinguish between) compostable products versus biodegradable products. 
The problem is so many brands use the terms interchangeably. Just remember that all compostable things are biodegradable but not all biodegradable products are compostable.
On the bright side, some companies are are upfront about their use of petroleum but make it seem a bit more harmless than it is. For example, some toothbrush makers (like Bambuu, for one) use Eco Nylon 4. Supposedly this breaks down much faster than other plastics, but it's still a far stretch from compostable, or even bio-based.
Another less sustainable but still biodegradable toothbrush bristle is bamboo-viscose. The UK-based company Soseas uses this. But wait! Bamboo = good, right? 
Well sure, but according to this great post by Wasteland Rebel, it's actually impossible and unpatented to produce bamboo-viscose bristles without adding plastic (at least as of that writing in 2017 and we weren't able to find anything to suggest this has changed). 
If you're not sure if your toothbrush bristle is really organic, you can do as Wasteland Rebel suggests and set fire to it, looking for a black smoke, foul odor, and melting rather than burning. Of course, we don't recommend buying a brush for the pure sake of testing it; that would be even more wasteful.
So all this sounds pretty gloomy and leads us to the ultimate question: Are there actually any zero waste toothbrush bristles out there? 
One truly zero waste toothbrush bristle option is boar hair. Gross, we know. While compostable, they're definitely not vegan and potentially not cruelty-free (most of it is a product of the meat industry rather than harmlessly sourced from live pigs).
Most boar bristled toothbrushes available online also have bone handles which is not our thing – we'd have to feel pretty comfortable around the sourcing and ethics of these producers.
If you'd like to try the boar hair option, you can get your hands (err teeth) on one via Amazon, which has a small selection of wooden toothbrushes with boar hair bristles. Do let us know how it goes. 
So for those of us who'd prefer not to use animal products in our products, are there any zero waste toothbrush heads on the market at all? 
We'll answer that question with an emphatic…YES!
THE BEST BAMBOO ZERO WASTE TOOTHBRUSH BRANDS
For the first time since we zero waste bloggers have been talking tooth sustainability, there is finally a truly zero waste toothbrush bristle product on the market. 
We can hardly stop smiling about it 🙂
Good thing our teeth are so clean!
Brush Naked
Canadian company Brush Naked recently released a compostable bamboo toothbrush with fully-plant based bristles made from corn and tapioca, a combination used in other biodegradable products but never applied to the head of a toothbrush before. 
To ensure this wasn't more greenwashing, Flora & Fauna confirmed its compostability, though they're currently sold out on this site (not surprising). These zero waste toothbrush heads come in both adult and kid sizes.
Aside from being stiffer than their nylon version, they don't last a long (which is what makes them compostable!). The company claims they're good for 2 weeks up to a month, but some reviews claim they don't always make it that long, especially if you don't properly dry them or brush extra vigorously. 
But still, even if you have to replace these three times as often, you're still in the green!
In combination with the bamboo handle, corn and cotton pulp cello wrap, and paperboard box (which you can even omit by writing "no box" in the comments on your order), every bit of this zero waste toothbrush is compostable. Really. 
Biodegradable is more than bluster to Brush Naked. 
That's why we consider them by far the best bamboo toothbrush and to us, the best zero waste toothbrush available right now (and no this is not sponsored). 
Because it's a new development, it's still somewhat limited in availability. While you can get their old nylon bristled versions on Well.ca, it's compostable compatriot is only available via the Brush Naked website and Wild Minimalist.
Given their popularity, we're sure it won't be long before they're stocked on most major online e-commerce sites.
Brush With Bamboo
This next brand you'll likely recognize, as it's pretty much been the toothbrush top dog for years. 
Brush with Bamboo used to be "the world's first and only plant-based toothbrush" until Brush Naked had their breakthrough. 
Brush with Bamboo (a subset of Clean Planetware) crafts USA-made adult and kid toothbrushes with 95% castor bean oil bristles. This is up from 62% just two years ago, demonstrating their constant strive toward greater sustainability. 
Check out this video of how it works.
Every claim BWB makes is backed by the necessary paperwork. The brushes are USDA certified bio-based, vegan, FDA registered, and Green American certified. For proof, they actually provide evidence of each of these tests and certifications on their website.
The handles are organic wild-grown bamboo, certified by CERES of Germany for maintaining high environmental standards in farming. It's a species that pandas don't eat, so you don't need to be afraid of impacting panda conservation efforts in any way. 
The cardboard box is origami-folded to eliminate the need for tape and printed with non-toxic ink. Inside, the brushes come in corn starch wrappers that composts in 30 days in a commercial composter and a little longer in a home one. This is because of U.S. FSC restrictions, that mandate toothbrushes be wrapped and sealed, not just boxed.
Even though they're not at 100% yet, they're still one of the best zero waste toothbrushes based on their sheer dedication to improving. Find a local Brush with Bamboo on Amazon US, UK, Biome (AU), and their website (which offers global shipping).
OTHER (SLIGHTLY) LESS ECO FRIENDLY TOOTHBRUSH BRANDS
These companies are headed in the right direction but just haven't quite overcome the bristle problem.
The Humble Co.
The Humble Co. is a Swedish company founded in 2013 under the mission statement, "Because there is no Planet B". While having a bamboo handle, they use DuPont Nylon-6 for the bristles (in all sorts of fun colors) so you would have to remove these before composting the handle. 
They are certified vegan and cruelty-free, as well as FDA registered.
The reason we include them here is that overall, their ethos as a company is transparent and aimed at the greater good. They don't make any false claims about their brushes, and a percentage of every purchase gets donated to children in need. 
Check out their charitable endeavors here.
To find a product, have a look on your local Amazon storefront in the US, UK and Australia.
Bamkiki
For Australian readers, Bamkiki is another semi-sustainable toothbrush. Driven by their concern over the plastic epidemic, they make "sustainably sourced" MOSO bamboo toothbrushes with colorful nylon bristles arranged in a wave pattern for complete clean. 
They come in toddler, child, and adult sizes. 
If you're a business, you can also go through their B2Business wholesale program and buy bulk bamboo toothbrushes with custom engravings for your company. A good way to promote both your business and low impact dental care!
Even though they've not yet found a way around synthetic bristles, they're passionate about reducing plastic in any way they can. According to the company:
The Earth is our home. We all share a mutual responsibility to give back and care for our planet and the people.
As per their Give Back Program, 5% of all profits get donated to various organizations that promote human and environmental health. The receiving charity changes frequently and they are currently donating to the Great Barrier Reef Foundation. 
For the moment, these are only available on the Bamkiki website.
Not perfect but trying
While both these companies aren't truly zero waste toothbrush makers, we've included them as backup alternatives that are still trying to do some good in the world.
Brushes like theirs, despite synthetic bristles, are still far better than the purely plastic alternative.
If you go this route, just be sure you disassemble the brush by removing the bristles before composting the handle. It's not perfect but it's still a lot less plastic in landfills. 
If you're still using up a stockpile of plastic toothbrushes, try to recycle them. You can't place them out at curbside but some localities offer other options.
In Australia, Canada, and a few others for instance, traditional plastic toothbrushes can be mailed to Terracycle.
ZERO WASTE TOOTHBRUSH HOLDER
Now that you've found a sustainable and eco friendly toothbrush, what about storage… As always, the most sustainable option is to use what you already have. We use an old drink holder which is not exactly attractive but it works! 
If you do need to buy a toothbrush holder (or any product really) do a bit of research to see if there's a sustainable alternative. Thankfully, we're getting sustainable options for most of our product needs.
Sustainable toothbrush storage not only looks nicer, it also helps keep bacteria from growing on your toothbrush. 
A zero waste toothbrush holder not only keeps your toothbrush clean and off the counter, it keeps your bathroom looking neat and tidy. 
Etsy has the best selection of both wood and bamboo toothbrush holders, in all sorts of neat, minimalist designs. You can also find some more traditional zero waste toothbrush holders on sites like Amazon (in the US and UK).  
Amazon even has a bamboo toothbrush head holder to keep electric toothbrush heads neat and orderly.  We talk more about that below. 
For those always on the go or those bitten by the travel bug, a zero waste travel toothbrush case will keep your toothbrush clean and safe in your suitcase. No more plastic baggies or plastic head protectors. 
Travel lovers can find the best bamboo toothbrush cases on Amazon in the US, UK, and AU.  Aussies, if you do your shopping at Biome, they also offer one.
SUSTAINABLE TOOTHBRUSH ALTERNATIVES
Open your mind and err…your mouth. 
Manual toothbrushes aren't the only way to keep your teeth squeaky clean.
Zero Waste Electric Toothbrushes
Electric toothbrushes are another widely popular alternative, recommended by tons of dentists for their gentle but thorough cleaning method. That said, is there such thing as a zero waste electric toothbrush? 
Unfortunately, not yet. The impact of their production is undoubtedly higher and there's really no way to avoid plastic yet. And when they break or wear out there doesn't appear to be an easy route to repair either.
 Again, the bristles also present a problem here. As of now, no zero waste toothbrush heads exist for electric toothbrushes, so while the heads last quite a bit longer, they're not ideal for those striving for zero waste.
That said, some dentists insist that for problem teeth, electric toothbrushes are the only way to go so if you do opt for one, there are ways to be more eco friendly with your electric toothbrush use:
Make sure you buy a quality product with a repair guarantee. Read reviews and talk to your dentist to find out what the best models are for your teeth.
Most models these days are rechargeable, but double check to ensure there is no disposable battery waste on a regular basis.
If you live in Australia or the UK, recylce the electric toothbrush heads with Terracycle – happily, they are finally accepting electric toothbrush heads (find out more here for Aus and here for UK)! If you live in the US or elsewhere, be sure to check Terracycle regularly as they're constantly innovating and widening the range of things they can recycle.
When it comes time to dispose of your electric toothbrush, it will be classified as e-waste and will need to be disposed of carefully at a proper e-waste facility. Check with your local municipality to find out how to do this
Rechargeable electric toothbrushes are available on Amazon in the US, UK, and Australia.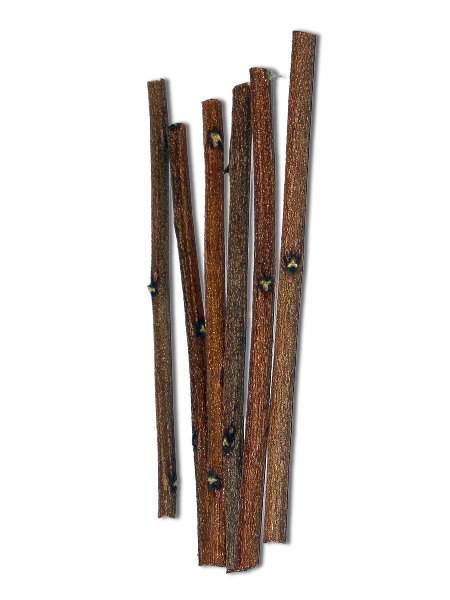 Neem Chewing Sticks
It doesn't even need to be a brush at all. Miswak chewing sticks or neem chewing sticks are traditionally used in many Asian countries as an all-natural, antibacterial tooth cleaning chew stick.
The concept is pretty basic, but it works and lots of people swear by them. Brush with Bamboo even sells organically grown in the USA neem chewing sticks in all-paper packaging, though they're only available in the U.S.
FINAL THOUGHTS ON ZERO WASTE TOOTHBRUSH BRANDS
We know we've given you lots to chew on here. Trust us, we've been spinning wheels with toothbrush trouble for years now, but we're thrilled to see things looking up. 
Innovation and a desire to do better is leading to constant improvements. Hopefully many others soon follow Brush Naked's lead in offering truly compostable toothbrushes.
Just remember that sustainable alternatives are around just about every corner now. Remember to pair your zero waste toothbrush with some zero waste toothpaste or zero waste floss (where we've found truly zero waste alternatives).
We hope we've given you some insight about how you can take care of your teeth while also taking care of the planet. They're both absolutely essential to our health and neither plaque nor plastic have any place in our zero waste lives. 
Let us know what your experiences are with zero waste toothbrushes. Maybe you know something we don't and we'd love to learn. Give us your toothy tips in either the comments or a message! 
*This post contains affiliate links. This means we get a small commission on some of these products, at no extra cost to you. To learn more, click here*
Other articles you might like …