9 Natural & Non Toxic Perfume Brands That Just Make Scents
We're looking for love at first sniff that doesn't make our planet say pee-EW.
We want a signature scent that doesn't harm our planet, people, animals, or our own precious bodies.
Following our noses, we were able to find non toxic perfume brands that make use of Earth's bounty without spending too much time in the laboratory.
Take Heretic Parfum: a brand turning non-synthetic and botanical ingredients into timeless and genderless scents. While The 7 Virtues' innovative practice encourages women entrepreneurs to use waste for something smell-good and valuable.
And for an intoxicating (and toxin-free fragrance) unlike any other, For Strange Women might as well be called For Sustainable Women (and Men).
"Non-toxic" was clearly our focus for this article, but don't forget to learn more about what else we looked for below the brand list.
*This post contains affilate links
QUICK LINKS FOR THE BEST NON TOXIC PERFUME BRANDS
---
1. THE 7 VIRTUES
The 7 Virtues' Non Toxic Perfume
The "Peace Perfumes" from The 7 Virtues are unlike any others.
When you snag a bottle of non toxic vanilla perfume—or any of the other six scents, you'll be getting a perfume that's free of nasties.
No SLS, parabens, phthalates, formaldehyde, synthetic colors, UV inhibitors, palm oil, animal byproducts, or sulfates.
Instead, you'll find hypoallergenic organic sugar-cane alcohol blended with a gender-neutral scent that has aromatherapy benefits.
They're PETA-certified vegan, Leaping Bunny certified cruelty-free, and a registered Clean at Sephora brand.
As an all natural non toxic perfume brand, The 7 Virtues include fair trade, natural, and organic essential oils.
Every one of their natural fragrances helps support farmers for rebuilding their families, communities, and countries post-war.
Their "Peace Perfume" line tells a story about a country that's rebuilding.
Take for instance the Grapefruit Lime perfume. It features grapefruit essential oils from Israel and lime and basil essential oils from Iran.
The perfumes come in either 50ml spray bottles or 11ml glass rollerballs. There's also a blend box that features all seven scents.
About The 7 Virtues
The 7 Virtues is a social enterprise with the motto "make perfume not war".
Journalist-turned-founder Barb Stegemann launched this Canadian brand out of her garage. She was driven by a desire to help rebuild war-ridden nations.
When you spritz your body with non toxic rose perfume (or any others) from this brand, you can be rest assured that it's sustainable, hypoallergenic, cruelty-free, vegan, leaping bunny certified, and free of palm oil, parabens, and other toxins.
Their partner farmers earn more than double the standard income, which prevents exploitative work conditions and the drug trade.
Impressively, The 7 Virtues produced a best-selling empowerment book and an award-winning documentary showcasing their work as a social enterprise.
They also provide educational resources and donate perfume, solar lights, and funds to various charities supporting the likes of mental health and animal rights.
We think it's safe to say that they're one of the best non toxic perfume brands Sephora (or any other retailer) offers.
Available: Sephora | The 7 Virtues
---
2. HERETIC PARFUM
*Note: We are confirming policies with this brand.
Heretic Parfum's Non Toxic Perfume
Heretic Parfum is committed to being beyond clean.
Where traditional perfumes are made with synthetic fragrances (known to contain carcinogen and endocrine-disruptors) and "clean" perfumes often still include petrochemical-derived fragrances, Heretic Parfum are perfume pioneers.
They work exclusively with non-synthetic, and botanical ingredients and they're happy to share every single one that ends up in the bottle.
These natural scents are combined with non-GMO organic sugarcane alcohol.
These high-quality non toxic perfume bottles are available in 15ml and 50ml options, as well as a part of a discovery box.
Note some varieties—like the clever Scandalwood scent—are NOT 100% natural. These are clearly labeled as such.
About Heretic Parfum
Founder/perfumer Douglas Little developed an obsession with plants at an early age, thanks to a fun gardening game he used to play with his mom.
This obsession has continued, now driving his desire to "ignite people's passion for fragrance by showing them a different world of perfume."
These self-proclaimed "Heretics" want to do "beautiful in a different way".
They want to disrupt the status quo and explore unpolished natural fragrances from plants and flowers—everything from stems to dirt to petals.
Harnessing the power of parfum, their functional and fashionable scents rely upon ancient traditions and therapeutic properties of natural extracts—those once relied upon by the original heretics (AKA witch doctors, alchemists, and naturalists).
All fragrances are designed to be non-gendered and inclusive.
Available: Sephora
---
3. FAT AND THE MOON
*Note: All liquid perfumes are vegan but the solid perfumes contain beeswax.
Fat and The Moon Non Toxic Perfume
A quick peek at Fat And The Moon's non toxic organic perfume might have you thinking you're reading a mythology story.
If you prefer an oaken scent, try the Green Man, while the feminine Artemis and Dawn provide a floral yet earthy scent.
They write, "Artemis is the virgin huntress, protector of the wilds… When we turn inward and explore our internal moonlit forests, she is there."
That's just a few of the scents Fat and the Moon offers.
While most have either a more feminine or masculine touch, they're "made for the full spectrum of genders."
Everything is consciously chosen to have as little impact on the planet as possible. All of the perfume is 100% plant-based, mostly organic, and almost all vegan.
The only non-vegan options are the perfume balms which contain beeswax. The cetyl alcohol is coconut rather than palm derived.
For the sprays, choose between testers and 2 fl oz. glass spray bottles. There's also a perfume posse kit with several scents and a few scented balms that come in tin pots.
About Fat And The Moon
Fat And The Moon are one of our favorite sustainable and ethical beauty brands.
They also stock organic eyeshadow and several other zero waste beauty and zero waste skin care products.
Rachel Budde is the founder, herbalist, and natural healer behind the brand.
Like "a witch over a cauldron," she uses age-old recipes and ingredients passed down from healing traditions of the past.
These handcrafted recipes are all based on fat (hence the name). Each product starts out as an oil, the vital energy that plays with herbs and other botanicals.
Each ingredient has been ethically harvested and mostly organically cultivated.
The small women-led team makes all of the products with love and regularly extends that love to other people and organizations doing heart-centered work and seeking justice for people and our planet.
Recyclable and reusable containers are used instead of superfluous packaging.
Available: EarthHero
---
4. FOR STRANGE WOMEN
*Note: All liquid perfumes are vegan but the solid perfumes contain beeswax.
For Strange Women's Non Toxic Perfume
Transporting wearers to another time and place through sensory aesthetics, For Strange Women is in a class of its own.
These scents are designed to go beyond surface memories so as to conjure up those deep within the subconscious.
With unique scents like Astral Projection, Black Forest, and November in the Temperate Deciduous Forest, it's safe to say that you won't smell like anyone else.
That said, this brand has made over 38,000 sales and maintains rave reviews on Etsy.
All fragrances are free from alcohol, palm oil, phthalates, parabens, and synthetic ingredients, and most are unisex.
The perfume is available as oil and natural solid perfume (which does contain beeswax).
You can also opt to get some of their perfume in jewelry, like a gorgeous amulet for all-day wearable scents.
About For Strange Women
As their name suggests, For Strange Woman takes the path less traveled: understated and unique.
The brand is based in Kansas City, Missouri, and features an all-female apothecary team that use traditional recipes and small-batch manufacturing
They only partner with ethical manufacturers who prioritize fair trade, organic, and environmentally friendly practices.
They also believe that smelling good shouldn't be defined by your gender, and so their all natural perfume is designed for anyone.
Smelling good means doing good, and so they support environmental charities like The Nature Conservancy, Redwood Forest Foundation, and Ocean Conservancy.
Additionally, they minimize their plastic consumption by using compostable and recyclable packaging as much as possible.
Available: Etsy
---
5. PLANT MAKEUP
Plant Makeup's Non Toxic Perfume
Their name says it all: Plant Makeup makes aromatherapy oils from pure plant ingredients.
Many of these plants and botanical essences are carefully combined with flowers which are ethically sourced from around the world.
If you want to know more about where your scents are sourced, just read the product description.
The organic non toxic perfume from Plant Makeup is natural, GMO-free, soy-free, plant-based, cruelty-free, vegan, and handmade with love.
Each aromatherapy roll-on features a crystal (lapis lazuli, clear quartz, etc.) roller, too. They're suitable for all skin types but designed for each grouping of astrological signs (air, water, earth, and fire).
They come in 10ml sized reusable glass bottles (with plastic in the roll-on caps you can also reuse). They also have a few body mists available, too.
All are price inclusive and affordable (helllo, non toxic perfume for less!).
About Plant Makeup
Jes, the founder behind the Plant Makeup brand, is a creator of many things: art, music, and obviously, handmade natural perfume.
She's been playing with plants and blending botanicals since 2004 and uses this passion to create some of our favorite zero waste makeup (like vegan concealer), scents, and other skincare products.
All the ingredients that end up in your new favorite natural foundation or fragrance are either organic or local, GMO-free, sustainably sourced, and free of palm oil and animal cruelty/testing:
"We only want the best in each of these creations so they vibrate with as much vitality as they were first gathered from the earth."
Putting her artistic mind to (yet another) good to use, Jes also creates all the product labels—which are mostly made from compostable and recycled materials, too.
Available: Etsy
---
6. DEFINEME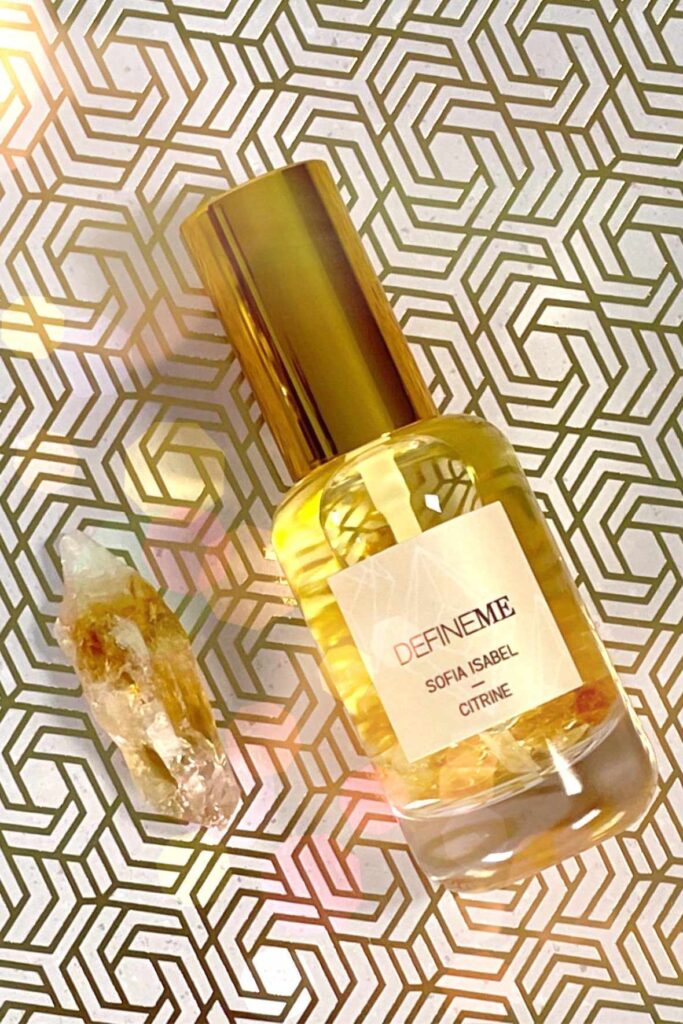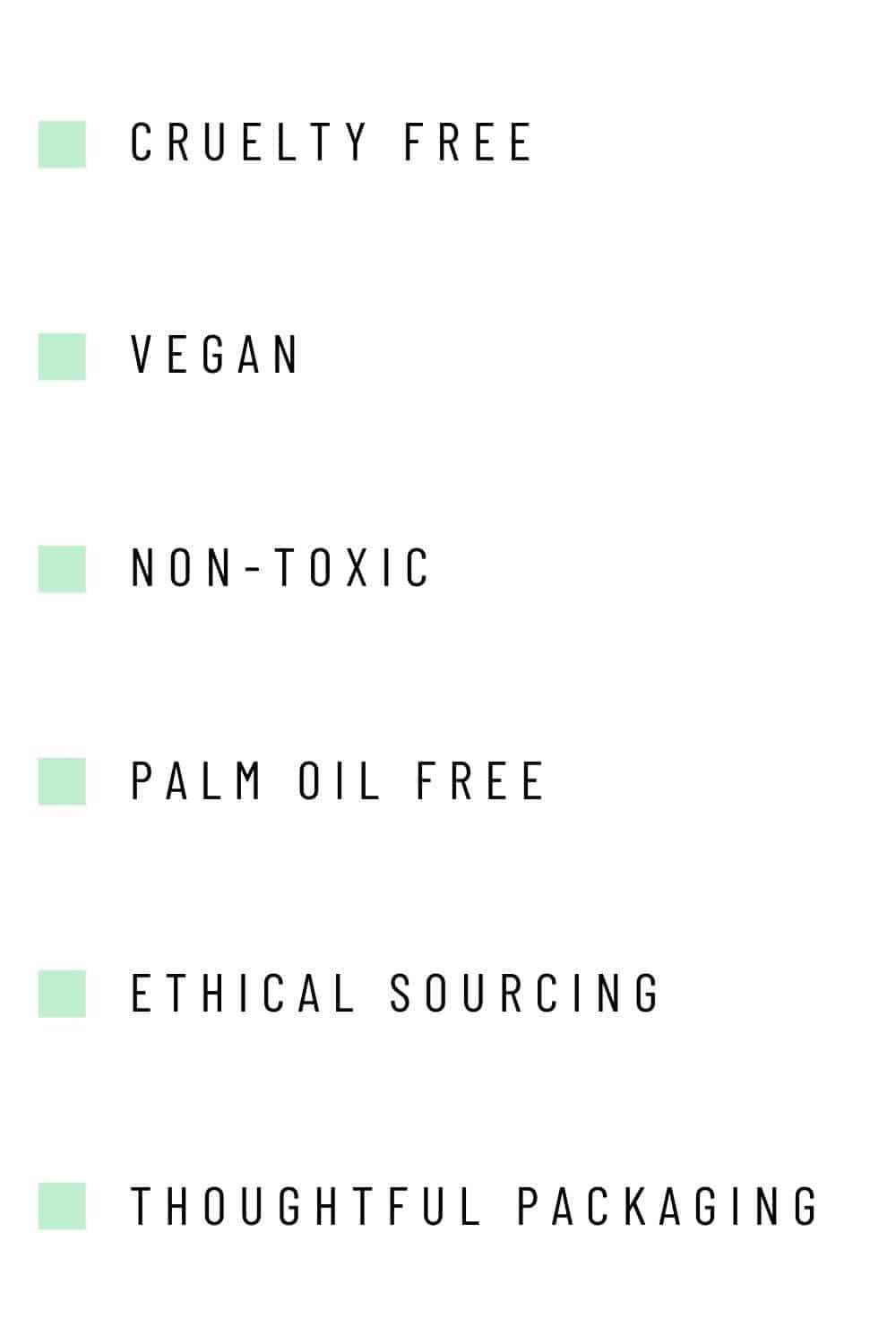 DefineMe's Non Toxic Perfume
DefineMe's range of perfume is inspired by an empowering and confident woman, like Sofia Isabel, the free-spirit who embraces life.
You'll find six such scents comprising of an empowering and transformational mix of scents derived from essential oils and fruit oils.
The gluten-free and vegan fragrances are all carried in sugarcane alcohol. Every product is free of palm oil, phthalates, parabens, petroleum, formaldehyde, and BHT.
While most of their perfume oils are naturally scented, they do use some clean synthetic fragrance oils, too. In these cases, they choose synthetics because they're safer on the skin and the more sustainable choice.
Still, if you want to avoid synthetics altogether, you'll find no shortage of options.
They offer perfume oils, mists, a fragrance oil kit (to sample them all), a gift bundle, or a hair fragrance mist.
All bottled in glass.
About DefineMe
Jennifer McKay Newton launched this fragrance company with inspiration from her life struggles.
After learning about the scientific link between emotion and scent, she wanted to use the power of fragrance to empower women.
These essences are designed to make people feel good, worthy of love, and deserving of respect and success. In fact, these scents were formerly named after an "It-Girl" but changed that to be more gender inclusive, a core part of their ethos:
"DefineMe believes we are all worthy of the best life has to offer. Every DefineMe scent is meant to empower, inspire and help bring your inner goddess or god to life! They are wearable reminders of self-love, creativity, gratitude, mindfulness, wanderlust, free-spiritedness, and strength."
The non toxic cruelty free perfume is made in the USA via ethical manufacturing practices, and their sourcing adheres to ILO standards. As for sourcing, all suppliers must provide documents on where they are sourced and all US-sourced ingredients must abide by FDA standards.
You'll receive your non toxic perfume in recyclable/reusable packaging that can be a combination of glass and metal, along with FSC certified paper and plant-based inks.
95% packaging is purchased and manufactured locally in the US to minimize further impact. It's also FSC-certified, printed with vegetable based ink, and the bottles are recyclable or reusable. No cello wrap or plastic inserts in the caps, even.
A dollar for every purchase goes towards No Kid Hungry to help American children and families that have been impacted by Covid and they started making HANDS hand sanitizer.
Other good-smelling green actions by DefineMe include manufacturing entirely locally in Southern California and using only one household trash can across their entire office, warehouse, and shared unit next door. Rather than throw things away, they recycle most of the trash they create.
Available: Ulta
---
7. SANA JARDIN
Sana Jardin's Non Toxic Perfume
Sana Jardin's fragrances allow you to apply scent with a social conscience.
Their fragrances are Leaping Bunny certified cruelty-free, contain 15-20% natural plant essential oils (some of which are organic). While they were not always vegan, they have also now been reformulated to be completely vegan, too!
They are totally free of phthalates, artificial colors, formaldehyde, parabens, and palm oil.
They do contain selected synthetic ingredients which are consciously chosen to save endangered plant species.
The bottles come in 2ml samples (individually or in a discovery box), 50ml, and 100ml. All packaging is either from recycled or recyclable materials.
About Sana Jardin
This socially conscious maker of non toxic high end perfume and candles is located in the heart and soul of fragrance: Paris.
Using their business as a force for social good, the luxury fragrance house is committed to using clean and sustainable perfume as a way to economically empower women.
Under a circular economy business model called Beyond Sustainability™, they enable the women of their supply chain to become micro-entrepreneurs by upcycling perfume production waste products.
Here's how this works:
In the flower-growing region of Morocco, women have limited employment opportunities—and are faced with 900 tons of natural and organic orange blossom waste that usually ends up in landfills.
Sana Jardin partners with these women to launch Annamaa, a cooperative who upcycles the food waste into flower water and candles.
They get 100% of the proceeds and now enjoy a year-round income.
The best natural perfume smells good and feels good, after all!
Available: NET-A-PORTER
---
8. ABEL
Abel's Non Toxic Perfume
With a belief in the power and beauty of scent, Abel wants to create elegant, unisex perfumes that indulge our senses—without a negative impact.
Every single ingredient in this fancy non toxic perfume started life as a plant.
This means the ingredient lists include only essential oils, plant extracts, and plant-derived scent molecules held in organic, food-grade grain alcohol.
Many of the plant extracts are made out of byproducts sourced from other industries or processes.
Choose between eight different scent profiles available in 15ml and 50ml bottles, or try out a few in their discovery set.
If you don't know much about scent profiles in perfumes, let Abel elaborate:
"The two most high-profile of these molecules are Ambrettolide (musk) and Ambroxan (ambergris) molecules. The synthetic molecules are both very widely used in the industry as replacements for the original animal-derived scents."
Abel creates these two molecules using renewable plant sugars in a sustainable process that uses microbial fermentation (read: no petrochemicals involved).
"This sounds great," you say. "Why don't all brands do the same?"
Because there are more steps involved and thus it is an exponentially more expensive process.
We commend Abel for being one of the few non toxic perfume brands unafraid to pursue alternatives.
About Abel
Abel enables us to enjoy globally-inspired fragrances—and have a clear conscience while doing so.
The clean non toxic perfume brand was founded by a New Zealander in Amsterdam.
Transitioning from winemaking, the founder had a penchant for holistic philosophy, subtle fragrance notes, and quality ingredients.
The perfume company has one simple goal: "to create the world's best natural perfume."
They choose 100% natural ingredients that will work with our bodies' chemistry to create unique and intoxicating scents that continuously evolve as the day progresses.
Abel recommends a whole new labeling process that requires perfume makers to list toxic and non-biodegradable ingredients, and elaborate on what "natural" ingredients actually mean.
No more of that "proprietary fragrance blend" mystery.
You can even get involved in their campaign, by signing their petition here.
Even better, 1% of the revenue from each scent supports a related nonprofit.
Available: Abel
---
9. RAINWATER BOTANICALS
Rainwater Botanicals Non Toxic Perfume
Rainwater Botanicals has a line of natural and inviting fragrances to please any nose.
Each will transport you to a different place or time in history, like the Speakeasy aftershave, Silk Road perfume oil, or Off-the-Grid perfume.
Rainwater Botanicals offer 100% natural fragrances and are carried in organic jojoba oil. You won't find synthetics in these chemical free perfumes.
The glass bottle sizes are .35 oz and will last many months.
They're also the most affordable non toxic perfume on this list.
About Rainwater Botanicals
This zero waste natural skincare company has been around for more than a decade (before most knew what natural skincare even was!)
Their very first product was a healing salve that helped thousands of people treat eczema, dry skin, rashes, and more.
They've certainly impressed us over the years with all manner of products like natural foundation, eco-friendly deodorant, and zero waste lip balm.
They only use organic and palm oil-free ingredients but prioritize those found from local ethical suppliers.
They hand make all of their products in small batches, never test on animals, and use mostly zero waste packaging.
Available: Etsy
---
WHY BUY ALL NATURAL PERFUME?
Why non-toxic perfumes?
Because we want to know what we're spritzing on our sensitive skin.
Unfortunately, many fragrance houses market their products as "clean" or "natural"—when these terms are not regulated and basically can mean anything.
Complicating things further, perfume companies can mislead consumers based on the alcohol content.
As explained by Abel, an eau de parfum typically contains around 14 to 20% perfume oils with the remainder of ingredients coming from plant-derived alcohol.
So, in a smell-good form of greenwashing, a brand may suggest their perfumes are 85% natural—but in reality, it only includes that single plant-based alcohol while all the fragrance is still artificial.
So what? What's actually bad about synthetic fragrance?
From a personal health standpoint, they can cause a number of health issues.
From a sustainability standpoint, they're usually made of petrochemicals which A) support the oil industry and B) don't biodegradable.
However, it's important to know that some synthetics ingredients are entirely appropriate to use if they are proved to be non-toxic and are used in place of otherwise harmful practices (like using animal secretions).
---
HOW WE FOUND NATURAL PERFUMES
We used our ethical beauty criteria to sniff around for transparency and natural and non-toxic ingredients.
Non-toxic natural & organic ingredients: In the world of perfume, that means using real botanical-derived scents and essential oils rather than synthetically created fragrances. A few brands on this list use select synthetic fragrances, but we made sure they provided sufficient evidence that they knew which ingredients to avoid in skincare.
Vegan (or vegan options): Perfume commonly includes animal ingredients. Beware of any "musk".
Cruelty-free: Perfume is notorious for animal testing. As a blanket rule, we do not include any brands that test their products on animals. See our article on cruelty free perfume.
Palm oil-free 
Ethical ingredient sourcing policies
Thoughtful packaging (recyclable, at the very least)
---
FINAL THOUGHTS ON NON TOXIC PERFUME
Ready to take a whiff of perfume that's better for you?
We get it, you don't want to smell like that garlic you just ate…but you probably don't want to use toxic perfume to cover up either.
Thankfully, you can put your mind (and nose) at ease by supporting one of these natural and non toxic perfume brands making the world a better (and sweeter) place.
Just remember, the more natural something is, the less of a shelf-life it has. Buying smaller bottles, keeping them tightly sealed and also out of direct sunlight will go a long way to preserving that special scent.
---