9 Reusable Cotton Rounds For A Clean Earth & Cleaner Skin
At the end of a long day, when it's time for your zero waste mascara and organic foundation to come off, who wants raccoon eyes from toxic single use cotton rounds?
Not us!
We prefer to save face and save the planet at the same time—which is why reusable cotton rounds are hot on our list of items to use alongside green, sustainable beauty products.
Making the switch from single-use cotton balls to organic cotton reusable pads not only saves money, but also the environment and your youthful glow.
Disposable cotton rounds are filled with toxins, pesticides, and chemicals.
Plus they require thousands of liters of water to harvest, and have a dismal landfill-bound end of life after just one use.
By choosing to make your makeup remover pads reusable, you're also removing lots of potential waste from the process of removing makeup and exfoliating sensitive skin—preventing irritation of the planet in doing so!
Everything we recommend to you on Sustainable Jungle is independently researched and we ask all brands to confirm their claims. To avoid waste, we test products on an as needed basis. This post contains affiliate links. If you buy something through our links, we may earn a small commission. Learn more about why we do this here.
Reusable Cotton Face Pads To Wipe Our Faces (& Landfills) Clean
Get back to the roots for eco skin care with EcoRoots' organic reusable cotton rounds that include a blend of bamboo fabric for the softest, most sustainable facial end-of-day swipe.
Greenify your beauty routine with ZWS Essentials' colorful set of organic cotton facial pads, which are 100% OEKO-TEX and GOTS-certified organic cotton—not to mention carbon neutral.
Reusable cotton rounds DIY-style are a completely circular way to get crafty, save money, and save the Earth by sewing your own washable cotton rounds to keep your face flawless.
Do reusable cotton rounds work?
They sure do; so wipe your way to the bottom of this article to learn how we found the best facial cotton pads to curb single-use cotton consumption and clean your skin nature's way.
The Best Reusable Makeup Remover Pads
---
1. ZWS Essentials
ZWS Essentials' Reusable Organic Cotton Rounds
Price Range: $20 / 20
Substitute the single-use cotton rounds of your daily skincare routine with ZWS Essentials' rainbow of organic reusable cotton rounds.
After trying them ourselves, we have to agree with reviews calling them some of the best cotton rounds for makeup removal, applying toner, stubborn eye makeup, removing dirt, removing nail polish, and exfoliating skin.
The 2-ply organic cotton flannel is soft enough for sensitive skin types, and we're (sk)into the fact that it's dyed with low-impact dyes and has both GOTS and OEKO-TEX certification.
If you need more exfoliating power, they also offer 100% natural Loofah Facial Discs.
Curious how to wash reusable cotton rounds?
Hand-wash with warm water after each use, and simply toss in your washing machine once per week. You can tumble dry on low, but we prefer to lay ours flat to dry.
About ZWS Essentials
ZWS Essentials is the in-house brand of one of the most popular zero waste online stores, aptly titled ZeroWasteStore.com.
ZeroWasteStore.com features a thorough selection of handy zero waste products, ranging from shampoo bars to cleaning supplies—from both their in-house label and other sustainable brands.
All products are compostable and/or reusable, as well as cruelty-free, palm oil-free, plastic-free, and mostly vegan.
They're also Climate Neutral and donate to numerous environmental causes through 1% For the Planet.
---
2. EcoRoots
EcoRoots' Reusable Makeup Remover Pads
Price Range: $11 / 10
Care for your skin and care for the planet by eliminating single use cotton balls with EcoRoots' organic reusable cotton rounds.
Made of a blend of sustainable and biodegradable fabrics—organic cotton and bamboo, with recyclable polyester thread—these rounds are ideal for applying organic face cream, toner, removing makeup, or cleaning your face with your favorite skin cleanser.
Wait, are cotton rounds biodegradable if they contain polyester thread?
Sure thing, so long as you remove the polyester thread first, which is super easy to do with a seam ripper thanks to the serged-edge design.
The thick, soft, and absorbent flat cotton pads are not pre-washed, so expect them to shrink a bit
About EcoRoots
EcoRoots is a Colorado-based ethical online shopping empire.
All of EcoRoots items are sustainably manufactured in the US and ship in low-to-no waste packaging.
If you're looking for zero waste swaps outside reusable cotton rounds, they come highly recommended by SJ for everything from haircare to home cleaning.
To give back, EcoRoots donates a portion of sales to the Ocean Conservancy through 1% For the Planet.
---
3. Plantish Future
Plantish Future's Round Cotton Pads For Face
Price Range: $8 CAD / 4
Plantish Future provides a bright and eco-friendly future with their pre-shrunk reusable cotton rounds—with pockets!
We've tried them out and love how the little pockets make it easy to keep a good grip without wasting product by getting it all over our fingers. Plus, you can use both sides of the round!
Because of how smooth they are, we personally find them to be the best reusable cotton rounds for toner (check out our favorite natural toners).
They also sell organic bamboo charcoal rounds, which are even softer, more absorptive, and excellent in tandem with zero waste makeup remover.
Both kinds stay soft, don't shrink in the wash, and are 100% compostable when they've run their eco-beauty-course.
They also come with a cute, GOTS-certified organic cotton mesh bag for wash and travel.
About Plantish Future
Plantish Future is a small, first-generation Canadian, BIPOC, queer, and woman-owned business committed to a plant-rich future for all by selling a variety of reusables to replace drugstore disposables.
Inspired by the natural eco-friendliness of the small village where she lived as a child, owner Lydia is committed to sharing inter-generational plastic-free wisdom.
To date, their certified vegan and cruelty-free products have saved the earth from more than half a million paper towel rolls, 20,000 cotton rounds, 30,000 plastic bottles, and 10,000 plastic sponges.
Plantish Future supports a variety of initiatives, like the Vancouver Black Library and the Global Conservation Force.
---
4. SuperBee
SuperBee's Reusable Cotton Pads
Price Range: $8–$18 / 3–6
Green up your skincare routine with SuperBee's set of ultra soft organic cotton face pads, which are made of 100% GOTS-certified organic cotton.
To use, simply apply your product to a reusable round, and gently dab it across your face.
Toss them in with your normal laundry load to wash, and these adorably designed cotton rounds will come out all clean and set to save both you and the planet from single-use cotton pads.
They're suitable for all skin types—including sensitive skin and delicate baby's skin—and entirely compostable.
About SuperBee
Thailand-based SuperBee is committed to sustainability and ethical business practices, and uses only natural and organic ingredients in their products—which includes beeswax wraps, reusable bags, paper towel alternatives, bamboo straws, and more.
Everything comes packaged plastic-free, reusable, and recyclable.
Bee-yond that, SuperBee is also a Certified B Corp that functions as a social enterprise, by empowering local communities in Thailand through training and employment opportunities at very above-average local wages.
They also support local volunteer fire crews in Thailand to procure needed supplies.
---
5. Marley's Monsters
Marley's Monsters Organic Reusable Facial Rounds
Price Range: $20 / 20
Another cotton ball bites the dust thanks to Marley's Monsters' 100% organic cotton flannel facial rounds.
These organic cotton facial pads are handmade in the US of organic cotton, so you can rest assured that only the softest, chemical-free materials are touching your sensitive skin.
Use these reusable cotton pads for face, nail, and body use. They're especially effective at removing impurities and makeup gently with micellar waters and natural makeup removers.
After use, simply toss in the wash and reuse, or compost them (along with the paper sleeve packaging) when they wear out.
About Marley's Monsters
A focus on reusability defines all of Oregon-based Marley's Monsters' products.
With goods for home and living, baby and mama, kitchen and dining, and bath and beauty and beyond, they're a one-stop-shop for your zero waste wipes, towels, eco-friendly sponges, cloths, dusters, and even zero waste toilet paper.
They feature entirely plastic-free shipping materials and donate any textile waste to recycling nonprofits.
To date, Marley's Monsters estimates that they have diverted more than three million single-use disposable rounds from landfills and waterways, thanks to their facial cotton pads.
---
6. Activist Skincare
Activist Skincare's Eco-Friendly Cotton Pads
Price Range: $14–$24 / 1–4
Take an active stance against single-use items with Activist Skincare, who provide more of a facial cloth than a facial round as the perfect addition to your facial cleansing and makeup removal routine.
These organic bamboo reusable cotton rounds are made with the softest velour fabric. They're ideal for sensitive skin because of the fiber's gentle and antimicrobial properties.
Every reusable face round is hand-sewn by Activist Skincare founder Jennifer in her Michigan home studio.
All cloths are unbleached GOTS and OEKO-TEX-certified with eco-friendly black dyes to hide stains after removing eye makeup from the delicate eye area.
Being larger than your average reusable cotton ball, these full cloths are approximately 9″ x 9″ prior to laundering, for which hand-washing comes recommended with occasional machine washing.
About Activist Skincare
We love Activist Skincare for driving positive change in the beauty industry with products like natural face serums, biodegradable sunscreen, and more to keep our pores and the planet nice and clean.
The California-based brand is also woman-owned, and their vegan, and cruelty-free, organic skincare is refillable with pouches of products available that can be recycled through Terracycle.
All ingredients and materials are sourced from sustainable-minded suppliers and, when possible, women and people of color.
As members of 1% for the Planet, the brand supports Rainforest Trust, Earthjustice, and the Environmental Defense Fund.
---
7. LastObject
LastObject's Reusable Cotton Facial Pads
Price Range: $16 / 7 (+ case)
How many times can you use reusable cotton rounds?
LastObject offers LastRounds, which are reusable, sustainable, and sanitary cotton rounds lab tested to last more than 1750 times.
The soft, lightly textured, sustainable rounds are made of 30% cotton fibers that are too short for use in the textile industry and 70% wood cellulose from North American conifers.
They come in a stylish refillable case made of recycled ocean bound plastic with refills sold separately.
To clean, simply toss in a mesh laundry bag in the eco-friendly washing machine, knowing they're specifically engineered to not shed any lint, fluff, or cotton particles.
They're vegan, packaged in cardboard from responsibly managed forests, and free from animal testing, parabens, SLS, phthalates, phosphates, triclosan, palm oil, and GMOs.
About LastObject
Certified B Corp and mom-owned LastObject is passionate about making the last objects of single-use items we need—like cotton swabs, pads, and rounds.
They pay close attention to the science behind their products, and their rounds are lab proven to reduce the carbon footprint by 90%, water consumption by 92%, and land use by 99%.
After 34 uses, they become carbon-neutral compared to buying disposables.
For every order, LastObject removes a pound of plastic from our oceans through Plastic For Change.
To date, the brand has stopped 3.5 million+ single use items and 500,000+ pounds of plastic from entering waterways.
---
8. Flavedo & Albedo
Flavedo & Albedo's Biodegradable Cotton Rounds
Price Range: $21 AUD / 8
Love makeup, but loathe waste?
Flavedo & Albedo's reusable bamboo rounds are made of 100% biodegradable bamboo fiber.
Once your rounds are looking worse for wear, simply pop them in your compost bin.
As for their stylish packaging, boxes and shipping materials are made from 100% recycled cardboard that can be placed in your paper recycling bin.
To maximize their lifespan, F&A recommends you hand wash with warm water and soap after use. Add the rounds to your laundry once a week in the mesh laundry/ travel bag provided.
About Flavedo & Albedo
Aussie-based and woman-owned Flavedo & Albedo is passionate about stopping the 120 billion single-use plastic containers the beauty industry sends to the landfill each year.
They reconcile their love of makeup and plastic landfill anxiety by providing quality sustainable makeup packaged in aluminum, glass, and FSC-certified paper.
The brand works closely with suppliers to remove plastic from their supply chain.
---
9. Creekside Kid
Creekside Kid's Washable Cotton Rounds
Price Range: $10–$30 / 10–30
A baby's bottom isn't the only thing you can wipe up with Creekside Kid.
Joining their biodegradable baby wipes, their reusable makeup remover pads come in a variety of sizes, colors, and fabrics—like 100% organic cotton, 100% organic French Terry, hemp fleece, and bamboo.
Every type of reusable rounds they sell is soft, gentle on the skin, machine washable, and feature serged edges to help them last.
Many options of sizes and patterns and styles are available, including cute patterned ones for kids and black reusable bamboo cotton rounds that are for better concealing mascara stains.
About Creekside Kid
With more than twenty thousand five-star sales, Creekside Kid is your go-to Etsy shop for ethically-made-and-priced reusable household goods and organic baby products.
Started by mother and craftswoman Claudia, Creekside Kid makes it easier for families to incorporate low-waste living choices into their everyday lives.
---
10. DIY Reusable Makeup Remover Pads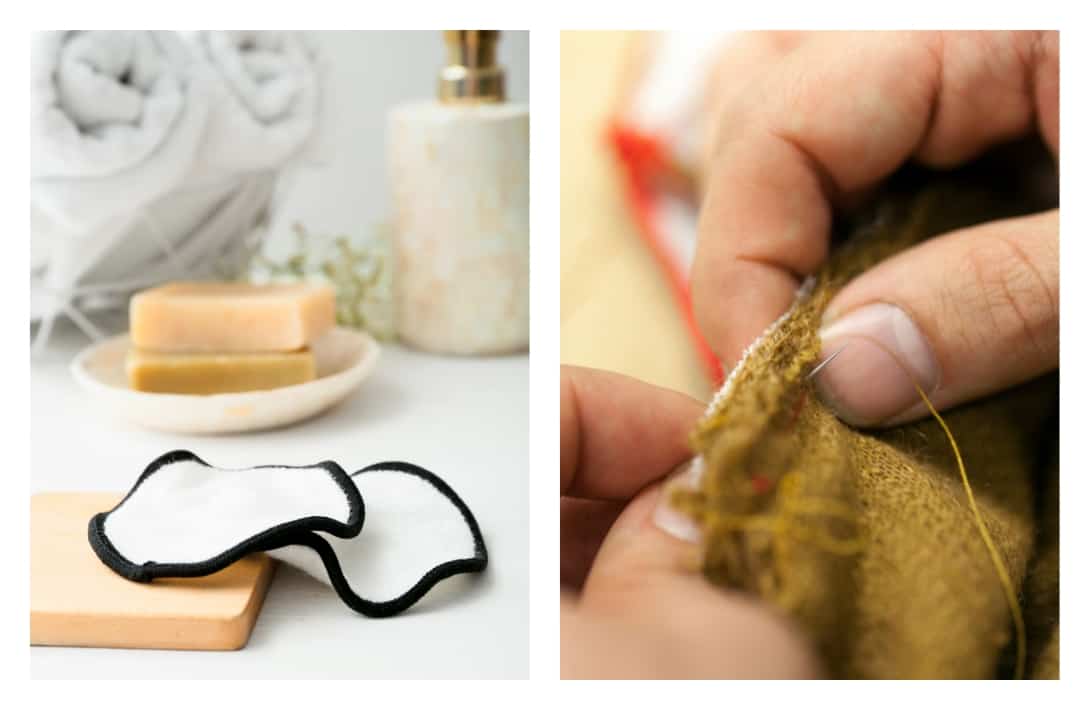 For a sustainable skincare routine that also saves you cash, we recommend making your own reusable facial rounds out of old clothing or fabric.
Because you'll be reusing these regularly on the delicate skin of your face, the most important thing we can recommend is soft, natural fibers to sew your rounds from.
You'll need:
Soft cotton t-shirt (or another natural fabric)
Needle and thread (sewing machine optional)
Sharp or fabric scissors
A class, cookie cutter, lid, or paper circle in the size you want
You can follow along with a tutorial video, or follow these steps for how to make reusable cotton rounds:
Lay out your t-shirt on an even surface, and press down firmly on the fabric with your circle shape, creating an indentation so you know where to cut.
Cut out as many circle shapes as you want. For thicker cotton rounds, double up on fabric.
If you don't want to do any sewing, you can end here and use your new cotton rounds like so. Just wash on delicate in a mesh laundry bag to prevent fraying edges.
To sew, stack your cotton round fabrics in pairs of two or three.
Sew (by hand or with machine) the two or three pieces of fabric together along the edges to prevent fraying. We recommend a mock serger stitch or a medium zigzag stitch to stitch all around the edge.
---
Did you know we Have a Newsletter?
We cover the latest in sustainable living, fashion, zero waste, beauty, travel, finance and more…
How We Chose The Best Reusable Cotton Rounds
The reason to choose reusable should be obvious: single-use beauty products are a significant contributor to landfill and ocean waste.
Beyond that, cotton production is one of the world's dirtiest crops, adding 220 million tons of CO2 emissions annually and consuming more than 10,000 liters of water to produce a single kilogram.
What's more, single-use cotton pads cannot be recycled and are non-biodegradable. This is because they're not entirely cotton, filled with synthetic toxins, bleach, and often synthetic fabric blends.
If you use two pads a day, that's 730 rounds a year—or hundreds of millions annually in the USA alone.
Like all ethical and sustainable beauty, finding the best reusable cotton rounds means more than face value so we consider the following:
Materials:
What is the best fabric for reusable cotton rounds?
When it comes to reusable facial pads, cotton is the go to—but we narrowed that down to organic cotton specifically.
Organic bamboo cotton or hemp fabric also get our vote for sustainable fabrics that can be composted.
Just be sure the thread used is also natural, or remove before composting.
Supply chain & labor practices:
When it comes to human ethics, cotton has rightly held a bad rep for a long while, which is why humanely harvested cotton is a must.
These brands support ethical cotton, fair trade certified factories, safe working environments, and above-living wages.
Carbon commitments & green practices:
Bonus points to those who hand-make their reusable face rounds, or use renewable energy, waste reduction practices, recycled packaging, carbon offsets, and other means to reduce the eco-impact of our skincare routine.
Ideally, products are packaged in something that's biodegradable and/or paper-based.
Community & charitable giving:
We love clean reusable cotton rounds that truly come full circle by giving back to other do-good organizations.
---
Final Thoughts On Reusable Cotton Pads For Faces
Conventional beauty is ugly for our planet and our skin. (Just peep these ingredients to avoid in skincare.)
The best reusable cotton rounds naturally exfoliate and remove dead skin cells, but they don't have to simultaneously kill our planet.
A zero waste skincare routine featuring reusable rounds or cotton balls will keep us earth-friendly, healthy, and beautiful.
Because beauty might be skin deep, but sustainability goes far deeper.
And the onus is on us to keep a beauty routine without the mountain of cotton and plastic waste that comes from conventional cotton rounds.
So do yourself a solid and make the investment in reusable eye makeup remover pads to keep your skin glowing and the earth pristine.
The next time your fully painted-up girlfriends ask, "But how to use reusable makeup remover pads?", slide this article into their DMs for a happier face… and face of the Earth.
Pin these: