7 Natural Toners To Balance Your Skin Without Unbalancing the Earth
A natural toner for skin so natural and healthy you could almost drink it?
We're toned in to that!
Especially considering that so many skincare products on the mainstream market can contain potentially harmful chemicals, synthetic solvents, and petroleum-based hydrocarbons that not only damage our skin, but also the planet.
Instead of these ingredients to avoid in skincare, we want our skin toner natural and organic.
That said, what is an organic toner? And what is organic toner used for?
Organic facial toner is a water-like product that you use to protect the skin barrier after washing your face and before the rest of your skincare regimen. Skin toner devotees swear by its ability to protect, soothe, and refresh the skin.
It's also meant to remove any lasting grit or grime from washing your face, plus it can help with the effectiveness of your other beauty products. Since it balances the pH level of your skin, in turn it improves the skin's ability to absorb moisture and nutrients.
But to maximize those benefits, we want only the best—so which is the best organic toner?
Everything we recommend to you on Sustainable Jungle is independently researched and we ask all brands to confirm their claims. To avoid waste, we test products on an as needed basis. This post contains affiliate links. If you buy something through our links, we may earn a small commission. Learn more about why we do this here.
The Best Natural Facial Toners For Non-Toxic Nourishment
Stop and smell the roses with Wales-based Conscious Skincare for their natural rosewater toner that soothes and refreshes the skin while, in our opinion, smelling gorgeously nature-intended.
If you find skin toner can leave you a bit dry, One Love Organics has your back (er, face) with their Botanical D Moisture Mist that is revered by natural beauty enthusiasts as a part natural toner, part moisturizer, and effective skin pH balancer.
If you're looking to save money, you can concoct your own DIY toner. How do you make natural toners? We'll show you!
Lastly, be sure to rinse your way down to the end of this article to learn a bit more about our ethical beauty criteria and how we used it to find the best natural skin toner.
The Best Organic Toners For (All) Faces
---
1. Conscious Skincare
About Conscious Skincare's Natural Toner For Acne Prone Skin
Be conscious about the beautiful skin you're in with Conscious Skincare's organic facial toner, available in Rose, Chamomile, Orange Blossom, Lavender, or Lemon Balm.
We especially love their organic rose water toner for the face, which has only one ingredient: organic rose floral water distilled from rose petals.
It's ideal for irritated skin, acne prone skin, and aging skin, by helping to lessen skin inflammation, remove dead skin cells, and soothe the dermis.
Because it nourished and hydrates to reduce redness or fine lines, it's also one of the best natural toners for dry skin, combination skin, or mature skin
Use it to remove all final traces of make up and gently tone before moisturizing.
It can also be used as a spritz for a quick facial refresher, with calming properties to soothe the nerves.
All of CS's natural toners come in an EPA lined aluminum bottle with atomiser, and are completely free from pesky ingredients we don't want to see, such as synthetic preservatives, sodium laureth sulfate, phthalates, or parabens.
About Conscious Skincare
If you're in need of eco-friendly toiletries, Conscious Skincare has your skin covered.
Hailing from Wales, they're also our top pick for organic face moisturizers and body wash refills, especially since everything is zero waste in reusable aluminum bottles, glass jars, or glass dropper bottles.
The only non-recyclable component is their optional pump tops with some items.
All products they offer are certified by PETA, Leaping Bunny, Ethical Consumer, and the Vegetarian Society.
A portion of every purchase helps support animal rescues and shelters.
---
2. Moonrise Creek
About Moonrise Creek's Best Natural Toner For Sensitive Skin
Moonrise Creek's natural toner for faces is one of our favorite go-to products for helping cleanse and clean the skin before using their equally sensitive-skin friendly tired moisturizer.
Their Botanical Facial Toner is both invigorating and refreshing, with its featured blend of eucalyptus, cucumber, and peppermint to rejuvenate your senses and your facial skin.
Not only does it visibly shrink pores and have anti-inflammatory properties, it's also good for oily or acne prone skin types.
To use it, simply wash and pat dry your face, then lightly spritz your face with eyes closed. Massage gently into the skin and ta-da, your skin is noticeably toned and even.
It comes in a refillable glass bottle with a plastic pump, which we'll reuse and still include in our zero waste bathroom.
About Moonrise Creek
Sunrise, sunset, moonrise, or moonset, Moonrise Creek is a star-seller on Etsy with almost 95,000 5-star sales made for their handmade items made in small batches with love for any skin type.
From organic tinted moisturizer to organic toner, the brand specializes in low-impact, earth-conscious, animal-friendly products for all skin types, but especially sensitive skin.
The small, female-owned natural beauty brand creates plant-based, artisan products in the form of not only botanical natural skin care products, but plant-based cosmetics, aromatherapy oils and perfumes, and healing herbal apothecary goods.
---
3. Shine Skincare Co
Note: Some products contain ethically sourced palm oil.
About Shine Skincare Co's All Natural Facial Toner
You'll shine both inside and out thanks to Shine Skincare Co's selection of organic face misting toners, which are offered in five formulas: AHA + Turmeric, Superfruit with Vitamin C, Firming + Hydrating, Glow + Shimmer, and their bestseller, Cucumber + Mint.
The Cucumber + Mint natural face toner is a cooling face mist that combines hydrating aloe vera, witch hazel, soothing cucumber hydrosol, concentrated cucumber extract, and pore-renewing willow bark extract.
Together, this formula leaves the skin feeling soothed, calmed, and revitalized.
In addition, the skin toner features Colloidal Silver to reduce clogged pores and unwanted bacteria, chlorophyll to antioxidize, plus the toner is even crystal infused—which you can fish out of the bottle once the toner is finished.
To use, simply spritz on your clean face and follow with a serum and/or moisturizer.
It comes in a recyclable and reusable glass bottle with a spray pump.
About Shine Skincare Co
California-based Shine Skincare Co was founded by Kathleen, a domestic abuse survivor who wanted to reclaim her power by sharing her self-love and all things holistic. It is her belief that her background in healing trauma and holistic health is what makes her natural beauty products truly shine.
All products are made with passion and the result of extensive research using the finest, most effective natural skin care ingredients.
While she does not add palm oil directly, it is used in low concentration (<2%) for stabilization in some pre-combined ingredients. Kathleen's suppliers specify it's ethically sourced.
Everything is packaged and shipped with eco-friendly materials and made with love.
In addition, Kathleen donates a portion of all purchases to the non-profit WEAVE, a crisis intervention center for domestic abuse survivors.
---
4. One Love Organics
*Note: One Love Organics uses beeswax in some products. Their palm oil is RSPO-certified.
About One Love Organics' Organic Sensitive Skin Toner
If you're in need of the best organic toner for your face in all its forms, One Love Organics has it, featuring all Ecocert-certified organic and natural ingredients.
Part natural toner and part moisturizer, their Botanical D Moisture Mist features organic aloe vera to cool and reduce enlarged pores, alpine rose to moisturize, and vitamin D-rich shiitake mushroom to balance the skin tone.
If you're looking for a simple two-step skincare routine, this product is simply spray-and-go after you wash your face with water.
Great for any skin type, this product especially benefits skin with dryness, imbalances, or dehydration.
This product comes in a reusable glass bottle, and One Love confirms that it is of 99.8% natural origin of total, with 51% of the total ingredients from organic farming.
About One Love Organics
One Love Organics was founded by Suzanne LaRoux, a lawyer-turned-body-care-specialist.
By combining her passion for a holistic lifestyle with chemistry knowledge from her pharmacist father, Suzanne creates clean, effective, and luxurious beauty products made with love.
Everything offered is certified by Ecocert COSMOS, PETA, and Green America Certified Gold.
All products are formulated to be synthetic fragrance free, cruelty-free, dermatologist tested, and keep the skin's pH level just below 5.
This sustainable beauty brand uses palm oil minimally and when they do, it's RSPO-certified.
Everything is small-batch created in the state of Georgia and packaged in amber glass jars.
---
5. EmpireSquid Organics
*Note: Not all products are vegan, but they can make free vegan substitutes upon request.
About EmpireSquid Organics Rose Water Natural Toner
Everything's coming up roses thanks to EmpireSquid Organics' rosewater-based organic face toner recipe, which is an alcohol-free toner lovingly made from nothing but pure, organic rose hydrosol.
Organic rose hydrosol is formulated via the steam distillation of organic rose petals. The result is a soothing, slightly astringent, balancing, and gorgeously scented rosewater even the most sensitive skin will adore.
Besides the delightfully all-natural rose-petal fragrance, rosewater is an amazing ingredient for the face. It delivers antioxidants, is anti-inflammatory, moisturizes, and mildly removes excess oil to tone and unclog pores.
So whether you need a natural toner for oily skin or dry skin, your dermis will delight in this product—and if you don't believe us, just read its rave reviews on Etsy.
The Organic Rosewater Toner comes in a refillable glass bottle with a plastic pump.
About EmpireSquid Organics
Quirky and artsy LA-based family-run EmpireSquid Organics specializes in "amazingly wholesome" and affordable zero waste skin care products that are top-reviewed and minimally processed.
Everything is made-to-order with high-quality Fair Trade ingredients that are about 70% organic and 100% palm oil-free and cruelty-free.
Products that aren't vegan are specified (and may be custom-made into vegan formulas) and all labeling comes delightfully, whimsically handmade.
---
6. Kathy Rose Naturals
Note: The organic toner recipe is vegan, but some contain ethically-sourced animal ingredients. We are confirming policies directly with this brand.
About Kathy Rose Naturals Natural Hydrating Toner
Looking to brighten skin along with toning it?
Kathy Rose Naturals has the skincare routine covered for any skin type thanks to their Vitamin C & Aloe Vera Face Toner.
Standout natural ingredients include vitamin C, organic aloe vera, willow bark extract, and tea tree oil.
KRN believes that toning is one of the most important but most overlooked steps in a healthy skincare routine. The brand's best-selling all natural facial toner helps to balance the skin by minimizing pores, removing residuals missed during cleansing, and preparing the skin for moisturizer.
To use, simply dab on the face with a cotton ball after you've washed your face and follow-up with serum and/or moisturizer to leave skin feeling youthful and refreshed.
Not only is this face toner organic, but also packaged in an eco-friendly glass bottle, though the spritz cap is plastic.
About Kathy Rose Naturals
NY-based Kathy Rose Naturals is a small, black female-owned business owned by none other than Kathy Rose.
The brand takes pride in everything being handcrafted in small batches. Ingredients are natural, minimalist, healthy for the body, carefully selected, and phthalate and paraben free.
While some products feature ethically-sourced animal products like goat's milk or beeswax, no products are tested on animals.
---
7. DIY Natural Toner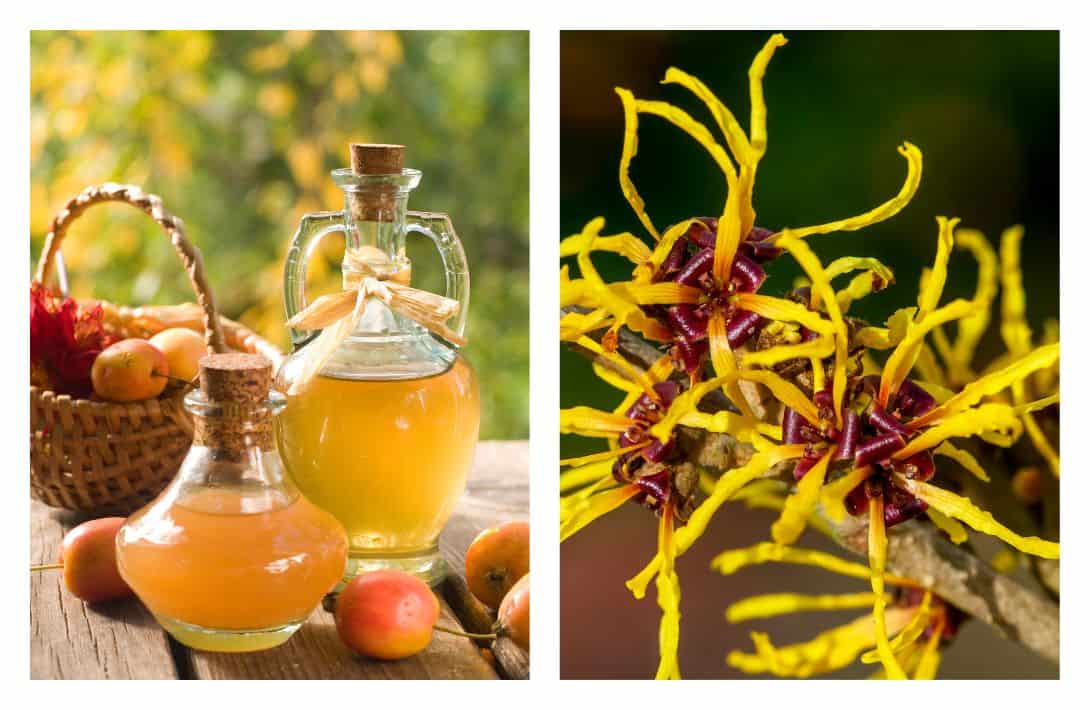 So, what can be used as a natural toner?
With all the DIY options out there, there's no shortage of options, but what is the best homemade skin toner?
Simply put, natural witch hazel toner works like a charm and is readily available at most drugstores, supermarkets, and bulk stores. Just be sure to by one that is an alcohol-free toner, since it can make the skin dry.
All you need to do is apply it after cleansing your face to re-balance skin pH. After your face is washed, pat it dry with a soft cloth. Then apply witch hazel using a cotton ball or cloth before applying your moisturizer or serum.
If you have the time and desire to experiment, try a multi-ingredient natural toner recipe that's easy, affordable, effective, and clean.
Here are two popular ways how to make organic face toner at home:
1. Apple Cider Vinegar Natural Face Toner For Oily Skin & Acne Prone Skin
Since it is naturally acidic and clarifying, ACV prevents bacteria from clogging your pores, so it's a perfect homemade toner for oily skin. It also balances the pH level of your skin.
2 tablespoons alcohol-free witch hazel
2 teaspoons organic raw apple cider vinegar with the mother
2 tablespoons distilled water
3 tablespoons lavender water
Combine ingredients in a small 4-ounce bottle and swirl to combine. Put in a reusable spritz bottle, or dab onto the face with cotton balls after washing.
2. All-Purpose Natural Toner For Combination Skin & Normal Skin
2 teaspoons witch hazel
3 tablespoons lavender water or rosewater
3 tablespoons distilled water
6 drops essential oils
Combine ingredients in a small 4-ounce bottle and swirl to combine. Spritz or dab onto face and your skin will be clean and clear, while keeping the planet clean and clear!
Always make sure to do a patch test of your DIY toner (somewhere other than the face) before you dive in face first!
---
Did you know we Have a Newsletter?
We cover the latest in sustainable living, fashion, zero waste, beauty, travel, finance and more…
How We Found Organic Facial Toners
First, what is a good natural face toner?
Like most of our favorite clean beauty, bath, and body care products, the best natural face toners are non-toxic, organic, and minimally processed, but that's not all.
We found the very best organic face toners with our tried, tested, and true ethical and sustainable beauty criteria:
---
Final Thoughts On All-Natural Toner For Faces
If you're looking to safely sooth, scrubs away dead skin cells, and nourish, organic toner is really a natural choice—in every sense of the word.
Skin that isn't inundated with over-processed products is healthier and more beautiful, and it helps keep the planet healthier, too.
When we skip the harsh chemicals, GMOs, parabens, petroleum, synthetic ingredients, or heavy metals in our beauty products and skin toners, we not only take care of ourselves, but also Mother Earth.
Given that Mother Earth is our best apothecary, we're grateful these brands have harnessed the power of plants to provide our faces the natural glow they deserve. There's no need for a fancy lab concoction rife with chemicals. Simple is best.
That's why we can even take a simple natural toner DIY approach. Since not everyone has the time for that, you're forgiven if instead you support one of these brands who are transforming the beauty industry from the inside.
When your friends or family ask "which is the best natural toner?" please forward them this article.
Pin these: