7 Eco-Friendly Dishwasher Detergents To Polish Up Your Sustainable Dishwashing Skills
Tired of compromising between clean dishes and a clean conscience?
Fret no more, because we've got you covered with a lineup of eco-friendly dishwasher detergents that will make your eco-friendly dinnerware clean and shiny while keeping Mother Earth happy.
You might say we're coming to your (rinse) aid to help you scrub away the culinary and chemical residues from your dishes, pots, and pans.
Whether you love dishes or hate them, suds up with sustainable dishwashing detergent can help you move towards a cleaner, greener future—one dish at a time.
Everything we recommend to you on Sustainable Jungle is independently researched and we ask all brands to confirm their claims. To avoid waste, we test products on an as needed basis. This post contains affiliate links. If you buy something through our links, we may earn a small commission. Learn more about why we do this here.
Suds Up With The Best Sustainable Dishwasher Detergent
To get your do-good dishwashing voyage off to a sparkling start, VOYA offers eco-friendly dishwasher soap sheets that save space, time, and planet, thanks to natural ingredients.
Blueland's eco-friendly Dishwasher Starter Kit makes it easy to clean up your sink, thanks to PLA-free tablets and a handy, refillable tin for storing them.
Keep your dishwasher detergent eco-friendly and phosphate-free with etee. But that's not all you won't find in their dishwasher powder: phosphates, phthalates, chlorine bleach, and palm oil are a few other harsh chemicals you don't need for sparkling clean dishes.
If you want to find out how we chose the best eco-friendly dishwasher detergent, head to the bottom of the page for the lowdown.
The Full List Of Environmentally Friendly Dishwasher Detergents
---
1. etee
*Note: etee's liquid dish soaps come in a compostable beeswax tube, and are thus not vegan, but the dishwasher powder is.
etee's Plastic-Free Dishwasher Detergents
Price Range: $12
etee's eco-friendly dishwashing soap will help you achieve sparkling clean dishes and a home free of plastic.
While they offer various solid and liquid dish soap options, only one is designed for your dishwasher.
The Concentrated Dishwasher Detergent is a baking-soda based biodegradable dish soap that's formulated with septic-safe, non-toxic ingredients.
These don't include synthetic fragrances, foaming agents, palm oil, unnatural preservatives, dyes, sulfates, phthalates, parabens, or plastic of any kind—thanks to its compostable paper bag packaging.
About etee
etee is 100% zero waste resource for everything you might need to care for your home and self—from zero waste toothpaste to loofah alternatives (for when you need to hand scrub your dishes).
Everything etee offers is made through an ethical and traceable supply chain, including their renewable energy powdered factory.
They give back whenever possible to organizations like Hue Man Race, which raises awareness of race inequality, breed positivity, and love for one another.
---
2. Blueland
*Note: Blueland uses RSPO-certified palm oil.
Blueland's No Plastic Dishwasher Detergent
Price Range: $21–$45
Set your dishwashing routine free from artificial fragrances, bleach, dyes, ammonia, VOCs, parabens, phthalates, petroleum, and plastic with Blueland's eco-friendly dishwasher detergent recipe.
Begin with the Dishwasher Starter Set, which includes a handy reusable container, then refill it via compostable paper refill packs when you run out (or subscribe, so you don't forget!).
Despite their convenient tablet form, we love that they don't include a PVA wrapper, which means they're some of the best plastic-free dishwasher detergent tablets around.
We also love how they perform, having used them ourselves for some time now. Even running the shortest cycle our dishwasher allows, we never struggle with stuck-on food or grimy film left on dishes after using Blueland's tablets.
About Blueland
Blueland offers a range of household cleaners, all of which are Cradle to Cradle, Leaping Bunny, USDA BioPreferred, EPA Safer Choice, and MADE SAFE certified, along with containing EWG verified ingredients.
Because they specialize in refillable cleaning products (AKA water-free and zero waste), they're helped divert over 500 million plastic cleaning bottles and 30 million square feet of plastic packaging from landfills.
They're also a Certified B Corp, Climate Neutral certified, and give back via organizations such as Lonely Whale and DIGDEEP.
---
3. VOYA
VOYA's Green Dishwasher Detergent
Price Range: $14–20
Anyone on a low waste living voyage should consider VOYA's unique take on an alternative for dishwasher soap.
It's not tablets, powder, or liquid but dishwashing strips you place in the top rack of the dishwasher.
These soap papers are formulated with just ten plant and mineral-based ingredients that won't harm your septic system.
While VOYA makes phosphate, benzene, SLS/SLES, fragrance, fluorescent, and bleach-free dishwasher detergent, they aren't technically plastic-free, because the papers contain PLA.
You can also use the green dishwashing detergent sheets to wash your dishes by hand if you prefer. Use half a sheet for handwashing dishes or a whole sheet for one dishwasher load.
We've tested these strips both ways and can confirm they work either way, but because we only hand wash a dish or two at a time (as opposed to a whole sink), we find it more efficient to stick to our dish block for handwashing and reserve these for when we need a whole load of dishes clean.
About VOYA
VOYA is a Canadian laundry and dishwasher soap brand whose goal is to do something about ocean plastic.
Aside from the dishwasher detergents and laundry detergent sheets being dissolvable paper themselves, the strips are delivered to your door in compostable kraft paper packaging.
We're still trying to touch base with VOYA regarding their ingredient sourcing policies.
---
4. Dropps
Dropps' Environmentally-Friendly Dishwasher Soap
Price Range: $19
Thanks to plant-based enzymes and oxygen bleach, Dropps' offers one of the best eco-friendly dishwasher detergents for hard water.
These convenient dishwasher detergent pods cut through your stuck-on food and grease using natural, mineral-based ingredients that will give your dishes a lemony zing without any hormone disrupting synthetic fragrances.
They're also free of chlorine, phosphates, and phthalates, but are wrapped in a polyvinyl alcohol (PVA) dissolvable membrane.
About Dropps
Dropps' eco-cleaning journey started with a zero waste laundry detergent.
Now, in addition to adding dishwashing solutions to the menu, the company also supplies eco-friendly fabric softener, oxi booster, dish spray, and hand soap.
Just like their transparent dishwasher detergent pods, this Certified B Corp is clearly committed to sustainability, celebrating simplicity and transparency of ingredients.
Carbon-neutral shipping is thanks to their offsetting partnership with Clearloop
---
5. Zero Co
*Note: Zero Co uses RSPO MB certified palm oil, meaning some is sustainable palm oil but not all.
Zero Co's Phosphate-Free Dishwasher Detergents
Price Range: $30–$33
Zero Co is an Australian eco-friendly cleaning product brand that uses a plant and mineral-based formula to deliver outstanding cleaning results.
In addition to beet and bentonite clay-bound plastic-free dishwasher detergent tablets, they also offer eco-friendly liquid dishwasher detergent.
Wait, how do they make a plastic jug eco-friendly?
Easy–with their refill program!
When you first buy the product, it comes in a forever bottle made from 50% recycled and ocean plastic.
The next time, you only need to buy the refillable pouch made from up to 40% recycled materials. Send this packaging back and it'll be refilled.
Both eco-friendly dishwasher detergents are free of phosphates, bleach, and synthetic dyes and fragrances, but the liquid contains palm oil, some of which may not be sustainably sourced per their RSPO MB certification.
About Zero Co
Zero Co's aim is to stop a total of 3 million water bottles worth of plastic going to landfill and it's already far exceeded expectations with its launch of The Great Australian Plastic Purge.
Zero Co also organizes regular local cleanups, through which they've cleaned over 6,000kg of plastic from the ocean.
Each one of their natural laundry detergents, household cleaners, and personal care products are vegan and cruelty-free.
Get the full low down on this low waste company by listening to our podcast interview with their founder.
---
6. Ecoleaf
*Note: EcoLeaf uses RSPO certified palm oil.
Ecoleaf's Best Eco-Friendly Dishwasher Detergent UK
Price Range: £6–£34
With UK brand Ecoleaf, you can expect eco-friendly dishwasher detergent that works.
That means sparking clean glasses and dishes thanks to the powerful cleaning action, built-in rinse aid, and degreasing agents sustainably sourced from plants.
These non-toxic dishwasher detergent pods will never contain phosphates, parabens, triclosan, phthalates, SLS, or synthetic fragrances, but they do contain RSPO-certified palm oil.
Each tablet is encased in a soluble PVA wrapper that biodegrades in the water.
About Ecoleaf
Suma's Ecoleaf offers a range of safe, and effective cleaning products, all of which are Vegan Society vegan and Leaping Bunny cruelty-free.
The entire range is sourced from plant extracts and other non-hazardous, biodegradable ingredients in recyclable plastic or cardboard packaging.
If you're a London local, check out of London zero waste shops for opportunities to buy Ecoleaf products without packaging.
---
7. Cleancult
*Note: The only non-vegan product offered by Cleancult is their wool dryer balls.
Cleancult's Sustainable Dishwasher Detergents
Price Range: $19
Switch out your bad plastic habit and adopt a cleaner refill ritual with the help of Cleancult's alternative to dishwasher soap.
Each eco tablet is made from coconut surfactants, wrapped in a dissolvable film, though we're not 100% certain whether this film is PVA or not. We'll be reaching out to check.
Otherwise, you'll find no dyes, SLS/SLES, phosphates, or parabens in their 100% recyclable paper packaging.
About Cleancult
Cleancult came about when co-founder Ryan had a light-bulb moment regarding all the harmful chemicals in so many everyday household cleaners.
His answer was to create an effective, cleaner cleaning system with zero plastic waste.
How?
With recyclable cardboard refill cartons designed to fill the same jars or bottles over and over.
Aside from preventing plastic waste themselves, they have several impact projects directly tackling that which already exists in the environment, earning a Plastic Neutral certification through rePurpose Global. Their goal is to channel at least 50 million pounds of flexible plastic waste into recycling over the next 10 years.
They're also Leaping Bunny certified and members of the Sustainable Packaging Coalition.
---
8. DIY Eco-Friendly Dishwasher Detergents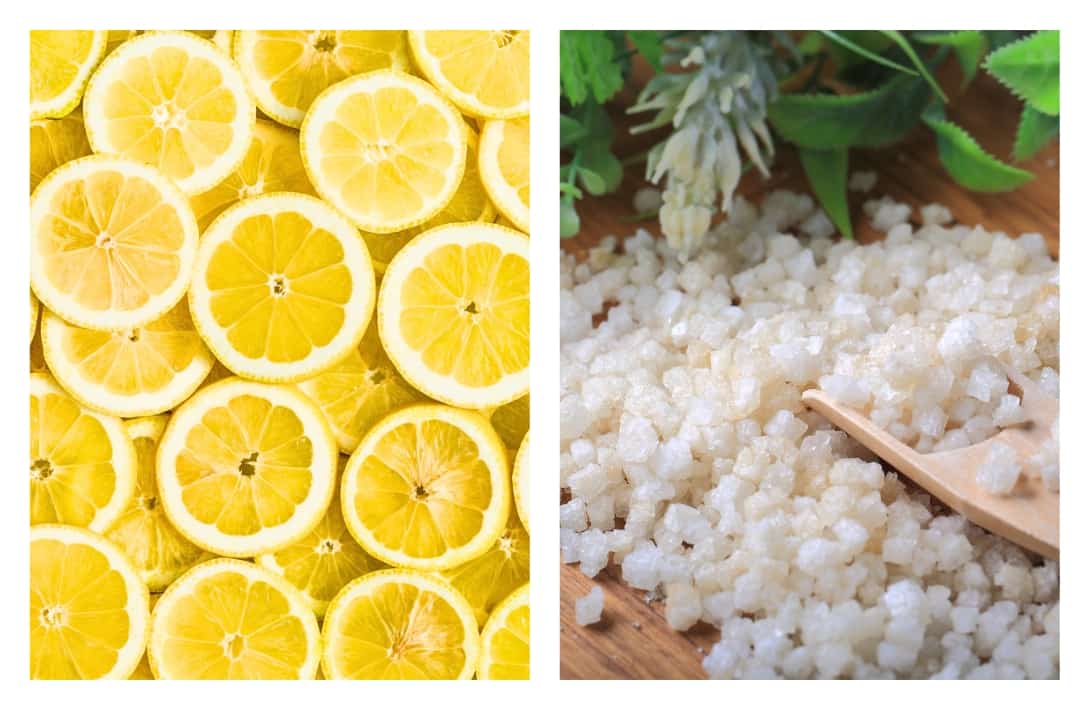 If you want to be entirely plastic and waste free, time to get your hands dirty (and your dishes clean) with DIY dishwasher tablets.
To make your homemade eco-friendly dishwasher detergent:
Combine Epsom salt, borax, and washing soda in a medium sized bowl.
Add lemon juice and stir well.
Pop the mixture into ice cube trays or some other reusable mold and let dry overnight.
Another option is to mix baking soda, borax, white vinegar, Epsom salt, and essential oils into a mold.
Once the tablets are dry, remove them from the mold and store in an airtight container until you're ready to use them to keep your dishes sparkling clean.
---
Did you know we Have a Newsletter?
We cover the latest in sustainable living, fashion, zero waste, beauty, travel, finance and more…
How We Choose The Best Environmentally Friendly Dishwashing Detergent
Are Cascade pods eco-friendly and non-toxic?
Well, considering we sounded no fewer than 15(!) different artificial fragrances on their ingredients table, we're going to go with NO.
So what dishwasher detergent is best for the environment?
Because the best earth-friendly dishwasher detergent makes your dishes beautiful, we used our ethical and sustainable beauty criteria to find brands delivering the cleanest of the clean.
Non-toxic: We looked for chlorine bleach, SLS, phthalate, and phosphate-free dishwasher detergent, because these things not only harm the environment when they enter our water systems, but can harm human health, too.
Cruelty-free and vegan: Products shouldn't be tested on animals and there is no reason why they should contain any animal byproducts.
Palm oil free: It's preferable if a company chooses not to use palm-oil. However, we recognize this is not a perfect world, so the palm oil should at least be sustainably sourced.
Ethical ingredient sourcing policies
Thoughtful packaging: Reusable or compostable packaging ticks all the zero waste dish soap boxes, but it should at least be recyclable.
It's worth noting that many eco-friendly dishwasher tablets are not strictly zero waste because the PVA/PVOH pod wrapper is technically plastic, albeit dissolvable–though there are concerns as to how thoroughly it does break down).
Ideally, we like powders and PVA-free pod wrappers, but the way we see it, those using PLA are still better alternatives than big plastic jugs filled with harmful chemicals.
---
Final Thoughts On Plastic-Free Dishwasher Detergent
While nobody likes to see piles of dirty dishes on the drainer, it's important to understand the far-reaching impact our dishwashing habits have on the environment and our personal health.
So when it comes to the dishwasher, eco-friendly detergent is as essential as, well, the dishwasher!
But if you prefer good ol' handwashing (we hear you!) and are wondering, "What can you use instead of dishwasher pods?", check out some of our non-toxic dish soap favorites. You'll find a lot of the same brands, but we focus on their non-machinated options.
The next time someone asks you for advice on sustainable dishwashing detergent that's kind to the environment and still delivers unrivalled cleaning power, send them our way.
Or at least pass on your favorite homemade earth friendly dishwasher detergent recipe so they can have sustainable sparkling clean dishes, too.
Pin these: