Clean freaks rejoice, zero waste soap is one of the easiest zero waste swaps you can make. Yet most people don't even think of zero waste dish soap.
In fact, it's the secret ingredient to a zero waste kitchen and can give your dishes a sustainable sparkle that's more (almost) scrumptious than mom's homemade pie.
As a reminder and from the perspective of a consciousness consumer, zero waste living guides us toward reducing our landfill contribution. Instead, we try to use things that are compostable or reusable.
FINDING ZERO WASTE DISH SOAPS
When looking for zero waste dish soaps, they need to align (as much as possible) with our sustainable personal care criteria. That includes being:
palm oil free

 made from ethically-sourced ingredients and

in compostable or reusable zero waste packaging
Soap specific, we want to avoid petroleum-based surfactants (which speed up the molecules of food and grease particles so that water can dilute and wash it away).
However, not only is the extraction of fossils fuels decidedly unsustainable, but the surfactants are often not biodegradeable. That means they both lower surface tension of whatever water they end up in, and can poison the ecosystem for a long period of time.
It sounds like a lot to consider, but fortunately, the sustainable personal and home care industry grows daily and there are more options than ever.
We know that means we might have missed some so please let us know if we did! 
1. BESTOWED ESSENTIALS ZERO WASTE DISH SOAP BAR
*Note: We are confirming policies directly with this brand 
About Bestowed Essentials Dish Soap Bar 
Bestowed Essential's cruelty-free and vegan dish soap bar is kind toward animals and harsh toward food bits and grease.
Made of olive oil, water, coconut oil, French green clay, pacific sea salt, and sodium hydroxide (which is necessary for the soap making process but doesn't actually remain in the finished product), it uses mineral particles to scrub without the need for harsh chemicals.
There's also no fragrances, sulfates, parabens, palm oil, or preservatives.
Because it's so concentrated, very little is necessary to really get your dishes squeaky clean and save you a little money. One 12 oz. should last a long time.
Rub your sponge or zero waste dish brush directly on the bar or cut off a small chunk and dissolve it in a bit of water to turn it into zero waste liquid dish soap. Not too much at a time though.
Just FYI – since there's no preservatives, it won't stay mildew-free in liquid state for too long.
Alternatively, you can use their Soap Saver Bag to help get extra sudsy goodness from the last bit of your bar.
About Bestowed Essentials
Bestowed Essentials might just be the first sustainable beauty brand born in the back of a converted camper van.
Founder Callee lives the vanlife and she used to make everything right in her van using energy harvested off the solar panels on the roof. Now she uses the van mostly to travel and give sustainability talks.
We're just jazzed about that whole concept (and maybe a little jealous). 
Now, the solo operation has become the effort of a small team with a shop in Rapid City, South Dakota (the first zero waste store in the whole state!). Their store and production line amazingly only produce 10 lbs of trash per month!
In the spirit of supporting other female run businesses, they support and stock them as much as possible.
While Callee takes great care to use quality, all natural ingredients that satisfy every one of our sustainable personal care criteria, she also believes that the ability #treatyoself shouldn't break the bank.
She makes some of the most affordable zero waste cleaning products around…
Every stage of the production process (including shipping) is plastic free.
What's more, Bestowed Essentials sponsors beach trash cleanup, one pound of trash for every online order made.
To learn more about Bestowed Essentials and their passion for sustainability, check out the Hippie Haven podcast they run. It's not like we're partial to fellow environmental podcasters or anything…
We're currently confirming Bestowed Essentials broader palm oil and ethical sourcing policies directly with them. 
2. CASSIA ORGANICS VEGAN DISH SOAP BAR
*Note: While Cassia Organics Dish Soaps are vegan, other products may contain beeswax, which can be replaced with plant based wax, on request
About Cassia Organics Vegan Dish Soap Bar
If you're scouring the market for elegant and minimally packaged zero waste dish soap bars, scour no further (unless it's scouring your kitchen).
Cassia Organics soaps have almost 1000 5-star reviews on Etsy!
Wrapped in compostable recycled paper with a heavier duty craft paper label, you can choose from four different scents: cactus flower, cucumber mint, rosemary and thyme, and clean and fresh (pretty much unscented).
These cruelty-free, vegan soaps are made with the hot process method from distilled water, coconut oil, cocoa butter, safflower oil, and sodium hydroxide. There's no phthalates, petroleum, dyes, SLS, or other chemicals.
They are now palm oil free!
Boasting both antibacterial and stain removing properties, they're not only great for disinfecting the kitchen, but great for spot cleaning stained laundry, too. 
About Cassia Organics
Formerly known as Bee's Botanics, this Connecticut-based "old world soapery" is the brainchild of Birgit Tolman (aka Bee) and her "obsession" with making soap. 
After getting certified by the Herbal Academy, she started experimenting to find the best zero-waste soap recipes for the body and home. Staying true to her Germanic roots, she uses the traditional "hot process" method of cooking the soap so pay homage to her grandmother
In addition to soaps, she hand makes in small batches deodorants, ointments, and a few other beauty products, as well as selling dried herbs and flowers.
Many of these come from Bee's own one acre homestead and garden, which she sent us photos of – wow very impressive!  Others are sourced from their native European countries and from a few trusted suppliers.
More than half of their products are 100% natural and the other half are 97% natural as they contain fragrance oils with scents that their "customers love". Their lotions contain a natural preservative. 
While all their products are suitable for vegetarians and many of the soaps are vegan-friendly, some contain beeswax from a local beekeper friend of Bee's. 
The entire company is not zero waste as a few products (like room sprays) come in plastic bottles, so do check the product packaging before you buy.
3. SEA WITCH BOTANICALS "CANARY CLEAN" ZERO WASTE DISH SOAP BARS
*Note: The Canary Clean Dish soap is palm oil free and Sea Witch Botanicals plans to be enitrely palm oil free by 2020
About Sea Witch Botanicals "Canary Clean"
With Sea Witch Botanicals' plant-based, plastic and chemical free home cleaner, there'll be "no need to send a canary into your home to test for toxins". 
That's because it's made of a safe, fragrance-free blend of kaolin clay, orange essential oil, and fair trade organic coconut oil. No parabens, phthalates, SLS, or petroleum.
Despite the simple recipe, the oomph lies in the orange.
Orange is a natural grease cutter, while promoting a happy mood for the dish washer. No reason doing the dishes should make you miserable anymore.
Our favorite part of this vegan zero-waste soap is that it's designed for more than just dishes. Use it for kitchen surfaces, glass, carpet, fabric, and more. That way, you're not just eliminating dish soap bottle waste, but waste from all sorts of other household cleaners, all with one purchase!
We couldn't say it better than the label itself: 
"Why have 10 bottles of cleaner under your sink when you can have 1 bar?"
About Sea Witch Botanicals
Sea Witch Botanicals, based in Bellingham, Washington, is a family run business that focuses on helping our earth fight off environmental toxins by producing sustainable product alternatives and educating others to be environmental stewards, too.
That's why they regularly donate to education-minded charities like Earthjustice and the Environmental Working Group. They also donate $1 from every Vasheen: Feminine Cleanser bar sale to their local Mt. Baker Planned Parenthood.
They're also members of 1% for the Planet, a certified B-Corp (which they are very proud of – read more here), and Toward Zero Waste certified.
All their products are cruelty free and certified vegan-friendly.
Their ingredients are all natural (no fragrance oils) and they use some certified organic ingredients. When they went through the certification process of becoming a B Corp, they found that 27.5% of their raw materials are certified Organic and 45% are Non-GMO verified. 
They do use palm oil in their soaps, certified by the Roundtable on Sustainable Palm Oil.  One of their 2019 goals is to go palm oil free. 
The name Sea Witch comes specifically from their commitment to "keep the world's waters healthy".  That's why they use solar panels and purchase green energy to make their products.
Sea Witch Botancials are the very first brand we've come across that has released a Sustainability Report. Very impressive! See the 2018 report here.
On ethical sourcing, Sea Witch Botanicals says the following in their latest sustainability report: "We are always striving to improve our products and supply chain by conducting Supplier Code of Conducts prior to doing business with new vendors. This allows us to understand their environmental and social impacts prior to accepting them into our supply chain. We give priority to supporting local vendors before searching elsewhere."
A great example of this is their cocoa and shea butters which they source fair trade because "we're committed to our core values of stewardship, charity, health, and prosperity. We pay a premium for these butters because we know that fair trade helps the people who harvest and produce our cocoa pods have access to education, safe working conditions, and a better life."
On zero waste, they use compostable, recyclable and/or reusable packaging throughout their product lines and are always looking for ways to mitigate plastic. They also sell their products at their local farmer's market where they accept empty Sea Witch containers.
They have also diverted 90% of their waste from landfill and their production facility's waste stream is audited by Sustainable Connections.
 Further, Sea Witch Botanicals are working to foster sustainable, supportive relationships with their stockists. For example, they don't offer their products on Amazon, because they don't want to take away from their retailers' business.
They are also strengthening their relationships with their vendors in our supply chain to scale our ordering, which will mean less plastic! 
4. SAVONNERIE DES DILIGENCES "CAKE VAISSELLE" SOLID DISH SOAP
About Savonnerie des Diligences "Cake Vaiselle"
Savonnerie des Diligences' solid zero waste dish soap paste comes to us as a collaboration between Chic Frigo Sans Fric and author Florence-Lea Siry, who has written a handful of French zero waste lifestyle books such as one that translates to mean The Consumption of Which You're the Z'Hero. 
Unscented and made from a simple blend of sodium cocoyl isethionate, sodium coco sulfate, and vinegar, it's tough enough to also clean ovens and stained Pyrex.
The ingredients sound a bit scary, but they are all still natural, though the soap is obviously not sulfate free.
Because it comes in a cute, reusable mason jar, it's actually easier to preserve long term than soap bars, which have to dry out. This dish soap paste will hold up even if it stays a little wet.
About Savonnerie des Diligences
Based on Quebec, Savonnerie des Diligences is a totally vegan soapery and skincare company has been working toward providing sustainable, zero waste personal care since 2005! Way before zero waste started properly trending.
The brand was founded by Marie-Eve Lejour as a humble means of making eczema-soothing products for her child, she grew it from a solo operation to a family endeavor to a fully staffed company. 
All products are natural, biodegradable and water safe, palm-oil free, cruelty-free, and vegan. While not actually certified, most are also non-GMO and organic.
They deal strictly in solid soaps because liquid soaps can require unnatural stabilizers and encourage the use of plastic bottles industry-wide. We agree, liquid is a very tough state to get around, sustainably speaking.
Many of their products are vegan however they do use ethically sourced beeswax from a reputable local supplier. Savonnerie des Diligences try to work with suppliers who have the same values as they do which in short are: rigor, consistency, diligence, transparency, effervescence and pleasure at work.
Their Shea butter is sourced from a fairtrade women-run business in Mali.
Many of their products come in compostable cardboard or reusable glass and tins with lovely and unique graphics and sketches on all the labels. An artsy touch for these artisan products. Their goal is to become a totally zero waste brand. They also offer discounts for returned packaging. 
To reduce their emissions even further, they don't ship at all by air. If you're ordering from Europe, allow 4-6 weeks for shipping by… well, ship, of course!
5. BUTTER ME UP ORGANICS ALL NATURAL ZERO WASTE DISH SOAP POWDER
About Butter Me Up Organics Zero Waste Dishwasher Soap
Butter Me Up Organics hand makes their zero waste dish soap powder to ensure its chemical free and clean enough to eat from… literally.
Did we mention there's only 4 ingredients?
Seriously: washing soda, kosher salt, non-GMO citric acid, and sodium borate. 
The vegan zero-waste soap is cruelty-free, as well as made without sulfates, parabens, phthalates, dyes, or fragrances.  
For packaging, it comes in a 1lb. undyed craft paper bag that's fully compostable. Since a load of dishes only requires 1 tablespoon, it will last you ages.
Butter Me Up Organics recommends using simple white vinegar as a rinse aid if necessary (which is usually easy to find in bulk!).
About Butter Me Up Organics
Butter Me Up Organics is "a modern day apothecary" with oh so many personal and home care products, from zero waste toilet tabs to items we've never even seen before like yoga mat cleaner.
Their guiding mission statement is, "Don't put anything on your body that you wouldn't put in it." 
This zero waste company all got started in 2008, after frustration at the ingredients (many have since been banned in other countries for a long time) in most U.S. products.
Years of dedicated research later and they've a solid line of zero waste personal care products.
Instead of including harmful chemicals, their products formulations are made with herbs, butters, and essential oils suitable for even the most sensitive skin (which they hope to help fix!). 
All ingredients used are 100% cruelty free and free of synthetics and palm oil. Most of Butter Me Up Organics' products are vegan except for their salves, moisturizers, lotion/balms, organic milk soaks and a goats milk bath bomb.
Everything comes packaged in glass, tin, or paper, despite extra company overhead to continue doing so. They're adamant about staying plastic free.
They also set aside an annual amount for charitable donations which goes to various charities and causes (like the Californian wildfires, Leukemia and Animal charities).
6. NO TOX LIFE DISH BLOCK
*Note: While palm oil is used in some other products, No Tox Life's Dish Block™ is free from palm oil
About No Tox Life Dish Block
No Tox Life's zero waste dish soap bar is a super sudsy (and sustainable) way to get off the toughest grease and grime from your cooking.
This vegan, zero-waste soap is free from sulfates, phosphates, parabens, fragrances, palm oil, and animal testing, and is totally biodegradable. 
Plus, with the added Aloe Vera, you can do your dishes without the worry about drying out your skin.
While it's 7.5 oz size might sound small, it's pretty mighty. It's designed to replace three regular bottles of liquid dish soap and will last one person about three months!
For heavy duty use, get their HUGE 22.5 oz dish washing bar. 
Not only is this one of the best zero waste dish washing bars we've seen, it's a great multipurpose soap that can used for hands, countertops, laundry stains and even carpets!
Alternatively, get their zero waste dish soap powder flakes (which come in a compostable cloth bag) to make your own zero waste liquid dish soap by melting 1 oz with 8 oz of water.
Alternatively, add them directly to the toilet or tub to clean. 
What's really cool is that these are actually just a byproduct of their dish block production so they embody the phrase, "Waste not".
Lastly, you can accompany these zero waste soaps with either their white teakwood and agave fiber dish brush (which features a compostable removable head with vegan plant bristles) or their Eco Coconut zero waste dish brush.
About No Tox Life
No Tox Life is a totally cruelty-free and vegan company that makes both eco-friendly personal care products and home/kitchen products. Most ingredients include gentle plant butters, earthy clays, and nourishing essential oils.
Started by Sandee Ferman and her daughter Callie, No Tox Life is not only women-run but family-like. Everything is handmade by a small team of only six people.
"No Tox Life was vein from the desire to provide natural, toxin-free vegan body care to help you live a cleaner, greener lifestyle."
In the spirit of reducing packaging and shipping waste, they offer refills directly from their flagship store in Los Angeles.
Additioanally, they re-use shipping materials as much as possible and use biodegradable paper envelopes and padding or cornstarch-based peanuts where necessary.
No Tox Life have some palm oil free products (including their Dish Block™ and some body soaps). Some other products contain small amounts of ingredients co-derived from coconut and palm, to help with texture, effectiveness or cleansing. Though they are actively searching for affordable alternatives to these. 
While No Tox Life only use non-toxic, gentle ingredients, there are a number of plant or mineral derived processed ingredients. 
They also source directly from the producer/ maker, or get as close as possible. Examples include:
Shea butter comes from women's collectives in Ghana

Some products come directly from the USA or Canadian, or European makers, where they are using their income to pay living wages and give back to their communities. 

Some bamboo products are sourced from a company based in Denmark and Vietnam that is building water filtration systems and schools in rural villages
In their office, No Tox Life re-use as much as they can, recycle as much as they can,  use TerraCycle where available and are working on reducing manufacturing waste.
No Tox Life also give soaps to Showers of Hope and Recycled Resources, two non-profits giving daily mobile showers to those experiencing homelessness in their area.  They also help with trash pickups in our neighborhood and do things like pay their employees to join the Youth Climate Strike.
They give a local resident discount at their retail store since the area around the store is a mix of lower income and higher income and they want their products to be accessible to most.
Additionally, they try not to "gender" their products – the products they make are for everybody: "we think gender stereotypes for deodorant or soap are silly and potentially damaging."
We've also featured No Tox Life in our article about Zero Waste Online Stores.
7. ECOSTORE ZERO WASTE DISHWASHER TABS
*Note: While not palm free, they use RSPO and GreenPalm certified suppliers.
About Ecostore Zero Waste Dishwasher Tabs
Ecostore's sustainable dishwasher tabs are by far the best zero waste dishwasher tabs we've tried.
Harnessing the power of earth-safe biodegradable enzymes, they actually break down stuck-on food, rather than just soaping it up and clearing off grease. 
Environmental Choice-approved, even the pod wrappers are made of PVA biodegradable material that's entirely safely dissolvable in water. To top it all off, they come in a cardboard box sans any plastic liner bag. 
About Ecostore
Ecostore ranks pretty high on our favorite ethical brands list.
We've actually done a whole brand spotlight on them! Ahead of most of the eco-friendly market, they started all the way back in 1993 in a small New Zealand eco-village (the first in all of Australasia!).
With multi-award winning products, they hold top tier sustainable business certifications, such as the Enviromark Diamond and carbNZero.
As members of PETA's "Beauty with Bunnies" program, they are certified cruelty-free, though not 100% vegan (most products are vegan, though some contain honey and goat's milk). 
While not a palm oil free company, they strictly manage their supply chain to maintain RSPO and GreenPalm standards.
Their Carbon Capture Packaging is made from sugarcane plastic that is totally recyclable. Other packing materials, like their "green beans" for delicate items, are also totally recyclable and often already recycled.
8. KINDLATHER OUTDOOR SAFE DISH SOAP PAPERS
*Note: These dish soap papers contain RSPO certified palm kernel oil, sourced through Natural Habitats. Any palm oil used in other KindLather products is RSPO certified. 
About KindLather Outdoor Safe Dish Soap Papers 
This one's a little different but it's such a cool concept, especially for travelers, campers and anyone who finds themselves cooking outdoors.
KindLather makes zero waste dish soap papers.
Yep, that's right: soap paper! 
These dissolving "lather sheets" are made from FSC (Forestry Stewardship Council) certified MIX paper that's been responsibly harvested. This paper is then packaged in a 100% post-consumer and post-industrial recycled paper envelope printed with Earth-Kind soy ink and earth pigment paint.
One sheet sufficiently washes the dishes for one person's meal (i.e. mug, plate, small pot, and utensils) so it's perfect for ultralight backpacking and camping. Even if you're less outdoorsy but still love travel, breathe easy knowing they're TSA carry-on compliant and you won't even have to unpack them through security. 
These "take with you everywhere" soapy solutions really prove that waste doesn't have to be an inconvenience. 
You may find it produces less lather than traditional soap, but don't let that fool you into thinking it's not doing the dirty work. With antibacterial tea tree extract and grease cutting all natural citric acid, it's a powerful cleaner.
Other ingredients include jojoba, olive, hemp, coconut, and palm kernel oils.
As passionate advocates of Leave No Trace principles, they also educate on proper outdoor use.
Specifically, while they are 100% biodegradable and eco safe, they should not be used directly in waterways. Instead, fill a bucket to wash your dishes and pour it out at least 200 feet from any waterway.
About KindLather
KindLather started because of a fear so many of us know too well: public restrooms. 
Founder Stacy always hated public restroom soap dispensers, so she started experimenting with easily portable travel toiletries to bring conveniently eco-friendly soap absolutely anywhere.
Thus, the Soap Paper was born. 
While these were originally designed for Stacy's personal use, she realized that others might enjoy them, too!
In addition to their dish soap, they make hand/body lather and hair lather soap papers, to give you the full trifecta of travel soaps.
All materials, soaps and shampoos are made in the USA.
KindLather source their soap from third parties. More on the soap provider's policies as follows: 
Certified as cruelty-free by Leaping Bunny and PETA listed. KindLather do not sell any products into China

While all products are vegan, the BodyLather and the DishLather soaps have certifications from Vegan.org

USDA certified organic and naturally derived ingredients (including some safe, low tox ingredients –  EWG's Skin Deep rating of 1)

The RSPO certfified palm kernel oil in the DISHLATHER and BODYLATHER is sourced via Natural Habitats and any other palm oil or derivative ingredients in the Extra Mild HAIRLATHER is also RSPO certified.

In many cases, ingredients are certified Fair Trade

All ingredients are non-GMO and gluten-free
The finished products are completely biodegradable so it's safe for septics, RV plumbing, and the great outdoors itself.
Additionally, they partner with Trees for the Future, meaning they plant two trees for every item sold and KindLather's contributions help to change lives. KindLather really embodies their core belief that "convenience can & should be kind." also
9. BULK ZERO WASTE DISH SOAP
It's pretty easy to find bulk dish powder and bulk bar soap (generally pure castile bars).  Some bulk stores even carry bulk dishwasher tabs, though experimentation has taught us they're not the best at removing stuck-on food. 
The trickiest one is actually bulk liquid dish soap.
When looking for bulk liquid dish soap, you're basically looking for concentrated castile liquid soap. Buying liquid castile soap in bulk is a super affordable way to handle dish duty. If you're having trouble finding an actual bulk store near you that sells it, you can buy huge bottles online that will last forever and can be adapted to do most of your household cleaning.
Consider a 5-gallon jug diluted at a 1:10 soap: water ratio; that's a lot of soap and will last for ages!
Dr. Bronner's is generally the go-to option. It's organic and Fair Trade. It's not, however palm oil free, although we're pretty comfortable with Dr Bronner's approach to palm oil so we are happy to support them (read more here and watch the video here). 
Another similar brand that might be easier to find in the U.S. is BioKleen. You can find both Dr. Bronner's and BioKleen in huge sizes on Amazon if you're having trouble finding them in bulk.
It's not non-plastic, but it is drastically reducing waste generation compared to traditional non-concentrated dish soap.
Common Good is another U.S. natural dish soap that can be bought in large bulk sizes. Their 5-gallon tubs are a bit pricey but will last YEARS. 
While these still aren't zero waste ideal because of the plastic bottles (even if it is just one plastic bottle for a long time) Common Good is neat because they have brand specific refill stations located across the U.S. 
They're also working on a bottle return program, too, where you could buy a smaller plastic bottle just once and ship it in to get it refilled.
10. DIY ZERO WASTE DISH SOAP
As with many personal and home products, sometimes the best zero waste solution is the one you make yourself.
Even if you aren't much for cooking or concocting, this one is super easy to make. 
This article by Wasteland Rebel has the zero waste dish soap recipe for dummies (that includes us!).
All you need for it is either a plain castile soap bar or liquid castile soap, baking soda, water, and essential oil if desired. 
If you're starting with the bar, just grate (or blend in a food processor), add to water you've just brought to a boil, allow the soap flakes to dissolve, then add the baking soda to the warm (but not hot) mixture.
Starting with liquid castile soap is even easier. Just follow the same steps without the tedious grating process to start. 
Super easy! Check out Wasteland Rebel's post for exact recipe ratios and some good troubleshooting tips.
OTHER ZERO WASTE DISHWASHING PRODUCTS
Zero Waste Soap Bag
Of course, what good is zero waste soap if you don't have a zero waste scrubber / bag to go with it. 
A zero waste soap bag is one of the first useful tools to consider. Because most natural soaps do not have the synthetic foaming agents, they don't always suds up quite as much you might be used to.
Zero waste soap bags, like these hemp or jute ones, hold your bar and help foam it up. They also help when the bar gets really small so you don't end up wasting any of it.
Many more handmade soap saver bags can also be found on Etsy.
Zero Waste Loofah
Loofahs are the most simple, pure zero waste sponge around.
Did you know that loofahs are a vegetable? Crazy, right!? Just make sure it's 100% plant-based and not loofah mixed with something synthetic, especially if you're ordering off Amazon.
For Australian readers, coconut scrubbies are easy to come by and are basically biodegradable brillo pads.  Find them on Flora & Fauna and Biome.
Etsy also has tons of cute, handmade zero waste sponge options, including non-abrasive crochets all the way to course bamboo scrubbies. 
Eco Friendly Dish Cloths
To be even more gentle on the dishes, you could try eco-friendly dish cloths, typically made from a home-compostable blend of cotton and cellulose, which is very absorbent. If properly allowed to dry in between washes, they can last a long while.
Find tons of fun colors and designs of these on Flora & Fauna if you live in Australia. The many hemp dish cloth options on Etsy are also biodegradable cloths. 
Compostable Pot Scrubbers
For stubborn, stuck-on food a compostable pot scrubber is a great sustainable alternative. These can be anything from a bamboo pot scrubber to coconut fiber dish brushes. Basically anything with a wooden handle (ideally sustainably harvested) and plant-based bristles. 
This Kuechenprofi Classic compostable dish washing brush is a great example.  With a slim, stainless steel handle, compostable wooden head (which is replaceable), and compostable bamboo fiber bristles! 
Also, don't forget that most of the zero waste dish soap bars we've looked at above don't have preservatives or stabilizers, meaning they can't hold up to remaining wet all the time.
Zero Waste Soap Holders
Between uses, ensure the soap bar dries out. You can do this with a simple zero waste soap holder with proper drainage. Simply make your own, using a saucer and some stones! 
Alternatively, Wooden or bamboo soap dishes are widely available on Etsy (in all sorts of designs and styles). If you're going wood, try to find something sustainably harvested, such as this upcycled timber soap dish on Biome, made from reclaimed construction scrap.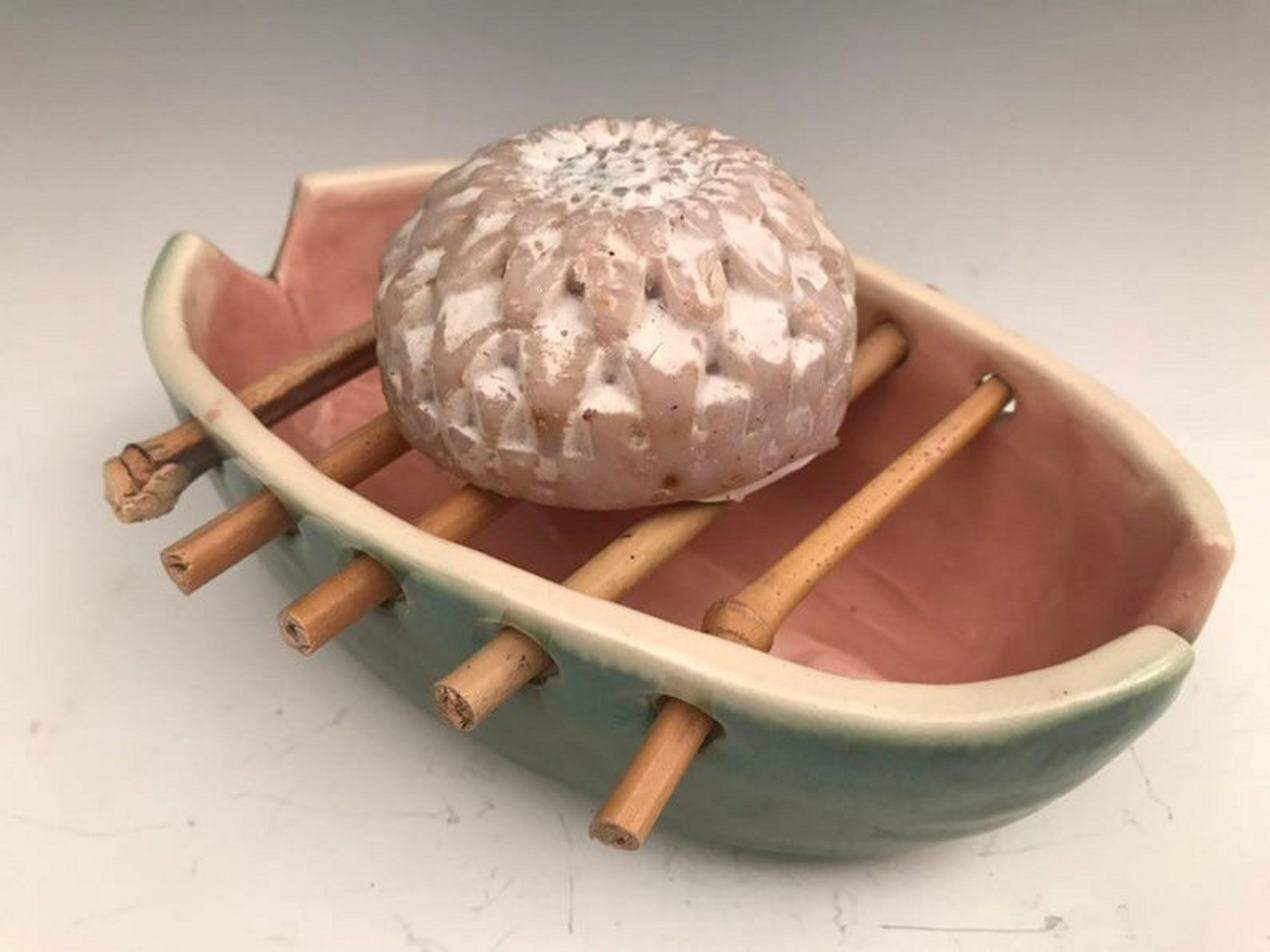 Another classic option is the zero waste ceramic soap dish.
These obviously aren't compostable but they should last a very long time provided you don't accidentally drop it.
Again Etsy has so many beautiful hand crafted ceramic soap dishes available (we particularly like this one), but you can also try local antique and thrift shops! 
If you're using liquid dish soap, you can typically reuse an old push bottle (from hand wash or some other product) as your zero waste dish soap dispenser.
Alternatively, Twice Born Pottery does truly beautiful work if you want a ceramic dispenser. Alternatively, for a clean simple look to match your (hopefully) jar jammed kitchen pantry, there are lots of mason jar soap dispenser options out there on Etsy and Amazon (where you can also just buy the lid and fit it to a jar you already have).
FINAL THOUGHTS ON ZERO WASTE DISH SOAP BRANDS AND PRODUCTS
We had no idea how many truly zero waste dish soap options there were on the market. It's amazing!
And not only do all of these provide an escape from the dreaded plastic bottle, but they keep our drainpipes and waterways cleaner, too. Who wants to eat off a plate washed with nasty surfactants, sulfates, and other synthetics, anyway?
So scrub away! Your pots, pans, and the planet will thank you.
As always, we love to hear from you, whether it's a great zero waste soap recipe or just a great recipe to make so we can try out these new sustainable soaps.
Leave a comment or send a message!
Other articles you might like …