9 Zero Waste Dish Soaps For Clean Plates & A Clean Planet
Clean freaks rejoice, zero waste dish soap is one of the easiest zero waste swaps you can make.
In fact, it's the secret ingredient to a zero waste kitchen and can give your dishes a sustainable sparkle that's more (read: almost as) scrumptious than mom's homemade pie.
If you're in a hurry to get your dishes done, here are some of our faves.
Everything we recommend to you on Sustainable Jungle is independently researched and we ask all brands to confirm their claims. To avoid waste, we test products on an as needed basis. This post contains affiliate links. If you buy something through our links, we may earn a small commission. Learn more about why we do this here.
The Best Zero Waste Dish Soaps For A Squeaky Clean Sustainable Sheen
Suds & Co provides convenient and compact bars of soap in reusable metal tin and compostable packaging for a plastic-free dish double team.
Gluten-free, vegan, zero cruelty, no toxic chemicals, and with a light-to-ship powder base—Blueland's eco-friendly dish soap refills hit all the marks and then some.
Butter Me Up Organics' zero waste dish soap cuts grease without any plastic fuss, palm oil, or animal products, on top of their squeaky clean small-batch production.
Waiting for your dishes to dry?
In the meantime, head down to the bottom of the article to see how we found the top sustainable dish soap alternatives helping fight grease, grime, and climate change
The Full List Of Eco-Friendly Dish Soap Brands
---
1. Suds & Co
Suds & Co's Zero Waste Dish Soap
Price Range: $14–$15
Suds & Co offers high-quality plastic-free dish soap refills made from organic ingredients coconut and castor oils, lye, and organic orange essential oil, organic lemongrass essential oil.
With this zero waste dish soap, cut grease on your dishes and hands alike, thanks to its versatile do-it-all formula that works for plenty of home and personal care cleaning needs.
After trying this eco dish soap ourselves, we're very impressed with how much power is packed in this small jar. Just a little bit on the dish brush goes a very long way.
We especially love the container and how neat and tidy it helps us keep our kitchen counters.
It can be ordered in compostable cardboard packaging with a reusable metal tin or without, if you plan on setting in a sustainable soap dish.
About Suds & Co
Suds & Co is a women-owned, vegan, plastic-free, and cruelty-free company.
They are also a member of 1% for the Planet, and their products are handmade in the United States.
An offshoot of the zero waste online store (and aptly named one, at that) ZeroWasteStore.com, all products also come via the platform's carbon-neutral shipping.
---
2. Blueland
*Note: Blueland uses RSPO-certified products in some of their liquid products.
Blueland's Dish Waste Dish Soap Powder
Price Range: $12–$20
Blueland is on a mission to make an eco-conscious lifestyle easy, convenient, and affordable by using plant-based ingredients to create safe yet powerful home cleaners for all needs.
In the dish department, that means a biodegradable dish soap that comes to you in powder form.
We've tried it and love how simple it is. There's no need to mix it with water or anything; just sprinkle the powder on dishes while washing as needed and that's it. For that reason, we love it for cleaning up after smaller meals where the dishwasher isn't required, or for scrubbing items that aren't dishwasher safe, like our non-toxic cookware.
While you can start with the refills and fill your own container, we love the zero waste dish soap dispenser your first order comes in, too. Made of soft yet durable silicone, it seems super durable, while adding a fun, tactile twist to the standard soap jug.
While silicone isn't biodegradable, it will last basically forever if cared for and can safely be run through the dishwasher.
Speaking of, if you prefer to let the dishwasher do the dirty deed (er, dirty dishes) in your stead, they also offer dishwasher-ready dish soap tablets, zero waste and all.
For each dish soap refill, no plastic is involved thanks to the fully compostable pouch.
Neither the eco-friendly dish soap tablets nor powdered soap refills contain VOCs, parabens, ammonia, phthalates, or chlorine bleach.
About Blueland
The Certified B Corp only uses gluten-free, vegan, cruelty-free, and EWG-approved natural ingredients in their range of refillable cleaning products that extends far beyond just non-toxic dishwasher detergent and soap.
Blueland is also Climate Neutral Certified, with additional product certifications from MADE SAFE, Cradle to Cradle, EPA Safer Choice, USDA BioPreferred, and Leaping Bunny.
But Blueland doesn't stop there—they support several nonprofits, like Lonely Whale and DigDeep.
---
3. Butter Me Up Organics
Butter Me Up Organics' Plastic-Free Dish Soap Bar
Price Range: $13
Butter Me Up Organics checks all the boxes—cruelty-free, palm oil free, ethically sourced, zero plastic, living wages, and charitable contributions—their eco-friendly substitute for dish soap does, too. 
Cutting grease can be a chore, but Butter Me Up does it with the utmost simplicity and efficacy achieved by just two ingredients: organic saponofied coconut oil and organic castor oil.
These ethically sourced ingredients are easy on the planet but tough on stuck-on food.
It comes as one of the best solid dish soaps, and can become an eco-friendly dishwashing liquid by melting and mixing in boiling water.
However, we've tried it both ways, both melting it and just keeping it as a block to rub our dish brush directly on, and we're pleased to report either yields an effective and long-lasting natural dishwashing soap solution.
About Butter Me Up Organics
You could say we're pretty buttered up by Butter Me Up Organics.
Why?
Because they make low waste solutions for all our daily home and personal care products—from biodegradable sunscreen to non-toxic deodorant—packaged in glass, compostable cardboard tubes, or, in the case of their zero waste dosh block, just a little paper wrapping.
Likewise, everything is shipped plastic-free and is filled with mostly organic, ethically sourced ingredients.
They're a cruelty-free brand, but do include beeswax in some of their skincare products.
When they're able, they donate extra earnings to animal welfare groups or other local causes, like wildfire fighting and prevention.
---
4. Meliora
Meliora's Zero Waste Dish Soap Bar
Price Range: $10–$29
Regarding eco-friendly dish soap bars, Meliora leaves no trace—except for sparkling dishes.
All of their ingredients are MADE SAFE® Certified, Leaping Bunny Certified, vegan, and non-toxic.
This natural dishwashing soap doesn't contain any palm oil, preservatives, dyes, phthalates, or sodium lauryl sulfate, either.
The products are shipped in plastic-free, recyclable paperboard boxes, which is a refreshing zero waste dish soap alternative to all the plastic involved in most conventional dish soaps.
About Meliora
Meliora gets deep and dirty (dishes) with its sustainability practices.
None of their products contain single-use plastic, with many completely plastic-free or shipped-in reusable, zero waste, and low-waste refillable options.
In addition to bearing sustainability certifications, their EWG-certified ingredients and scents are posted online for full transparency.
Meliora is also a woman-owned, Certified B Corp and a partner of 1% for the Planet with a partnership specifically with Women's Voices for the Earth.
---
5. No Tox Life
*Note: While palm oil is used in some other products, their zero waste dish soap bar is free from palm oil.
No Tox Life's Green Dish Soap Alternative
Price Range: $12
No Tox Life's Dish Block™ is a super bubbly (and sustainable) way to get off your eco-friendly cookware's toughest grease and grime.
No sulfates, phosphates, parabens, synthetic fragrances, palm oil, and animal testing make it one of the most eco-friendly dish soaps available—-plus, it's biodegradable, and the added Aloe Vera won't dry out your skin.
While its 7.5 oz size might sound small, it's pretty mighty. It's designed to replace three regular liquid dish soap bottles and will last one person about three months. We've tried it and can confirm, it lasts an impressively long time, even with handwashing being the primary dishwashing method used.
Not only is this one of the best solid dish soap options, but it's also a great multipurpose soap that can be used for countertops, laundry stains, and even carpets!
About No Tox Life
No Tox Life is a cruelty-free and vegan company that makes eco-friendly home/kitchen products.
Most ingredients include soft plant butter, earthy clays, and nourishing essential oils.
Started by Sandee Ferman and her daughter Callie, No Tox Life is women-run and family-like. Everything is handmade by a small team of only six people.
They reuse shipping materials as much as possible and use biodegradable paper envelopes and padding or cornstarch-based peanuts where necessary.
No Tox Life has some palm oil-free products (including their Dish Block™ and some natural body washes).
Some other products contain small amounts of ingredients co-derived from coconut and palm to help with texture, effectiveness, or cleansing. However, they are actively searching for affordable alternatives.
No Tox Life sources directly from producers whenever possible, like women's collective in Ghana and bamboo products from Denmark and Vietnam.
They also give soap to Showers of Hope and Recycled Resources, two nonprofits giving daily mobile showers to those experiencing homelessness in their LA area.
They also help with trash pickups in their neighborhood and pay their employees for participating in the Youth Climate Strike.
---
6. Bestowed Essentials
Bestowed Essentials' Environmentally Friendly Dish Soap
Price Range: $14.50
Bestowed Essential's cruelty-free and vegan dish soap bar is kind toward animals and harsh toward food bits and grease.
Made of olive oil, water, coconut oil, French green clay, pacific sea salt, and sodium hydroxide (which is necessary for the soap-making process but doesn't actually remain in the finished product), it uses mineral particles to scrub without the need for harsh chemicals.
There are also no fragrances, sulfates, parabens, palm oil, or preservatives.
Because it's so concentrated, very little is necessary to really get your dishes squeaky clean and save you a little money. One 12 oz. should last a long time.
Rub your sponge or zero waste dish brush directly on the bar or cut off a small chunk and dissolve it in a bit of water to turn it into zero waste liquid dish soap. Not too much at a time, though.
Just FYI—since there are no preservatives, it won't stay mildew-free in a liquid state for too long, so only mix up small batches for shorter periods of time.
About Bestowed Essentials
Bestowed Essentials might just be the first brand born in the back of founder Callee's converted camper van, where she initially made all products by hand and using solar energy.
Now, the solo operation has become the effort of a small all-female team with a zero waste shop in Rapid City, South Dakota, which only produces 10 lbs of trash per month.
The company takes great care to use quality, all-natural ingredients to create products that won't break the (ethical) bank.
Every stage of the production process (including shipping) is plastic-free, and Bestowed Essentials sponsors beach trash cleanup (one pound of trash for every online order made).
---
7. RFRESH Soaps
*Note: While all REFRESH dish soaps are palm oil free, note that they do use RSPO-certified palm oil in some other products.
Price Range: $9
RFRESH Soaps' Sustainable Soap Bar
REFRESH Soap creates long-lasting, eco-friendly dish detergent in a bar using traditional cold-processing soap-making methods.
After mixing the ingredients, pouring, and cutting the soap, they leave it to cure for 4–6 weeks which hardens the soap and increases its longevity.
The ingredients include olive and organic coconut oils (no palm oil), castor oil, sodium lactate (a salt solution derived from the natural fermentation of sugars found in corn and beets), and steam-distilled essential oils.
All ingredients are vegan and cruelty-free.
Choose between unscented, orange bliss, and lemon zest scents.
You can even choose your packaging. If it's a gift, maybe opt for the compostable kraft paper box. Or if it's for yourself, just select the naked packaging option.
About RFRESH Soaps
RFRESH Soaps are hand-crafted in small batches by founder Michelle Chow in Menlo Park, California.
By adopting an "ingredient-first mindset," she crafts uncomplicated and multi-use bath and body products so you can "declutter your skincare"
All products are cruelty-free and vegetarian (some other products contain beeswax), and most of them are zero waste.
They're also made without parabens, mineral oil, petroleum products, SLS, phthalates, dyes, and synthetic fragrances.
While all dish soaps are palm oil-free, not if shopping her other products that some others contain RBD palm oil, which "means that it is sourced only through suppliers that are members of the Roundtable on Sustainable Palm Oil (RSPO)".
---
8. etee
etee's Plastic-Free Liquid Dish Soap Canada
Price Range: $19–$44
etee has three types of earth friendly dish soap: a solid bar, dishwasher powder, or liquid concentrates.
The etee dish soap bar is entirely vegan and palm oil free and is formulated again with all plant-based and thoroughly USDA organic certified ingredients (except the lemon essential oil): coconut oil, castor oil, cocoa butter, and cane sugar.
They also offer one of the best eco dishwashing liquids we've found and tested.
Not only is their dish soap concentrate plastic-free, thanks to an innovative beeswax refill pod, but it's formulated with 100% plant-based ingredients and is free from synthetic fragrances and foaming agents, dyes, unnatural preservatives, phthalates, sulfates, parabens, and anything formaldehyde-based.
The USDA-certified beeswax pod itself is fully compostable because it's made with unprocessed waxes, oils, tree resins, and soy-based inks.
Or, as we prefer to do, you can wash the pod and hold on to it until you have enough o melt down and repurpose into DIY candles and the like.
The soap does, however, include a small amount of palm oil derivative, though etee is looking into alternatives.
Make it the perfect eco-friendly dishwashing set with a complete dishwashing kit or at least one of their fully compostable Loofie scrubbers. Made of cellulose cloth, loofah plant, and cotton thread, no harmful glues or toxic adhesives.
About etee
etee started unexpectedl-ee.
Think: kayaking and beeswax burns, and then fill in the blanks. Or you can read the full story.
What we love about etee is that they make every product they sell, from the zero waste dish soap powder to the zero waste tooth tabs.
They have complete oversight of their supply chain. This means every product that comes out of etee's warehouse and lands up in your own house is plastic-free.
As for the environment, their factory is powered by renewable energy, and since their launch, their customers have together saved more than 100 million pieces of single-use plastic ending up in a landfill.
---
9. Savonnerie des Diligences
Savonnerie des Diligences' Sustainable Dish Soap
Price Range: $12–$19
Savonnerie des Diligences' solid zero waste dish detergent comes to us as a collaboration between Chic Frigo Sans Fric and author Florence-Lea Siry.
Unscented and made from a simple blend of sodium cocoyl isethionate, sodium coco sulfate (which sounds scary but has a low EWG score), and vinegar, it's tough enough to also clean ovens and stained Pyrex.
If you want a little scent to your soap, opt for the option that includes grapefruit, bergamot and blood orange essential oils.
Keeping their dish soap zero waste, it comes in a cute, reusable mason jar. Unlike bars, this dish soap paste will hold up even if it stays a little wet in there.
About Savonnerie des Diligences
Based in Quebec, Savonnerie des Diligences has been working toward providing zero waste skin care products to as many people as possible.
All products are natural, biodegradable and water safe, palm-oil free, and cruelty-free.
While not actually certified, most ingredients are also non-GMO and organic.
They deal strictly in solid or paste soaps for things like zero waste shaving cream, because liquid soaps can require artificial stabilizers and encourage the use of plastic bottles industry-wide.
Many of their products are vegan (including their dish soap); however, for some products, they do use ethically sourced beeswax from a reputable local supplier.
Savonnerie des Diligences try to work with suppliers who have the same values as they do: vigor, consistency, diligence, transparency, effervescence, and pleasure at work.
Products come in compostable cardboard or reusable glass and tins with artsy sketches on the label, and they never ship by air to reduce emissions.
---
10. Bulk & DIY Zero Waste Dish Soap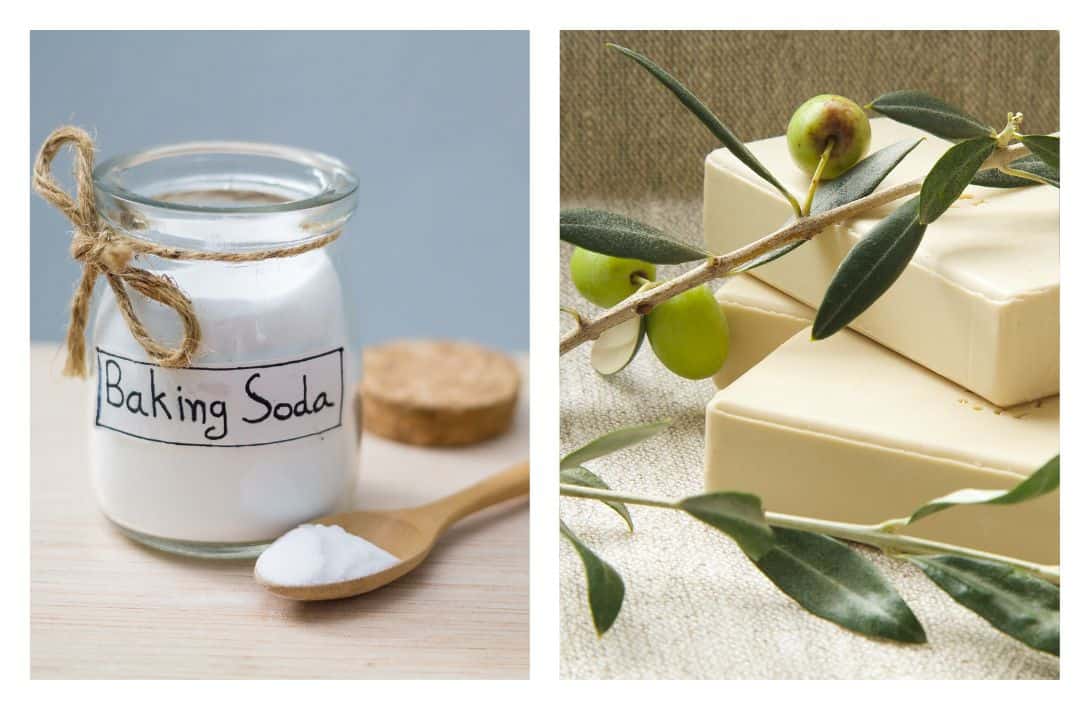 As with many personal and home products, sometimes the most sustainable solution for zero waste cleaning is the one you make yourself.
How do you make zero waste dish soap?
Fortunately, it's easy, even if you aren't much for cooking or concocting.
All you need for it is either a plain Castile soap bar or liquid Castile soap, baking soda, water, and essential oil if desired. See Wasteland Rebel's recipe for exact amounts.
While a bar can easily be melted into a plastic-free liquid dish soap, you can often find Castile liquid dish soaps from local or select online bulk stores.
For instance, you might find refills of BioKleen or Dr. Bronner's at Whole Foods and smaller zero waste stores like The Good Fill, Fillaree, and Fill Good Co.
Another similar brand that might be easier to find in the U.S. is BioKleen.
If you're starting with the bar, just grate (or blend in a food processor), add to the water you've just brought to a boil, allow the soap flakes to dissolve, then add the baking soda to the warm (but not hot) mixture.
Starting with liquid Castile soap makes it easier still ot make your own dish soap . Just follow the same steps without the tedious grating process to begin.
---
11. Plastic-Free Dishwashing Products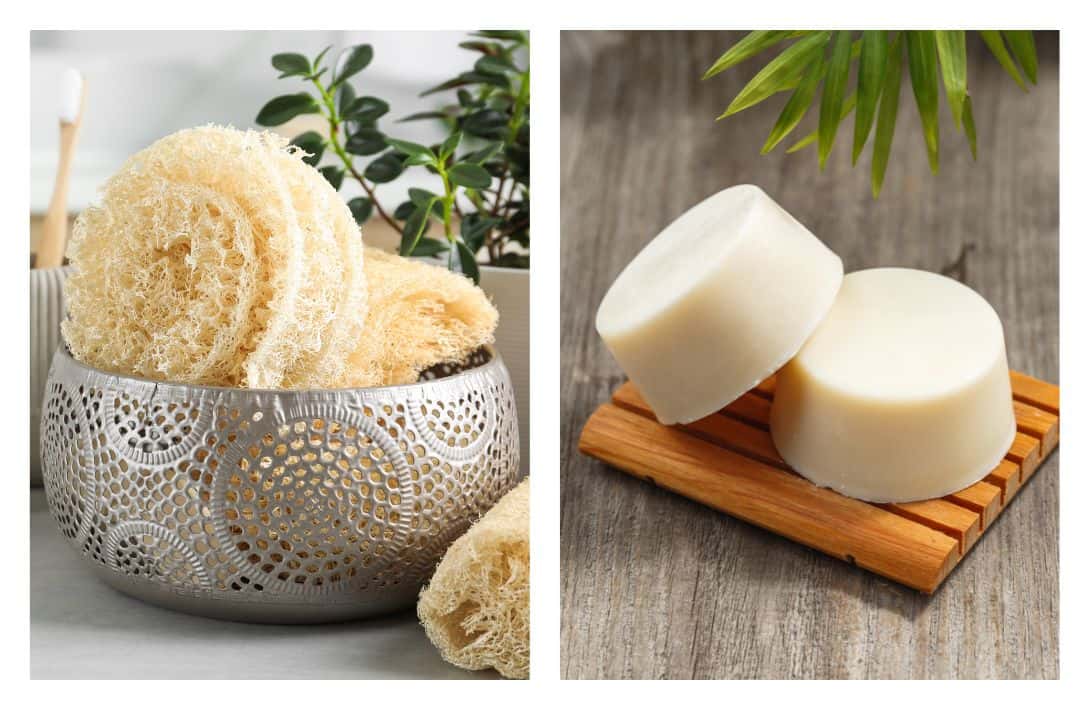 In addition to making your dish soap sustainable itself, you can ec-ofy your entire eco-friendly dishwashing routine.
Soap Bag
Of course, what good is zero waste soap if you don't have a zero waste scrubber/bag to go with it?
A zero waste soap bag is one of the first valuable tools to consider. Because most natural soaps do not have synthetic foaming agents, they don't always suds up quite as much as you might be used to.
Zero waste soap bags, like these hemp or jute ones, hold your bar and help foam it up. They also help as the bar gets smaller, so you don't end up wasting any of it.
Loofah
Eco-friendly loofah alternatives (AKA real loofah sponges) are the simplest, eco-friendly sponge around.
Why?
Because like the biodegradable dish soap, you'll be partnering them with, loofahs are completely biodegradable because they're a vegetable.
Dish Cloths
To be even more gentle on the dishes, you could try eco-friendly dishcloths, typically made from a home-compostable blend of cotton and cellulose, which is very absorbent.
If properly allowed to dry in between uses, they can last a long while.
For something a little heftier, try the washable (and colorful!) dish sponge by Marley's Monsters.
Compostable Pot Scrubbers
For stubborn, stuck-on food, a compostable pot scrubber is a great sustainable alternative. These can be anything from a bamboo pot scrubber to coconut fiber dish brushes. Basically, anything with a wooden handle (ideally sustainably harvested) and plant-based bristles.
This Redecker compostable dishwashing brush is a great example.
Zero Waste Soap Holders
If you're opting for an eco-friendly dish soap bar, make sure you pair it with an equally eco-friendly soap dish so that the bar can properly dry, extending its life as long as possible
Between uses, ensure the soap bar dries out, because natural dishwashing soaps don't include preservatives or synthetic stabilizers, meaning they can't hold up to remaining wet all the time.
You can do this with a simple zero waste soap holder with proper drainage. Etsy has so many beautiful hand-crafted ceramic or natural soap dishes available, but you can also try local antique and thrift shops.
Or make your own using a saucer and some stones!
If you're using liquid dish soap, you'll need something different. Fortunately, zero waste dish soap dispensers can be made from old mason jars fitted with a pump top, or other old push bottles (like hand soap containers).
For a clean, simple look to match your (hopefully) jar-jammed kitchen pantry, there are many premade mason jar soap dispenser options on Etsy.
---
Did you know we Have a Newsletter?
We cover the latest in sustainable living, fashion, zero waste, beauty, travel, finance and more…
How We Found The Best Zero Waste Dish Soap Brands
What is eco-friendly dish soap? For instance, is Dawn dish soap eco-friendly?
They use it to clean all those oil-covered birds, after all…
Just because it used to clean up a fraction of the damage from something more damaging, doesn't make it eco-friendly—so what makes a dish soap eco-friendly?
Turns out, most of the same things that make up our ethical and sustainable beauty. A clean kitchen sink is a thing of beauty, after all.
Much like the search for eco-friendly dishwasher tablets, environmentally friendly dish soaps need to align with the following criteria:
Non-toxic: Soap specific, we want to avoid petroleum-based surfactants (which speed up the molecules of food and grease particles so that water can dilute and wash them away). However, not only is the extraction of fossil fuels decidedly unsustainable, but the surfactants are often not biodegradable. That means they both lower the surface tension of whatever water they end up in and can poison the ecosystem for an extended period.
Cruelty-free and vegan: Ethical beeswax can make the exception in some products like zero waste sunscreen, but there's not any reason for there to be animals in our dishwashing routines
Palm oil free: If palm oil is used, we want it to be certified sustainably sourced by entities like RSPO.
Ethical ingredient sourcing
Thoughtful packaging: Seeking packaging that is zero waste, means that which is compostable, reusable, or refillable. It's exciting to see new innovations like dissolvable powder and meltable solid bars that allow for even eco dishwashing liquid without the plastic bottles.
---
Final Thoughts On Zero Waste Dish Detergent & Soap
It's easy to flip on an environmental podcast (the Sustainable Jungle Podcast, perhaps?) and scrub away at last night's meatloaf without much thought.
But switching to zero waste dish soap (or at least a natural alternative to dish soap) goes a long way.
Because what is zero waste dish soap?
An easy way to dish up sustainability and become a little closer to your zero waste kitchen goals.
These soaps provide an escape from the dreaded plastic bottle, and they keep our drainpipes and waterways cleaner, too. Who wants to eat off a plate washed with nasty surfactants, sulfates, and other synthetics, anyway?
Have a friend who hates washing dishes?
Send them this list of the best eco-friendly dishwasher detergents to inspire them to make their least favorite chore a little better for the planet.
Pin these: