11 Best Non-Toxic Dish Soaps To Clean Your Plates With
Raise your hand if you love washing dishes. Anyone?
What if you found out the dreaded task of cleaning last night's stir-fry was also causing damage to marine life, waterways, and your health?
If you're going to clean your non-toxic cookware anyway, you might as well use non-toxic dish soap that's a sustainable, safe, and low waste.
These products use formulas with biodegradable ingredients and minimal harmful compounds, like synthetic fragrances, preservatives, synthetic surfactants, and phosphates.
Most options are just as effective as traditional options and work with popular dishwashing machines, so swapping is a breeze—once you know where to look.
So what dish soap is non-toxic?
Everything we recommend to you on Sustainable Jungle is independently researched and we ask all brands to confirm their claims. To avoid waste, we test products on an as needed basis. This post contains affiliate links. If you buy something through our links, we may earn a small commission. Learn more about why we do this here.
The Top Natural Dish Soap Brands For Sustainably Squeaky Clean Dishes
Certified B Corp Blueland has made our top list countless times for chemical-free dish soap formulas, multiple certifications, and innovative, refillable, waterless products.
One of VOYA's biodegradable, vegan, hypoallergenic, cruelty-free dishwashing strips can equal eight lids of conventional dish soap, so you can say goodbye to grocery store finds for good.
Dr. Bonner's bulk Castile soap can be used for anything and everything—dishes to dirty laundry—and they do everything possible to produce sustainable, organic, and biodegradable dish liquid.
But wait, is dish soap toxic? Not sure if swapping to sustainable soap is right for you? Head over to the bottom of the article to freshen up on how we chose the best organic dish soap brands and why you should consider switching your suds.
The Full List Of Non-Toxic Dish Soap Brands
---
1. Blueland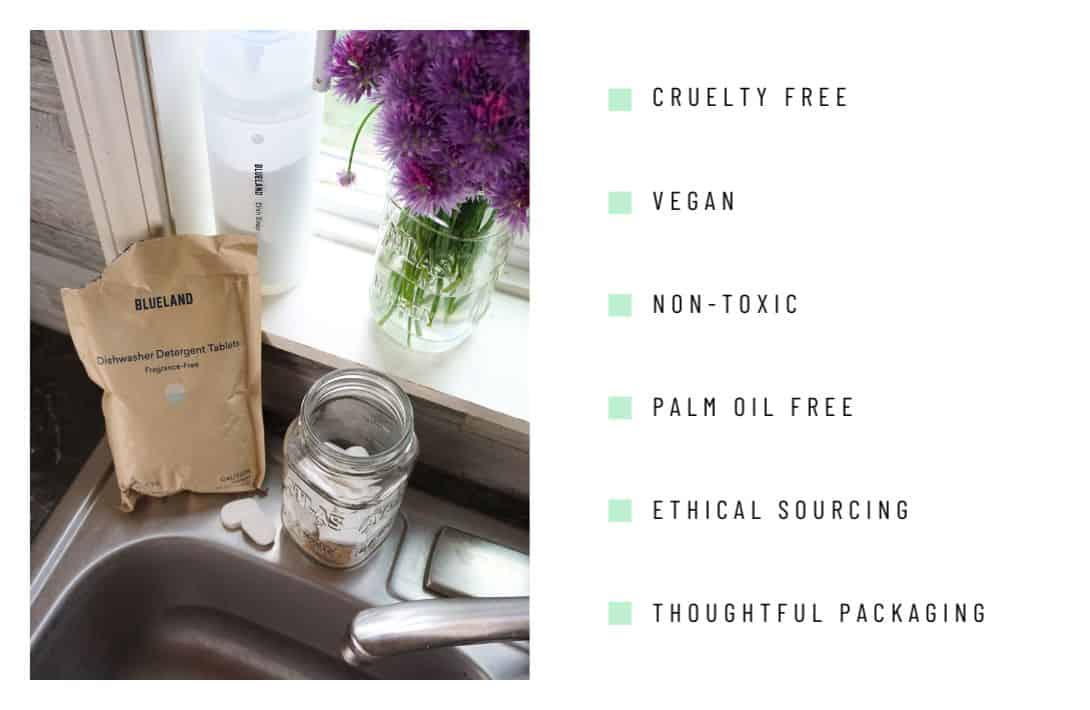 About Blueland's Natural Alternative To Dish Soap
We've tried Blueland's products and can confidently say they make some of the best non-toxic dish soap available.
For the latter, Dish Soap Starter Set includes everything you need, a reusable silicone shaker and fragrance-free, powder dishwashing detergent.
All you have to do is pour the powder onto a sponge or dish and add a bit of water to create a thick, natural dish soap that easily fights dirty dishes.
In our experience, this powder works really well with only a little bit required. We also love its light scent and the fact that the powder works either as above for washing just a few dishes, or for filling your sink with soapy water to wash larger batches.
If you prefer to let a machine do the dirty deed for you (we don't blame you!), they also offer tablets in the Dishwasher Starter Set.
Not only is their dish soap non-toxic, but it's totally zero waste, regardless which you kind choose. That's because the dish soap refills come in compostable lined paper pouches.
Both chemical-free dish soap options are also made without parabens, phosphates, ammonia, VOCs, chlorine bleach, phthalates, or other toxic chemicals.
About Blueland
Blueland believes "refill is the new recycle" and we couldn't agree more. That's why we're in Blue-la-la-Land when it comes to their complete range of refillable cleaning products.
From eco-friendly laundry detergent powder to dish soap refills, everything is gluten-free, vegan, palm loil free, and cruelty-free, with every product on their site containing the Leaping Bunny seal of approval.
With sustainability certifications from B Corp, Climate Neutral, Cradle to Cradle, EPA Safer Choice, MADE SAFE, USDA BioPreferred, and the Environmental Working Group (EWG), Blueland puts conventional dish soaps to shame.
Blueland does its part for social causes by contributing to organizations like DigDeep and LonelyWhale.
---
2. Ethique
About Ethique's Healthiest Dish Soap
Another natural dishwashing soap we know and love is created by the New Zealand-based company, Ethique.
Their concentrated non-toxic dish soap bars are vegan, cruelty-free, palm oil-free, paraben-free, and easy to use. All you have to do is mix it with boiling water, pour it in a reusable soap dispenser, and you're off to the food residue-removing races.
This dish soap is available in a sweet orange essential oils fragrance, which helps dissolve excess oil and grease to leave your dishes sparkling clean.
In our experience using these bars, they last forever. Because a whole bar isn't needed to create a full jar, one little bar can last us for months and months of dishes.
About Ethique
Ethique ships all of its products in plastic-free, recyclable packaging that's certified compostable.
As a Certified B Corp, you would expect Ethique to go above and beyond, but they somehow go further still by trading directly with local farmers, manufacturers, and supplies to ensure they know exactly what's going into their products and the working conditions behind their making.
Ethique is climate-positive, offsetting 120% of its carbon footprint.
Like other natural dish soap brands, they also give back, specifically by donating 2% of total sales to non-profit organizations, like Project Blue and the Australia Zoo Wildlife Warriors.
---
3. Dr. Bronner's
*Note: Dr. Bronner's sources palm oil under the strict ethical and sustainability considerations.
About Dr. Bronner's Bulk Natural Dish Soap
One way to live more sustainably is to purchase bulk liquid dish soap. When shopping for bulk dishwasher soap, your best option is typically concentrated castile soap.
Bulk liquid Castile soap can be an extremely affordable way to wash dishes, and Dr. Bronner's is one of the best natural dish soap brands.
They offer both a Castile soap bar and liquid dish soap ranging from two ounces to one-gallon sizes.
Castile soap is meant to be diluted, so you can stretch your dishwasher soap for quite some time. A one gallon jug, for example, has lasted us almost an entire year in the past!
Dr. Bronner's formula is organic, biodegradable, and Fair Trade, with natural essential oils creating a whole range of unique scents (we're partial to the hemp citrus for dishwashing ourselves).
The best part is how versatile Dr. Bronner's soaps are (with 18 different uses, according to the company). If you're looking to minimize your cleaning cabinet, this is the brand to help you do so.
For example, you can use this Castile as non-toxic dish soap for dogs' dishes, then turn around and use it on your dogs themselves!
About Dr. Bronner's
Dr. Bronner's is a Certified B Corp with certifications from USDA Organic, OTCO, Regenerative Organic Certification (ROC), Fair for Life, NSF, Leaping Bunny, Vegan Action, Non-GMO, and OL Kosher.
Although their products contain palm oil, check out their approach to ethical sourcing.
The brand treats its employees very well, with progressive employment practices like free family healthcare, salary bonuses, and profit-sharing programs.
Dr. Bronner does a lot for the environment, like using 100% post-consumer recycled plastic packaging and carbon offset initiatives, like solar panels and recycled water.
They call themselves the "fighting soap company," as they're committed to social causes like regenerative agriculture, fair trade, animal advocacy, industrial hemp, drug policy reform, and living wages.
---
4. Suds & Co
About Suds & Co Best Natural & Non-Toxic Dish Soaps
We've tested and love the natural dish soap recipe from Suds & Co.
Unlike conventional liquid dish soaps, Suds & Co offers a bar soap concentrate that comes in a handy little aluminum jar. Alternatively, if you already have a container or soap dish you prefer, you can opt to omit the jar from your order.
We personally like the jar for its portability and keeping our soap discrete and contained, but when we order a refill, we'll opt for the jar-free option and just reuse the one we have.
Wondering how to make natural dish soap?
Suds & Co keeps their formula simple and straightforward with only the following natural ingredients: organic coconut oil, organic castor oil, water, lye, organic orange essential oil, organic lemongrass essential oil.
The soap doesn't contain any plastic or palm oil, either.
About Suds & Co
The Florida-based company is women-owned, vegan, plastic-free, and cruelty-free.
As a member of 1% for the Planet, Suds & Co donates a portion of their profits to support various non-profit organizations and social causes.
All the natural dish soaps and products are handmade in the United States and ship in compostable cardboard packaging—as you'd expect from a soap-specific offshoot of the zero waste online store: ZeroWasteStore.com
---
5. No Tox Life
*Note: While palm oil is used in some other products, their natural dish soap bar is free from palm oil.
About No Tox Life's Non-Toxic Dish Soap Bar
No Tox Life makes some of the best organic dish soap bars available.
The Dish Block™ is available in six ounces bars, and if you're worried about the size, know that it's meant to replace up to three regular dish soap bottles or clean dishes for up to three months.
We can confirm one block lasts ages—and we actually found it lasted about five months because we occasionally use our dishwasher for larger loads.
It's high-quality, vegan-friendly, doesn't contain any sulfates, phosphates, parabens, synthetic fragrance, palm oil, or testing on animals, and is 100% biodegradable.
No Tox Life includes Aloe Vera in the recipe, so it won't dry out your hands like conventional dish liquids might.
It contains no added fragrances or essential oils, so when we tested it, we found it smells a little more 'soapy' than other options on this list, but it's perfect for those with fragrance sensitives—or just don't think their sink needs to smell like citrus.
About No Tox Life
No Tox Life is entirely animal-friendly and vegan, making environmentally friendly beauty care and home goods products.
Most of their products, including the soap bar, are made from plant-based and biodegradable ingredients.
The women-run team handcrafts every batch of soap, shipping items in biodegradable paper envelopes and reused materials.
No Tox Life works with several non-profit organizations, like Showers of Hope and Recycled Resources.
---
6. Common Good
*Note: Common Good uses RSPO-certified palm oil.
About Common Good's Healthy Dish Soaps
Common Good works for the common good by crafting refillable cleaning supplies that use over 80% less plastic than conventional products.
The Everyday Dish Set includes a toxin-free dish soap made with a biodegradable recipe free from synthetic fragrances, brighteners, dyes, chlorine bleach, ammonia, and phthalates.
The set also includes a wooden brush and a refillable plastic bottle. The dish liquid is available in lavender, bergamot, and unscented options.
About Common Good
Common Good was founded by Sacha Dunn, a mother who saw how much plastic and toxic chemicals she and her family were using each day.
Now, Common Good carries refillable eco-friendly cleaning supplies available by mail or in select refill stations across the United States.
All their eco-friendly cleaning products are free of animal byproducts and have the Leaping Bunny cruelty-free certification. Common Good utilizes sustainable ingredients, like coconut surfactants, essential oils, and non-GMO plant products.
---
7. Ecoleaf
About Ecoleaf's Safe Dish Soaps
Ecoleaf's dishwasher detergent doesn't contain any microbeads, parabens, phthalates, phosphates, SLS, triclosan, or synthetic fragrances, making it one of the cleanest dish soaps available.
The Dishwasher Tablets do include RSPO-certified palm oil, but you can read about their ethical palm policy for more information.
The tablets are designed with water-soluble wrappers with built-in rinse-aid and non-grease materials to fight the toughest stains.
If tablets aren't your scrubbing style, they offer many different kinds of Washing Up liquid dish soap options for different needs. If you find you like one, we recommend buying the bulk dishwashing liquid refill sizes to reduce plastic bottle consumption.
Everything is made from raw ingredients, meaning they are completely biodegradable and won't negatively impact aquatic life or septic systems.
About Ecleaf
Ecoleaf takes great pride in presenting an extensive selection of environmentally friendly, compassionate, hygienic cleaning solutions free from animal-derived ingredients.
The entire product range is derived from botanical extracts and can be easily broken down by nature, posing no threat to the environment, unlike the toxic chemicals commonly found in traditional products.
EcoLeaf also offers bulk options, allowing you to refill containers and support various bulk stores across the United Kingdom.
Additionally, any plastic bottles used are made from PCR (post-consumer recycled) HDPE plastic, which can be reused multiple times.
---
8. etee
*Note: Only the Liquid Dish Soap Concentrate is not vegan because of the beeswax pod it comes in, but their dish soaps are vegan.
About etee Natural Liquid Dish Soap
etee offers a few of the best all-natural dish soap alternatives.
The Liquid Dish Soap Concentrate uses a biodegradable dish detergent recipe only using plant-based formulas—though note it's not technically vegan because it comes contained in a compostable beeswax pod.
The Dish Soap Bar doesn't contain any palm oil and is 100% vegan. It's made with various plant-based ingredients, each USDA Organic Certified, besides the lemon oil.
Last but not least, the Concentrated Dishwasher Detergent comes in fully biodegradable packaging and is septic system safe.
None of these options contain any synthetic fragrances, foaming compounds, food colors, unnatural preservatives, phthalates, sulfates, parabens, and formaldehyde.
About etee
The etee team the makes every product by hand in Canada, whether it be shaving soap bars or zero waste shampoo.
The Toronto-based brand oversees its entire supply chain, ensuring every product is plastic-free and employees are treated fairly.
Their factory utilizes renewable energy, and etee has saved more than 100 million pieces of single-use plastic since its launch.
They also donate to various local organizations, including The Mississauga Food Bank, MJHS Health System, and the Westcoast Children's Clinic.
---
9. Meliora
About Meliora's Safest Dish Soap
Meliora is an eco-minded cleaning supply brand behind some of the best natural dish soap.
The Dish Soap Bar is available in lemon or unscented options and doesn't contain any palm oil, dyes, or harsh preservatives.
Instead, Meliora uses plant-based ingredients that are vegan-friendly, like organic glycerin, coconut oil, and sunflower oil.
The result is a safe dish soap that's hard on grease and leftover food.
The bars are packaged in recyclable paperboard boxes without any plastic, but Meliora also carries unboxed options for an even more zero waste dish soap.
About Meliora
Kate, the co-founder of Meliora, started the company after realizing most dish soaps contain harmful ingredients or don't list them at all.
Now, the Certified B Corp produces all kinds of cleaners made from plant-based recipes, like natural laundry detergent.
All products have the Leaping Bunny seal of approval, MADE SAFE certification, and are vegan, phthalate-free, and sulfate-free.
The packaging is recyclable and plastic-free, but Meliora offers unboxed options for those living a zero-waste lifestyle.
All of Meliora's catalog is created in a Chicago factory by employees with fair wages, working conditions, and treatment.
Lastly, Meliora gives back through a partnership with 1% for the Planet, supporting non-profits like Women's Voices for the Earth.
---
10. VOYA
About VOYA Non-Toxic Dishwashing Liquid
What is the safest non-toxic dish soap?
With no phosphates, phosphorus, benzenes, fluorescents, sodium lauryl sulfate, sodium laureth sulfate, fragrances, or dyes, VOYA is a top contender.
VOYA makes non-toxic natural dish soap a bit differently than the other options on our list. Instead of liquid dish soaps, VOYA produces non-toxic dishwasher detergent made entirely from plant and mineral-based ingredients.
On top of all that, the Dishwashing Strips are biodegradable, vegan, hypoallergenic, cruelty-free, and residue-free.
After testing, we find VOYA's strips super easy to use; You can tear a sheet in half for washing dishes by hand or toss a whole sheet in the top rack of your dishwasher. If you have a half-size dishwasher like we do, we find a half sheet works fine for a full load.
We combine these strips with plain white vinegar in the rinse aid dispenser to ensure no water spots are left behind.
One of the strips equals roughly eight lids of conventional dish soaps, making it a great bang for your buck.
The only downside is the included PVA, which is dissolvable and better than many alternatives, but can still pollute waterways if not properly treated in water treatment facilities.
About VOYA
Based in British Columbia, VOYA packages all its natural organic dish soap in compostable, brown kraft paper envelopes.
Lightweight packaging and no bulky water-based formulas mean they can reduce their carbon footprint of shipping.
---
11. Bestowed Essentials
About Bestowed Essentials Least Toxic Dish Soap
Cruelty-free, vegan, and tough on grease—what's not to love about Bestowed Essentials?
The Solid Dish Soap employs mineral particles to cleanse without the need for harsh chemicals through natural dish soap ingredients like olive oil, sodium hydroxide. water, coconut oil, and French green clay.
Bestowed Essentials doesn't include any synthetic fragrances, parabens, palm oil, sulfates, or harsh preservatives.
Plastic bottles aren't needed; all you have to do is cut off a small chunk or use your sponge on the 12 oz soap bar.
Just a heads-up, the bar soap doesn't have any preservatives, so it may develop mildew if left in a liquid condition for long periods.
About Bestowed Essentials
Bestowed Essentials was born by founder Callee, who initially figured out how to make non-toxic dish soap by hand in the back of her camper van.
Now, Bestowed Essentials is an all-female business operating in Rapid City, SD, where they only create ten pounds of trash monthly.
Besides high-quality, natural ingredients, Bestowed Essentials ships everything in plastic-free packaging.
The team also sponsors local beach cleanups, helping to remove 1 lb of waste for every online order placed.
---
Did you know we Have a Newsletter?
We cover the latest in sustainable living, fashion, zero waste, beauty, travel, finance and more…
Why Buy Non-Toxic Dish Soaps?
You might wonder, "Will switching to non-toxic dish soap really make a difference?"
Unfortunately, the array of colorful, fragrant kitchen supplies we're become accustomed to can contain toxic ingredients that can significantly impact your health and the environment.
Where dish soaps are concerned, this means grease-destroying enzymes, bleaching agents, surfactants, preservatives, and other harsh chemicals.
These compounds enter our waterways and affect human health, with some linked to allergic reactions, skin irritation, or even cancer.
More concerning still is that dishwashing detergents and other cleaning products in the United States are not required by federal law to list the ingredients.
The Environmental Working Group (EWG) inspected over 300 products, giving each cleaning solution a hazard rating from A to F. Nearly 60% of the products got a D or an F, meaning they're likely to be harmful to human health and the environment.
Here are some of the common harsh chemicals in dish soap and dishwashing liquid to avoid:
Phosphates: Phosphates get into waterways, leading to mineral poisoning and harming aquatic ecosystems and marine life.
Polyacrylates: This chemical is toxic to marine animals and can cause critical burns and eye damage to humans.
Benzisothiazolinone: This is a pollutant to marine life and can cause lung, skin, and eye irritation and bronchitis in individuals.
Methylisothiazolinone: Many individuals are allergic to this compound, causing allergic reactions and, in some cases, neurotoxicity.
Synthetic Fragrances: The nice scents of traditional dish soaps have countless undisclosed compounds, leading to allergic reactions, rashes, and harm to the environment.
Dyes: Dyes don't serve a purpose and may cause rashes and allergic reactions. Many dyes used in dish liquid have been linked as endocrine disruptors and carcinogens.
Bleach: Bleach damages the eyes and skin. It can also lead to gastric issues, throat damage, and fluid build-up in the lungs.
Surfactants: Surfactants are typically sourced from palm oil, petroleum, or animals in regular liquid soap.
Is Dawn Soap Non-Toxic?
Dish soap brands like Dawn, Cascade, and Ajax are readily available at nearly all grocery stores. The bright colors, pleasing scents, affordability, and marketing materials make it easy to grab a bottle off the shelf without much thought.
There's a baby duck on the dish soap bottle; how can it be harmful?
Unfortunately, there are many harmful ingredients in Dawn dish soap, depending on the product you purchase.
Out of the 17 Dawn products reviewed by EWG, only three scored above a B, and only one received an A rating. Over 50% of the products received a D, and around 30% received a C rating.
The lowest-rated products contain methylisothiazolinone, harmful dyes, synthetic fragrances, sodium lauryl sulfate (SLS), sodium laureth sulfate (SLES), and other toxic compounds.
These ingredients may cause damage to the nervous system, respiratory system, and organs, leading to skin irritation, allergies, or even cancer. If they don't harm humans, the ingredients are likely to damage waterways, aquatic ecosystems, and marine animals.
So is dish soap toxic?
Yes, conventional dish soap can contain countless harmful ingredients that damage waterways, marine ecosystems, and human health.
Although conventional dish soaps are accessible, convenient, and affordable, the best natural dish soaps are safer for you, your loved ones, and the environment.
Even though we think we're getting our dirty dishes clean with dish soap, natural ingredients are the only way to ensure they actually are.
---
How We Chose The Best Natural Dish Soaps
If most conventional dishwasher detergents contain harmful compounds and business practices, how do you know if dish soap is non-toxic?
In other words, what is non-toxic dish soap?
Just as our ethical and sustainable beauty criteria help us pick out the best sustainable beauty brands, we used the following guidelines to suss out sustainable soap brands for beautiful, sparkly clean dishes:
Non-toxic: Let's make organic dish soap the norm. Especially since normal dishwashing liquids typically include harmful compounds, like phosphates, sodium lauryl sulfate, and synthetic fragrances, which get into waterways, damaging sensitive ecosystems. We actively look for brands prioritizing plant-based ingredients and biodegradable formulas.
Cruelty-free and Vegan: We firmly reject any dishwashing liquid or bar products that have been used on animals. Beeswax container pods are one thing, but there is no justification for using animal-derived ingredients, which are, unfortunately, commonly employed as surfactants in cleaning products.
Palm oil free: We prioritize eco-friendly dishwasher detergents without palm oil. In cases where manufacturers utilize palm oil, it is crucial they source it sustainably, such as through certification by the Roundtable on Sustainable Palm Oil (RSPO).
Ethical ingredient sourcing: We value dish soap brands that prioritize the ethical sourcing of their ingredients, ensuring fair practices throughout the supply chain.
Thoughtful packaging: We prioritize zero waste packaging options that are either compostable or reusable. At the very least, packaging should be recyclable and preferably made from recycled materials.
---
Final Thoughts On The Best Clean Dish Soap Brands
It's easy to forget about sustainability, health, and the environment with a sink full of dirty dishes waiting for you after work.
But the supplies we use to clean our dishes, kitchen, and hands have a greater impact on the ecosystem and personal health than you might think.
Conventional dish liquids can contain harmful ingredients affecting the waterways and health, causing irritation, allergic reactions, and severe health consequences.
That's why switching to better dish soap or dishwashing liquid is a must. These products will help get rid of single-use plastic and keep your home free of harmful chemicals.
Do you know someone who hates doing the dishes?
Send them this list of the best natural dish soaps, so they can get sustainably sudsy without any fuss.
Pin these: