9 Eco-Friendly Dishwasher Tablets For Naturally Sparkling Clean Dishes
Washing dishes is not so bad—said no one ever.
Dishwashers, next to the wheel, are one of the greatest inventions, right?
Now, with eco-friendly dishwasher tablets we can take another load off of ourselves while also taking a load off the planet.
Conventional dishwasher detergents contain toxic ingredients like phosphates, synthetic dyes, and preservatives—not to mention the single-use plastic.
You've probably got enough on your plate without the added eco-guilt of "finding eco-friendly ways to do dishes".
To come to your (rinse)aid, we've scrubbed away the grime to find the most sustainable dishwasher tablets.
Everything we recommend to you on Sustainable Jungle is independently researched and we ask all brands to confirm their claims. To avoid waste, we test products on an as needed basis. This post contains affiliate links. If you buy something through our links, we may earn a small commission. Learn more about why we do this here.
An Express Cycle Through The Best Natural Dishwasher Tablets
We found Blueland's eco-friendly dishwasher tablets an effective solution to cleaning some serious grime off our dinner plates. Plus, they come in either compostable paper refill packs or in a tin.
Dropps helps get your dishes clean without dirtying the planet via sustainable dishwasher pods that come in compostable packaging.
For pure plant-powered cleaning, Grove Collaborative's eco dishwasher tablets are all natural, down to the natural essential oils fragrance.
To find out how we chose the most eco-friendly dishwasher tablets, cycle your way to the bottom of the article.
The Full List Of Eco Dishwasher Tablets
---
1. Blueland
*Note: Blueland uses RSPO-certified palm oil.
About Blueland's Best Eco-Friendly Dishwasher Detergent Tablets
Price Range: $21–$45
Set your dishwashing routine free with Blueland—free of artificial fragrances, dyes, bleach, VOCs, ammonia, parabens, phthalates, petroleum, and plastic, that is.
You can start with the Dishwasher Starter Set, which comes with a tin to store your tablets. Or if you already have a glass jar just waiting for a use, skip straight to ordering the compostable paper refill packs as we did.
We weren't surprised when we tested these vegan and cruelty-free tablets and found them an effective and worthy addition to our cleaning cabinet already lined with Blueland products.
They're super easy to use and leave dishes residue-free.
Their traditional powder dish soap falls into the category of refillable cleaning products, and the tablets are likewise a zero waste dishwasher detergent because they're not contained in a PVA/PVOH wrap.
About Blueland
For this one-stop cleaning eco store, dishwasher tablets are just the start of their lineup of eco-friendly cleaning products, all of which are EPA Safer Choice, Leaping Bunny, Cradle to Cradle, and MADE SAFE certified.
Because they're all plastic-free, Blueland has replaced over 2 million plastic bottles.
They're also a Certified B Corp, Climate Neutral certified, and give back through organizations like DIGDEEP and Lonely Whale, among others.
---
2. Dropps
*Note: Dropps uses RSPO-certified palm oil.
About Dropps' Eco Dishwasher Tablets
Price Range: $19
Dropps' eco-friendly dishwasher tablets are chlorine-free, phosphate-free, and phthalate-free, keeping it cleaner for the planet as well as your dishes.
Available unscented or in a zingy lemon fragrance, the pods contain oxygen-based bleach and enzymes to get those dishes sparkly clean.
Each pod has a polyvinyl alcohol (PVA) dissolvable membrane and the set comes in recyclable and compostable packaging.
About Dropps
Dropps entered the eco cleaning scene with their zero waste laundry detergent, though they'e now added eco-friendly fabric softeners and more to the mix.
In the name of transparency, full ingredient disclosures and safety data sheets are accessible on their website.
Dropps offers carbon-neutral shipping and offsets emissions through Clearloop.
---
3. EcoLeaf
*Note: EcoLeaf tablets use RSPO certified palm oil.
About EcoLeaf's Cheap Eco-Friendly Dishwasher Tablets
Price Range: £6–£34
Take a leaf out of Ecoleaf's book and opt for eco dishwasher tablets that are naturally effective and gentle on the planet.
They're derived from sustainably sourced plant extracts and are free from parabens, phosphates, and synthetic fragrances.
Which is why we consider them one of the best eco-friendly dishwasher tablets in the UK.
They do contain RSPO certified palm oil. Read more about their policy here.
Each tablet has a dissolvable PVA wrapper and comes in a recyclable (or compostable) cardboard box.
About Ecoleaf
Ecoleaf is owned by wholefood collective, Suma which offers a full range of plant-based products for conscious home cleaning.
They're registered with the Vegan Society, and certified cruelty-free by Leaping Bunny.
They not only offer refills for some products, but they partner with various zero waste shops in London and the UK to allow for refills, too.
Any plastic packaging is recyclable.
---
4. Grove Collaborative
*Note: Grove Collaborative is not an entirely vegan brand, but their eco-friendly dishwasher pods are vegan. Grove uses RSPO palm oil in their products.
About Grove Collaborative's Natural & Non-Toxic Dishwasher Tablets
Price Range: $10–$12
Grove Collaborative's eco-friendly dishwasher tablets harness the power of plants to clean your dishes without polluting the planet.
You won't find harsh chemicals like parabens, phthalates, phosphates, formaldehyde, dyes, and chlorine bleach.
Two types of 91% plant-based and natural dishwasher tablets are available: Total Clean and Pure Power.
Pure Power tablets offer an extra-strength clean which can remove 48 hour baked-on food.
You can choose unscented or lemon and eucalyptus tablets, scented using 100% natural essential oils and plant extracts.
Grove also just switched to plastic-free dishwasher tablet packaging by trading bags for a new reusable tin.
About Grove Collaborative
Certified B Corp and USDA BioPreferred brand Grove Collaborative curates over 150 sustainable brands, including their own creations.
They're a one-stop shop for conscious cleaning products from eco-friendly mops to zero waste hand soap, as well as personal care and beauty products.
Partner brands must meet their high standards for non-toxicity, transparency, and ethical manufacturing.
All products they carry are 100% cruelty-free and use only RSPO-certified palm oil.
Every Grove purchase is also plastic neutral through rePurpose Global—but they're working toward being plastic-free by 2025.
Until then, they offer a plastic packaging recycling program.
Shipping is carbon-neutral through support of reforestation projects.
---
5. Puracy
*Note: We have attempted to confirm policies directly with this brand but have not received a reply.
Puracy's Eco-Friendly Dishwasher Tablets
Price Range: $15–$20
Puracy's natural eco dishwasher tablets were developed by a chemist with over twenty years of experience in formulating eco-friendly dishwasher detergent tablets.
No surprise then that theirs is made from 99.5% natural ingredients, using plant-based enzymes to safely break down caked-on food.
You won't find chlorine bleach, dyes, parabens, SLES, palm oil, or other harsh chemicals here.
And for those wondering, "What is the best natural dishwasher tablet for hard water?"mineral-based water softeners mean these tablets will work effectively in hard water without the need for environmentally damaging phosphates.
Each pod is encased in a dissolvable polyvinyl alcohol (PHOV) film.
About Puracy
Puracy is a small, family-owned company on a mission to create "the best plant-based products that are safe for people, animals, and the planet".
All formulas are at least 99.3% natural and safe to use around pets and children.
The brand works closely with its US-based manufacturers to make sure that ingredients are high quality and ethically produced.
All products are PETA-approved vegan and certified cruelty-free by Leaping Bunny.
The carbon footprint of each order is offset through their partnership with the Pachama Project and the brand further donates to a wide range of charities.
---
6. Ecozone
*Note: We have attempted to confirm policies directly with this brand but have not received a reply.
About Ecozone's Eco-Friendly Dishwasher Detergent Tablets
Price Range: £7
If you're looking for the best eco dishwasher tablets in the UK, Ecozone offers tablets that are non-toxic, plant-based, vegan, and cruelty-free.
They're also an allergy-friendly product, approved by Allergy UK.
Instead of POVH, the eco-friendly plastic free dishwasher tablets feature wrappers that are made from a soluble 100% vegetable-based cornstarch.
They come in compostable or recyclable cardboard packaging.
About Ecozone
Ecozone is a UK company on a mission to reduce harmful chemicals and cut CO2 emissions.
They're all about using natural formulas to create over a hundred biodegradable cleaning products that are "people friendly" as well as animal friendly.
Their range is certified by the Vegan Society, Cruelty-Free International, and PETA.
They're also endorsed by NatureWatch for their animal welfare efforts.
---
7. VOYA
About VOYA's Eco-Friendly Dishwasher Sheets
Price Range: $14–20
On a low waste living voyage?
Go with VOYA and their mineral and plant-based dishwasher sheets. They're not tablets, per se, but they are natural, vegan, cruelty-free, and hypoallergenic.
Each sheet (which contains two mini sheets perforated in the middle) is equivalent to eight lids of liquid dish detergent and is free of SLS/SLES, fragrances, artificial dyes, phosphorus, phosphates, and benzene.
We've tested them in both the dishwasher (just put half a sheet on the top rack) and for handwashing dishes and found them effortlessly effective in both regards.
We especially love how light and space-efficient they are to store. Just a simple brown paperboard envelope we can compost when empty.
While septic-safe, they do contain PVA to keep the other nine minimal ingredients held together in sheet form.
About VOYA
VOYA is a laundry and eco-friendly dishwasher soap brand from Canada aiming to do something about the fact that the ocean will have more plastic than fish by 2050.
All products come in the form of dissolvable papers in compostable packaging.
---
8. Zero Co.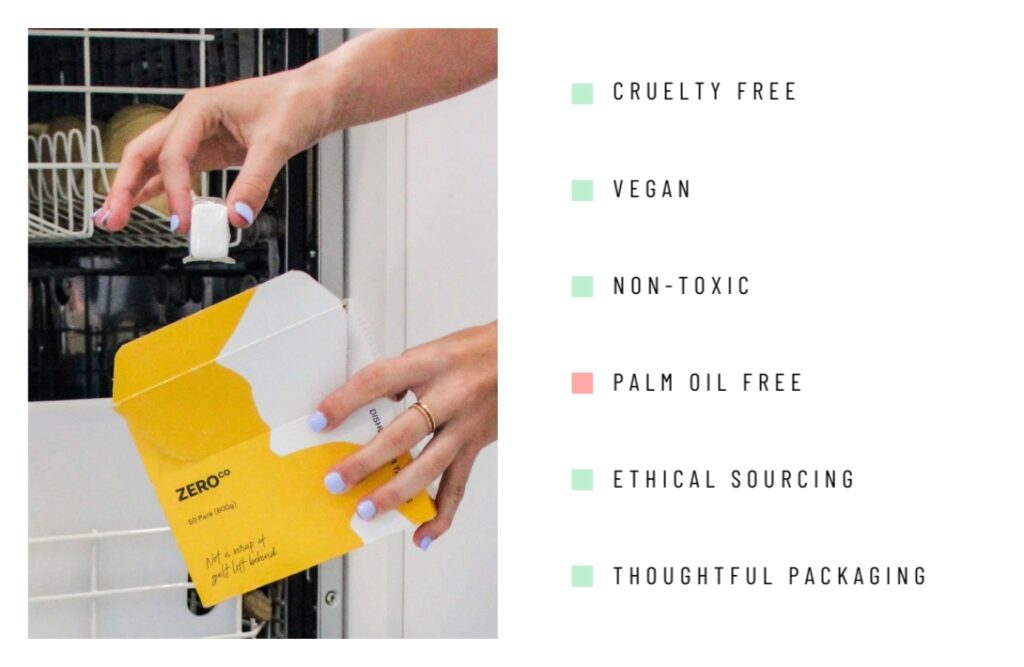 *Note: Zero Co uses RSPO MB certified palm oil, meaning some is sustainable palm oil but not all.
About Zero Co's Eco Dishwasher Tablets
Price Range: $30–$33
Australian brand Zero Co's eco-friendly dishwasher tablets use a plant and mineral-based formula for non-toxic cleaning power, making them biodegradable, phosphate-free, and gray-water safe.
While they use beets and bentonite to bind the ingredients, we're not certain if these are the only materials in the outer film or if PVOH is involved. Stay tuned.
The natural dishwasher tablets come in a recycled cardboard box that's printed with vegetable dyes.
The palm oil used has the RSPO MB certification. This means that palm oil products from RSPO-certified businesses are mixed with non-certified products.
It's a step in the right direction and Zero Co has plans to transition to all sustainably sourced palm oil when available as well as make more of their products palm-oil free.
About Zero Co
Mike Smith, the company's founder, joined us on our podcast to provide the full low-down on the Zero Co project.
They're on a mission to ditch single waste plastic and clear up the oceans in the process.
All plastic packaging is made from 100% recycled plastic waste and, to date, they've recovered nearly 6,000kg of plastic waste from the ocean.
If ordering one of their liquids, the bottles and pouches can also then be sent back to be refilled.
They give a full breakdown of the ingredients, so you know exactly what's in (and what's not in) their products, which are all vegan and cruelty-free.
Zero Co. has featured in an article on eco-friendly laundry detergent.
---
9. Smol
*Note: We are confirming policies directly with this brand.
About Smol's Eco-Friendly Dishwasher Detergent Tablets
Price Range: £6
On a mission to reduce chemical inputs, Smol's super-concentrated products are smol but mighty.
They're also vegan, cruelty-free, and "contain fewer chemicals than leading brands".
This means they're not chemical free but are working to reduce the levels of chemicals in their products.
These dishwasher detergent tabs come in a 100% plastic-free cardboard box, but we're not certain if each tablet contains a PVOH film or not. We have attempted to ask directly, but have not received a reply.
About Smol
Smol is on a mission to reduce their carbon footprint and spread the word about ways customers can conserve energy at home when using its products.
They carried out a full life cycle analysis of their laundry capsules and dishwasher tabs to learn the carbon emissions at each stage of the production process.
Due to lower chemicals, concentrated formulas in smaller tablets, and minimal packaging, their products have saved 1,400 tons of plastic since 2018. The brand donates products to those in need, supporting The Hygiene Bank as well as various primary schools and homeless organizations.
---
Did you know we Have a Newsletter?
We cover the latest in sustainable living, fashion, zero waste, beauty, travel, finance and more…
How We Found The Best Eco-Friendly Dishwasher Tablets
What are eco dishwasher tablets? And how did we decide what is the best alternative to dishwasher tablets?
As we did for eco-friendly dishwasher detergent, we considered the following in helping us scrub through the dirt to get to those sustainable and sparkly brands:
Non-toxic: Standard dishwasher detergent often contains phosphates and other harsh chemicals that filter into waterways and harm aquatic life. We looked for non-toxic dishwasher detergent brands that prioritize plant-based and ideally organic dishwasher tablets that will safely biodegrade.
Vegan and cruelty-free: Products need to be 100% cruelty-free, and there's just no need for detergent to contain ingredients derived from animals.
Palm oil free: We ideally want sustainable dishwasher pods to be palm oil-free. If brands do use palm oil it needs to be sustainably sourced (RSPO certified).
Ethical ingredient sourcing
Thoughtful packaging: Zero waste (i.e. compostable or reusable) packaging is best. At a minimum packaging should be recyclable and ideally made of recycled materials.
A note on Polyvinyl alcohol (PVOH, PVA)
In the very best world of eco dishwasher tablets, no plastic would be necessary, but many brands use a dissolvable membrane made out of Polyvinyl alcohol.
Polyvinyl alcohol is a type of water-soluble plastic polymer used in various products including laundry detergent sheets and pods, and eco-friendly dishwasher pods and sheets
Because there's been controversy surrounding the eco friendliness of PVA we did a deep dive on the question: is PVA sustainable?
Whilst PVA can fully biodegrade, it needs specific conditions to do so and these aren't always met by wastewater treatments. If it's not broken down, PVA can contaminate waterways as another form of plastic pollution.
One study found that as much as 75% of PVA from laundry and dishwasher pods isn't broken down during the water treatment process.
However, critics of the study say that it's based on flawed modeling and that biodegradability in the wild is very different from biodegradability in a lab-controlled setting.
For that reason, it's more accurate to call it dissolvable than biodegradable.
PVA still has its advocates, including the brands that promote it.
Not to be swayed by greenwashing, it's clear that we need more independent studies to be carried out.
We can either treat PVA as an effective way to cut down on larger amounts of plastic until better alternatives are available or opt for less convenient non-PVA options.
If PVA leaves a bad film in your mouth as it might on the planet, you could use a zero waste dish soap in the form of eco-friendly dishwasher soap powders or—if you ditch the dishwasher altogether—soap bars.
---
Final Thoughts On Environmentally Friendly Dishwasher Tablets
What's scarier than a mountain of dishes next to your sink?
The far-reaching impact of the products we use to clean our dishes can have.
The bottom line is, what goes down the plughole (or out the back of the dishwasher) ends up in our waterways and the environment affecting wildlife and the food chain—you included.
It's time we pull the plug on toxic ingredients and single-use plastic and toxic chemicals.
By choosing to make our automatic dishwasher tablets natural and (mostly) plastic-free, we get a sustainable sparkle, instead of dirty dishwater.
Little changes—even one as little as hitting "share"—make a big impact, so please pass this article along to help us all clean up those daily chores.
Pin these: