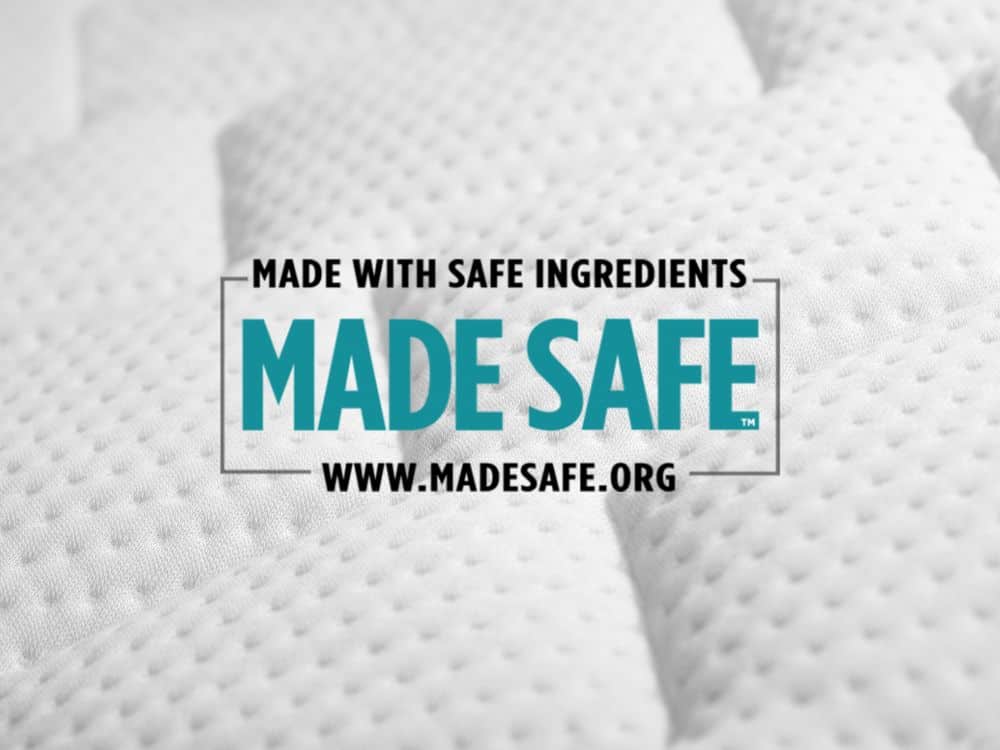 MADE SAFE Certification: A Healthy Logo or All Hype?
We've all seen the bold black letters spelling out "MADE SAFE®—but what is the MADE SAFE certification meaning from a practical, conscious consumer standpoint?
As with many other sustainability certifications today, MADE SAFE sets a baseline for what "safe" and sustainable products are and encourages trust with consumers.
But should we trust it? Is MADE SAFE legit?
While a number of certifications have recently been called out for greenwashing—some forestry certifcations even for fraud—the MADE SAFE logo (so far) remains consistently reliable and scandal-free.
Sustainability and manufacturing certifications aren't fool-proof, but we are in full support of their existence because they point us toward brands that desire a more eco-friendly, healthy, and ethical world.
We always suggest to readers the best way to support brands doing good is to do your own research and to hold brands accountable.
In the following, we've done the homework for you into the increasingly popular safe and non-toxic certification.
So…how safe is MADE SAFE, really?
1. What Is MADE SAFE Certification?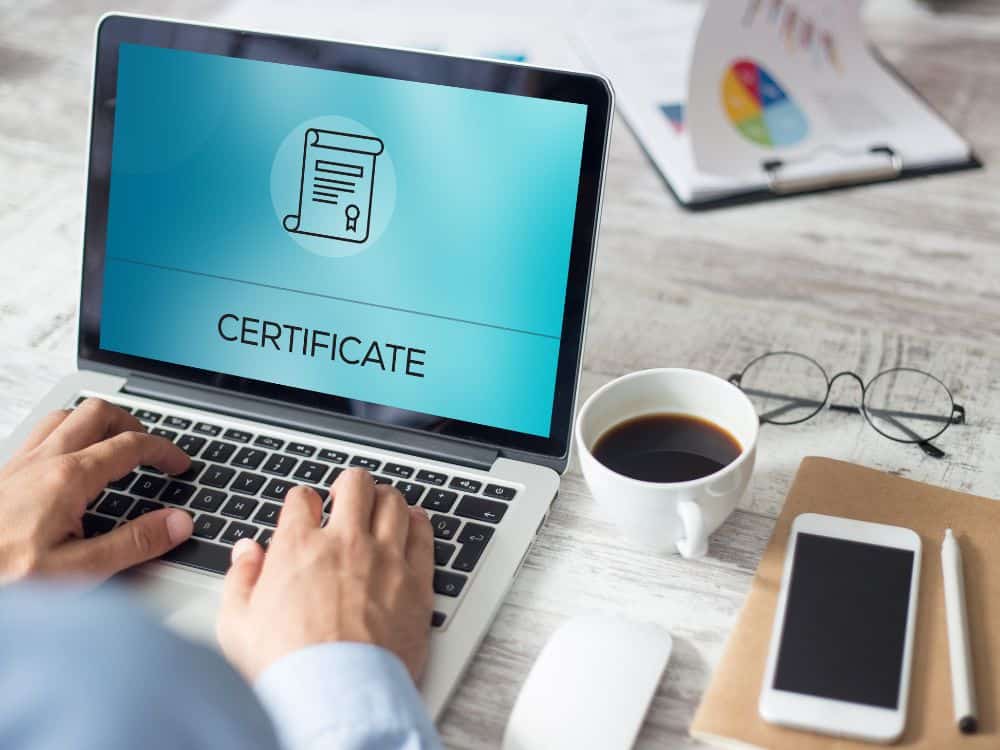 What does MADE SAFE certification mean?
The MADE SAFE® logo is, first and foremost, a non-toxic certification indicating a product is free of any toxic ingredients known or suspected to harm human health, animals, or ecosystems.
This includes general and aquatic toxicity as well.
They are currently "the only human health and ecosystem-focused product certification program".
Everything that bears the seal is thoroughly examined by scientists and researchers to ensure they are made without known toxic chemicals, like harmful VOCs and high risk pesticides.
MADE SAFE's banned ingredient list includes:
Behavioral toxins
Carcinogens
Developmental toxins
Endocrine disruptors
Synthetic flame retardants
Heavy metals
Neurotoxins
Volatile organic compounds (VOCs)
High-risk pesticides
Reproductive toxins
Toxic solvents
Toxins of general ecosystem harm
In their own words, they wish to "revolutionize how consumer products are made, thereby eliminating the use of harmful chemicals from the marketplace to ensure a safe and sustainable future for all".
History Of The MADE SAFE Certification
In existence for just seven years, MADE SAFE has already managed to eke out its corner in the sustainability space as one of the most reliable labels for ensuring consumer health and safety.
Began by concerned parent Amy Ziff, the label came about after Amy gave birth to her older daughter and then twins. She noticed that her children were allergically reacting to just about every product she used, which led her down the rabbit hole of research.
As a successful entrepreneur and a Master of Journalism, Amy uncovered all kinds of shocking truths about how harmful so many products on the market are.
Along with a handpicked team of highly rigorous scientists, Amy formed the not-for-profit MADE SAFE as one of the world's first health-oriented labels to ensure the integrity of various product formulations.
It's worth highlighting MADE SAFE's not-for-profit structure, as many for-profit certification schemes open the door to corruption and fraud—seen even in cases of "gold standard" certification B Corp greenwashing.
More companies certified (deservedly or not) means more money.
---
2. What Are Some MADE SAFE Certified Products?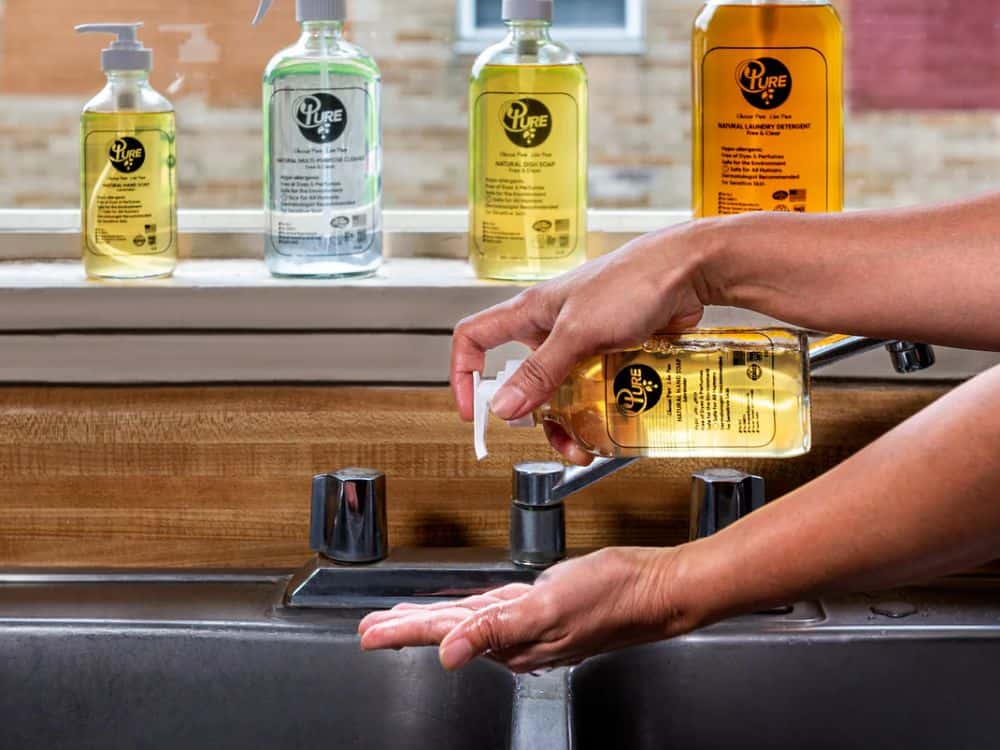 MADE SAFE certifies the ingredient safety of a huge span of human and household products.
MADE SAFE mattresses are perhaps the most common, but they're far from the only thing the certification applies to.
Other products elligible to get MADE SAFE certified include:
Non-toxic clothing
Baby items, such as non-toxic cribs (where absense of carcinogens, developmental toxins, endocrine disruptors, and known behavioral toxins is especially important)
Personal care items and menstrual products
Cosmetics and eco-friendly toiletries
Bedding and home textiles, such as non-toxic rugs
Pet products, such as organic dog beds
You can check out the full current list of MADE SAFE certified companies and products on their website.
In order for products to don the certified MADE SAFE label, they must prove their formulations are entirely "clean" and non-toxic and that products are crafted with zero harmful ingredients to humans, animals, aquatic life, or anything in the environment.
---
3. How Does MADE SAFE Work?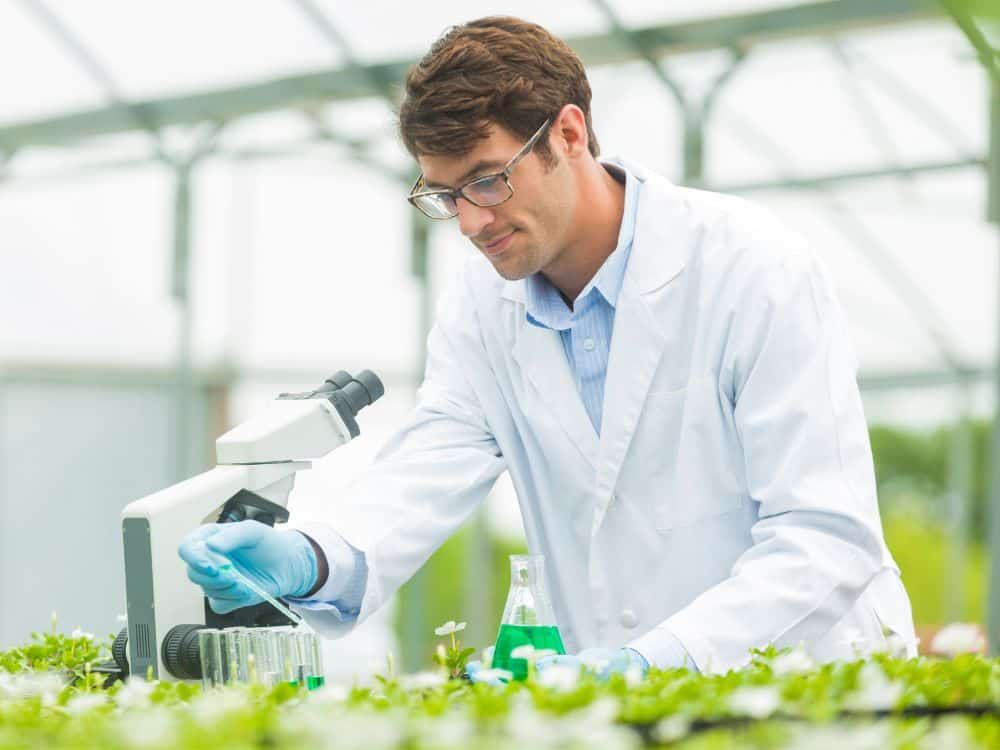 The certification has one of the most extensive lists of banned toxic chemicals-–more than 6500-–that products cannot use in their formulas. For perspective, the EU health inspection and the FDA and EPA in the US have only about a fifth of the size of a list of banned substances.
That said, MADE SAFE also does more than just certify products.
The label is also a team of "ingredient experts" who help brands develop more safe and sustainable product formula solutions.
It's not uncommon for the label to help brands completely reformulate their products to ensure a level of purity for humans and the environment.
The goal is to have ingredients reflect values of health, transparency, and safety. This is why MADE SAFE sees itself more as a health-oriented label than an "eco" label.
Most importantly, MADE SAFE cares about the integrity of ingredients that won't hurt human health, the environment, animals, aquatic life or the environment.
---
4. MADE SAFE Certification Process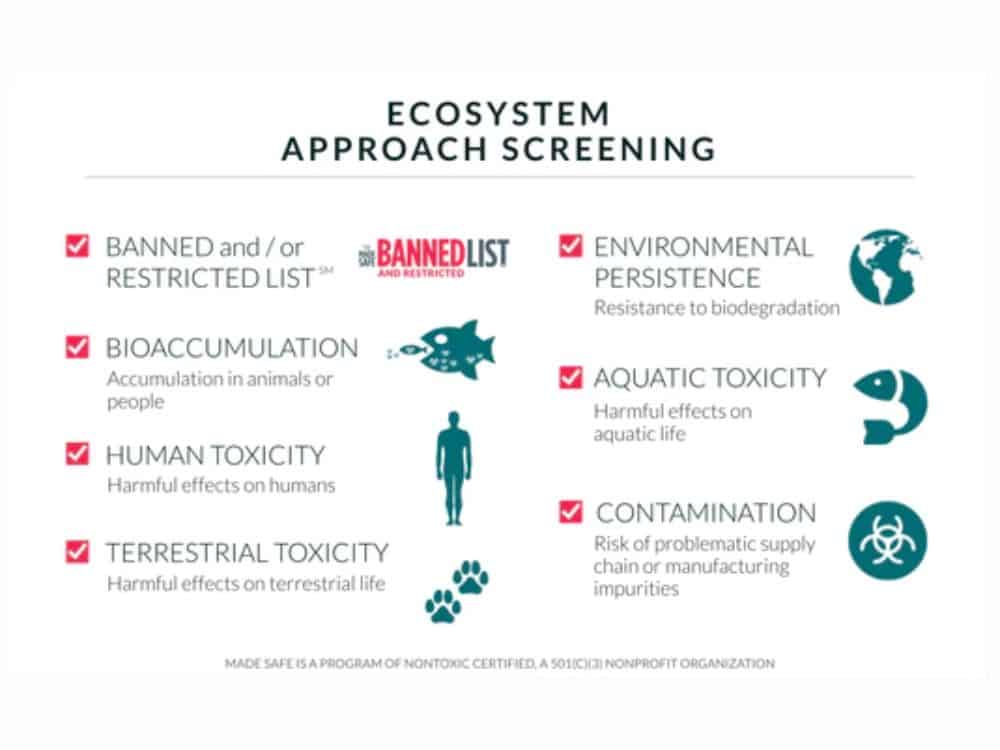 Nontoxic Certified is the 501(c)3 non-profit parent testing agency that oversees MADE SAFE certification, meaning brands must apply through them first for an Initial Look Evaluation (ILE).
Capped at testing for 50 substances, this 2-3 week process is merely a screening to determine if a product is remotely close to being compliant with MADE SAFE standards.
The screening for MADE SAFE certification costs vary depending on company size, though the organization is helping break down systemic oppression by offering significant screening discounts for BIPOC-owned businesses.
After passing the initial per-product screening, the full MADE SAFE certification price ranges anywhere from $600 to $200,000 depending on annual gross revenue.
Brands that pass may move on to the more stringent 360° Evaluation, which includes a number of steps:
A company signs an agreement with MADE SAFE to start the process.
The company submits raw material information, ingredients lists, and MSDSs about products they wish to certify.
All ingredients are checked against MADE SAFE's toxicant database.
The supply chain is studied for potential risks of contamination.
Ingredients are assessed for: aquatic toxicity, environmental persistence, and bioaccumulation in humans.
The brand receives a scientific report back of the findings.
A MADE SAFE Ingredients (MSI) score is awarded.
When a product has 100% for their MSI score, an official seal is awarded.
As an optional step to receive the "gold standard" MADE SAFE® non-toxic certified label, a compound analysis of the product final formulation occurs.
The final formulation then goes through another lab test to ensure it is not harmful.
If it is successful, the product receives the MADE SAFE Gold logo for safe and sustainable product manufacturing.
MADE SAFE follows the "Precautionary Principle": when enough data cannot be gathered to confirm that an ingredient doesn't harm humans, it's disqualified from certified products.
The goal is to guarantee that certified products are manufactured from a base of safe ingredients, which in turn can clean up supply chain pollution or toxicants and therefore will also improve work environments for laborers.
MADE SAFE also works with brands during the research and development phase of formulation (and reformulation) to help develop MADE SAFE items from the get-go.
The certification considers this as the future of "green chemistry".
---
5. Is MADE SAFE Legit?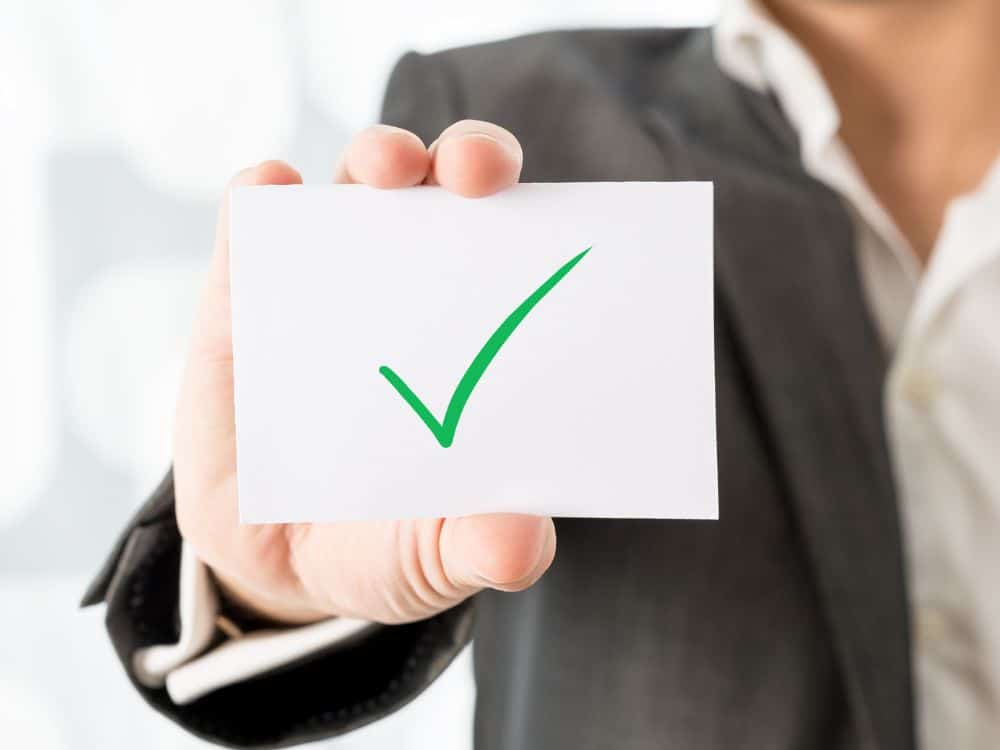 To answer simply, yes—MADE SAFE is one of the more bulletproof sustainability and non-toxicity certifications out there today.
It's still legal for chemicals to be used in everyday items that are linked to cancer, fertility problems, developmental harm, learning disabilities, and other serious diseases.
Unfortunately, the burden falls on consumers to ensure they are purchasing products without harmful toxins, and MADE SAFE really helps remove the guesswork.
They're also among the more transparent certification schemes, giving anyone access to their annual impact reports that succinctly summarize any new brands certified and their efforts toward creating safer consumer products.
In 2022, for example, they began to push legislative action against those harmful but legal chemicals. They submitted a petition to the Environmental Protection Agency (EPA) to regulate PVA (polyvinyl chloride) manufacturing due to its adverse effects on water ecosystems.
MADE SAFE also partners with B Lab, the Campaign for Safe Cosmetics, the Plastic Pollution Coalition, 1% for the Planet, and more organizations operating with consumer and environmental safety in mind.
That said, there are a few criticisms of the label that we'll take a look at.
---
6. MADE SAFE Criticisms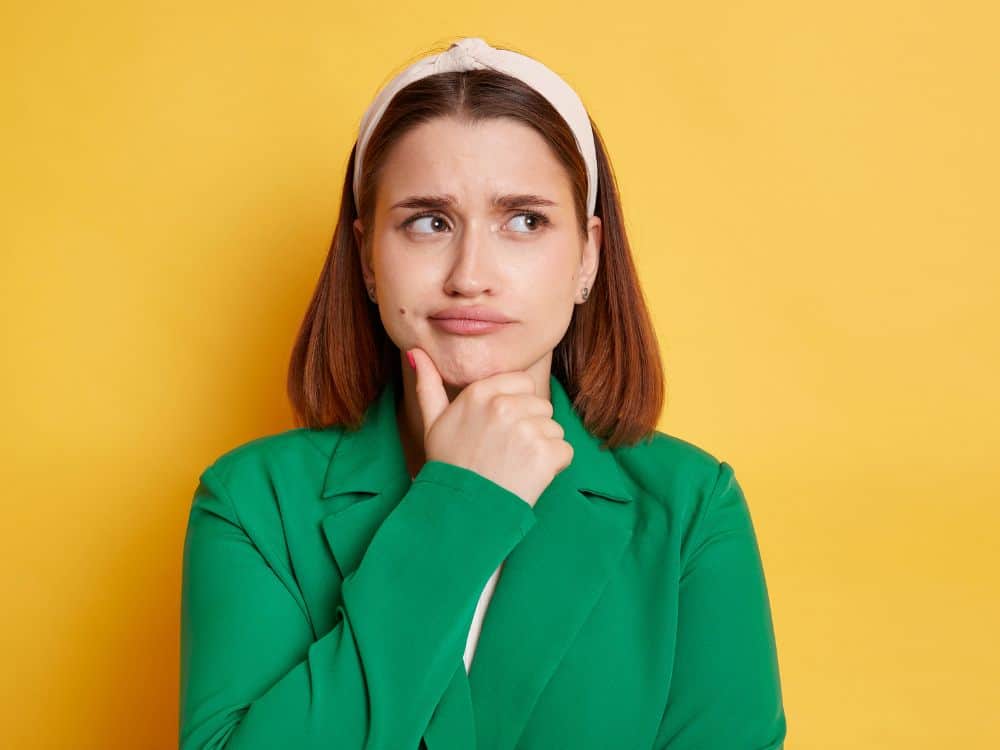 While MADE SAFE doesn't have a lot of controversies, there are two main challenges the label faces that are worth exploring: the vague definition of non-toxic, and the challenges of reformulating product recipes.
1. Defining "Non-Toxic"
The term "non-toxic" is nebulous and doesn't mean much of anything—nor is it a legally regulated term.
Plus, there is no chemical or material that is legitimately purely "non-toxic".
Over 500 years ago, the "father of toxicology," Swiss scientist Paracelus, coined the famous phrase "the dose makes the poison". In other words, everything—even water and air—can be toxic at a high enough dose.
Instead of saying "non-toxic", scientists will determine whether something is NOAEL (No Observed Adverse Effect Level). The NOAEL is the highest amount of a chemical a person, plant, or animal can be exposed to before it begins showing some sort of toxic response, like developing a rash or falling ill.
Critics of MADE SAFE will argue that "non-toxic" is too vague an unscientific term to use in such a critical manner.
2. The Challenge Of Ingredient Replacement
A major barrier to getting more products to don the MADE SAFE label is the reality that reformulating recipes to be 100% "clean" can be hard.
While the label's strict guidelines are positive overall, the procurement and manufacturing process can become a headache.
Every vendor and ingredient along the supply chain has to be vetted, which means the supplier base is limited which can affect a brand's lead times and pricing. This can become quite expensive and can lead to a product being out of stock for quite some time until its formulation is adjusted and approved by MADE SAFE.
This (along with the MADE SAFE certification cost of screening to possibly not pass) can be a huge deterrent for brands considering the label.
---
7. MADE SAFE Certified Brands
Some well-loved and respected brands we've featured before that are MADE SAFE certified include the following:
It's clear MADE SAFE will keep your mattress safe from the harmful VOCs and reproductive toxins present in synthetic foam, but what other product categories?
Here are some of our other favorite MADE SAFE certified brands you might find elsewhere in your non-toxic home:
---
Did you know we Have a Newsletter?
We cover the latest in sustainable living, fashion, zero waste, beauty, travel, finance and more…
Final Thoughts On The MADE SAFE Non-Toxic Certification
Many who are curious about the MADE SAFE label wonder how thorough it is.
In short: very.
As a testament to this, the certification's product list expands constantly, as does its list of banned substances.
With MADE SAFE, consumers and brands alike can be certain that products won't harm humans, animals, or the environment. And as far as ensuring the health and safety of consumer goods, there really is no gold standard more golden today than the MADE SAFE seal.
Truly a catalyst for a safer, more sustainable marketplace, MADE SAFE gives us hope for a healthy future. Just imagine when their certification extends to cars, electronics, and cell phones!
Consumers are demanding a healthier world that is MADE SAFE—and as far as we can tell—this label is reliable in its actions to uphold its healthful mission.
Pin these: