5 Tips For Creating The Best Minimalist Wardrobe Men Can Use Right Now
We all have scary monsters in our closets—but you know what's most frightening of all?
Excessive clothes that haven't been worn in months.
Not only does conventional garment manufacturing contribute to more carbon emissions, water usage, plastic pollution, and deforestation, but 85% of them get thrown away or end up in landfills.
With a minimalist wardrobe, men can pare down their daily choices (and impact) using eco-friendly, high-quality, versatile, and long-lasting pieces.
But how do minimalist men dress?
Here's everything you need to know about curating a classic style in capsule form.
Everything we recommend to you on Sustainable Jungle is independently researched and we ask all brands to confirm their claims. To avoid waste, we test products on an as needed basis. This post contains affiliate links. If you buy something through our links, we may earn a small commission. Learn more about why we do this here.
The Full List Of Men's Capsule Wardrobe Tips
Creating A Minimalist Wardrobe For Men
Minimalist Wardrobe Men's Brands
---
Creating A Minimalist Wardrobe For Men
What Is A Minimalist Wardrobe For Men?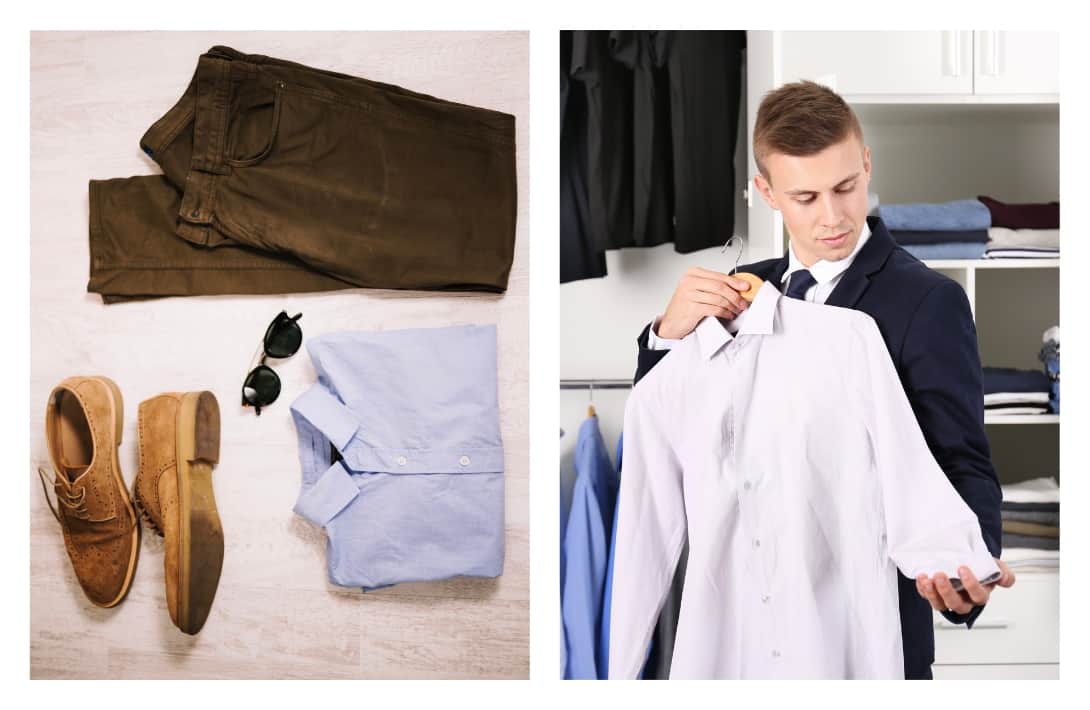 Let's start with the basics: what is a men's minimalist wardrobe?
A minimalist capsule wardrobe (for men, women, and non-binary folks alike) is a relatively tiny assortment of versatile, easily interchangeable, and pairable pieces. Each garment is carefully selected, so you can maximize the amount of outfits available.
There are a few fundamentals to a men's minimalist wardrobe, including versatility, neutral colors, practicality, and quality.
Versatility
A minimal wardrobe gets to the point. It doesn't beat around the bush, leaving any room for anything but the absolute essential clothing items.
This means every garment in a men's capsule wardrobe serves multiple purposes—dress shirts must work for the office, date night, and trips to the supermarket.
If an item doesn't work in various outfits, it's typically a no-go.
Neutral colors
Fewer clothes mean fewer options, but a cohesive color palette allows you to easily mix and match pieces.
Brighter colors and flashy prints are left out of the male capsule wardrobe.
Instead, neutrals like navy, gray, brown, black, and white are prioritized.
Practicality
A navy or grey suit might be versatile, but it's not practical as gym clothes. Likewise, a tracksuit won't work for formal occasions.
Whether it's a navy suit or a pair of shorts, each piece must be practical. While fringe outfits for rarer occasions are okay to keep, they should be kept to a minimum.
The minimalist wardrobe garments must work daily, transition from cold to warm weather, and formal to informal occasions.
However, practicality is also defined by the individual wearer and their needs. An urban office worker is likely to require a men's business casual capsule wardrobe while a rural farmworker would require something totally different.
Quality
If you're left with only absolute essentials, you want them to be high-quality and built to last, right?
Every piece on a men's minimalist wardrobe list gets a lot of wear. This means more opportunities for snags, stains, or damage, so buying high-quality and repairable shoes and clothing from durable, sustainable fabrics is critical.
---
How To Create A Men's Capsule Wardrobe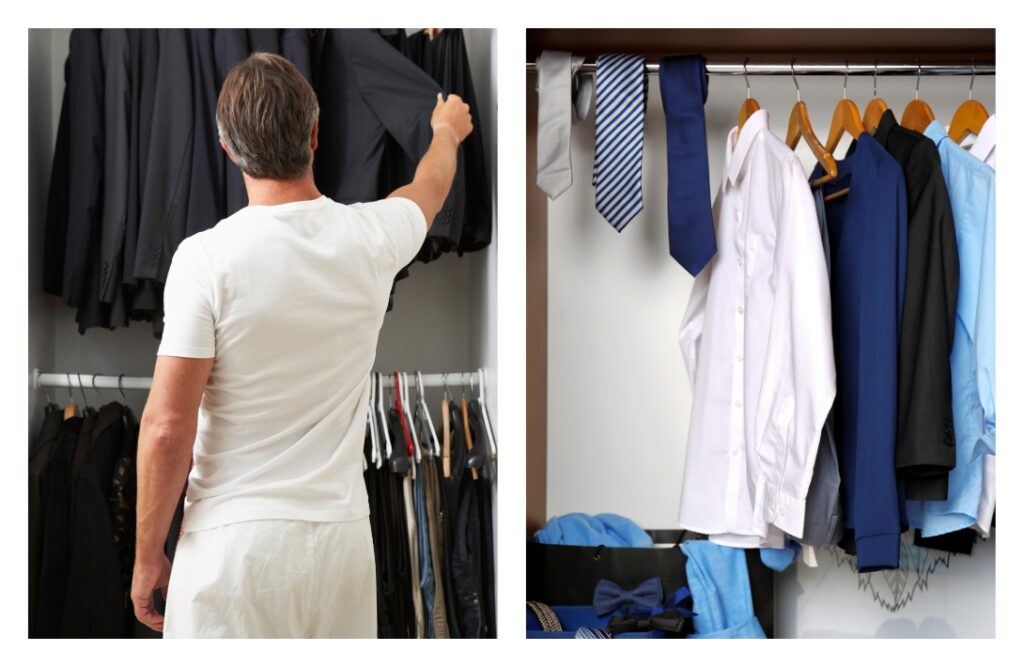 So, how can a man make a minimalist wardrobe?
First, understand that creating a minimalist, classic wardrobe for men can be a lengthy process, and it doesn't need to be done overnight.
You'll need to consider your personal style, observe your dressing patterns and preferences over time, and decide what to keep.
1. Start With What You Have
Like every other sustainable living change, starting with what you already have is essential.
Set aside time, put on some tunes, and get ready to clear out your entire wardrobe. The process will vary but look somewhat like the following:
Lay all of your pieces out.
Separate the clothes into different piles based on what you need, what you wear, and what you're getting rid of.
Afterward, repeat the process with even more scrutiny.
Donate the pieces you're getting rid of.
You might have pieces you can't eliminate, like work clothes or uniforms.
But there will be many items you don't need or wear often. In these cases, it's critical to practice scrutiny and determine what's really necessary. You probably don't need as many pairs of jeans or old graphic tees.
2. Think About Clothes You Actually Wear
We all have pieces in our closet that we hardly wear, whether it's an old pair of cargo shorts or worn-out graphic tees.
When looking through your closet, be honest about the pieces you wear each week. There are probably some items in similar colors, fabrics, or materials.
This will give you an idea of your personal style and also help you eliminate excess garments. A general rule of thumb is if you haven't worn it in three months or more, it's out.
3. List Your Men's Essential Clothing Pieces
Now that you've trimmed the fat, it's time to decide on the new essential pieces for your minimalist wardrobe.
But how many clothes does a minimalist man need?
Men's minimalist garments can vary, depending on the style, but here's a basic men's wardrobe essentials checklist to get you started>
If you live in a warm climate, curating a men's minimalist summer wardrobe means you might not need as many sweaters and jackets as someone in a colder area.
Likewise, you might not need to prioritize formal wear as much, depending on your lifestyle.
Here's a general guide you can personalize to suit your preferences:
1–3 Jackets (at least one formal and one informal)
6–10 tops (a combination of oxford dress shirts, polos, basic tees, long-sleeve shirts, and henleys)
3-4 bottoms (at least one dark wash jean and a pair of chinos)
2–4 pairs of shoes (one pair of sneakers, one pair of dressier sustainable men's shoes, one pair of sandals, and one pair of boots is a good place to start)
8–10 pairs of underwear
8–10 pairs of socks
4. Purchase New Items If Needed
Now that you have a list of items, it's time to purchase new pieces from sustainable men's clothing brands—ideally those that focus on providing minimalist men's clothing essentials.
Remember, the pieces should be high-quality, built-to-last, and cohesive.
Following a neutral color palette of whites, navies, blacks, grays, olives, and browns will provide you with a solid and stylish foundation for any occasion.
5. Responsibly Dispose Of What You Don't Need
With new items on the way, you can finally say goodbye to those old tees and cargo shorts—but what to do with the old clothes you're not keeping?
You have a few different options:
If you're a crafter, consider making upcycled clothing and homewares, like a new shirt, jacket, or eco-friendly cleaning cloths.
---
Brands For Building a Minimalist Men's Wardrobe
1. Frank And Oak
About Frank And Oak
Price Range: $45–$399
Creating a minimalist men's wardrobe would be much more challenging without brands like Frank And Oak.
They provide classic men's essentials—like an oxford shirt, dress pants, unstructured blazer, and other casual attire–with a modern twist, like organic and recycled materials.
Organic cotton pieces like the Corduroy Shirt can provide a men's casual capsule wardrobe with a bit of intrigue while remaining adaptable for most occasions.
This piece is one of our go-to grabs thanks to its durable fabric weave and mid-weight feel that makes it ideal for a variety of weather situations.
Frank And Oak's Ethical & Sustainability Practices
Materials:
Frank And Oak creates minimalist closet pieces from hemp, recycled cotton, recycled synthetics, and recycled wool.
Their ethical jeans contain mainly organic cotton with small amounts of elastane and TENCEL™.
Everything is colored with low-impact sustainable dyes sourced from plants and minerals.
Supply chain & labor practices:
This Certified B Corp has 28 factories across Bangladesh, China, and the UAE, each held to stringent ethical standards enforced by routine audits from third parties, including BSCI, WRAP, Sedex, and SA8000.
Carbon commitments & green practices:
Frank And Oak utilizes special denim production methods, using 50% fewer harmful chemicals, 79% less energy, and 95% less water than conventional methods.
Customers can also recycle their gently-loved jeans toward credit off a fresh pair.
Everything is delivered in recyclable and compostable shipping materials.
Inclusivity:
Frank And Oak provides men's wardrobe essentials in sizes XXS—XXL and 28-38" bottoms.
---
2. Taylor Stitch
About Taylor Stitch
Price Range: $40–$798
Looking for pieces for your rugged men's capsule wardrobe?
Look no further than the quality clothes from sustainable fashion brand Taylor Stitch.
The men's tees, bottoms, sweaters, jeans, jackets, and sweaters have a timeless appeal, providing you with a wide variety of outfit combinations.
The Democratic Foundation Pant is the perfect workhorse (or play horse?) pant. With the business-casual look of a chino, combined with the chino style's original military-intended durability and moveability, these 100% organic cotton pants are good for just about any occasion.
And we should know—we own them!
Taylor Stitch's Ethical & Sustainability Practices
Materials:
Taylor Stitch utilizes 100% GOTS-certified organic cotton for nearly all of its cotton garments.
Other essential items are made of repurposed cotton, recycled polyester, hemp fabric, sustainably-tanned leather, ethically-sourced yak wool, and merino wool.
Supply chain & labor practices:
Taylor Stitch partners with ethical, responsible factories. The brand uses fair trade standards for its partners, ensuring fair wages, labor practices, dignified conditions, and quality control.
Many of Taylor's products and partners are approved by organizations like the Leather Working Group (LWG) and Fair Trade Apparel.
Carbon commitments & green practices:
Taylor Stitch develops long-lasting pieces from deadstock fabrics, helping slow down fast fashion.
The brand provides a clothing exchange program and offers free on-site repairs and online guides, helping customers get the most out of each purchase.
As far as packaging materials go, they use 100% post-consumer recycled mailers and recycled poly bags.
Inclusivity:
Their men's essential wardrobe pieces range from XS–XXL for tops and 28–38" waist sizes.
Community & charitable giving:
Taylor Stitch gives back via giveaways, contributions, and partnerships with non-profit organizations like the Foundation for National Parks and Wildlife, NAACP, and more.
Any excess fabric and raw fibers are donated to different communities and educational programs.
---
3. Outerknown
About Outerknown
Price Range: $98–$198
Outerknown provides some of the highest quality pieces for a men's year-round capsule wardrobe.
Although the brand was founded by multi World Surf League champion Kelly Slater, it provides much more than sustainable men's swimwear.
Outerknown has a vast collection of sweatshirts, jeans, chinos, tees, henleys, polos, swim trunks, and outerwear, whether there's warm or cold weather.
If we're talking men's essential clothes, nothing enCAPSULates that better than the best-selling Blanket Shirt.
A classy take on the classic flannel, it's made with organic, tightly woven fabric that's as durable as it is comfortable—and trust us, it really does feel like you're wearing a blanket.
Outerknown's Ethical & Sustainability Practices
Materials:
Organic cotton, hemp, RDS-certified down, and alpaca wool make up the bulk of Outerknown's dress code.
Some garments feature recycled polyester, but everything is bluesign®-approved, meaning zero harmful chemicals.
Supply chain & labor practices:
Outerknown publishes its complete list of partners online, with manufacturing taking place in Peru, Mexico, and China.
Each piece of clothing is sewn in Fair Trade Certified facilities, while all of their partners adhere to their Code of Conduct and FLA ethical production methods.
Carbon commitments & green practices:
Outerknown introduced Outerworn, a marketplace where customers can buy and sell gently-used pieces.
Besides that, they have an extensive 2030 Sustainability Strategy, with plans for renewable energy improvements and efforts to further support their workers.
Inclusivity:
This organic men's clothing brand makes men's sizes from XS—XL and 28–38" waists.
Community & charitable giving:Outerknown is true to its reef-loving roots, regularly donating to non-profit organizations like Ocean Conservancy.
---
4. The Classic T-Shirt Company
About The Classic T-Shirt Company
Price Range: $64–$118
The Classic T-Shirt Company ticks the essential boxes on the men's capsule wardrobe checklist.
They provide some of the highest-quality men's essentials made from GOTS-certified organic cotton. All pieces are available in 13 different colors, allowing you to make a cohesive wardrobe.
If you're in need of a new essentials t-shirt, men don't miss out on the Short Sleeve V-Neck.
It may not look like anything special, but this super-soft organic cotton t-shirt is much more durable (and non-toxic) than your average $10 tee. Not only is the cut perfect, but we love how fade-resistant and anti-pill the fabric has proven to be over time.
The Classic T-Shirt Company's Ethical & Sustainability Practices
Materials:
The Classic T-Shirt Co. makes its garments from 100% GOTS-certified organic cotton without any harmful dyes or chemicals.
Items are pre-shrunk, so you don't have to worry about changes in size, shape, or color. Still, we recommend running your eco-friendly washing machine on cold.
Supply chain & labor practices:
GOTS-certified organic cotton is ethically sourced from local farms in India before being manufactured in Los Angeles, California.
Workers at all stages are provided safe working conditions, reasonable hours, and living wages.
Carbon commitments & green practices:
The men's basic clothing essentials are long-lasting, durable, and shipped in 100% plastic-free, recycled materials.
Inclusivity:
Their essentials for men range between XS-XXXL.
Community & charitable giving:
Classic T-Shirt Co donates 1% of its sales to different organizations, like Water for People, Armenia Tree Project, and The Ocean Cleanup.
---
5. Neem London
About Neem London
Price Range: $56–$237
Neem London provides the perfect pieces for a smart, casual men's minimalist work wardrobe.
The UK-based brand crafts beautiful menswear pieces using sustainable techniques and materials like regenerative and recycled cotton. The high-quality items are built to last, making them ideal for a small men's wardrobe.
No men's work capsule wardrobe is complete without the Regenerative Cotton Sky Modern Button Down.
Alone, the ¾ button down design provides a casual flare, while paired with a suit jacket or unstructured blazer, it looks just like any other traditional piece of workwear. Office to after-party functionality aside, we love that it's made of 100% Regenerative Organic Certified™ cotton.
Neem London's Ethical & Sustainability Practices
Materials:
Neem utilizes materials like regenerative cotton, recycled cotton, recycled yarn, and ZQ merino ethical wool.
Supply chain & labor practices:
Neem spins fibers in Spain, weaves in Italy, and crafts products in Romania and Italy to keep their manufacturing line close to home.
The various sites use solar-powered mills with zero discharge of hazardous chemicals (ZDHC).
The result is an entirely carbon-neutral end-to-end production system.
Carbon commitments & green practices:
Need measures the impact of all its garments via third-party assessments.
One Neem shirt uses 40% fewer GHG CO2e, 93% less water, and 40% less energy than conventional options.
Customers can send unwanted 100% cotton or wool items for recycling, and Neem will provide a discount voucher.
Inclusivity:
Neem offers sizes XS–XXL.
Community & charitable giving:
Neem has contributed to several initiatives to limit its carbon emissions, including the UK Tree Buddying plan, the Harmanlik Wind Power Plant, and a project in Guatemala that stops cutting down local trees and shares stoves that use less fuel for cooking.
---
6. Toad&Co
About Toad&Co
Price Range: $28–$180
Toad&Co will turn you into a prince with its wide range of high-quality men's minimalist wardrobe essentials.
The California-based sustainable outdoor clothing brand produces all the casual classic styles you need for your own minimalist wardrobe—t-shirts, polo shirts, pants, jeans, jackets, swimwear, and accessories.
Toad&Co describes the Moonwake 1/4 Zip Pullover as the "ultimate dress-up/dress-down layer for the guy who wants one sweater to do it all", and we can't help but agree.
It's lighter than a sweater but warmer than most traditional sweatshirts, which makes it the perfect pullover for a chilly fall hike or an evening at your favorite brewery.
Toad&Co's Ethical & Sustainability Practices
Materials:
Toad&Co uses sustainable fibers, like organic cotton, hemp, TENCEL™ Lyocell, and Lenzing Modal®, alongside vegan and recycled fabrics.
A Textile Exchange member, Toad&Co also has certifications from bluesign®, OEKO-TEX, and Higg Index.
Supply chain & labor practices:
As a co-founder of Planet Access Company, Toad&Co created a warehouse that rains and employs adults with intellectual and developmental disabilities.
Not all of their products are made in the USA, but all of their partners are visited and audited, ensuring code of conduct compliance.
Carbon commitments & green practices:
Toad&Co allows customers to list their gently-used items online for resale, creating less textile waste and ending up in landfills.
The brand aims to adhere to 100% of The Responsible Wool Standard by 2024, convert all synthetic fibers to recycled ones by 2025, and eliminate plastic packaging by 2026.
Most of the items we tried are already shipped in FSC-certified paper printed with water-based or algae ink.
They also provide the option of Reusable Shippers at checkout via a partnership with LimeLoop.
Inclusivity:
Men's minimalist capsule wardrobe pieces range between S–XXL and 30–38" waists.
Community & charitable giving:
As a member of the 1% For the Planet and Adventure Travel Conservation Fund, Toad&Co does much to give back to its local community.
They co-founded Search for Adventure, a travel organization creating vacations and opportunities for adults with disabilities.
They donate a portion of their monthly sales to various organizations, including Planned Parenthood, Wild Seed Project, and the Yosemite Climbing Association.
---
Did you know we Have a Newsletter?
We cover the latest in sustainable living, fashion, zero waste, beauty, travel, finance and more…
How We Chose The Best Minimalist Wardrobe Brands For Men
When it comes to creating a minimalist wardrobe for men, you need the very best minimalist men's brands.
Each piece of essential men's clothes must be versatile, cohesive, and built to last—in addition to our regular sustainable fashion criteria:
Materials:
Sustainable, minimalist clothing is different from traditional or eco-friendly clothing, as it must be long-lasting.
Our typical sustainable fibers include organic cotton, recycled cotton, lyocell fabric, hemp, wool, ethical leather, and recycled synthetic fabrics.
Supply chain and labor practices:
Although they're minimalist brands, we don't want minimal details. Instead, we want transparency to show their commitment to responsible supply chains, fair working conditions, and living wages.
Carbon commitments & green practices:
Eco-friendly initiatives like recyclable/compostable shipping, local supply chains, minimal waste, carbon offset programs, and chemical and energy reduction are some things on our minimalist men's wardrobe list.
We also prioritized brands with repair or recycling programs, so you can get the most out of your garments during and at the end of their lifespans.
Inclusivity:
Just because a closet is small, doesn't mean the sizes should be. Men of all sizes should equally be able to shop these brands.
Community & charitable giving:
Although it isn't necessary, brands supporting social and environmental causes, organizations, and initiatives maximize our minimalist dreams.
---
Final Thoughts On The Ultimate Men's Minimalist Wardrobe
Fast fashion runs a muck, not just on the environment but also in our closest wallets and minds. With new trends every week and flimsy fabrics, it's impossible to keep up with traditional fashion brands.
That's where minimalist wardrobes save the day.
A minimalist wardrobe filled with long-lasting, sustainable, and high-quality pieces helps the slow fashion movement. They also free your mind and closet of clutter.
The brands on our list can help you develop a cohesive collection of outfits highlighting your personal style without needing a replacement every month or two.
Do you know someone who has too many clothes?
Send them our minimalist men's wardrobe guide, so they can declutter their closet and simplify their style.
Pin these: