Gender Neutral Clothing: 8 Brands For Ethical Fluid Fashion
Binary fashion is coming to an end, and with it comes gender neutral clothing brands who care as much about the comfort of the planet as they do people, with all our beautiful differences.
According to the Merriam-Webster dictionary, inclusion means: "The act or practice of including and accommodating people who have historically been excluded (as because of their race, gender, sexuality, or ability)."
Until recently, fashion—even sustainable and ethical fashion—has been not-so-inclusive.
Lots of brands still suffer from the "let's squeeze every person into XS-L", and while we are starting to see more plus size clothing brands as of late, inclusivity means more than just size.
It also encompasses gender identity.
For years and years, gender neutral shoppers have been bombarded with very distinct men's versus women's styles, cuts, and sizing. Not to mention the complete lack of representation of gender fluid or genderqueer modeling and brand imaging.
But fortunately, all of this is changing.
When we look at fashion for people and the planet, inclusivity is always a big consideration for us. So obviously that's what we took into consideration when we explored general neutral clothing for trans and non-binary folx.
And, of course, we included our usual considerations and criteria of ethical and sustainable practices, too.
We came away feeling inspired by Kirrin Finch's dapper duds for everyone, Tomboy X's eco-friendly and gender-neutral undies, Riley Studio's use of uniquely repurposed materials, and Nudie Jeans' commitment to sustainable and long-lasting jeans for all bodies.
You can head to the end of the article to see how we handpicked these ethical brands who prove that some of the best fashion is also the most fluid fashion.
Or, you can read along and get a glimpse of what fashion will look like in the future—where every body, every identity, and every style is included.
*This post contains affiliate links
QUICK LINKS FOR GENDER NEUTRAL FASHION BRANDS
---
1. KINDOM
About KINdom
What better way to feel supported by a brand than when they recognize how interconnected we all are?
KINdom is about all that. It takes just one look at their website to realize: humans + nature + balance:
"Because humans and nature are created from the same building blocks of the universe, we are directly related to each other."
Their Gender-Free collection is what we're particularly striking a balance with right now. Shop a handful of graphic tees, convertible shirts (yep, you read that right), fun plaid print trousers, and more.
KINdom's Ethical and Sustainability Practices
Materials:
Sustainability starts with the materials used by KINdom—natural, reclaimed, recycled, and indigenous fabrics combined with compostable cotton labels.
These include organic cotton, bamboo textiles, rPET textiles (made from recycled plastic bottles), and reclaimed deadstock. You can probably see why they're also one of our favorite recycled clothing brands.
Just note that some styles do contain rayon and viscose which is best avoided.
Supply chain & labor practices:
Many of KINdom's environmental and ethical goals are the same as those set out in the UN's Sustainable Development Goals. These include things like supporting marginalized communities, using closed-loop production processes, and working with fair-trade suppliers.
As far as slow fashion brands go, they're achieving some of these goals by working with organizations to form a circular economy, only working with fair trade partners in China, and preserving diverse cultures by using indigenous materials.
Green business practices:
A veggie-based bioplastic bag is used for all of KINdom's packing and storing, and they use a 100% recycled mailer for shipping.
Inclusivity:
KINdom was started with the idea to build a true KINdom, where all of us are connected and make up the world that we live in.
With this in mind, they wanted to design clothes that allowed the brand and their wearers to be responsible stewards—not only of the planet, but of each other as well.
This is the mentality that drives the brand, and what contributes to their XS-XXL size and gender-inclusive line. From tees to pants to shirt-dresses, they've got something for every body, every style, and every person in their KINdom.
Community & charitable giving:
Cultivating a KINdom means reaching beyond their customers, which is why they partner with various charitable organizations, including the Global Fashion Exchange, Sustainable Coastlines Hawaii, and Polar Bears International.
Available: KINdom
---
2. TOMBOY X
About Tomboy X
Looking for gender neutral clothing underwear?
Tomboy X has got your back (or your butt?). For the brand, redefining the term "tomboy" means providing a range of unisex undergarments designed for everyone. 
Now to be clear, this Seattle-based brand doesn't use tomboy in the traditional gender-role sense.
It's not limited to little girls who like to play with toy cars. In their eyes, a tomboy is anyone who does their own thing and dresses in any way they want to.
When founders Fran and Naomi realized that there was a gap in fashion that needed to be filled by tomboy styles, they took matters into their own hands by designing garments to make "any body feel comfortable, regardless of where they fall on the size or gender spectrum."
Now, Tomboy X is loved by all types of wearers from around the globe.
While undergarments are their thing, they also sell loungewear, sleepwear, swim, tees & tanks, socks, organic bras and accessories.
Tomboy X's Ethical and Sustainability Practices
Materials:
Tomboy X's "underwear for all" is made with materials for Earth. Responsible materials are a pretty big deal for them—from the Tencel fabric (an eco-friendly brand of lyocell made from Beechwood pulp) in their underwear to the Oeko-tex certified organic cotton in their tees.
Supply chain & labor practices:
For most of their production, they work with women-owned factories in the USA, Canada, and China. As ethics are important to them, they regularly visit their factories and only work with those who ensure good working conditions and fair pay (no sweat-shops here!).
Inclusivity:
We've been oohing and ahhing over their "masculine"-styled (but for anyone) undies for awhile—since we stripped down the best ethical and sustainable underwear.
Not only are they inclusive to all gender identities, but all sizes too. Tomboy X garments (both tops and bottoms) are available from XS all the way to 4X!
Community & charitable giving:
Tomboy X is passionate about the #humanagenda: the LGBTQ, women's rights, and social justice issues that impact all of us. That's why they donate to different social organizations every couple of months.
Available: Tomboy X
---
3. NUDIE JEANS
About Nudie Jeans
Nudie Jeans knows that being naked is the most sustainable outfit. But they also know that the second best thing is jeans that are consciously designed.
Nudie goes beyond planetary considerations with their "slow denim" to think of people—all people.
To understand Nudie Jeans, you should understand the Swedish word lagom, meaning "just the right amount."
Nudie Jeans is inspired by the concept of Yin and Yang – living in balance.
This sustainable denim brand aims to find exactly that – the perfect balance of style, comfort, and longevity—and to do so in a way that's fair and ethical for the earth and the people who call it home.
Nudie Jeans' Ethical and Sustainability Practices
Materials:
Traditional Nudie Jeans denim is made from 100% organic cotton (certified by either GOTS, OCS 100, or the USDA).
They now offer some recycled styles as well made with pre-consumer recycled denim.
A couple of years ago they released a capsule collection called Rebirth made with post-consumer recycled Nudie Jeans and are continuously exploring new ways to use recycled fibers.
Oh, and if you're looking for vegan jeans, fear not, because the "leather" brand patches are made of Jacron paper!
Supply chain & labor practices:
Nudie takes the stress out of distressed denim to leave us with a pair of jeans that's backed by a transparent and ethical supply chain achieved through their partnership with the Fair Wear Foundation.
From regular audits of their factories in Tunisia or Italy (and their other production countries) and fabric mills in Turkey, Italy, and Japan, to their publishing of documentation as proof of their ethical claims (see their reports on sustainability, social and brand performance).
Talk about a naked supply chain.
Green business practices:
Nudie is working toward carbon neutrality by 2025, which they're chipping away at with actions like reducing air freight and air bound business travels, striving toward renewable energy sources in the supply chain and their own business units, and prolonging the life of their customers' jeans through their repair program.
While jeans are made to last a lifetime (a second skin, if you will), they're bound to show a little wear eventually.
Once you can tell your Nudies have been worn daily you can either request a free repair kit or bring them back to one of Nudie Jeans repair spots to be repaired for free… forever!
When they've really reached the end of their wearability, they can also be brought back to Nudie to be sold as second-hand jeans in their Bra Miljöval certified Re-use collection or recycled into new products.
Inclusivity:
Aside from a few designs made specifically for women, all of their jeans are unisex. They can fit both men and women and are joined by more gender neutral clothing for adults including tees, sweatshirts, jackets, and knits.
Don't worry, no one in the family is left out. They also have gender neutral children's clothing, too!
They're also inclusive in their sizing, offering single inch waist increments from 24"-38" so anyone can truly get the proper fit.
Available: Nudie Jeans
---
4. KIRRIN FINCH
About Kirrin Finch
Kirrin Finch is one of our favorite gender neutral fashion designers for a few reasons.
This Brooklyn, NY-based brand truly wants to "do good in this world" through their ethical and sustainable garments that embody dapper designs for formal or casual occasions.
If it's a wedding or a casual Friday night out, you'll be looking great and feeling authentic with their gender and size-inclusive suits, blazers, dress suits, pants, shirts, oxfords, and shorts (yes, you'll find plus size gender neutral clothing here, too).
Kirrin Finch's Ethical and Sustainability Practices
Materials:
As if super-inclusive wasn't enough, these garments do well on sustainability, too. They prioritize natural materials and incorporate organic materials when possible. They also use low-impact dyes.
However, not every brand is perfect.
While Kirrin Finch does use pure blends of natural fibers (namely either 100% cotton or 100% Italian wool), there's no mention of their cotton being organic or where the wool is sourced.
While better than virgin synthetics, we would like to see "organic" printed on all those "100% cotton" fabric contents.
Supply chain & labor practices:
They've also spent time scouring the globe for factories that use some of the most ethical and fair labor and manufacturing practices. When you shop, you can see where each product was made.
Inclusivity:
This fast fashion alternative challenges not only the fast fashion paradigm but also the norms that play into what many of us know as "menswear" and "womenswear."
Male, female, and non-binary bodies will rejoice in Kirrin Finch's dapper style and ultimate wearability.
The menswear-inspired line is androgenous-friendly with reeeeally conscious design—right down to the reduced boob gap on their button-downs. Whether you're small, tall, or all, they've got sizes for you, from 0-24.
Community & charitable giving:
Kirrin Finch gives back in ways that go beyond their inclusive clothing line. They regularly support various projects aimed at helping LGBTQ communities and women.
Available: Kirrin Finch
---
5. RILEY STUDIO
About Riley Studio
London-based Riley Studio prioritizes transparency to put people and the planet first.
The brand was founded by Riley Uggla with an aim to tackle overproduction and overconsumption—and do so without the "menswear" and "womenswear" labels.
According to the brand, "Style knows no boundaries, and neither should we."
You'll see this in all they sell—which happens to be a lot, including tops, bottoms, loungewear, accessories, and outerwear.
Riley Studio's Ethical and Sustainability Practices
Materials:
On a mission to "create from waste" they choose upcycled waste fibers paired with responsible natural ones.
For Riley Studio, sustainability starts with materials like ECONYL® Yarn (made from discarded and recovered fishing nets), Recover® Yarn, (made from other textile waste and recycled plastic bottles), organic cotton (certified by GOTS and Oeko-Tex Standard 100), recot® (an organic-recycled cotton blend), and lyocell (one of our favorite sustainable fabrics made from wood pulp).
Everything found in their gender neutral clothing line—even down to the recycled zippers(!!)—is made consciously.
Supply chain & labor practices:
By producing in small, limited runs, Riley Studio is able to prevent overproduction.
Having a close eye on their inventory also comes with having a close eye on their operations—all of their factories are SMETA audited, which means fair and safe conditions for workers.
Green business practices:
Riley Studio is the antithesis of fast fashion—they design with longevity in mind and even offer a lifetime guarantee!
They also have a guide for how to care for their clothes. If you notice a change in the quality or something breaks, you can ship it back to them to get repaired.
Even better, once their clothes do reach the end of their lifespan, you can send them back to Riley Studio to be recycled.
Inclusivity:
From their designs to their sizing (of which they have their own room-to-grow 0-5 scale, which includes XXS-XXL sizes), everything from Riley Studio is inclusive.
They don't advertise but they do spread the word about alternatives to fast fashion—and do so in a way that's diverse, gender-neutral, and ageless.
Available: Riley Studio
---
6. COSMOS STUDIO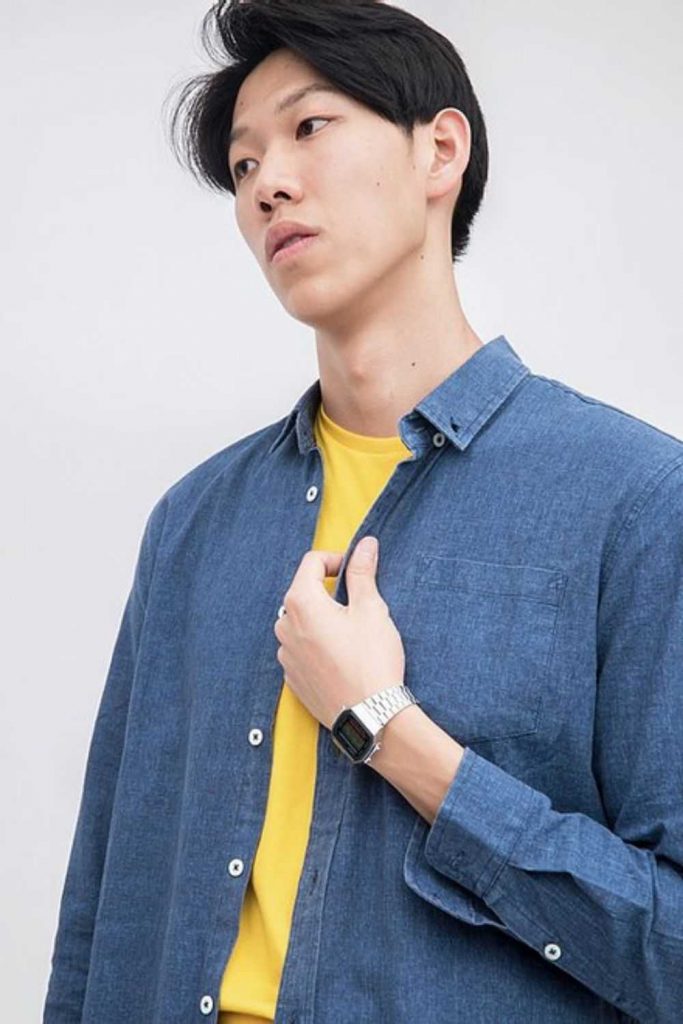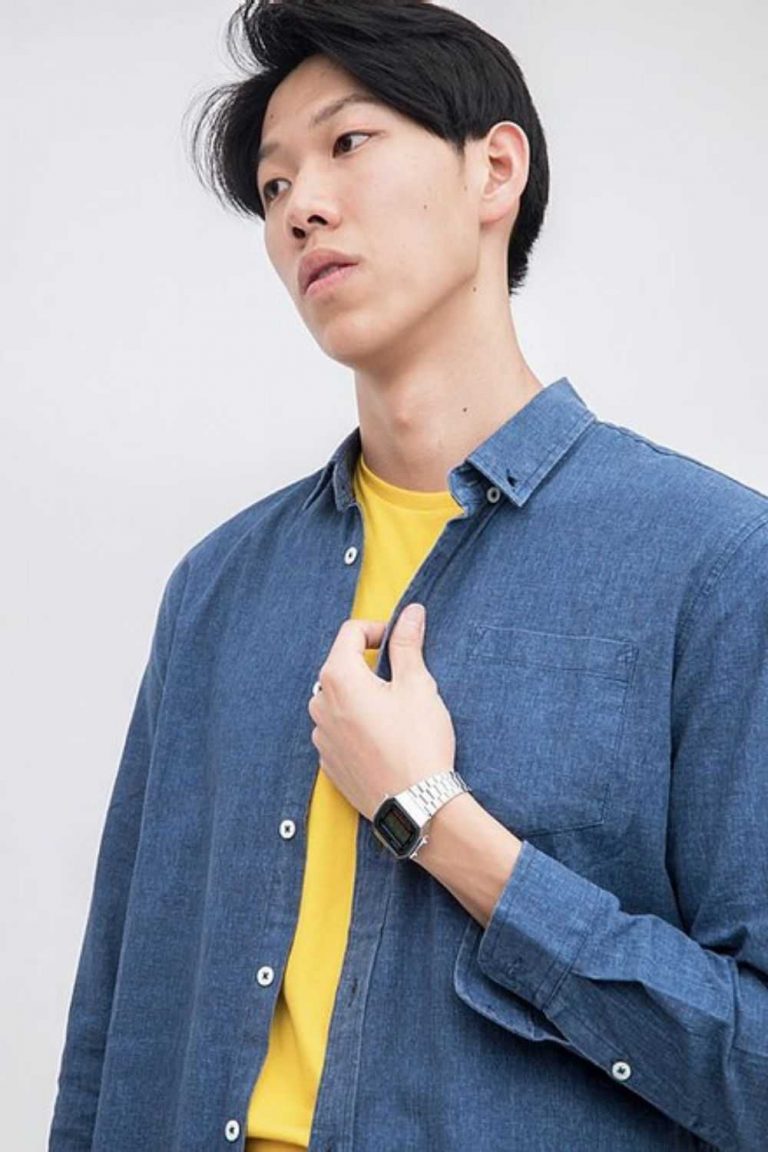 About Cosmos Studio
Let's break down Cosmos Studio into the acronym that it is: Creation Of Styles Made Of Sustainable practices.
The Hong Kong-based fashion brand uses conscious design combined with an eco-minimalist approach to make clothes that are sustainable, ethical, and cruelty free.
Cosmos Studio's classic and simple offering of gender neutral tees and tops gets two thumbs up from us.
Cosmos Studio's Ethical and Sustainability Practices
Materials:
Cosmos Studio works with programs like the Better Cotton Initiative to ensure that their cotton is better for Earth and the farmers who grow it, too.
If they're not using sustainably-grown cotton, they're using materials like recycled polyester (from plastic bottles) or bamboo viscose.
We know, we know, bamboo viscose admittedly isn't the most eco-friendly material because of the toxic chemicals required to make it.
BUT with Cosmos Studio's ability to produce zero wastewater during production (see below), we know there is at least some degree of closed loop manufacturing making it better than other types of bamboo viscose.
Some of it is also regenerated bamboo viscose.
Their bottle tee, for instance, is made of 9 plastic bottles and 50g of regenerated bamboo viscose fabric (and colored with eco friendly Green Spun™ technology, of course).
Supply chain & labor practices:
With a factory based in Shandong, China, Cosmos knows it's important they keep a close eye on labor standards, which is why this factory is regularly monitored by BSCI.
All cotton is sourced via Better Cotton Initiative channels and their supply chain is entirely cruelty-free.
Green business practices:
If you're in the know about the faults of fashion, you'll know that it's one of the thirstiest and dirtiest industries. Cosmos Studio set out to change that—their production requires very little water and produces zero wastewater in the process.
Inclusivity:
With Cosmos Studio's tees, shirts, and caps, you won't see any gender differentiations when shopping. What you will see is that everything comes in unisex sizes and has been designed to be worn by everyone in sizes XS-L. Simple.
Available: Cosmos Studio
---
7. PAUSE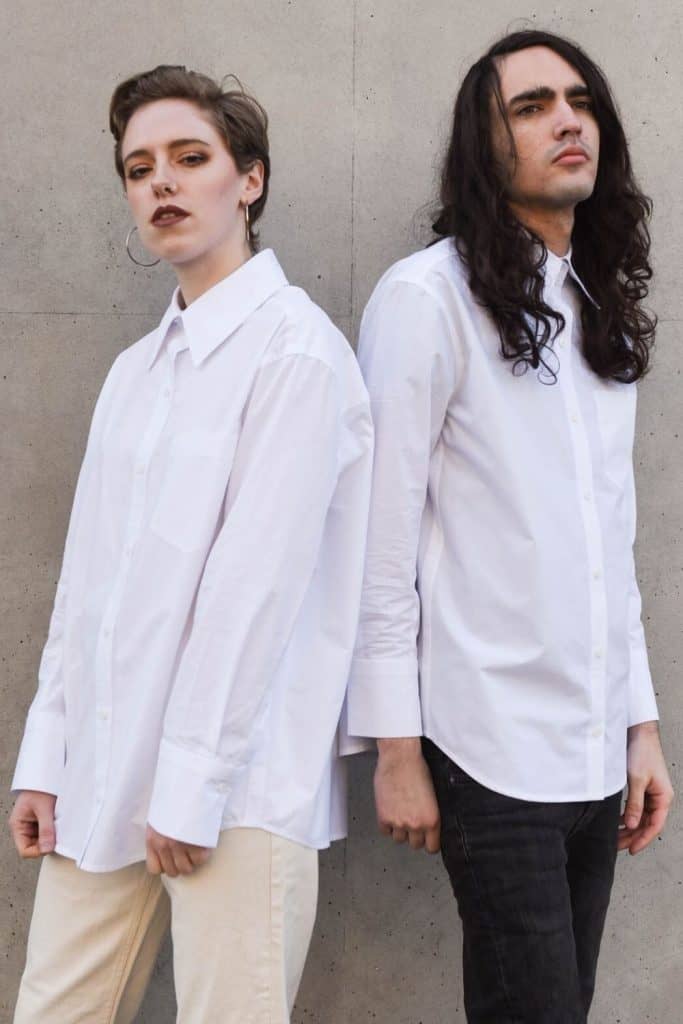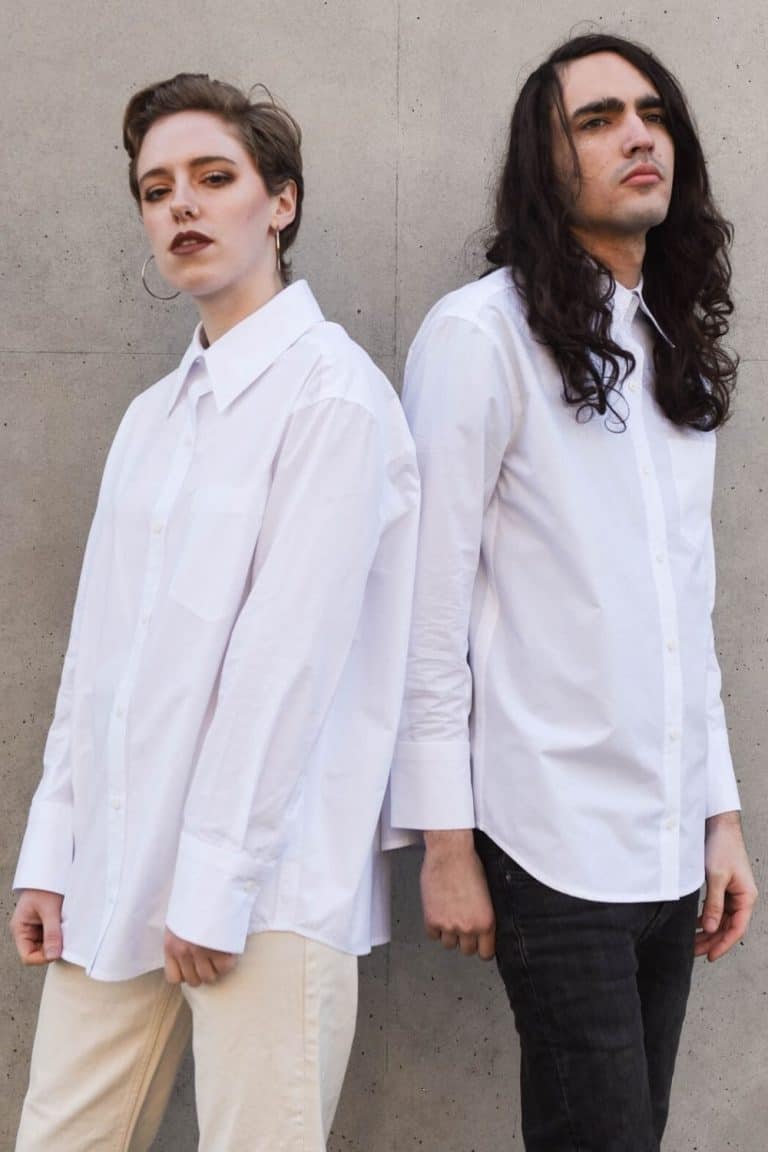 About Pause
"Fashion shirts. Ethically sourced." That's Pause's ethos and we'd say they're doing a pretty good job at it.
The NY-based brand was founded in 2017 by industry veterans who wanted everyone to pause and think about our relationship with clothes.
Recognizing that the fashion industry is one of the most pollutive, Pause creates environmentally responsible apparel while merging unique architectural design influences.
After a quick scroll through their online shop you'll come to a few conclusions: 1) it's not that big (less is more when it comes to sustainable fashion), and 2) you'll see the word genderless pop up a lot.
Pause's Ethical and Sustainability Practices
Materials:
Pause tries to keep it as sustainable and ethical as possible by choosing the best materials for their shirts.
100% Oeko-Tex 100 cotton is commonly found alongside materials like 100% solvent-free vegan leather (full disclaimer: we're not yet sure what this is made with—check out our recent article exploring the not-so-earth-friendly vegan leather materials).
Supply chain & labor practices:
Everything from Pause is made in NYC, so we know American labor laws are enforced.
Green business practices:
Aside from minimizing shipping emissions by their localized supply chain, they make their small collection in batches to minimize consumption and overproduction.
Inclusivity:
This gender neutral fashion brand recognizes that gender is fluid and fashion should encompass everyone. This is why, in addition to their genderless button-up shirts, they also regularly partner with brands like A.N Other (gender neutral fragrance) on their online pop-up marketplace.
Their sizes, however, could be a little broader, as they only range from XS-L currently.
Available: Pause
---
8. VINCE / VINCE UNFOLD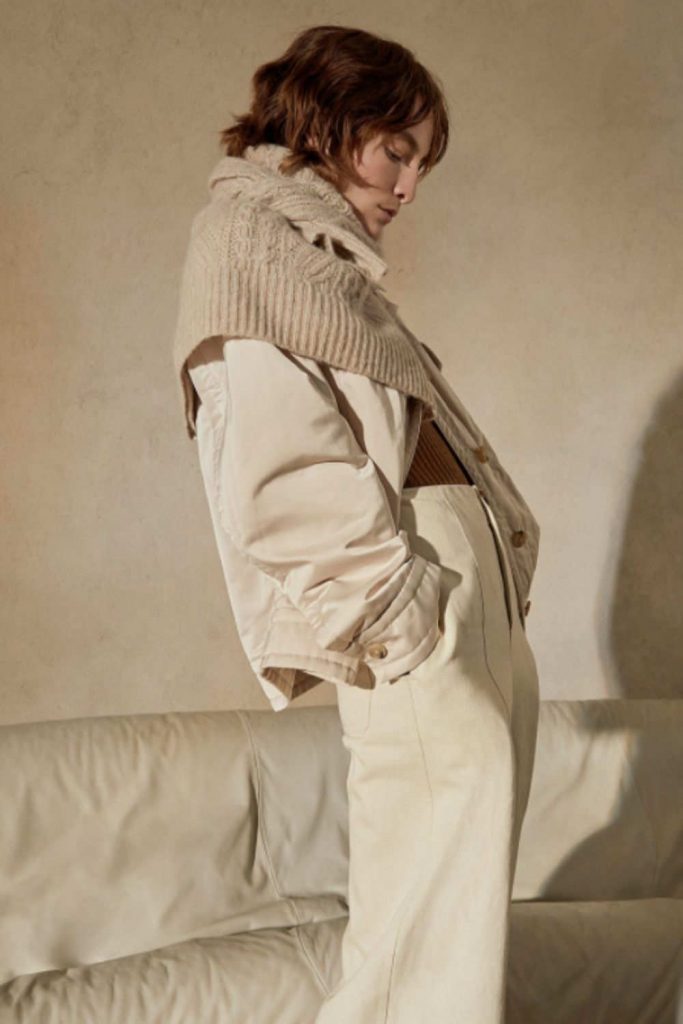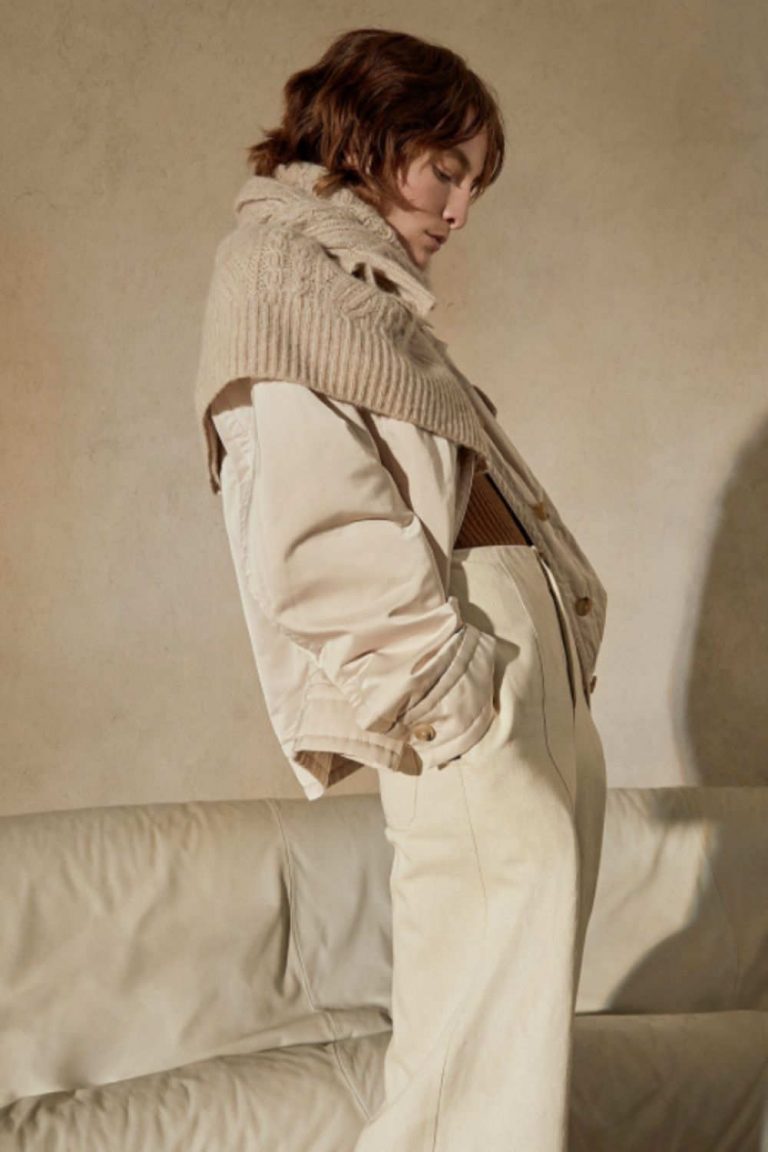 About Vince / Vince Unfold
Does Vince Unfold sound familiar?
They should, if you've perused through our list of the best sustainable clothing rental brands or our favorite ethical wedding dresses—and they happen to have gender neutral dressy clothing that's elevated and understated.
The Vince Unfold brand is an offshoot of their parent main Vince brand, which also provides a line of luxury fashion (for sale) for those who choose to dress in a non-gender specific way.
Hailing from Los Angeles, Vince combines the warm and relaxed looks inspired by its California origins with the effortless style found in pop fashion.
Vince / Vince Unfold's Ethical and Sustainability Practices
Materials:
A downside to Vince is that their materials are not what we consider to be eco friendly. Rather than using things like organic cotton and lyocell or modal, they use a lot of regular cotton, silk, rayon, wool, and cashmere.
On the plus side, there aren't many virgin synthetics in their lineup.
Still, we much prefer Vince Unfold because even though the materials aren't eco friendly, renting is far more sustainable. It's making use of clothing that already exists.
Supply chain & labor practices:
Parent company Vince Holding Corp adheres to the California Supply Chain Act requiring all entities to sign their code of conduct regarding safe working environments, protection from harassment and abuse, and fair wages. They have multiple protections in place to eradicate human slavery.
Vince Unfold is even better because no supply chain is needed. The garments already exist to be worn time and time again.
Green business practices:
As a direct challenge to fast fashion, Vince Unfold encourages fashionistas to think outside of the buy-wear-dispose clothing model while still allowing them to enjoy a new wardrobe every month.
With their subscription, you can consume more of what you love (some of the best gender neutral looks out there) and do so without consuming.
Inclusivity:
You won't see any "men's" or "women's" descriptors in Vince Unfold's line of gender-fluid blouses, jackets, sweaters, slacks, and suit sets. If you want to look fashionable, but do so in a flexible and affordable way, renting from Vince Unfold should be on your fashion to-dos.
Alternatively, if you're looking to buy, Vince itself does split its items into "men" and "women" but still, both collections are filled with drapey, figure-minimizing styles that could easily be considered non-binary. Everything is available from XXL-XL.
Available: Vince (buy) | Vince Unfold (rent)
---
HOW WE FOUND THE BEST SUSTAINABLE GENDER NEUTRAL CLOTHING BRANDS
If you've been following our foray into fashion—from ethical jewelry brands to sustainable slippers to everything in-between, you'll know that all these fashion articles are informed by our cornerstone sustainable and ethical fashion guide—think of it as our go-to outfit.
So, what does this mean for the gender neutral clothing stores we deemed "ethical" and "sustainable?"
Materials:
Materials matter most when it comes to sustainable fashion. For these brands, materials right out of nature are best (here's looking at you organic cotton, hemp, and Tencel), But aside from natural fabrics, our next picks are synthetics that have been creatively-repurposed/recycled to reduce textile or other plastic waste. .
Supply chain and labor practices:
Transparency is always our go-to hint that a brand knows what they're doing for people and the planet. Whether they're able to trace individual products back to certain factories and suppliers or they work with auditing bodies to ensure that their production is as fair and safe as possible.
We only choose brands who genuinely care about their employees and go to great lengths to eliminate human slavery, abuse, unsafe work conditions, and unfair wages in the making of their products. After all, the best clothing that's non-binary is also non-exploitative.
Green business practices:
One of the key aspects of sustainability is longevity, and you probably noticed that there are a few brands here who agree with that sentiment. If a product can last longer, it's almost automatically better for the earth! We're a fan of any brand who can challenge fast fashion.
That said, just because these brands are pumping out new gender neutral garments, doesn't mean that you need to constantly update your wardrobe! Wearing what you already have (or renting from brands like Vince Unfold) is our #1 tip for dressing sustainably.
If you're ready for some new duds, make sure you responsibly donate / recycle your old clothes!
Inclusivity:
Usually we look at inclusivity from a size and diversity lens. For this article, however, inclusion took on a new level of meaning and importance.
Community & charitable giving:
Brands that give back to the community or to larger do-good organizations are truly the trim on the gender neutral tunic. Not all brands are big enough to afford charitable actions, but we really appreciate those that can and do.
---
FINAL THOUGHTS ON SUSTAINABLE GENDER NEUTRAL FASHION
Sustainable and ethical supply chains are crucial, but wearing fluid fashion that suits everyone, just looks and feels even better.
These 8 brands are only just the beginning of a gender neutral fashion takeover. We'll continue to revisit this topic as no doubt this list will only grow.
And we want you to be a part of this journey, so please let us know in the comments if there are any sustainable gender neutral clothing brands that you think should make the cut.
---