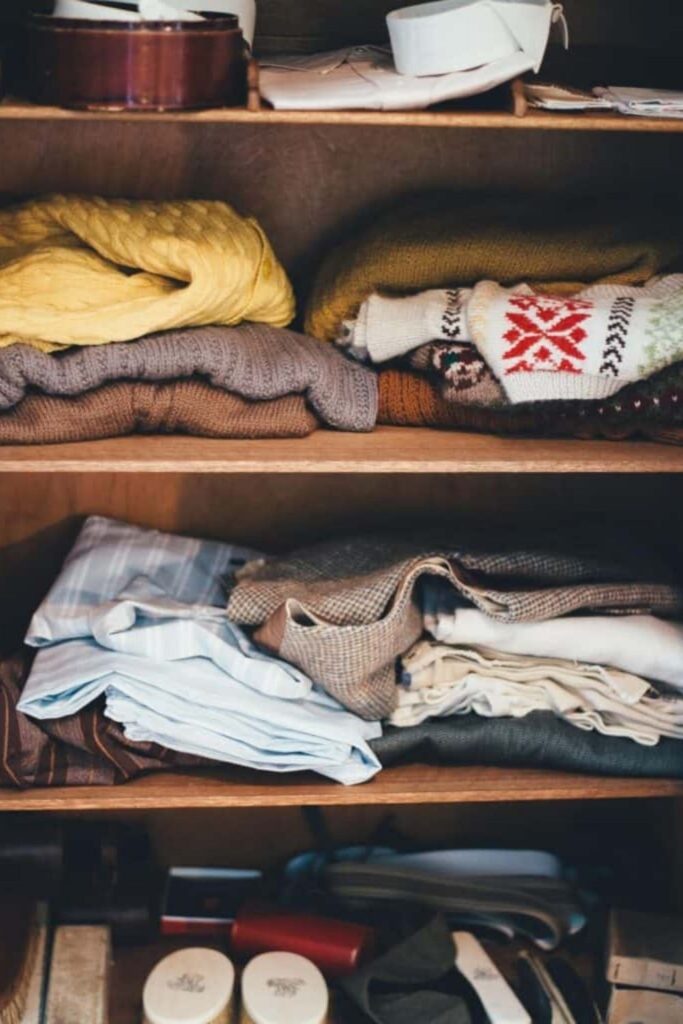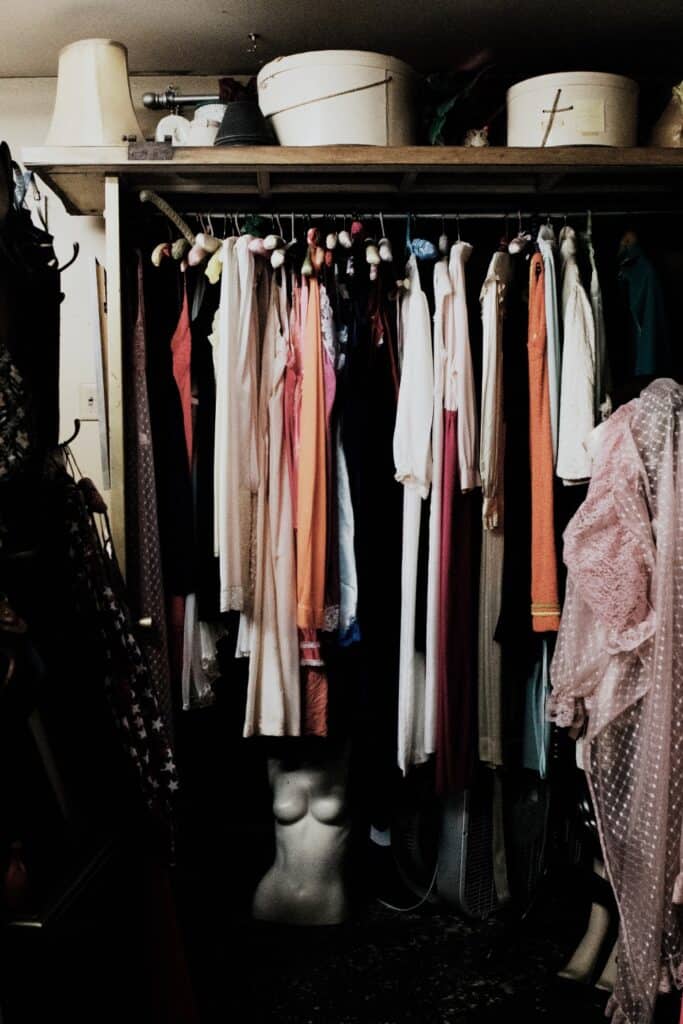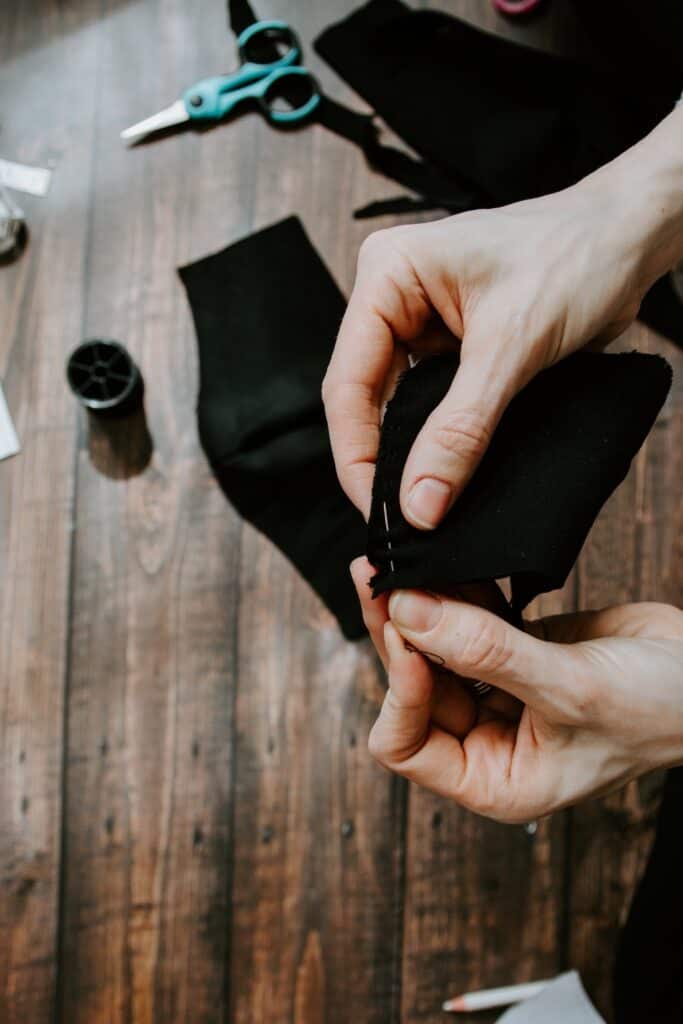 What To Do With Old Clothes? 9 Eco-Disposal Tips for a Worn-Out Wardrobe
In need of a closet purge? Tired of staring at a worn-out wardrobe? Or worse, wearing it?
Old clothes can be great but no one likes getting their toe caught in that holey pair of jeans EVERY time you put them on.
When we follow fast fashion, we end up with a wardrobe that's continuously evolving.
Even if we don't consciously do it, many of us wear the products of 50 to 100 "microseasons". Even our best intentions of "I'll wear that all the time" change and we're faced with the question of what to do with old clothes.
Then there's holes and stains to tend with.
Unlike the generations before us, very few of us have the wherewithal to repair or replace missing pieces—which is made all the more difficult when replacing a garment is sometimes cheaper than repairing it!
For these reasons and more, most of us only wear 20% of the clothes we own.
What to do with the other 80% when we eventually muster the courage to admit we're never going to wear it? Unfortunately, a lot of it ends up in the landfill, which is problematic for a lot of reasons.
Instead of trashing last year's tasteless sale rack buys, it's time we learn how to sustainably cycle them.
Slow fashion doesn't just mean buying consciously… it means getting rid of things consciously, too.
1. DONATE THOSE DUDS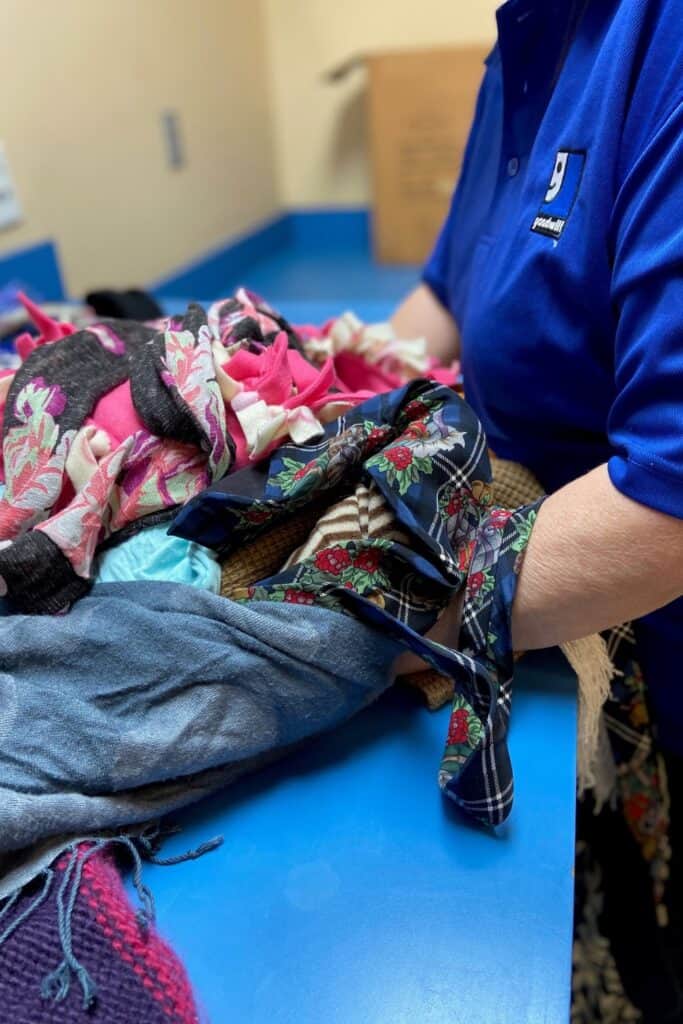 Cleaning our closets and supporting our local community go hand-in-hand!
Donating clothes is the most obvious way to get rid of old clothes. While clothing donation is generally the go-to option (at least for the mere 28% of people that even do that), it's not necessarily the best one.
You may feel like a million bucks after you drop off a bag of old clothes to your local thrift store, but the journey doesn't end there, unfortunately.
Just because you donated it, doesn't mean it will actually sell and see a second life. Up to 90% of clothing donations to Salvation Army, Goodwill, and other charities end up being sent to a textile recycler or developing country abroad.
While recycling 100 million pounds of clothes into insulation, yarn, or carpet padding results in a reduction in greenhouse-gas emissions equivalent to running 38 million passenger cars (!), the same positive impact can't be said for all unsold donated clothes.
The rest are shipped to developing countries around the globe.
Several countries have banned imported clothing as it's negatively impacted the local textile sector—particularly in countries in Sub-Saharan Africa. In countries like Uganda, second-hand garments now make up more than 80% of all clothing purchases. In other countries, like Ghana and Nigeria, the domestic textile industry has all but disappeared.
That doesn't necessarily mean donating clothing is bad. It can be very good in fact, but it's certainly not a one-size-fits-all solution to unwanted clothing. As with anything, we need to be smart about what (and where) we donate.
Here are some tips for being a top-notch donator:
Donate/sell your clothes to charities that are off-the-beaten path (AKA charity consignment stores that will only take pieces mostly guaranteed to sell).
Make sure your donated clothes are clean and mildew-free. Just one mildew-y garment can result in the whole bag being thrown away immediately.
Consider dropping off clothes at a local homeless shelter (especially seasonal items like winter coats and boots). Local schools or theaters are a good option too (your old clothes could become costumes). This way, the clothes aren't resold but distributed to people who genuinely need them.
Keep the cycle going by buying secondhand goods. While only 28% of people donate their clothes, even less buy secondhand (7%). Create a demand for recycled clothes.
Donating is also the best answer for those wondering what to do with old maternity clothes, wedding dresses, high school sports uniforms, and other specialty garments. But instead of thoughtlessly dropping at the thrift store, seek out the people who need that specific item.
For ethical and organic maternity clothes, check local women's shelters, and for anything you have from high school, check with the school itself to see if they know of any economically challenged students who could use it.
---
2. SELL CLOTHES ONLINE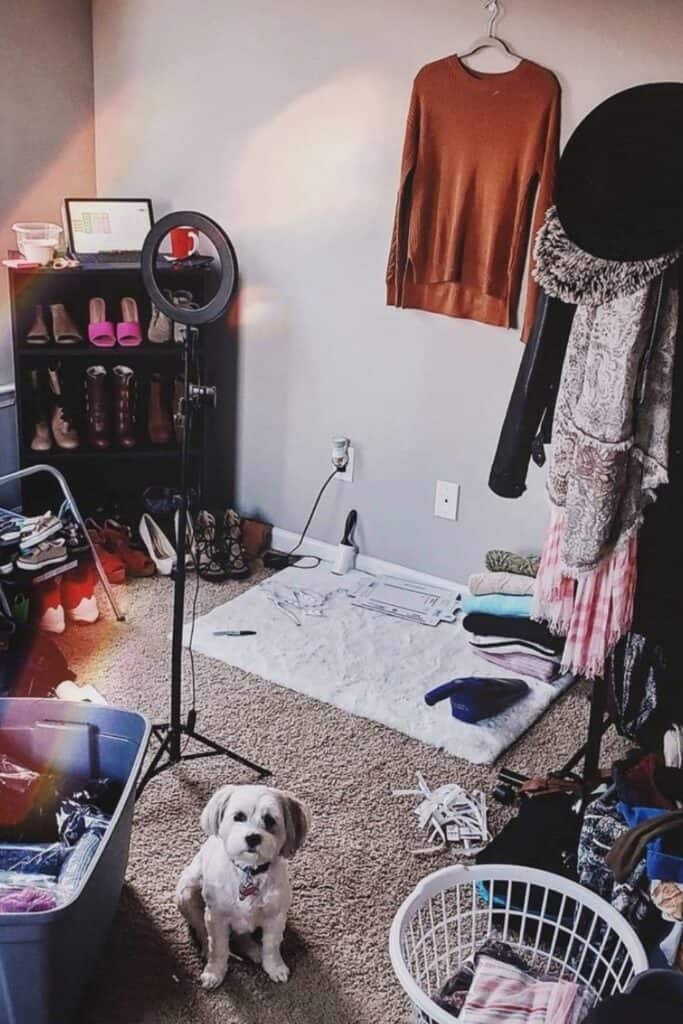 Interested in turning a closet purge into some extra $$$?
Selling clothes on one of the platforms below has never been easier!
Many of our favorite online thrift stores double as a personal platform to sell used clothes online.
Here are a few options:
Selling your unwanted clothes is a great option not only because you get to make a little pocket-money, but because (unlike donating) you know your stuff is getting a second life.
The only downside to this is that it still leaves us with all those chintzy fast fashion binge-buys. Fast fashion garments aren't worth much to begin with so their resale value is practically non-existent.
But all is not lost! Even the cheapest Forever 21 tees may yet have their use….
---
3. CREATIVELY REPURPOSE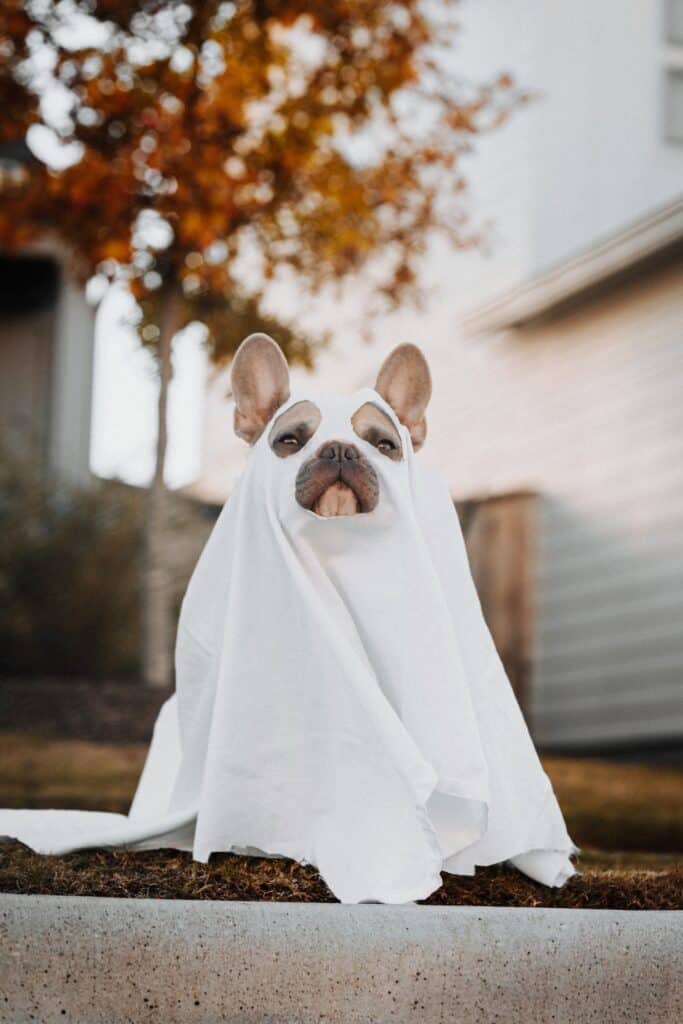 If you're wondering what to do with old clothes that cannot be donated or resold, activate the right hemisphere of your brain and get crafty.
The options are literally endless, but here are a few quick and easy ways to repurpose clothes:
Keep the winter draft out and save energy by using old clothes to make a DIY draft stopper.
Or transform t-shirts into a blanket that will keep you warm (both literally and figuratively) with those embedded memories.
Make your own reusable paper towels by cutting old clothes into rags.
Durable denim becomes a cheap dog toy.
Socks (especially the extra-thick knee-highs) make for a good coffee cozie (which you can pair with an upcycled glass jar too). Here's a whole lot more ideas on what to do with old socks.
Chop old clothes into rags and double your sustainability efforts by also trying to phase out single-use paper towels.
And for creative ideas on what to do with old underwear and bras check out our article to support those undergarments who supported you.
---
4. UP YOUR FASHION UPCYCLING GAME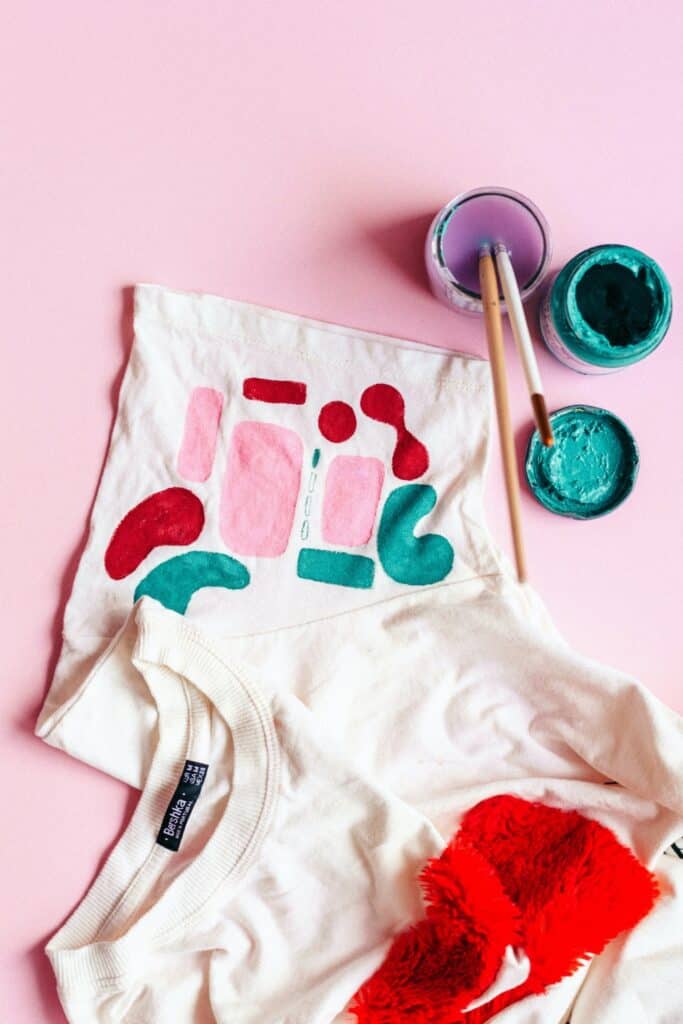 Not only can you upcycle clothing into household items and decor; you can upcycle them into new(ish) clothing!
Sure, upcycling some of your old garments might take up a few afternoons of your time, but when you think about the resources and labor that went into making them, there's no better motivation to put some new life in your old outfits.
Here's what to do with old clothes DIY style:
Use interesting cuts or ties to transform your t-shirt into a new t-shirt/tank top.
T-shirts can also be transformed into decorative pillowcases and shams (this works especially well for old button-downs).
Turn torn jeans into cutoff jean shorts. Or if they have a hole in the butt, use them to patch holes in your other jeans.
Take really worn garments and use their scraps to spice up other boring pieces you don't wear much. Add some corduroy elbow patches to a sweater or jacket or inlay brightly colored inserts into basic tops.
For further inspo, check out some brands that have turned upcycled fashion into a sustainable business.
---
5. MEND AND REPAIR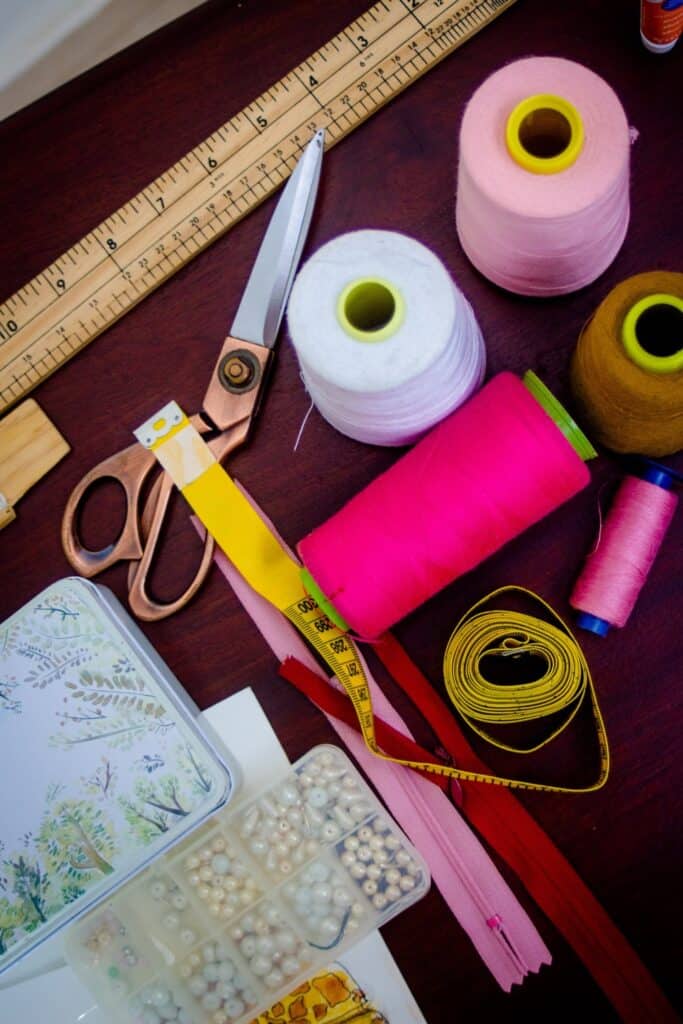 As Aldous Huxley wrote in Brave New World, "Ending is better than mending. The more stitches, the less riches."
The wealthier we become as a society, the more we replace than repair. Especially when the suspiciously low prices of fast fashion do nothing to discourage that behaviour.
And let's be honest, the majority of us don't have the necessary skills required to stitch up a tear, darn a sock, replace a missing button, or fix a broken zipper.
But, contrary to common belief, learning these skills doesn't require a lot of time, a sewing machine, or fancy tools. With just a needle of thread (and several minutes watching YouTube videos), we can have that torn knee hole patched in no time!
If you're wondering what to do with torn clothes, first fight the urge to simply replace a hole-y long-sleeved shirt with a new one that costs $10.
Instead, make mending a semi-regular activity in your life. Get a group of friends together and have a yarn (aka chat), share needles and thread, and make some repairs.
Even if you only end up donating the fixed garment anyway, there's nothing like learning valuable skills that may help save future garments.
---
6. USE A BRAND'S RETURN AND RECYCLE POLICY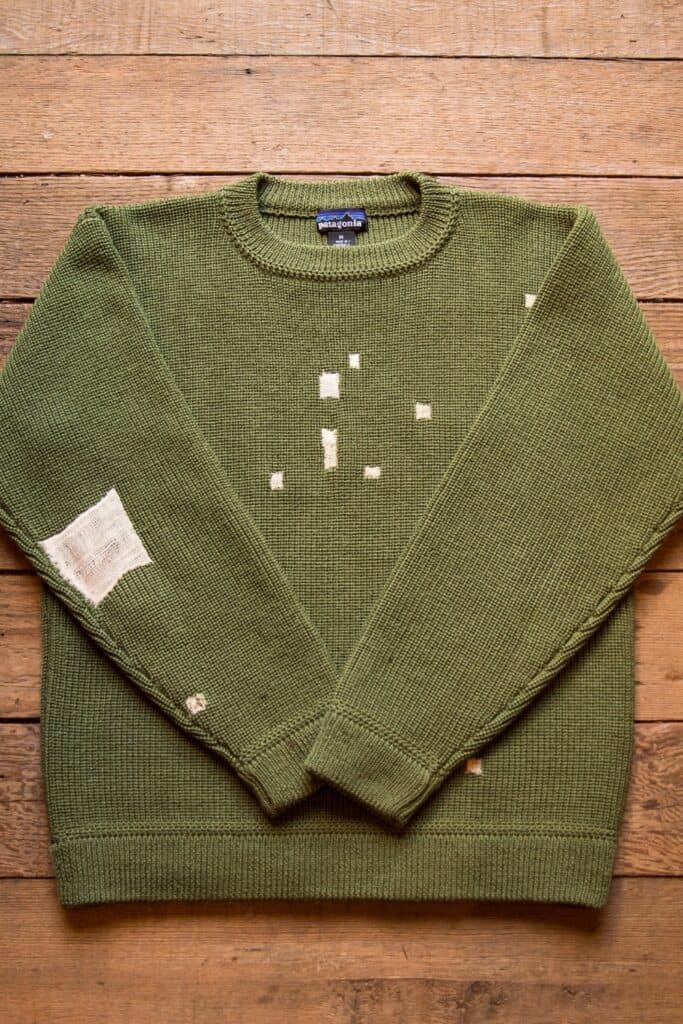 Some of our favorite sustainable and ethical fashion brands have amazing programs that allow you to return gently-used goods to be properly recycled, resold, upcycled into new products, or donated to people in need.
Here are a few brands with a brilliant return and recycle policy:
Textile recycle doesn't just mean clothes.
It includes eco friendly bedding, sustainable towels, and other household soft goods. If you have old Coyuchi linens, send them back through their 2nd Home Take Back Program (plus you get 15% off your next order!).
---
7. CLOTHING SWAP DATES WITH FRIENDS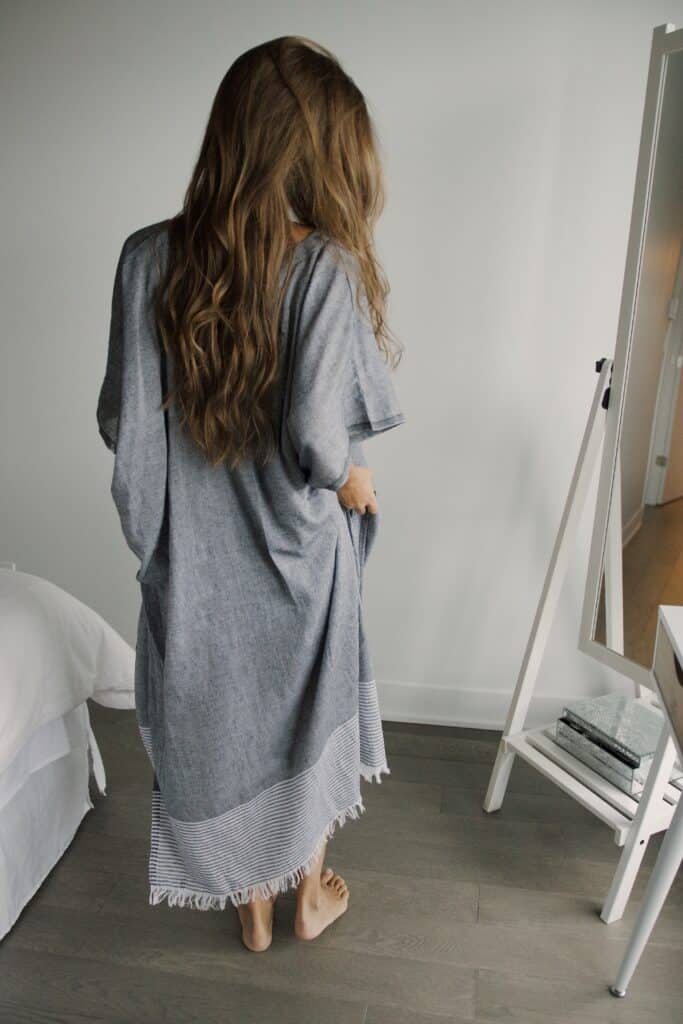 One human's trash is another human's treasure and a lot of fun can be had playing dress-up with a group of friends while proving this adage true.
Grab a few friends who might be interested (you know, the ones always gushing about your cute outfits), and encourage them to bring clothes, shoes, and accessories to swap. When everyone brings a variety of garments, no one will be left out and friends of all sizes should be able to find something they want to take home.
Put on some upbeat music, share some drinks and snacks (wine and wardrobe redesign, anyone?), and spend an evening trying on clothes from the comfort of home.
If there are garments nobody wants, brainstorm clever ways you can upcycle them or plan a follow-up group trip to a thrift store or local homeless shelter to donate.
---
8. COMPOST NATURAL FABRICS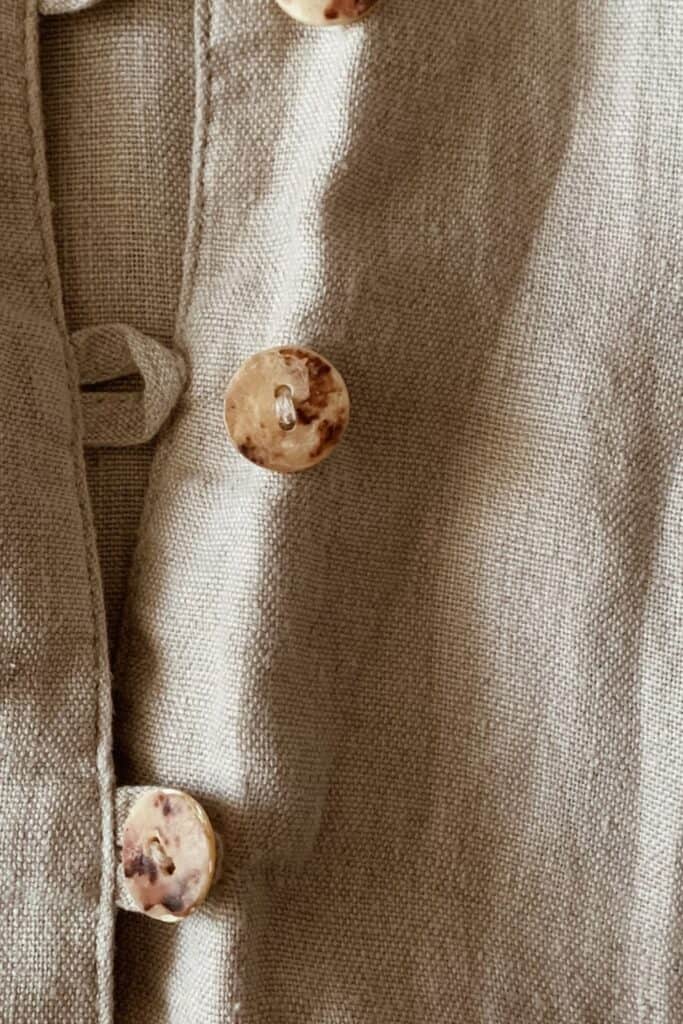 Buying clothes made out of sustainable fabrics is great, but buying clothes made from natural, biodegradable fabrics is even better. And not just because they don't rely on the petrochemical industry either.
Clothes purely made from natural fabrics like organic cotton, silk, kapok, alpaca, wool, hemp fabric, bamboo fabric (some, depending on how it's processed), linen, and ethical cashmere can be composted to provide resources back to the earth.
Who knew worn out PJ pants could be such good worm food?!
Before you get started, recognize that natural fabrics are often blended with synthetics (like nylon, elastane, polyester, etc.), which will diminish their ability to compost (and may actually result in contamination of your pile or bin).
If the garment includes just a small percentage of synthetic material, you might still want to compost it, but be careful. Don't feed it to worms and know you may have to deal with residual pieces later. When in doubt, keep synthetics out.
Here are some more tips to keep in mind:
Remove pieces that won't biodegrade. Cut out zippers, remove buttons, cut off plastic tags and labels, and remove anything that's been printed on the garment (as it's likely PVC or some other plastic).
Rip/cut into shreds. The smaller the pieces, the quicker they'll break down.
Consider your clothes "brown material." Add them to the compost heap with lots of "green material" (i.e. food scraps, grass cuttings, etc.) to keep things balanced.
Don't add too much. Your compost shouldn't be more than 25% of old clothes.
Turn up the heat! A hot compost will speed up the process. Adding worms can help, too!
So what about the whopping 72% of clothes that contain synthetic fibers?
If you're wondering what to do with old plastic clothes and don't foresee your donated goods being sold, properly recycle them instead. If you're in the U.S., check out the Council for Textile Recycling or order a "Zero Waste Box" from Terracycle (Australia and the U.K. can participate too!).
---
9. GET CRAFTY WITH AN ART PROJECT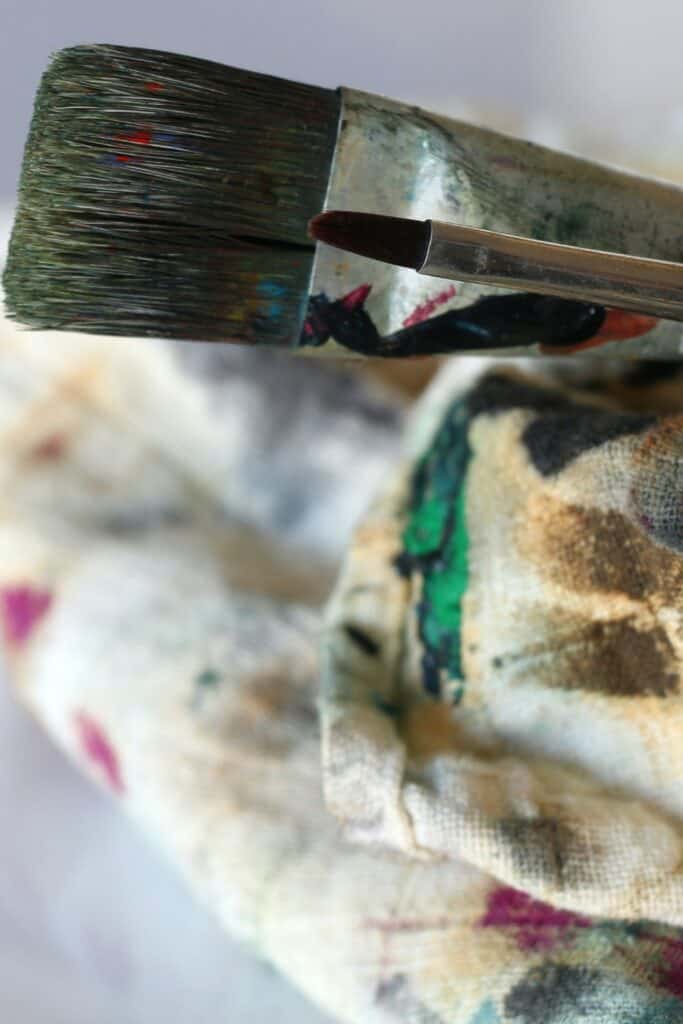 If you thought the fashion show was over, we're not quite done yet.
If you still have some leftover clothes, we have a few more tips for what to do with worn out clothes that cannot be donated, resold, or upcycled in a better way.
If you're looking for a fun and crafty way to spend an afternoon, try your hand at creating something artsy with your old clothes.
A garment may be too worn out to upcycle, but there's nothing stopping it from becoming something small and beautiful. The following are also good ways to use scraps leftover from your other upcycling endeavors.
---
WHY SUSTAINABLY DISPOSE OF OLD CLOTHES
As we mentioned above, most people wear a paltry-percentage of the clothes they own.
For the rest of our garments at back of our dresser drawers or on our closet floors, here's why simply throwing away clothes (or waiting until they magically disappear) is not the answer:
It's likely that most of us live in parts of the world where being naked year-round isn't an option. So, the best way for us to stay sustainably clothed is to embrace sustainable and ethical fashion.
---
FINAL THOUGHTS ON WHAT TO DO WITH OLD CLOTHES
There are so many options for repurposing old clothes.
There's no need to throw something out when it's so easy to transform it into something new. Decluttering our lives and giving garments a second life is great for our mental health, as well as that of our planet.
And just remember the process starts with buying fewer clothes.
We live in a world with an increasing demand for textiles, and while the fashion industry is starting to recognize the benefits of a circular economy, it's important we each take matters into our own hands as conscious consumers.
We know we barely scratched the repurposing-surface here. If you have any tried and tested tips (or are an upcycling guru), let us know.
---