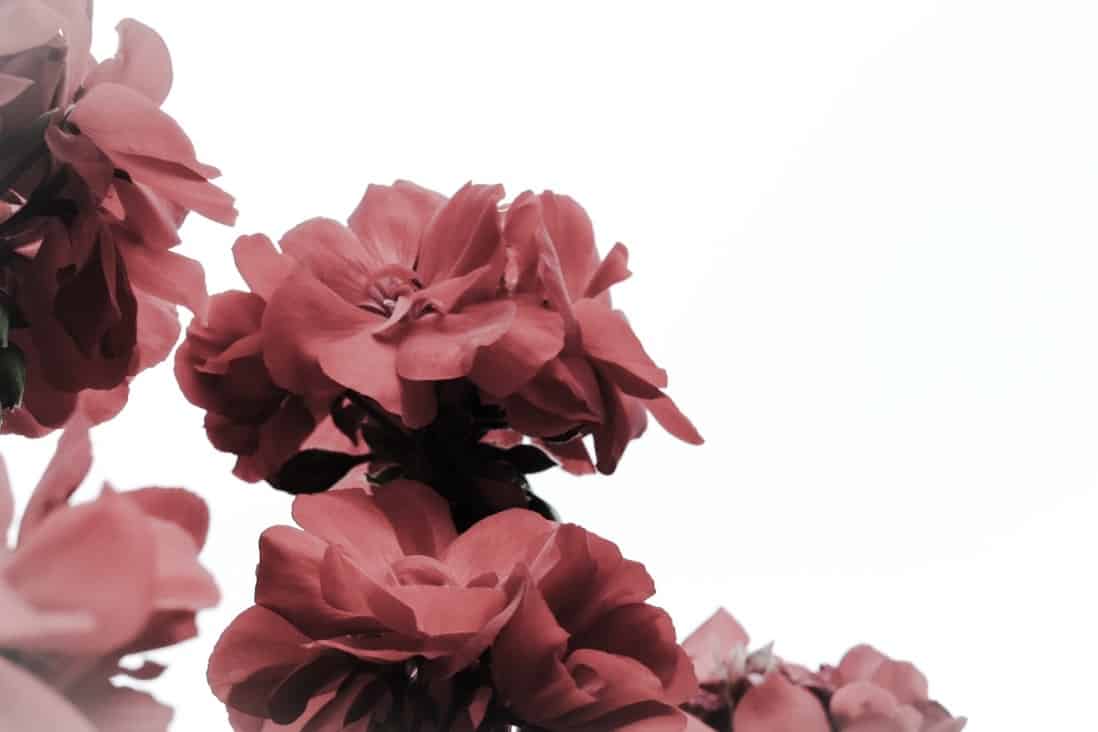 We think every gift should be an animal friendly gift! 
So, we thought it would be a great idea to put together some of the best vegan gift ideas we could find (in our opinion anyway!). Gifts that they would not only appreciate and be able to use (as opposed to a dust collecting ornament) but are also in the spirit of Sustainable Jungle. 
…and the result is a collation of our top picks based on our approach to sustainable beauty.
In short, we've looked for gifts that are:
have ethical ingredient sourcing policies and
use thoughtful packaging (which is at the very least recyclable)
FINDING CRUELTY FREE, VEGAN GIFT IDEAS
While we can't always get every box ticked, this list prioritizes ethical beauty gifts that are vegan friendly and cruelty free.  
We hope it's a helpful source of inspiration for all your gift shopping needs in the coming year, whether you're looking for a vegan Christmas, birthday or valentines gift or just something that says I.love.you.
Also, if you're into zero waste (like we are!), check out our latest article for ideas on zero waste gifts for greener giving!
Cruelty Free, Vegan Gifts Under $50
1. FRIENDLY SOAP GIFT SETS FOR WOMEN AND MEN
About Friendly Soap Vegan Gift Sets for Men and Women
We're huge fans of Friendly Soap (see why here),  We especially love their vegan and cruelty free shampoo bars but their "Ethical Women" gift box certainly doesn't disappoint either.
It contains four of their best soaps: Shea Butter Facial Cleansing Bar, Lavender Soap, Cocoa Facial Cleansing Bar and the Lemongrass & Hemp Soap.
Their "Ethical Men" Gift Box contains: Shampoo Bar – Lavender & Tea Tree, Peppermint & Poppyseed Soap, Shaving Bar and Tea Tree Soap.
All Friendly Soap's products are cruelty-free, palm oil free, vegan and 100% natural (free of parabens, sulphates, triclosan and phthalates). They're also made with only a handful of high quality ingredients.
About Friendly Soap
Friendly Soap is an award winning soap maker based in the UK. All their products are cruelty-free, 100% natural, vegan and palm oil free.
Their packaging is made of recycled materials and is also recyclable. Their products are made using the old school cold press method which ensures there are ZERO by-products
2. PLANT MAKEUP FRAGRANCE
*Note: All Plant Makeup's scents are 100% vegan however if you want to buy from their broader range, use their Vegan Guide here as a small selection of their products contains beeswax or honey.
About Plant Makeup Fragrances
Plant Makeup make the most delightful and unique set of "100% natural plant based botanical fragrances + handmade incense".
Pretty much everything in their 'scent' range would make the most wonderful gift. I love the look of the incense cones – I've never seen anything quite like them! There are also cute little aromatherapy scents, perfect for chucking in the handbag for that 'on-the-go' pick me up.
About Plant Makeup
Founded by the lovely Jes, who uses roses, flowers, roots and herbs (among other things) to create her unique range of natural skin care, zero waste makeup, and cruelty free, vegan perfume.
All Plant Makeup's products are vegan (with a few exceptions) and always cruelty-free, 100% natural and palm oil free. Most of their packaging can be reused or composted.
All their ingredients are "local or organic, non-GMO + sustainably sourced".
3. DEVITA DELUXE TRAVEL KIT
*Note: We are confirming policies directly with this brand 
About Devita Deluxe Vegan Gift Travel Kit
Devita offer a high quality range of cruelty-free and 100% vegan makeup and skincare products.
We thought their travel kit might make a great gift for someone about to head off on an adventure.
It includes their Aloe Vera Moisture Cleanser, Moroccan Rose Facial Toner, Cool Cucumber Facial Toner, Gentle Aloe Facial Scrub, Revitalizing Eye Lift Creme, Optimal Rejuvenation Serum,  Devita-C Vitamin C Serum, Solar Protective Moisturizer SPF 30 and Evening Rich Nutritional Moisturizer. That's a lot of ethical product!
About Devita
Devita are one of the fastest growing all-natural cosmeceutical skin care lines in the world.
It's easy to see that Devita are truly committed to the protection of animals and the environment. They're affiliated with PETA, Choose Cruelty Free, and carry the Leaping Bunny logo. All their products are 100% vegan and they're certified by Vegan.Org.
They have strong reduce, reuse and recycle policies in place. Most of their packaging comes from post-consumer recycled materials including glass bottles and they also use recyclable non-leaching tubes.
They've taken the "Truth in Labeling" Pledge. The Natural Ingredient Resource Center's strict criteria for labeling which prohibits them from using any synthetic fragrances, artificial colors, petrochemicals, parabens and pesticides. These guidelines mirror the USDA's requirements for organic food.
4. DR BRONNER'S RAINBOW SAMPLER PACK
*Note: Dr Bronner's have gone the extra mile to ensure their palm oil is truly ethically and sustainably harvested. Read more here.
About Dr. Bronners' Rainbow Cruelty Free, Vegan Sampler Pack
It's no secret that we're massive fans of Dr Bronner's cruelty-free, vegan and organic Pure Castile Liquid soap. We'd love to share our love for this super versatile product with our friends so this sampler pack is ideal.
The gift pack contains a range of Dr Bronner's best liquid soaps all of which are packaged in post consumer recycled and recyclable packaging.
About Dr. Bronner's
Dr Bronner's are one of the most sustainable brands around.
Their large range of skin and haircare products are organic, cruelty-free, vegan and contain palm oil that is genuinely sustainable and ethically sourced. Dr Bronner's is a B Corp company and they have an innovative approach to fair-trade. 
Their packaging is made of post consumer recycled materials and it's also recyclable. They also support a range of charities. You can read more about Dr Bronner's in our brand guide here.
5. MEOW MEOW TWEET MIGRATOR KIT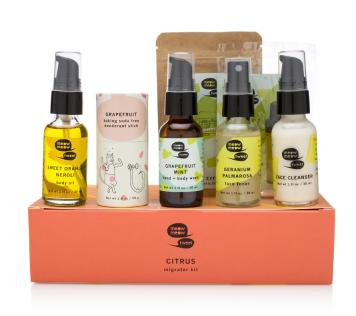 About Meow Meow Tweet Migrator Kit
Meow Meow Tweet has the cutest range of vegan, cruelty-free and organic skincare products.
Their beautiful Migrator Kit is ideal for anyone wanting to transition from traditional, chemical laden skincare regimes to organic, healthy products that are nourishing.
Meow Meow Tweet's Migrator Kit includes: Deodorant Stick, Body Oil, Hand + Body Wash, Face Cleanser, Geranium Palmarosa Face Toner, Juniper Carrot Seed Face Oil and Face Exfoliant. 
For the Deodorant, Body Oil and Hand + Body Wash, you can choose from Lavender and Citrus scents.
About Meow Meow Tweet
Meow Meow Tweet is a small batch skin care company offering a cute range of body care, facial care, soaps and deodorants.
All their products are 100% cruelty-free, organic / natural, vegan and palm oil free. They source all of their ingredients ethically including their cocoa butter, shea butter, sugar, coconut oil and coffee which are all from Fair Trade suppliers.
Their packaging is 100% recyclable and they support an impressive number of charities with ongoing monthly donations!
All in all, this brand is well deserving of a spot on our list of the best of the best zero waste beauty brands.
Cruelty Free, Vegan Gifts Between $50 and $100
6. BLOOMTOWN ECO-FRIENDLY LUXURY BATH SET
About Bloomtown Eco-Friendly Vegan Bath Set Gift Pack
One of the most complete gifts on this list comes from Bloomtown UK. They wrap the luxurious, hand crafted gift and include a complimentary personalized card.
The gift itself includes their Sweet Almond & Shea Sugar Scrub, Pink Himalayan Salt Soak, Moisturising Soap Bar and an Eco-Friendly soap dish. You can also choose from 5 delicious scents!
We've tried Boomtown's lavender scented products and absolutely love them! This particular gift pack is cruelty-free, vegan, palm oil free and organic / natural. Bloomtown's packaging is recyclable and their glass comes from recyclable stock.
About Bloomtown
Bloomtown is one of those brands we've been so excited to find.
Preyanka and Medwin created the brand after they experienced first hand, the devastation caused by the palm oil cultivation (you can read more about our thoughts on that here and here). They set out to create a truly palm oil-free and cruelty-free body & skincare company.
All their products (which includes vegan and cruelty free perfume) are 100% cruelty free, vegan and palm oil free. They're also free from sulphates, SLSs, parabens, phthalates, synthetic colours, detergents and wheat.
7. CONSCIOUS SKINCARE GIFT SETS
About Conscious Skincare Vegan Gift Sets
Conscious Skincare have a great cruelty-free and vegan gift sets available to suit just about everyone.
We especially like the look of the Japanese Bathing Ceremony Gift Set that includes an Organic Body Wash, Organic Body Polish, Organic Bath Soak, Organic Body Lotion, Organic Body Butter and the Organic Rosehip Oil.
You can also choose from three scents: Zesty Grapefruit, Lemon and Cedarwood – pretty special!
About Conscious Skincare
Conscious Skincare is a super impressive brand. 
Founded by the lovely Rebecca who so kindly took the time to write us a detailed breakdown of the brand's ethos. In summary, all their products are 100% cruelty free, 95% organic, palm oil free and vegan (except for one of their shampoos which contains honey).
They also have put a huge amount of thought and care into their packaging to ensure it's recyclable.
Their impressive product range is award winning and definitely worth checking out and sharing with your friends and family (eco-warriors or not).
8. COVER | FX ILLUMINATING PRIME & SET KIT
*Note: We are confirming policies directly with this brand 
About Cover | FX Illuminating Cruelty Free Prime & Set Kit
Cover | FX boasts a comprehensive range of highly effective cruelty-free and vegan makeup.
This Prime & Set Kit includes an Illuminating Primer, Custom Enhancer Drops – Moonlight and an Illuminating Setting Spray.
Ideal for makeup lovers wanting to try out new cruelty-free brands.
About Cover | FX
Cover | FX are a progressive brand when it comes to sustainability.
They're PETA certified. They state that they do not test their products or ingredients on animals at any stage during production. Nor do they buy ingredients that have been tested on animals. They also do not sell any product in China.
With the exception of MintTint FX & MintGlaze FX they are a completely vegan brand.
9. INIKA LIMITED EDITION HANDBAG ESSENTIALS
*Note: We are confirming policies directly with this brand 
About INIKA Limited Edition Handbag Essentials
The perfect finish for any look, this vegan and cruelty-free beauty gift pack includes INIKA's Certified Organic Lip Serum, made with 91% organic ingredients (including jojoba and rosehip oils) and the Certified Organic Cream Illuminisor which brightens and illuminates.
This dynamic duo comes in a Special Edition Party Clutch.
We know a few friends who would love this!
About INIKA
Born in Sydney Australia 2006, INIKA have become a world renowned brand for some of the most eco-conscious makeup.
They're certified by Choose Cruelty Free, the Vegan Society, AFIC (halal) and Truth in Beauty, which guarantees INIKA's products are completely safe, ethical and environmentally conscious.
Much of the packaging used by INIKA comes from post-consumer recycled materials and all of their products are recyclable.
10. PHB ETHICAL BEAUTY HYDRATING SKIN CARE GIFT SET
About PHB Ethical Beauty Hydrating Vegan Skin Care Gift Set
PHB have a range of great cruelty-free and vegan gift sets on offer.
We're suckers for organic skincare. So their Hydrating Skin Care Gift Set caught our eye as a great option for anyone who loves the environment and wants to make a switch to ethical beauty.
This gift set includes PHB's Fragrance Free Cleanser, Toner, Moisturizer and Serum and is designed to improve texture, tone and hydration.
About PHB Ethical Beauty 
PHB are one of our favourite brands.
They have a comprehensive range of entirely hand-made, natural / organic and palm oil free products, from skincare, to body and haircare. They're also accredited by PETA and the Vegan Society UK.
They also donate 20% of their net profits to various charities (OneLove Foundation, Vision for Zambia, Sense).
PHB packaging is recyclable and they ethically source their ingredients.
They've also been featured in The Good Shopping Guide and The Good Scrub Guide, independent publications that rank and promote only the most ethically and environmentally conscious brands.
Cruelty Free, Vegan Gifts Over $100
11. BLACK CHICKEN REMEDIES LOVE YOUR FACE PACK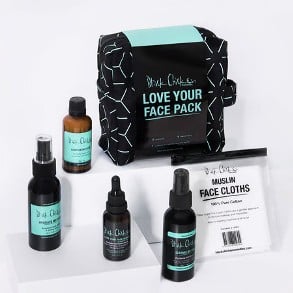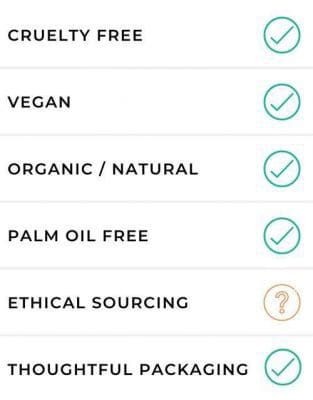 About Black Chicken Remedies Love Your Face Vegan Skin Pack
This face care kit contains key toxin free skincare products including Black Chicken's 'Cleanse My Face' calming oil, 'Complexion Polish', 'Hydrate My Face' toning mist, 'Love Your Face' Serum and a pair of 100% cotton muslin cleansing cloths.
The pack is great value and perfect as an "all you need" kit for those switching to natural, organic skincare regimes.
All products included in this gift pack are cruelty free, vegan, palm oil free, organic / natural and come in recyclable packaging.
About Black Chicken Remedies
Black Chicken Remedies is yet another one of our favorite brands (we know, we have a LOT of favorite brands!).
All their products are 100% cruelty-free, palm oil free, organic & natural and with the exception of one product, vegan.
All Black Chicken Remedies' packaging is recyclable and every product is designed to "make a difference on a physical, mental and emotional level".
FINAL THOUGHTS ON VEGAN, CRUELTY FREE GIFTS
Nothing says "I care about you" more than a gift that also says, "I care about animals". 
Giving gifts feels great already; knowing nothing was harmed in the giving of your gift feels even better.
We hope this list has been helpful for all your vegan gift giving needs.  If you think we're missing some other great vegan gift ideas – do tell! We're always looking to update this list with some creative options. 
*This post contains affiliate links. This means we get a small commission on some of these products, at no extra cost to you. To learn more, click here*
Other articles you might like …