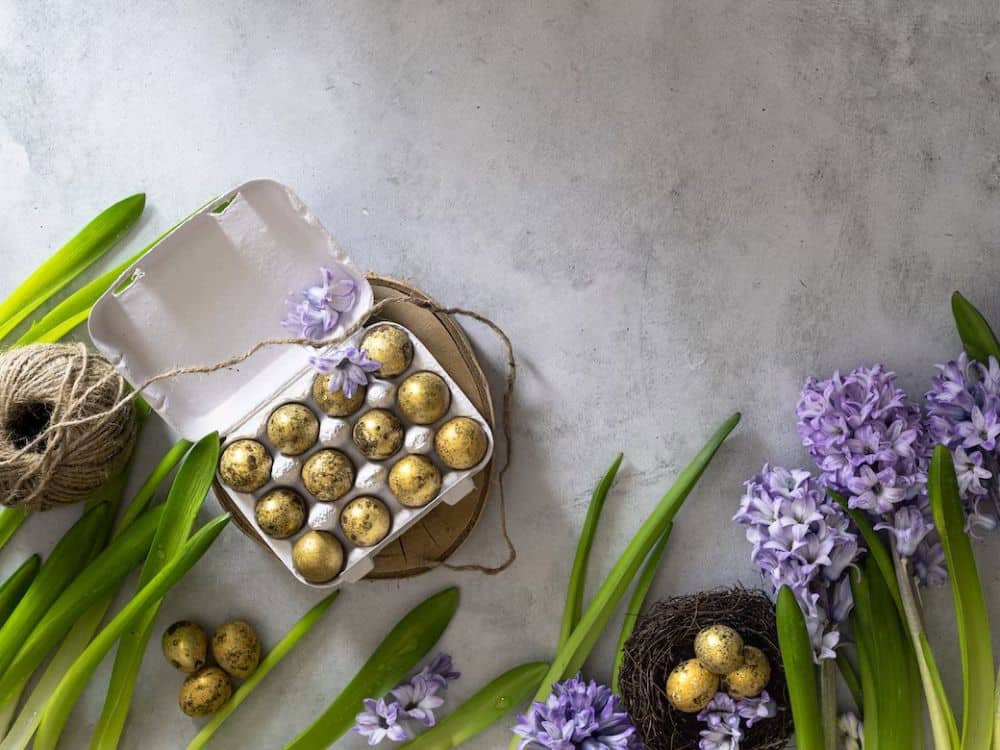 How to Have a Sustainable Easter: 13 Egg-cellent Eco-Friendly Tips
Springtime is traditionally a time for the regeneration of nature and rebirth.
Unfortunately, when it comes to our springtime celebrations, we've become rather wasteful, particularly during the Easter holiday.
April means shelves filled with plastic eggs, candy wrapped in both foil and plastic, and cheap baskets designed for one-time use.
We know Easter celebrations fill kids with excitement, so we're not suggesting you cancel your egg hunt or replace their chocolate bunnies with carrots.
But how do we celebrate Easter sustainably?
The following sustainable Easter crafts, activities, and ideas will ensure egg-citing and eco-friendly Easter celebrations everyone will love and look forward to next year.
Let's hop in!
1. Eco-Friendly Easter Eggs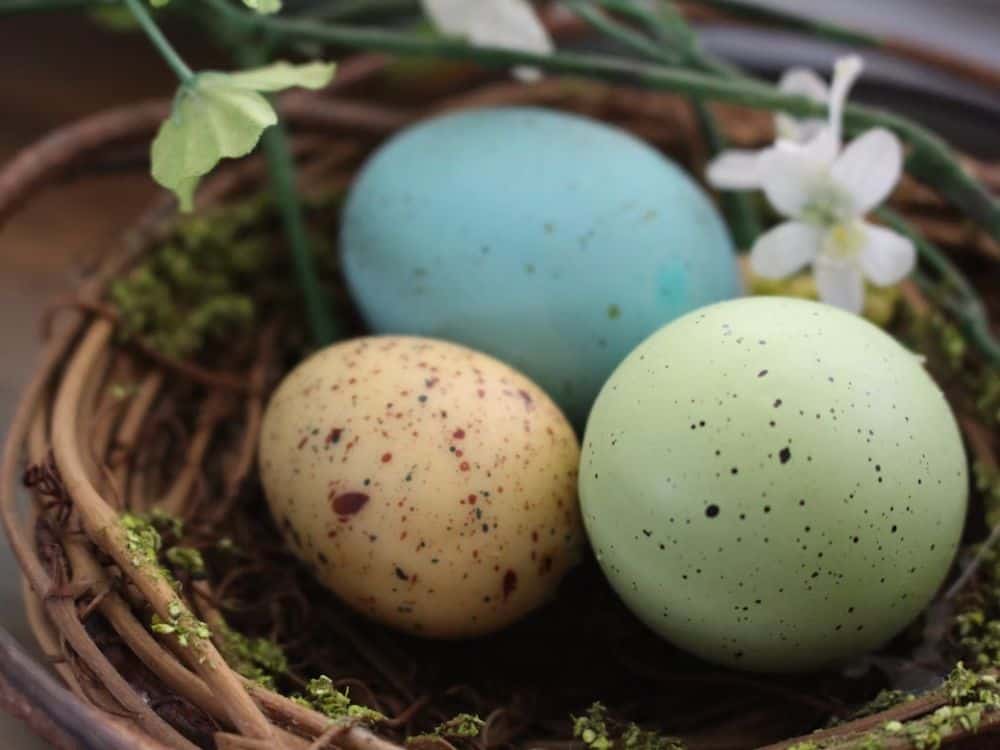 We produce more than 380 million tons of plastic waste a year. Included in the staggering figure are the ever-popular plastic Easter eggs.
A much better option for a sustainable Easter Egg Hunt is to use eco eggs®, which are 100% recycled and recyclable. They're also BPA-Free, non-toxic, made with natural dyes, and made in the USA under the strict B Corp certification label.
If you prefer to dye Easter eggs using old-fashioned chicken eggs, start by sourcing ethical and humane options.
It might be tempting to reach for the cheapest bulk option—especially given the price of eggs these days—but free-range eggs support more ethical chicken farming.
You can also support small businesses by shopping at your local farmer's market.
Rest assured, brown eggs dye just as well as white ones.
And just as we want sustainable dyes used on our clothing, we should use them on our eggs, too.
Store-bought dyes are generally laced with chemicals that pollute freshwater ecosystems and damage natural waterways. Instead, try natural dyes you can make from vegetables, spices, and fruits in your kitchen.
Boil a quart of water with two tablespoons of white vinegar. Simmer with the ingredients for 30 minutes. Cool and strain the dye and let it soak for 30 minutes.
Red cabbage in water will create a vibrant blue. Red onions create a jade green, grape juice an egg-cellent lavender, and paprika a pink-red.
Turmeric powder and beet juice dye Easter eggs those perfect bright pinks and yellows—just be sure to wear gloves because they'll also stain your skin!
---
2. Eco-Friendly Easter Basket Filler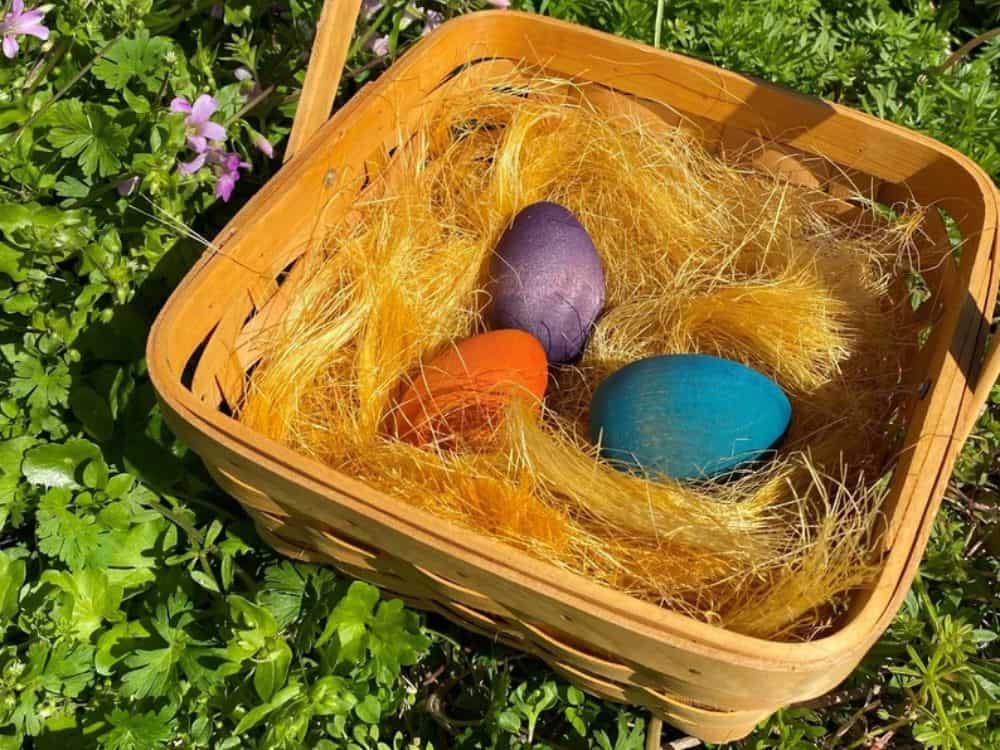 eco eggs® also makes an eco-friendly alternative for all that pre-made and expensive paper or plastic grass used for filling your Easter baskets.
It's called eco grass® and is made from 100% post-recycled and recyclable paper—though we recommend saving it for your sustainable Easter basket.
If you want to avoid the plastic grass bag that comes in, Decor Botanic offers eco-friendly Easter grass in a variety of colors made from reusable sisal fiber and packaged in paper bags.
Or go DIY and turn basket making into an eco-friendly craft for kids by busting the scissors to make paper grass or foraging for natural grass, flowers, leaves, and twigs together.
If you plan a few weeks ahead, you can use real living grass to fill your basket. Line the basket with newspaper and put a few inches of soil in it. Sprinkle some wheatgrass seeds on top. Keep the soil moist and when the seeds start to sprout, put them in the sun.
By the time Easter morning comes around, you should have a nice organic basket filled with fresh and real grass.
---
3. Repurposed Sustainable Easter Basket Ideas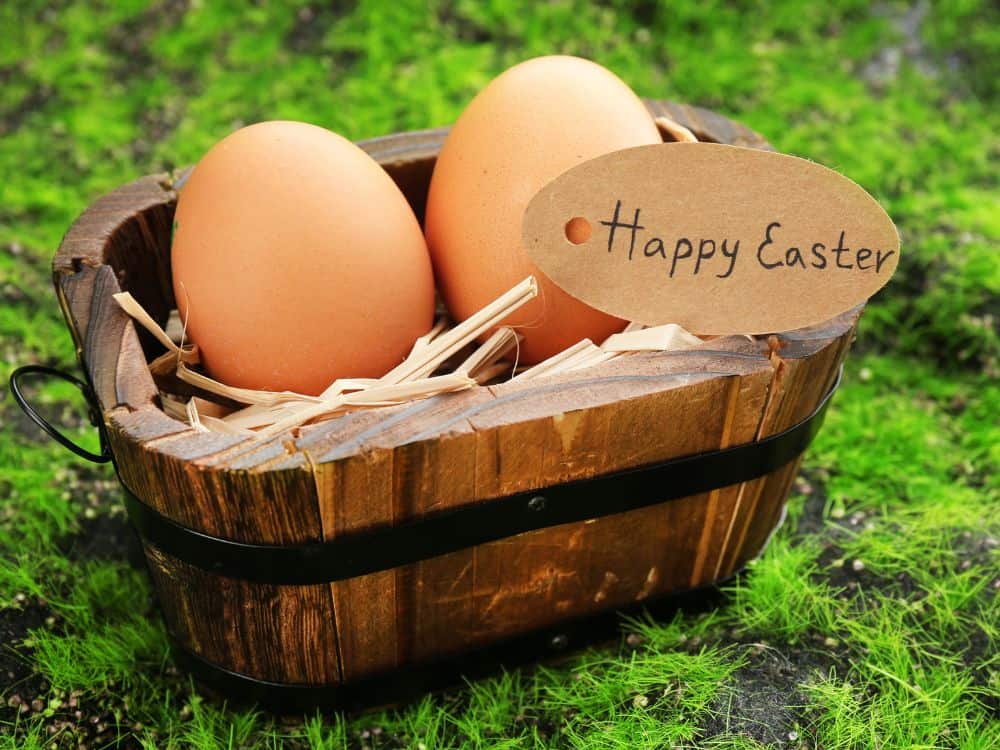 The average person who celebrates Easter spends a whopping $170 on the holiday.
Instead of wasting your money on a new, plastic Easter basket, kill two birds with one sustainable stone by looking in your local thrift store. You should find plenty of rustic and unusual options, and you'll be preventing more unnecessary waste.
As with the grass, you can get creative and make your own eco-friendly Easter baskets using pots, umbrellas, rain boots, buckets, or even disposable plastic bottles.
While you're on a roll making eco-friendly Easter decorations, take empty toilet roll cardboard tubes and turn them into Easter Bunny decorations or egg holders to put in and around your basket.
---
4. Eco-Friendly Easter Activities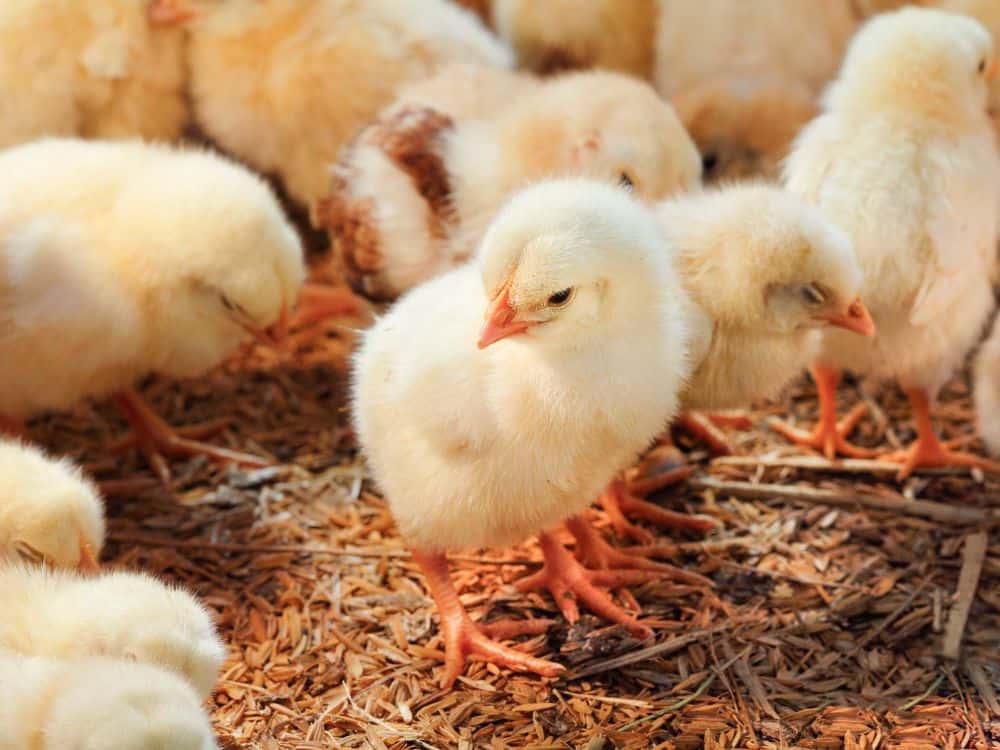 Easter baskets have been a traditional Easter go-to gift for many years. You often find them filled with chocolate, candy, and new toys.
Rather than using the holiday to reinforce a culture of materialism, offer a gift for sharing and making memories for a more environmentally friendly Easter.
Suggest a trip to a local farm to see the new baby animals, a cooking class for the family using fresh ingredients, or a walk in the park to see nature change its colors.
---
5. Sustainable Easter Candy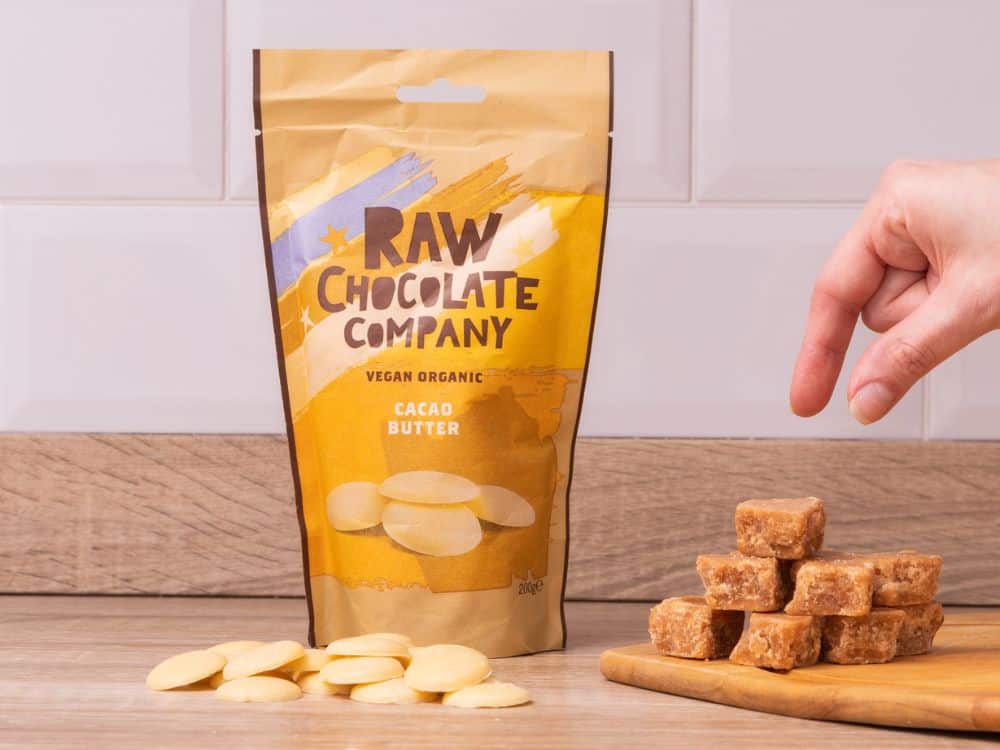 Not many will argue that chocolate is the most delicious part of Easter.
However, poor working conditions, forced labor, and slave conditions have marred the cocoa-producing and chocolate industries for many years.
The global Easter candy market exceeds $3 billion annually, so imagine if that money was going toward ethical chocolate and candy options!
Companies like the Raw Chocolate Company use their B Corp certification to prove they're out to better the exploitative cocoa industry with their raw, palm oil free chocolate.
You can still choose from all the standard Easter treats, like chocolate bunnies and filled Easter eggs.
When looking for these oh-so-common eco-friendly Easter basket fillers, keep an eye out for fair trade and organic labels, along with transparency about where the chocolate is sourced.
Alternatively, look for a local chocolate maker and cut out the middleman.
---
6. Eco-Friendly Easter Egg Packaging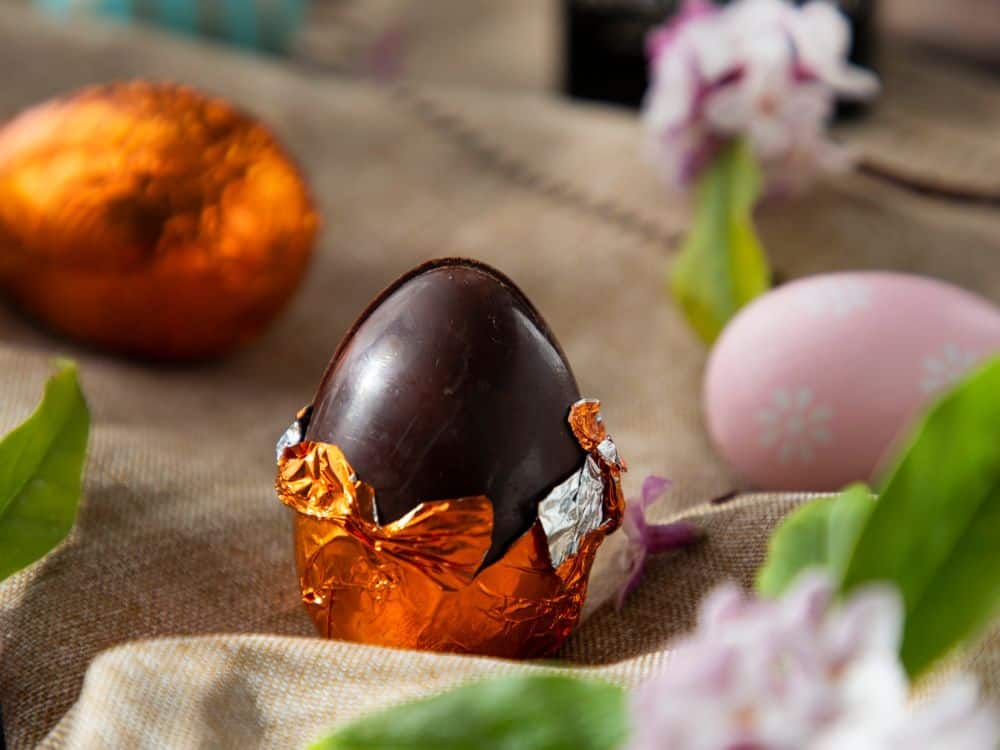 Did you know that many of the most popular Easter Egg brands are a quarter packaging by weight?
If you want more chocolate for your money, look for brands with minimal or zero waste packaging.
An increasing number of chocolate egg and candy manufacturers are using recyclable or compostable wrappers nowadays, like Conscious Chocolate's plastic free paper packaging printed with soy inks
---
7. "Giftless" Sustainable Easter Gifts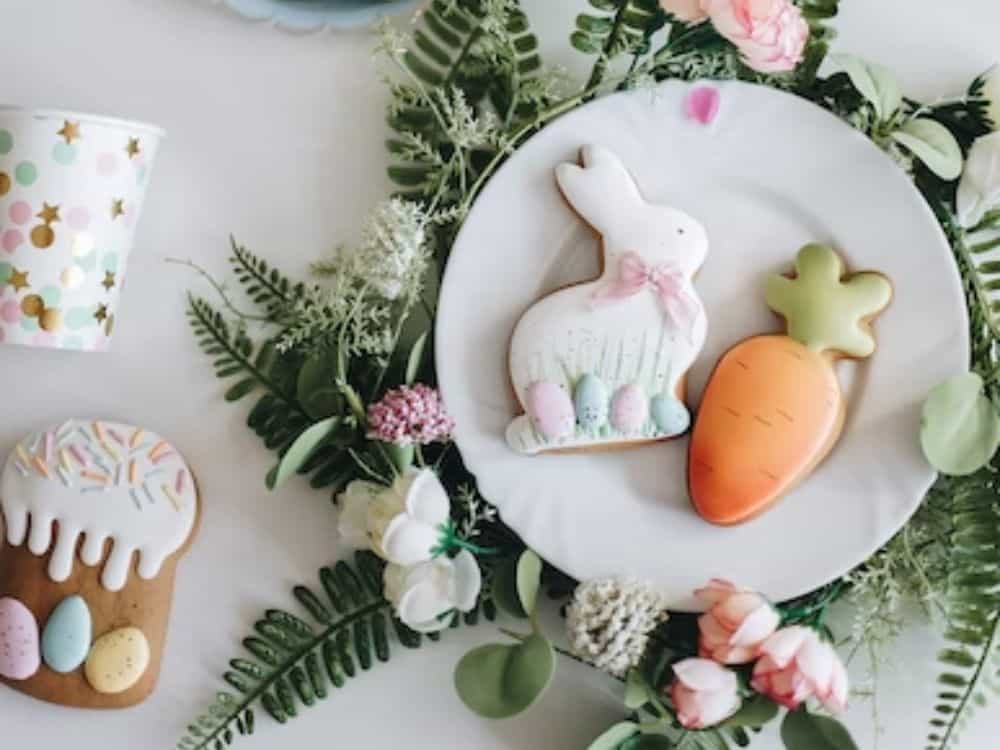 If you want to give someone you love a gift this Easter, consider an Adopt-a-Tree from the Orangutan Project.
Gifts start from just $10, and they're a perfect way to celebrate spring and help the planet and its animals at the same time.
There are plenty of other gifts that don't involve buying anything, like home-baked Easter treats.
---
8. Eco-Friendly Fillable Easter Eggs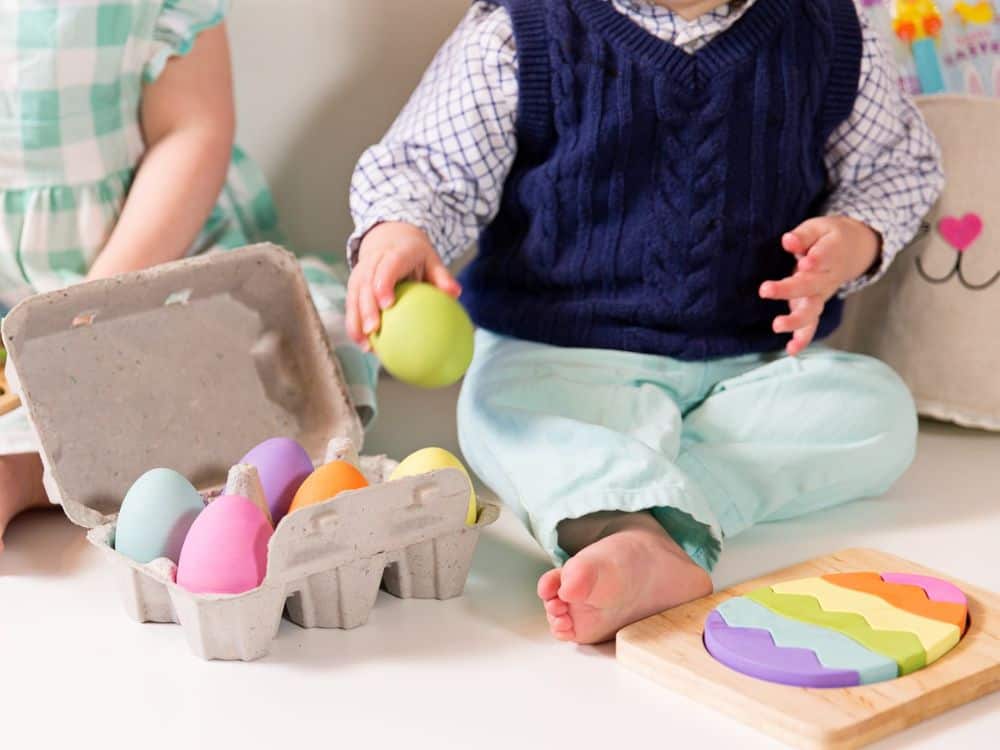 Real eggs are fun to dye and decorate, but they go bad pretty quickly. How many painted eggs get tossed and wasted every Easter?
For the most eco-friendly Easter eggs, non-plastic reusable options are best.
Consider wooden eggs instead, which double as eco-friendly Easter crafts for kids. You can paint, dazzle, or stamp them just like you would a real egg—without the risk of them stinking if ALL the eggs aren't found.
You can always paint or decorate them a different way next year.
Red Barn Toys offer both pre-painted and unpainted varieties. Since they're hollow, you can add candies, coins, and other common eco-friendly Easter egg stuffers.
---
9. Compost Your Easter Eggs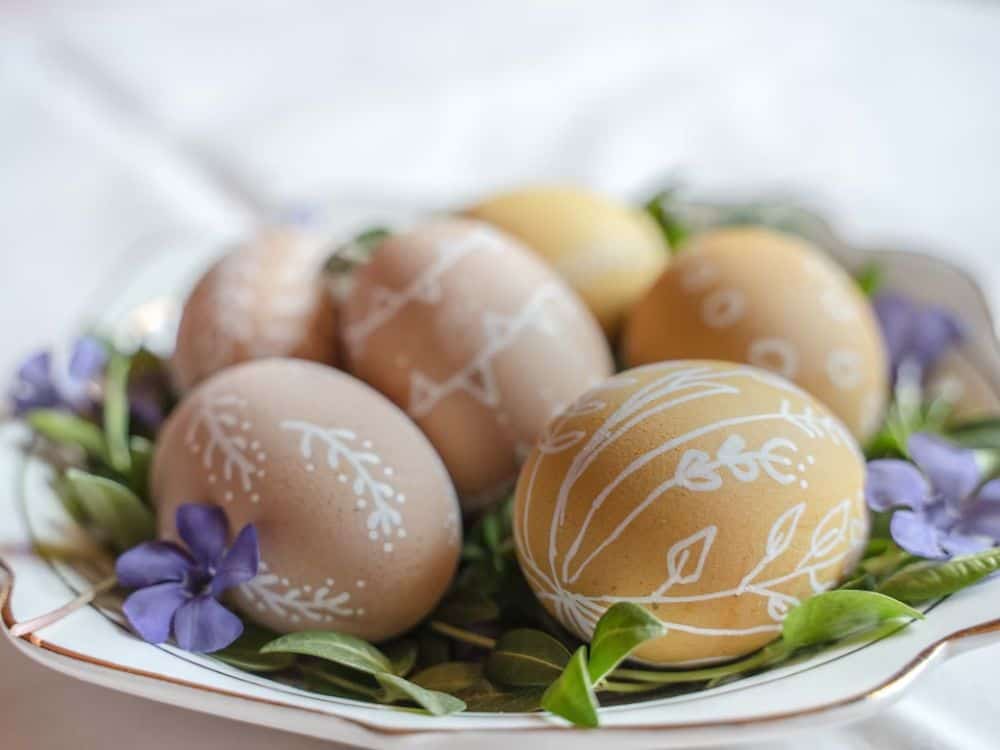 Finish making your Easter eggs sustainable by properly disposing of them once the hunt is done.
Wait, are Easter eggs biodegradable?
Yes! Egg shells and film inside make them both nitrogen and carbon rich (AKA the perfect balanced additive for your indoor compost bin). You can also crush them up and bury them directly in your ecological garden if you don't compost.
Note you should NOT do this if you've used traditional egg dye or food coloring, as it can contaminate your compost bin with chemicals.
All the more reason to use eco-friendly Easter egg dye when dyeing eggs.
---
10. Reduce Food Waste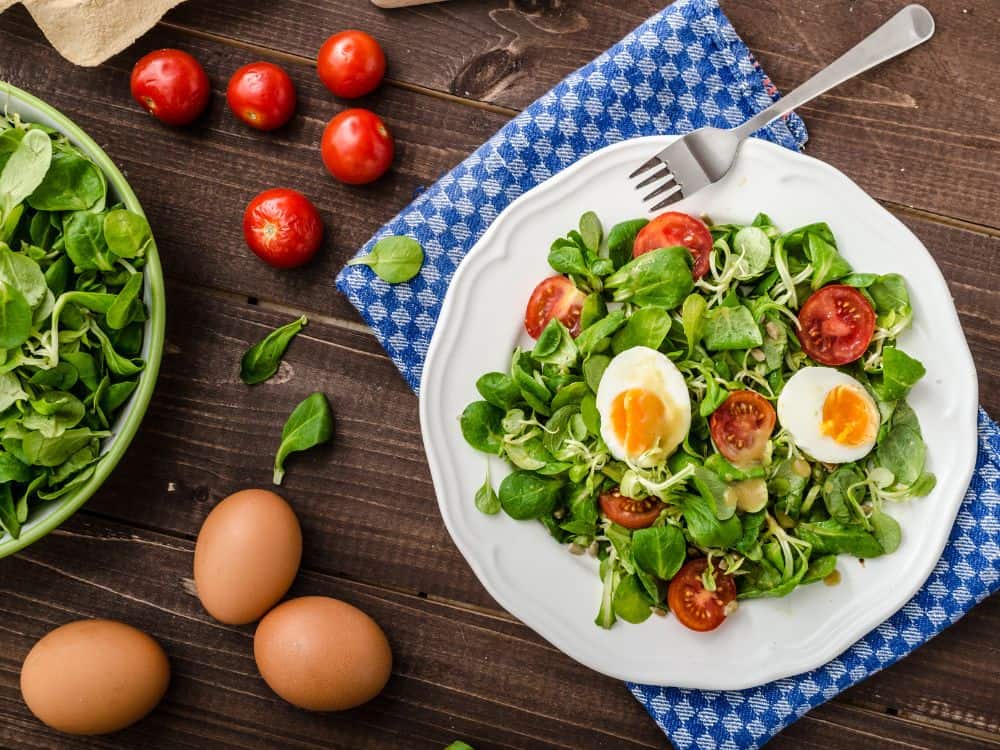 It's possible that you're not going to be able to eat all the Easter eggs you dye or get given.
Eventually, you're going to get a little jaded with eating hard-boiled eggs.
Rather than throwing these food scraps in the trash or composting them, try recipes incorporating eggs in different ways. There are more ways to use your leftover hard-boiled eggs than you thought—and no, they're not all egg salad sandwiches.
---
11. Sustainable Easter Outfits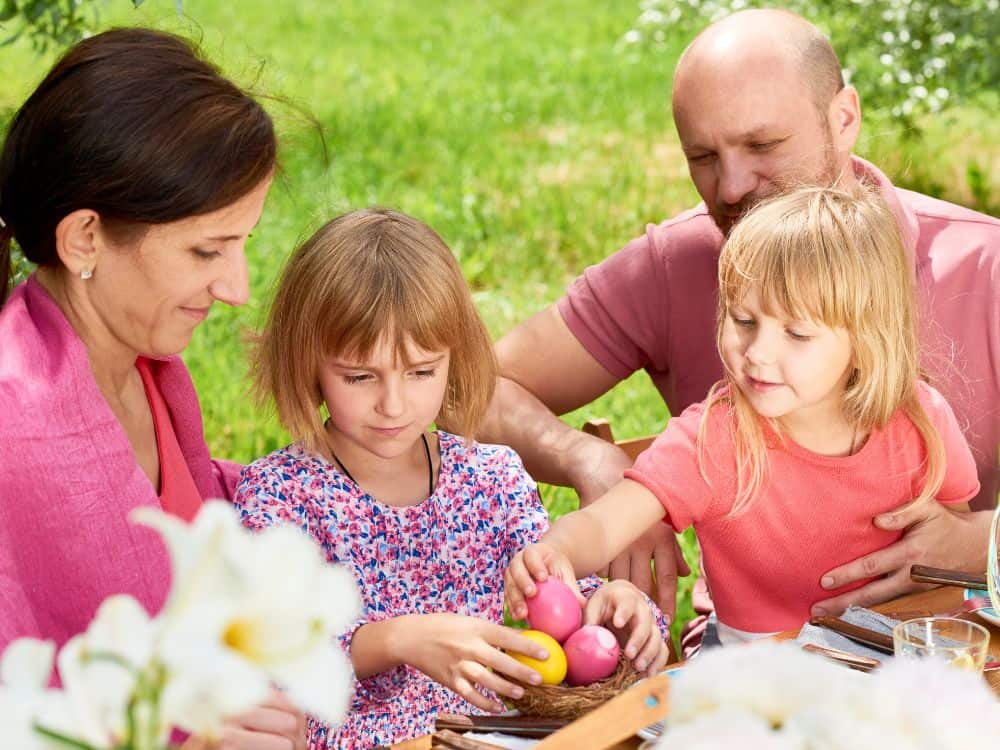 Seeing your kids dressed up in their Easter outfits is always going to bring a tear to your eye, but this year, pick a planet-friendly look for their Easter portrait session.
Narrow your search to organic kids' clothes, or search through local or online thrift stores for high-quality, low-price outfits that won't introduce more waste.
---
12. Host A Sustainable Easter Egg Hunt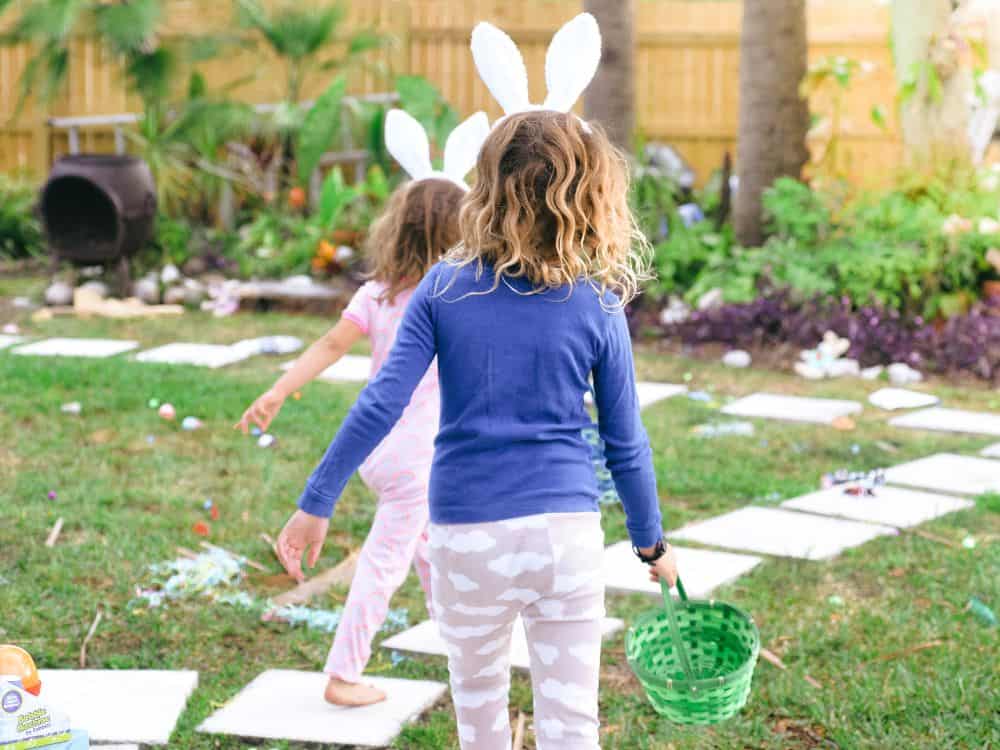 When you think about your Easter memories, egg hunts are likely going to feature. They're an iconic way to celebrate, especially for parents and kiddos.
If you want to make this year's hunt less wasteful, rather than hiding plastic Easter eggs or real eggs that won't get eaten, hide small wooden toys or DIY reusable muslin bags.
Your little ones are likely to find this sustainable Easter Egg Hunt approach equally egg-citing.
---
13. DIY Sustainable Eco-Friendly Easter Decorations & GIfts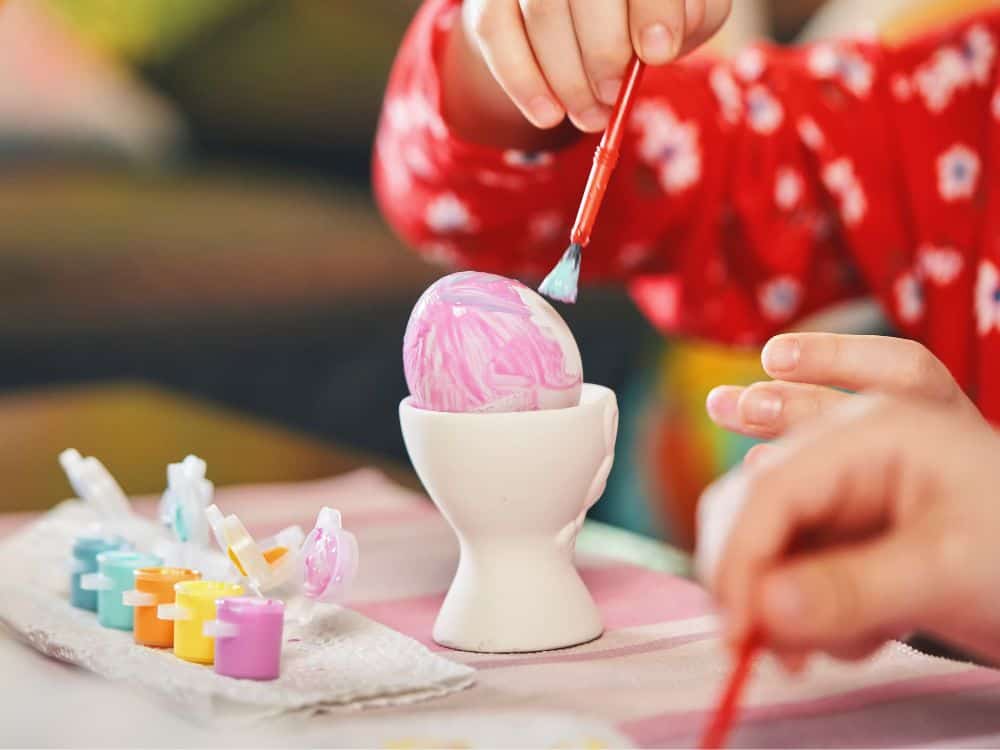 Create your own beautiful Easter gifts and treats to replace plastic eggs, foil-wrapped candy, and toys.
The homemade touch for your eco-friendly Easter basket ideas will bring a smile to friends and family alike.
DIY wild seed balls, for example, are a wonderful gift for the sustainable gardener in your life that will also help increase biodiversity through the propagation of pollinator-friendly, native plants.
---
Did you know we Have a Newsletter?
We cover the latest in sustainable living, fashion, zero waste, beauty, travel, finance and more…
Final Thoughts On How To Have A Sustainable Easter
Hopefully, these sustainable Easter ideas will help make this year a special one for you and your family.
If you have some green Easter tips of your own we'd love to hear them in the comments below.
If you know someone who also wants to eco-fy their Easter, make like Peter Cottontail and hop this article into their bunny trail (er, inbox).
Pin these: