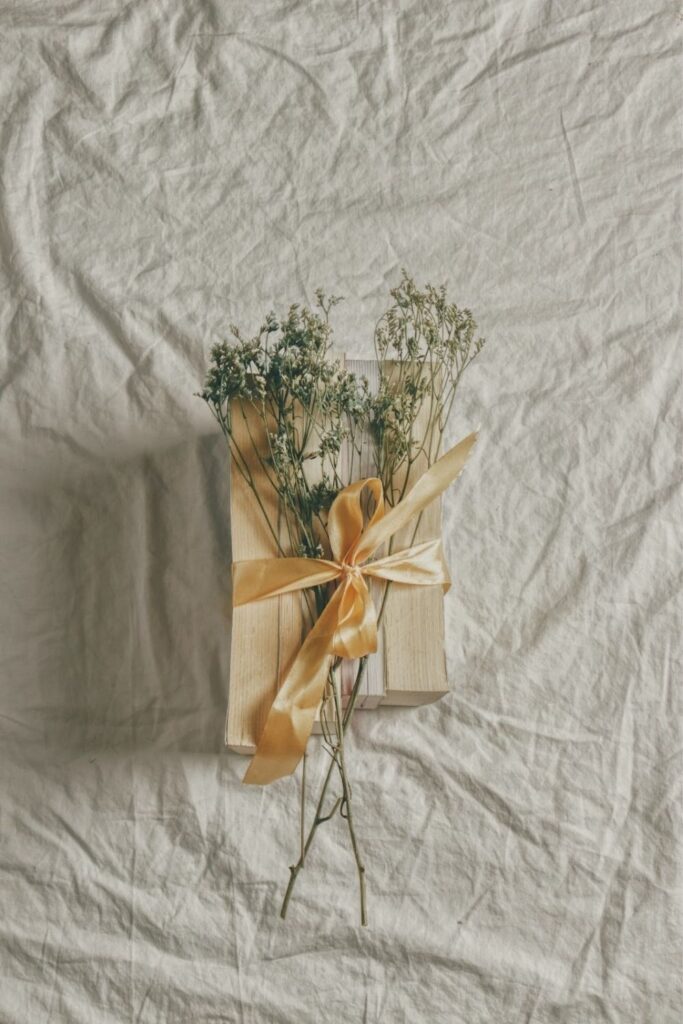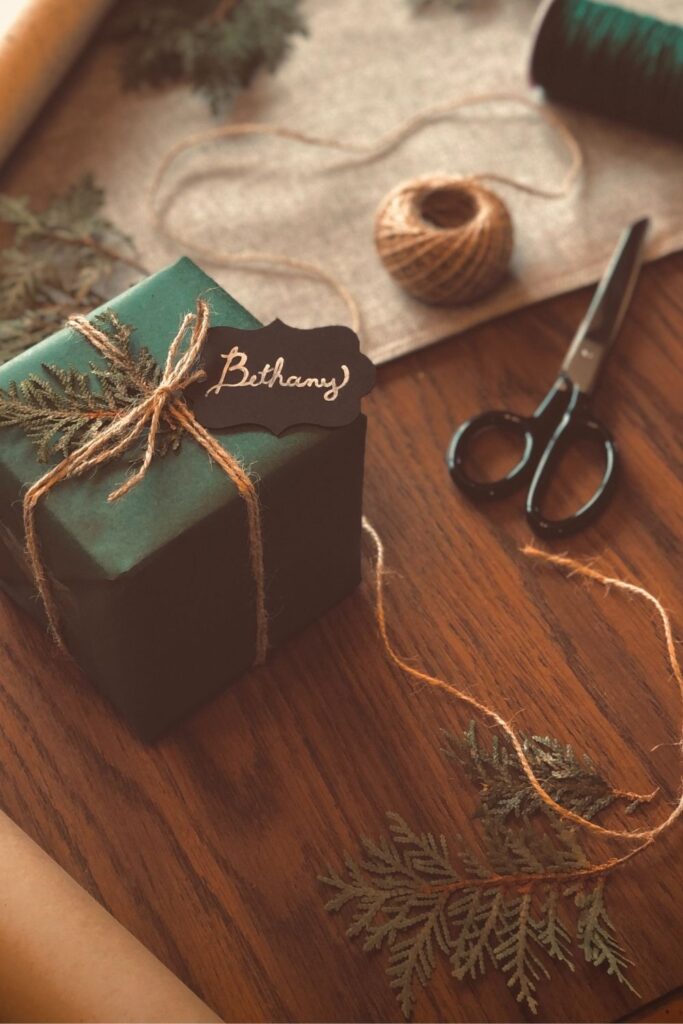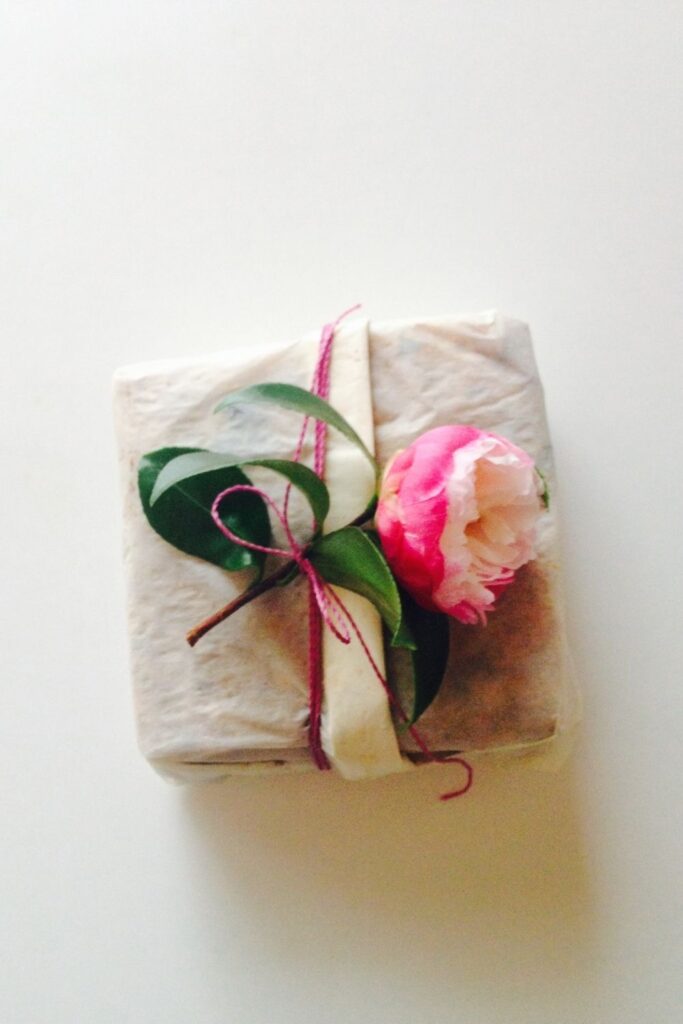 Zero Waste Gift Wrapping: 8 Ideas For Waste-Free Giving
Between birthday parties, anniversaries, housewarming celebrations, and those last-minute just-because gifts, you're likely to give and receive several times throughout the year.
Though we often neglect someone who is the reluctant and eventual recipient of all our gifts—the planet.
While it's certainly helpful to aim for eco friendly gifts or even zero waste gifts, we should also be paying attention to what's outside, too.
Traditional wrapping paper has an environmental wrap sheet a mile long, which you can read a bit more about at the bottom of the article.
So just ditch the wrapping paper and give gifts sans the covering, right?
Not so fast.
Research shows wrapped gifts are associated with positive changes in mood that can influence how much that gift is appreciated.
You wouldn't want that thoughtful handmade gift you spent hours making to be valued any less because it didn't come with a bow.
Fortunately, common household items and upcycled waste products can adorn a gift just as well as a shiny roll of paper.
While there are endless possibilities for the creative mind, here are some zero waste gift wrapping ideas to surprise your loved one with just a little bit of extra care.
Let's unwrap them, shall we?
*This post contains affilate links
1. ZERO WASTE WRAPPING PAPER – NEWSPAPER, MAGAZINES OR MAPS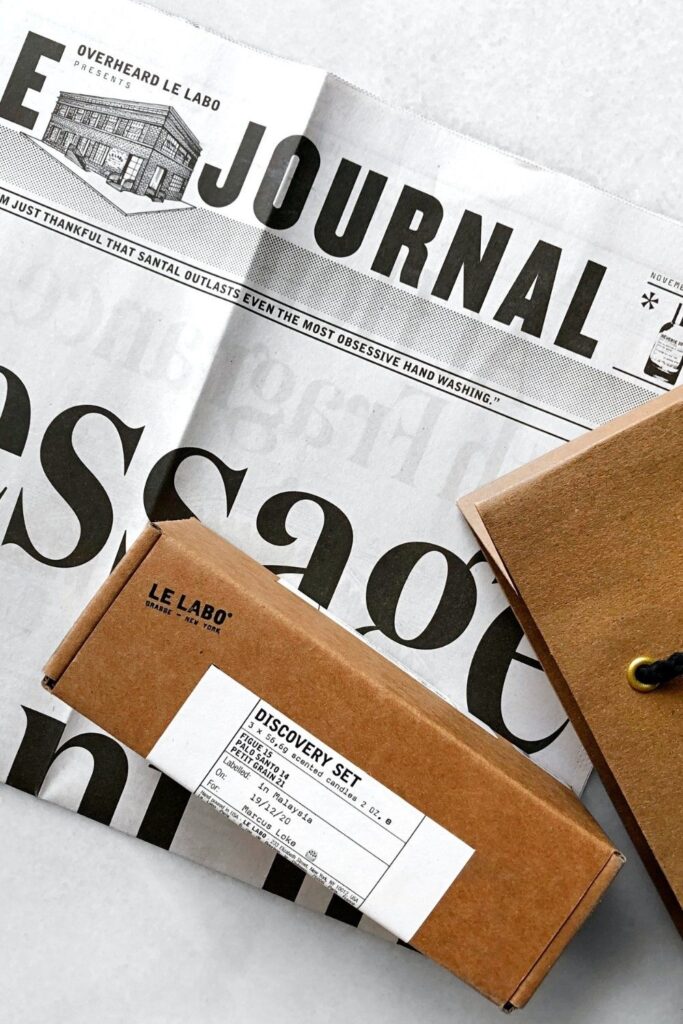 Who doesn't have an old newspaper, magazine, or coupon book lying around? And if you don't, you probably know someone who does.
In literally no time at all, things like these can be whipped up into a cute, clever, and eco-conscious gift wrap:
The comics section of a newspaper makes for a great gift wrap for kids. Head to the sports or culture section for adults.
Magazines can be transformed into cute glossy ribbons and bows, and can also be used as gift wrap themselves (more magazine ideas here).
If you have a travel lover in your life, then using an old map or page from a road atlas (yes, there was a time before Google Maps) is a perfect way to celebrate them.
This is just about the simplest (and most affordable) zero waste gift wrapping idea. It also happens to be our go-to option!
Just grab your scissors and eco friendly tape, and get wrapping!
---
2. POTATO CHIP BAG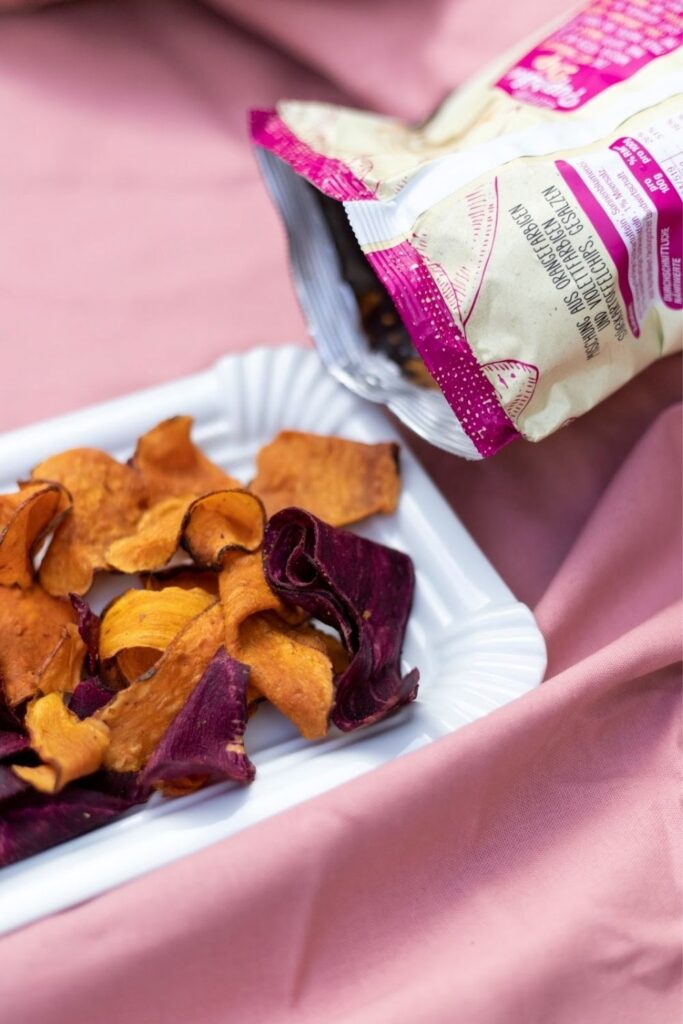 If you just poured the remainder of a bag of chips down your mouth for dinner (we've all been there), put that bag to good use!
If decorating with Doritos doesn't sound like the gift wrapping hack you had in mind, hear us out…
By turning the bag inside out you suddenly get a shimmery, silvery, and (dare we say) elegant upcycled gift wrap. Just wash off the crumbs, wipe off any oil, and cut into an appropriate size before wrapping.
Voila!
Your metallic gift will light up the recipient's eyes—and you'll find peace knowing that your plastic-lined chip bag will live to see another day.
---
3. OLD CLOTHES OR FABRIC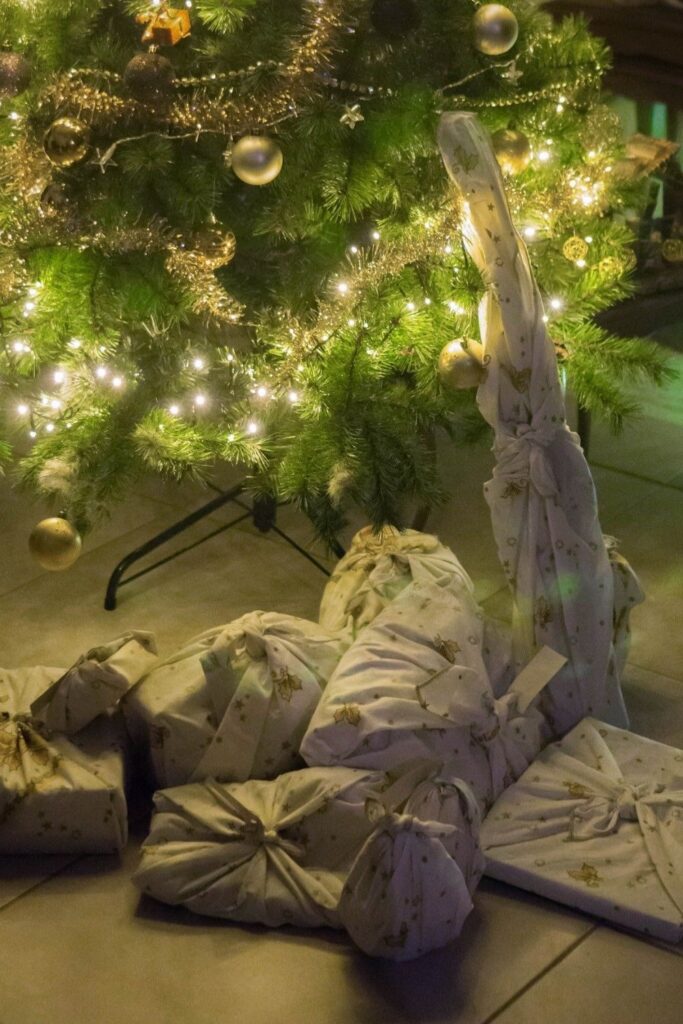 Wondering what to do with old clothes that have been hanging around since high school days?
Old fabric or clothes have tons of uses, including keeping your perfect present a secret until the magic moment.
Using fabric to wrap gifts isn't a new idea. In fact, the Japanese craft called Furoshiki was first used in the Nara period (710-790 AC).
It has since become popular around the world.
Ideal gift wrap clothes aren't typically the best option for selling used clothes online or even donating to the thrift store. If you don't have anything that fits the bill, go to your local thrift store and inquire what garments are about to expire.
Whatever route you choose, it's a great way to upcycle something that would end up in a landfill or incinerator.
Not to mention the final product is sure to look and feel amazing (no needle and thread required).
Similar to origami, there is a range of wrapping techniques and styles for different shapes.
There's a Furoshiki technique for square objects, long objects, slender objects, flat objects, and even bottles (don't we all have a wine enthusiast in our lives?)
Not only will you give your loved one a uniquely wrapped gift, but you can also pass on the knowledge and the fabric so that they can use this technique the next time they give someone a present.
Talk about the gift that keeps on giving!
Cut excess fabric into thin strips to tie around wrapping paper, saving the need to buy any bows or plastic-based decorations. The options are endless, and the gift is sure to look beautiful and makes for a sustainability-oriented conversation starter.
---
4. REUSABLE WRAPPING PAPER OR COTTON PRODUCE BAG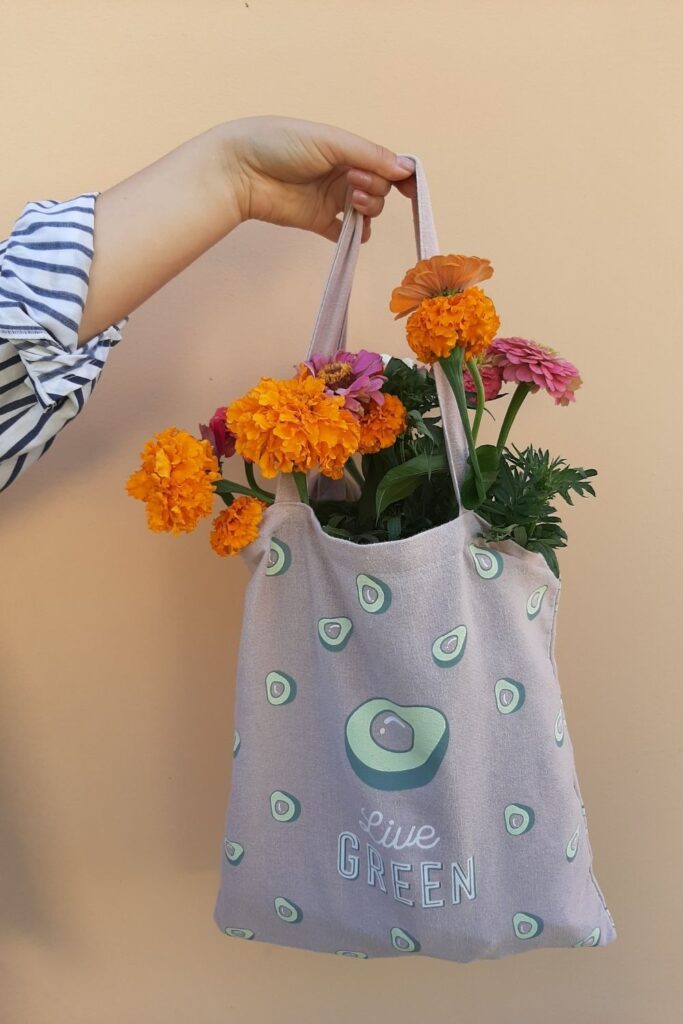 Speaking of a sustainability conversation starter, you can even "wrap" your gift in a reusable cotton shopping or produce bag.
Make it a total zero waste wrapping experience by using shredded paper instead of tissue paper, along with a cute ribbon made out of old clothing or scrap fabric.
Who knew learning how to wrap presents without plastic could be so fun?
It also has the benefit of acting as two gifts in one, maybe providing a not-so-subtle hint for someone to ditch plastic bags.
If you want to take your sustainable Santa game to the next level, incorporate the reusable bag as a part of a gifted zero waste kit!
---
5. BUTCHER PAPER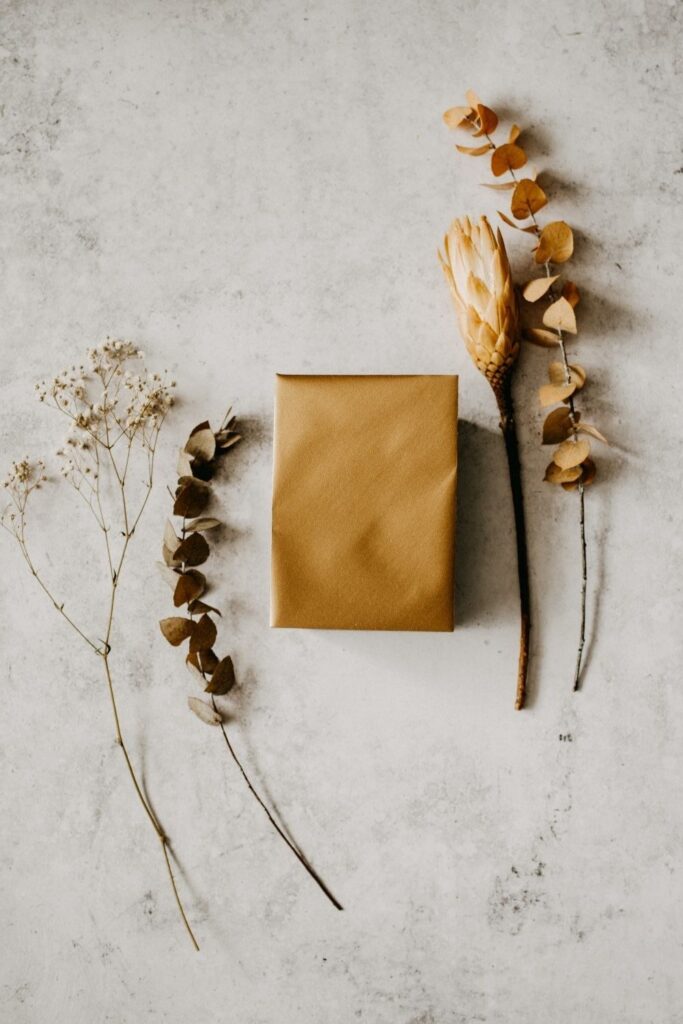 Julie Andrews and Mother Earth have a few things in common: "brown paper packages tied up with string" are some of their favorite things.
Julie's The Sound of Music character, Maria, was onto something.
Butcher kraft paper is one of the best zero waste gift wrapping ideas.
It's easy to find, affordable to buy, and provides a clean-looking, minimalist gift wrap option that can be composted or recycled after it's torn to shreds by the birthday boy or girl.
Note try to avoid butcher paper that is waxed or oiled, as it cannot be recycled.
To add a little planet-conscious pizazz, you can add some homemade magazine gift bows. Maybe a cinnamon stick, a bunch of flowers, or a piece of dried citrus for a delicious scent.
Alternatively, just some hemp, jute, or cotton string will suit, too.
Butcher paper can also be used to wrap holiday cookies and is a much better option than plastic wrap or foil. However, be mindful that if it absorbs any oil from food products, it can no longer be considered recyclable (but it is still compostable).
---
6. OLD CARDBOARD SHOE BOXES AND LACES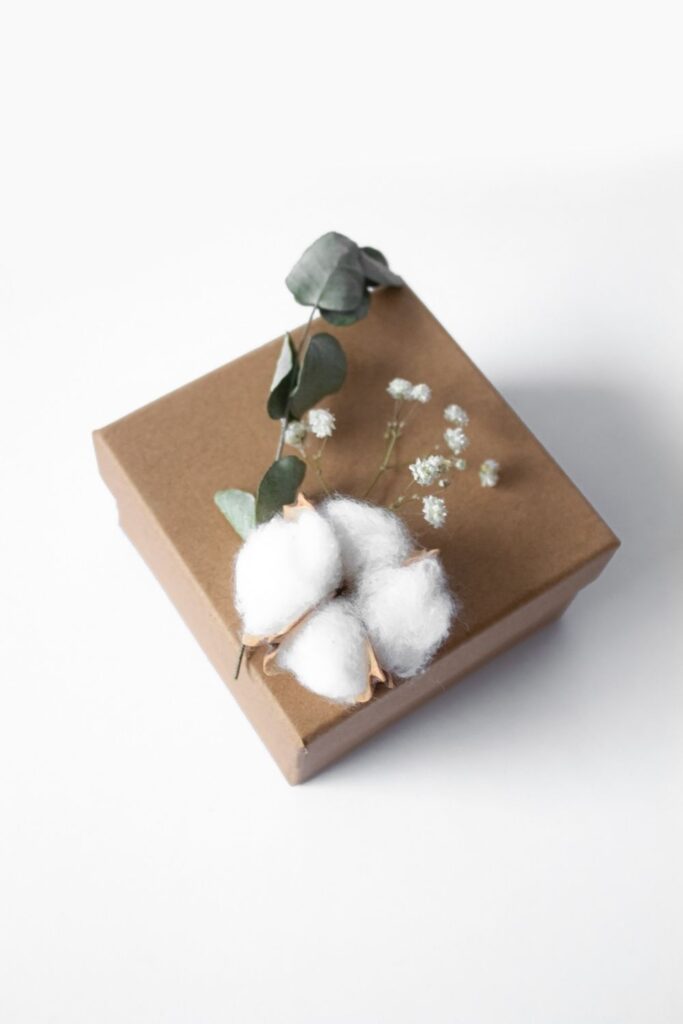 Have a tower of old shoe boxes in your closet?
So do we (but in our defense, they are at least mostly from ethical shoe brands!).
Instead of collecting dust, put these boxes to work storing gifted clothes, beauty products, sustainable candles—among a million other things.
Use shredded paper as a filler and, if you want to spruce it up more, wrap it with old wrapping paper or any other idea from this list. You can even paint it with chalkboard paint and attach a piece of chalk—which makes for a fun and creative child's gift.
Sticking with the shoe theme, use old laces in place of plastic ribbon.
We'd recommend washing them first, though.
---
7. PLANTS, LEAVES, FLOWERS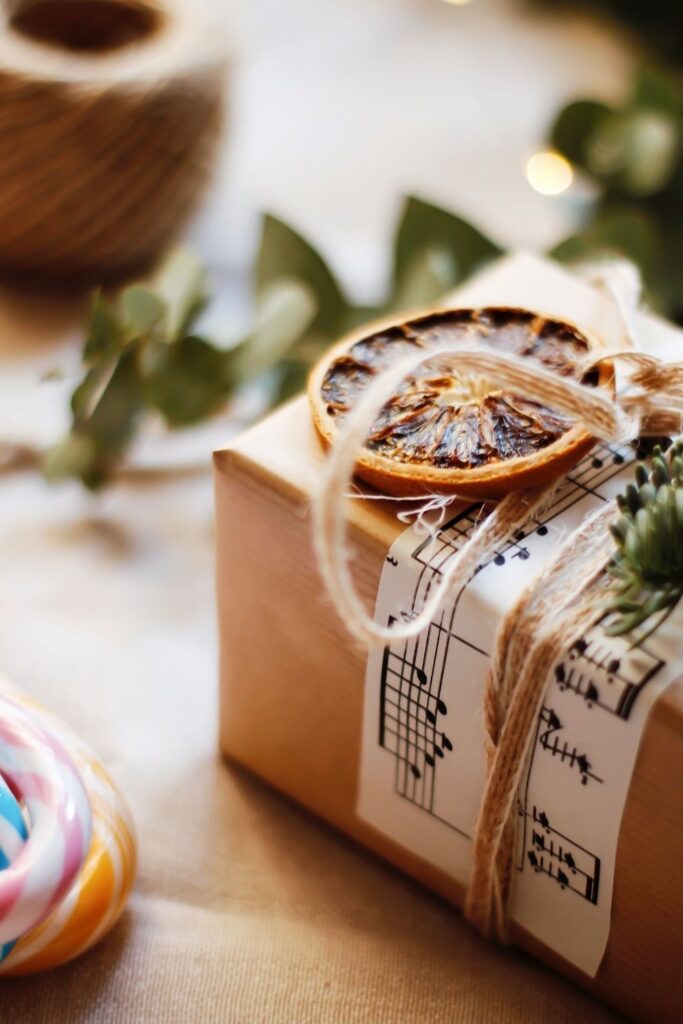 For a unique gift that truly screams earth-friendly, add a little special something from the earth itself.
Little sprigs of rosemary or lavender, pinecones, acorns, twigs, or even bark can all be those perfect finishing (and sometimes fragrant) touches to zero waste wrapping.
Flowers are obviously always an excellent choice—and both fresh and dried can be used.
These materials will yield a rustic look sure to brighten up your newspaper or butcher paper wrapping. Use jute or hemp twine to fasten or weave it through several leaves to create a wrap-around ring of greenery on otherwise 'boring' brown paper.
If you've got a plant with really broad leaves, you can even use it as wrapping 'paper' itself!
---
8. WHATEVER YOU HAVE LYING AROUND
We hope the previous seven ideas have gotten the creative juices flowing because the options are literally endless.
Here are a few other reusable wrapping paper and waste-free gift wrap ideas:
Adorn a plain box or package with dried seeds or nutshells (pistachios work well).
Use a walnut shell as a zero waste jewelry box.
Attach a string to both sides and use an upcycled cereal box as a gift "bag". Who says Captain Crunch doesn't scream Christmas?
Transform old college papers, your child's artwork, or book pages into clever and unique gift wrap.
Give a gift of beeswax wraps, and use them to wrap something else.
Paper grocery bags work well, and plastic ones (gasp!) can be ironed to fuse into thicker plastic "fabric" that also works as wrapping paper.
Now, it's your turn to start thinking of possibilities. The more creative, the better!
Coming up with a zero waste gift wrapping idea might just spark some thought about all the things lying around the house and their upcycle potential.
---
WHY ZERO WASTE GIFT WRAPPING?
Give our planet a gift… by reconsidering your gift wrap.
Plastic isn't the only planetary villain.
Paper does its share of environmental damage, too—specifically wrapping paper.
In America alone, the wrapping paper industry is valued at around 7 billion dollars. This is equivalent to the approximately 5 million pounds of wrapping paper that's produced.
Sure, gift wrap looks cute and it's enjoyable to watch your three-year-old niece rip open that crisply-wrapped box, but our planet doesn't quite get the same kick from the magic of unwrapping gifts.
Let's put present-wrapping into perspective:
While it's difficult to find specific gift wrap details, like other paper-based products, your wrapping paper likely started out as a tree on a paper plantation. Generally speaking, these plantations are threats to local flora and fauna (and thus biodiversity on the whole).
This is due to associated shocking levels of deforestation, animal extinction, and illegal logging.
Because tree bark doesn't exactly fit around the basketball you're giving to your nephew, the tree needs to be transformed into pulp, and then paper.
You know how sometimes natural pulp gets transformed into synthetic fabrics (like rayon) to become fast fashion garments?
Some of the same toxic chemicals (hydroxides, bleaching agents, etc.) and concerning metals (chromium, lead, etc.) are also used in the process of making wrapping paper.
Then there's the waste.
Of the 5 million pounds of wrapping paper produced a year, roughly half ends up in landfills. While some of this could be recycled or composted, most wrapping paper is not 100% paper and therefore is not recyclable or biodegradable.
Anything that contains velvet, plastic, non-biodegradable glitter, foil (or really any texture at all) cannot be chucked in your recycling or compost bin.
Additionally, anything lined with plastic or with tape still stuck to it also will end up in a landfill and may even contaminate a perfectly good batch of recyclables along the way.
Top tip for received gifts: If you've received a gift with wrapping, save what you can for reuse and if it's got no more life in it, do the "scrunch test" to determine if yours can be recycled.
---
FINAL THOUGHTS ON ZERO WASTE GIFT WRAPPING
Giving not only opens our hearts but can teach us to do more with what we already have.
Luckily, many items have become popular and sustainable replacements for gift wrap and no, you don't need to buy anything new!
Most of the items on this list of zero waste wrapping ideas can be found around the house.
How does that sound for some gift-giving cheer?
Let's wrap things up with one more positive thought:
If everyone in the United States swapped out conventional gift wrap with one of these sustainable alternatives, the paper saved would be equivalent to covering 45,000 football fields!
Following a zero waste lifestyle isn't always easy, but as this statistic shows, it can make a huge difference.
We're here to help you get started!
As you'll see in our list of zero waste tips, there's something nearly anyone can do—and you don't need new items, a huge zero waste budget, or a lot of time on your hands to make new habits happen.
Saving the planet is more fun and more impactful when we do it together, so please share any creative suggestions you have for zero waste gift wrapping.
---