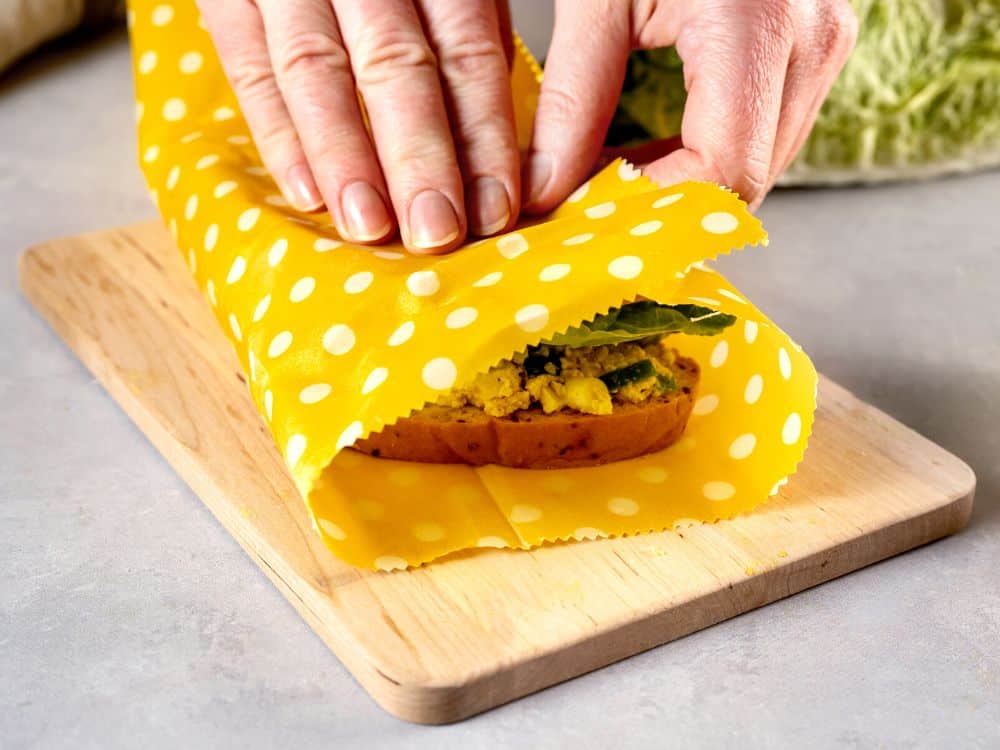 How To Use Beeswax Wraps & 7 Buzzworthy Reusable Food Wraps To Get Started
To beeswax wrap or not to beeswax wrap…that is the question.
Considering that Americans buy enough plastic wrap every year to wrap up Texas, the answer to that question should bee easy to answer.
Transitioning from plastic wrap to reusable food wrap (whether beeswax or a vegan alternative) can be intimidating, which is why we're here to give you the fly-by on how to use beeswax food wraps.
If you're in a hurry, then buzz down to the end of the article, where we've collected all the must-have information on how to care for and use your beeswax food wraps.
Want a deeper dive?
Keep reading as we create a whole honeycomb of information, including the definition of a beeswax wrap, different ways to use beeswax wraps on different types of foods, and how to care for it so you can keep your plastic-free food storage wrap for longer.
The Full List For How To Use Reusable Beeswax Wraps
---
1. What Are Beeswax Wraps?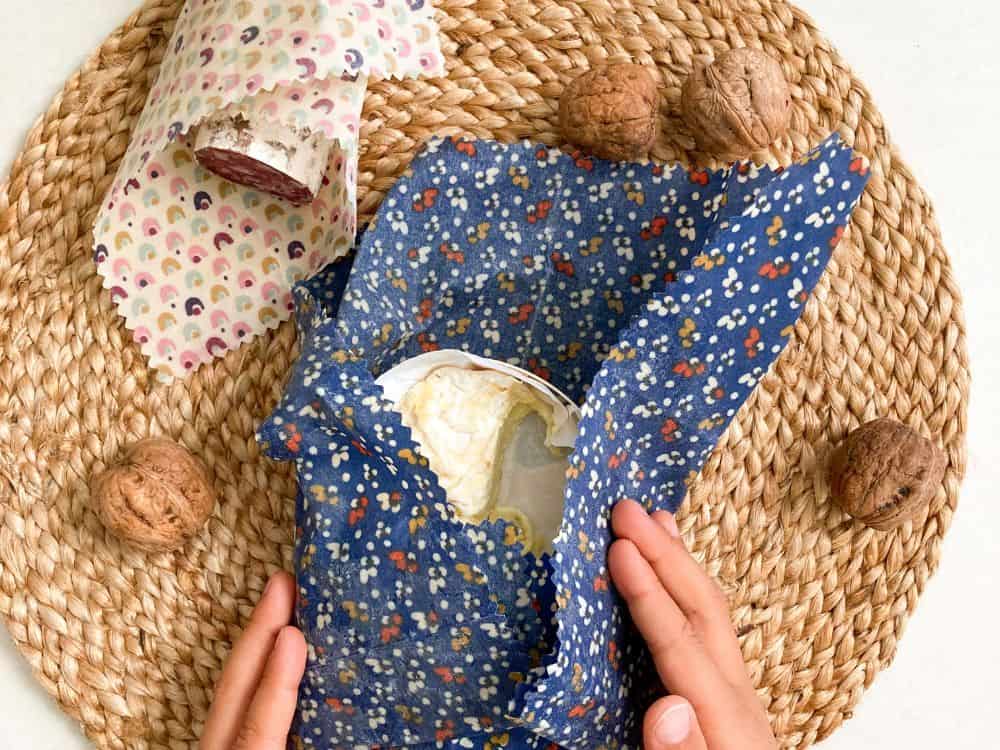 A beeswax wrap is, at its most basic form, a piece of cloth coated in beeswax.
Yep, that's it.
Designed to preserve food at home and on the go similarly to plastic wrap, they're designed to be reusable and biodegradable—therefore having a much longer usable life than plastic cling wrap and a better end of one.
The wax on the wrap makes the cloth moldable and creates a tight seal, making beeswax wrap a versatile and sustainable food storage tool.
While modern sustainability circles are buzzing about this essential addition to any zero waste kitchen, beeswax has been used to store and preserve food since Ancient Egypt—though the fusion of beeswax with cloth didn't occur until the 1900s.
What are beeswax wraps made out of?
Cotton fabric is usually the cloth of choice for a beeswax wrap.
Most brands use organic cotton, but make sure to double-check before you buy so you aren't accidentally supporting the dirty conventional cotton industry—that would partially defeat the point.
Beeswax plays a major part in the coating as the primary ingredient, but soy or other plant-based wax alternatives let vegans in on the food wrapping fun.
Some food wraps also include plant oils and tree resins. The oils keep the wrap pliable and moisturized, while the resin gives the wrap structure and body.
---
2. How To Use Beeswax Wraps For Food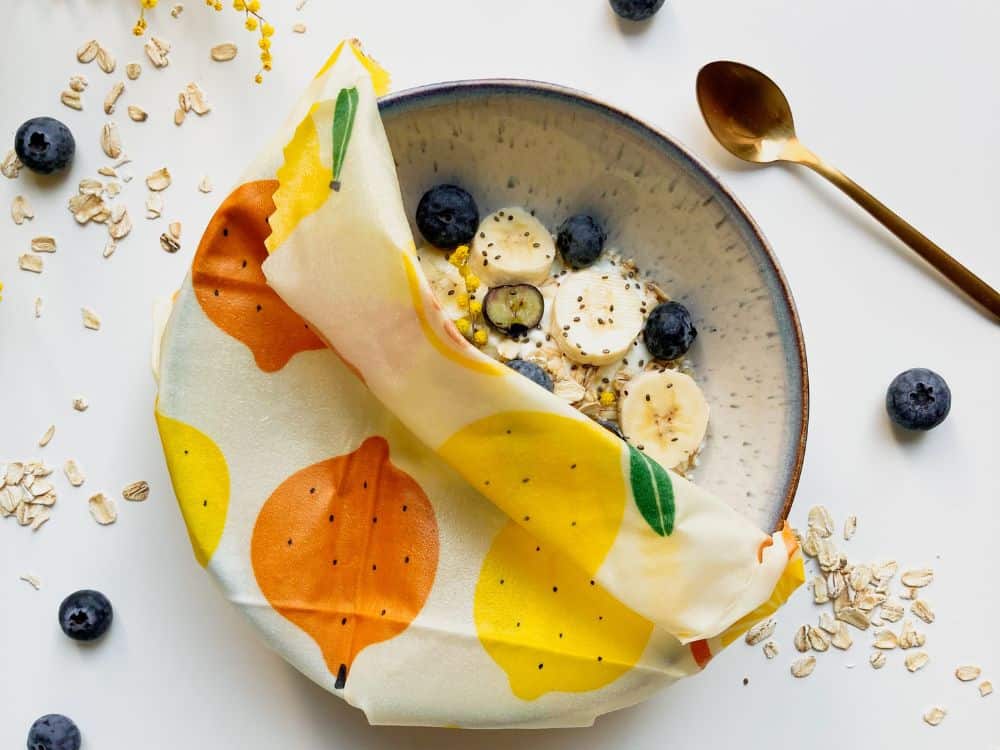 Beeswax wraps make it easy to store foods without plastic, and while the concept seems foreign, there are no specific instructions required when it comes to how to use reusable food wraps.
They function no differently than cling wrap, reducing food waste and keeping food fresh.
They can be used for anything from packing lunches, to wrapping up halves of sandwiches, to covering bowls, storing cut cheese, and almost anything else you would normally use plastic wrap for.
Just follow these general guidelines, and you'll be wrapping in no time (no promises on rhyming, though).
What is the best way to use beeswax wraps?
The best solution for how to use beeswax wraps is to utilize the natural properties of beeswax.
Like all waxes, beeswax becomes pliable and malleable when exposed to heat. Utilizing this property to mold a beeswax wrap helps create a nearly airtight seal that protects your food from air and contaminants.
Simply take the wrap and use the warmth of your hands to make the wrap pliable. DO NOT use the microwave, stove, or other intense heat sources for daily beeswax wrap use. Too much heat may cause the beeswax to run off the cloth entirely.
Once warmed, use it to wrap food directly or cover a bowl of leftovers or containers you lost the lids for.
To create an airtight seal, you'll again use the heat of your hands to seal the wrap against the side of the bowl or against itself, if wrapping food directly.
Ways to use beeswax wraps on different types of foods
If you're still wondering what beeswax wraps are used for, then check out this list of different ways you can use your reusable wrap:
Smaller sheets of beeswax wrap are good for wrapping up fruit, fresh herbs, bits of cheese, and shampoo bars for all your zero waste travel needs.
Larger sheets can cover bowls and wrap larger fruits and vegetables.
Specific wraps can wrap bread and other baked goods—no twist ties needed.
As for how to use beeswax sandwich wraps, just wrap half of your leftover sandwich completely, ensuring you've selected a large enough wrap to fold the sides in or crimp them together to seal out air—and keep any sauces from leaking out into your eco-friendly lunch bag.
Beeswax wrap is a great cover for when you fill jars and can't find the lid.
A large food wrap can act as a cover for casserole dishes and pans of baked goods.
Circular wraps are made specifically to cover bowls, large and small bowls alike. Square wraps can also serve this function.
Cover leftovers or wrap food scraps that might get lost in the fridge, like that orange peel you're going to turn into zest later.
If you're going out to dinner, throw some in your purse to wrap foods you want to take home and avoid takeout containers.
Cover bowls of fruit during the summer to keep the flies off.
Fold a beeswax wrap in half and crimp three edges together to create a snack bag.
Use a large wrap to cover half a melon or a smaller one to cover a cut onion. Just fold the sides down and adhere to the rind or skin with body heat.
What should you not use beeswax wraps on?
First, never use beeswax wraps on hot food or containers, as this will promptly cause the wax to melt and run off. Always wait for items to cool before applying your wrap.
Beeswax wrap can't be sterilized like other food storage methods, so don't use it for raw meat or anything carrying potential contaminants—use reusable glass containers instead. This is especially important if you or someone in your household has a food allergy.
So these unfortunately don't go on the list of ways to freeze meat without plastic.
It's not recommended to use them for long term storage, such as in the freezer (though they can go in the freezer for short term storage).
Also consider that smells and odors will be more prone to absorb and stick to your wrap than a hard container, so keep that in mind if you are wrapping up some smelly cheese.
For that reason, if you're looking for how to use beeswax wraps on onion, you should start by allocating one small wrap specifically for that purpose.
Regular washing should take care of most odors and stains on your beeswax wrap, but wraps are made from absorbent materials, so normal wear and tear is to be expected.
---
3. How To Care For Beeswax Wraps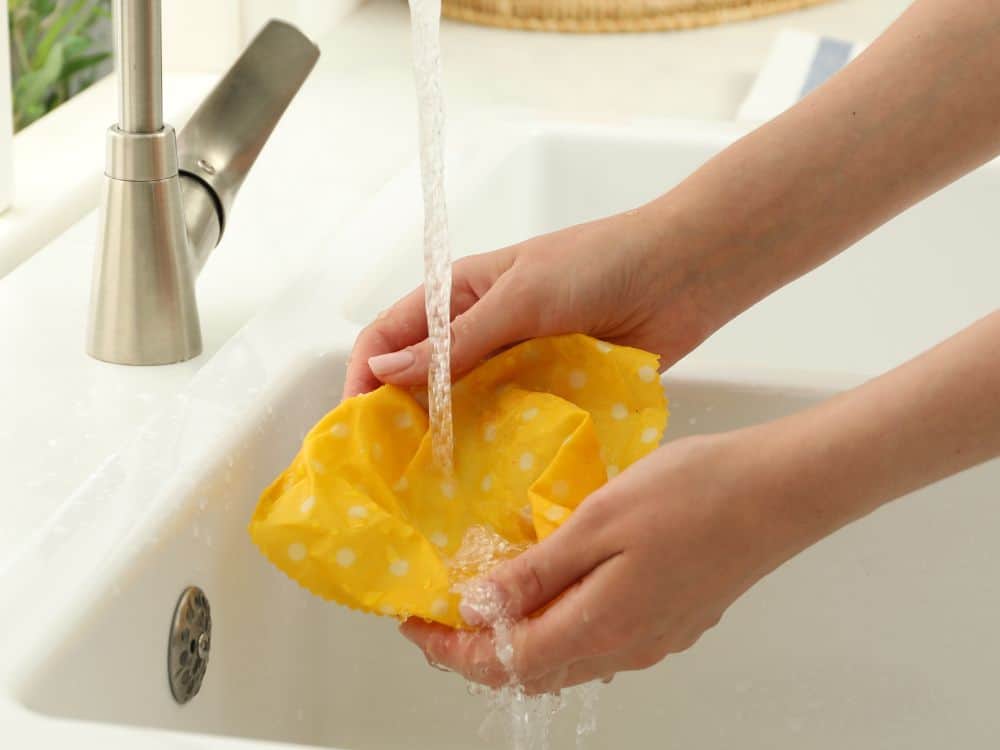 How long do beeswax wraps last? And how many times can beeswax wraps be used?
The answer depends somewhat on use, but with regular use and proper care, a beeswax wrap can last for up to a year or so.
Proper care entails two things: cleaning and repairing.
Cleaning beeswax wraps
After most uses, reusable beeswax wrap can be rinsed off with cold water. Never use hot water (this includes the dishwasher) on your beeswax wrap as it will melt the wax.
If necessary, you can use a mild soap to remove any residues that rinsing alone can't remove.
Be sure not to scrub too vigorously as that will cause the wax to degrade. Your fingers or a non-abrasive eco-friendly sponge will do, paired with some gentle, zero waste dish soap.
For stained or very dirty wraps, there are more intense measures you can take to clean beeswax wraps on a more occasional basis, such as using sustainable kitchen products like baking soda, lemon juice, milk, or vinegar.
After rinsing clean in cool water, lay flat on the kitchen counter to air dry before storing.
You can store your beeswax wraps pretty much anywhere, as long as they are away from any major heat source, such as the stove. They can be stored flat or folded, depending on your preference and space constraints.
Repairing beeswax wraps
Over time, the wax coating will begin to degrade, at which point you can either repair or totally re-wax the cloth to extend its life.
Simply add grated organic beeswax onto the wrap and heat it using an oven, clothes iron, or hair dryer until the wax spreads across the desired area.
Then, allow it to cool and harden before using.
If you're wondering how to use pine resin in beeswax wraps, it works the same way. Just mix grated or powdered pine resin with your grated beeswax and heat.
Once your beeswax wrap stops working properly and can't even be re-coated, cut it into smaller pieces and toss it in your indoor compost bin instead of the trash.
---
4. The Best Reusable Food Wraps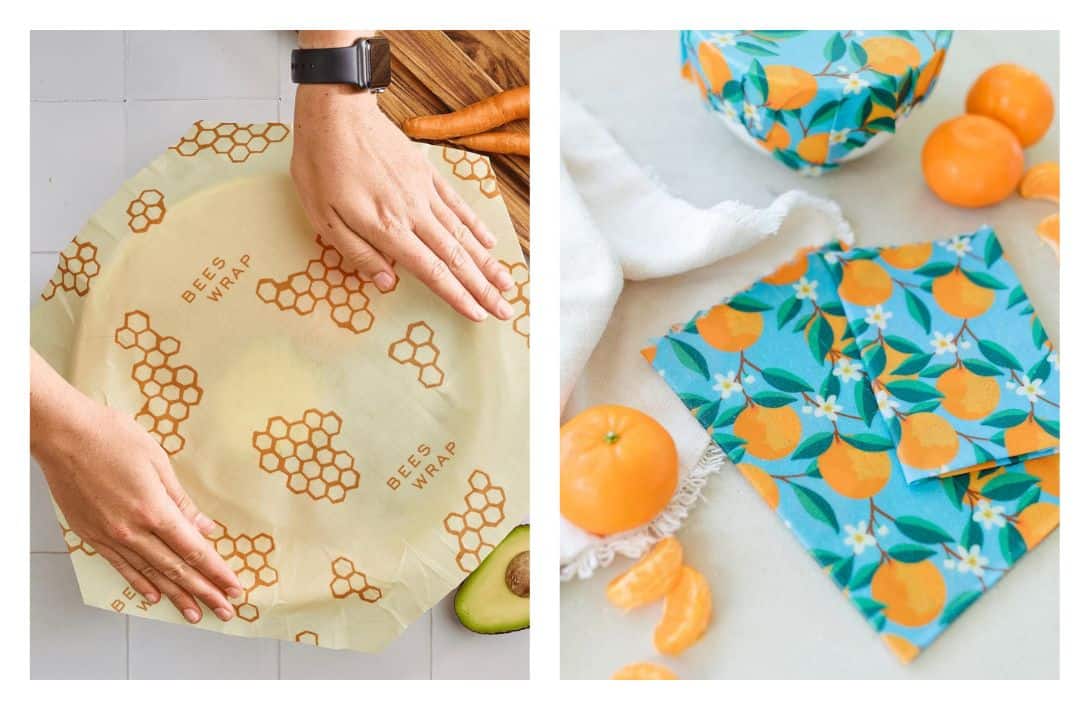 Now that you're an expert on beeswax wraps, you're probably buzzing to try them out.
It must bee your lucky day, because we've collected some of the best beeswax wrap brands available in the hive.
Bee's Wrap
Certified B Corp Bee's Wrap's wraps (try saying that ten times fast) are made from GOTS-certified organic cotton coated with beeswax, jojoba oil, and natural resin.
Their food wraps are delightfully bee themed and come in various sizes and shapes for specialized uses—like their food wrap for artisan bread and other baked goods.
They estimate one pack of these eco-friendly beeswax food wraps can prevent 1,667 sq. feet of plastic wrap from going to the landfill each year.
If you don't know how to use Bee's Wrap (hint, it's the same process we detailed above), the guides on their packaging and website make it easy to learn, too.
The best beeswax food wraps also help increase biodiversity for bees. Bee's Wrap does so by partnering with organizations that support environmental causes and protect pollinators.
Nothing Fancy Supply
Woman-owned Nothing Fancy Supply makes eco-friendly wraps to help "empower everyday people" to choose more sustainable, plastic-free solutions.
Using ingredients fully sourced from family-owned businesses in America, these food wraps feature an organic cotton cloth, coated in a mix of beeswax, jojoba oil, and pine resin.
Their wraps come in sets of two or three, and there are a variety of colorful floral and citrus prints to choose from.
etee
Toronto-based etee exists to combat plastic pollution, and one of the ways they do that is through their cruelty-free and organic beeswax wraps and snack bags.
As their flagship product—long before they started making eco-friendly toiletries and refillable cleaning products—etee knows a thing or two about how to make the best beeswax food wraps.
Thin and flexible, they're made from organic cotton muslin, USDA-certified organic beeswax, organic jojoba oil, soy wax, natural resin, and organic essential oils.
Note that the essential oils may impart a smell or flavor on your food, so keep that in mind if you're sensitive.
Hive & Honey Farm
Based out of Minnesota, Hive & Honey Farm makes beeswax wraps and snack bags to order in their home studio.
Both come in eclectic prints and patterns to liven up lunchtime.
Made from cotton fabric, beeswax, coconut oil, and pine resin, Hive & Honey's beeswax food wrap comes in a variety of sizes and unique patterns (think: donuts, flowers, and rabbits).
The wax is sourced from their own hives and the hives of other local beekeepers.
Abeego
Abeego is behind "the original beeswax food storage wrap".
They're pro-planet and anti everything you don't want touching your food: bacteria, microbes, fungi, pesticides, and unnatural preservatives.
As Canada's first Certified B Corp beeswax wrap brand, they urge you to "wrap today, save tomorrow" using their beeswax, tree resin, and jojoba-coated reusable food wraps.
If you're comparing Abeego vs Bee's Wrap, the main difference is that Abeego blends the organic cotton base cloth with sustainable hemp fabric.
They offer three different sizes for both square and rectangle shapes.
Trifecta Living Co.
Toronto-founded Trifecta Living Co. is a small business looking to reduce plastic pollution and encourage sustainability around the world with their affordable beeswax wraps.
They come in packs of seven that, with a low price tag, are perfect for first time wrappers wanting to test the waxy waters.
There are several different patterns to choose from, but each one is made from organic cotton, organic jojoba oil, beeswax, and tree resin, and packaged in recycled paper.
They also sell beeswax pellets, making it easy to re-wax or touch up your food wrap whenever it needs some TLC.
Khala & Company
If you're looking for a vegan reusable food wrap, Khala & Company has some floral-printed options for you.
Instead of beeswax, they utilize Candelilla and soy waxes, coconut and jojoba oils, and tree resin to coat the bleach-free organic cotton/hemp blend cloth.
Certified by Green American, each one is handmade in Boulder, Colorado.
Khala is a member of 1% for the Planet, allocating a portion of profits to organizations like the National Parks Conservation Association.
---
Did you know we Have a Newsletter?
We cover the latest in sustainable living, fashion, zero waste, beauty, travel, finance and more…
A Quick Review Of How To Use Beeswax Wraps
Before we (beeswax) wrap this up, let's review:
You can use these eco-friendly wraps to store fruits, cheese, and other foods, as well as cover bowls, dishes, and other food wrapping needs.
Use the warmth of your hands to stick the wrap into place around your food or container
Wash your beeswax wrap in cold water—hot water will melt the wax and damage the wrap.
Don't use your wrap on raw meat or other foods with food safety concerns.
With regular use and good care, your beeswax wrap will last you up to a year or more, after which you can either compost it or re-wax it.
---
Final Thoughts On How To Use Eco-Friendly Reusable Food Wraps
Ditching plastic wrap for reusable beeswax wrap is one of the easiest sustainability switches you can make, kicking plastic waste to the curb and supporting pollinators in one fell buzz.
Their versatility makes them essential for any sustainable kitchen, both to reduce plastic and food waste.
Plus, their bright colors and patterns liven up your kitchen in a way cling wrap never could.
If you know someone who likes bee-ing in the know about sustainability tips and tricks, swing (or sting) this article their way.
Pin these: