9 Best Eco-Friendly Wrapping Paper Alternatives For Greener Gifts
Looking to leaf a greener footprint this gift-giving season?
Then hold onto your ribbons and prepare to be wrapped up in the world of eco-friendly wrapping paper.
First, is gift wrapping paper eco-friendly, traditionally speaking?
Given how much now contains shiny foil, glitter, lamination, or some form of plastic, typically not. These aspects also render most ordinary wrapping paper non-recyclable once torn from the present.
A quick test to determine if your wrapping paper is truly just made of paper and can be recycled is to try a rip test. If you can't easily rip through the paper, there's probably plastic at play.
If you've got a pile of eco-friendly gifts that you need to wrap and can't wait to get started, get into the sustainable Christmas holiday spirit with these tree-mendous sustainable alternatives to wrapping paper.
Everything we recommend to you on Sustainable Jungle is independently researched and we ask all brands to confirm their claims. To avoid waste, we test products on an as needed basis. This post contains affiliate links. If you buy something through our links, we may earn a small commission. Learn more about why we do this here.
We're All Wrapped Up In These Eco-Friendly Gift Wrapping Paper Brands
Wrappr is a woman-owned company taking sustainable gift wrapping 'paper' to a new level with their gorgeous and reusable furoshiki fabric wraps.
For recycled wrapping paper rolls, Of The Earth uses the bark of the Daphne Bush to create visually stunning lotka paper that contains at least 50% recycled fiber content.
Saged Home can help you enhance the joy of giving with luxurious velvet reusable gift wrap you can use time and again.
For more on what we looked for in the best eco-friendly wrapping paper, roll down to the bottom.
The Full List Of Environmentally Friendly Gift Wrapping
---
1. Wrappr
Wrappr's Eco-Friendly Alternatives to Wrapping Paper
Price Range: $15–$21
Wrappr uses 100% organic cotton fabrics and earth-friendly dyes to create reusable gift wrap that takes whatever gift you're giving to another level.
The designs on Wrappr's stylish cloths are from local Toronto illustrators, artists, and graphic designers who receive 1 dollar for every wrap purchase.
The wraps are compostable and will fully break down in 2–5 months, but until the end of their life, the wraps offer an eco-friendly flair to zero waste gifts of all kinds.
We particularly like the Embodied Collection's furoshili wrap designs, with a versatile abstract color pattern that feels festive, but would also work for occasions outside Christmas.
About Wrappr
The birth of Wrappr came about following the arrival of a new baby, a climate crisis, and souvenirs from Japan.
Furoshiki wraps were the answer.
The products are made in China in a BSCI, ISO9001, and HIGG-certified factory, while the artwork is created by independent artists who are paid upfront for their work.
Orders are shipped from a US or Canadian warehouse and packed in boxes made from recyclable materials that are fully biodegradable.
Also available on EarthHero
---
2. Of The Earth
Of The Earth's Eco-Friendly Gift Wrap
Price Range: $10–$22
Made from natural plant fibers, including daphne bush and plant bark, Of The Earth's handmade compostable wrapping paper is so strong it can be used over and over again.
Some varieties of this lokta paper—like Christmas tree reminiscent Green Trees design—are embedded with wildflower seeds, so that you get another gift of green once spring sustainable gardening season rolls around.
About Of The Earth
Of The Earth is the brand's name, but flowerseedpaper is their Etsy handle—and a good description for many kinds of handmade wedding invitations and tree-free compostable gift wrap they offer.
Their products are made in the highlands of Nepal by rural craftspeople from the bark of the Daphne bush which regenerates from the root when cut, providing a renewable resource.
The bark is beaten by hand and boiled, then mixed with recycled materials such as pulp and paper scrap collected from the card and envelope manufacturing process.
It is then poured into screens to form sheets and dried in the sun.
All water used in the production process is reclaimed and reused.
The cane that's left once the bark has been removed is dried and used to heat villager's homes and to provide cooking fuel.
---
3. Waterleaf Paper Co
Waterleaf Paper Co's Eco-Friendly Gift Wrapping
Price Range: $18
Whatever the special occasion, Waterleaf Paper Co. has a 100% dissolvable and compostable wrapping paper made from plant cellulose for the job.
There are even 60 designs specially for Christmas.
Water-based inks are used in various colorful designs, each created by female artists from all over the world.
We love the soft color palette used in the festive yet versatile Watercolor Forest Paper.
About Waterleaf Paper Co
Waterleaf Paper Co is proudly female-founded and owned and collaborates with talented female artists from diverse corners of the world.
All biodegradable Christmas wrapping paper is custom-made-to-order, ensuring no wasted inventory.
The entire product line is free of synthetics and uses nontoxic inks and every aspect of manufacturing is completely in agreement with eco-friendly methods.
---
4. Saged Home
Saged Home's Sustainable Wrapping Paper Alternatives
Price Range: $52
Wrap your gifts for a loved one in luxurious reusable gift wrap from Saged Home.
Instead of having to discard the wrapping, your gift receivers will be able to reuse their velvet wrap to gift on. It's available in Hunter Green and Wine Red, perfect for wrapping all your Christmas gifts.
Also available are Bubble Gauze wraps, made from 100% cotton and durable enough to be washed over and over again.
About Saged Home
Saged Home is a member of 1% for the Planet, and regardless which zero waste online store you buy them from, products are shipped carbon-neutral.
Also available on EarthHero
---
5. Papergem
Papergem's Recycled Wrapping Paper
Price Range: $6
What wrapping paper can be recycled?
That would be anything that's just paper, like Papergem's eco-friendly gift wrapping paper.
It's made from 100% FSC-certified recycled neighborhood newspaper and printed using soy inks.
Don't think that makes it boring, though. Double-sided with a floral design on one side and animals on the other, you get twice as much bang for your buck.
About Papergem
The compostable and biodegradable paper is printed in a family-owned press in Washington state. The paper is also handmade in the US.
Purchases come packed in a compostable bag with a recyclable belly band.
As an Etsy seller, you can also shop confidently knowing that Etsy offsets carbon emissions from delivery and packaging on your purchase.
---
6. Saaper
Saaper's Eco-Friendly Holiday Gift Wrap
Price Range: $4–$35
Saaper makes their eco-friendly wrapper paper roll from a unique recycled material lineup you won't find anywhere else on this list.
They include agricultural waste such as onion skin, mango leaves, sawdust, rice hulls, coffee grounds, tea leaves, dried leaves, grass, abaca, and pulp.
Food waste solutions that double as wrapping for your favorite consumable gifts?
Yes, please!
About Saaper
Saaper produces their colorful and beautiful designs in Bangkok, Thailand.
Each roll of paper is handmade, giving each one its own character.
Products are shipped in a roll in a cardboard tube and biodegradable packaging.
---
7. Elf's Nook
Elf's Nook's Sustainable Gift Wrap
Price Range: $33–$75
Elf's Nook will help make your gift-giving extra fun and ensure everyone feels super special when they open your presents.
Recycled brown wrapping paper has never looked so good, whether you choose the Winter Fox & Rabbit design or wrap it up with the Winnie-the-Pooh Vintage Map.
There's also a line of gift paper restored from vintage Christmas carol books.
About Elf's Nook
Elf's Nook is based in California and products are handmade.
All purchases are hand-rolled and shipped in eco-friendly protective cardboard tubes.
---
8. Anastasia Marie Shop
Anastasia Marie Shop's Sustainable Gift Wrapping
Price Range: $15–$17
At Anastasia Marie Shop, you can find biodegradable Christmas wrapping paper, natural Grapevine Star Gift Toppers, more.
These hand-crafted sheets are made using natural materials, predominantly from the bark of the Daphne Bush.
This remarkable plant regenerates naturally, providing a renewable resource. The paper is acid-free, and every purchase you make benefits the economic enterprise of rural craftspeople in Nepal.
You'll find some embedded with flower petals, too.
About Anastasia Marie Shop
Anastasia Marie Shop is based in southern Washington and began life as a custom stationery and design service.
While the materials are from Nepal, the actual product creation process takes place in the US.
---
9. Wrappily
Wrappily's Environmentally Friendly Wrapping Paper
Price Range: $10
Enjoy Wrappily's new take on gift wrapping.
Available in a variety of patterns designs, and styles, great patterns are printed on premium-grade 100% recyclable and compostable newsprint. Plus, paper made this way can be recycled up to seven times.
Our favorite choice for 100% recycled wrapping paper has to be the Warhol Santa for a fun and artsy take on traditional Christmas motifs.
For maximum style on your gifts for minimalists, slap an eco-friendly paper ribbon on top via their Recycled Paper Ribbon.
About Wrappily
Wrappily uses neighborhood newspaper presses to print the paper from recyclable premium-grade newsprint. Designs are printed with soy-based inks.
Wrappily is milled, printed, and packaged in Washington State for the shortest possible supply chain.
Also available on Amazon
---
10. DIY Sustainable Gift Wrap Ideas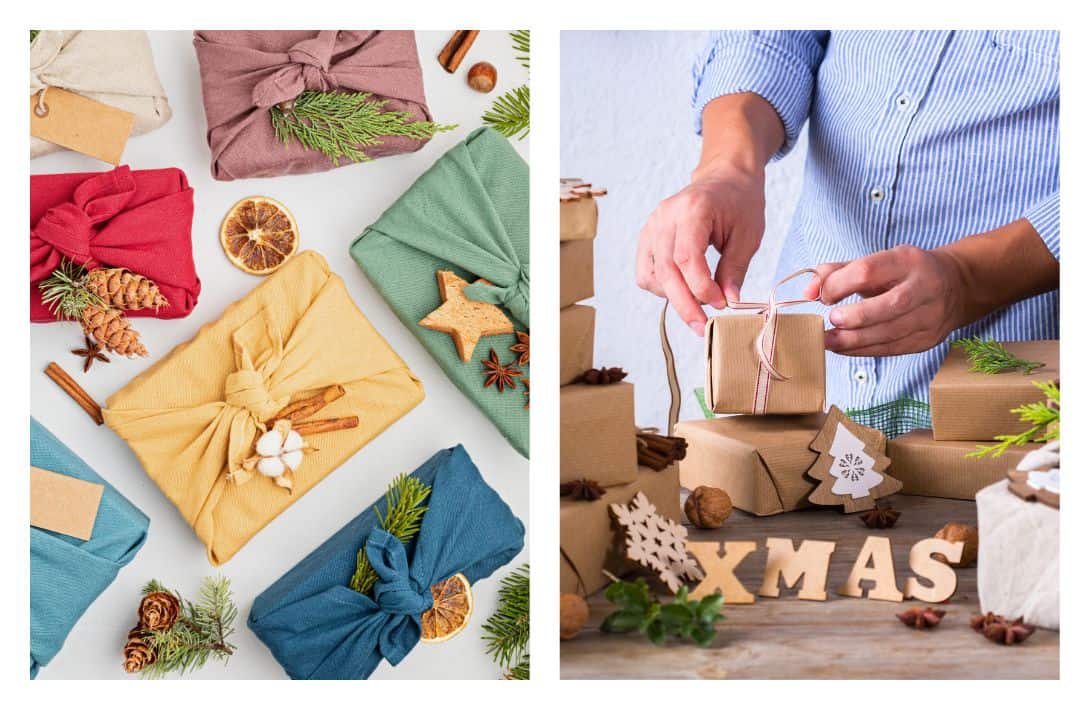 What is the most eco-friendly way to wrap a present?
Well, next to nothing at all (but where's the festive fun in that?), it would be using anything you already have lying around the house.
Maybe it's half-used rolls from last year, or recycled Christmas wrapping paper you carefully cut from the gifts you received last year.
Or maybe it's just some old brown filler kraft paper you received in your last order from an ethical Amazon alternative (or even Amazon itself).
Either way, recycled gift wrapping paper in the form of something you already have is always the most low-impact choice.
Here are a few more sustainable wrapping paper ideas:
Kraft paper, plain paper, or tissue paper is a versatile and biodegradable gift wrap
Fabrics such as cotton, silk, or deadstock fabric, which can be reused or repurposed
Old maps, newspapers, magazines, or other papers, which can be recycled or composted
Eco-friendly gift bags and bundles made from jars, tins, pouches, dust bags, cloth produce bags, or baskets that can be reused or donated
Inside-out chip bags make great eco-friendly gift wrap ideas, creating a shiny effect
Stone paper, which is tree-free and water-resistant
Honeycomb cushioning packing paper, which is biodegradable and protective
Why is wrapping paper not recycled?
Some can be put in your recycling bin, but generally, it tends to be thrown in with the general waste, thereby ending up in the landfill.
There are a few other reasons that wrapping paper is not recycled. It is often very thin and contains few good quality fibers for recycling. The paper often has plastic tape still attached, which makes it difficult to recycle.
---
Did you know we Have a Newsletter?
We cover the latest in sustainable living, fashion, zero waste, beauty, travel, finance and more…
How We Found These Eco-Friendly Wrapping Paper Alternatives
"It came without ribbons, it came without tags. It came without packages, boxes, or bags."
Not to sound like the Grinch, but that sounds like a pretty swell Christmas to us.
But we also get it; you shopped hard for those ethical gifts, and you want to see the surprise on your loved ones' faces as they tear open the paper to reveal what's inside on Christmas morning.
So what is eco-friendly wrapping paper?
Materials:
To ensure we're getting zero waste gift wrapping, we first look for compostable and biodegradable wrapping paper, whether it be single-use kraft paper or (better yet) reusable fabric wraps made of materials like organic cotton.
Next, we look for recycled Christmas wrapping paper.
And if it managed to be both recycled AND compostable, our green as the Grinch hearts are sure to grow three sizes.
Supply chain & green practices:
Materials matter most, but we also consider what other things a brand does to be ethical and sustainable.
Small, transparent supply chains, recycling initiatives, use of carbon offset programs—all parts of the many ways it's possible to make the holiday season healthier for the planet and the people on it.
---
Final Thoughts On Sustainable Gift Wrapping
Eco-friendly Christmas wrapping paper isn't just about hugging sustainable Christmas trees—it's about making a jolly good impact on our planet while still delivering those surprise-filled moments we all cherish.
As you embark on your holiday gifting adventures, remember that your choice of eco-friendly wrapping paper can be a gift to Mother Earth, too.
Let's all pledge to make our fair trade gifts extra special, not by spending a fortune on fancy paper, but by choosing eco-friendly alternatives that keep the spirit of the season alive.
To help others merge their love of low waste living and festive celebrations, please gift this wrap-sody of sustainable Christmas wrapping paper options to your friends and family.
Pin these: