9 Unbee-lievably Eco-Friendly Reusable Beeswax Wraps
Welcome, nature enthusiasts, sustainability superheroes, and curious minds alike, to a hive of delightfully sticky wonder in the world of safe food storage containers: beeswax wraps.
First, what are beeswax wraps?
Think of them as reusable saran wrap or reusable wax paper. These beeswax-covered cloths can be used
But are beeswax wraps actually good? And more important, are beeswax wraps sanitary?
You better bee-lieve it! When it comes to choosing a food wrap, reusable is the way to go and there's a reason people are buzzing about these zero waste products.
The only cons to beeswax wraps is that you don't need a bunch of them—which makes picking between all the fun colors and patterns a stinging task.
If you're eager to reduce your carbon footprint while wrapping up your goodies with a touch of whimsy, grab your beekeeper's suit and let's get wrapping.
Everything we recommend to you on Sustainable Jungle is independently researched and we ask all brands to confirm their claims. To avoid waste, we test products on an as needed basis. This post contains affiliate links. If you buy something through our links, we may earn a small commission. Learn more about why we do this here.
Wrapping Up The Best Reusable Food Wrap Brands
Make your lunch pop with the bright solids of etee's reusable beeswax food wrap, bags, sandwich bags, lunch bags, and totes. Each one is made using renewable energy and shipped zero waste.
SuperBee offers a fantastic range of reusable wraps, including DIY beeswax wrap kits. The materials are 100% natural and sustainably harvested, and manufacturing supports women in Thailand with above-living wages.
Prairie Beeswrap doesn't wrap it up at wraps. They also offer a refresher bar you can use to extend the life of your reusable beeswax wrap and keep it working for longer.
If you want to learn more about our criteria for picking these top beeswax reusable wraps, buzz down to the bottom.
The Full List Of Beeswax Saran Wrap Brands
---
1. SuperBee
SuperBee's Reusable Beeswax Wrap Rolls, Bags, & More
Price Range: $10–$100
SuperBee has created a range of beeswax products that include their very own signature beeswax wraps, beeswax cotton bags, and extra-large beeswax wraps—and after testing them, we can promise you'll (super) bee happy with your purchase.
Offering an excellent seal and a divine selection of colors that made meal-prep more fun for us, these bags have become a staple in our food routine.
You can even make your own wraps using SuperBee's DIY beeswax food wrap kits.
All reusable wraps for food and cotton bags are made from 100% GOTS-certified organic cotton, paired with sustainably harvested, pesticide-free beeswax, organic coconut oil, and tree resin.
You can reuse these wraps and bags over and over, for up to two years, and when they're done keeping your food fresh, you can toss them in your indoor compost bin.
They can also be used in the freezer for longer-term sustainable food storage.
About SuperBee
Founded by Australian-born Antoinette Jackson, SuperBee is a social enterprise located in Northern Thailand. She hit on the perfect recipe for her products in her kitchen at home, but now the company employs a dedicated team of locals.
SuperBee promotes women's empowerment, creates rural employment (mostly for women), and enforces the labor laws of Thailand.
Employees are paid 20% more than the Fair Trade Association's suggested living wage.
They also offer a huge range of other sustainable kitchen products and home essentials—such as reusable paper towel alternatives.
---
2. etee
etee's Reusable Wraps For Food
Price Range: $10–$119
With etee, you can take your pick from a selection of beeswax sandwich wraps and bags, food wraps of all sizes, waxed canvas lunch bags, and waxed canvas totes.
Each beeswax wrap for food is made using organic cotton muslin that's been dyed with eco-friendly dyes in a selection of bright colors.
The cotton is coated in certified organic beeswax, coniferous tree resin, a touch of soy wax, organic jojoba oil, and organic cinnamon and clove essential oils.
We personally use their variety pack of wraps, which includes three sizes of bright, solid colored wraps. We've found the small to be ideal for wrapping halves of fruit, the medium perfect for covering bowls, and the large best for securely wrapping sandwiches.
These etee reusable food wraps are easy to use (including a solid seal that keeps our lunch fresh all day) and easier to clean. We simply hand wash them in cold water with ethanol-free mild soap—which etee also offers. Avoid hot water because it can melt the wax.
About etee
etee's mission is to develop genuine solutions to plastic pollution and make plastic-free living possible for everyone.
That's why this zero waste online store does its best to use the most effective and eco-friendly ingredients available. They're so confident in their products that your purchases come with a 90-day guarantee.
And they're big fans of beeswax. In fact, beeswax wraps were their very first product and today, they use the natural substance to create biodegradable refill pods of zero waste hand soap and zero waste dish soap.
Nothing is tested on animals, and that includes all their suppliers, too.
Like their zero waste line of bathroom, home cleaning, and kitchen essentials, their packaging is plastic-free down to the cellulose tape.
The company is based out of Toronto, Ontario, Canada and this is where many of its products are handmade in a renewable energy powered factory.
---
3. Bee's Wrap
Bee's Wrap's Beeswax Covers & Wraps
Price Range: $6–$20
Keep your herbs, baked goods, produce, and other food items fresh with Bee's Wrap's reusable beeswax wraps.
Their beeswax cloth food wrap can be used for up to one year after which you can cut them up and add them to your compost pile, making them 100% zero waste.
That's because ingredients include just beeswax, organic cotton, organic jojoba oil, sustainable candelilla wax, and tree resin.
About Bee's Wrap
Bee's Wrap is a Certified B Corp, so you can be certain it meets the highest standards of performance, is verified by transparency, and meets accountability requirements.
To further help the environment, Beeswrap has joined 1% for the Planet to donate 1% of all profits to pro-planet organizations.
Because one of their retail platform partners is ZeroWasteStore.com, you can get your Bee's Wraps via carbon-neutral, plastic-free shipping. Every piece of packaging can be composted, reused, or recycled.
---
4. Abeego
Abeego's Beeswax Wraps
Price Range: $18
You never need to use plastic wrap again thanks to Abeego's reusable beeswax wraps which are available in four sizes to literally cover all your food storage needs.
If you have a favorite size, just buy that. Otherwise opt for their variety pack.
They are made in Canada using hemp and organic cotton cloth that's been infused with organic jojoba oil, tree resin, and pure Canadian beeswax.
About Abeego
Abeego is already a Certified B Corp, but rather than being satisfied with that, they're making plans to increase their impact score in this year's assessment.
To further its circular manufacturing aims, Abeego uses many of its beeswax scraps in other products, such as their mini campfires.
Products are delivered in 100% recyclable and compostable paper boxes.
---
5. Prairie Beeswraps
Prairie Beeswraps' Beeswax Wraps
Price Range: $11–$33
Offering a sustainable alternative to pervasive kitchen plastic, Prairie Beeswraps are reusable and compostable.
Their reusable beeswax bread wraps, produce bags, and food wraps are handmade with 100% cotton, local Canadian beeswax, sustainably sourced pine resin, and jojoba oil.
Whether buying singles or 5-piece sets, opt for your favorite print style—ours is the adorable Mushroom—or select "Maker's Choice" for a surprise in the mail.
About Prairie Beeswraps
Prairie Bee is a small woman-owned, family-run business based in rural SK, Canada.
All products are Canadian handmade in small batches to minimize waste and ensure a top-quality, long-lasting product. They are also sent plastic-free.
If you think your beeswax food wraps could do with a refresh, why not try Prairie Beeswraps refresher bars?
They're the perfect way to extend the life of your beeswax wraps by restoring any worn-away coating and it takes just a few easy steps.
---
6. Hive and Honey Farm
Hive and Honey Farm's Reusable Food Bags & Wraps
Price Range: $14–$28
With an average review of 5-stars, you know you're going to get a good product from Hive and Honey Farm.
Handmade in the USA, their range of reusable beeswax food wraps is made using cotton fabric, pure beeswax, organic coconut oil, and pine resin.
The beeswax is a blend that includes wax from their own hives and from other local beekeepers. When you're done using them, they are fully compostable.
The wraps are sold in 3-piece starter sets with three different sizes for all your wrapping and covering needs, while the bags and bread wraps are sold as singles. Numerous patterns are available across all.
If you're bringing a dish to a dinner party, embrace the party theme by covering your casserole with their Confetti Wraps.
About Hive and Honey Farm
Located in Minnesota, USA, this small Etsy seller has made almost 4,000 sales with an average 5-star review across all of them.
They aim to inspire people to adopt a low waste lifestyle by offering eco-friendly products at an affordable price.
---
7. OLSEN+OLSEN
OLSEN+OLSEN's Beeswax Cling Wraps
Price Range: $11–$56
With reusable beeswax food wraps available in an absolutely huge selection of designs, shapes, and sizes, OLSEN+OLSEN is a go-to anytime you need a colorful storage solution.
From cactus prints to fruit patterns—extra appropriate for covering half cut fruits!—there are tons of single wraps and sets alike.
Unlike many shops, they offer XXL wraps that make for the perfect beeswax bread wrap.
They also offer beeswax wrap kits that you come in cute gift boxes perfect for giving to the crafty person in your life—even if that person is yourself.
They are handmade in Quebec from cotton covered with a mixture of organic beeswax, organic jojoba oil, and organic tree resin.
About OLSEN+OLSEN
OLSEN+OLSEN is a family-owned business located in the beautiful Laurentians, Quebec. Products are handmade using eco-friendly ingredients and lots of love.
The company is a member of the Noissue Eco Packaging Alliance, so you know the packaging used is sustainable and always plastic-free.
---
8. Eco Shop By Anastasia
Eco Shop By Anastasia's Reusable Food Wraps
Price Range: $21–$30
EcoShopByAnastasia is an Etsy seller with a selection of beeswax sandwich wraps and other food wraps made from cotton coated with organic beeswax, organic jojoba oil, and natural pine resin.
Sizes include 8×8 inch, 12×12 inch, 6×6 inch, and 10×10 inch.
About Eco Shop By Anastasia
Handmade in California, anything purchased from this beeswax wrap specialty shop has been given some rave reviews.
The seller offers quick shipping and Etsy offsets carbon emissions from delivery and packaging.
---
9. DIY Beeswax Wraps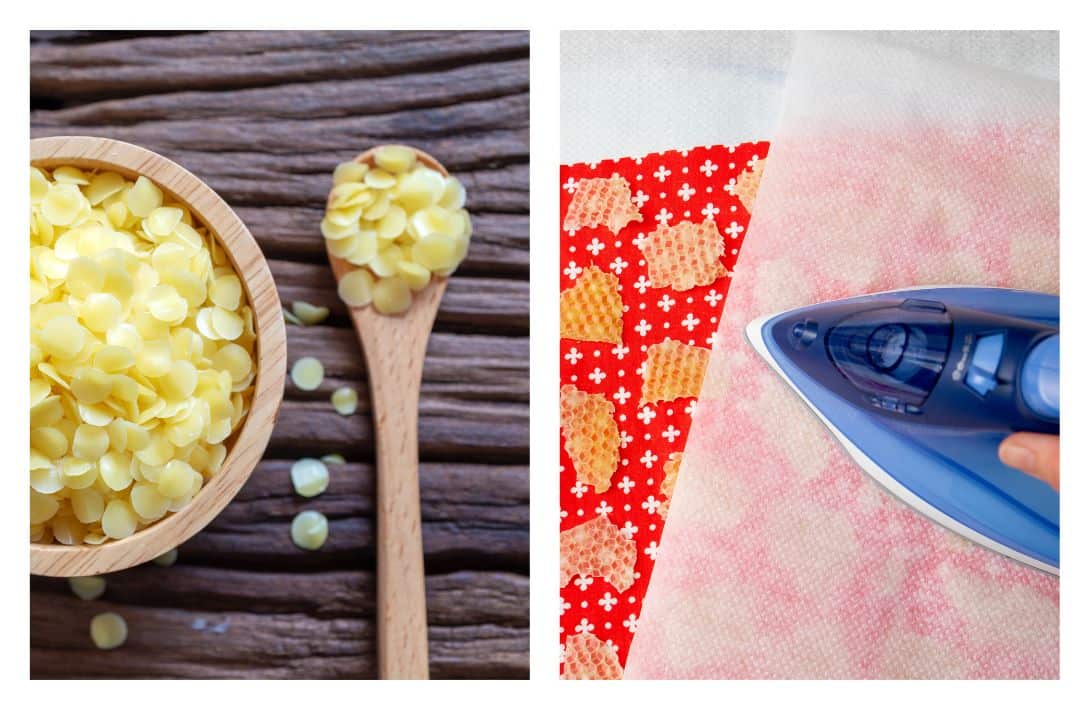 There's an age-old battle between DIY versus store-bought, and while store-bought beeswax wraps have their merits, there are plenty of reasons why DIY beeswax wraps take the crown.
Here are just a few quick reasons why you should roll up your sleeves, embrace the DIY spirit, and embark on a sustainable living journey with your very own homemade beeswax wraps.
Customization galore: Unleash your creativity and personalize your wraps to your heart's content.
Cost-effective: Make your beeswax wrap and you could save a bundle of money.
Eco-friendly flexibility: You get to repurpose fabric scraps or upcycle old linens, reducing waste and giving new life to forgotten materials.
Personal touch: There's something very satisfying about crafting your everyday essentials.
Reusability at its finest: One of the most significant advantages of beeswax wraps, whether store-bought or DIY, is their reusability. By making your wraps, you have control over the quality and durability of the fabric and wax.
How to Make Beeswax Wraps
Here's what you'll need for a basic beeswax wax recipe:
Beeswax pellets or a block(or, if you're looking to make a vegan reusable food wrap, soy wax)
Fabric (you can use scraps of old clothes made of natural fabrics or otherwise, we recommend organic cotton)
Fabric scissors or shears
Cheese grater (optional)
Parchment paper
An iron or oven
If you want to make life even simpler, you can opt for pre-made DIY beeswax food wrap kits.
Then, you're ready to craft homemade beeswax wraps, DIY style.
1. Cut your fabric:
Using fabric scissors, cut your fabric into fun shapes like squares, rectangles, or even hexagons. Feel free to mix and match different fabrics to create a vibrant collection of wraps.
2. Grate your beeswax:
If you're using a beeswax block, grate your beeswax block like a cheese connoisseur. If you're using beeswax pellets instead, skip to the next step.
3. Wax on, wax off:
Now comes the exciting part!
Lay one of your fabric shapes on top of the parchment paper and sprinkle the grated beeswax or beeswax pellets over it. Spread evenly, making sure they cover the fabric entirely.
4. Get Cooking:
If you're using an iron, place another sheet of parchment paper on top of the waxed fabric, sandwiching it between the layers. Turn your iron to a low heat setting (no steam) and gently glide it over the parchment paper.
The heat from the iron will melt the beeswax, infusing it into the fabric and creating a seal.
If you're using an oven, preheat to 350°F and place your fabric with wax on top inside on a non-toxic bakeware sheet and bake until the wax has melted and spread evenly.
5. Revel, Wrap, Reuse
Remove the top layer of parchment paper (or remove from the oven). It should be pliable, slightly sticky, and ready to embrace your food with eco-friendly love.
You can now use your beeswax wrap for a variety of applications such as covering glass containers and bowls, wrapping sandwiches, or keeping produce fresh.
The heat from your hands will mold the beeswax wrap to create a tight seal.
When you're done,you can clean beeswax wraps by simply rinsing it with cool water (or applying a mild non-toxic dish soap and scrubbing gently if stained), let it air dry, and it's ready for another round of food-saving adventures.
---
Did you know we Have a Newsletter?
We cover the latest in sustainable living, fashion, zero waste, beauty, travel, finance and more…
Why Choose Beeswax Wrap Packaging?
When it comes to plastic-free food storage containers, beeswax wraps offer a compelling choice for several reasons:
First, they're a sustainable alternative to Ziploc bags, plastic cling wrap, and aluminum foil. Unlike these disposable food storage means, they can safely be reused over and over—usually for about a year.
If they do ever wear out, they're fully compostable or can be used as a fire starter.
Beeswax cloth wraps are also non-toxic and breathable, allowing your food to stay fresh longer while reducing the risk of spoilage.
Plus, these wax wrappers add a touch of beauty to your kitchen or eco-friendly lunch bag—far more exciting than boring clear cling wrap!
---
How We Choose The Best Beeswax Wraps
Just like when we're dressing ourselves in the likes of sustainable jeans, there are several factors to consider when choosing the best beeswax wraps to dress our food.
Which means we can use our sustainable fashion guidelines here, too.
Materials:
Beeswax wraps are typically made from a cotton fabric base. Ensure that the fabric used is 100% cotton, preferably organic, as it is more breathable and less likely to transfer chemicals to your food.
We also look for beeswax wraps made from high-quality beeswax. The beeswax should be organic and sourced sustainably. Quality beeswax also helps it adhere better.
Other materials commonyl used are jojoba oil and pine resin, which will ideally be sustainably harvested.
Thickness and durability are also considerations. Thicker wraps tend to be more durable and last longer across repeated use without cracking or peeling.
Supply chain & labor practices:
Ethical beeswax wraps not only refers to ethically sourcing the beeswax, but also to the way the wraps are made.
Fortunately, most of these brands are small businesses that hand-make the wraps themselves.
Carbon commitments & green practices:
We love seeing ways brands reduce their impact beyond the products they make. For instance, those that sell through Etsy are supporting carbon offset programs through the platform's carbon-neutral shipping policy.
We also consider the packaging of the beeswax wraps, namely minimal or plastic-free packaging to align with zero waste principles—especially since reusable food wraps are themselves a key zero waste swap.
---
Final Thoughts On Beeswax Reusable Food Wraps
That's a wrap, but in summary, reusable food wraps are a fantastic alternative to traditional single-use plastic wrap, offering an eco-friendly, reusable, and versatile solution for your food storage needs.
By choosing beeswax wrap packaging, you're actively contributing to a more sustainable future and reducing the harmful impact of plasticwaste on our environment.
So, let's spread the word about the wonders of beeswax wraps by sharing this list with your friends, family, and followers.
Remember, every small change we make adds up to a big impact. Let's ditch plastic wrap and bundle up our food with love, care for our planet, and lead the way toward a more sustainable future.
Pin these: