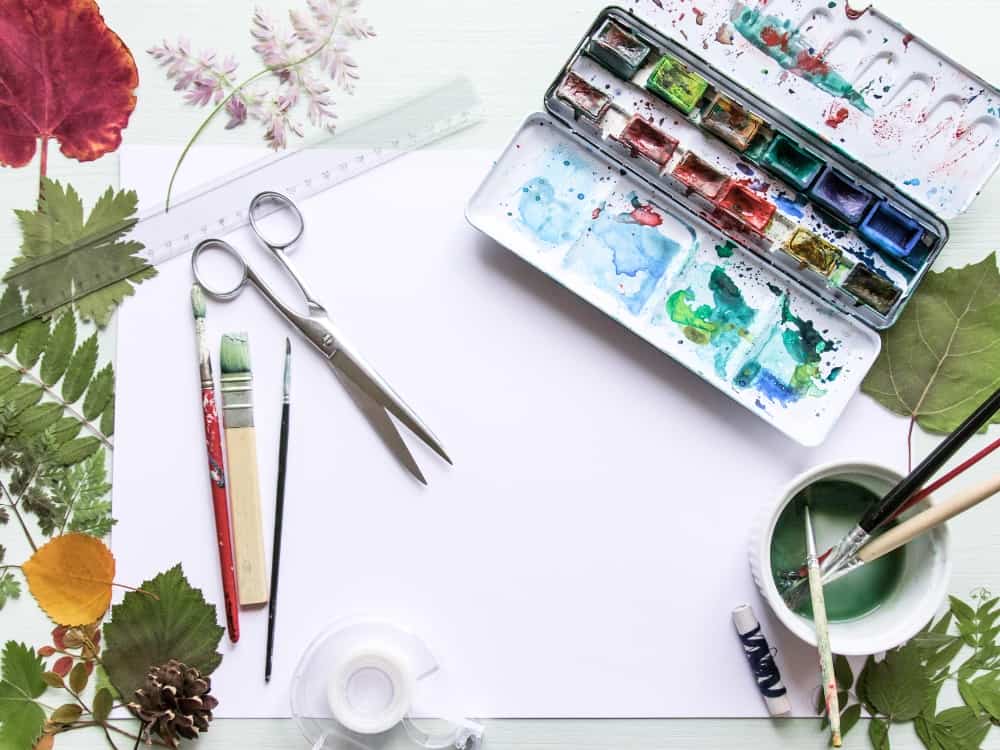 Eco-Friendly Crafts: 9 Sustainable DIY Projects For A Greener Tomorrow
Welcome to a world where creativity meets sustainability.
It's time to take a fresh look at the art of crafting, a timeless tradition that not only sparks imagination but also can play a powerful role in preserving our planet.
How?
Simple: through eco-friendly crafts!
An exciting fusion of creativity and conscious living, these sustainable craft ideas are the perfect blend of fun, functionality, and planet preservation.
So how do you make eco-friendly crafts?
We'll teach you. Just grab your supplies, a dash of creativity, and let's dive into the artistic realm where green is the new black (er, charcoal).
1. Scrap Fabric Rag Rugs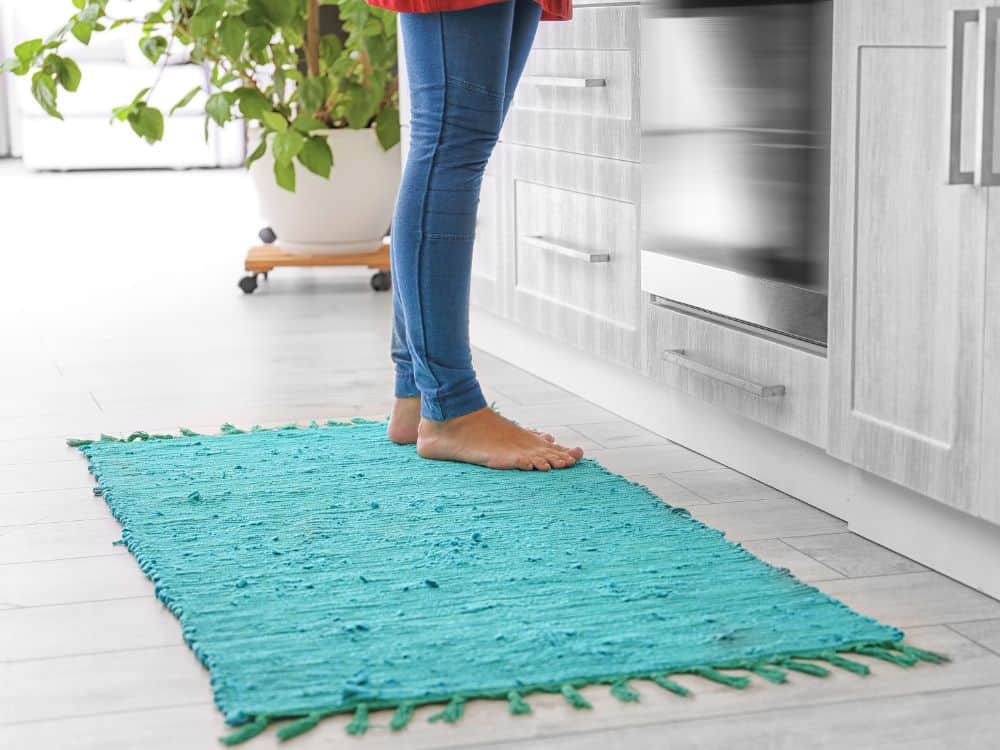 Sewing projects aren't the only way to exercise your textile creativity.
Ever looked at your growing pile of scrap fabric or old clothing and thought, "I should really do something with all that"?
We've got just the eco craft for you: scrap fabric rag rugs!
This is a fabulous, fun, and (most importantly) eco-friendly way to turn that mountain of potential textile waste into a charming piece of sustainable home decor.
Not only does it cater to our crafty adult friends, but it's one of the best eco-friendly crafts for children, thanks to its simplicity and safety.
No fancy eco-friendly art supplies needed either, just the following:
A decent-sized pile of scrap fabric (the more colorful, the better!)
Scissors
Non-slip rug pad or gridded mat
A touch of patience
Begin by cutting your scrap fabric into 1-inch wide strips, then tie these strips tightly onto a non-slip rug pad or gridded mat until it is fully covered, resulting in a charming, cushy rug made entirely from upcycled materials.
If you want to go for a 100% recycled sustainable craft and ditch the mat sublayer, you can weave the long strips of fabric together, rather than tying them on.
No loom?
DIY one out of cardboard or recycled wood scraps and panel nails.
---
2. Repurposed T-Shirt Tote Bags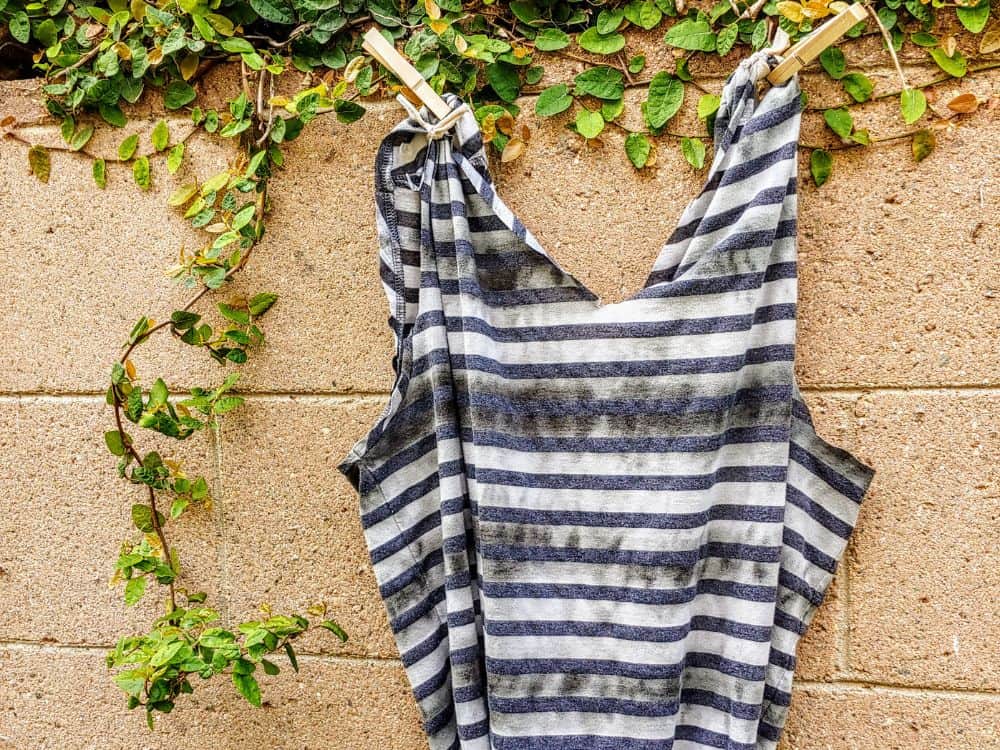 We all have those treasured old clothes we don't wear, but also don't have the heart to shred into pieces.
Give those cherished old tees and sentimental hoodies a new lease on life with one of the most functional (and funky) recycled eco-friendly crafts.
From moms and dads to kids, this sustainable arts and crafts idea is perfect for anyone with a dash of creativity and a penchant for purses. You'll need:
A couple of old t-shirts (the more designs and colors, the better!)
Sharp scissors
A ruler or measuring tape
Marker for drawing cut lines
To create repurposed t-shirt tote bags, simply cut off the sleeves and neckline from your old T-shirt to form handles, then turn it inside out, cut the bottom into ~2" fringe strips, and tie them together.
If you like the fringe look, don't turn it inside out and simply flaunt your fringe on the outside.
Celebrate your success by flaunting your new DIY eco-friendly craft creation during your next grocery run or outing, replacing plastic grocery bags with it and knowing you've totes (get it?) just contributed to a greener planet with your crafty skills.
---
3. Recycled Paper Bead Jewelry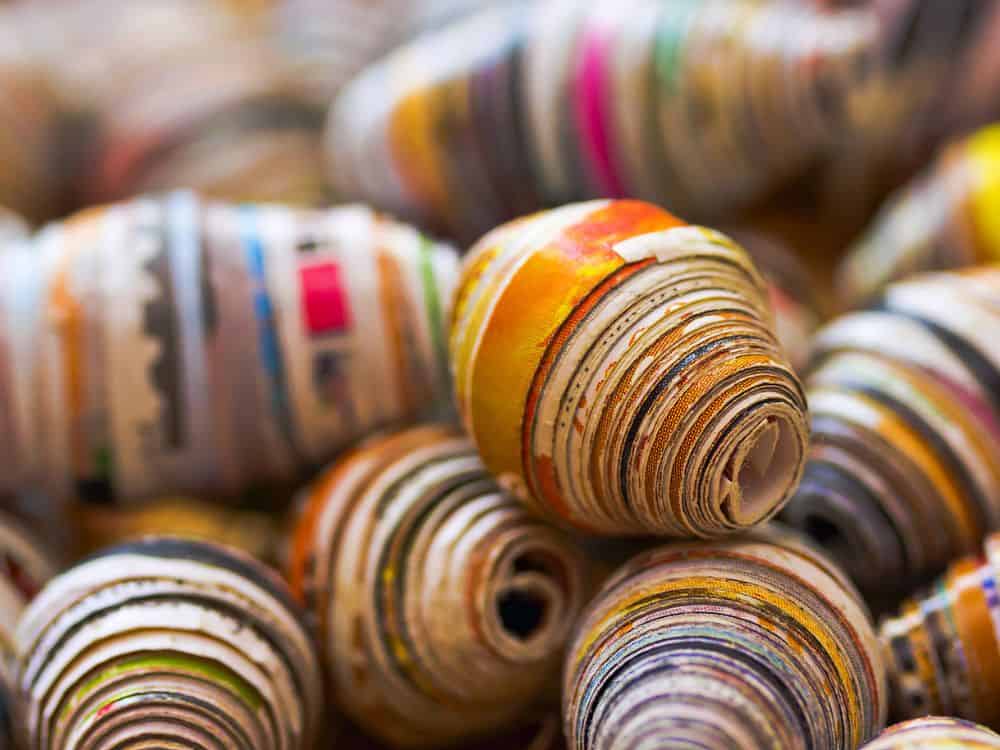 Supporting conscious jewelry brands is one way to accessorize, but conscious crafting is another.
Recycled paper bead jewelry is a creative and unique way to transform your everyday paper waste into glitzy adornments for your style file.
This isn't just a craft; it's an eco-friendly arts and crafts movement that will satisfy both the trendy fashionistas and the eco-conscious warriors amongst us.
You'll need the following eco-friendly craft supplies for this one:
An assortment of colorful paper and recycled materials (old magazines, newspapers, flyers—you name it!)
Scissors
Glue stick
Toothpicks or skewers
Clear-drying eco-friendly paint for crafts (it'll give your beads that gorgeous glaze)
String or elastic cord for the jewelry
Cut your used paper into triangular strips, roll them tightly around a thin rod like a toothpick, secure with eco-friendly glue, and then coat with a non-toxic sealant before stringing them together.
---
4. Natural Leaf Printing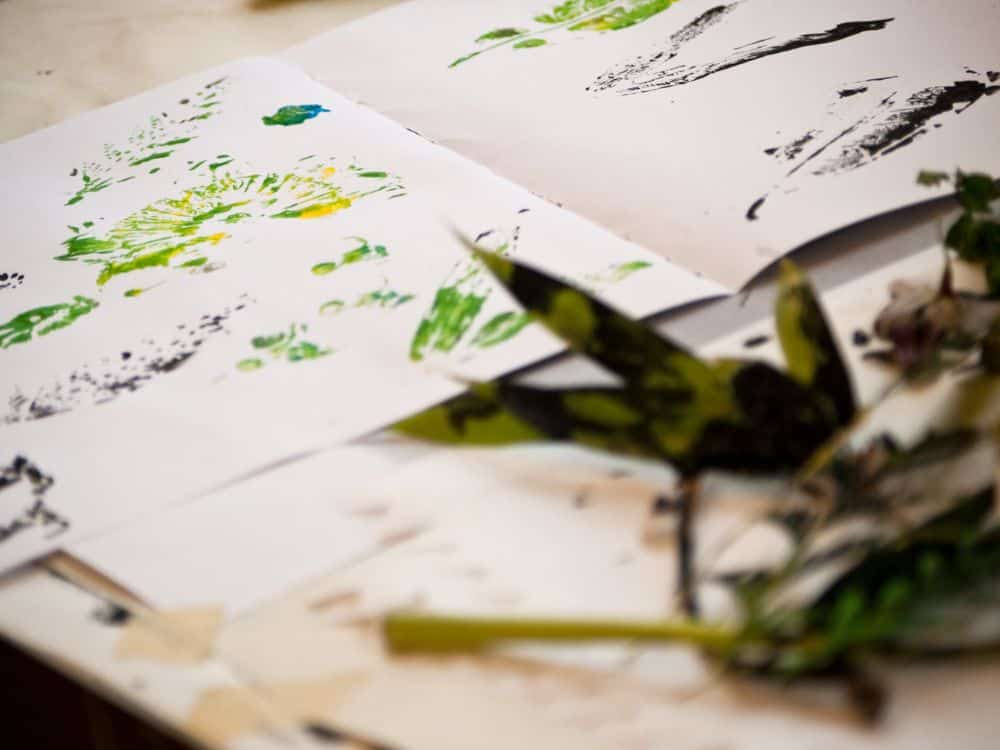 Celebrating Earth Day? Or maybe looking for eco-friendly Halloween crafts with all those mountains of leaves in your yard?
Natural leaf printing is a fabulous way to connect with nature and create stunning art pieces.
The best part?
It's a super versatile craft!
You can make eco-friendly holiday crafts like a festive leaf print table runner, eco-friendly Valentine crafts like a heart-shaped leaf print card, or simply a stunning piece of decor for your home.
You'll need just a few sustainable craft supplies:
A selection of interesting leaves (time for a nature walk!)
Paint (ideally from a non-toxic art supplies store)
Recycled paper or cardstock
A paintbrush
Apply eco-friendly paint onto a leaf, press it onto your chosen medium like paper or canvas, then gently remove the leaf to reveal a beautiful and detailed natural imprint. Repeat until you've created whatever design you like.
After the paint is dry, you can further dress it up by adding biodegradable glitter or cuts of old ribbon or lace to the edges.
---
5. Bottle Cap Magnets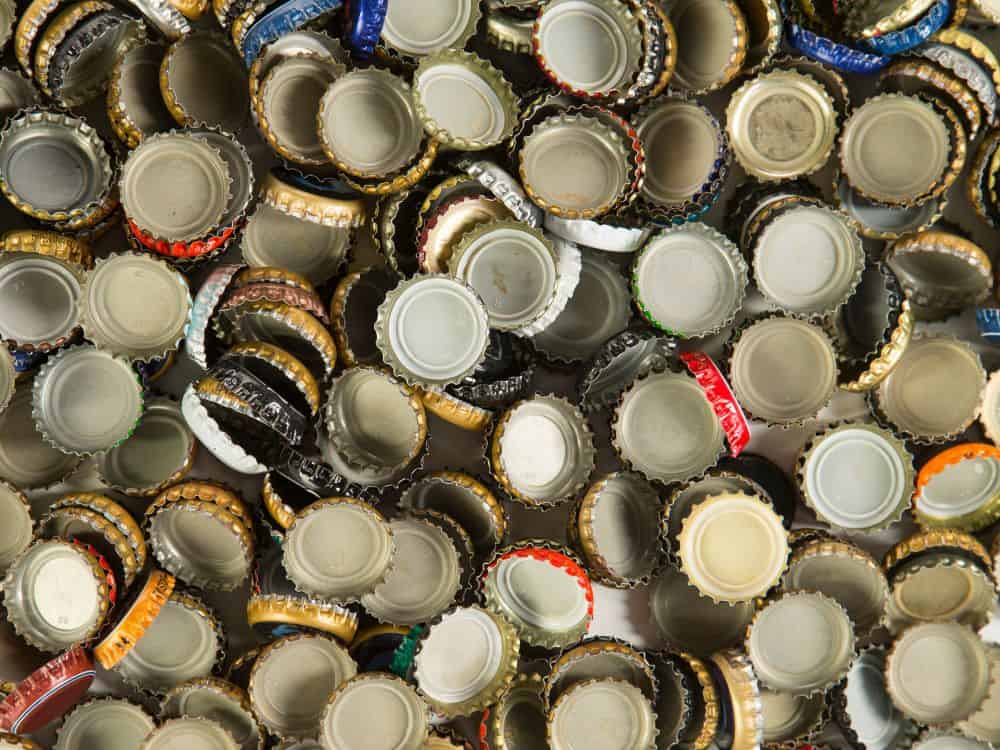 Turn those humble bottle caps into striking refrigerator accessories with the following items:
A collection of bottle caps (the more diverse, the cooler!)
Small magnets
Glue (a strong one)
Images or tiny trinkets to fit inside the caps
Clear-casting resin
Apply a layer of eco-friendly paint to the inside of the cap or stick cut-out pictures or decorative paper on top, secure with a layer of glue, fill the cap with clear resin overtop your design, and finally, affix a magnet to the back using a strong adhesive.
And hey, even if those bottle caps are from your favorite organic beer, it's not just for the DIY grown-ups out there—it's also in the run for fun sustainable crafts for kids!
---
6. Beeswax Fabric Food Wraps
Sustainability in arts and crafts often means making something that's functional—and you can't get more eco-friendly than a craft project that also doubles as a sustainable kitchen product.
Beeswax wraps are popular plastic-free food storage containers to replace plastic bags and foil wrap.
A decent-sized pile of cotton fabric (if it's organic cotton or recycled, all the better)
Beeswax pellets (or soy wax if you're vegan)
A paintbrush
An oven or iron
To make beeswax wraps, cut your cotton fabric into desired sizes, cover one side with beeswax pellets, melt in the oven (not too long!), and spread evenly with a paintbrush.
Alternatively, you can use clothes iron with a piece of parchment paper in between.
Then allow it to cool and cure on a flat surface.
---
7. Wine Cork Succulent Planter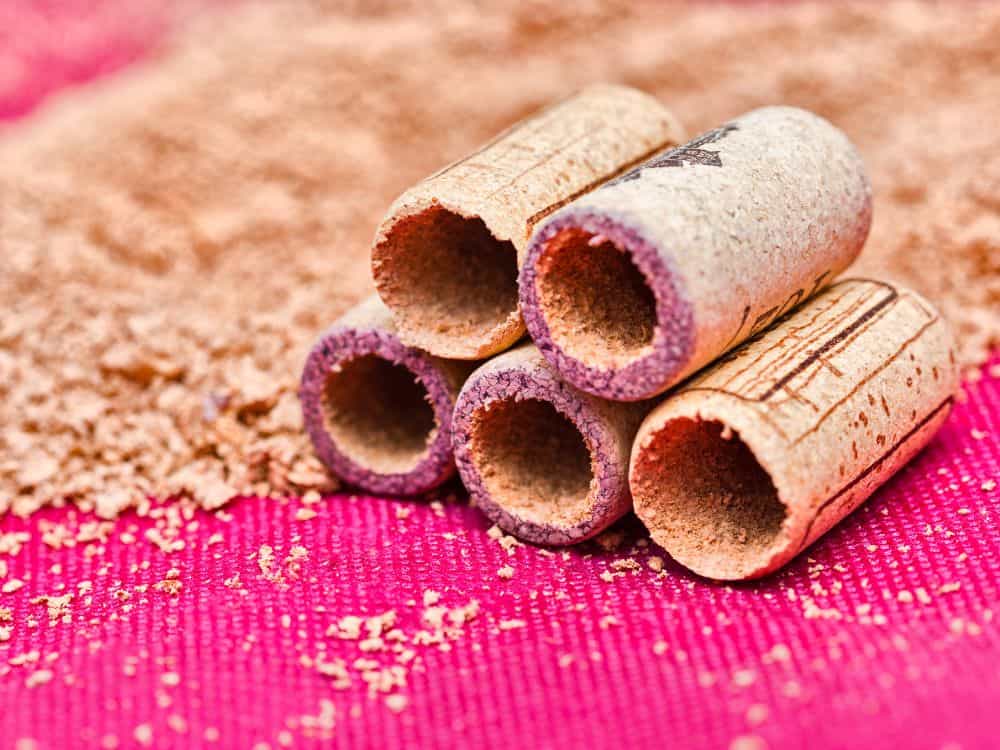 Are you a plant lover searching for an innovative way to bring greenery into your home?
Look no further!
A wine cork succulent planter is one of those unique plant crafts for adults that beautifully marries creativity with sustainability (and of course, a love for wine!).
You'll need:
A collection of wine corks
A sharp knife
Magnets
Hot glue gun
Soil and succulent cuttings
Hollow out your wine corks from the top down (leaving some cork at the bottom to keep dirt in), glue a magnet to the back, fill them with soil, and pop in your succulent cuttings. You'll end up with adorable tiny planters that can stick to any magnetic surface.
Here are some detailed instructions.
---
8. Cardboard Box Dollhouse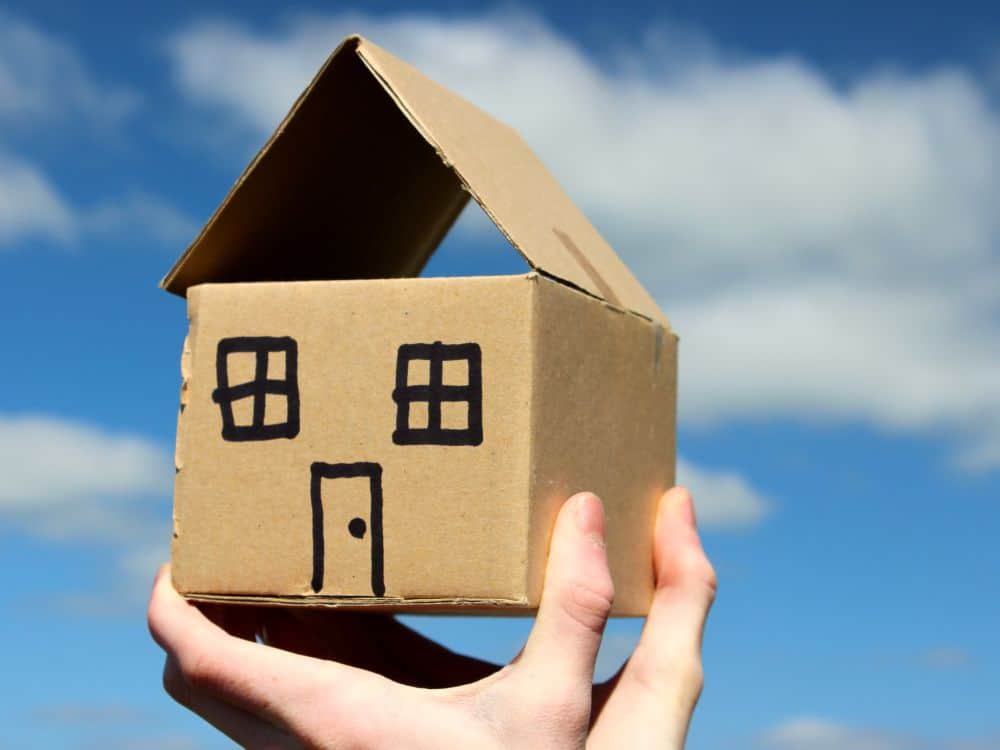 Let your creativity run wild with this fun, plastic free and sustainable craft project.
A DIY cardboard doll house is not just an excellent way to keep your little ones entertained, but it's also a great opportunity to teach them about the importance of recycling and reusing.
A large cardboard box
Safety scissors or a box cutter (note to only let adults handle the box cutter)
Paint brushes
Old magazines, fabric scraps, or other recycled materials for decoration
Begin by cutting out windows and doors from your large cardboard box. You can even stack boxes and use paper or washi tape to create add-on and second levels.
Once the structure satisfies your kiddos, apply eco-friendly paint to stylize it, and let your children decorate their new imaginative playhouse with old magazines, fabric scraps, or recycled paper.
You can even gift the eco-friendly materials as part of an eco-friendly Christmas crafts kit and spend the morning post-presents by doing this activity with them.
---
9. Cardboard Tube Bird Feeders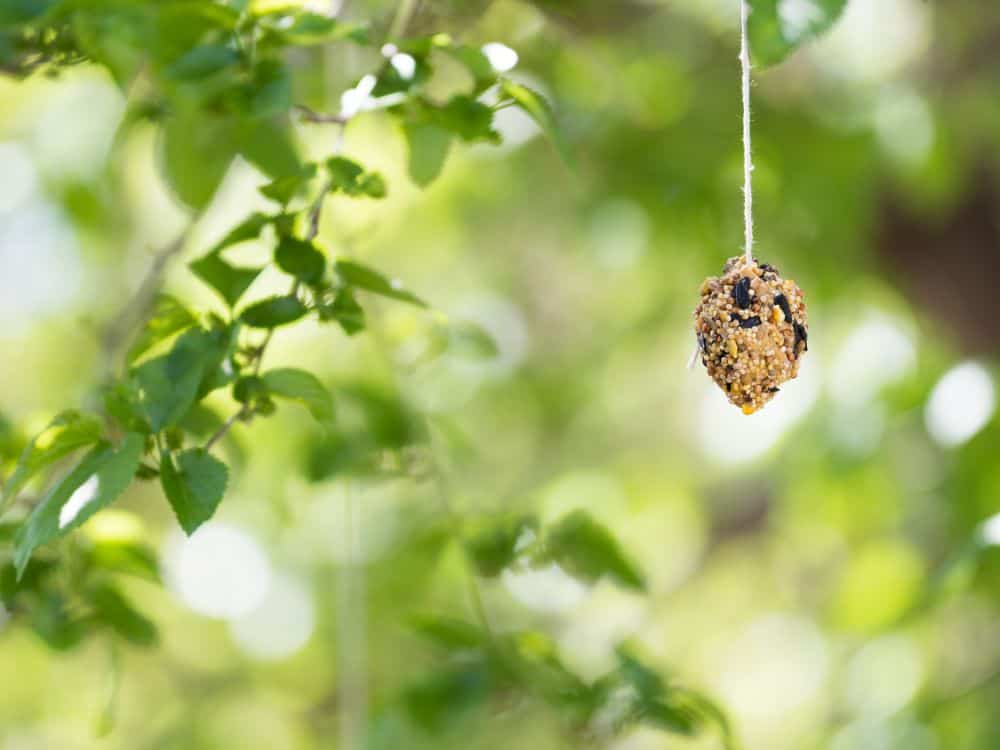 If you haven't switched to zero waste toilet paper or reusable paper towels yet and are looking for ways to make your paper habit a little more sustainable, transform your discarded cardboard tubes into something delightful for our feathered friends.
Increasing biodiversity and creativity?
That's a win-win for nature lovers and craft enthusiasts alike. Start with:
Cardboard tubes (toilet paper or paper towel rolls)
Peanut butter (natural, not full of sugar and preservatives)
Birdseed
String to hang the feeders
Smear the cardboard tubes with peanut butter and then roll them in birdseed. Once done, simply hang them in your sustainable garden or on your balcony and get ready to get your bird-watching on.
---
Did you know we Have a Newsletter?
We cover the latest in sustainable living, fashion, zero waste, beauty, travel, finance and more…
Final Thoughts On DIY Sustainable Craft Projects
As you can see, there is no one right answer to the question, "What is a sustainable craft?".
Eco-friendly DIY projects are only limited by your imagination—and perhaps what eco-friendly materials you have lying around to upcycle.
It's clear that creativity and sustainable living go hand in hand and these projects are only the tip of the creative outlet iceberg.
Whether you're exploring sustainable art projects for your own artistic expression, from creating fabric flowers to designing homemade zero waste gift wrapping, or exploring eco-friendly crafts for kids, this blend of creativity and conservation can make a difference.
In fact, it's an especially perfect tool for sustainability for kids, as it teaches children about creative reuse and to value materials that would otherwise be discarded.
Let's continue to enjoy these eco-friendly crafts, nurturing our creative selves while making a positive contribution to our world—oh and share this article so others can join in the fun!
Pin these: