8 Plastic Free Food Storage Containers Preventing Food Waste
We spend a lot of time in our kitchens.
Want to make that time as eco-friendly as possible?
Saying 'no' to food waste and plastic is a recipe for a zero waste kitchen.
While we're big advocates of apartment composting and experimenting with food scraps (to flavor kombucha for example), the way we store food is our biggest defense against food waste.
And figuring out how to preserve food at home is crucial for cutting down on the 40% of food that ends up rotting in the landfill.
If you don't believe us, jump to the bottom to learn more.
To avoid adding to that stat, we've come up with the best plastic free food storage solutions to suit your food preserving needs.
So snap on, clip in, and screw on to join us as we open each solution.
*This post contains affiliate links
QUICK LINKS FOR THE BEST PLASTIC FREE FOOD STORAGE CONTAINERS
---
1. HIGH-QUALITY GLASS CONTAINERS
Glass is considered the best plastic free food storage container.
It's fully recyclable and abundantly available.
Unlike plastic, you don't have to worry about common contaminants such as BPA, BPS, and phthalates.
Nor do you have to worry about glass being stained by tomato sauce or having a lingering scent of last week's leftovers.
You can also re-heat glass over and over without worrying about chemical leaching. They're dish-washer safe and thus easier to clean.
While we're big fans of reusing glass containers as much as possible, in some instances, it's better to invest in something a little more durable than conventional glass.
When you store food in high-quality glass (like tempered glass or glass made with borosilicate), you also have a storage option that should last a lifetime.
Tempered glass is heat-treated, making it even more durable—especially when exposed to heat or shock.
When that glass container does suffer an unfortunate tumble, it will break into easy-to-clean cube-shaped pieces instead of thin shards that are hard to find… until they end up in your foot later that is.
Borosilicate glass contains 5% boric acid, which makes it resistant to thermal shock and chemical corrosion. It's a good choice for freezing and baking but tends to be more expensive.
When you do have to get rid of a glass container, it's infinitely recyclable (even borosilicate glass).
So what are our favorite high-quality glass non plastic food storage containers?
Glasslock
Glasslock containers are tempered glass that is five times stronger than normal glass. It's BPA-free, oven safe (in some cases), non-toxic, refrigerator/freezer safe, microwave safe, and dishwasher safe (top rack).
The lids (of which you can get free replacements on their website) have an integrated silicone seal, making them water-tight and air-tight.
These non plastic alternatives to food storage come in several sizes and shapes (circular and rectangular).
Kilner
For 175 years Kilner has been crafting screw top preserve jars and clip top fermentation bottles.
They also have a selection of square storage containers and non plastic food storage containers for children, also a good solution for homemade baby food.
All items are fridge, freezer, and microwave-safe, and feature a non-spill silicone lid.
The glass is 100% curbside recyclable and some jars are even made with a portion of recycled glass.
---
2. OLD GLASS JARS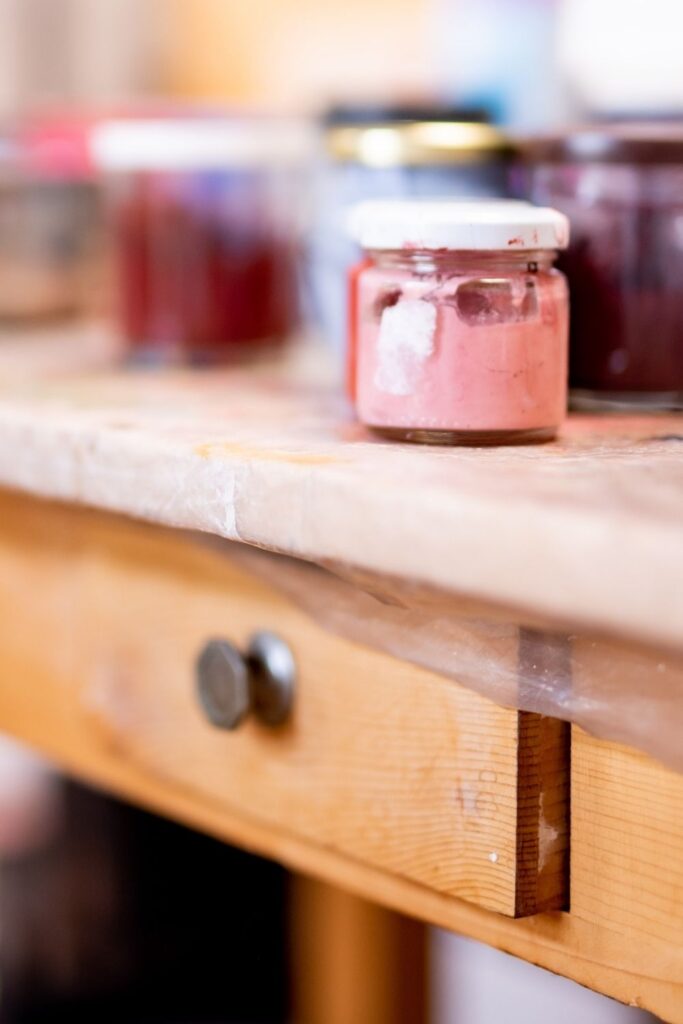 Being sustainable often means being creative and upcycling what we already own.
In fact, the most eco-friendly thing we can do (in any situation) is to reuse.
Thus the best plastic free reusable food storage is something you probably already have in your kitchen: the humble glass jar.
Pasta sauce, nut butter, vegetable oil, pickles, and many other types of food often come in reusable glass jars that serve as an excellent (and cheap) non plastic food storage solution.
Reused glass also happens to be one of the only materials the FDA has deemed "generally…safe".
Just make sure you sanitize first with some hot water and zero waste dish soap.
Glass jars can store a range of foods, but given their shape, they're ideal for liquids or small foods: soups and stews, homemade trail mix or granola, popcorn or potato chips, bulk grains, nuts, and seeds, or smaller fruits and vegetables and herbs.
Upcycled glass jars can also be stored in the fridge and freezer as long as they aren't filled to the brim.
And if you need more motivation to choose the jar, know that for every six tons of glass containers that are reused, carbon dioxide emissions are reduced by one ton!
There's a certain satisfaction in applying one of our favorite Rs of zero waste.
---
3. METAL CONTAINERS
Metal is another go-to substitute for plastic.
It's actually the material of choice to store food around the world.
In India, for instance, stainless steel containers (just like the stainless steel thali dishes you probably find at your favorite Indian restaurant) are used for food storage instead of plastic old Tupperware.
Like glass, stainless steel is non-porous, i.e. colors and flavors won't embed themselves in the container, and it doesn't absorb bacteria or leach toxic chemicals like BPA and phthalates.
For the most part, stainless steel can be used in a freezer, refrigerator, and oven.
Like aluminum, stainless steel is infinitely recyclable, too.
However, stainless steel is often mixed with materials that are NOT recyclable, like paints and resin linings. So if you're choosing stainless steel, opt for pure, unpainted stainless steel with no mixed materials.
If you opt for this form of non plastic food storage container, look for high-grade or food-grade stainless steel to resist rust and maintain freshness for longer.
Here are some brands to check out:
U Konserve
U Konserve has a range of plastic free food storage options including medium and large to-go containers, circular and rectangular storage containers, and nesting storage containers.
Everything is made with non-toxic stainless steel that is free of BPA, lead, and phthalates. In effort to transition away from the formerly #4 plastic lids, they now offer silicone lids for all containers.
U Konserve is both a certified B Corp and member of 1% for the Planet.
Dalcini
Dalcini Stainless is an award-winning sustainable kitchenware company. Their stainless steel containers are non-leaching and free of aluminum, lead, and hormone disruptors.
They have options for non plastic single serving food storage, as well as larger containers for bulk storage.
Each one is designed to be freezer-safe and child-safe, and features a writable surface using washable markers for easy labeling.
They're backed by a lifetime warranty against rust, stains, and odors.
All Dalcini products are responsibly manufactured in India.
Life Without Plastic
Life Without Plastic is (obviously) a great place to look for non plastic storage for freezing food, or storing it in the pantry or refrigerator.
Their small and large stainless steel containers are fitted with air-tight and water-tight lids. For food storage on the go, see their set of 5 nestable round containers in small and medium sizes.
Best non plastic food storage containers aside, they're also one of the best zero waste online stores for homewares (inside and outside the kitchen).
---
4. SILICONE BAGS
Is silicone eco-friendly? And is silicone plastic?
While the answer to both questions is not all that straight forward silicone is (almost) always a no-brainer over plastic.
And many brands have joined the alternatives to Ziploc bags space, but Stasher was the first.
They have a plethora of sizes, colors, and shapes of silicone bags to choose from—including smaller snack bags and sandwich bags, as well as ones large enough for entire meals or bulk foods like grains and beans.
Why are people stashing Stasher bags?
Because they're the only air tight non plastic food storage bags on the market that are "self-sealing" and safe to use in the freezer, oven, dishwasher, microwave, and sous vide machine.
For those reasons, we recommend them if you're looking to freeze meat without plastic.
Because they're made with 100% pure platinum grade silicone (better than food grade), they're free of BPS, BPA, lead, phthalates, and latex.
Stasher uses an SA8000-certified manufacturing facility and partners with TerraCycle to provide you with a means to responsibly recycle unwanted or damaged bags.
---
5. BEESWAX OR VEGAN FOOD WRAPS
Beeswax wraps were one of the first solutions to swapping out our reliance on plastic-laden food storage, namely saran wrap.
While cloth soaked in beeswax dates back to the time of the Egyptians, it came about as a food preservation / storage strategy in the 20th century.
And in the last couple of decades, there's been an explosion of beeswax wraps and soy vegan alternatives. But not everybody knows how to use beeswax wraps the right way.
Bee's Wrap
Bee's Wrap is a Middlebury, Vermont-based company, a Green America Certified Company, and a certified B Corp.
Their beeswax wraps are GOTS-certified organic cotton coated with sustainably harvested beeswax, organic jojoba oil, and tree resin.
Food uses include fresh veggies, cheese, sandwiches, snacks, and plate and bowl covers.
Pro tip: here's our guide on how to clean beeswax wraps the right way.
Khala & Company
Khala & Company makes beeswax wraps minus the bees.
Their organic cotton-hemp fabric is soaked in consciously sourced soy wax, jojoba oil, coconut oil, and natural tree resin.
These bee-free wraps should be washed with cool water and kept away from anything hot (food, microwaves, ovens, dishwashers, etc.). They should also not be used with raw meat.
This Boulder, Colorado company is a member of 1% for the Planet.
---
6. VEGGIE SAVER BAG
For something so simple, the Veggie Saver Bag is revolutionary. And, not surprisingly, one of our personal non plastic food storage alternative faves.
Designed to keep fruit and veggies fresh, crisp, and nutrient-rich for two weeks or more, this storage solution massively reduces food and plastic waste.
The biodegradable and machine washable bags are made from 100% natural, unbleached, unseeded cotton that locks in moisture and freshness.
Yet they won't suffocate your produce due to a patented design that allows ethylene gas to escape and prevents early ripening / rotting.
To use, get the outer layer of the bag wet in the sink, but not soaked. Then add your fruits, veggies, and/or greens into the dry interior of the bag and throw in your crisper. Re-wet in several days when needed and enjoy saving your food and money.
---
7. NO STORAGE WHATSOEVER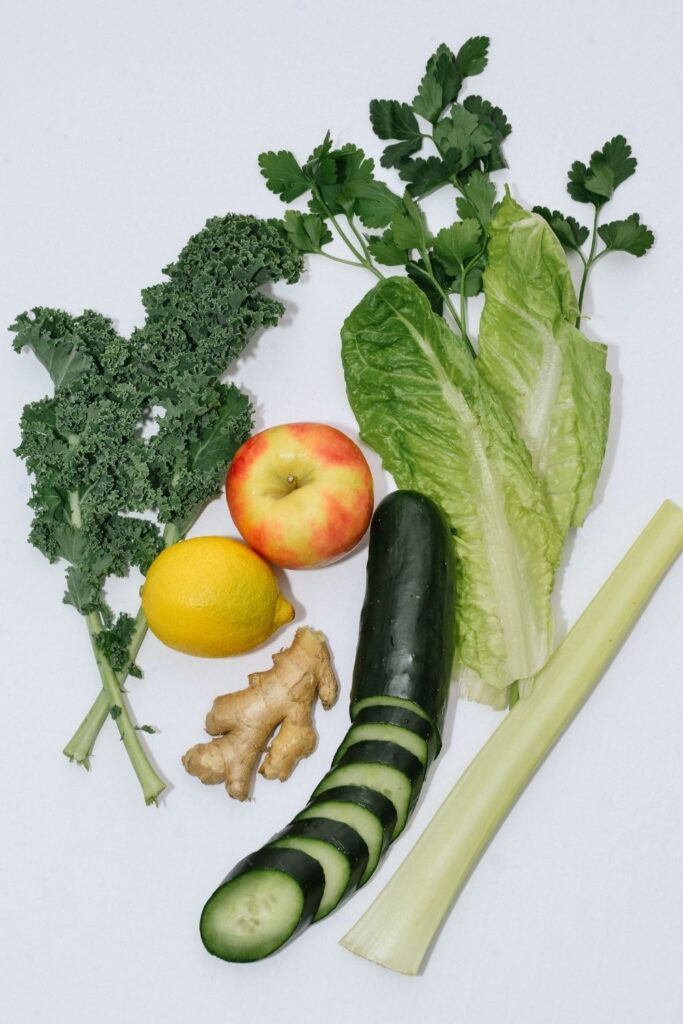 Think you need to buy something new to take advantage of plastic free food storage?
Think again.
Sometimes the best storage solution is something you already have.
Or in the case of produce, what the food itself already has. Natural protective skin:
Non-cherry stone fruits (peaches, pears, plums)
Avocados
Mangoes
Tomatoes
Apples
Melons
Squashes
Garlic
Onions
Potatoes
And since you aren't always using containers to prevent produce waste, take some time to learn how to store food properly (i.e. what needs refrigeration, what doesn't, and what items can't be stored together).
---
8. STORING FOOD IN WATER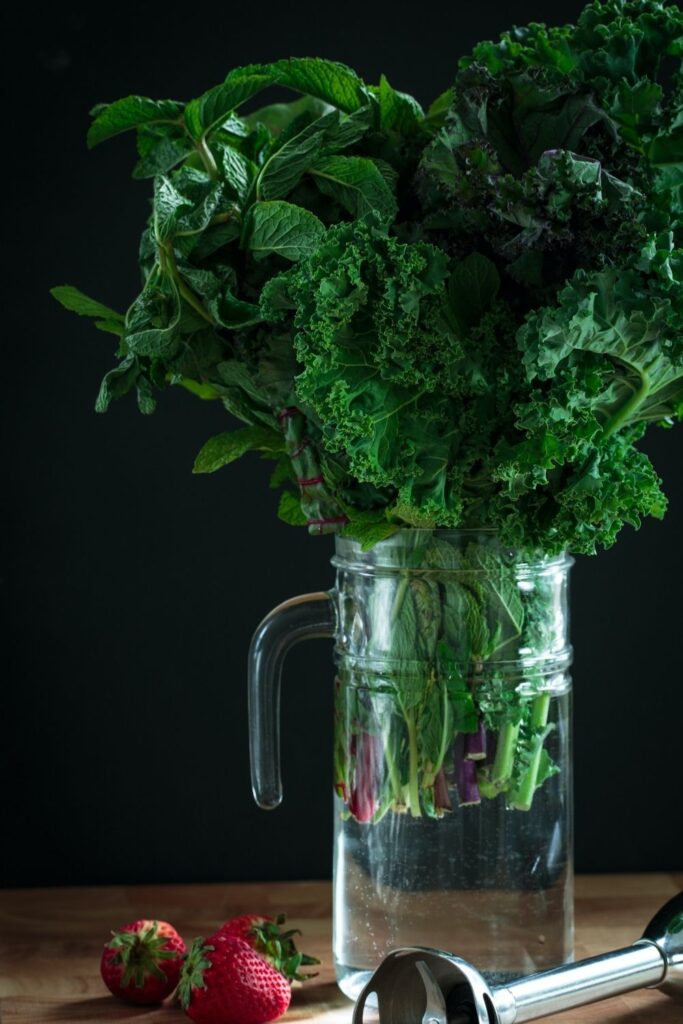 While some types of produce don't need special storage, others do better with a little bath.
Hardy vegetables like celery, potatoes, and carrots last significantly longer after being cut if they're stored in fresh cool water.
The same method can be used to store cut apples and keep halved avocados looking greener for longer.
You can also fill a glass jar an inch or two to submerge the root end of fresh herbs. Just trim the ends first and keep this in the refrigerator door for an even longer life.
Similarly, store some long-stemmed greens in a jar with water like flowers in a vase. These include collard greens, kale, and Swiss chard. You can do the same with asparagus, just cut off the ends first.
---
WHY NON-PLASTIC FOOD STORAGE CONTAINERS ARE CRUCIAL
Food waste is a significant problem, contributing to around 7% of total anthropogenic greenhouse gas emissions.
Many of us have kitchens that are filled to the brim with plastic to try to curb that waste—but that can lead to other more insidious waste.
Plastic is lightweight and generally more affordable than non plastic food storage options, but it racks up a hefty bill for our planet and our health.
Many of the go-to plastic food storage products are either impossible to recycle or simply aren't (see our glass vs plastic deep dive). For example, Ziploc bags have a laughably low recycling rate of 0.2%.
Only our planet doesn't find this funny.
When these plastics enter landfills, they release chemicals like dioxins. If they float into waterways instead, they become a trap for heavy metals and bacteria.
Plastic can also appear like a tasty treat to marine life. It can suffocate them or expose them to dangerous contaminants.
Don't forget plastic is dangerous for humans, too.
Many plastics contain bisphenol A, or BPA, which has been associated with negative health effects including increased blood pressure and risk of type 2 diabetes and cardiovascular disease.
BPA has been shown to be particularly dangerous for children, leading to behavior problems and brain development concerns.
Phthalates, which are used to improve the durability of plastic, have also been associated with health complications like reproductive issues, developmental problems, endocrine disruption, increased levels of oxidative stress, disrupted hormone levels, and more.
Plus, if you've ever opened a kitchen cupboard with an aesthetically pleasing arrangement of glass jars, you know that plastic free glass food storage even looks better.
---
FINAL THOUGHTS ON THE BEST PLASTIC FREE FOOD STORAGE
Remember those Tupperware parties?
Yup, neither do we.
But we do hope you remember to store last night's casserole in something other than your indoor compost bin.
We can kill two birds (i.e. food waste and plastic) with one non plastic silicone food storage bag.
Have any Sunday meal-prepping friends in need of a food storage overhaul?
Share these brands with them and let's support the world of plastic free food storage alternatives that contribute to sustainable food systems.
Or better yet, gift them an upcycled glass jar for everything cool—because the word is in serious need of rebranding.
---