9 Ethical & Sustainable Home Decor Brands to Curate Your Eco-Space
Whether you've just moved or are finally getting around to decorating, an empty room can be daunting or thrilling.
Regardless of which side of the couch you're on, most of what we bring into our homes isn't great from an environmental or social perspective…
But fun sustainable home decor that's both aesthetically and ethically pleasing is possible! Conscious brands exist and they're making ethically-styled living easier for us all.
When it comes to picking the best ethical home decor, we like to put ourselves in an episode of House Hunters. And by that we mean, creating a list of criteria that's important to us.
While we can't always get everything we want in a home decor piece, we want to tick as many boxes as possible.
Head to the end of the article for a summary of our non-negotiables.
To give you a sneak peek into the home decor of our dreams, VivaTerra is doing good in the world of value-inspired home decor products, while The Citizenry brings together a room with transparency and fair trade practices.
Then there's Etsy Reclaimed—an endless selection of creative decor pieces all made from reclaimed materials.
There's much more where that came from. So, open your mind, grab your wall hanging tools and let's get into sustainable home decor.
*This post contains affilate links
QUICK LINKS FOR SUSTAINABLE & ETHICAL HOME DECOR BRANDS
---
1. VIVATERRA
About VivaTerra
VivaTerra is out to bring some "living earth" to your home, whether by their eco throw pillows, sustainable sofas, or huge selection of ethical home decor.
Sourcing from a large network of global artisans, VivaTerra's "Home Accent" includes hundreds of items for whatever nook and cranny needs a little splash of sustainable joy.
It even extends outside the home to the garden.
Browse candle holders for those delicious smelling vegan candles, colorful ceramic wall flowers, vases, mobiles, fountains, a tree branch coat rack (made from recycled metals!), and much more.
You can also shop simply by item category or redecorate an entire space with their style shopping function (where you can filter items that look Bohemian, Coastal, Minimalist, etc.).
VivaTerra's Ethical and Sustainability Practices
Materials:
With so many options from many makers, the material section is vast, but we were happy to find most were fairly eco friendly, being either recyclable or compostable.
Common materials included ceramic clay, glass, recycled metal, natural rocks, woven elephant grass, reclaimed or responsibly sourced woods, and easily recyclable metals like iron and brass.
Supply chain & labor practices:
Being a Good Trade partner means this ethical home decor brand has been vetted for strict ethical criteria. Even though their supply chain is vast (including Fair Trade partners in over 20 countries) they believe…
"[…] ethical and sustainable conduct should be prioritized—not sacrificed—in an effort to achieve our goals. We are always concerned with the who, what, where and how surrounding our products."
Green business practices:
VivaTerra gives customers the option to select "climate-friendly shipping" for a mere $1 at checkout. These carbon offsets are achieved through TerraPass.
---
2. PARACHUTE
About Parachute
Parachute will have you jumping out of airplanes over their sustainable eco friendly home decor.
What started with the aim to save lives (hence the name) with sustainable bedding, the direct-to-consumer brand has expanded to take care of your needs throughout your home.
Their beautiful range of minimalist sustainable home decor, available either on their website or brick and mortar shops, contains decorative organic pillows, throws, and non toxic rugs.
Parachute's Ethical and Sustainability Practices
Materials:
Prioritizing natural materials, expect to find cotton, linen, wool, or a blend of all three in their throw pillows.
Their ultra-cozy throws are made with similar materials, but also include sustainably-sourced alpaca.
Wool and cotton are the main materials in their rugs, atop organic jute and natural rubber eco non-slip mats. Some are certified by Oeko-Tex and Craftmark.
Supply chain & labor practices:
Parachute works with factories in different areas of the world. Some of their home decor products are made in India, while others are produced in the United States.
If you use blankets as home decor, theirs are made in a family-owned factory in Portugal, out of materials largely sourced in Europe or nearby in Egypt.
Green business practices:
In addition to Parachute's focus on natural materials and commitment to non-toxic manufacturing, they also use recyclable shipping mailers made from 80% recycled content.
They're committed to getting better, and improving their packaging is on the top of their to-do list.
Community & charitable giving:
Not only does Parachute partner with the United Nations to contribute to their Nothing but Nets campaign, but they also have an interesting mentorship program.
Their Home for Dreams Initiative allows them to partner with Black entrepreneurs to tackle some of the injustices faced by marginalized populations in the business world. In addition to mentorship and financial literacy training, some applicants receive business grants.
---
3. THE CITIZENRY
About The Citizenry
The Citizenry got their name from an idea…
One of a company that celebrates all individuals across cultures and continents to bring together beautiful affordable sustainable home decor.
The Citizenry's philosophy is simple:
"We believe our home should be reflections of the journeys we take. Our personal spaces deserve designs with a soul, a story, and a purpose."
It's no surprise their elegant range of rugs, pillows, bedding, throws, fair trade blankets, American made furniture, baskets, bath goods, kitchenware, and other decor products are made by artisans from around the globe, using time-tested techniques.
The Citizenry's Ethical and Sustainability Practices
Materials:
The Citizenry prioritizes natural, sustainable materials found local to their artisan partners. Their range of ethical home decor is large, which means there are many materials used.
Some materials, like the linen in these Prisha Linen Pillows happen to be some of our favorite sustainable fabrics. They also have gorgeous handwoven alpaca wool throws, which is cashmere's more sustainable cousin.
They also use some sustainable materials that we don't come across often, like FSC-certified Tikal wood in these vases, sustainable suar wood stump stools, and bronze in this Dasar Serving Set.
With such a large selection, there are expectedly some materials and products to be avoided (for example, leather that is not specified as vegetable or chrome-free tanned or specifics on how the leather is sourced. Upcycled leather always being the most ethical option).
Supply chain & labor practices:
The Citizenry produces fair trade home decor, without the certification. They use fair trade standards and give artisan partners the best prices for their work.
In fact, they were just accepted as a member of the World Fair Trade Organization and are currently going through final audits to make it official.
The Citizenry travels to each sourcing country personally to establish sustainable relationships with their artisans. Because they don't work with middlemen, they're able to offer handmade goods at reasonable prices (for both makers and customers) and ensure transparency throughout their supply chains.
Through the brand's partnerships, they provide artisans with happy working environments, fair wages, and sustaining grants which allow them to grow their business.
Green business practices:
Fast fashion and fast home decor equates to mass-produced low quality goods (sorry to break up the love affair, but that means Target and Ikea). The Citizenry is doing things differently.
Everything is handcrafted, hand numbered, and made in limited quantities to ensure the product and culture responsible for it are valued.
Community & charitable giving:
10% of proceeds are invested directly back into the artisan communities they work with.
---
4. LOOMY
About Loomy
As you might gather from their name, Loomy is all about eco friendly rugs so we can "rug responsibly."
Owning a natural and non-toxic rug is one sure way to make that sustainable eco friendly home decor statement (while also keeping your toes toasty).
With Loomy's large selection of vintage, vegan, indoor/outdoor, pet-friendly, performance, and natural rugs, no floor will be left uncovered.
Make sure to get a decorative pillow to match and really tie the room together.
Loomy's Ethical and Sustainability Practices
Materials:
There's one material found in most modern home decor products (rugs especially)—plastic. Fortunately for us, this is one material Loomy tries to steer clear of.
They prioritize natural and recycled materials like wool, cotton, hemp, jute, and banana silk (all 100% biodegradable). When our least-favorite "P" word is used, it's recycled from discarded plastic bottles.
Do a happy dance because these OEKO-TEX certified rugs are made with low impact dyes.
Supply chain & labor practices:
Loomy is proud of a transparent supply chain that respects the indigenous weavers. They claim they "don't sweep anything under the rug".
Green business practices:
With a focus on closing the loop on their manufacturing process, Loomy works with non-toxic materials that can be reused and recycled.
They also want to keep rugs out of landfills—to the tune of the 5 billion pounds (2% of all US landfill mass) that end up there each year. When you buy a Loomy rug, you're buying one that will last.
Available: Loomy
---
5. TEN THOUSAND VILLAGES
About Ten Thousand Villages
A Maker-to-Market model is what makes Ten Thousand Villages unique.
As one of the best fair trade artisan home decor brands, TTV wants us to realize that behind every handcrafted object, there's meaning and a craftsman's story.
This pioneer of fair trade puts people and planet first when it comes to their extensive range of ethical home decor products.
They've got wall decor, they've got room decor, they've got textiles, baskets, and entertainment, oh my… They've even got a home decor section for low waste lifestyles (a perfect place to find zero waste gifts, eh?).
Ten Thousand Villages' Ethical and Sustainability Practices
Materials:
You'll see a lot of different materials used in TTV's range of eco friendly home decor. They're almost as endless as the ethical home decor ideas that come while scrolling through their website.
To name a few: in their "Room Decor" selection you'll find Woven Rainbow Placemats and picture frames made from recycled saris and recycled hex nuts and family sculptures created out of sustainably sourced kisii stone.
TTV prioritizes sustainably sourced natural, recycled, or renewable materials, so expect to see those in most products.
Supply chain & labor practices:
Ten Thousand Villages was a founding member of the World Fair Trade Organization, which should indicate their commitment to a fair and ethical supply chain. They're currently partners with Equal Exchange and members of Level Ground Trading and the Fair Trade Federation.
Their efforts through the years have meant an investment of $99 million towards breaking the cycle of generational poverty for more than 20,000 makers in 30 developing countries.
Green business practices:
TTV focuses on locally sourced, renewable, and recycled materials for their products. They also work with their artisan partners to encourage the creative reuse of resources (i.e. textile scrap, water, and energy).
Community & charitable giving:
TTV's entire business model could be considered "charitable giving" because of the impact it's having.
Their long-standing relationships with people typically excluded from the global economy (like women and those with disabilities) contribute to real change in the communities they work with.
They accept donations to help them further their mission.
---
6. ROSE & FITZGERALD
About Rose & Fitzgerald
"In a world where many artisan goods are produced in factories and peddled by mass marketing campaigns, Rose & Fitzgerald was created in hopes of connecting you to something truly authentic."
Rose & Fitzgerald is run by Californian husband-and-wife duo Courtney and Laren, but is made possible by the talented African artisans who handcraft their selection of wares.
When the couple took a trip to Africa, they fell head-over-heels in love with the continent and its indigenous materials and craftspeople.
With a dream to preserve the age-old craft traditions and bring them to people around the globe, they established a sustainable interior design, art, and craft studio in Kampala, Uganda.
The range of stylish ethical home decor includes baskets, pillows, sustainable lighting, accents, and kitchen and barware. With gorgeous, minimalist meets naturalist vibes, these also make for excellent minimalist gifts (tiny house warming anyone?).
Rose & Fitzgerald's Ethical and Sustainability Practices
Materials:
Expect to find materials like no other when you search through R&F's ethical home decor options.
The Ankole Horn Heirloom Trays, for instance, are made with animal horns sourced as a by-product of the meat industry.
They've also got Soapstone Bowls, made with unique Kenyan soapstone, and Mugavu Geometric Bottle Stoppers made with Mugavu wood and chrome.
Supply chain & labor practices:
As you pour over R&F's sustainable home decor items, you can see where each product has been made—whether it's by their in-house team of metalsmiths at their Uganda studio or by the hundreds of artisan partners located across Africa.
Regardless, any product from R&F is made by respected workers who, at minimum, receive beyond fair trade wages and a healthy and ethical working environment.
---
7. OCELOT MARKET
About Ocelot Market
We talk about Ocelot Market a lot because they're one of our favorite ethical online marketplaces.
Working directly with artisans, OM provides a platform for small businesses, independent makers, and entire communities to share their crafts with buyers from around the globe.
From seagrass leaf bowl sets to Turkish eco friendly towels and hand-woven sunburnt mats—OM's "For Your Home" selection has an impressive variety of eco friendly home decor products all with unique cultural significance and flair, which make for the home decor design of your dreams.
They're basically ethical alternatives to Amazon.
Ocelot Market's Ethical and Sustainability Practices
Materials:
Being one of the biggest sustainable home decor brands out there, OM has an extensive range of products, all made with an equally-large range of materials.
For example, you'll find recycled paper in these picture frames from Novica.
These Agora Bin Baskets from Korissa are made with sustainable jute.
Kazi also makes decorative wall disks, planters, and more out of natural sisal and sweetgrass fibers that have been dyed organically.
Supply chain & labor practices:
OM's entire ethos is based upon respect for their community of global artisans. That said, they only support artisan partners who pay above fair wages and have transparent supply chains.
Fortunately, that still means they represent nearly 100 different brands, such as:
Novica is an impact marketplace that not only prioritizes fair trade standards for artisans, but also uses profits to provide support for education, health care, and more. Perfect for picture frames.
It's almost the holidays, so decorate your tree with natural ornaments by Kazi.
They work with female artisans in Rwanda, Uganda, and Ghana and have been able to provide them with fair trade wages that are five times higher than average.
Korissa, makers of baskets and woven planters galore, also provides well-above fair wages for workers in struggling communities.
Green business practices:
In addition to the efforts of individual brands to source local, renewable, recycled, and natural materials, many also use environmentally friendly manufacturing practices.
OM also prioritizes recycled and biodegradable packaging materials.
Community & charitable giving:
Anytime you make a purchase with OM, you're contributing to their mission. 99% of their yearly profit is reinvested to sustain the business model that supports so many artisan communities.
As the proverbial cherry tree on top, they also plant a tree in Madagascar for every purchase.
---
8. ETSY RECLAIMED
About Etsy Reclaimed
Where would the world be without the magic of Etsy?!?
They're hands-down one of the best (and biggest) platforms to directly support a global community of small artisans, craftspeople, and makers of all things.
Etsy Reclaimed is not only one of the best places to find sustainable furniture, but one of the best for finding flair for those furnishings, too.
Their selection of reclaimed, used fair trade and vintage home decor is unmatched.
While the shop options on Etsy are endless, here's a few stand-outs to get you started.
Just Knot Wood makes reclaimed floating shelves, Umbuzo Rustic reclaimed desks (because furniture can also be decorative!), and Signed and Numbered for their reclaimed cedar wood picture frames.
All these sellers have had thousands—if not tens of thousands—of happy customers.
Etsy Reclaimed's Ethical and Sustainability Practices
Materials:
Reclaimed wood is the reclaimed material of choice for many Etsy sellers. This may come in the form of fallen logs, old pallets, salvaged timber, or even just old furniture.
You'll find lots of other creative material repurposing, too, including pipes, metal scrap, and more.
Supply chain & labor practices:
When we shop with Etsy, we're really standing with the small businesses that wouldn't exist if not for the platform.
Because the supply chains are (usually, as some are larger than others) inherently small, and many of the artisans and craftspeople are working out of their homes, there is less risk of human rights abuses.
For bigger sellers on Etsy, just be sure to have a read through their shop description and even visit their websites (if applicable) to do some digging before you decorate.
Green business practices:
Instead of mass-produced products made in factories, most products on Etsy are made in backyards and basements, and have much lower water and energy requirements. Many shops create on a custom, made-to-order basis to prevent wasted materials and unsold stock.
With Etsy Reclaimed, the products are made with materials that would likely go to waste otherwise.
Etsy also offsetts 100% of carbon emissions from shipping.
Community & charitable giving:
While Etsy doesn't donate any funds or resources themselves, many of their sellers do. Make sure you scroll down to the bottom of each seller page to see the individual charitable initiatives.
---
9. GOODEE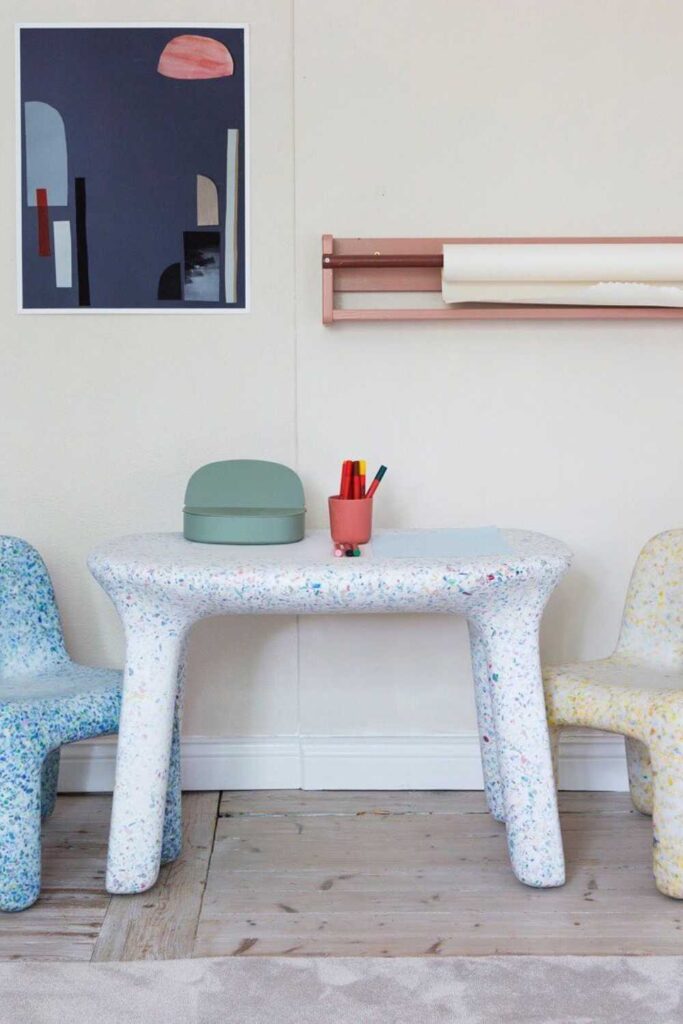 About Goodee
Goodee refers to themselves as "the ethical design shop", so it's no surprise this eco friendly home decor brand made the cut.
Goodee is a global marketplace making a positive social impact while prioritizing upcycling, transparent sourcing, and ethical treatment of workers. It's the place where "good design and good purpose intersect."
Goodee's socially-conscious design has made its way into their range of ethical home decor for any room in the house—living room, kitchen, bathroom, bedroom, child's playroom, workspace, or outdoor area.
Whatever nook needs some new life, Goodee can fill it with planters, baskets, trays, pillows, rugs, and more by various small brands.
Goodee's Ethical and Sustainability Practices
Materials:
From indoor terracotta Edge Pots to woven vetiver grass Banasco Baskets, you can expect to see a list of materials as unique as the artisans who make them.
Some common ones include palm fibers, wool, linen, natural hardwoods, and recycled fabrics.
However, some are less sustainable than others. Their pillows, for instance, are a cotton exterior with a polyamide fill. Neither are particularly top tier so be sure to read the material descriptions while shopping.
Supply chain & labor practices:
Goodee's values are our values.
The brands they work with must meet at least one (if not all) of the following: poverty reduction, marginalized communities, gender advocacy, circular economy, recycled materials, natural materials, water conservancy, community engagement, corporate reporting, carbon reduction, heritage craft preservation, and nature & wildlife conservancy.
Conscious shopping is made easy with Goodee.
With every single product, you can see which values apply. With the Goodee stamp of approval, all products have been transparently sourced, ethically made, and designed to last.
For these reasons (and more), Goodee is a Certified B Corp.
Green business practices:
All Goodee brand partners are required to report their materials, ecological footprint, and business practices.
The brand is inspired by the UN's Sustainable Development Goals, as reflected by some of their values and the environmentally-conscious practices and materials used by their partners.
Community & charitable giving: Goodee is good for the planet and is a contributing member of 1% for the Planet.
---
HOW WE FOUND THE BEST ETHICAL HOME DECOR
Whether we like it or not, many of the products we bring into our homes are made with less-than-ideal materials and produced in ways that might make us want to hide under our new eco friendly throw blankets or sustainable outdoor furniture.
We don't know about you, but we like to keep the 'eco' in decoration. And we did that by keeping in mind the following considerations.
Materials:
And speaking of which, our homes are an extension of who we are, and we should decorate them as such. For us, this means natural, renewable, or recycled materials, like reclaimed wood, cotton, wool, hemp, and jute.
With home decor, it's also an opportunity to bring in unique pieces and materials from around the globe—and there was no shortage of that with these brands.
Additionally, we looked for brands breaking away from the status quo of toxic home goods. No more plastic, VOC paints, and other materials and finishes that contribute to indoor air pollution.
If we're staying home to stay safe and healthy, it only makes sense that we not only love our space, but that's it's not putting us at risk of other health problems.
Supply chain and labor practices:
Greedy corporations and worker exploitation are unwelcome house guests and we prefer to go with brands who have small or transparent supply chains (ideally backed with third party fair trade or equivalent certifications).
We also love having genuine pieces in our home that tell a story about an artisan in some far-away place—especially when it includes themes of safe and healthy work environments and above fair trade wages.
Green business practices:
Using traditional handcrafting techniques almost always means more sustainable practices (and fewer energy requirements), but we love it when brands take it to the next level with their energy and water-efficient practices and carbon offsets.
Community & charitable giving:
We don't require this from our favorite ethical brands (some are simply too small), but we love decorating with items that help our local and global communities.
Whether it's planted trees or profits donated to environmental organizations, there's no better way to dress up a plain wall or bare room.
---
FINAL THOUGHTS ON ECO FRIENDLY HOME DECOR
Decorating blank walls and empty rooms is an exercise in creativity.
Let's make that exercise an ethical one by opting for sustainable home decor.
And remember, employing a minimalist mindset and prioritizing used / second-hand goods (like those from Etsy Reclaimed or other online thrift stores) will ensure your home is truly an eco friendly one.
So with that in mind, show these ethical home decor brands some love it or list it (come on, we can't be the only HGTV nerds out there).
Now, we'd love a sneak peek into your home.
How is it decorated?
Have any ethical and sustainable home decor brands worth sharing?
Better yet, decorate the comments with your eco friendly home decor ideas.
---