11 Sustainable Backpacks for All The Eco Friendly Adventuring
*This post contains affilate links
We've all been spending more time at home lately. In fact, some of us have hardly left home. But as we all get used to this "new normal", we're starting to take tentative steps back into the world.
For that, we not only need a sustainable face mask but also trusty backpack to keep our stuff safe. Let's just make sure we're not sacrificing the safety of our planet in doing so though.
That's where eco friendly and sustainable backpacks can help us pack up our everyday essentials while leaving our eco woes at home.
Because the hike downhill is always more fun, we'll start at the top – the top eco friendly backpacks, that is.
Solgaard gets full marks for their do-it-all design and innovation, all the while using recycled materials. We love the Terra Thread's 100% Fairtrade GOTS organic cotton canvas backpacks for the day out. And for eco friendly hiking backpacks, there's nothing more comfortable for your back or the planet than the recycled packs from Tentree and Patagonia.
QUICK LINKS FOR ECO FRIENDLY BACKPACKS
---
1. SOLGAARD
About Solgaard
Looking for sustainable backpacks for biking and the office and everything in between? Solgaard and their ultra-versatile "gear for global citizens" is your best bet.
They offer four different models: the Hustle Backpack, Shore-Tex™ Lifepack Lite, Shore-Tex™ Daypack, and Shore-Tex™Lifepack. That last one is the powerhouse pack of the lineup, with a built-in solar panel and power bank, anti-theft lock, and optional integrated solar-powered boombox.
No wonder they were a finalist in Fast Company's World Changing Ideas.
We were already impressed with Solgaard's line of eco friendly luggage (that's not only sustainable but so well designed that it takes the pressure out of packing). So we were equally impressed (and excited) when Solgaard offered to send us one of their backpacks to field-test.
We received the Shore-Tex™ Lifepack, complete with solar charger and boom box, and we're so far thrilled with it. The boom box's sound quality and volume is fantastic and the Solarbank charges quickly and runs for a long time. With an integrated USB port in the handy side pocket that connects to the panel, we charge our devices easily on the go while still having them in reach.
Oh and did we mention all the pockets?! Aside from a specific front pocket designed to hold the Solarbank (with a cutout window so the panel can get sun and charge, of course), it also has a "Workzone" compartment (with a heavily padded drop proof laptop sleeve) and a "Lifezone" compartment (with tons of little pockets for the little everyday essentials.
While we haven't had the opportunity to take abroad just yet, we are certainly excited to. It features a "suitcase seat belt" to strap it to the handle of rolling luggage as well as several passport and card pockets… plus that integrated number code lock to keep things safe and sound!
The bag also has a semi-rigid flat bottom so it can stand upright, loaded or not. Combined with the wipe-clean water resistant bottom, we can pretty much set it down anywhere without fear of spilled coffee on café floors and rainy sidewalks.
Solgaard's Ethical and Sustainability Practices 
Materials:
All three of Solgaard's Shore-Tex™ environmentally friendly backpacks are made entirely of recycled ocean-bound plastic (except for the Charcoal color of the Lifepack Lite), so they're on point when they claim they're "Sustainable AF".
Only their Hustle Backpack is different, being made of a vegan leather which we can only assume is some form of virgin polyester (since it's not stated otherwise). Our advice: stick to the sustainably superior Shore-Tex!
Supply chain & labor practices:
Solgaard is based out of New York City, but much of their team works remotely from around the world. Otherwise, we're checking-in on their manufacturing partners and factory locations.
Green business practices:
Solgaard backs every product with a 10-year warranty in an effort to ensure their products get to enjoy a really long life of adventure. Ten years appears to be on the low end of the lifetime spectrum for these packs, too. While we haven't really put ours through the wringer just yet, it's easy to see the quality and durability are top-notch.
Community & charitable giving:
Aside from using recycled plastic in some of their products, they also partner with The Plastic Bank, an ocean plastic recovery organization based in the Philippines (which employs locals). For each item sold, they remove 5 pounds of plastic trash from the ocean, last year alone they removed 75,000 pounds.
Available: Solgaard
---
2. TERRA THREAD
About Terra Thread
Terra Thread is taking us back(pack) to basics with their simple, yet all-purpose fair trade sustainable backpacks: the Zen Mini Backpack and the Earth Backpack (which as per this tour video, is a little bigger and more suitable for school and office use).
Either would make a great sustainable school backpack as they're reliably simple.
A bag-specific branch of parent company Gallant International, which specializes in selling Fair Trade certified products, this "Earth motivated" offshoot is out to help us "choose a bag you are proud to carry." They're also some of the most affordable eco friendly backpacks we found, too.
Terra Thread's Ethical and Sustainability Practices
Materials:
All ethical sustainable backpacks (as well as all their other bags) are made of 100% Fairtrade GOTS organic cotton canvas that's been dyed with low impact dyes also certified by GOTS. They feature lead-free zippers and buckles and recycled kraft paper hang tags.
Supply chain & labor practices:
Terra Thread manufactures in a Fair Trade USA certified factory in India. Fair pay and good conditions aside, this means they also pay into a Fair Trade premium account controlled by the workers themselves and used for things like community development, education, healthcare, clean water, and leadership training.
Green business practices:
As a carbon-neutral business, they measure all impacts from each stage (fiber, production-factory, and transportation) and invest in projects to offset emissions, which "also have economic, social, and environmental benefits".
Community & charitable giving:
For every bag and backpack purchased, Terra Thread donates enough money to Feeding America providing 20 meals to children, families, and seniors in need.
Available: Terra Thread
---
3. TENTREE
About Tentree 
Canada's Tentree writes, "We believe in the power of small acts, so by empowering everyone and anyone with easy access to sustainable solutions, those tiny seeds of change, can grow to change the world. #ItTakesAForest". And they're doing their part to grow one, in several respects (but we'll get to that in just a moment).
Their "earth-first apparel" includes all manner of ethical outdoor wear for both men and women. And what good is the perfect adventure getup without a good pack?
For that, Tentree offers the sustainable Mobius backpack, which was originally brought into being thanks to a Kickstarter campaign that raised almost 8 times its financial goal from thousands of backers (or backpackers, rather).
After seeing the demand for a truly sustainable backpack, they're since expanded their line to include a variety of backpacks in styles, and graphics.
Tentree's Ethical and Sustainability Practices
Materials:
Of the many ethical fashion brands, Tentree uses some of the largest percentages of sustainable fabrics. Their 100% REPREVE Recycled Polyester (made from plastic water bottles) body backpacks are no exception.
Everything down to the clips, buckles, zippers, and straps are thoughtfully chosen to be kind to the environment (being either recycled or recyclable). Even the protective padding is made from BLOOM recycled algae foam.
Supply chain & labor practices:
Tentree is a certified B Corp currently ranked in the top 1% for manufacturing. That's because all suppliers and partners are held to a rigorous code of conduct and certified by at least of the following organizations: WRAP, BSCI, SA8000, Fair Trade, and/or Fair Wear Foundation.
And just call them "Transparen-tree" because they tell you about all these factories, which ones they've personally visited, and where each product is manufactured. Their backpacks, for instance, are manufactured in a WRAP-certified factory in Vietnam
Green business practices:
Every product page features an Eco Log impact counter (courtesy of GreenStep) displaying the amount of water, CO2, and waste saved by that Tentree garment compared to industry-standard manufacturing practices.
While we think being climate neutral is impressive, they believe "neutral is not enough". That's why they recently started selling carbon offsets through their Climate + program, which allows customers to pick for a huge variety of climate-positive projects to support on a range of budgets.
Community & charitable giving:
Named after their own company give-back model, Tentree plants TEN TREES for every product purchased, which has amounted to 47 million thus far. If you buy, register your trees to track their impact and request coordinates if you ever want to visit it!
This is yet another way the brand is actually climate positive. And they choose to plant in countries with damaged biodiversity (like Madagascar, Indonesia, Senegal, Nepal, Canada, Mexico, Peru, and Haiti) to restore native tree species.
Available: Tentree
---
4. ELVIS & KRESSE
About Elvis & Kresse
For more fashion but equally as much function, Elvis & Kresse's Backpack and Backpack Lite are for urban explorers, university students, and up-and-coming business folk.
Both feature a slim design, classy color schemes, an easy-to-access external pocket, and, of course, a 13" internal laptop pocket.
At $300 they aren't cheap but considering they're totally recycled, these are certainly some of the most sustainable backpacks in the UK if you're looking for a stylish investment that'll last you years to come.
Elvis & Kresse's Ethical and Sustainability Practices
Materials:
These eco friendly stylish backpacks are part of Elvis & Kresse's Fire & Hide Collection, featuring entirely recycled materials from unique sources. This includes straps and exterior components from decommissioned fire-hoses from the London Fire Brigade and recycled military parachute silk for both the lining and proactive dust bag (which you can even reuse as a wash bag).
Let's not forget the rescued leather scrap exterior from their partnership with the Burberry Foundation (which aims to repurpose 800,000 tonnes of leather in 5 years).
Supply chain & labor practices:
In their words: "We don't accept any sort of discrimination in the workplace and we do not believe in treating anyone unfairly."
As a Certified B Corp and Social Enterprise Business for Good, we know everything is made in safe conditions in exchange for fair wages, whether that's in their open-to-the-public Kent workshop or their Turkish factory.
Green business practices:
Elvis & Kresse started in 2005 with three pillars in mind: Rescue, Transform, and Donate. In fact, the initial company goal was simply to repurpose London's retired fire hoses (of which they've now used over 200 tons). Only recently have they expanded their reclamation efforts to metal hardware and leather.
Those first two pillars also guide their packaging choices, which consist of coffee bags, tea bag paper, and recycled shoe boxes.
All products come with a lifetime repair promise and are made in a restored mill factory that runs on renewable energy. While you won't find these bags on sale at any point, just think about how that promotes more responsible consumer practices!
Community & charitable giving:
As for their final pillar, they go above and beyond by donating 50% of their profits to charities. Some of their regular partners include the Fire Fighters Charity, Help for Heroes, British Forces Foundation, WWF, Barefoot College (who train women in solar engineering), The Costa Foundation, and two sustainable coffee plantations in Nicaragua and Guatemala.
Available: Elvis & Kresse
---
5. EVERLANE
About Everlane
San Francisco based brand Everlane is a common addition here. And this time with a classy sustainable professional backpack you can wear with a pair of sustainable jeans and a tee or a professional planet-friendly dress (which Everlane can also provide).
We're talking about the ReNew Transit sustainable womens backpack, a minimalist pack available in four colors for urban explorers and professionals. Reviews rave about this pack and at 27L in size, you can fit your laptop and your after-work gym clothes in there, no problem.
They also offer the Modern Snap Backpack and the Mover Pack / Duffel combo, but since both of these are made of recycled synthetics, the Renew Transit is the standout.
Everlane's Ethical and Sustainability Practices  
Materials:
The "ReNew" means this backpack is entirely recycled, of plastic bottles in particular. In combination with the recycled polyester body, they use recycled polyester zipper pulls and are working on figuring out a way to make their zipper teeth recycled, too.
As with other ReNew bags (like their sustainable luggage), they have fluorine-free water-resistant finish and bluesign®-approved dyes.
Supply chain & labor practices:
Everlane's edge is their commitment to "Radical Transparency". While it's less radical these days with more ethical brands popping up, we'll give credit where credit is due here.
Everlane is no longer the only brand (but they were one of the FIRST) to publish where each product is manufactured, down to the specific factory and what code of conduct they uphold. The ReNew Transit, for instance, is made in Thuận An, Vietnam at the PungKook Saigon Three Co.
They also publish a full factory map for those interested in more info on the whole Everlane supply chain.
Green business practices:
Everlane's ReNew line is a lot bigger than bags. It's taking over their entire product lineup in an effort to meet their goal of replacing all virgin plastic in their products with recycled alternatives by 2021.
Community & charitable giving:
The Black Friday fund stands out when it comes to Everlane's charitable actions. Essentials, each sale around Thanksgiving sees $15 donated to the ocean plastic cleaning organization Oceana. Last year, they donated $300,000, which was enough to fund Oceana's projects for an entire year!
Available: Everlane
---
6. PATAGONIA
About Patagonia
We can't mention any sort of adventure-specific gear without a shout-out to Patagonia. In fact, we can't do any sustainable garment guide justice without including them.
With over 30 different packs, divided into casual and technical, Patagonia has your back quite literally covered with some of the best eco friendly backpacks around (though some are more sustainable than others).
For casual and general travel use, be sure to check out the 100% recycled Arbor packs (which are also dyed with a solution that uses 1/2 gallon of waterless and 96% less CO2 per bag) or their famous Black Hole® backpacks.
For an eco friendly hiking backpack (or other technical packs for various outdoor adventures), have a look at the Cragsmith and Middle Fork recycled backpacks. These are specifically for activities like hiking, trail running, surfing, and climbing so you can carry your eco friendly climbing rope and vegan climbing shoes with ease.
Patagonia's Ethical and Sustainability Practices
Materials:
Patagonia's sustainable vegan backpacks are mostly made of recycled nylon and recycled polyester, though some (like the Nine Trails packs) do feature a percentage of virgin polyester or nylon. With many better options, these are easy enough to avoid.
The Black Hole® backpacks stand out as some of their best, and not just because they're sustainable waterproof backpacks. They're bluesign® approved and made of 100% recycled polyester (including the lining, ripstop exterior, and even straps and external webbing).
All Pata packs are PVC-free, phthalate-free, and treated with a PFC-free DWR (durable water repellent) finish.
Supply chain & labor practices:
Want to know why Fair Trade certified Patagonia consistently falls in the top 20 brands of Fashion Revolution's Fashion Transparency Index? Look no further than The Footprint Chronicles at the bottom of each product page. There you'll find out where that item is manufactured, along with a link to more info about it and how they choose their production partners.
Their entire line of eco friendly fair trade backpacks and duffels are manufactured in Kanaan Saigon Co., Ltd in Vietnam.
Green business practices:
Patagonia's backpacks may be available in every color under the sun, but make no mistake; this brand is green through and through. 72% of their products use recycled fabrics, 100% of their cotton is organic, they use a Zero-Wastewater Discharging System to make their Black Hole® line, among so many other green initiatives.
One area they recognize their need to further improve, however, is their packaging.
Currently, their shipping materials consist of kraft paper hangtags on the garments and partially recycled polybags. While you can recycle these poly bags in any Patagonia store, that still excludes a lot of folds, which is why they're testing various biodegradable and paper-based alternatives.
Community & charitable giving:
As founders of one of the biggest charitable brand programs around, 1% for the Planet, it's safe to say Patagonia is passionate about giving back. Beyond donating a percentage of their profits, they also work on political fronts to fight for the environment and promote responsible business practices across the industry.
They'll even help you get involved. Just visit the Patagonia Action Works page to search your hometown and see what sort of grassroots initiatives are nearby that could use some volunteers.
Available: Patagonia
---
7. PAKT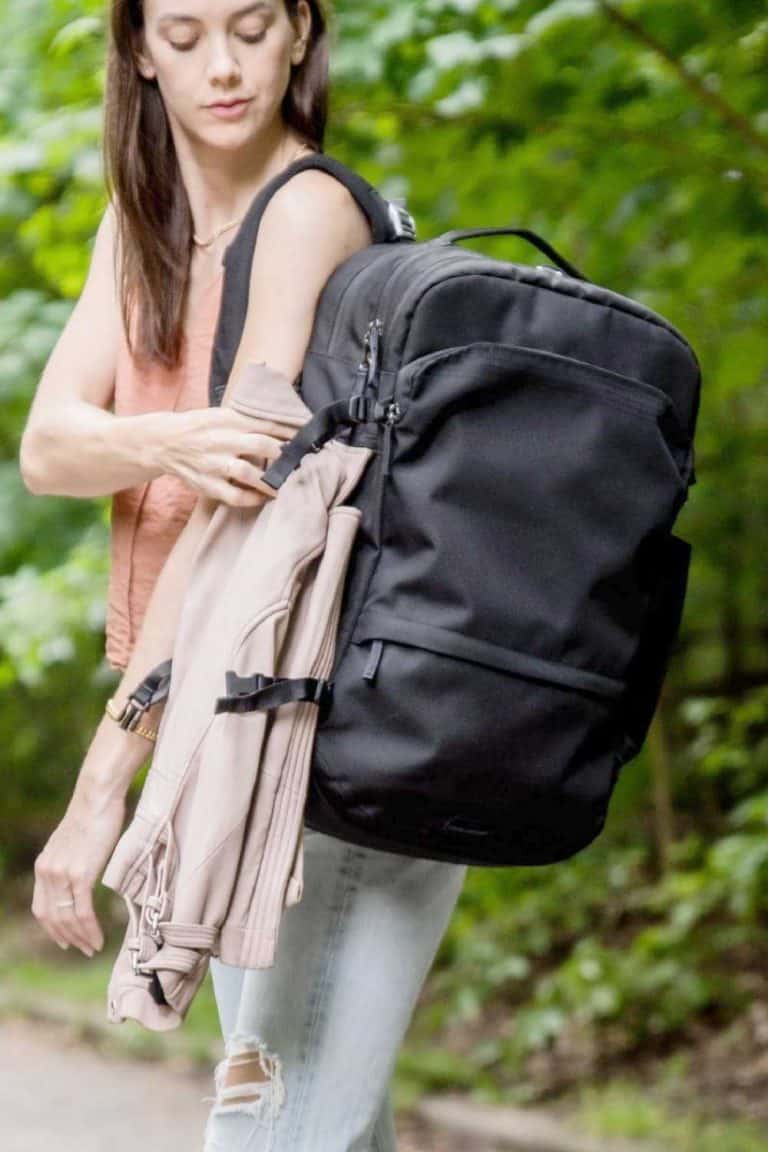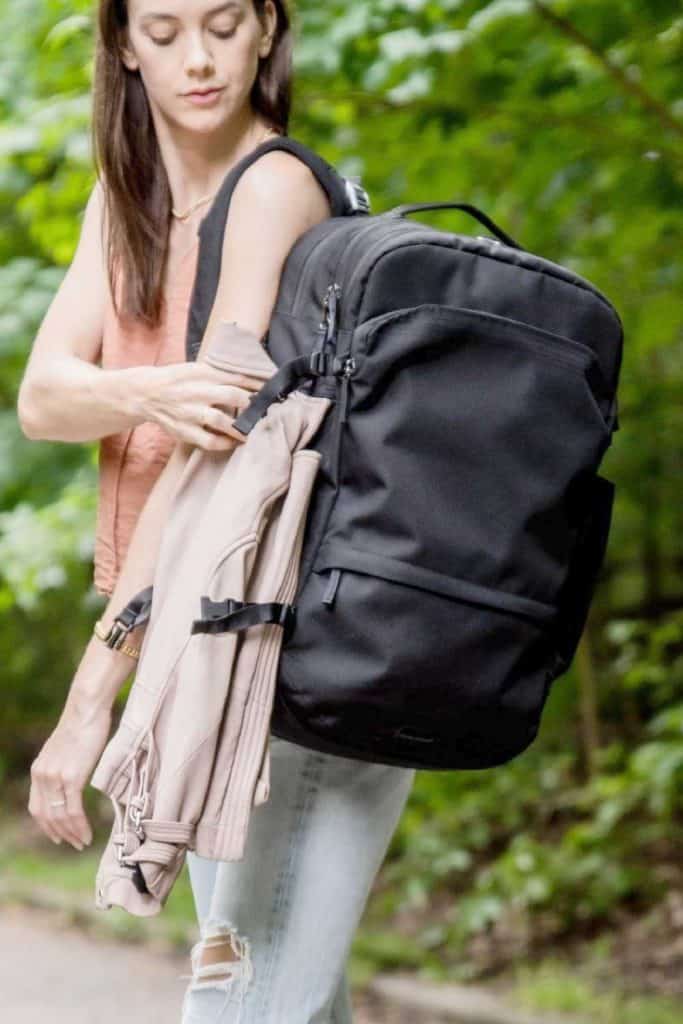 About Pakt
We don't know about you, but we're dying for a getaway from the gross side of the garment industry. And so was Pakt founder Malcolm Fontier when he created the Getaway bag.
While his original small brand went out of business, demand for the bag skyrocketed after OG minimalists Joshua Fields Millburn and Ryan Nicodemus featured it on their Minimalism documentary. Suddenly, the bag Joshua called a means to Keep Travel Simple gained cult status and was resurrected as the Pakt One travel duffel.
After reviewing it, we can totally see why this one bag was enough to set this brand back in motion.
Which is why we're so excited to see the long-awaited Pakt Travel Backpack is out and ready to be taken on those worldly adventures. With a 30L capacity, it's small enough for just the daily goodies while still being spacious enough as a carry on for long-distance travel.
Pakt's Ethical and Sustainability Practices 
Materials:
What the Pakt Travel Backpack has on its duffel predecessor is the fact that it's also made of recycled materials (at least if you order the green or black versions). Specifically, it's 900D rPET (recycled polyethylene terephthalate) which makes it incredibly durable and resistant to all the trials your traveling (cough cough TSA) might put it through.
That durability extends to every thoughtful element, including the water-resistant coating, duraflex hardware, and reinforcements for all handles and stress points.
Supply chain & labor practices:
Aside from ensuring "fair working conditions for factory employees" (though we don't know where this factory is), Pakt runs an "open-source" business model with the hopes of providing a resource for their manufacturing partners and other brands about how to run an ethical business.
Green business practices:
Pakt is a big proponent of slow fashion, which is why you'll only find six products (all backed with a lifetime guarantee): the duffel, backpack, packable tote bag, set of packing cubes, backpack rain cover, and travel coffee kit.
"The last thing we want to do is add more unnecessary stuff to the world. We would rather have a small line of great products where each product clearly adds value to people's lives rather than grow the line simply because 'that's what companies do'."
While not all their products are free ioff virgin synthetics yet, Pakt avoids single-use plastic in their supply chain by using paper and cardboard packaging, courtesy of their sister company, SeaHive. Because plastic-free packaging isn't much good without plastic-free shippers, they opt for those, too.
Community & charitable giving:
The plastic-free packaging company SeaHive was actually founded by Pakt, though they now operate entirely on their own to provide plenty of other brands besides Pakt with zero waste packaging.
Available: Pakt
---
8. COTOPAXI
About Cotopaxi
Cotopaxi, named after the iconic active volcano in the Ecuadorian Andes where founder Davis Smith spent a lot of time growing up, is on a simple yet inspiring mission to "do good".
Aside from their technical outdoor clothing, Cotopaxi makes a variety of backpacks, not all of which are made of sustainable materials. For your low-impact lugging purposes, however, shop their Del Dia bags, available in everything from small packable daypacks to their famous Allpa 35L travel pack (with built-in packing cubes).
Part of their larger (Re)Purpose™ Collection, these bags "make leftovers shine" with their bold and fun color combos that'll make you stand out on the trail, town, or wherever you choose to sport it. By the way, each maker is given full creative choice over the color combo so Cotopaxi hopes you'll think of your color choice as a little signature of the artisan behind it.
Cotopaxi's Ethical and Sustainability Practices
Materials:
"Made With (Re)Purpose™", all Del Dia vegan eco friendly backpacks are made from leftover fabric from other companies' larger production runs. In other words, deadstock is the word of del dia.
Supply chain & labor practices:
"We're into funky; we're into sustainable; we're into treating those who sew our products with respect."
Proudly being both a self-professed benefit corporation and Certified B Corp, Cotopaxi holds all factories to a rigorous code of conduct, verified by some third-party audit / certification. All backpacks are made in a factory in Bataan, Philippines. This Higg Index assessed factory specializes in collecting fabric scraps making the recycled Del Dia line possible.
All of their yearly impact and benefit corp reports are available on their website.
Green business practices:
Cotopaxi writes, "Our products are built to last. If there's a problem with your product, we'll gladly work with you to repair the item, exchange it, or get you a replacement."
While a long lasting product is the big leap toward sustainability, they've gone beyond that by joining the Sustainable Apparel Coalition, testing a new repair program, and offsetting bulk shipping (I.E. that to other retailers) by finding Amazon reforestation projects.
Community & charitable giving:
"Do good" means more than designing good products. It means giving back for Cotopaxi. That's why 1% of their earnings go directly to the Cotopaxi Foundation which awards grants to various foundations aiming to improve conditions in impoverished countries. So far, they've awarded 42 grants to organizations.
They've donated an additional $300,000 to relief, through various organizations like the #OneUtah initiative, IRC's Crisis Response Fund.
They also donate emergency kits to refugee families at the US / Mexico border, clocked 1,300 employee volunteer hours last year, and give discounts to customers that also do good (like firefighters, first responders).
Available: Cotopaxi
---
9. UNITED BY BLUE
About United By Blue
"Change comes in waves," and thankfully, we're coming in the form of a huge tidal wave thanks to the appearance of so many sustainable clothing brands like certified B-corp United By Blue.
From sustainable swimwear to sweaters, United By Blue provides no matter the season. In fact, with the sudden weather changes we're seeing thanks to climate change, you might be best to keep both on you at all times… just in case.
Thankfully, their (R)evolution™ line of recycled environmentally friendly backpacks has space for all your layering and more. Choose between four sizes (the 25L Transit, 22L Trek, 16L Rolltop, and 9L Sidekick) and several different colors.
While these packs are designed for technical outdoor use, they look sleek and unassuming enough that they're equally suitable for your long hike to work through the concrete jungle.
United By Blue's Ethical and Sustainability Practices
Materials:
All (R)evolution™ packs are 100% recycled, featuring a recycled plastic bottle body (complete with water and stain-resistant DWR coating), recycled polyester lining, recycled nylon straps, and a blend of recycled nylon and poly for any that have an air mesh padding on the straps and back.
All hardware is aluminum so it's fully recyclable.
The Westward pack is the only other pack they sell, and this one is NOT one of their sustainable vegan backpacks, as it features vegetable-dyed Nubuck leather details, and is not made of recycled materials.
Supply chain & labor practices:
United By Blue became a certified B-corp in 2011, and since, their above-average impact score of 80.1 has earned them the title of B-Corp's 'Best for the World Honoree' three years in a row.
All manufacturing occurs in just 7 GOTS, OCS, and/or Fair Trade certified factories across Turkey, China, Vietnam, and the USA. Their backpacks specifically are made in Ho Chi Minh, Vietnam.
Green business practices:
Backpacks backed with a Lifetime Guarantee?! Sounds like quality we can trust.
Beyond that, UBB is working to #QuitSingleUse by steadily removing poly bags, plastic hang tags, fabric roll packaging, shrink/bubble wrap, and plastic tape from their operations. For goal deadlines and progress toward this admirable goal, see their yearly Impact Report.
Community & charitable giving:
Early on, United by Blue set out "to prove that a for-profit company could do serious, dirty conservation work".
Hence why they remove one pound of trash from the ocean for every product sold (totaling almost 3.5 million pounds now!). Beyond paying for that dirty work to get done, they aren't afraid to get their hands dirty, too, with company run and organized beach cleanups.
Available: United By Blue
---
10. LO & SONS
About Lo & Sons
Lo & Sons, as you may have guessed, was founded by Helen Lo (a woman with an amazing life story) and her sons. This slow fashion-forward family founded the brand on the belief that:
"[I]t's not enough to "do no harm" when it comes to environmental impact. We are part of a growing movement that believes businesses can actually lead the way in reversing environmental damage and creating innovative solutions."
They create 6 styles of backpacks to choose from: Prospect, Hanover 2, Hanover Deluxe 2, Edgemont (which converts into a tote), Hakuba, and Rowledge backpacks, most of which are unisex so you can shop here for eco friendly backpacks for men or women.
Each one bears a sleeve on the back so as to seamlessly integrate with the handle of their (or any other) sustainable rolling luggage.
Lo & Sons's Ethical and Sustainability Practices 
Materials:
Most Lo & Sons backpacks are made of recycled plastic bottle polyester. By recycling almost 1.7 million plastic bottles so far, they reduced tons of CO2 emissions (41,880 pounds just last year!). The Hanover 2, Hanover Deluxe 2, and Hakuba are 100% recycled poly and designed for more outdoor use.
Their Edgemont blends this recycled poly with vegetable-tanned Vachetta leather, while the Prospect briefcase backpack is full Vachetta leather, making it one of their most professional-looking eco friendly laptop backpacks.
The only one to avoid is the Rowledge, which bears a standard virgin nylon exterior.
Supply chain & labor practices:
As members of the Future Fit Changemaker Community with a B-Corp certification in mind, Lo & Sons keep their overseas factory closely monitored for fair labor practices. To bring some production back to US soil, they've started to partner with a small solar-powered domestic workshop for capsule collections.
Green business practices:
AC/DC may be all about Back to Black, but Lo & Sons is all about Back (pack) to Green. Between solar energy in production, converting wastewater into drinking water, repairing, and reselling used bags via The Renewal Workshop, there are loads of green initiatives in the Lo & Sons supply chain.
In the name of progress, they're also working on switching to biodegradable poly shipping bags and making 75% of their products eco friendly by 2025. Check in with their latest Sustainability Progress Report to see how they're doing.
Community & charitable giving:
Lo & Sons donates regularly to Brooklyn Bridge Park (a local organization) and EcoHealth Alliance.
Available: Lo & Sons
---
11. FJÄLLRÄVEN
About Fjällräven
From the idyllic mountains of Örnsköldsvik, Sweden, Fjällräven aims to be as environmentally sound as possible:
"But it's not easy. We have to make compromises. We sometimes have to say "no" when we want to say "yes". We have made, and will continue to make, mistakes. But we try to learn from them; we aim to innovate and adapt. We're not ones to settle. We never sit back and relax thinking what we're doing now is good enough. At Fjällräven, the term 'room for improvement' is ingrained in all of us."
You'll be hard pressed to find better sustainable outdoor backpacks than theirs. From casual daypacks to long distance hiking backpacks. Lots of earthy tones and rustic color palettes for that understated style – a good option for sustainable mens backpacks.
Then again, they have a color for just about everyone; 55 available colors to be exact!
Fjällräven's Ethical and Sustainability Practices
Materials:
For all products, Fjällräven uses a Preferred Materials And Fibres List that rates their materials into the following categories: excellent (recycled wool, organic hemp and Tencel®); good (recycled polyester, G-1000 Eco and traceable woo)l; OK, (polyamide, cotton, metal buttons); and those they don't use, (PFCs, PVCs and angora wool).
Their sustainable backpack materials fall into the "good" category simply because the "excellent" ones wouldn't make for very durable backpacks. They include mostly waterproof Bergshell fabric made from recycled nylon, G-1000 HeavyDuty Eco (a densely woven blend of recycled polyester and organic cotton), and recycled Corylon for fabric reinforcement.
A few packs include bits of wool, which is either recycled or sourced ethically via their animal welfare policy, and their burlier trekking backs bear an FSC-certified birch wood frame.
One line that differs is their iconic Kånken packs made of synthetic Vinylon F. While not recycled, Vinylon F fibres are superior in the way they swell when they become damp making the weave tighter and the product weather resistant sans chemical treatment.
Speaking of chemicals, where they do use them, they adhere to the Fjällräven Chemical Guideline (compiled with the help of the Swedish Chemicals Group) and are tested rigorously in labs for non-toxicity. Fjällräven has said "no" fluorocarbons (which can cause reproduction and hormone problems) for the last eight years.
Supply chain & labor practices:
As members of the Sustainable Apparel Coalition and Fair Labor Association, Fjällräven has a "non-negotiable" Code of Conduct for which they provide compliance training and support for all members of their supply chain. These entities are also subject to brand visits and regular third party audits.
They've also committed to the UN Global Compact and the protection of "10 universally accepted principles relating to human rights, labour, anti-corruption and the environment."
Green business practices:
Sustainability starts at the design stage. Using just one or two materials that are easier to recycle (either by other organizations or the brand's infant recycling program).
Beyond that, they work hard to design "gear for generations" achieved through repairable designs, rigorous product testing, durable materials, and "emotional longevity" for timeless products that will never go out of style.
Hoping to go carbon neutral by 2025, they've started purchasing carbon offsets for some of their products to support UN verified renewable energy projects.
Community & charitable giving:
Fjällräven means "arctic fox" in Swedish, and for over fifteen years, they've been funding scientists at Stockholm University to research the effects of climate change on the Scandinavian arctic fox. Since then, the project has helped repopulate their dwindling birth rate.
In honor of the project that started it all, they now host the Arctic Fox Initiative, a grant program to which any environmental non-profit can apply. Winners are chosen by a jury and public voting system. Past recipients have included some truly inspiring conservationists.
Available: REI
---
WHY BACK ENVIRONMENTALLY FRIENDLY BACKPACKS?
Remember the excitement of School shopping as a kid, and the most anticipated item was always a new backpack.
As adults, however, that excitement is replaced by the knowledge of all those backpacks unnecessarily hitting the landfill by the thousands.
Backpacks are a strangely common source of waste, especially since most can actually endure long beyond when we deem them "out of style". Children may be the main perpetrators of cycling through backpacks like loose-leaf paper, but they certainly aren't the only ones responsible ( besides, who's buying them in the first place?)
It's time we start changing our speed on how often we change our satchels. By opting for more durable pieces, we can keep backpacks around much longer.
Beyond that, we need to choose sustainably made packs that can actually biodegrade and compost when they do finally break. Currently, the majority of backpacks are made of plastic (and even toxic PVC, which should be especially concerning since we give these packs to our children).
Let's pack up all these unsustainable options and start looking toward sustainable backpack brands that have both ours and the planet's back.
---
HOW WE FOUND THE MOST SUSTAINABLE AND ECO FRIENDLY BACKPACKS
You know what shopping for new backpacks means… back to school! Even if you're well beyond your school days, you're never too old to learn something new, so we thought we'd briefly school you all on our sustainable fashion criteria so know just how brands make the grade.
Think of this as study tips for how we study up on fashion brands. For you straight A book worms out there that like to go above and beyond, you can read our full fashion guidelines. But for those who prefer the Sparknotes version, we'll break down the basics of how we found the best eco friendly backpacks.
Materials:
While organic cotton certainly had its place in some of these bags, the majority of backpacks are made using synthetic fibers. While not as preferable as natural ones, synthetic fibers aren't inherently bad, as long as they're recycled and make use of waste that already exists.
Recycled synthetics (namely polyester and nylon) might actually be considered one of the most sustainable fabrics used for backpacks simply because synthetics can be woven into far more durable and weather resistant forms than natural fibers. Since the key to making your backpack eco friendly is making it last, that's a big pro for polyester.
Most backpacks are also treated with some sort of water and stain repellent finish, and for those that were, we looked for brands using eco friendly ones, like wax, and BPA and PFC-free DWR coatings.
Supply chain & labor practices:
Finding fair trade backpacks was as much of a priority as finding environmentally sustainable backpacks. That didn't necessarily mean the brand has to be certified Fair Trade or a certified B-corp (as that can be too expensive, especially for smaller brands), but it does mean we looked for some form of proof or confirmation that a brand adheres to fair trade labor practices (i.e. fair pay, reasonable work hours, safe conditions, non-discrimination, and protection from harassment and abuse).
This is often a grey area (or rather a faux green one thanks to all the greenwashing out there). One way for brands that aren't certified by third parties to prove this is by providing access to a company Code of Conduct that all suppliers and manufacturers are legally required to abide by.
Green business practices:
The materials a brand chooses may determine the single largest component of its footprint, but there are a lot of other ways brands can minimize the harm they do to the planet. Some (but far from all) of these include using renewable energy for manufacturing, recycling wastewater, buying carbon offsets, considering the product's end of life through recycling and repair services, using plastic-free (ideally compostable and recycled) packaging, and shipping via ground rather than air.
Charitable endeavors:
Backpack? More like give back! Another thing that gives brands extra credit is any way they work to improve the world beyond their own business operations. Sometimes it's donating money to worthy causes. Sometimes it's benefiting the environment directly by planting trees and cleaning beaches. And sometimes it's something as seemingly small as giving their staff a few paid hours a month to get out and volunteer.
Amazingly, every single sustainable backpack brand on this list had their hand in at least some sort of action here.
---
FINAL THOUGHTS ON THE BEST SUSTAINABLE BACKPACKS
We hope this list has proved that back-to-school shopping for you (or your kiddo) can be a sustainable exercise by choosing an ethical and sustainable backpack.
But let's back(pack) it up for just a second. Jot down this note, because it'll be on the exam: the most sustainable backpack is the one you already own. Use this list only when you need to buy a new one, not to just fit in with the cool kids on the playground or in the conference room.
Now we'll pass the talking stick backpack to you guys. Do you tote any of these brands into the mountains or the office? If you're toting something else not on this list, let us know.
And, feel free to pass notes (under the desk not required) and give this a share so we can get packing while still backing our planet.
Class dismissed!
---