7 Reusable Toilet Paper Brands For a More Circular Flush
Before you poo-poo it: reusable toilet paper kicks butt!
That said, if you don't have an eco-friendly washing machine (or any washing machine), we'd suggest you skip this natural alternative to toilet paper as it's necessary to properly sanitize for reuse.
Cared for properly, reusable toilet paper will last 3–5 years with daily use, which saves you a whole (butt)load of money—not to mention saves thousands of trees.
Plus, they're better for your bits, especially if you're someone with sensitive skin.
Everything we recommend to you on Sustainable Jungle is independently researched and we ask all brands to confirm their claims. To avoid waste, we test products on an as needed basis. This post contains affiliate links. If you buy something through our links, we may earn a small commission. Learn more about why we do this here.
The Best Family Cloth Toilet Paper For A More Planet-Friendly Potty
The only thing more powerful than a plunger is a creative mind on the toilet, and Marley's Monsters sure came up with a good one with their UNpaper invention, the OG fabric toilet paper.
To wipe your tush with only the best organic fabric, Green Little Nest offers family cloth reusable toilet paper made of organic cotton.
If you're the type of s*** disturber who makes everything better yourself, we implore you to clear the pipes and clean it up with DIY reusable toilet paper. See our toot-orial lower down.
Still poo-plexed?
Take the plunge to the bare bottom of this article to learn more about fabric toilet paper. We promise it won't be a bummer!
The Full List Of Reusable Toilet Paper Brands
---
1. Marley's Monsters
Marley's Monsters Reusable Toilet Paper
Price Range: $42
Let's get this potty started!
It's easy to make a big stink about reusable TP when it works as effectively as Marley's Monsters.
You ask, but is reusable toilet paper sanitary?
Yes, despite what you're imagining. They're closely related to reusable organic baby wipes or cloth diapers.
And like their beloved reusable paper towels, MM's Toilet UNpaper Rolls are 100% soft, absorbent cotton flannel, and give an even comfier feel than the most luxurious 3-ply buttwad.
A single roll of this reusable cloth toilet paper features 24 fabric pieces like little wash cloths that you roll and re-roll around the compostable cardboard center and hang from your toilet roll holder like paper towels.
They're 100% washable and 100% non-flushable; simply use one rag per potty, and collect in a wet bag or designated bin to machine wash hot every few days.
Whether you're making number one or number two in the toilet, reviewers swear these are the number one choice for post-toilet clean-up, thanks to their softness and absorbency.
About Marley's Monsters
As one of the best reusable toilet paper brands, Marley's Monsters is also one of the best zero waste product brands, having started as a single home-made stuffed toy for founder Sarah's little daughter.
Fast-forward, and today they're sold worldwide and in their brick-and-mortar shop, offering all manner of hand-crafted reusable fabric alternatives to common everyday disposable items.
The Oregon-based brand features 100% plastic-free shipping materials and donates any excess textile waste to recycling nonprofits. To further support their motto "Live Colorfully, Tread Lightly", MM are also BRING certified.
Also available on Etsy
---
2. Creekside Kid
Creekside Kid's Fabric Toilet Paper
Price Range: TBC
Your running mascara or baby's runny toosh aren't the only things to wipe up with Creekside Kid.
Alongside their reusable cotton rounds and other wipes, the brand provides highly-rated fabric toilet paper in a wide range of colors, fabrics, and styles.
Every type of reusable "unpaper towels" they sell is soft flannel, gentle on the skin, machine washable, and sewn with serged edges to ensure their longevity.
With so many sizes, styles, and patterns available, we especially love their cute patterned ones for kids, because it's never too early to learn the magic of a zero waste bathroom.
About Creekside Kid
Mother and craftswoman Claudia started the brand to make it simpler for busy families to welcome low-waste living choices to help preserve the Earth in their everyday lives.
They have more than twenty thousand five-star sales for their cloth wipes, eco-friendly baby wipes, unpaper, and various eco-products making Creekside Kid a go-to Etsy shop for ethically made and priced reusable household products.
---
3. Green Little Nest
Green Little Nest's Reusable Toilet Paper
Price Range: $17–$60
Your home is your nest, and Green Little Nest helps you keep it eco-friendly with organic cotton flannel toilet unpaper and bidet cloth wipes.
Each cloth measures approximately 5 x 6 inches and features two layers of GOTS-certified organic toilet paper (unbleached!), which is sewn with sturdy, professionally serged edges. 
Packs come in 10, 15, 20, or 30 cloth wipes.
New to poo sans classic paper and scared of possible dirty underwear stains?
Firstly, don't be. Wash day will be a win.
Secondly, they also have packs of family cloth available with fun patterns and prints, sewn from super soft and durable cotton flannel (not organic.) They're a lot easier to keep clean (usually just natural laundry detergent, baking soda, and hot water!) than something bleached white.
About Green Little Nest
Washington State-based Green Little Nest was started by Makisha, a stay at home mom of two. You can usually find the family all together digging in the garden, scouring for rocks and bugs, or tromping through the gorgeous forests of the Pacific Northwest.
Their love of the Earth prompted Makisha to contribute to its protection by offering reusable and eco-friendly home alternatives to the disposable world we live in.
All eco-friendly home products are handcrafted with love and used in Makisha's own family household.
---
4. Organic Craft Store
Organic Craft Store's Family Cloth Toilet Paper
Price Range: $13–$66
What is family cloth?
For starters, it sounds like the whole family shares a single small square of fabric. *~Shuddering~*… That is not the case.
Family cloth is another term for fabric toilet paper, and usually one or two pieces are used per trip to the toilet, after which it is placed in a sealed-off wet bag or container until laundry day.
Is family cloth sanitary?
Yes, if used correctly!
Many families feel comfortable using family cloth wipes in tandem with a bidet to pat dry after. Others use it just for wiping pee and not poop, while others go the whole hog (errr, poop log?).
It's your choice, and Organic Craft Store makes theirs in different patterns, sizes, and quantities, but all from 100% hypoallergenic cotton that's high-quality and pre-washed with non-biological detergents.
Our pro-tip is to keep a bucket with some detergent, vinegar, or oxygen bleach (like hydrogen peroxide), and water with a lid beside the toilet to hold soiled family cloth. Chuck in the laundry every couple days to wash with hot water and voilà!
About Organic Craft Store
"Caring for ourselves is caring for nature," says this female-led Etsy brand.
Organic Craft store is owned and operated by Lilind from Europe, where her personal care products are hand made of natural and organic fabrics with a love for details and the planet.
Lilind's values of sustainable fabrics, low-waste living, and a happy humanity on a happy Earth align with our own, and we appreciate her nursing background to ensure these are hygienic, sanitary, and safe.
All shipping is carbon offset by Etsy.
---
5. Saged Home
Saged Home's Reusable Toilet Paper
Price Range:$14–$52
Saged Home knows "reusables are bad for business," and that's exactly what inspires the eco-conscious small business to keep selling their eco-friendly mops, hampers, cleaners, and washable toilet paper to keep your household green and clean.
Made from 100% cotton flannel, the cloths (available as 12, 24, 36, or 48) are 4 x 7 inches, to fit perfectly on a recycled toilet paper roll. They come in white, but Saged Home also takes personal orders of any color or pattern you see on their Etsy page.
After the first wash, these shrink a little, increase absorbency, and stick easily to each other around a recycled toilet paper roll.
About Saged Home
Like their toilet unpaper, everything from Saged Home is plastic-free, Climate Neutral, made-in-the-USA and from a woman-owned and operated brand.
Founder Ariel and her small team of five seamstresses and a shop assistant operate out of Portland, OR.
The brand believes in community over competition and loves to collaborate with other small, green, and local businesses to share sustainability tips and tricks.
---
6. AsYouStitchBaby
AsYouStitchBaby's Reusable Toilet Paper
Price Range: $19–$28
Still in potty disbelief and asking yourself, "How does reusable toilet paper work?"
It's up to each person and their comfort level how far they want to take their reusable toilet hygiene effort.
Our personal favorite approach is using a bidet (known in much of Asia lovingly as a "bum gun") for a zero waste toilet paper alternative and patting dry with a clean piece of reusable, washable toilet paper like those from AsYouStitchBaby afterward.
We've previously shown this brand some love for their super soft organic baby wipes, and their reusable toilet paper is likewise gentle enough for a baby's bottom.
Made from soft 100% cotton flannel, they come in all different colors and patterns, plus there is the option of 100% organic cotton.
Each order comes with 24 cloth 1-ply pieces, 10 x 4 inches, or approximately 2 squares of traditional TP, and serged all the way around the edges.
About As You Stitch Baby
AsYouStitch is a mother-and-daughter team hailing from Colorado that sells all paperless products including cloth wipes, cloth napkins, paperless towels, burp cloths, and toilet unpaper on Etsy.
Everything is handmade with love by mom Lori and can be washed in hot, disinfecting water with zero waste laundry detergent after each use.
When you place an order, you'll be chatting with daughter Ali, who takes care of the business side of things.
---
7. Rag Pads
Rag Pads Reusable Cloth Toilet Paper
Price Range:$7–$30
Done crapping yourself yet over the fabric toilet paper concept?
Rag Pads has one of the widest selections we've seen of reusable toilet paper.
Plus they sell a variety of other reusable toilet tools like stylish cloth toilet paper holder options, wet bags, and even hiking pee rags and wet bags for zero waste travel.
Their reusable TP sells in a variety of colors, patterns, shapes, and sizes, and are made from 100% cotton flannel, plus they sell an unbleached, GOTS-certified organic cotton fabric toilet paper option.
About Rag Pads
Rag Pads is an Etsy shop providing reusable eco-friendly items like washable paper towels, toilet paper, reusable menstrual pads and bags.
The Utah-based store is female-owned and operated by Julie, a mom of eight who loves to impart her own love of health, nutrition, gardening, singing, cooking, and sewing upon the world.
---
8. DIY Reusable Toilet Paper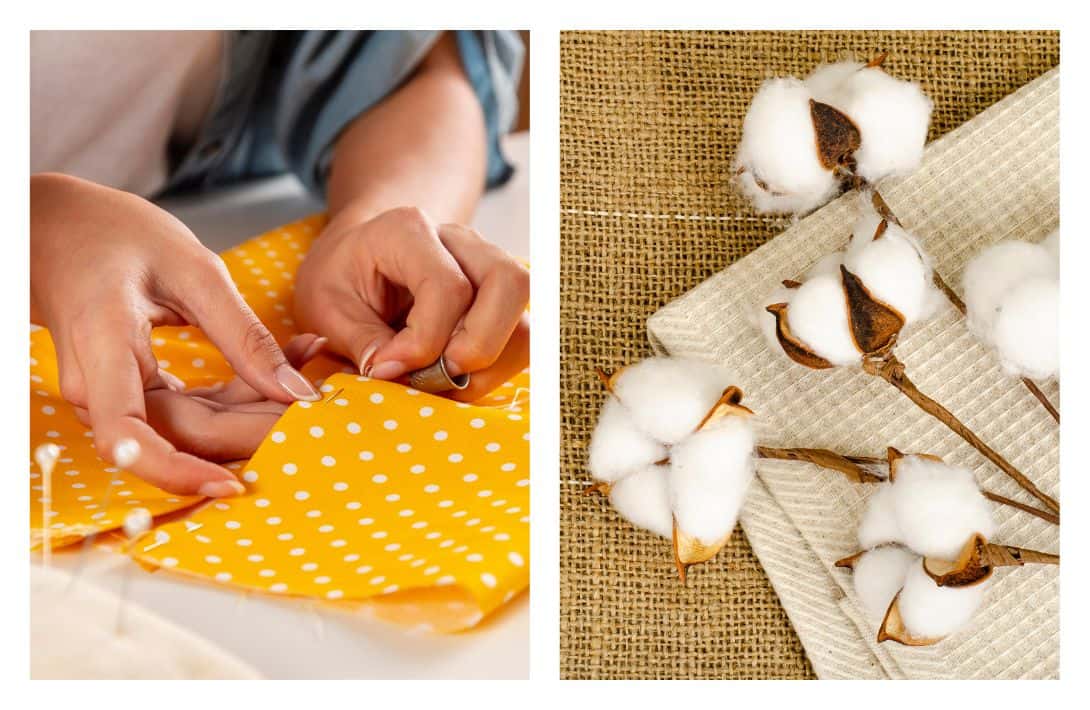 We know, it's easy to lose your s*** over the washable reusable toilet paper concept being a "great idea". But flush your worries away, because these tushy towels are hygienic, affordable, and healthy for wiping purposes.
In fact, it's so easy that many people are asking: can you make your own toilet paper?
You absolutely can make your own reusable toilet paper, and we're here to show you how.
Use this DIY approach, or a washable cloth instead of a toilet paper as one of the easiest hacks for eco-friendly and responsible post-potty care.
The handiest cloth toilet paper tutorial we've found online is here, which has three sewing approaches.
Here's a quick list of things needed when learning how to make reusable toilet paper:
Soft fabric, preferably cotton flannel. You can also use old, soft cotton t-shirts or towels.
Scissors
Sewing machine or serger are recommended; needle and thread is still possible, but it will be time consuming.
So, are you willing and ready to take the plunge(r) into the world of DIY and tree-free toilet paper?
---
Did you know we Have a Newsletter?
We cover the latest in sustainable living, fashion, zero waste, beauty, travel, finance and more…
How To Use Washable Cloth Instead Of Toilet Paper
If you give a crap about low-impact living, using a natural alternative to toilet paper like family paper is pretty straightforward. Simply put, it's a similar concept to a cloth diaper or wash cloths.
Here's a step-by-step of how to use and how to clean reusable toilet paper:
Keep a stack of clean wipes wrapped around a toilet roll holder, or in a special holder or crate near the toilet.
Bidets work best with the cloth wipes, using the reusable toilet paper to dry off after (sort of like a shower and towel for your bum!)
Or, you can use for only wiping pee only OR for number two as well. Whatever you decide, we poo-poo ever reusing a sheet before washing it again, for obvious sanitation reasons.
Maintain a bucket or wet bag with a lid beside the toilet for used wipes. Most people keep some water, detergent, and/or vinegar solution in a small bucket to keep things more hygienic.
Instead of flushing paper after wiping, you'll place the cloth in the wet bucket or bag until laundry day.
Launder regularly with hot water (mesh bags aren't recommended, as the cloth needs space to move around and clean.) Bleach, vinegar, or baking soda is optional to help kill germs and lift stains. Don't bother using fabric softener (except for non-chemical fabric softener alternatives) as it reduces absorbency.
Tumble dry low or air dry in the sun. Reusable dryer balls or dryer sheet alternatives (but not dryer sheets) are fine to use!
Stack again, use again, and your tender private bits rejoice.
You can also check out our guide on how to wash nappies, since washing cloth diapers and baby wipes is pretty much the same as washing cloth TP.
---
Why Choose Reusable Toilet Unpaper?
Yes, even dump-taking can give a poop about our Earth and our bodies.
Ever notice how when a big world event occurs, the first thing humans panic purchase is TP?
Actual scientific studies are now being conducted on TP hoarders, which in recent years increased by as much as 700%.
Like dreams of being naked or forgetting your homework in grade school, it tends to stem from more than fear of dirty underwear; it's a psychological fear of humiliation and being out of control.
The psychology behind toilet paper in the West runs deeper than sewage muck.
And because of it, the numbers on consumption of toilet paper are staggering.
Every single day, 27,000 trees are cut and literally flushed down the toilet or land in landfills thanks to toilet roll. Per person, it's almost 400 trees flushed as paper waste over a lifetime.
Americans use as many as 34 million rolls PER DAY.
Not to mention the amount of water it takes to make the toilet paper, which is around a staggering 473,587,500,000 gallons and 253,000 tons of chlorine to bleach it for Americans alone.
Then there is the power and plastic involved: 17.3 terawatts of electricity to manufacture it annually, plus the petrochemicals involved, since traditional toilet paper comes individually wrapped or packed together in soft plastic which is almost never recycled.
How's that for environmentally friendly?
So, if you've always wondered about how to use less toilet paper, we suggest an even better way to answer nature's call: ditch it altogether, in favor of paperless and reusable products.
---
How We Chose The Best Reusable Toilet Paper
Like the best sustainable beauty or sustainable fashion, finding the best reusable toilet paper means getting to the bottom (pun intended) of eco-conscious factors like:
Materials:
What is the best fabric for reusable toilet paper?
100% cotton is our preferred go to—and organic cotton is even better.
Organic bamboo or hemp fabric also receive our vote for sustainable fabrics that are healthiest for our bodies and the Earth. Plus, they can all be composted at end-of-life.
Ideally, thread used is also natural, or it has to be removed before composting.
Supply chain & labor practices:
Cotton has rightly held the rep of "dirtiest crop" for a long while, and that is why ethical sourcing and humanely harvested cotton—preferably organic—is important.
In this case, we've selected all small brands who source ethical cotton themselves, and who hand make products themselves, so we know they also have safe working environments and above-living wages.
Carbon commitments & green practices:
Bonus points to those who hand-make their TP, or use waste reduction practices, recycled packaging, renewable energy, carbon offsets, and other ways to alleviate the eco-impact of our post-pooping routine.
Ideally, products are packaged in something that's biodegradable and/or paper-based.
Community & charitable giving:
S*** happens. And we want brands who care. We love family cloth that comes full circle by giving back to other families and communities.
---
Final Thoughts On Reusable Toilet Paper
Put a lid on it!
… On toilet paper overuse, that is.
The heart of the (fecal) matter is that reusable toilet paper will save not only the trees but your bank account, plus it's better for your buns than the constant chafing of toxic, bleached toilet paper.
You'll never be s*** out of luck when you keep reusable toilet paper around.
The next time you bow upon your porcelain god, we're not saying to get rid of the platinum parchment entirely, but we hope this gives you some motivation to wipe away unnecessary waste in favor of some reusable tissue magic.
So, go ahead and please share this article with the party pooper in your life who stockpiles endless toilet paper (eco-friendly toilet paper or not) for no good reason.
Pin these: