9 Reusable Period Pads To Make Your Menstrual Cycle More Circular
Aunt Flo never meant to cause so much eco-harm, but her monthly visits contribute significantly to the plastic pollution crisis.
20 billion disposable pads and tampons enter North American waterways and landfills annually, which will take hundreds (if not thousands) of years to decompose.
Reusable period pads and sustainable period underwear not only have environmental benefits, but they're also healthier for our menstrual flow and more cost-efficient.
Wait…period pads? Reusable? Say what?
It's no joke. Using a circular approach to managing nature's cycles, the best reusable menstrual pads ensure your next one is sustainable, safe, effective, and yes, hygienic.
Did we mention you'll save an average of $150/year?!
Everything we recommend to you on Sustainable Jungle is independently researched and we ask all brands to confirm their claims. To avoid waste, we test products on an as needed basis. This post contains affiliate links. If you buy something through our links, we may earn a small commission. Learn more about why we do this here.
The Best Reusable Pads, Period
Rael keeps it real with highly-rated reusable sanitary pads, all featuring a 100% certified organic and non-GMO cotton cover.
You've never been so glad to be on the rag, thanks to GladRags' whimsically patterned 100% organic reusable pads with wings.
hannah sells OCS-certified reusable cotton period pads and works to combat period poverty by donating products on three continents.
Go with the article's flow, or drop your drawers to the bottom to learn how to make reusable pads yourself, as well as how we bled the menstrual industry to find the bloody best reusable period pads.
The Full List Of Reusable Menstrual Pads For Periods
---
1. Rael
Price: $34 for 3
Rael's Reusable Period Products
Rael keeps your period real with an environmentally-friendly glow-up of the classic period care item you know and love.
Lightweight and super absorbent, Rael organic cotton reusable pads are made with a five-layer organic cotton body that wicks away moisture and can be reused 120 times.
They're made of an 100% organic cotton top and absorbent layers, with the backing made of 99% cotton and 1% polyurethane. The snap closure for your underwear is 100% cotton with nickel snaps.
Available in four sizes, their breathable comfort and trustworthy leak protection means even your most sensitive lady bits can breathe easy during your monthly bleed and after, because their machine washable status makes cleanup a breeze.
Rael's reusable pantyliners are also available for a lighter flow.
About Rael
Rael is made for real people looking for period products made of real and organic materials.
In addition to reusable cloth menstrual pads and period underwear, they also offer disposable organic pads and organic tampons.
The female-founded Korean-American company creates clean menstrual products to foster menstrual dignity, regardless of a person's status, gender, or ethnicity.
For charitable giving, Rael partners with I Support the Girls, who collect and deliver underwear, bras, and period products to people experiencing homelessness, poverty, or distress.
---
2. The Period Company
Price Range: $20 for 5
The Period Company's Reusable Pads For Periods
"Flowing is knowing" according to The Period Company, whose organic cotton reusable sanitary pads offer some of the most affordable, absorbent, clean and comfortable coverage around.
The pad body is 95% organic cotton with 5% spandex jersey, the absorbent layer is 100% polyester, and the leak proof layer is 100% polyester PUL.
Their fabrics are all rigorously tested by a third party company to ensure they're compliant with industry standards and best practices.
Fabric is free of PFAS toxins, and more on their safety here.
Each pad absorbs 10 tablespoons, or 8-10 tampons, worth of blood and pads come as one size fits all.
About The Period Company
The Period Company was started by founder Karla after her non-binary child first got their period.
Recognizing the lack of gender-neutral, reusable, and toxin-free choices on the market, she decided to develop sustainable, effective, and accessible organic period underwear.
The Period Company "believe periods are a superpower and when we tune into them and just flow, some incredible things might happen".
Besides trans and women's rights advocacy, they donate to period care access and also give buyers the community donation option to cover the costs of shipping products to refugees around the world via Choose Love.
---
3. GladRags
Price: $15–$25 each
GladRags' Reusable Pads
You can (almost) be glad that you're on the rag with GladRags' best organic reusable menstrual pads.
Each one features a three-part design that can accommodate 1-3 of their absorbent inserts according to your flow.
Not only are their cotton menstrual pads reusable, but they're designed to fit all kinds of organic underwear—including a reusable thong pantyliner.
These are guaranteed to last at least five years, which totals thousands of disposables saved from our landfills and hundreds of dollars saved in your wallet.
About GladRags
GladRags is an independently female-owned business and Certified B Corp providing reusable period options for thirty years.
Everything is made in the USA, materials are sourced locally from woman-owned suppliers, and they ship worldwide in recycled, recyclable, and/or biodegradable packaging.
To stay sustainable, the Portland, Oregon-based business uses considerate approaches like a local bike delivery to receive finished goods from their local sewing partner. They also put fabric scraps to good use in the community.
Community initiatives include sponsored period supplies and donation campaigns.
---
4. Aisle
Price: $19 each
Aise's Washable Pads
The period aisle is a little more friendly thanks to Aisle, who makes menstrual pads reusable AND able to absorb up to 8x as much as the average disposable pads.
Aisle reusable pads come in three sizes with wings for your body type or flow and they use TransDRY® Technical Cotton for their organic cotton cover, which bears OEKO-TEX certification.
The absorbent core is made of GRS-certified recycled polyester.
Our favorite is their Maxi Pad, which provides leakage protection, has no bunching effect, and is 10 inches long for a heavy flow. It's available in fun colored patterns or black.
Wondering, "How often do you change reusable sanitary pads?".
Try the Aisle matchmaker quiz to learn about flow, pad size, and changing your pad.
About Aisle
Certified B Corp Aisle believes the period aisle should be stocked with radically comfortable products that benefit both people and the planet.
For thirty years, the company has continued to innovate in the menstrual product sector, earning them B Corp's #1 place in their category.
Aisle's community has already diverted over 250 million disposables from landfills.
Their Dignity Projects supply hundreds of thousands of reusable pads and period underwear to more than 17,000 menstruating people.
---
5. hannah
Price: $28–$42 for 2–3
hannah's Cotton Reusable Menstrual Pads
Reviews for hannah's large certified organic cotton reusable pads are bloody fantastic, making them some of the best reusable pads for heavy flow.
The overnight pads are likewise praised for their leak protection and absorbency without a bulky feeling down there.
They're also ultra soft, super absorbent, and easy to wash.
"Like a soft cloud!" writes one happy Etsy period purchaser.
About hannah
hannah was founded by none other than Hannah, whose mission is to leave the world a cleaner, healthier, and better place.
After finding her own period pains were alleviated from the use of natural products, and inspired that they also reduced menstrual waste, Hannah began selling her own reusable cotton menstrual pads.
hannah's non-toxic menstrual cups and pads are manufactured in Seoul, South Korea, and hannah donates feminine hygiene products to women suffering from period poverty on three continents.
---
6. Padtastic
Price: $16–$140 for 1–10
Padtastic's Reusable Cotton Pads
Padtastic has a wide assortment of cute and comfy pads and panty liners, making them oh-so-soft and truly fantastic… err, padtastic.
They sell three different kinds, RegularWings, Lightwings, and DailyWings, each available as 6, 7, 8, or 9 inches.
Their cloth pads are truly leakproof and sure to stay in shape throughout the day – and night! – providing the ultimate protection.
They're all cotton-based, but not all organic, so be sure to limit your search to those using an all organic cotton cover atop the PUL leakproof barrier.
We love the array of different funky colors and patterns, ranging from Christmas designs to astrology and tarot patterns, rainbow hearts, tropical wallpaper, cute florals, psychedelic paw prints, and more.
About Padtastic
Etsy-seller Padtastic calls themself "your destination for high quality cloth pads," with thousands of glowing (and flowing) five-star reviews.
From panty liners for daily wear to heavy flow, overnight and even postpartum protection, Padtastic has it all.
Every order ships with a carbon-offset, and comes with a lovingly illustrated care instruction card for the ultimate pad longevity and durability.
---
7. Smartliners
Price: $13–$14 each
Smartliners' Reusable Panty Liners
It comes as no surprise that Smartliners are about as smart as it gets for your private bits and the environment, with pads and pantyliners made of 100% OCS and GOTS-certified organic cotton.
After use, just fold and attach it together, place it in the handy wet bag they come with, and throw it into your eco-friendly washing machine.
They're designed with a velcro hook and loop wing making it easy to stick on your underwear, which you don't have to worry about getting stained thanks to Smartliners absorbency.
They also have hardly any bulk, making it easy to live in self-confidence and comfort.
You'll be using your Smartliners for years to come, and when it's time to part ways, remove the recycled velcro component and these pads are 100% biodegradable.
About Smartliners
Better for your body, better for the planet, better for your comfort, and better for your budget, Smartliners is passionate about changing the way you approach your crimson flow.
The company is female owned and operated in Canada, with a Bangladeshi factory that is socially certified.
Every reusable pad is sold in recyclable cardboard packaging and ships in recyclable content made of recycled materials.
---
8. Bloom Pads
Price: $9 each
Bloom Pads' Reusable Cloth Pads
Bloom Pads harnesses the plant power of bamboo by creating handmade washable menstrual pads made from organic bamboo fleece.
Pads and pantyliners made of organic cotton are also available, along with thong pads and pantyliners made of organic bamboo or cotton.
The anti-leak layer is made of PUL, while the back is printed cotton with snaps made of polyresin applied with a heavy duty snap press.
Comparing period underwear vs pads, countless reviewers have commented how Bloom's reusable pads are far more comfortable, effective, absorbent, stain-free, and leak-proof than period underwear.
These allergen and scent-free reusable pads are sold in seven different sizes for lighter days or heavy flow: panty liner, ultra-thin, regular, moderate, maxi/ super, overnight, and maternity.
Everything comes in a kaleidoscope of fun patterns and designs, all made of sustainable dyes safe for your nether regions.
About Bloom Pads
Latvia-based Bloom Pads is a positively blooming Etsy-shop with a star seller rating thanks to owner Kristina's effective handmade products and stellar customer service.
Everything is zero-waste, handcrafted with love, and made to help women embrace a more natural cycle by using more natural materials for that time of the month.
---
9. Princess & Pea
Price: $8–$13 each
Princess & Pea's Reusable Cloth Pads
Do you have skin so sensitive you feel like the princess in Princess and the Pea?
Fear not, Princess & Pea's menstrual pads not only prevent skin irritation on your intimate parts, but they're also easier on the planet.
These quality handmade organic cotton cloth pads are chic and stylish while staying practical and functional, because they actually work.
Available in light, medium, and heavy size.
While the disadvantages of reusable pads can include that they're tricky to keep in place, with these, the shape, cut, and snap-on feature ensures they don't bunch, bulk, or shift during the day or night.
About Princess & Pea
Polish Princess & Pea has quickly established itself as one of Etsy's busier shops for cloth menstrual pads to replace single use pads.
All pads are zero waste, hypoallergenic, breathable, plastic-free, and receive full five-star ratings from satisfied on-the-blobbers.
---
10. DIY Reusable Menstrual Pads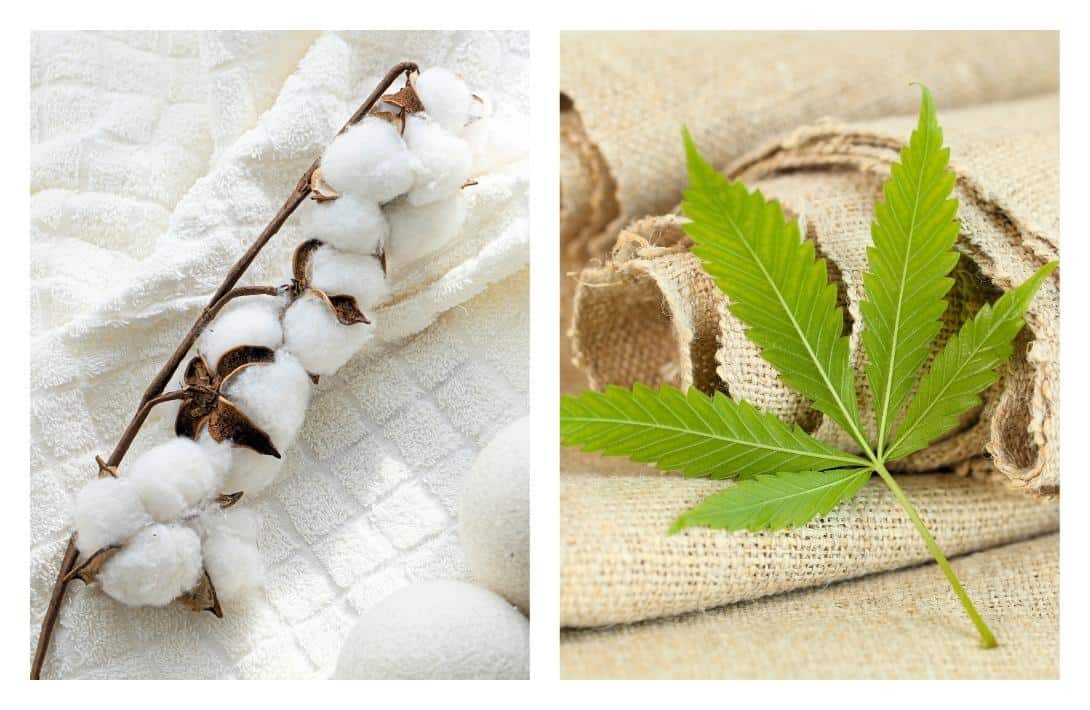 When mother nature's gift arrives, it only makes sense to use her magic to assist you in dealing with it.
Instead of period underwear made from mystery materials, single-use pads riddled with bleach, chemicals, and fragrances, or tampons that can lead to all kinds of health issues, why not make your own organic DIY reusable pads?
What's the best fabric for reusable menstrual pads?
Opt for 100% certified organic cotton, hemp fabric, and organic bamboo fabric. A PUL fabric in the center for extra leak-proofing is optional.
You can follow along with a tutorial video, or follow these steps for how to make reusable feminine pads:
Create a pad template or use one of numerous reusable menstrual pads patterns available online.
Cut your fabrics.
Sew the core pieces together.
Sew that to your topper.
Turn the pad right side out
Attach snaps or sew on a button
Ask any DIY enthusiast "What is the disadvantage of cloth pads?" and most agree it's getting used to the maintenance.
That's why we also recommend sewing yourself a little wet bag for your soiled pad, to conceal its contents upon removal and to keep it contained until you can throw it in the wash with some natural laundry detergent.
Pro-tip: Make sure you're using either eco-friendly fabric softener, fabric softener alternatives, or no softener at all, as fabric softener really isn't something you want leaving residue in your pads.
Did you know we Have a Newsletter?
We cover the latest in sustainable living, fashion, zero waste, beauty, travel, finance and more…
How We Chose the Best Reusable Menstrual Pads
We took the search for the best reusable period products to heart… errr, womb.
Here was our main sustainability criteria for the best washable fabric menstrual pads.
Materials:
We want unscented, tested, organically grown cotton or hemp, as these are grown without chemicals.
Organic bamboo made with non-toxic solvents passes our flow test, too.
Some pads use PUL for extra absorbency, which should be food safe and never used for the layer hugging your nether regions.
Supply chain & green practices:
The cotton you use when you're "on the cotton pony" needs to be humanely harvested, because a heavy flow shouldn't put weight on the farmers behind your period products.
That means fabric from fair trade certified farms and factories with safe working environments and above-living wages.
Ideally, brands also use waste reduction practices, recycled packaging, renewable energy, and other measures to reduce the eco-womb-print of your monthly girl flu.
---
Final Thoughts On The Best Cloth Pads
So, are reusable menstrual pads worth it?
In the reusable sanitary pads vs period pants debate, it really is a completely personal choice, with each option having its set of pros and cons for you to discover.
Reusable organic period pads (as with organic period underwear) get our vote because they're greener, healthier, more comfortable, and more cost effective.
Whether they're your bloody backup or your first line of defense, choosing to honor Aunt Flo and switching to reusable solutions (pads, period underwear, and menstrual cups) is as essential as a hot water bottle and a box of dark chocolate.
Help your period pals absorb this information about their monthly moon time, and please share this article to help make their Red Alert a little more green.
Pin these: