11 Body Wash Refills You Can Scrub Sustainably With
Body wash refills are the best solution for a clean body and clean conscience.
The fact of the lather is that we throw away more than 1 billion plastic bottles of body wash. Every. Single. Year.
It's time to clean up our act by refilling those bottles.
Just who are the brands that offer body wash refills, you ask?
Low Waste & Waste Free Body Wash Refills
There's Plaine Products, who sends zero waste body wash refills straight to your door with a prepaid return label so you can send back the empties.
You can BYOP (bring your own pump) with Conscious Skincare and their large glass refill bottles of body wash.
Dr. Bronner's multi-purpose castile soap can be purchased by the gallon and refilled at many bulk stores. Or you can use their zero waste body wash bars to create your own liquid refills.
The market is awash in options for greener cleaning. To see how we found these body wash refill brands, head to the end of the article.
Disclosure: This post contains affiliate links. We may receive a small commission if you make a purchase through a brand link below. Learn more here.
The Full List of Body Wash Refill Brands
---
1. Plaine Products
Plaine Products' Zero Waste Body Wash Refill
Hands (and body) down, Plaine Products has some of the best body wash refills around.
Offering both a dedicated body wash and body wash/shampoo combo formula, Plaine's refillable body wash is vegan, cruelty free, non-GMO, and biodegradable.
It's also color safe, sulfate free, silicone free, palm oil free, and contains zero waste ingredients.
Like the brand's other products, the first aluminum bottle comes with a pump.
After that, each body wash refill bottle (available by single order or subscription) comes without a pump—and with a prepaid return label that can be used to send back the empty bottle.
In a pinch, the infinitely recyclable aluminum bottles can be tossed in a recycling bin, too.
About Plaine Products
With natural face washes and those for the body and hair, we'd happily welcome Plaine Products into our bathroom.
The sister-owned company was one of the first to offer refillable personal care products.
So far, customers have prevented more than 432,687 plastic bottles from entering landfills and oceans.
They're all made in the USA with largely organic, Leaping Bunny certified, and non-toxic ingredients that meet EWG's Skin Deep criteria.
Plaine Products is also a Certified B Corp, Carbon Neutral, and member of the Women's Business Enterprise National Council, Plastic Pollution Coalition, and 1% for the Planet.
Available: EarthHero
---
2. The Good Fill
The Good Fill's Body Wash Refill Pouch USA
Available in an unscented version or peppermint that doubles as shampoo, The Good Fill makes it easy for you to wash responsibly.
The biodegradable body wash is made with organic and natural ingredients and is free of palm oil.
Your first order will come in a pre-filled amber glass container or a refill.
The refills come in a pouch that's BPA-free and made with 93% less plastic than a conventional bottle.
Offering one of the best body wash refill options, the refill pouch can be emptied and shipped back to be refilled, via the prepaid postage envelope.
About The Good Fill
If you want to buy it in bulk, there's a good chance The Good Fill has it.
With harder-to-find items like baking soda, hair spray, witch hazel, and dental floss they've gone the extra mile to make refills good again.
And since they're vegan, cruelty-free, and 99% palm oil free (the other 1% being sustainable palm), they're doing a good job.
They also offer refill options for typical personal care and cleaning products, and ship in recyclable or compostable packaging. Products are also available in-person at their Nashville brick-and-mortar location.
The Good Fill gives back further to climate and reuse initiatives, planting trees, and community recycling programs.
Available: The Good Fill
---
3. Zero Co
*Note: Their home cleaning products contain RSPO MB certified palm oil, meaning some is sustainable palm oil but not all.
Zero Co's Body Wash Refill Bottle Australia
That moment when you realize that it smells as good as it is sustainable.
A rare one.
But each body wash refill pack from Zero Co is exactly that in equal measure.
The Aussie-inspired scents include Mandarin, Finger Lime & Chamomile, and Saffron & Tallowood Blossom.
What's inside is just as noteworthy: coconut-derived cleansers, biodegradable surfactants, aloe vera extract, and essential oils.
While some products use RSPO MB (i.e. partially sustainably sourced) palm oil, it's not found in the body wash.
All of this in a 500ml refillable forever bottle or body wash refill pouch—both made from recycled ocean, beach, and landfill plastic.
Once you receive the recycled plastic refill pouch and empty it into your forever bottle, send it back for reuse, and repeat.
About Zero Co
Zero Co is here to help us "give single-use plastic the flick."
Their range of zero waste cleaning, laundry, kitchen, and eco-friendly bathroom products all come in refillable forever bottles filled with vegan, cruelty-free, plant-based, and greywater-safe ingredients.
The Australian-made company also uses carbon negative deliveries and organizes ocean cleanups.
Check out our podcast episode with founder Mike Smith to find out more about Zero Co.
Available: Zero Co
---
4. Dr. Bronner's
*Note: Dr. Bronner's uses palm oil that is sustainably harvested in Ghana.
Dr. Bronner's Bulk Body Wash Refill
Washing your dog and your body?
No problem. Dr. Bronner's biodegradable, organic, and Fair Trade low waste body wash refill ticks both.
The tiny ingredients list includes (recognizable!) ones like organic jojoba, olive, palm kernel, and essential oils—all non-GMO and Fair Trade and USDA/Oregon Tilth certified organic.
The "normal" size is a relatively large 32 oz recycled plastic bottle. Larger refills (up to 1 gallon) are available.
But for the ultimate body wash refill solution, check your local bulk shop which may very well have Dr. Bronner's on tap.
Alternatively, you can opt for their zero waste body wash bars. Just grate and melt them into boiling water to create your own zero plastic body wash refills.
About Dr. Bronner's
It can be used as less waste body wash, dish soap, and organic laundry detergent—Dr. Bronner's 18-in-1 Pure-Castile Liquid Soap is, as they say, 'magical'.
The rest of their range—oral care, hair care, hand sanitizer, vegan toothpaste, and more—is just as special being 100% vegan, cruelty free, and natural.
Their palm oil is not RSPO-certified because that's no guarantee it's actually sustainably sourced. Instead, they oversee their own palm oil farms in Ghana to ensure theirs is.
The Certified B Corp is behind some pretty amazing efforts regarding regenerative agriculture, wage equality, drug reform policies, plant medicine, youth services, and animal advocacy.
Available: Dr. Bronner's
---
5. EcoRoots
*Note: Most EcoRoots products are palm oil free.
EcoRoots' Zero Waste Body Wash USA
Replacing two plastic body wash bottles, you can instead opt for EcoRoots' zero waste, organic body soap.
Naturally scented with organic herbs and oils, you'll nourish your skin sans synthetic colors and fragrances, parabens, sulfates, or animal products.
Unisex scents like Lavender, Patchouli, Peppermint, Tangerine Lavender, Lemongrass, Grapefruit Calendula, and Spearmint Sage are available.
About EcoRoots
Between zero waste body wash bars and zero waste lotions, EcoRoots is an essential shop for your skin, hair, and body care needs.
They also stock conscious cleaning products and tools for your kitchen and home.
Like the soaps, most products are handmade in small batches in the USA.
Organic ingredients are prioritized and most are free of palm oil, though derivatives are found in their organic face moisturizer.
In addition to using recyclable and biodegradable packaging, EcoRoots donates 1% of its profits to Ocean Conservancy.
Available: EcoRoots
---
6. Ethique
Ethique's Best Zero Waste Body Wash Bars
Packaged in a compostable, recyclable cardboard sleeve, Ethique's zero waste body soaps are an easy breezy way to lather up.
The plastic-free company makes bodywash bars in a range of varieties, like: sweet orange & vanilla; pumice, teatree & spearmint; lavender & mint; charcoal, kaolin & oatmeal; and cream cleansers (for sensitive skin).
Some are designed for use right out the box while their Hydrating Body Wash Concentrate must be mixed with boiling water to turn into liquid soap.
Liquid body wash in a plastic free cardboard box. Who knew?!
They only use ingredients that are vegan, cruelty free, palm oil free, and ethically and fairly sourced.
About Ethique
Ethique's bar-footprint is truly global, through their zero waste skin care or eco-friendly cleaning products they've made a hugely positive environmental impact.
The New Zealand company and Certified B Corp has prevented the manufacture and use of more than 20 million plastic bottles.
They're also Climate Positive, plant a tree for every order, pay all staff living wages, and donate 2% of sales to planet-friendly organizations.
Available: Ethique | Amazon | Nourished Life (AU)
---
7. Conscious Skincare
Conscious Skincare's Less Waste Body Wash UK
As close as you can get to a true body wash refill for liquids, Conscious Skincare has an uplifting, exotic Sweet Orange and Frangipani shower gel.
It's packed with mostly organic ingredients and essential oils, and totally free from wheat, soy, corn, gluten, palm oil, cruelty, and animal-derived ingredients.
Once done, the glass bottle (aluminum lid) can be re-ordered without the pump.
For an "eco refill", a 2x larger unbranded bottle (without pump) can also be ordered.
About Conscious Skincare
Between face wash and their zero plastic body wash Conscious Skincare is an, er…conscious choice if you want eco friendly toiletries.
Prompted by health issues, founder Rebecca set out to create products that worked, without dangerous ingredients.
The range is approved by Leaping Bunny, PETA, Ethical Consumer, and the Vegetarian Society.
This UK-based brand donated to animal rescue charities as well as other in-need organizations and groups, like hospital workers.
Available: Etsy | Conscious Skincare
---
8. Superfly Soap
Superfly Soap's Zero Waste Body Soaps UK
With zero waste body wash bars in a range of unique scents, Superfly Soap makes soap that is, well, super fly.
They have a range of scents, think: fennel & charcoal, wild pear, coconut milk & lime, oat milk, turkish delight, and mocha, or sensitive varieties.
Regardless, you'll get something made with plant oils and butters and a blend of natural essential oils and/or synthetic fragrance oils.
The bars are wrapped in compostable cellophane and printed with eco-friendly ink.
"Naked" versions are available, too.
About Superfly Soap
Everything in Superfly Soap's lineup—hand and body soap, zero waste face wash, lip balm, dog products, and palm oil free shampoo—comes without fossil fuel-based packaging.
The affordable and eco-friendly UK company uses a traditional cold process method to produce handmade soap in small batches.
The ingredients are vegan-friendly, natural, palm oil-free, and sourced from suppliers promoting safe and fair working conditions.
Everything is produced using zero waste practices and renewable energy, along with other sustainability initiatives.
Available: Etsy
---
9. by Humankind
*Note: Their silk floss is not certified cruelty-free but it's something they're looking into. They use RSPO certified and Fair Trade certified palm oil. We are confirming policies with this brand.
by Humankind's Zero Waste Liquid Body Wash
Liquid body wash is hard to refill so by Humankind provides a close alternative.
Their body washes—in Bergamot and Tea Tree—come in a widely-recyclable aluminum bottle with a reusable pump.
When a subsequent bottle is ordered, you can opt to not receive the pump.
The antioxidant-rich and natural body wash is also vegan, cruelty-free, gluten-free, sulfate-free, and healthy for all skin types.
Like their zero waste shampoo bars, they do contain RSPO and Fair Trade certified palm oil-derived ingredients.
For truly waste free body wash, they also have body wash bars in Tea Tree, Blood Orange + Bergamot, and Grapefruit varieties.
About by Humankind
by Humankind is the place to turn to for your hand, hair, body, and dental needs (zero waste mouthwash, anyone?).
They only use clean ingredients that are safe, backed by research, and better for our planet.
Those like parabens, phthalates, synthetic dyes, formaldehyde, synthetic fragrance, and coal tar are avoided.
They steer clear of single-use plastic, which is why refillable/reusable aluminum and glass packaging are used instead.
For $8/month, customers can also buy a plastic offset.
Through supporting forest preservation projects, they're 100% carbon neutral, too!
Available: by Humankind
---
10. Public Goods
Public Goods' Body Wash Refill Pouch
Featuring a blend of cleansing, nourishing, and refreshing essential oils, the refillable Body Wash from Public Goods is fragrant and light—on your skin and our planet.
It contains zero gluten, cruelty, parabens, SLS, synthetic fragrance, sulfates, or animal-derived ingredients, though palm-derived glycol stearate is used.
A 12 oz sugarcane-plastic bottle can be purchased for the first order (or use your own), after which you can top up with a body wash refill pouch.
Unfortunately, the plastic pouch is not widely recyclable. Public Goods is working on a better solution, but in the meantime, they encourage recycling through specialty programs like Terracycle.
About Public Goods
Public Goods is one of the public's good ethical alternatives to Amazon.
In addition to refillable body wash and other beauty, wellness, skin, and hair care products, they're a go-to for eco-conscious and affordable grocery, household, and pet items.
Like the body wash, all liquids and soaps are manufactured in New Jersey.
Everything is sold at wholesale prices, providing members with some of the cheapest yet still sustainable online shopping.
Shipping is carbon offset and a tree is planted for every order.
Available: Public Goods
---
11. Local Bulk Store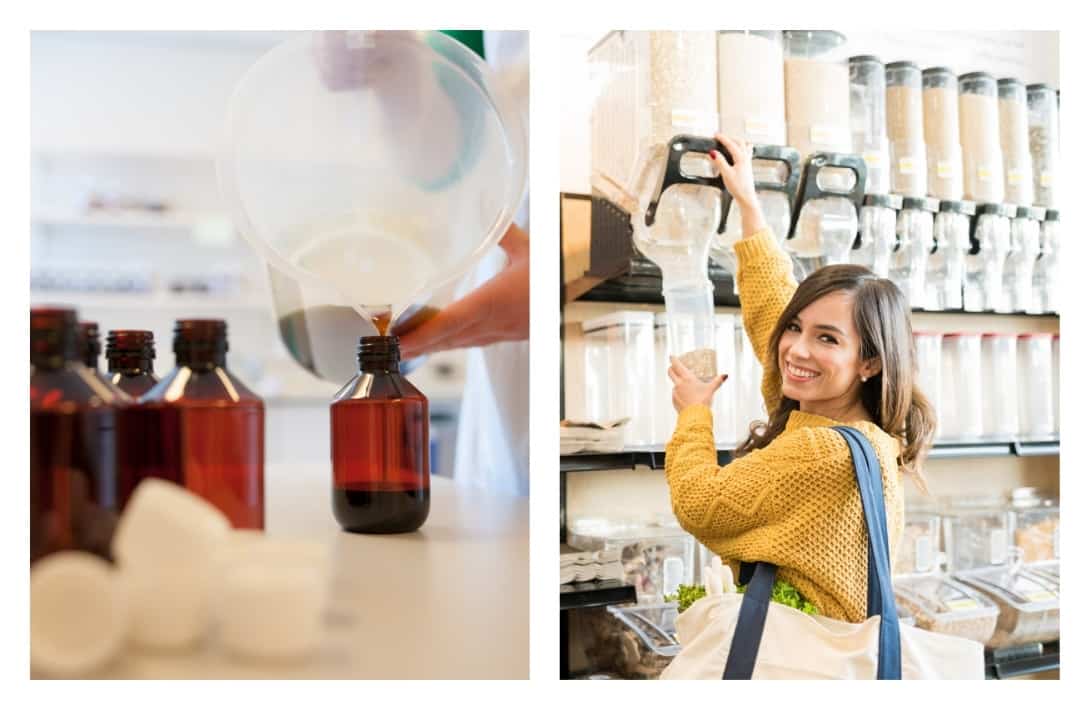 Your Local Bulk Store's Eco Friendly Body Wash Refills
Where can you refill body wash?
Potentially right down the street!
Bulk stores and refilleries are popping up around the world at an increasing rate.
They provide the means for you to top up a container with personal care products like shampoo, conditioner, soap, location, cleaner, body wash, and a range of grocery items.
Sustainable body wash refills are often cheaper, too.
Add in avoiding the carbon emissions associated with shipping altogether and it's easy to see why local bulk stores are among the best places to refill body wash.
If you don't have a bulk store near you, bulk stores online are a good go-to, such as:
EarthHero: EH stocks many body wash refill brands mentioned in this list like Plaine Products)
ZeroWasteStore: One of their best zero waste body washes is from Fillaree, and doubles as hand soap.
A Drop in the Ocean: Scented to be both women's and men's zero waste body wash, the Salt Scrub Body Bar is totally unpackaged and doubles (triples?) as hand soap and shave bar.
---
Did you know we Have a Newsletter?
We cover the latest in sustainable living, fashion, zero waste, beauty, travel, finance and more…
How We Found The Best Body Wash Refills
We're dreaming of a day when body wash refill tablets (and refillable cleaning products) will be as commonplace as the plastic bottles we're used to.
To find the best of the best refillable body wash, we looked at these brands through the lens of our ethical beauty criteria:
Cruelty free: The best body wash refills are made without bunnies.
Palm oil free: Or containing RPSO or otherwise sustainable sourced palm oil.
Non-toxic: In other words, free of those nasty ingredients to avoid in skin care
Ethical ingredient sourcing
Thoughtful packaging: This list prioritized zero waste packaging, either by way of refillable bottles or zero waste body wash bars.
---
Final Thoughts On Sustainable Body Wash Refills
Isn't it ironic (cue: Alanis Morissette) that the products we use to clean ourselves are the very ones dirtying our planet?
That's just one reason why we're full of love for anything that can be refilled and reused instead of replaced or even recycled.
So help us spread that body wash refill love by sharing this article with anyone who has a graveyard of half-empty shower gel bottles in their bathroom.
Pin these: