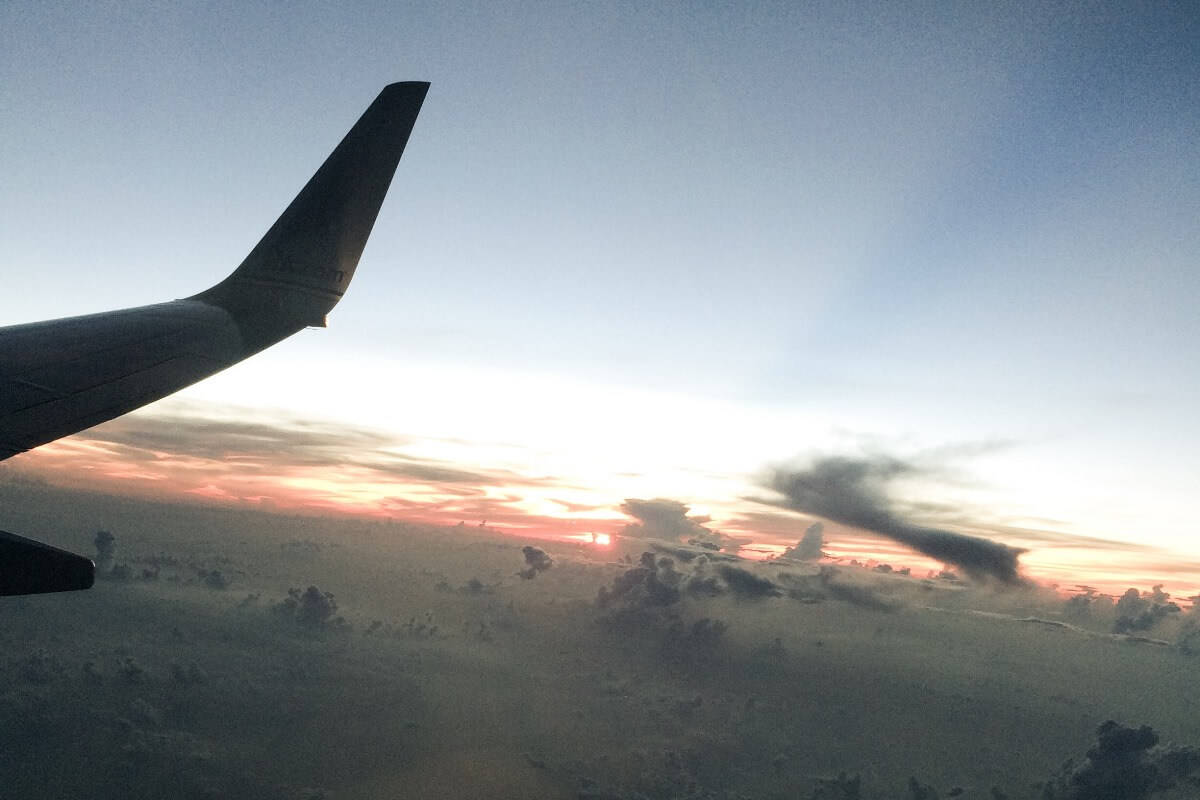 10 Sustainable Travel Tips For The Eco-conscious Traveler
Naturally, we talk a lot about living a sustainable lifestyle here.
But, that way of life is by no means limited to our immediate home radius. It covers all aspects including one very important area: travel!
Many of us are fortunate enough to enjoy traveling to new places, whether it be local or international.
Given our love for travel and desire to be more sustainable here's some eco-friendly traveling tips and tricks we've picked up (and packed up) along the way.
WHAT DOES 'SUSTAINABLE TRAVEL' ACTUALLY MEAN?
For some, maybe it evokes thoughts of low impact camel back safaris across the gobi desert or perhaps it makes you day-dream of sun-baking in a Mauritian eco-resort.
From bootlace backpacking to opulent and extravagant tourism, the definition of 'sustainable travel' is far from settled.
Perhaps a good place to start and one that we think that aligns with our own goal of being a sustainable traveler is the UN World Tourism Organization's holistic definition of sustainable tourism:
"Tourism that takes full account of its current and future economic, social and environmental impacts, addressing the needs of visitors, the industry, the environment and host communities."
WHY IS SUSTAINABLE TRAVEL IMPORTANT?
Apart from making sure we remember to practice our usual sustainable habits while on holiday, why is sustainable travel / tourism a special case?
Well, according to the United Nations, international travel is booming like never before.
From 2000 to 2015, the amount of people traveling the world has almost doubled (see the UNWTO's 2016 report here). Now nearly 1.2 billion people a year board an international flight. This number is set to increase to 1.8 billion by 2030.
Not surprisingly, the travel and tourism industry accounts for up to 10.2% of the global GDP ($7 trillion!).
Of course, all this travel comes at an enormous environmental and social cost. Which is the principal reason why the United Nations designated 2017 as the International Year of Sustainable Tourism For Development.
SO, HOW CAN WE TRAVEL SUSTAINABLY?
Including our usual sustainable habits like turning the lights off, not wasting food, avoiding creating trash, there's a ton you can do to reduce your impact and do good whilst on tour.
Here's our growing list of eco-friendly travel hacks that we use to be more sustainable travelers.
*This post contains affilate links
QUICK LINKS FOR SUSTAINABLE TRAVEL TIPS AND IDEAS
---
1. TAKE YOUR OWN TRAVEL MUG / FLASK / WATER BOTTLE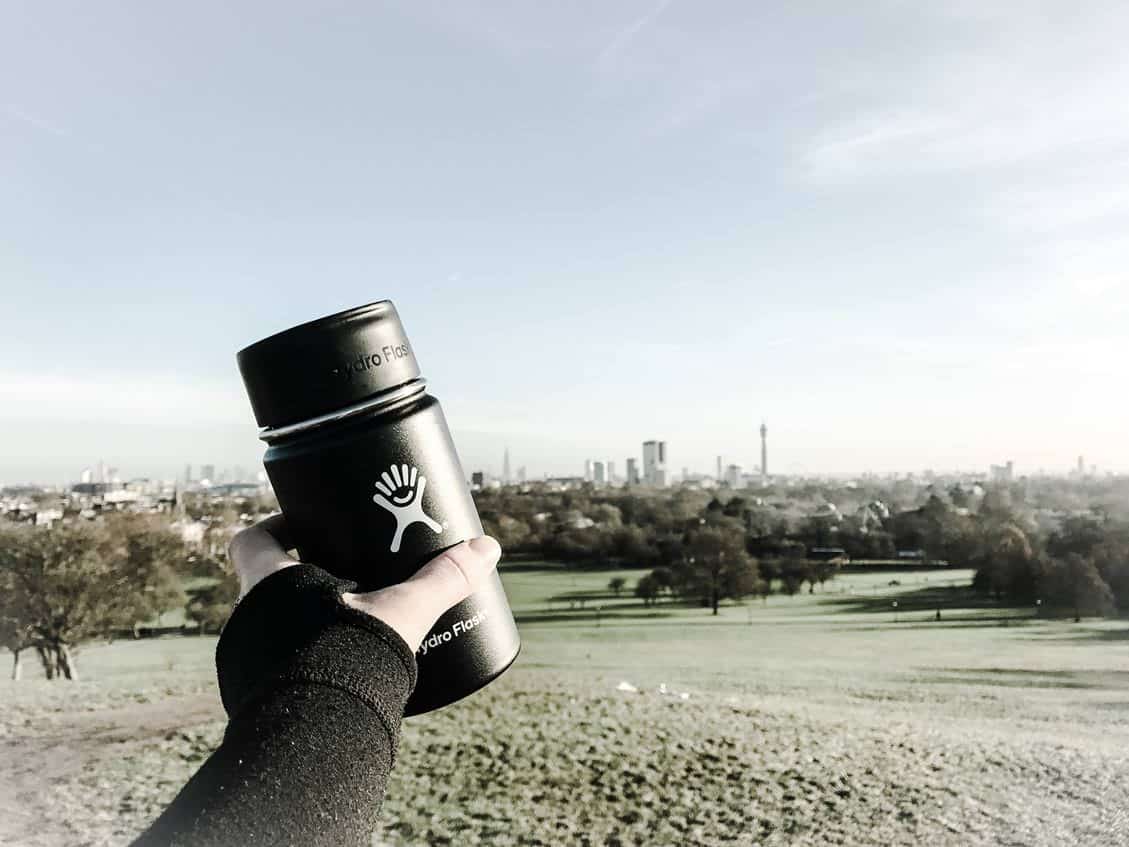 One of our favorite things about traveling is trying aromatic delicious coffee in different parts of the world.
We usually try sit and enjoy it in a nice cafe (in a glass) but other times, we're on the move, hiking, or just in a rush. This can result in us just giving in and buying a takeaway coffee.
Similarly, one tends to need to have access to water on the go (because not every country has access to the cleanest water in the world – learn more about purifying water here).
We've spoken about this before in striving for a zero-waste lifestyle and it's worth repeating. In the USA alone some 50 billion plastic water bottles were purchased last year and only about 23% were recycled.
In many countries around the world they don't even have a means of recycling coffee cups and plastic bottles, let alone plastic in general. Tourism is a major trash generator for local communities.
To try and address this problem, we're currently using sustainable water bottles which double as travel coffee mugs.
---
2. SUPPORT THE LOCAL ECONOMY
Even though so much money is spent on tourism, most of the dollars spent (sometimes even up to 90%) leak out of the actual travel destination. Instead, they make their way back to big global, corporate tourism operators.
This is a depressing statistic given the significant (mostly) positive impact tourism can have on a local destination.
To help benefit the local communities you travel to:
Eat and shop locally
Stay in local preferably eco friendly accommodation (we use Airbnb to make this as easy as possible)
Travel with local transport providers (where safe)
---
3. SUPPORT ECO-FRIENDLY, LOCAL TOUR COMPANIES
Look for an eco-friendly / local tour company.
We've had some of the most amazing and humbling experiences by doing this. Like tracking Mountain Gorillas (a life-changing experience!) which was arranged by Gorilla Trek Africa, one of the few local tour companies operating in Rwanda, Congo and Uganda.
Knowing that our $ were going to the conservation efforts of these critically endangered animals was the best money we've ever spent.
Safaris-R-Us is another great example of a local tour company and arranged the most magnificent safari for us in the Serengeti and Ngorongoro Crater. Part of the cost of our tour went towards St Jude, an all girls school based in Arusha, Tanzania.
Other ideas:
For a heap of other tours around the world have a look at Intrepid Travel. They were the first tour company to achieve carbon neutral status back in 2010. They arrange small group travel, local accommodation and employ locals.
Sustaining Tourism has an extensive list of sustainable tour operators from around the world
Designer Journeys is a very interesting start up that connects travelers with local expert guides, like the Airbnb for guided experiences.
Using these sorts of services allow you to keep your tourism $ local (per #2 above)
---
4. HOTEL HACKS
If you must stay in a hotel, there are a couple of hotel specific hacks that go a long way to reducing our impact even further:
Hang up your towels – it's the universal sign that they don't need to be washed and you're happy to reuse them
Leave the 'do not disturb' sign on the hotel door to reduce unnecessary washing of linen, vacuuming and the use of other chemicals for cleaning
Take your own toiletries (and zero waste toothbrush) to reduce the single use of those tiny hotel bottles of gunk (also, see our views on sustainable beauty – doubt hotel chains are considering these factors when choosing their body lotions, body washes etc.)
Use your own plastic free water bottle not the free single-use stuff (unless of course, you can't drink water from the tap) – see #1 above 
---
5. MODE OF TRANSPORT
Compared with any other mode of transport, flying, unfortunately, produces the most amount of carbon per passenger.
So, whenever we can and time permitting, we try take the bus or train – which can be a also a great way to do some sight seeing en route.
If you do have to fly and it's a long haul, go for a non-stop flight. Not only is it a time saver but a direct flight will always be more fuel efficient.
Otherwise, driving (especially carpooling) will always beat flying from a carbon footprint perspective. And for some specific trips to make road tripping or "vanlife" more sustainable, check out this article.
If you're going on holiday with a group of friends or family within driving distance, a car (preferably hybrid or electric if you have the option) is best.
---
6. CARBON OFFSET PROGRAMS
If you do need to fly, another means of reducing your flying-footprint is to take advantage of one of the best carbon offset programs.
These programs give passengers the option to invest in carbon reduction projects to help neutralize or reduce their carbon footprint caused by travel.
There are over 30 International Air Transport Association (IATA) member airlines who have introduced a travel offset program.
We've found it quite easy to opt in to one of these programs when purchasing tickets through the airlines website. If given the option, invest in offsets that avoid emissions or replace fossil fuel based energy with renewables.
Surprisingly, forestry projects have been shown to be the least effective at reducing carbon emissions (though, they're better than nothing!).
Interestingly, there are also programs out there that allow you to offset your Carbon Footprint directly.
Take a look at Atmosfair and CarboTax.org.
---
7. NO MORE AIRLINE EARPHONES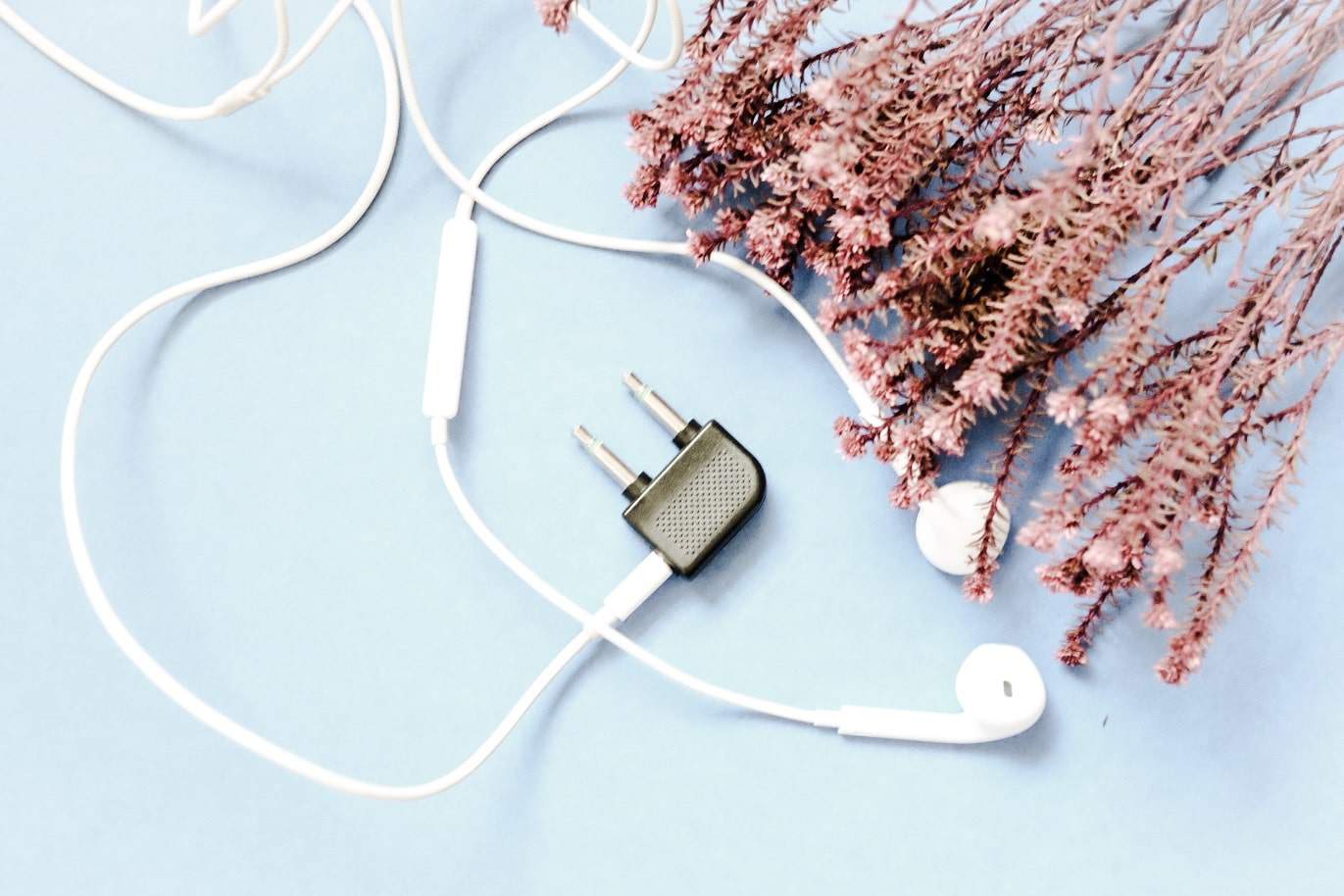 Ok this is not going to have a huge impact relative to the ideas above but every little bit counts. We thought this was a pretty cool, low effort idea.
It always irritates us that airlines supply the cheapest quality horrible earphones for EVERY FLIGHT. We're not sure what happens to these pieces of plastic but have little faith that they are recycled.
If 1.2 billion people are traveling each year, many of which are flying, then there's a heck of a lot of these wasted single-use earphones filling up our trash and, worst of all, our oceans.
Our solution: on your next flight, keep the little adapter that comes with the airline earphones and for all future flights, use your own earphones together with this adapter, thus reducing the need to ever use airline supplied earphones again.
If you want to get really fancy, you can buy the adapter in advance.
Bonus that the sound is so much better using your own earphones!
---
8. RENEWABLE BIOFUELS
While we're on the subject of airlines, here's yet another eco-friendly flying tip.
Look for airlines that use renewable biofuels.
Biofuels are produced using renewable feedstock such as plant oils, agricultural waste and wood chips. Using renewable biofuel as opposed to fossil fuels can reduce carbon emissions by up to 80%.
Some progressive airlines that invest in and use renewable biofuels today include:
Qantas
American Airlines
JetBlue
Lufthansa
KLM
---
9. MULTI-PURPOSE PLUG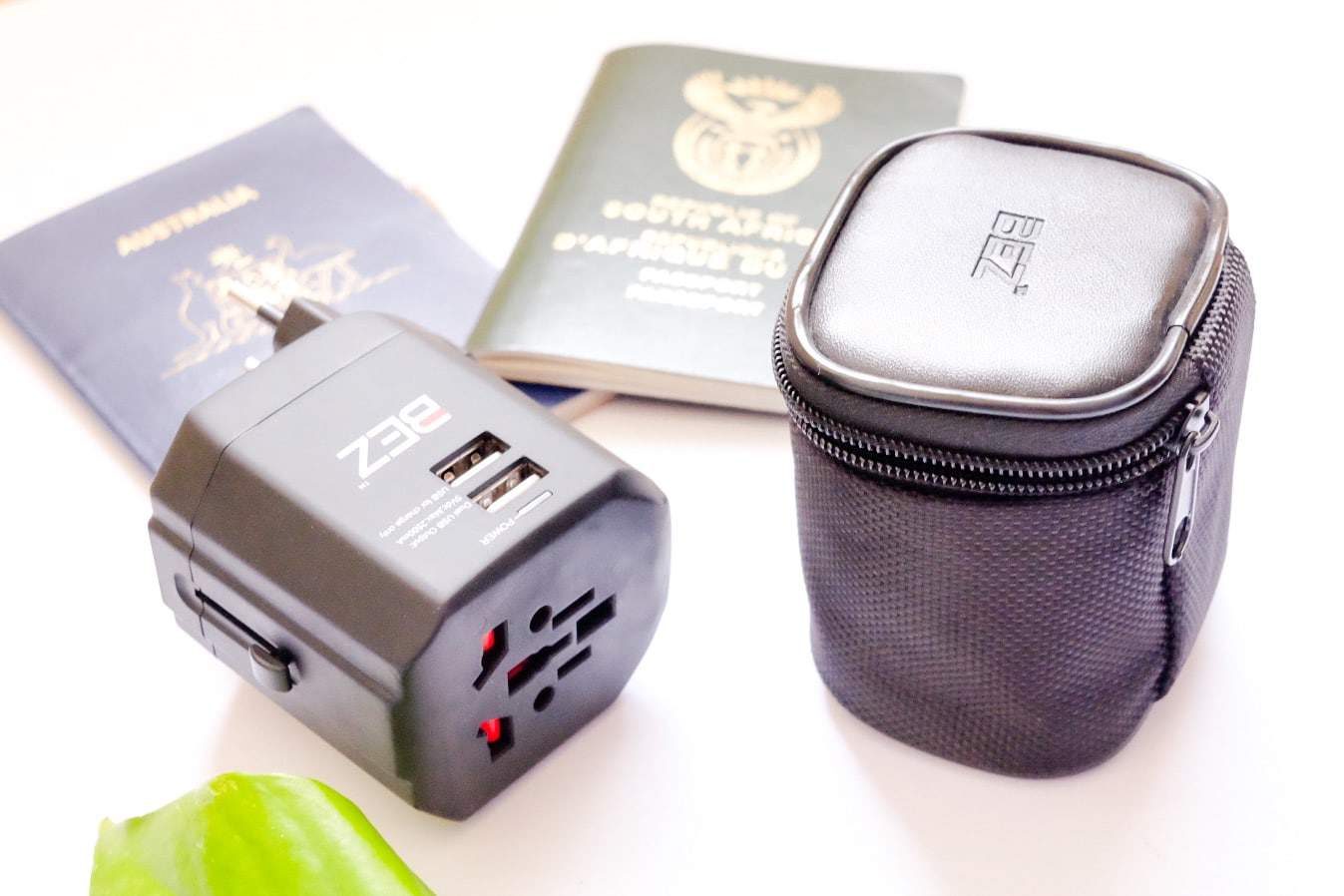 We bought a super handy little multi-purpose plug that fits just about every local socket in the world – no need to search high and low for the right connector (which is always a huge pain!).
It also avoids us having to own a different one for each trip – a massive time, money and plastic saver!
Plus, the useful little USB charging ports works for our phones which, again, just makes life easier.
---
10. SUSTAINABILITY CERTIFICATIONS
If you want to stay in an environmentally and socially responsible establishment, look for certified accommodation providers.
Ask for their green certification and check whether that certifier has been approved by the Global Sustainable Tourism Council (GSTC). The GSTC provides a set of minimum requirements that a tourism business must aspire to for approval. For example:
protecting and sustaining natural and cultural resources
maximising social and economic benefits for the local community
encouraging cultural heritage
For a list of certification schemes and what they each mean have a look here.
Just bear in mind though there's a huge amount of certifications floating around, some bona fide some not so much…
---
FINAL THOUGHTS ON SUSTAINABLE TRAVEL TIPS
We're unbelievably lucky to be able to travel the world so easily and extensively in this day and age. It truly is one of life's greatest joys and experiences.
We also think it's critical for our own education and developing an open, loving mind. We just have to make it sustainable. It has the potential to create a lot of benefit for the destination of choice but so much of that depends on our actions.
We hope this list gives you a few ideas for some sustainable travel ideas and habits. But we can't finish this article without mentioning another article we wrote which lists a bunch of zero waste travel hacks to make you an even more sustainable traveller!
Let us know if you have any other traveling tips that we can add to this list!
---