9 Eco Friendly Bed Frames Supporting Your Safe & Sustainable Slumber
9.8 million tons: that's the amount of furniture that ends up in landfills every year.
If that doesn't make you toss and turn, then maybe the volatile organic compounds (VOCs) and formaldehyde in your old bed frame might.
But you can put those worries (and yourself) to bed with an eco friendly bed frame.
Reforestation is Masaya & Co.'s main priority – for every non toxic king bed frame sold they plant 100 trees.
Medley keeps it local with bed frames made in the USA from only sustainable materials.
And with Floyd, you can upgrade your mattress without downgrading our planet. They've created a sustainable bed frame that can expand to accommodate the next size up.
Don't doze off just yet!
We've got more brands to untuck, not to mention our furniture criteria snuggled in at the foot of the article.
*This post contains affiliate links
QUICK LINKS FOR SUSTAINABLE BED FRAMES
---
1. FLOYD
About Floyd
This Detroit based furniture brand is anti-disposables. Floyd wants furniture to be lived in—not landfilled.
Their range of eco friendly sofas, tables, storage pieces, and more are designed for lengthy use, easy recyclability, and are made with eco friendly materials.
Their eco friendly wooden bed frame is available in twin, full/queen, and king sizes, with optional headboard and/or under bed storage.
Floyd's Ethical and Sustainability Practices
Materials:
Floyd's frame is made from either FSC-certified walnut veneer or birch plywood.
The birch is specially engineered to have a lightweight core and panels that are TSCA Title VI certified for low adhesive admissions.
The supports are made with powder-coated steel produced in a way that reduces waste. Nylon straps take the place of tools and screws for easy assembly.
Supply chain & labor practices:
Design takes place in Detroit and manufacturing happens in the U.S., Mexico, or China.
Their manufacturing partners share the same commitment to environmental and social responsibility. We'll be reaching out to confirm how they ensure these claims are adhered to.
Green business practices:
You won't be sleeping on a circular bed, but you will be supporting a circular economy.
Not only are Floyd furniture pieces designed to last (and to be easily repaired), but they're also in the process of launching a Floyd Resale and Refurbishment program to extend the useful life of their products.
Once the product is beyond repair, you can check in with Floyd's Recycling Database to see how to responsibly dispose of the furniture in your area.
Floyd's bed frame will fit any size mattress, too.
Thanks to American made furniture brand's revolutionary Expansion Kit, their bed frame can be expanded one full bed size in minutes—without replace anything.
By 2025, 70% of Floyd's materials will be sourced from recycled or renewable materials and 100% of the wood used will be FSC certified.
Inclusivity:
For those on a budget, Floyd's Full Cycle program means returned and imperfect products can be purchased at up to 50% off.
Available: Floyd
---
2. MASAYA & CO.
About Masaya & Co.
Masaya & Co. is one of the sustainable furniture brands we'd be happy to welcome into our home.
Embodying end-to-end sustainability, this brand's first priority is reforestation, but every chair, floating sofa, barstool, nightstand, TV console, coffee table, ottoman, rocking chair, dresser, desk, bench, and media console does much more.
Catch up on your sustainable slumber in their sustainable solid wood bed frames, available in twin, full, queen, and king sizes.
Masaya & Co.'s Ethical and Sustainability Practices
Materials:
All frames are made with responsibly harvested hardwood or teak, finished with a low-VOC natural oil. Some feature an additional handwoven manila cord headboard.
Supply chain & labor practices:
Before they became a sustainable furniture brand, Masaya & Co. was founded as a reforestation effort in Managua, Nicaragua. Their furniture not only continues to combat clear-cutting, but employs 250 artisans in the region.
Green business practices:
The hardwoods are sourced locally and dried in Nicaraguan solar kilns.
When purchased via Made Trade, Masaya furniture is sent via carbon-neutral shipping.
Community & charitable giving:
Every purchase plants 100 (yes, 100!) trees in Nicaragua. To date, they've planted 1 million trees so far.
Made Trade is a woman-owned ethical marketplace and contributor to 1% for the Planet.
---
3. BIRCH
About Birch
Birch turns nature into non-toxic mattresses and they've been recognized around the globe for their premium products.
Their sustainable wood bed frame comes in sizes anywhere from a twin bed frame to an XL-California king.
You can also opt for their Helix adjustable metal base with zero gravity & feet-up ability, memory settings, and built-in massage technology.
While this slatted bed frame may be used without a box spring, the Birch Foundation box provides additional support and height.
Birch's Ethical and Sustainability Practices
Materials:
The natural wood frame is made with Appalachian hardwood rails, Southern Yellow pine slats, and maple legs—all of which come from FSC-certified locations and species.
The wood is CARB-compliant and treated with a water-based finish with zero VOCs or formaldehyde.
The compatible Birch Foundation is made with kiln-dried natural spruce.
Supply chain & labor practices:
All Birch products are handcrafted and assembled in the USA.
Green business practices:
The durable non toxic bed frames are backed by a 5-year limited warranty to ensure functionality and longevity.
Birch also offsets a portion of their carbon footprint and their manufacturing facilities are Greenguard Gold certified (i.e. environmentally safe production methods are used).
Community & charitable giving:
Birch offers discounts to students, teachers, first responders, and military members.
Available: Birch
---
4. THE FUTON SHOP
About The Futon Shop
The Futon Shop is a one stop shop for sustainable dog beds, as well as those for Fido's humans.
In fact, they offer a range of non-toxic products like futons (duh), sofas, pillows and sustainable lights.
They also create four-poster beds, futon frames, and for a globally-inspired good night's sleep a Tatami mat platform bed based on traditional Japanese furniture style.
The Futon Shop's Ethical and Sustainability Practices
Materials:
The Futon Shop's eco friendly twin bed frame (or any size for that matter) comes in several choices of sustainably harvested American hardwoods like maple, black walnut, cherry, and oak.
They're treated with low-VOC linseed oil and beeswax finishes that don't contain formaldehyde-emitting glues. Unfinished options are available, too.
The tatami mat is made from 100% natural, compressed straw.
Supply chain & labor practices:
The woman-founded and family-owned company manufactures its products in the USA in one of San Francisco's oldest factories.
Whenever possible, local materials are used.
Community & charitable giving:
The Futon Shop is a member of 1% for the Planet.
---
5. AVOCADO
About Avocado
Avocado is famous for their eco friendly mattresses but we've avo-got-o surprise for you: that's not all they make.
Certified organic, non-toxic, and natural materials make their way into not only these green mattresses, mattress toppers, protectors, bedding and eco friendly pillows but also their sustainable bed frame platform, and bed frames themselves.
Several sizes are available, in twin, twin XL, full, queen, king, and California king.
They even have a dog bed frame for those zero waste dog day naps.
Avocado's Ethical and Sustainability Practices
Materials:
With a few eco friendly recycled bed frame options, Avocado uses reclaimed Douglas fir wood rescued from local sources in California. It's durable unique qualities are seen in the natural blemishes and nail holes.
Non-recycled but FSC-certified solid walnut, maple, and alder wood are also available, sometimes equipped with solid Pine slats.
There's also an adjustable bed frame (controlled by a smartphone app) made with a 100% GOTS organic certified cotton canvas with rubberwood legs.
The finishes and sealants are free from VOCs and formaldehyde.
Supply chain & labor practices:
Many bed frames are handcrafted in an FSC-certified Los Angeles woodshop, located within the brand's GOTS-certified mattress factory.
Production teams are paid living wages and enjoy progressive benefits, like family healthcare and three weeks of paid vacation.
Green business practices:
Avocado has some of the best eco friendly bed frames because the Climate Neutral Certified company offsets more emissions than they generate. You'll be sleeping on a carbon-negative product.
Their offsets support the Bonneville Environmental Foundation.
The Certified B-Corp is also a member of the Sustainable Furnishings Council.
Community & charitable giving:
Avocado is a member of 1% for the Planet, provides their team with paid volunteer days, and donates 95% of returned products to nonprofits.
How's that for responsible mattress recycling?
---
6. MEDLEY
About Medley
How better to outfit your apartment than with a brand that started in one?
Whether you live in an apartment or not, Medley creates happy spaces through thoughtfully crafted sofas, sectionals, chairs, tables, ottomans, benches, and bedroom and dining furniture.
You spend roughly a third of your life sleeping, which is why their non toxic bed frames are handmade with natural, healthy materials.
Sizes twin – California king are available.
Medley's Ethical and Sustainability Practices
Materials:
Solid wood options include Hard White Maple or American Walnut, finished with all-natural eco Daddy Van's wax.
Kiln-dried FSC-certified American Alder hardwood is used in the upholstered bed frames, which are padded with high-grade CertiPUR-US foam or certified organic latex wrapped in OEKO-Tex certified wool.
Upholstery options include OEKO-Tex 100 certified polyester, Greenguard-certified recycled poly blend, cotton, organic cotton, or a blend of GOTS-certified organic linen and organic cotton.
Water-based, zero VOCs glues are used and bed frames are free of fire retardants, heavy metals, ozone depleters, known carcinogens, and phthalates.
Supply chain & labor practices:
The majority of Medley's furniture pieces (including the bed frames) are handcrafted in an LA-based California factory.
Green business practices:
Through a partnership with the National Forest Foundation, for every tree used to create their furniture they plant 3x times the amount of trees.
---
7. GREENINGTON
About Greenington
Made Trade is also where you'll find Greenington—a furniture maker that prioritizes fair wages and sustainable materials.
Every piece of Greenington furniture—desks, shelves, tables, chairs, nightstands, dressers, sideboards, and eco friendly bed frames (in queen, king, and California king)—is made from Moso bamboo.
Greenington's Ethical and Sustainability Practices
Materials:
Fast-growing Moso bamboo is processed using an energy-efficient hydraulic steam press, which gives the bamboo its beautiful, honey-toned caramel color.
While treated with a CARB 2-certified and low-VOC finish, the bed frame is made with adhesives that contain a small amount of formaldehyde. However, TSCA tests show these are far lower than European and US (even California!) standard requirements.
Supply chain & labor practices:
Their artisans in China receive fair wages in factories that are ISO-9001 certified.
Green business practices:
Sustainably sourced bamboo means that the bamboo is individually selected based on maturity.
Greenington harvests by hand and uses every part of the bamboo. Even the production sawdust gets recycled into new products.
Since they offer an eco friendly king slatted bed frame there's no need for a box spring. One less purchase making a dent in your wallet and the planet.
Greenington is a member of the Sustainable Furnishings Council (SFC) and they exceed the 'Green' requirements set by this council.
---
8. MY GREEN MATTRESS
About My Green Mattress
My Green Mattress came about as a solution to founder Tim Masters' daughter's allergies and eczema. Aware that she was likely exposed to toxins in her crib, the company started by developing an organic crib mattress.
They're still family-owned, and still make mattresses, sheet sets, toppers, and organic mattress protectors.
But now they also create a simple, sustainable non toxic platform bed frame, available in twin, twin XL, full, full XL, queen, and king.
My Green Mattress' Ethical and Sustainability Practices
Materials:
The eco friendly natural slatted bed frame doesn't require a box spring and is made from sustainably sourced, untreated American-grown Poplar wood.
It's free from adhesives, wood stains, and toxic materials.
Supply chain & labor practices:
The poplar wood is sourced in the Appalachian region of the US before being milled in Ohio.
All production happens nearby in a family-owned GOTS and GOLS-certified factory in Illinois.
Community & charitable giving:
Veterans and active-duty military alike receive a discount.
---
9. THUMA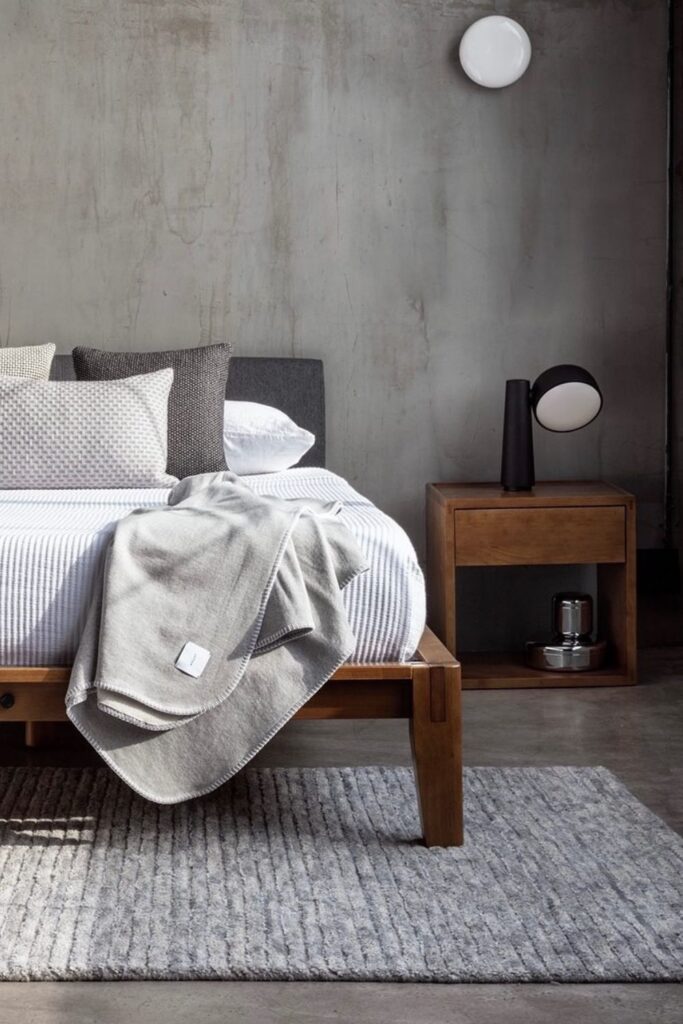 About Thuma
Thuma is the self-proclaimed maker of "the perfect platform bed frame."
The minimalist, modern foundation (available in sizes twin to California king) is an easy-to-reach height, doesn't require a box spring, and sports 'lifestyle-enhancing details' sure to upgrade any space.
Thanks to small-batch production and upcycled, sustainable materials, their eco friendly sustainable bed frames can help upgrade the planet, too.
Thuma's Ethical and Sustainability Practices
Materials:
Sleep soundly on handcrafted repurposed rubberwood—upcycled from rubber tree plantations close to Thuma's factories. Specifically, they use trees that have reached the end of their latex-producing years and would otherwise be discarded.
An optional pillow board is made from 100% polyester over non-toxic CertiPUR-US foam.
The bed's double-strength slats are made with Eco-fi recycled plastic felt. This makes the bed more durable and eliminates those creaky bed noises.
Japanese joinery techniques minimize the need for metal hardware.
Supply chain & labor practices:
Thuma's factory partners in Vietnam and the U.S. hold themselves to high ethical standards. As for what exactly these are, we'll be reaching out to confirm.
Green business practices:
Thuma is "committed to environment first thinking, deliberate design, and continued mindfulness at each stage."
Each bed is GREENGUARD Gold certified, built to last a lifetime, and for every one sold a tree is planted through Thuma's partnership with One Tree Planted.
Instead of styrofoam, recycled cardboard is used for protective packaging and their inbound shipping is carbon neutral.
Available: Thuma
---
HOW WE FOUND THE BEST ECO FRIENDLY BED FRAMES
What we sleep on is just as important as what we wear—which is why we refer to a common set of ethical and sustainable criteria to find the best eco friendly bed frames.
Materials:
Hardwoods are a hard and fast choice for many sustainable bed frame brands. The vast majority are sourced from FSC-certified forests in the U.S.
These include alder, birch, cherry, maple, oak, and walnut—which, according to the American Hardwoods Export Council are sustainable choices as the growing stock has actually tripled since 1953.
Poplar is also a sustainable choice as it's fast-growing, not at risk of endangerment, and requires minimal chemical inputs.
Southern Yellow pine, a softwood, is another top pick from a sustainability standpoint. Renewed at a greater rate than it's harvested, it's considered the most sustainably renewed tree species in the world. Roughly 4 million tree seedlings are planted every single day in the United States.
Reclaimed wood (douglas fir and rubberwood) are other sustainable materials making their way into bedrooms around the globe.
For upholstered beds or headboards, we looked for certified non-toxic foam and/or organic latex, covered with materials like organic cotton and linen.
Adhesives and finishes:
This falls into materials, and is an important aspect of a non toxic bed frame.
Sleeping safely is as important as sleeping soundly, so it's great to see a focus on low-VOC oils and water-based glues.
Many bed frames are made of MDF (medium density fiberboard). The process combines sawdust and wood particles, but it uses toxic adhesives to do so.
This is where certifications like TSCA Title VI come in because "veneer" and "plywood" can indicate that toxic adhesives are present. TSCA Title VI is the highest standard indicating that composite wood products produce formaldehyde and harmful gasses at a minimum level.
The California Air Resources Board (CARB II) standard is another commonly used standard, which also ensures that hardwoods have formaldehyde levels under 0.05 ppm.
Alternatively, solid wood bed frames are one way to avoid these problematic adhesives altogether.
Even still, it's important to make sure the wood bears non-toxic and low-VOC finishes, from substances like linseed oil and beeswax. These are a superior option to wood stains that are petroleum and chemical-based and may cause all sorts of health issues like liver and kidney damage, cancer, and central nervous system damage.
Supply chain and labor practices:
Local supply chains aren't just better from an environmental perspective (cutting down shipping emissions), but also from a social perspective. They support local economies and job creation.
While many of these American-made furniture brands naturally adhere to American labor laws, we would love to see more transparency in this department from just about all the brands on this list.
Green business practices:
There are a lot of Rs when it comes to eco friendly bed frames:
Reforestation: Many brands are actively supporting reforestation programs, typically by planting one (or 100!) trees with every purchase.
Repair: Some companies design bed frames for easy repair, or offer repair programs and replacement parts.
Resale: It's great to see the option to buy returned bed frames—and at a discount.
Return: Donating returned products is another great way to keep furniture out of landfills.
Additionally, many brands design bed frames to last a lifetime, use sustainable packaging, or purchase carbon offsets.
Community & charitable donations:
Not too much to mention here, but we were happy to find it relatively common for stores making environmental donations, planting trees for orders, and offering discounts for essential service workers.
---
FINAL THOUGHTS ON SUSTAINABLE BED FRAMES
At risk of stating the obvious, none of us want to sleep on a toxic bed frame.
But toxicity concerns don't necessarily mean we should discount used options. Just be wary of how old it is and what materials it's made of.
If you're opting for used, avoid paint and wood finishes. Instead, go for a gorgeous new-to-you Victorian metal bed frame.
Besides, scoring a vintage bed frame is one of the best ways to do your part in mitigating the 10 million tons of furniture waste that end up in landfills every year.
And even if you're not in the market for a new bed frame yet, sleep more soundly at night by passing this article along to others.
---