9 Natural Toothpaste Brands Banishing Nasties For A Non-Toxic Smile
Chew on this: that toothpaste you're cleaning your mouth is full of synthetic chemicals that can be toxic.
So is there a natural alternative to toothpaste?
Not so long ago, finding the best natural toothpastes in sustainable packaging wasn't easy.
Today, there are a wealth of natural brands that whiten teeth, freshen breath, support healthy gums, prevent canker sores, and remove plaque and bacteria without any harmful ingredients.
Pearly whites can have a positive impact on our planet AND our health, which is why we're ear-to-ear grinning over the best natural toothpaste brands.
Everything we recommend to you on Sustainable Jungle is independently researched and we ask all brands to confirm their claims. To avoid waste, we test products on an as needed basis. This post contains affiliate links. If you buy something through our links, we may earn a small commission. Learn more about why we do this here.
All-Natural & Organic Toothpaste Brands To Transform Potty Mouth
You've got a naturally white bite, thanks to Bite's natural whitening toothpaste that went from living room lab to TV competition to a viral oral care sensation and Certified B Corp.
etee's Chewpaste is some of the best natural toothpaste with fluoride or without it, either way, ensuring a healthy smile without toxic chemicals that cause gum disease or surface stains.
We say " Hip, hip, hooray!" for Huppy and their organic fluoride-free toothpaste with all-natural cleaning power that leaves you with fresh breath.
Chew your way to the bottom to learn how we spat out the nasties and found the best non-toxic toothpaste.
The Full List Of Natural Ingredient Toothpaste
---
1. NOBS
NOB's Non-Toxic Toothpaste Without Fluoride
NOBS natural toothpaste tablets are "toothpaste without the BS"—noBS… get it?
That means no fluroride, harsh abrasives, or palm oil in this child and swallow-safe formula.
It starts with the remineralizing and enamel restoring power of nano-hydroxyapatite (the safest alternative to fluoride), which is combined with xylitol, organic coconut oil, baking soda, calcium carbonate, zinc citrate, and coconut-based sodium cocoyl isethionate.
All told, these are some of the safest and cleanest ingredients around to fight tooth staining, plaque, and bad breath, leaving you with the most naturally white fangs you've ever flashed.
They also include licorice root, which is an all-natural foamung agent. When we tested these tablets, we were absolutely astounded with how foamy they are, despite having zero synthetic foaming agents, like SLS (sodium lauryl sulfate) or TCS (triclosan).
It not only leaves our teeth feeling squeaky clean, but makes for a super satisfying brushing experience.
Plus, we love the tablet form that helps us say goodbye to wasteful plastic tubes that give our hands a workout at they near the end.
In addition to the usual peppermint flavor, you can spice up your daily dental care with unique flavors like Citrus Crush, Vanilla Velour, and Gracefully Grape.
About NOBS
NOBS is the creation of the brand biöm.
And while they didn't origially set out to make toothpaste, they made it because "there are too many compromises with the current toothpaste options".
Striking a balance between quality formulation and affordability, NOBS now provides a daily essentially that you can use without second-guessing what's inside.
In addition to natural toothpastes, these natural dental care specialists also offer compostable silk floss, whitening strips, mouthwash, and a reusable tongue scraper kit.
---
2. etee
Note: etee uses beeswax for select products.
About etee's Natural Toothpaste Recipe
Wanna fight tooth decay, the plastic problem, and harmful ingredients altogether?
Enter etee, whose glass jar-encased Chewpaste toothpaste tablets are made from kaolin and Canadian glacial clay, baking soda, an SLS-free foaming agent.
Choose between non-toxic fluoride-free toothpaste or a fluoridated variety, both of which are now palm oil free.
When you run out, simply order their compostable Chewpaste refill pouch.
About etee
Toronto-based etee sells a range of non-toxic home and personal care essentials.
While their dental care products (like their eco-friendly electric toothbrush and zero waste floss) are vegan friendly, not everything is (they began selling beeswax wraps, after all).
However, it is all certified cruelty-free, natural, made using renewable energy and plastic-free.
Since launch, etee has stopped 100 million-plus single-use plastics from entering landfills.
To give back, they partner with a city program that promotes diversity and supports marginalized communities.
---
3. Georganics
Georganics' Fluoride & Fluoride-Free Organic Toothpaste
Georganics makes "actually natural oral-care products… protecting our health and our environment."
In other works, their non-toxic whitening toothpaste is COSMOS organic certified, vegan, and cruelty-free, plus vegetable glycerin, plastic, palm oil, and SLS-free.
Their recipe for natural toothpaste combines organic plant oils with sodium bicarbonate and calcium carbonate to strengthen enamel and fight plaque, with or without antibacterial and stain-removing activated charcoal and fluoride.
The different oral care options come in orange, spearmint, tea tree oil, and English peppermint oil flavors.
Most products are packaged in reusable glass jars (and bamboo spatula applicator). Tooth soap is sold in a compostable cardboard tube.
We've taken a personal bite out of the paste version of both the English Peppermint and Activated Charcoal varieties and find they pair well together.
We use the Activated charcoal for its added whitening power a couple of times a week, and the regular English Peppermint, with real peppermint oil to soothe gum inflammation, the rest of the time.
About Georganics
What is the best natural toothpaste, you ask?
UK-based Georganics is renowned worldwide for its approach to zero waste toothpaste with a conscience.
Everything is handcrafted using only natural and organic ingredients, much of which they source locally.
While they sell ethically sourced peace silk floss, everything else is vegan, including their oil pulling or regular zero waste mouthwash and dental supplements.
If you're in the UK, you can also send back any Georganics packaging for free as part of their "Zero To Landfill" scheme, and everything is compostable or refillable.
If that wasn't enough to get your smile shiny, Georganics donates regularly to The Ocean Cleanup.
Also available on Ethical Superstore (UK)
---
4. Huppy
Huppy's Fluoride-Free Natural Toothpastes
Be happy with Huppy, a brand intent on saving the world with just your smile.
Huppy has gone through 100-plus iterations of their 100% non-toxic toothpaste as they constantly improve their oral care tablets of naturally derived ingredients.
You won't find any SLS, GMOs, sulfates, parabens, formaldehyde, palm oil, or artificial dyes here. Instead, Huppy uses antibacterial and pro-sensitive teeth fixings like coconut and tea tree oil, natural peppermint oil, and naturally antibacterial Xylitol sweetener.
Because it's natural toothpaste without fluoride, they use mineral hydroxyapatite to remineralize your tooth enamel and protect from plaque.
There's an activated charcoal mint option for extra whitening.
To ensure transparency, they publish their full ingredients list online.
Everything comes packaged zero-waste and compostable refill options are available by affordable subscription or as a one-off.
About Huppy
Huppy doesn't just want to make your smile brighter—they want to make the world brighter.
From their consciously crafted toothpaste to their generous 2% revenue giving model, Huppy seizes every chance they have to give back, do good, and make the world brighter.
Their products are vegan, non-toxic, and cruelty-free, and contain only ethically and sustainably sourced ingredients.
Everything comes in compostable or reusable packaging, and all labels use water-based, non-toxic inks.
---
5. SuperBee
*Note: SuperBee also sells beeswax wraps, so while not a vegan company, their toothpaste is vegan.
SuperBee's Fluoride-Free Natural Toothpaste For Sensitive Teeth
SuperBee got their start in beeswax food wraps, but there's no animal products in their natural toothpaste, which is cruelty-free, palm oil free, 100% organic and natural, talc free, fluoride-free, and sugar-free.
An organic alternative to traditional toothpaste, SuperBee's spearmint flavored tabs use only natural ingredients and come in a reusable package.
Simply pop a tab in your mouth, chew until it foams, wet your toothbrush, and brush as usual.
The simple formula has just sorbitol, spearmint oil, menthol, mannitol, magnesium stearate (from coconut and beans), SLS (from coconut), and PVP(<1%).
You'll notice instantly how less abrasive it is (bye forever, canker sores!) than traditional whitening toothpaste—at least we did upon trying it for the first time.
About SuperBee
From paper towel alternatives and safe food storage containers to clean beauty and dental health, SuperBee is a conscious and caring social enterprise committed to bettering the health of everyone.
As a Certified B Corp, this female-owned business cares about its employees, supporting women in Thailand by paying 20% higher wages than the Fair Trade Association's suggested local living wage.
---
6. Bite
Bite's Natural Charcoal Toothpaste
Take a bite out of Bite's natural whitening toothpaste tablets and learn why they became a viral sensation-turned-B Corp.
Bite's Toothpaste Bits are made with vegan-friendly, natural ingredients to keep your gums and teeth healthy and our oceans clean.
They feature no harsh chemicals, animal testing, artificial flavors, gluten, sulfates, or parabens.
While they also offer natural fluoride toothpaste, the natural fluoride-free toothpaste uses nano-hydroxyapatite, a mineral proven to strengthen and revitalize your pearly whites, in lieu of fluoride.
It's available in mint, berry twist, mint charcoal, cinnamon, and watermelon.
With a subscription, you'll save 33% and get free shipping in the US. Your first shipment comes in a zero waste refillable glass jar, followed by compostable refill pouches.
About Bite
What began as a living room science project by a surfer and mother flourished into a female-owned Certified B Corp dedicated to brighter smiles and cleaner oceans.
Bite regularly publishes their Impact Reports online, provides career development opportunities to workers, and participates in charitable endeavors.
In 2022 alone they diverted 75,000 pounds of plastic waste from our landfills and oceans.
They're also a certified cruelty-free and vegan toothpaste brand.
---
7. Butter Me Up Organics
Butter Me Up Organics Best Organic Whitening Toothpaste
Butter Me Up Organics butters up our teeth and the environment with two organic toothpastes (organic activated charcoal and whitening) and a natural remineralizing toothpaste and powder.
The simple and clean ingredients—baking soda, sea salt, calcium, coconut oil and essential oils—promote oral health and hygiene while remaining 100% organic, non-GMO, cruelty-free, and fluoride-free.
No harmful ingredients that might adversely affect our teeth and gums here.
One 2 oz. reusable glass jar is meant to last 3 months. We can confirm this is true because just a touch is necessary.
When first trying the Organic Whitening Toothpaste (we can't speak to their tooth powder, as we haven't tried this one), you'll likely pick up on the sea salt on the organic toothpaste ingredients list.
While salt in toothpaste may sound weird, hear us out. First, it's great for the gums and mouth (being antibacterial without being dehydrating). Second, we actually love that it doesn't leave our mouth feeling noticeably minty (and thus unable to taste anything else!) for a while after brushing.
But more than anything, we love how this organic toothpaste for sensitive teeth makes our teeth feel clean, without any residue.
It features a coconut oil base, and if you've ever tried oil pulling, know that this toothpaste will leave your mouth feeling clean just like it—without the 20 arduous minutes of switching around coconut oil.
About Butter Me Up Organics
Female owned and operated, Jillian started Butter Me Up Organics after looking at an overpriced tin of organic body butter and realizing, "hey—I can make this."
Her approach for everything from whitening toothpaste to organic face moisturizer and natural body wash is zero waste and organic.
Everything comes in glass containers with a recyclable lid, recycled paper, upcycled packing materials, soy inks, and wildflower seed thank you cards.
All products and packaging are lovingly handmade and ingredients are cruelty free, synthetics free, and palm oil free.
Many of the products are vegan, including the toothpaste, but some salves, balms, deodorants, and soaks are not.
Jill also donates annually to various charities she is passionate about.
---
8. Davids Toothpaste
Davids Natural Toothpaste
Davids Toothpaste provides fluoride-free natural toothpastes in four flavors—including a strawberry watermelon organic kids' toothpaste option.
Vegan and cruelty-free, each organic toothpaste without fluoride contains 98% local ingredients—not including sulfates, SLS, palm oil, artificial flavors, synthetic preservatives, artificial colors, and artificial sweeteners.
They come in an aluminum tube with a Food Grade Non-BPA liner. For end of life, carefully cut the top and bottom of your toothpaste tube, open and clean out residual gunk, and recycle.
Cap is recycled where small #2 plastics are accepted.
About Davids
After half a decade of research, Eric David Buss launched Davids natural toothpaste to provide people with a product that satisfies the environmental and health standards we all deserve.
Everything is EWG Verified with a score of 1, which is EWG Skin Deep's best score possible.
Davids products are made in the USA of sustainably sourced ingredients.
---
9. ScentCerae Tooth Nibs
ScentCerae Tooth Nibs Fluoride-Free Organic Toothpaste
With unconventional natural flavor choices like matcha mint, pina colada, mint chip, fresh strawberry, and cinnamon roll, ScentCerae Tooth Nibs make the twice-daily obligation of tooth-brushing an exciting and tasty treat.
Their vegan and non-toxic toothpaste nibs are made of naturally derived ingredients including white kaolin clay, illite sea clay, bentonite clay, sodium bicarbonate, natural soap nuts, and organic xylitol for antibacterial sweetening.
Their fluoride-free toothpaste nibs are an anti-plaque whitening toothpaste that work similarly to oil pulling, removing plaque and bacteria while remineralizing teeth and fighting gum disease.
Instead, they contain locally-sourced hydroxyapatite, a natural substitute for fluoride that's COSMOS approved and certified by NATRUE.
There are also zero toxic ingredients from traditional toothpaste like SLS, titanium dioxide, vegetable glycerin, triclosan, artificial flavors, or dyes.
Great for sensitive teeth and sensitive gums, the Matcha Mint will leave you feeling minty fresh—or you can go for something fruitier, like their strawberry or piña colada flavors.
Your first batch of ScentCerae Tooth Nibs comes in a reusable/refillable waterproof tin, while refill orders are sent in compostable kraft paper envelopes.
About ScentCerae
ScentCerae is an Arizona-based Etsy shop run by Sherae, who started the business during her seven years traveling abroad in Asia and needing clean products like organic toothpaste, zero waste skincare products, and more.
Sherae handmakes everything in small batches, almost entirely with locally sourced ingredients.
All products are plant-based, biodegradable, cruelty-free, and gluten-free, but some contain beeswax.
Everything is packaged plastic-free with labels certified biodegradable and compostable.
ScentCerae regularly gives back to Kiva and Hope Projects.
---
10. Try DIY: How To Make Natural Toothpaste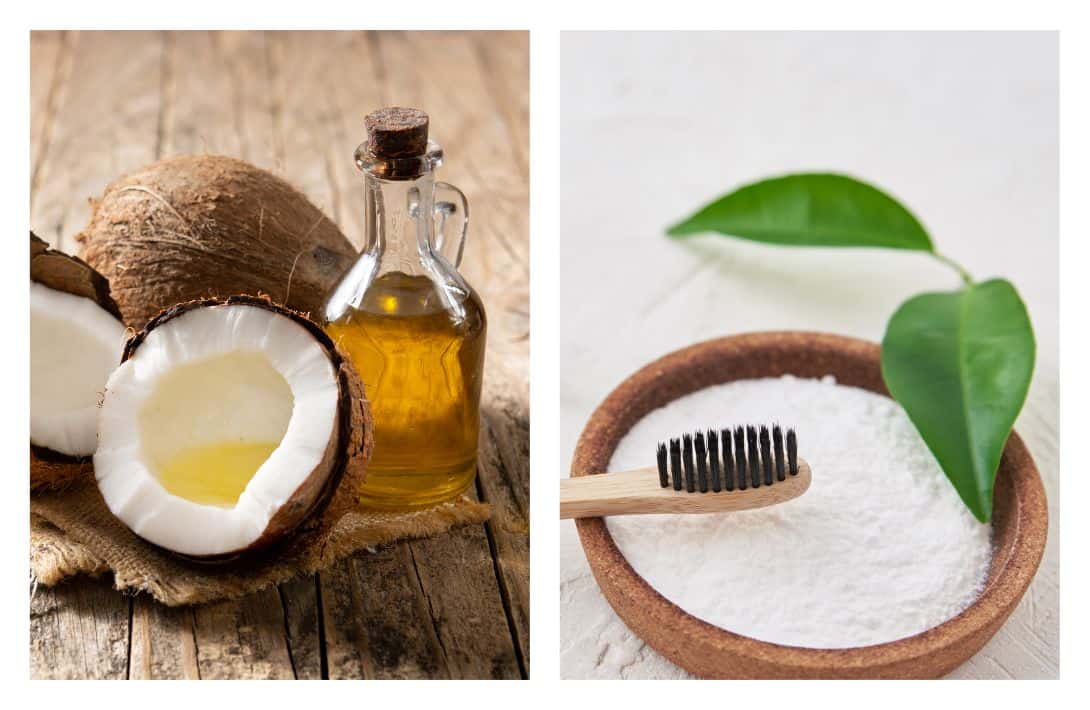 Wondering how to make organic toothpaste with coconut oil to clean your chompers, DIY-route?
The following organic toothpaste recipe is natural, simple, fluoride-free, and effective. All ingredients should be available at your local health food store.
Coconut oil – naturally antifungal and antibacterial
MCT oil – also coconut-based and helps smoothen your paste
Essential oils – we recommend peppermint, spearmint, grapefruit, cinnamon, or tea tree oil
Baking soda – neutralizes acid and removes tooth grit
Natural xylitol sweetener – not only for taste, as it balances your mouth's pH. Make sure it's birch-based, not corn-based. Harmful to dogs, so keep away from your furry friends.
For this recipe for natural whitening toothpaste: mix together 1/2 cup of softened coconut oil, 4 Tbsp. of baking soda, 2 Tbsp. of xylitol (or to taste), 1/2 Tbsp. MCT oil, and 10-40 drops of essential oil.
If you have an immersion stick blender, use it. Otherwise, melt the coconut oil on very low heat, turn off, and stir in the rest of the ingredients.
Pour into small glass jars for storage, use, smile, and sparkle!
Did you know we Have a Newsletter?
We cover the latest in sustainable living, fashion, zero waste, beauty, travel, finance and more…
Why Choose Natural Toothpaste?
You're going to want to gargle and spit at the kinds of toxic ingredients found in common toothpaste brands.
And then there is the grand fluoride toothpaste vs fluoride-free toothpaste debate, which the jury is mostly still out on, but we're raising a red flag for good reason.
They put it in our drinking water and most oral care products, but there's so much about fluoride we still know little of. Harvard did a study that found it may negatively affect youngsters' cognitive development. The US National Research Council of the National Academies also found evidence that fluoride affects normal endocrine function.
Plus, there are healthy alternatives for tooth enamel, but ultimately, whether you're pro or anti-fluoride toothpaste is a personal choice.
Here are some other common ingredients found in toothpaste that you (or the planet!) should never have to swallow.
Triclosan: While studies haven't confirmed its negative impact, they link it to thyroid issues, skin cancer, and antibiotic resistance.
Sodium Lauryl Sulfate (SLS): Synthetic foaming agents like SLS are harsh on sensitive teeth and cause skin irritation, gum pain, and aggravate ulcers.
Propylene Glycol: Helps improve shelf life of products, but can contribute to central nervous system, liver, and heart damage.
Synthetic sweeteners: Aspartame was just (finally) announced as a known carcinogen; meanwhile, saccharine is already linked to cancer.
Diethanolamine (DEA): Can cause liver deficiency and is linked to cancer. Found in antifreeze. Just no thanks.
Parabens: A hormone disruptor also linked to breast cancer. As with fluoride toothpaste, many have opted to steer clear until we know more.
---
How We Found The Best All-Natural Toothpaste
In our search for natural toothpaste for sensitive teeth we wanted products likewise natural and sensitive for the Earth.
We used our ethical and sustainable beauty criteria to rinse out the best non-toxic toothpaste brands that are:
Non-toxic: Obviously, but better yet, organic
Vegan and cruelty-free: Just because you're looking for natural dog toothpaste doesn't mean said toothpaste should have ever been tested on unwilling animals.
Palm oil free: Not only is the best toothpaste non-toxic, but non-threatening to animals and forests, which is why we look for palm oil free toothpaste, too.
Ethical ingredient sourcing policies
Thoughtful packaging: Ideally, this means zero waste (i.e. it has no waste or waste that is compostable or reusable). For brands who still package toothpaste in plastic tubes, Terracycle's Oral Care recycling program is worth using to dispose of tubes properly.
---
Final Thoughts On Natural Toothpastes
Natural toothpaste alternatives haven't always been easy to find, which is why this list should make you smile.
Thankfully now there's even sustainable toothbrushes in addition to natural whitening toothpaste to support your non-toxic oral care journey.
Because we want to flash pearly whites that don't flash our coral reefs white, or negatively impact our health and the Earth's.
So the next time you're taking a selfie with friends and they comment on your pristine toothy grin, please forward along this list of the best organic toothpaste brands.
Pin these: