9 Natural & Organic Body Washes For All Skin Types
At the end of a long day, there's nothing better than a nice, hot shower.
That is, until you realize, what you're washing your body with…Most big name beauty brands sell chemically-laden body washes you wouldn't use on your dog, if you knew what was really in them.
Think: sodium laureth sulfate, ammonium chloride, cocamide MEA, fragrance, aphanizomenon flos-aquae extract, PPG-9, Blue 1, propylene glycol, methylchloroisothiazolinone…
Wait a second, are we taking a shower or a chemistry class?
We don't know about you but we'd rather not let our skin soak up these sci-fi synthetics.
Fortunately for peace of mind and a truly clean shower, there are several natural and organic body wash options available. Here's a splash of some of our faves.
Dr. Bronner's is the global go-to with their fair trade and organic body wash (which doubles as shampoo, dish soap, laundry detergent, etc.).
For some extra earth-friendly exfoliation, grab a jar of EcoRoots' body scrub.
Etee will keep your bathroom zero waste with their plastic-free organic body wash bar.
So, grab your eco friendly loofah, brush up on your knowledge of our beauty criteria, and let's get scrubbin'!
*This post contains affiliate links
QUICK LINKS FOR ALL NATURAL BODY WASH
---
1. ECOROOTS
EcoRoots' Organic Body Wash & Scrub
Inspired by mother nature herself, EcoRoots' certified organic body wash bars contain no parabens, sulfates, synthetic fragrances, dyes, or hard-to-pronounce ingredients to avoid in skincare.
Just 100% plant-based, vegan, and cruelty free ingredients like coconut, sunflower, and safflower oils and herbal extracts.
The bars are cold-pressed by hand in small batches in the USA, and, like their shaving soap bars, come totally plastic free.
They're also cost-effective since one bar can replace two whole bottles of liquid body wash.
Pair these with their organic body scrub for an occasional deep cleansing of all skin buildup. These utilize either organic cane sugar or sea salt's scrubbing power paired with skin beneficial coconut oil, baobab oil, or turmeric.
About EcoRoots
EcoRoots offer a comprehensive collection of plastic free bath, beauty, hair, and home essentials.
All products are cruelty-free, non-toxic, and largely organic, palm oil free and vegan (save for some third-party brand partners that use beeswax) to boot.
Everything is zero waste, being housed in compostable paper or reusable glass jars, before being shipped without plastic.
They use their 1% for the Planet membership to support Ocean Conservancy and other planet-focused NGOs.
Available: EcoRoots
---
2. DR. BRONNER'S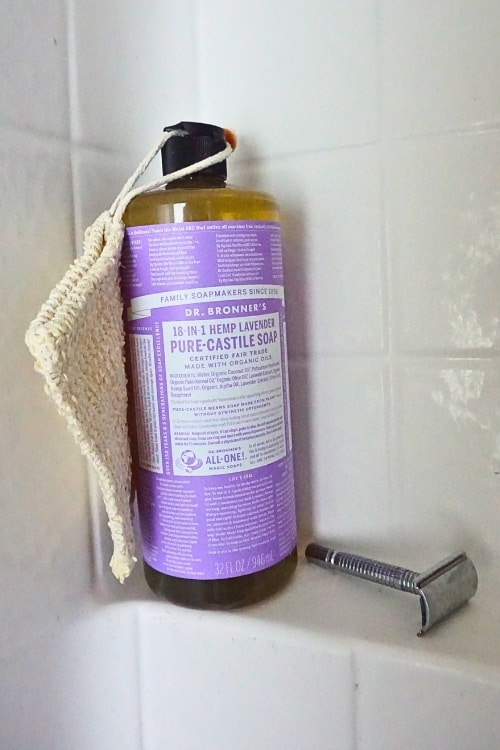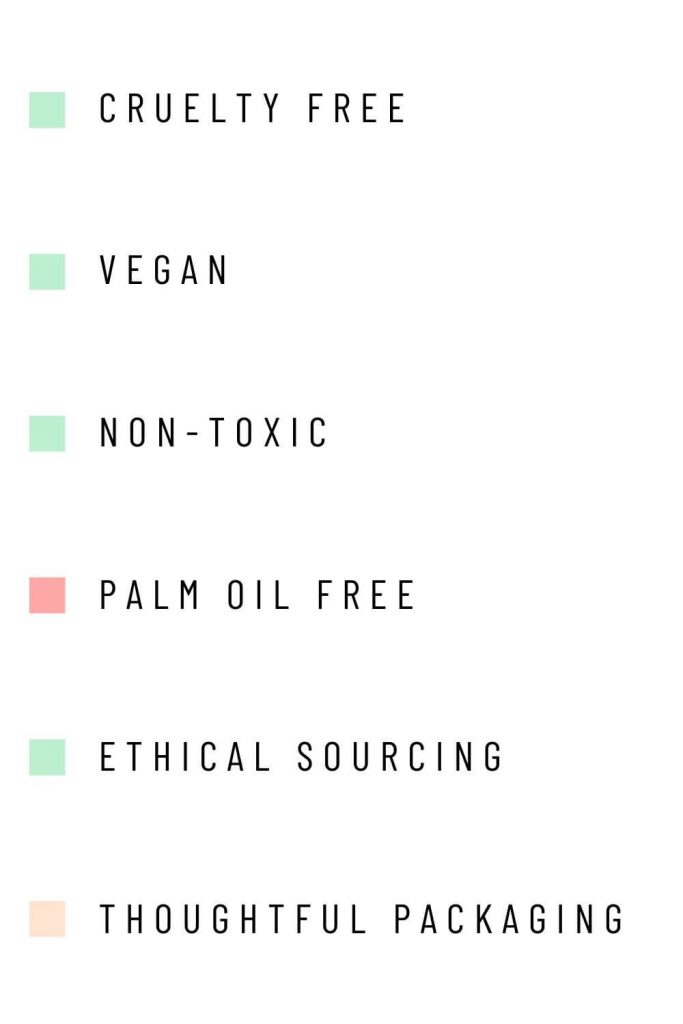 *Note: Not all Dr. Bronner's soaps are thoughtfully packaged by zero waste bars are an option.
Dr. Bronner's' Organic Body Wash
Dr. Bronner's All-One formulation is the do-it-all soap wash, from shampoo to perhaps the best organic body wash available on the market.
This one's for all you bathroom minimalists.
Best of all, it's made of ingredients that are good for humans and our planet. Fair trade organic coconut, palm, and olive oils promote smooth skin while plant-extracted scents like hemp rose and hemp almond will make a steamy shower extra relaxing.
The same ingredients and scents are available in bar form, making this a zero waste body wash solution. If you do opt for the plastic bottle liquids, try to make it last.
These soaps are concentrated so a little goes a long way. You might even be able to get bulk refills at your local Whole Foods (or similar organic stores).
They also have unscented organic body wash for sensitive skin and babies, which has double the olive oil and Organic Sugar Soaps that use fair trade, organic sugar along with organic white grape juice to nourish and hydrate skin.
Everything is certified vegan, cruelty free, and non-GMO.
About Dr. Bronner's
For anything that needs cleaning, seek medical attention—from Dr. Bronner, that is. The company literally does it all. From toothpaste to laundry detergent, there's practically nothing a bottle (or bar) of Dr. Bronner's can't fix.
Not only is Dr. Bronner's effective, but they're pretty darn ethical, too.
The Certified B-Corp does all the usual stuff: ethically sourced fair trade and organic ingredients, post-consumer recycled packaging, and a range of impressive charitable endeavors.
But they take it a step further.
They're an amazing place to work (did someone say profit sharing and free health care?!), a pioneering brand behind regenerative organic agriculture, and well on their way to being zero-waste.
Their credentials say it all: Leaping Bunny, Regenerative Organic, USDA, Fair for Life, Oregon Tilth Organic, NSF, OK Kosher, and Non-GMO Project.
Even their palm oil is worth mentioning, as it comes from small organic and fair trade farmlands in Ghana—and is mostly produced by women entrepreneurs.
Available: Amazon US | Amazon UK | Nourished Life (AU)
---
3. ETEE
Etee's Plastic-Free and Organic Body Wash
If Ethique set the bar high for some of the best natural organic body wash bars, Etee is keeping up.
Their organic coconut oil body wash bars are just as great, available in delectable scents like Lemon Honey, Minty Fresh, Lavender Fields, Nudiepants (unscented), and Blazin' Spice (spicy cinnamon and sweet orange).
All the soap bars (including their hand soaps) are handmade in Canada using the traditional cold press method. The ingredients aren't just non-toxic and natural but 85-95% certified organic.
They're also vegan except for the Honey Lemon soap bar, which obviously contains honey.
Don't forget the natural loofah soap pouch for all that foamy goodness!
About Etee
Etee is plastic-free to the T(ee). Everything they sell is sans plastic—right down to the cellulose packing tape. Goodbye Amazon; hello sustainable alternative.
After a kayaking trip gone wrong, the company started out with a solution for finding something plastic-free to preserve food (AKA beeswax wraps).
Now they make several different products—everything from compostable scrubbers (to pair with those zero waste cleaning supplies) to chewable tooth tabs.
That's just the beginning of their sustainable efforts.
Their Candian factory runs entirely off renewable energy and their plastic-free products have eliminated more than 100 million pieces of single-use plastic.
Available: Etee
---
4. PLAINE PRODUCTS
Plaine Products' Organic Body Wash
Available in two scents: Rosemary, Mint, + Vanilla and Citrus Lavender, the organic moisturizing body wash from Plaine Products uses the healing properties of nature and stays away from parabens and sulfates.
In fact, the biodegradable ingredients have been carefully chosen to avoid anything that's deemed toxic or unsafe by the Environmental Working Group.
The organic body wash is also 100% vegan, cruelty-free, palm oil-free, and safe for babies (no tears).
Here's the best part: these liquid body washes are 100% zero waste.
By packaging their products in aluminum bottles, Plaine ensures they can be recycled without fear of downgrading in quality, hence their body wash refills options. So easy, in fact, that they offer a refill program.
Just take out the pump you receive in your first order, send back the empty bottle in a custom fit plastic-free return box (100% recycled, of course), and put your old pump into the new bottle.
Helloooo, circular economy!
About Plaine Products
Plaine Products lays down the problem in plain English: plastic is destroying our planet.
The two sisters behind the brand, Lindsey and Alison Delaplaine, were confronted with all of the plastic in their bathroom and decided right then and there to do something different.
They make plastic-free personal care products that use eco-friendly, natural, and chemical-free ingredients (this includes their all natural shampoo and conditioner).
Both sisters personally test all of them before making them publicly available.
Plaine Products is also a member of 1% for the Planet, manufactures in the USA, and is transparent about their sustainability efforts. No wonder they're a Certified B-Corp.
Available: EarthHero
---
5. CONSCIOUS SKINCARE
Conscious Skincare's Natural Body Wash
Conscious Skincare creates an effective organic mens body wash, although with the scent from bergamot, cinnamon, and frankincense essential oils, ladies won't want to be left out.
They also have sweet orange and frangipani, grapefruit, lemon, and cedarwood, and amyris, vetiver, and frankincense.
If you don't want to smell like anything at all, see their unscented natural body wash.
We can't help you decide on a scent, but we can let you know all natural body wash from CS starts with organic and natural castile soap, which is combined with organic glycerin (to soften skin) and a variety of nourishing plant and herb oils.
For scent, they use essential oils rather than synthetic parfums.
They also have a specific category of natural body washes for oily skin.
They're all cruelty-free and vegan.
Most of their packaging comes in plastic bottles (a few in glass). While they are fully recyclable, it's not the most eco friendly.
About Conscious Skincare
UK-based Conscious Skincare was founded by Rebecca, a sufferer of chronic dry skin who couldn't find help in conventional products. She actually found most of them were presenting skin problems of their own in her friends and family.
So, she created her own range of award-winning organic skincare products (like body wash, moisturizer, and shampoo). All are free from palm oil, parabens, phthalates, and SLS.
With a clear conscience all around, responsible packaging is also important so while they aren't perfect yet, some products do some in glass bottles with refills available.
Available: Etsy
---
6. ETHIQUE
Ethique's Plastic-Free and Organic Body Wash
We've already talked about how Ethique can sustainably take care of our hair, and they can do the same for our bodies with some of the best natural body wash bars.
Lime & Ginger. Sweet Orange & Vanilla. Matcha, Lime & Lemongrass. Lavender & Peppermint. These all sound good enough to eat, don't they?
But they're not candy or tea or the trendy latte of the day. They're Ethique's various scents for their zero waste body wash bars. Since they're made with natural and organic ingredients, they almost are good enough to eat (full disclaimer: wouldn't recommend it).
They're cruelty-free and vegan and made with sustainably-sourced, biodegradable, naturally-derived, and palm oil free ingredients.
They also have some special options for equally special skin, like their lime and ginger organic exfoliating body wash…for when you need a little extra scrubbing power sans plastic microbeads, of course.
If you can't decide on just one (who could blame you) try their sample box to avoid getting stuck with a scent you're not in love with for a long time. Take it from us who use and swear by Ethique bars…they last a long time.
About Ethique
Ethique was born in New Zealand, but now has a US branch to minimize shipping impact and spread the bar love the world over.
Bars are their pièce de résistance and, because of them, they've prevented more than 9 million plastic bottles from being manufactured.
They're definitely one of our favorite plastic-free Certified B-Corps, especially because they're a climate neutral company that donates 20%(!) of their profits to charity and plants a tree for every order made online.
Available: Ethique | Amazon | Holland & Barrett (UK) | Nourished Life (AU)
---
7. 100% PURE
*Note: Many of the soaps are vegan but some contain honey. We have attempted to confirm policies with this brand.
100% Pure's Natural Body Wash
100% Pure continually impresses us with their range of sustainable skin care and makeup products.
They've also got what we need to wash all that away.
They've got a zillion (okay, 15) different options of some of the best all natural body wash in the form of shower gel and bar soap. Here's a snapshot:
The blood orange shower gel is natural, vegan, cruelty free, and made in the USA. It's sulfate-free and is great as a natural moisturizing body wash.
Then there's the French lavender shower gel, which is also made with natural ingredients. This one does contain honey.
For soft, supple skin, there's a vegan-friendly mango butter bar soap, which includes ingredients like avocado butter, rosehip seed oil, and mango extract.
As for palm oil, 100% Pure is not a palm oil-free brand. They use Cetearyl Alcohol (a common palm oil derivative) in certain products, though we didn't find it in their body washes. We'll be reaching out to confirm.
Your order of all natural organic body wash will come shipped in recyclable materials with compostable packing peanuts that are made out of cornstarch. The packaging, however, is a little less than clean. The shower gels come in plastic tubes which we encourage you to recycle when finished (or just go with the zero waste bars).
About 100% Pure
100% Pure is the body care baby of three founders who strive to create healthy products that embody their desire to live with kindness, compassion, and empathy.
They do this through the use of ethically sourced natural ingredients that are cruelty free.
In fact, kindness toward animals is a pillar of 100% Pure, which is why they donate a bowl of vegan dog food to a Chinese dog shelter for every purchase.
Why vegan dog food?
Because it supports the health of a dog without destroying our planet. Every bowl of eco friendly dog food saves 2,000 gallons of water.
Available: 100% Pure
---
8. BAEO
*Note: We are confirming policies with this brand. They appear to be vegan, but don't explicitly mention it.
Baeo's Organic Body Wash
The highly sought-after "smooth as a baby's bottom" skin is possible for everyone with the organic baby body wash from Baeo.
It's been designed for babies and kiddos, (hence their line of organic baby skin care products which includes organic baby shampoo) but is great for all skin types!
It's particularly great for sensitive skin though, having been tested by dermatologists for all sorts of allergens.
Made from certified organic ingredients like chamomile, calendula flower extract, and aloe vera, the body wash + shampoo combination (and we do love combos) is one of the best organic body wash for dry skin out there.
It gently removes dirt, while retaining the skin's natural oils and moisture barrier.
The Bare Baby Suds is also cruelty-free, and full of many USDA Certified Organic ingredients.
The fresh geranium and lemon scent makes for a great way to start the day (without having to worry about endocrine disrupting compounds, formaldehyde-releasing ingredients, fragrances, phthalates, parabens, or sulfates..).
We did notice this soap contains Glyceryl Oleate which can be derived from animals or plants and they specify theirs is plant derived. That said, plant-based Glyceryl Oleate is often derived from palm oil, so we will be reaching out for more info.
The ingredient list doesn't appear to have any animal byproducts, but they also make no mention of being vegan, so we'll also check on that.
Lastly, this soap isn't just easy on the skin but easy on the planet with recyclable aluminum bottle packaging. Just be sure to recycle the pump through Terracycle because they don't seem to offer the option to reorder a bottle without one.
About Baeo
Baeo stands for Bare Essential Organics, and that's exactly what they use in their organic baby products.
Designed to be safe on even the most sensitive skin, Baeo products are made with organic plant-based ingredients that are sustainably and ethically sourced.
Leaping Bunny cruelty-free, your precious bundles aren't the only harmless creatures they're protecting.
As a mom-owned company, Baeo partners with other ethically-aligned companies. Some products are made through specific partnerships to provide jobs for women in need.
They also donate 1% of annual sales to Baby2Baby, a non-profit that supports low-income children with clothing, sustainable diapers, and other necessities.
Available: EarthHero
---
9. BUTTER ME UP ORGANICS
Butter Me Up Organics' Natural and Organic Body Wash
Butter Me Up Organics can butter us up any day with their organic body wash.
What better way to cleanse our pores from the likes of their zero waste sunscreen with these delectable soaps.
For liquids, they've got a tear-free gentle Lavender Organic Baby Wash made with non-toxic and organic ingredients. Adults should try the pH balancing, organic yoni wash.
They also have a range of all natural body wash in bar form.
We like the Love Soap (which fittingly comes in the shape of a heart), Harmony Soap (lavender, patchouli, and vanilla, yes please!), and the Jasmine, Atlas Cedar, & Pine soap.
These are all made with mostly-organic and mostly-vegan ingredients. Some bars contain beeswax or organic milk.
About Butter Me Up Organics
Butter Me Up Organics' advice to not put anything on our body that we wouldn't put in it, is pretty sage.
Fortunately, this "modern day apothecary" provides us with all we need for sustainable and natural body care. Their products are so natural they're edible (though they might not be so tasty…).
They're also cruelty-free and palm oil-free.
And they do it all with a zero-waste mentality which means plastic-free shipping and compostable or reusable / recyclable packaging.
Everything, down to the labels printed on recycled paper with eco-friendly soy-based inks, is carefully considered. Even their mailing packaging is upcycled where possible.
Available: Etsy
---
OUR CRITERIA FOR THE BEST ORGANIC BODY WASH
When it comes to sustainable beauty, we like to tick the following boxes:
Vegan (or at least ethically-sourced animal products like honey and beeswax)
Ethical sourcing and supply chain transparency
Palm oil free
Thoughtful packaging (recyclable, at the very least)
This is a long laundry list, but it is our bodies we're talking about. They deserve the best.
While not every brand is able to meet every single one of these criteria, we're happy to see that many are able to meet most of them—and for this article, natural and organic ingredients was our principal focus.
---
FINAL THOUGHTS ON NATURAL AND ORGANIC BODY WASH
Our skin is a vital organ. It stands between us and the rest of the world, it keeps us hydrated, wards away microbes, and, well, holds us all together.
Why would we jeopardize it by washing it in a bath of toxic chemicals?
We wouldn't if given the choice.
After all, we are taking a shower and not a chemistry class remember. And fortunately it's no skin off our backs thanks to these organic and natural body washes that are doing their bit to protect us and the planet.
Now, if you know anyone who also needs to improve their shower singing performances with a natural body wash – feel free to share this guide and let's support these brands together.
---