7 Natural Bug Spray Brands For A Non-Toxic Non-Mosquito Life
Heard the buzz?
No, not the pesky sound of mosquitoes—we mean the "buzz" about natural bug spray.
We all know mosquitoes are a real itch. You're out in the glory of the wilderness, the sun is shining, the crickets are chirping, the beer is in the cooler, and you're invaded by a swarm of blood suckers.
Not only are mosquitoes a noisy, itchy nuisance, but in many parts of the world, they can lead to unwanted disease and infection like West Nile, dengue, Zika virus, and malaria.
In fact, mosquitoes kill more people than any other animal through their spread of disease.
Meanwhile, other creepy crawlies like ticks and biting flies are of equal concern, with tick-borne diseases like Lyme and spotted fever significantly on the rise.
Yet conventional bug sprays like OFF!® usually contain synthetic chemicals like DEET or picaridin, which are harmful to humans and pets.
So, what bug spray is not toxic to humans?
Everything we recommend to you on Sustainable Jungle is independently researched and we ask all brands to confirm their claims. To avoid waste, we test products on an as needed basis. This post contains affiliate links. If you buy something through our links, we may earn a small commission. Learn more about why we do this here.
The Best Non-Toxic Bug Sprays For Humans to Naturally Stop the Itch
Shark Tank winner Kinfield provides a truly clean bug spray with their Golder Hour DEET-free bug spray formula. This stuff manages to smell incredible to humans and repulsive to all the bugs we want at bay.
Say goodbye to getting badgered by bug bites with Badger's Anti Bug Balm. Its tried, tested, true formula has buzzworthy gumption thanks to its proprietary essential oil blend of cedarwood, citronella, and lemongrass.
What is a natural insect repellent?
Bumble your way to the bottom of this article to learn how we swatted away the chemicals in favor of effective and natural bug repellents.
The Full List Of Non-Toxic Mosquito Repellent
---
1. Kinfield
Kinfield's All-Natural Insect Repellent Spray
Price Range: $22
What is the strongest natural insect repellent?
The magic of golden hour can arrive 'skeeter-free with Kinfield's Golden Hour™ non-toxic mosquito spray.
We tested this in June in the mosquito infested Rocky Mountains so trust us when we say this stuff seriously works.
The DEET-free bug repellent has a first-of-its kind formula using a unique and highly effective strain of Indonesian citronella plus lemongrass essential oil, clove essential oil, lauric acid, and vanilla.
Thanks to these sweet-smelling essential oils, it actually smells good!
Plus, you can be sure the spray is paraben free, phthalate free, sulfate free, cruelty-free, vegan, and kid-friendly.
Start with a patch test to ensure you have no essential oil reactions. Then, spray liberally over your skin, face, or clothing and reapply every two hours.
If you forget to do that, they also offer Relief Balm (which we love for its cardboard tube applicator) for speedy relief from the dreaded itchiness.
The only critique we'll make about this impressive healthy bug spray is its plastic bottle, which isn't guaranteed to be made of recycled plastic and has to be recycled.
The pump must be sent back to the brand or to Terracycle, and we're hoping for a refill system down the line since it's that good! Kinfield does offer 40% off your next order if you send back empties (from any personal care brand!).
About Kinfield
Everything Kinfield offers—which also includes sunscreen and deodorant—is Vegan certified, Leaping Bunny certified cruelty-free, and laboratory tested for safety and effectiveness.
They also choose to pay more for natural ingredients that are sustainably sourced and provide both a packaging recycled program and recycling directory of other brands who offer recycling programs.
They're also Plastic Neutral, members of 1% for the Planet, Hawaii Reef Compliant, and ship waste-free while also using Corso as a shipping carbon offset.
---
2. Badger
*Note: Badger's bug products are palm oil free, but other Badger products are not.
Badger's Natural Insect Repellent
Price Range: $10
Never get badgered by pesky mosquito bites again thanks to Badger's Anti Bug Balm, a natural oil insect repellent that uses only cruelty-free, and organic or natural ingredients.
You can be sure there are no synthetics, fake fragrances, chemicals (like DEET), parabens, phthalates, BPA, or GMOs, or plastic here.
Its base of organic castor oil and extra virgin olive oil moisturize and protect sensitive skin, while organic citronella oil, cedarwood, and lemongrass repel mosquitoes.
The formula also features organic rosemary oil and organic geranium oil, and while its organic beeswax doesn't make it vegan, it's Leaping Bunny Certified Cruelty-Free, plus USDA Certified Organic, making it the best organic bug spray for humans we've come across.
Badger bug spray balm comes packaged in a reusable or recyclable aluminum tin, and ships in packaging made from recycled content that is also recyclable.
This no-mess tin makes this effective product another of our personal favorite bug products, especially for travel and backpacking where liquids can be a hassle.
About Badger
Iconic, longstanding Certified B Corp Badger is an award-winning family-run company in New Hampshire providing organic body care products—including zero waste sunscreen and zero waste shaving bars—for nearly thirty years.
Everything is made domestically in the USA and features simple, effective and sustainable versions of common (and not-so-common) skin care products.
They're also fair trade, USDA Organic, and NSF certified.
The brand provides generous benefits to workers as well as 10% of pre-tax profits to charity.
---
3. Meow Meow Tweet
Meow Meow Tweet's All-Natural Bug Spray
Price Range: $25
As one of our favorite sustainable beauty brands, it's no surprise that Meow Meow Tweet's natural insect repellent spray is worth chirping about.
What is the safest bug spray to use?
Natural formulas that are free of synthetic chemicals like DEET in conventional bug repellent, so MMT's fits the safety bill, plus it's effective and all-natural.
Featuring certified organic lavender hydrosol and oil, apple cider vinegar, witch hazel, lemongrass oil, cedar oil, geranium oil, and pine needle oil, this botanical insect repellent uses only plant-based natural ingredients for repelling insects.
It also masks our natural human scents (sebum, sweat, and BO) that bugs love, which is why it has multipurpose uses as underarm and foot deodorizer.
The cedar essential oil specifically prevents tick bites.
About Meow Meow Tweet
Meow Meow Tweet helps make it easy for all people to choose plastic free, vegan, and zero waste skincare products.
Everything is small-batch crafted, featuring unrefined plant oils and cold-pressed essential oils to create fresh and next-to-nature products.
The brand is committed to low waste and the development of circular systems, plus their packaging is made from either compostable paper, glass, or recyclable metal.
They're also certified cruelty-free by Leaping Bunny and Plastic Negative Certified through rePurpose Global.
To give back, MMT donates on a regular basis to a diverse list of charities.
---
4. By Robin Creations
By Robin Creations' Non-Toxic Insect Repellent
Price Range: $25–$35
We love making ourselves smell good with their eco-friendly perfume, and equally do we love making ourselves smell bad to bugs with By Robin Creations' best non-toxic bug spray. 
Choose between their Vegan Bug & Mosquito Repellent Spray or Vegan Bug & Mosquito Repellent Lotion Bars.
Both feature entirely plant-based ingredients and natural pest control essential oils like citronella oil, peppermint oil, geranium oil, sweet basil oil, and lemon eucalyptus oil.
While the lotion comes in a reusable or recyclable tin, the spray comes in a refillable spray bottle with zero waste refills sold separately.
About By Robin Creations
New Mexico-based Etsy star seller By Robin Creations is an all-vegan and all-natural skincare brand that specializes in everyday personal care products. 
All items are vegan free, cruelty-free, palm oil free, and handcrafted in small batches from domestically-sourced organic plant oils and butters, with some of the formula herbs being grown by founder Robin herself.
The one exception is shea butter, which Robin ethically sources from Ghana.
Not every product's packaging is plastic-free, but most items thoughtfully reduce plastic through use of aluminum bottles and refill pouches.
---
5. Hank's Garden
Hank's Garden's Natural Insect Repellent For Home & Skin
Price Range: $13–$30
Looking for a homemade natural bug spray recipe that really works?
Hank's Garden Bug Away! Mist is safe, all natural, vegan, organic, biodegradable, and free of any palm oil, DEET, GMO's, or toxic chemicals.
Not only does it smell amazing and double as aromatherapy mist, but it's therapeutically hand-blended by Hank to repel spiders, chiggers, gnats, flies, ticks, mosquitoes, moths, and fleas.
Available in a range of sizes to suit your needs, the naturally repelling essential oils of organic lemongrass, eucalyptus, peppermint, citronella, basil, wild harvested cedarwood, and rosemary make it both healthy and biodegradable.
This means you can use it in nature, and it won't hurt the environment's health—or your own!
About Hank's Garden
Hank's Garden was started by Bellingham, Washington-based Hank Dressel, who is passionate about the art and science of using aromatherapy from plants to balance, harmonize, nourish, and protect.
Hank uses only non-toxic, organic, local, biodegradable and ethically sourced ingredients to create the safest, cleanest and finest products for your family and home.
Be sure to check out his full range (like his eco-friendly pet products), all clean enough for the planet, pets, and humans.
Hank seeks to reduce his carbon footprint whenever he can, and also uses biodegradable paper and packing and biodegradable tape. Plus, Etsy carbon offsets all shipping.
---
6. Aire Candle Co
Aire Candle Co's Natural Bug Spray For Skin
Price Range: $20
Keep the air you breathe clean with Aire Candle Co's Not Citronella Spray, a plant-based, chemical-free non-toxic insect repellent for kids and adults.
Simply shake and spray, and feel the mossie-repulsing power of its 100% sustainably sourced and pure essential oils:
Lavender oil: repels mosquitos, flies, gnats, bed bugs, ants, lice, moths, spiders, ticks, fruit flies
Lemon eucalyptus oil: the strongest essential oil to repel mosquitoes
Peppermint oil: repels fleas, spiders, ants, cockroaches, gnats, moths, wasps, stink bugs, aphids, bed bugs, fruit flies, boxelder bugs, head lice
Tea tree oil (AKA melaleuca): natural insect repellent oil that prevents head lice, bed bugs, dust mites
It comes packaged in a chic, reusable amber glass bottle with a screw-on spritzer. We'd love to see refills sold for it down the line.
For a non-toxic insect repellent for house, home, or office, it also comes as a natural insect repellent candle.
About Aire Candle Co.
Massachusetts-based Aire Candle Co. is a star-selling Etsy shop dedicated to producing healthy, sustainable candles, wax melts, home fragrances and more.
Everything the small shop makes is guaranteed free of toxins, artificial fragrances, phthalates, parabens, lead, soy, paraffin, petroleum, and dyes.
---
7. Sunshine & Co
Sunshine & Co's Non-Toxic Insect Repellent
Price Range: $12
What natural repellent keeps bugs away?
You'll be in the majesty of nature, mosquito feast-free, saying "hello sunshine!" with Sunshine & Co's zero waste way to repel bugs
Made with entirely plant-based ingredients (coconut oil, beeswax, shea butter, and essential oils) these potent bug repellent lotion sticks come in a completely compostable tube to help us all produce less waste.
To apply, remove the cardboard cap, gently push the bottom of the tube up, and glide across your skin. It melts a bit with your natural body heat to spread more easily and is sure to protect you from the creepy crawlies, fliers, and blood suckers.
The main active natural ingredients are lemongrass, citronella, and peppermint oil.
About Sunshine & Co
Everything from Texas-based Etsy shop Sunshine & Co is small-batch handcrafted from 100% pure essential oils with love by female founder Jasmine.
Plus it's all guaranteed to be free of dyes petrochemicals, sulfates, silicon, parabens, aluminum, palm oil, and plastic, thanks to their eco-friendly, compostable kraft tubes.
---
8. DIY Natural Bug Spray For Humans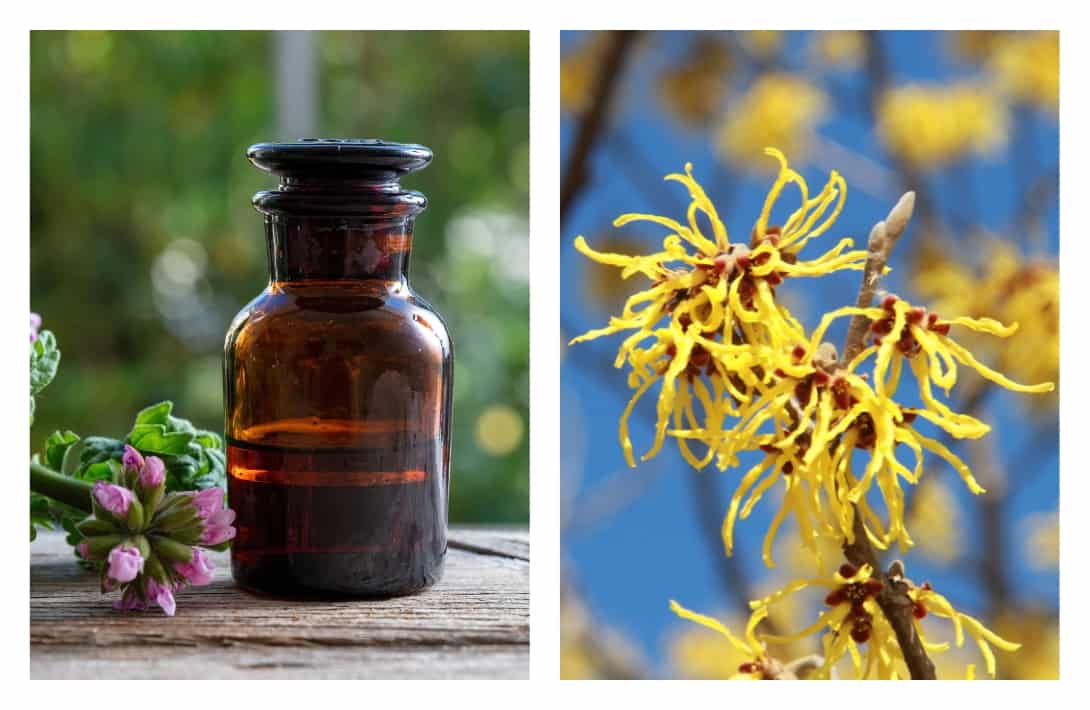 As with many eco-friendly toiletries, sometimes the best organic mosquito repellent is that which you make yourself—especially since the process is so easy!
So what is the best homemade bug spray?
You'll need:
1/4 cup witch hazel
1/4 cup distilled or filtered water
10–15 drops of essential oil (citronella, lavender, eucalyptus, lemongrass, or a combination)
1 tablespoon vegetable glycerin (optional, helps the mixture adhere to the skin)
Start by selecting your oils. Keep in mind that essential oils can vary in potency, and some individuals may be more sensitive to them than others. It's a good idea to do a patch test on a small area to test for skin irritation.
In a small bowl, mix together all ingredients, stir well, and pour into a spray bottle.
Then just be sure to shake prior to each use to ensure the ingredients are well mixed.
If you want homemade bug spray for your house, you can use the same formula sans vegetable glycerin and spray around the house.
---
Did you know we Have a Newsletter?
We cover the latest in sustainable living, fashion, zero waste, beauty, travel, finance and more…
Why Choose Non-Toxic Bug Spray?
The buzz about traditional bug repellents is that they kill more than just the bugs—and that's not a good thing.
Sorry to your insectophobia, but killing bugs also kills a delicate ecosystem (no bueno), plus the chemicals in many insect repellents are downright toxic to humans, especially babies and our pets.
More than a whopping 198 million Americans used repellent last year to combat ticks and mosquitoes, so natural solutions have never been more important.
The two main chemicals of issue are DEET (known to chemists as N,N-Diethyl-meta-toluamide) and picaridin.
DEET:
While the internet (and even the Environmental Protection Agency, or EPA) are inconclusive on DEET's safety, here are some stats.
DEET is highly toxic if ingested, and because it's technically a solvent, it can actually melt plastic—you know, that stuff a lot of your sustainable outdoor clothing is made of…
Exposure during pregnancy can lead to low birth weights and potentially seriously twisted birth defects.
Other DEET studies show it's a neurotoxin and some studies associate it with nausea, vomiting, hypotension, encephalopathy, seizure, comas, and ataxia.
Despite the CDC denying that reliable evidence it causes cancer exists, one Swedish DEET study concluded that men who used insect repellent for 115 days or longer had a significant risk of developing testicular cancer.
Picaridin:
As with DEET, while the EPA concludes that the normal use of picaridin does not present a health concern, it also classifies it as a Category III toxin.
Picaridin is a synthetic created from a molecule in pepper plants. Legal for repellents in the US since 2005, its safety isn't well studied yet.
Bugging out yet?
---
How We Chose The Best Natural Bug Sprays
The Dalai Lama once said, "if you think you're too small to make a difference, you've never spent a night with a mosquito."
Luckily, finding chemical-free bug sprays today is almost as common as the bumbling, biting bugs themselves. And that's a very good thing.
That said, no two organic insect repellents are the same, just as no two human scents are the same. And since the two combine to form a particular smell to either repel or attract, a repellent may work wonders on one person, but not the next.
It may take some trial and error, but those whining winged vampires will at last be deterred by your scent with a little patience and fortitude.
That's why we took a big whiff with our ethical and sustainable beauty criteria, looking for natural products and brands that are:
---
Final Thoughts On The Best Natural Insect Repellent For Skin
No one wants bug-borne disease.
That's why natural repellents are an effective solution to nature's whizzing nuisances.
For years, people touted "natural bug sprays" as an oxymoron. If natural, how could it really repel bugs?
But that's exactly why it repels bugs.
Any one of the solutions here harnesses the power of plants that have been around as long (if not longer) than humans and the mosquitoes who feast upon them.
We hope this list serves you well as you continue to embark on a peaceful mission to mitigate fly-by tick-and-mosquito dive-bombs.
Do us a horse fly-sized favor and share this article with your ticked-off fellow outdoor enthusiasts, the next time someone asks, "Is there any safe bug spray?"
Pin these: