5 Biodegradable Bandages For More Eco-Friendly First-Aid
First things first (aid): are bandages biodegradable?
Given that most drugstore varieties are made of plastic, usually not.
And who wants a boo-boo covered off with plastic, polyester, and chemical adhesives?
Finding more sustainable options still requires some sleuthing, so we're excited to see more non-toxic, biodegradable bandages enter the space for cleaner, healthier wound care.
Not only do they mean less harm to the Earth, but they also mean better healing for minor burns, scrapes, and cuts.
Because how long does it take for a bandaid to biodegrade?
About a thousand years. (Scream face!)
Everything we recommend to you on Sustainable Jungle is independently researched and we ask all brands to confirm their claims. To avoid waste, we test products on an as needed basis. This post contains affiliate links. If you buy something through our links, we may earn a small commission. Learn more about why we do this here.
The Best Non-Ouch Biodegradable Bandaids For Your Ouchies
WoolAid makes hyperfine Merino wool bandages that are better for the Earth and your injuries, taking up to four months to fully decompose in soil.
Patch up your boo-boos the natural way with PATCH biodegradable bamboo bandages, which infuse the organic bamboo lyocell fiber with nature's own super-healers, like activated charcoal, coconut oil, and aloe vera.
Skip (but don't trip) your way to the bottom of this article to learn how we chose the best band-aids for our personal health and the planet's.
The Full List Of Eco-Friendly Bandages
---
1. WoolAid
WoolAid's Eco-Friendly First Aid Bandages
Price Range: $6–$10
Merino wool more recently was taken to new heights with sustainable running shoes and more being made from the renewable material. Next up is wool bandages that really work.
WoolAid will come to your aid with their Merino wool, award-winning flexible fabric strips for cuts and scrapes, in both extra large and regular sizes.
You can be sure there is no plastic here, and these non-toxic bandaids are hypoallergenic for sensitive skin.
They also have a medical grade absorbent wound pad and pressure sensitive adhesive, with the pad being made of 60% plant-based fibers.
Not only is the bandage itself fully biodegradable within four months in soil, but packaging is likewise biodegradable and recyclable.
We recently tested out these latex-free bandaids and love how soft and breathable they are, which actually creates a better environment for wound healing.
We usually have an allergic reaction to adhesive bandages, but we were able to wear these all day with no redness or itching.
They're currently sitting on our compost bin, so we'll update on whether they decompose as quickly as they say they do.
About WoolAid
WoolAid's bandages sans plastic were founded by someone who knows a thing about heights, wool, and pain, its founder Lucas Smith was a tour guide in New Zealand's Aotearoa.
He'd also spent some previous time working on sheep farms and wanted to do something that would be environmental and helpful for people.
They source New Zealand Merino ethical wool (P.S.: New Zealand doesn't allow mulesing) which is spun at the sustainable certified Reda wool mill in Italy.
---
2. PATCH
PATCH's Eco-Friendly Bamboo Bandages
Price Range: $8
PATCH make use of mineral-based, pressure sensitive adhesive (PSA) bandages as an effective alternative to conventional bandages that only patch us with toxins and irritating chemicals.
Free of plastic, silicone, latex, or parabens, they're safe for sensitive skin, as well as cruelty-free and vegan-friendly.
The bamboo bandaids are made from entirely natural ingredients such as 100% certified organic bamboo fiber and gauze, activated charcoal, coconut oil, and aloe vera to soothe minor abrasions.
Plus, they're biodegradable and compostable in your indoor compost bin.
To top it all off, PATCH bamboo bandages are packaged in compostable rice paper and shipped in recycled materials to further lessen their environmental footprint.
About PATCH
It was when a bandage caused an allergic reaction to his son's injury, making it worse, that Certified B Corp PATCH (under the Nutricare umbrella) founder James began his mission for a better way to treat wounds.
He learned that chemicals in conventional adhesive bandages are known harmful substances to human skin and began his experiments with natural ingredients and nourishing additives.
Enter PATCH organic bamboo adhesive strip bandages: wound dressing that not only covers cuts and scrapes a natural way, but also actually treats them.
PATCH bandages are manufactured in a BSCI-certified factory in China, and they plant a tree for every order or new retailer through Trees For the Future.
---
3. Generation For Change
Generation For Change's Eco-Friendly Bamboo Bandages
Price Range: $17
Be a part of the plastic-free generation with Generation for Change's organic bamboo compostable bandages for minor abrasions.
These flexible fabric strips are hypoallergenic, gentle for sensitive skin, and free from common irritants like latex, parabens, sesame oil, silicone, gluten, animal products, and plastic.
Each box of 75 bandages comes with 25 natural bamboo bandages, plus 25 with additional activated charcoal to absorb and remove impurities, and 25 with additional aloe vera to boost healing, soothe burns, and help repair minor cuts.
All of their eco-friendly bandages are made with four sealed edges to keep out dirt and bacteria.
Reviewers remark they're so comfortable and flexible that they'll move with you during the day and not fall off.
Store in a cool, dry place for a shelf life of two years.
About Generation For Change
Generation For Change is a homegrown Canadian family business that offers an e-boutique selling plastic-free and plant-based bandages, hair ties, and sustainable toothbrushes.
The small business hopes to make it easier for everyone to minimize their environmental footprint.
Everything they make is sustainably produced, biodegradable, and packaged the same.
Being on Etsy means you get carbon offset shipping, too.
---
4. FEBU
FEBU's Eco-Friendly Finger Bandages
Price Range: $15
FEBU organic bamboo bandages help protect your cuts, scrapes, and minor bumps with sustainable softness, strength, and flexibility.
Unlike conventional strips, FEBU bandages are hypoallergenic, natural, and made to protect both the Earth and you from harm caused by plastic and other irritants.
These bandages have just two ingredients: organic bamboo and pressure sensitive adhesive, so you can say bye to latex, parabens, parabens, sulfates, and weird chemicals like Methylisothiazolinone or Methylchloroisothiazolinone.
All bamboo used is sustainable forestry certified by the FSC.
FEBU bandages biodegrade in your compost within weeks, and come in a number of shapes and sizes, ranging from spots and strips to eco-friendly finger bandages.
About FEBU Bandages
FEBU stands for "For Earth, By Us".
This California-based brand makes it their mission to improve your life and the planet's through affordable and sustainable household replacements.
Beyond biodegradable adhesive bandages, the brand also makes Swedish dishcloths as reusable paper towels, laundry detergent, and wool dryer balls to improve your laundry's drying efficiency.
Everything the brand makes is vegan-friendly, cruelty-free, and packaged in recyclable and 100% plastic-free materials.
---
5. Nepia
Nepia's Organic Bamboo Bandages
Price Range: $6–$16
Nepia believes they are "nature's guardian" and create organic bamboo bandages that are hypoallergenic and free from known irritants, to act as guardians to our healing minor cuts and scrapes, too.
They're latex-free and suitable for sensitive skin, with only organic bamboo viscose and a waterproof, supportive, comfortable absorbent pad.
These adhesive organic bamboo bandages will help mend your boo-boos and when you're done, they're 100% biodegradable and will break down in your garden in weeks.
They come in ample multipacks or in smaller boxes of especially shapes, like for the knuckles and fingertips. Both in a handy zero waste reusable tin or via compostable refill boxes.
They also offer blister prevention pads, but these are made purely from rayon fabric, so they're not as sustainable.
About Nepia
This China-based brand uses one of the country's most valuable renewable resources, bamboo, to create compostable and biodegradable bandages.
Everything they make is tested for sensitivity in the US by the UL lab.
However, we're not sure if their natural bamboo fiber is made in a closed-loop way and will be reaching out to inquire.
---
6. DIY Biodegradable Bandages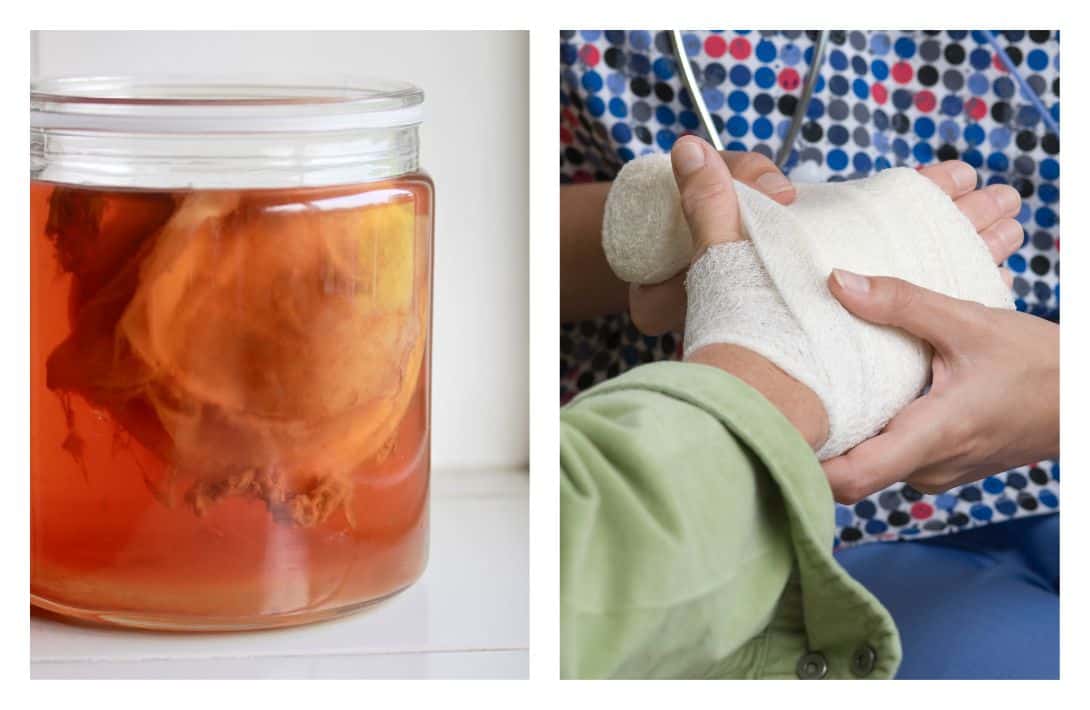 Looking for other options?
As with just about everything—from non-toxic cleaning to sustainable skincare—the best bandages are often those you make yourself.
If you're ready to make the effort, a popular DIY bandage remedy for minor burns, cuts, and scrapes is using dried SCOBY.
If you're not a professional kombucha brewer, SCOBY stands for Symbiotic Culture Of Bacteria and Yeast. It's what ferments and adds probiotic benefits to everything from 'booch to vinegar.
To use on wounds, remove the SCOBY, dry it out, cut to size, wrap with gauze, and gently press it on the wound.
Scoby works its wonders because the natural pH reduces the growth of bacteria, in turn speeding up the healing time.
While this is backed by scientific studies, we're not medical professionals, and we advise you to check with your doctor before approaching this natural bandage method, especially for more severe wounds.
---
Did you know we Have a Newsletter?
We cover the latest in sustainable living, fashion, zero waste, beauty, travel, finance and more…
Why Choose Eco-Friendly Bandages?
Boo-boos are bad enough; we don't need known irritants or toxins in the various parts of a band aid being absorbed into already sensitive spots.
What Are Bandages Made Of?
What many people don't realize about most of the common adhesive bandages on the market is that they're made from polyethylene (PE), polyvinyl chloride (PVC), or polyurethane (PUR) with polyester gauze pads and harsh acrylic adhesives.
Keep in mind that PVC is the most dangerous and toxic type of plastic there is, so when PVC bandages down, they release many dangerous chemicals like phthalates, dioxins, lead, and more.
Who wants that sticking around on their flesh, let alone a tender sore that's trying to heal?
Do Band Aids Contain Latex?
Many bandages also contain latex, which is derived from natural rubber.
Even so, many folks are allergic. Contact dermatitis is known to form from bandage irritation, which usually comes from chemical adhesives and latex.
What's more is that at end-of-life, plastic bandaids won't break down becoming yet another single-use plastic item landing in the landfill.
Okay, so are there biodegradable bandages?
We wouldn't be here if not! Eco-friendly bandaids such as bamboo strip bandages, not only aid the Earth, but also aid our healing.
---
How We Choose The Best Safe & Sustainable Bandages
Are bandages compostable?
Everything featured here is. And while the market for compostable bandages is still small, we wanted non-toxic bandages that are as natural and sensitive for the Earth as our bodies.
We applied our ethical and sustainable beauty criteria to source the best biodegradable bandaids that are:
Non-toxic: This means they're made of natural materials like bamboo or wool, instead of toxic plastics and adhesives that can irritate sensitive skin. For that reason, latex-free and pressure sensitive adhesive is best.
Vegan and cruelty-free: Who wants to hurt animals with something meant to help you after you've hurt yourself? We make an exception of ethically sourced wool, because wool can be harvested in cruelty-free ways.
Palm oil free: But coconut oil or aloe vera infused bandages have our vote!
Ethical ingredient and material sourcing policies
Thoughtful packaging: Just like we want biodegradable bandages, we want biodegradable (or reusable) packaging to house them.
---
Final Thoughts On Natural & Compostable Bandages
Getting hurt sucks, but low-impact bandaid alternatives are here to help our healing and mama Earth's.
In the debate of fabric vs plastic bandages, we have a clear winner with the former being made of natural and compostable materials like wool or bamboo.
Biodegradable bandages might not be the first zero waste swap that comes to mind, but they're an important eco-friendly bathroom essential nonetheless—especially as we root out the harmful plastic in our lives and replace it with healthier alternatives.
Remember: minor abrasions can mean major change.
Do you have that accident-prone friend who's always in need of some first aid?
Please, share this article with them to help scrape the world free from plastic and to provide eco-friendly bandage alternatives to help heal their latest scrapes.
Pin these: