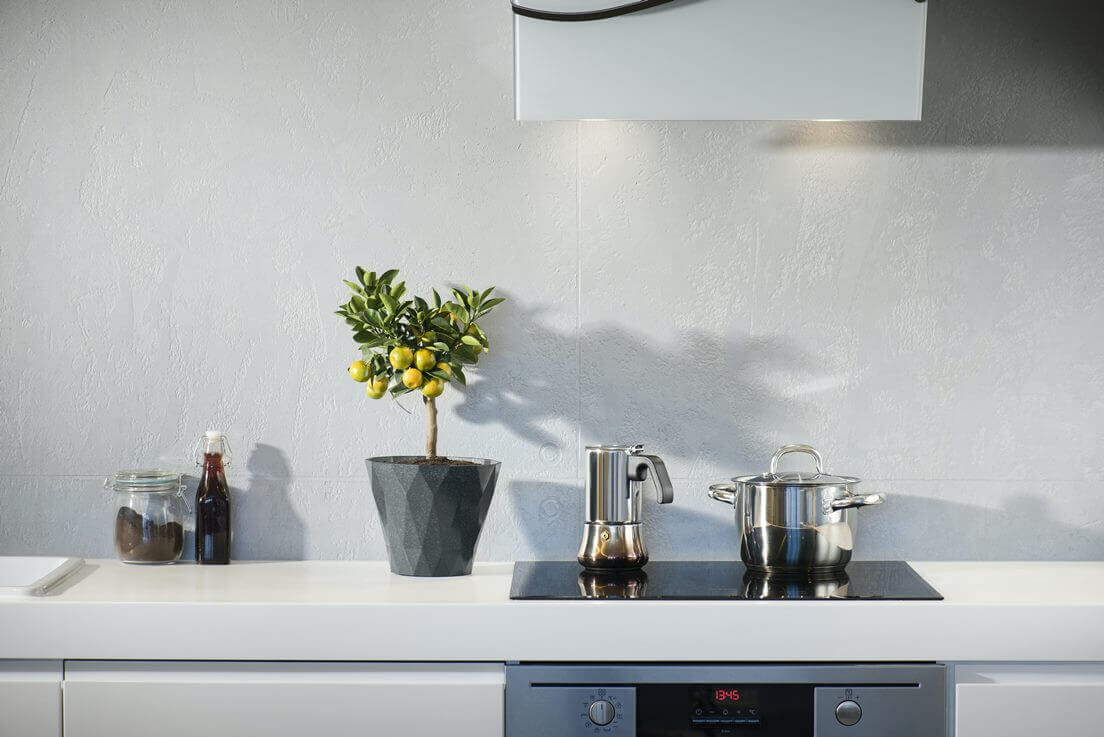 10 Step Recipe For A Perfect Zero Waste Kitchen
We started our zero waste journey a while ago now.
Since then, we've gathered momentum, motivation and learned a ton.
We've covered everything from zero waste bathroom to zero waste beauty brands.
But now we figured it was time to write down our secret family recipe for a zero waste kitchen.
We know the term zero waste can sound a bit intimidating.
It gets used a lot, but it's important to remember that it really is best not taken *entirely* literally.
Being "zero waste" doesn't mean you will generate literally no waste at all. Our environmental footprint is a lot more complex than that.
Just know that zero waste is really nothing more magical than simply trying to live less wastefully, one small step at a time.
That's why we believe zero waste is for everyone.
So let's get cooking and plate up 10 delicious zero waste kitchen swops to make your kitchen a less wasteful space.
*This post contains affilate links
1. BUY IN BULK TO CREATE A ZERO WASTE PANTRY
This is an important one, and in fact is probably the easiest way to reduce the bulk of your kitchen waste.
As far as dry goods go, you can find anything and everything in bulk, like spices, coffee, granola, dried fruit, nuts, baking supplies, and so much more.
How does bulk work?
Bulk food is simply food that is not sold in plastic bags (but don't be tempted by the little plastic baggies hanging next to the bulk canisters; that would defeat the point!).
Instead bring your own jar or other zero waste container, fill it up, write down the number of the product, and check out as normal.
You'll be charged by weight of the product. Just make sure you've weighed your container so the cashier can deduct the weight from the total.
Most large grocery store chains now include some sort of a bulk section, ranging from pitiful to plentiful. If you live in Melbourne, our friends at Reusable Nation have a thorough localized map.
If you don't have local access to bulk grocery shopping where you live, there are luckily now a burgeoning rise of online bulk stores and ethical online shops to choose from.
Sun & Swell Foods is one of our favorites, offering a comprehensive selection of dry pantry staples, nut butter, coconut oil, snacks, and self and home care products—all domestically sourced, plant-based, organic, and absent sugars, preservatives, and flavors.
It gets shipped right to your door in compostable bags or glass jars.
Reusable Produce and Grocery Bags
Produce can be tricky because even if you bring your own reusable produce bags, they'll often be either wrapped in plastic or contain rubber bands and stickers.
The best way to go truly zero waste (and typically organic, too) about produce is to buy from farmers markets or market gardens.
We either get our groceries from the farmers market or from local producers via an online service (delivered in boxes) to ensure it's plastic free!
For other bulk food containers and the like, upcycled jars work wonderfully, or you can have a look at one of the many zero waste online stores which will have you covered.
For any shopping adventure, of course, don't forgot to bring along your reusable grocery bags.
Just keep in mind how to keep produce fresh for longer and preserve food at home which will extend the life of your food and reduce overall food waste.
---
2. STORE FOOD IN ZERO WASTE CONTAINERS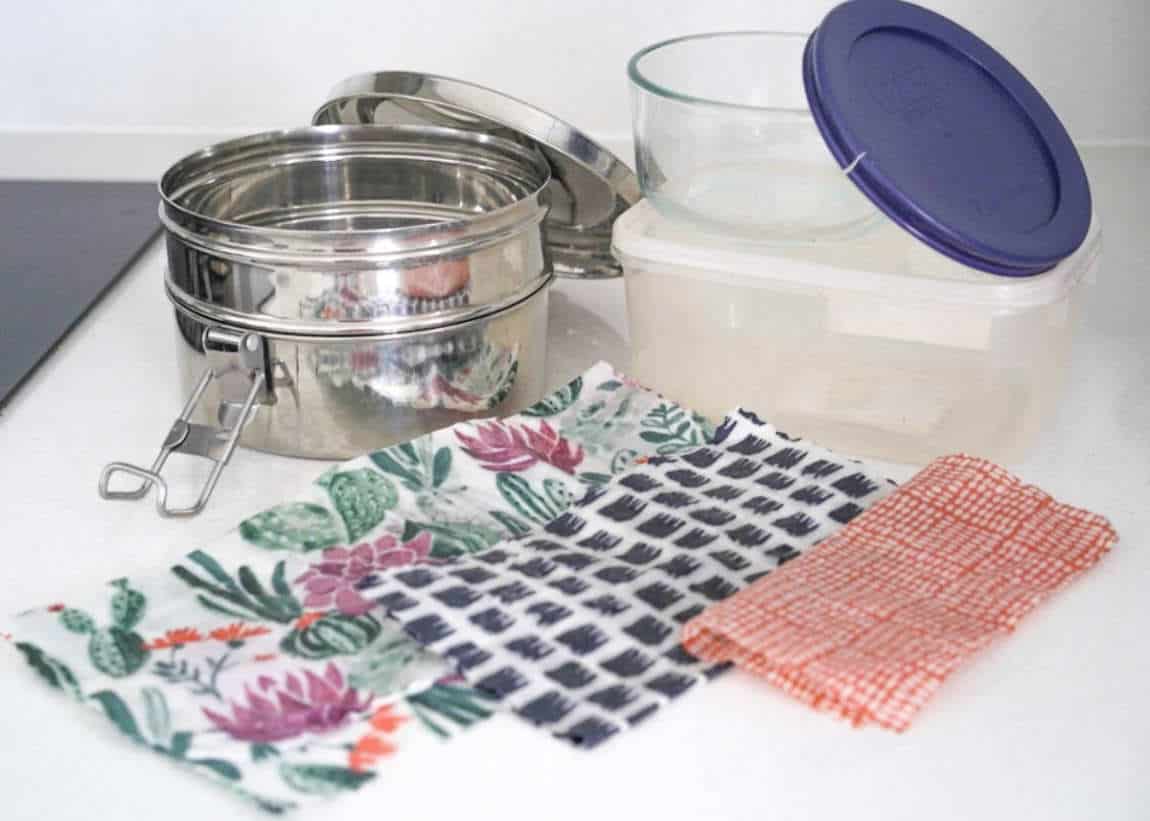 Start collecting jars (lots of jars!) or really any sort of plastic free food storage containers (tins, coffee cans etc.).
Soon you'll be putting anything and everything in them.
For instance, maybe you have a nice sentimental bottle of wine from your wedding; give it a use as an olive oil container or maybe a pasata bottle! Use your imagination.
Zero waste food containers can be pretty much anything!
You can use these to not only buy and store bulk goodies, but to preserve food and leftovers as well as freeze meat and other produce. And if you need to buy new food storage containers, EarthHero has some great options.
---
3. PREP TO-GO MEALS LIKE A PRO
As with food storage, there are tons of zero waste containers to take your food in the go.
We love our stainless steel containers, and there are tons of glass options out there too.
Again, even just jars (have you seen how many delicious mason jar recipes are out there?!) will do the trick.
For slimmer packing, some other really great zero waste swops you can make are:
That said, don't just trash your Tupperware.
We still use plenty of our old Tupperware since we believe the best way to reduce waste is to always use what you have (whatever it may be) before buying something new.
When you're ready to retire old pieces, check whether they're recyclable and where you can, replace with non-plastic.
---
4. FIND A SECOND USE FOR YOUR FOOD SCRAPS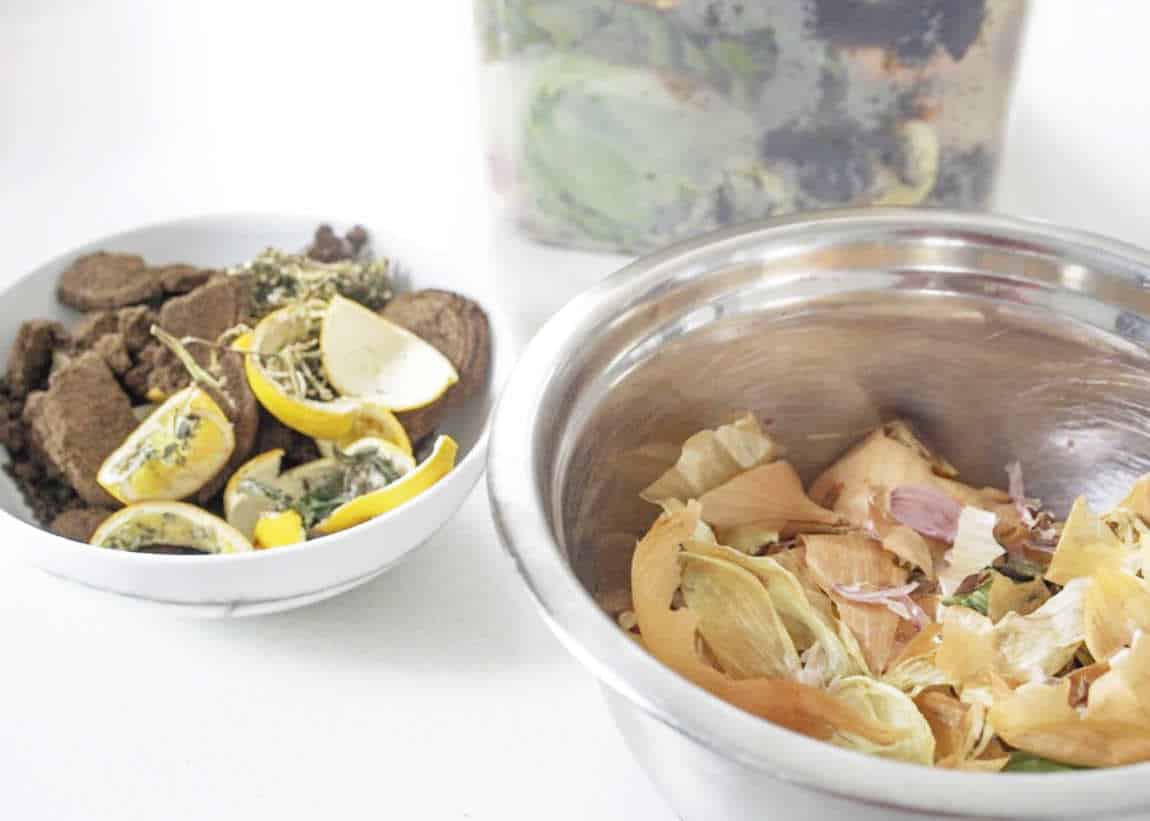 Food scraps account for a huge percentage of national landfill waste.
According to the 2015 EPA Study on Municipal Solid Waste, about 16.5% of all waste in landfills is just food.
So much unnecessary waste for something so easily compostable and put to far better use than methane production.
Using Food Scraps
Many food scraps can actually serve another purpose.
For instance, place the scrap end of onions, leeks, spring onions and bulbs in a tray of shallow water to regrow them (or replant the scrap ends into the garden!).
So many vegetable scraps can be used up to make vegetable stock (here's a great recipe).
Keep old fruit and orange peels for soaking in vinegar and making into your own citrus scented cleaning agent or dry them to make potpourri.
The possibilities are endless!
---
5. COMPOST ANY LEFTOVER SCRAPS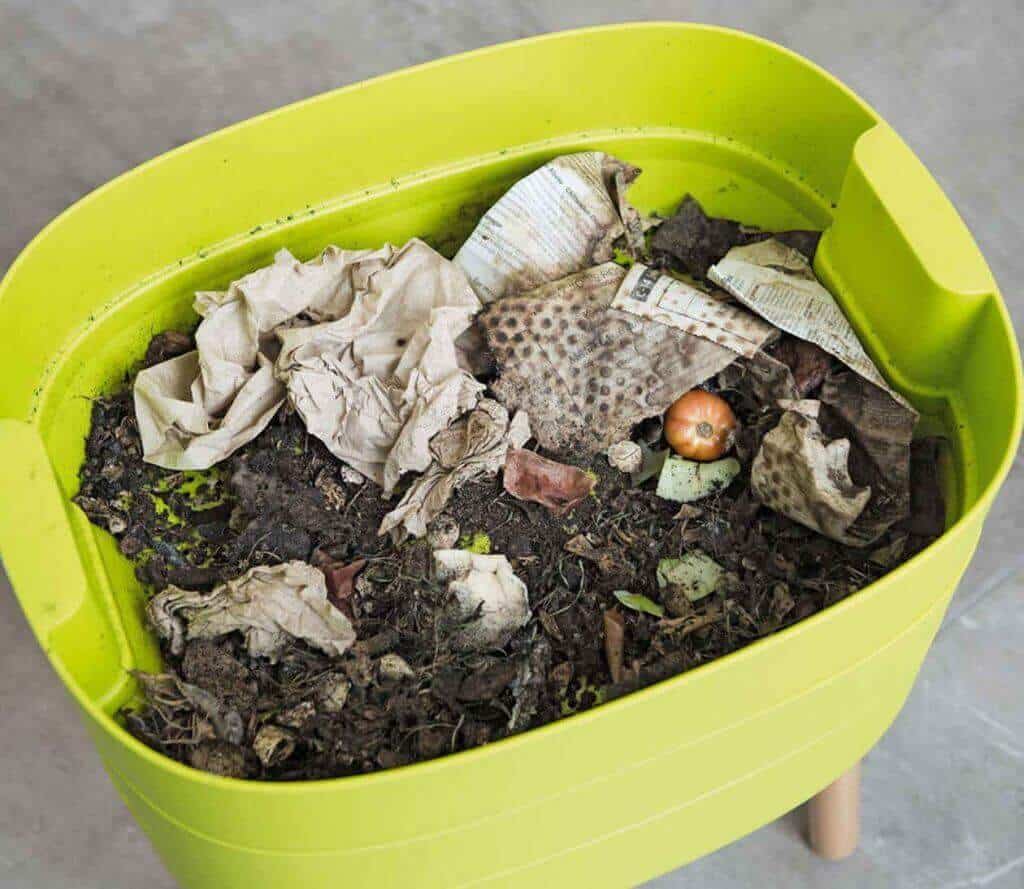 Any food scraps you can't use, compost!
Composting is an excellent way to reduce your home's footprint.
With the vast number of compact composters out there, you don't even need large living space or a backyard to do it!
There are all sorts of kitchen and indoor composters, with different price tags and levels of maintenance.
You can choose from Bokashi bins, vermicomposters, high tech composters, and more.
Check out our indoor composter article for some in-depth reviews of the various compositing options out there.
If you have your own outdoor compost bin or access to community composting, you can just collect food scraps in any spare container you have lying around.
For more on what you can and can't compost:
Compost Collectors
Compost collections are a handy go-between for collecting food waste and then tossing it in the composter in one go.
If you want to get fancy, something like this collector bin which blocks odors while food starts to break down but doesn't actually compost it is a great option.
We usually just use a large old plastic container and throw it in the dishwasher for cleaning but if you really feel the need to use bin liners, make sure you use liners that are compostable in home composting systems as so many biodegradable and compostable trash bags out there only break down in industrial facilities.
A good option is the Biobag which are certified as home compostable.
---
6. SUSTAINABLY SATISFY YOUR COFFEE FIX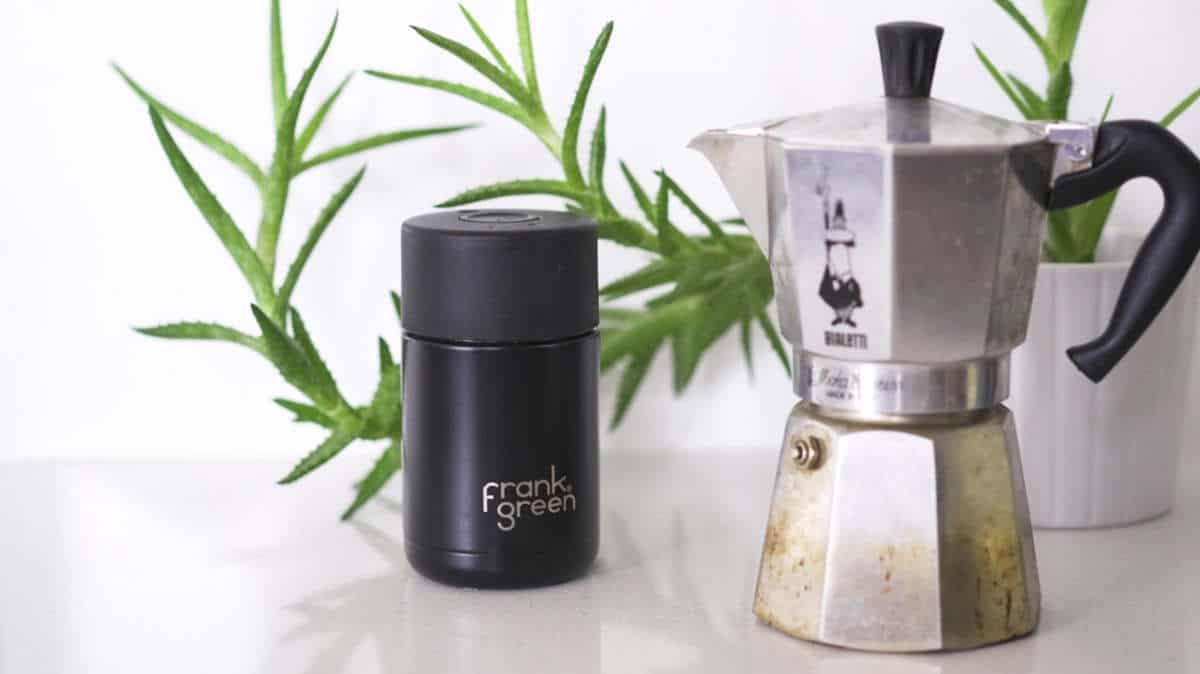 For you over caffeinated coffee addicts out there, time to toss the coffee pods!
Turn that vice into a virtue by making zero waste coffee.
Start by buying your coffee in bulk. You can typically either grind right there at the store (we tried 3 stores before we found one with a grinder so it may take a bit of perseverance) or do it yourself at home for an ultra-fresh brew – guaranteed maximum deliciousness!
To make the coffee itself, you can either use a glass / stainless steel french press, or an Italian Bialetti stovetop espresso maker.
We personally LOVE the Bialetti, we've been using for years and love the routine of making it on the stove, is a special little morning routine!
Once you're finished, just toss the grounds into your compost bin or even directly in soil as a pH neutral fertilizer and natural pesticide. Worms love coffee grounds too!
Zero Waste Coffee Cups
For those mornings when you've hit the snooze on your alarm one too many times, prep your coffee at home then take it to go in a reusable coffee cup.
We love the Hydroflask, which is a great option for outdoors and indoors, a very robust reusable!
---
7. ZERO WASTE TEA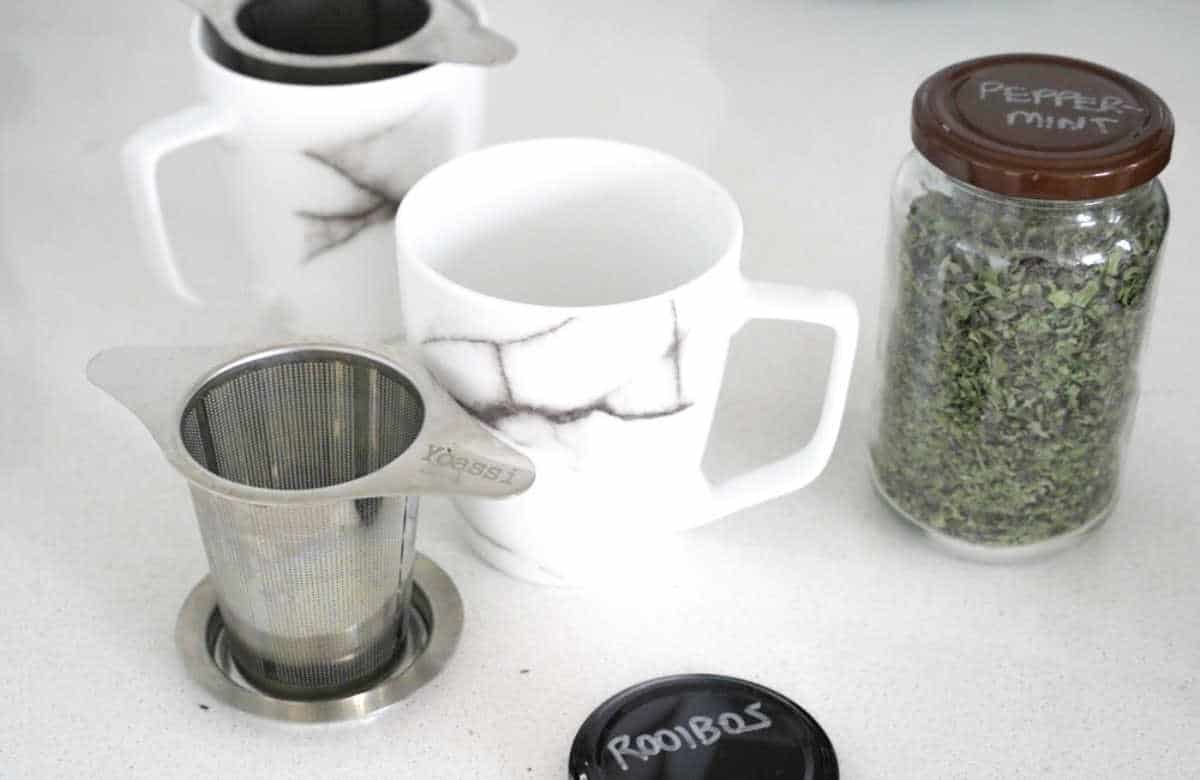 About Zero Waste Tea Time
If you prefer a good ol' cuppa tea to a morning brew, many of the same rules above apply.
Buy your loose leaf sustainable tea in bulk (they've usually got ton of herb and flavor combos) and store it a simple jar.
When tea time rolls around, boil your water with a stainless steel eco friendly kettle.
It'll last you forever, looks way sleeker than most electric kettles, eliminates any concern about plastic leakage into your water and of course, there's no e-waste at the end of the kettle's life.
We wish we knew all this before we bought our current electric kettle – once it dies, we will be replacing it with a stainless steel one!
Then just steep the tea in a classic stainless steel infuser (we use this one) and, again, compost the tea leaves once you're done!
---
8. ZERO WASTE KITCHEN CLEANING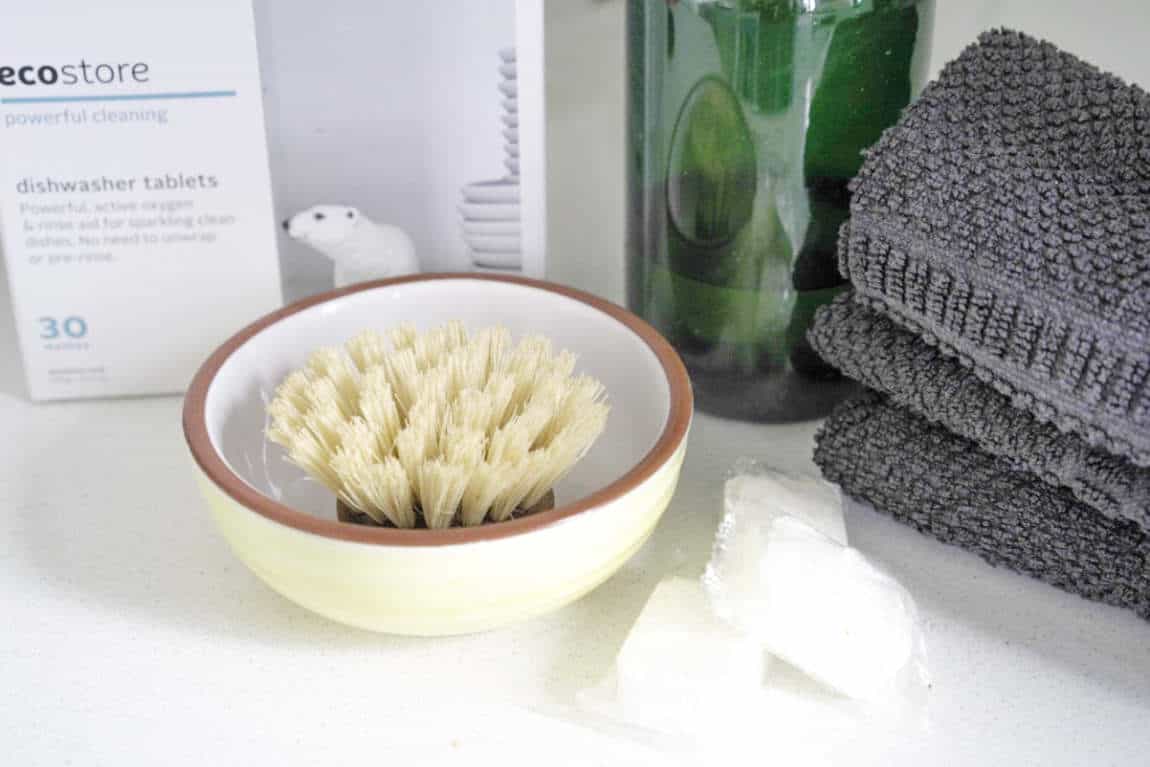 Just because you've gone zero waste and avoid plastic bottles with chemical based household cleaners, doesn't mean you can't keep your kitchen sparkly clean.
Check out our article for a more in-depth look at zero waste cleaning brands that put the sustainable in sparkle.
To wash dishes, ditch the plastic bottle and switch to zero waste dish soap. Alternatively, you can opt for zero waste bulk soap, which you can now find at many grocery stores.
Pair this with an eco friendly sponge or loofah alternative, which (fun fact) both being organic are 100% compostable and washable.
Just be aware that sea sponges are in fact animals. Which begs the question are sea sponges ethical?
Without a nervous system, we think so. But others, especially strict vegans, may think otherwise.
If you have a dishwasher, there are quite a few plastic free eco friendly dishwashing tablets available.
Sometimes they leave something to be desired (along with bits of crusted food…); we learned this when we experimented with the dishwashing tabs from our local bulk store. Not the best, but worth a shot.
So instead, we switched to the next best thing: Dropps dishwasher pods.
The brand uses exclusively plant-based ingredients, manufactures in the United States, and does not support the use animal testing. They also come in a cardboard box which can be composted or recycled easily.
Lastly, to keep countertops clean and bacteria free with a simple, all-purpose zero waste cleaner you can make out of just vinegar diluted with water.
Vinegar can be tough to find in bulk so otherwise consider using another all-purpose eco friendly cleaning product.
---
9. ADD A PINCH OF RECYCLING TO YOUR RECIPE
Recycling statistics are extremely grim, we know.
While zero waste living strives to go beyond basic recycling, sometimes it's inevitable. This is especially true in the kitchen considering it's nearly impossible to buy only food that's purely zero waste.
Just do the best you can and be responsible about the rest. Rather recycle than not.
Be sure to check your local council guidelines about proper recycling procedure for your area. Learn what things can and can't be recycled, sort it properly, and cleanse food out the recycled container (food contamination ruins whole recycling batches!).
You will be so surprised about what can actually be recycled – for example, we can recycle soft plastics at our local supermarket and our council has a recycling facility where we can take polystyrene, batteries, lightbulbs, electronic waste and metals (like old cooking pots and eco friendly dinnerware).
Most of these items can be recycled through Terracycle. You can buy your own Terracycle zero waste box and fill it up over time to be recycled.
So before you chuck it in the trash, be sure to check if there is a path that avoids landfill first!
---
10. KEEP YOUR ZERO WASTE KITCHEN DESIGN MINIMAL
We know, we know: Bed, Bath, and Beyond (and similar stores) are so much fun.
Yet most of their nifty kitchen gadgets are completely unnecessary.
They're engineered to make super specific tasks only slightly easier. Don't fall for the gimmick and buy things you don't need.
Seriously: you do really need a dipper for your cookies?!
Use what you have instead and wait until it really dies before replacing it with quality eco friendly cookware. We highly recommend adopting a minimalist mentality.
We call this the slow tech philosophy, which basically boils down to the simple rule of thumb: if you don't need it, don't buy it. If you do buy it, make it worth it and make it last.
Plus, nothing makes a kitchen look more cookworthy than a clean, minimalist appearance.
---
FINAL THOUGHTS ON YOUR ZERO WASTE KITCHEN
You may have noticed many of things on this list are also found in our zero waste kit and that's no coincidence.
Creating a zero waste kitchen is a pretty seamless integration with basic zero waste tips, tricks and hacks. Kitchen's are after all the center of waste within most households!
Now we're not saying this is the perfect recipe to a zero waste kitchen, but we think it tastes pretty darn good.
So channel your inner Chef Gordon Ramsay and tell waste to "F*?# off out of my kitchen". You're the master chef of your own zero waste journey, after all.
We hope this guide will help get you one bite closer to that sustainability soufflé you've been dreaming of. Let us know if this is useful or if you have an amazing tip to share that we should add to this list!
We love to hear your comments, questions, tips, recipes, whatever! Drop us a comment below.
---