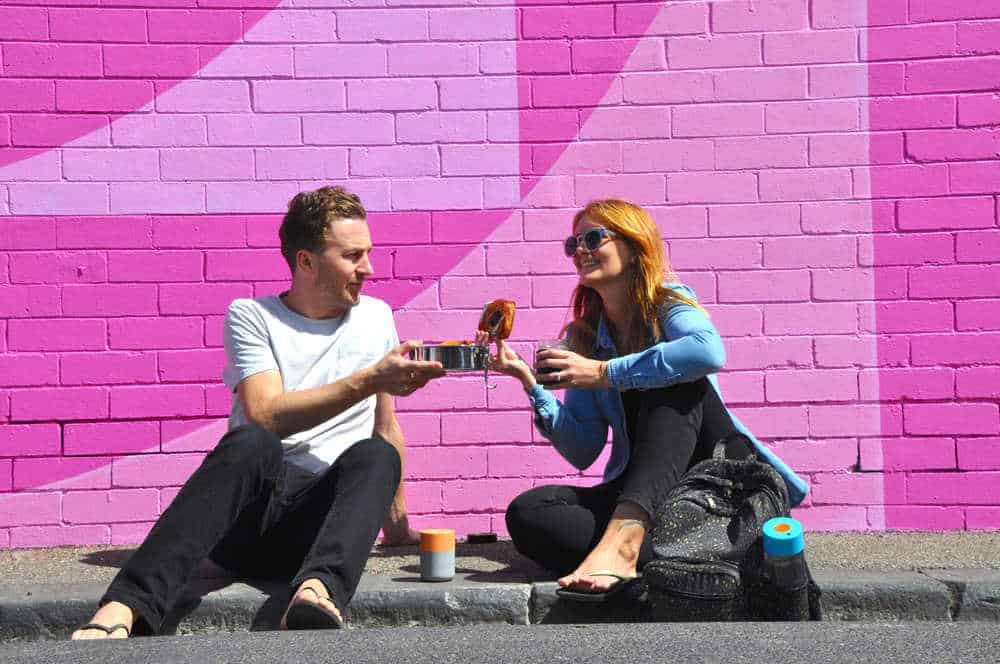 The Zero Waste community is special.
A group of supportive, inspiring individuals looking to change the world. Taking the path less traveled, they're challenging the status quo. Thanks to them, a life of less stuff (and particularly waste) is becoming more in vogue than ever before.
Maybe you've seen A Plastic Ocean or Blue Planet II. Perhaps you've even seen your own neighborhood in need of change or even your own home. 
Well, thanks to these individuals, conscious consumerism and living a less wasteful or zero waste lifestyle is now becoming a well-trodden path. There are guides, maps, hacks, plans, challenges and beautiful pictures to help get you on your way.
We wanted to share some of the best zero waste blogs that have inspired us on our own zero waste journey. These individuals have also inspired tens of thousands (dare we say, millions?) around the world.
To the ultra-busy folk, the following quick links are for you!
QUICK LINKS FOR ORIGINAL ZERO-WASTE BLOGGERS
QUICK LINKS FOR UP AND COMING ZERO-WASTE BLOGGERS
THE ORIGINAL ZERO-WASTE BLOGS
About Zero Waste Home
Bea Johnson is THE OG of Zero Waste.
She's a French Native now living in California with her family.
Her "vocation is to shatter mis-conceptions associated with the Zero Waste lifestyle, proving that waste-free living can not only be "stylish", but also lead to significant health benefits, and time and money savings".
Useful Resources on Bea's Blog
One of the most comprehensive resources on Zero Waste is Bea's book: Zero Waste Home. Which has now been translated into 20+ languages!
Bulk Finder app which we've used dozens of times when travelling to new places.
Recommended products to get you started on your journey (with the reminder to try find second hand first!).
About Trash is For Tossers
Even though Bea Johnson did it first, Trash is for Tossers (TIFT) founder, Lauren Singer (as far as we could tell) really made the trash jar famous.
If you haven't seen it, watch this video to see what we mean.
Lauren was inspired by Bea and decided to "live like I love the environment". She is super active on Instagram and pretty damn inspiring.
Her blog is jam packed full of great ideas, very specific 'how to do X' articles and videos.
Some of our favorite posts
About Going Zero Waste
Going Zero Waste founder, Kathryn Kellogg started her journey after a health scare and now wants to "help others improve their personal health, improve the health of the planet, and most importantly I wanted everyone to know their choices matter".
Together with her husband and doggy, she provides uplifting support and guidance to her community. She says "it's not about perfection; it's about making better choices". We couldn't agree more…
Particularly useful posts/resources at Going Zero Waste
About Wasteland Rebel
We highly highly recommend reading the Wasteland Rebel About us page and dare you to not be inspired.
Founder, Shia is one of the most down to earth bloggers we've had the pleasure of doing a zero waste collaboration with and her story is so relatable.
We especially love that she and her husband Hanno are into the simple stuff that works – no fluff, guff or unnecessary stuff. She is also exhaustive in her research on greenwashing claims. If Shia says it, you'd better believe it.
She covers all things waste-related (we were really inspired by her thoroughly researched article on dental floss, for example and there's a lot more of those on her site).
Some select ideas from Shia's list of helpful posts
About Moral Fibres
"Sustainable Living that's hip, not hippie".
Wendy is another one of our favorites 🙂
She's been blogging about how to live a greener life for years. She's tried and tested all the tips, tricks and hacks (and believe us there are many) to living a less wasteful life.
She covers basically all the categories of life, from health & beauty  to food & drink to families and much more.
We've also had the pleasure of doing a collaboration with her too on how to compost in a flat. 
Like Shia, she is as real as you get, she's like you and me and even better – she breaks down her years of wisdom into easy to understand and actionable, takeaway steps.
If you never visited another zero waste blog, you'd be absolutely fine 🙂
THE ZERO WASTE BLOGGING UP AND COMERS
The up and comers are customizing and strengthening a library of zero waste resources, often for their local area but also applicable to everyone. They are creative and resourceful and definitely worth learning from.
About Reusable Nation
Full disclosure, these guys are our great friends!
They are also awesome.
Reusable Nation founders, Vix and Dave, are originally South African and grew up with a deep respect for the environment. We can personally confirm that they have taken their path to Zero Waste living very seriously and based on their very fast rise on Instagram, they are also providing a huge amount of value to many people through their ultra-practical daily advice.
Today, they are based in Melbourne Australia and have the place scoped for Zero Waste everything (including the low-down on local recycling).
Some examples of their very specific and helpful resources
About Eco Boost
Here's a great one for those in London!
Kate Arnell was one of the first people to inspire us to live more consciously while we were living in London.
She's super upbeat, doesn't take herself too seriously, has some very useful and inspiring blog posts and a fun YouTube channel with practical how to guides on how to do things greener.
About The Rouge Ginger
The Rogue Ginger is Erin Rhoads, another Melbourne-based Australian Eco-lifestyle blogger who writes about all things zero waste and like Reusable Nation provides some really good, detailed local zero waste knowledge.
She also helps to create change by having a voice on things like policy change in Australia. She often appears on radio and like many of these knowledgeable bloggers, Erin has also written a book and runs events around Australia.
Find some of Erin's good stuff here
About Litterless
Celia from Litterless [we see that play on "Limitless" – nicely done] writes
"about striving for zero waste both imperfectly and joyfully, as a way to work toward a more sustainable future. In addition to blog posts, the "Where to Shop" and "Where to Compost" guides can help you find local zero waste resources in your community."
Her blog and Insta is ultra-minimalist and pretty.
Visit Litterless if you want to be inspired by the beautiful side of less of everything!
Here's some handy resources form Celia
THE SPECIALIST ZERO WASTE BLOGGERS
These folks are specialists in that they've taken the zero waste ethos and made it their own by infusing it with their passions and skills. Great resources for those looking for specific resources.
About Zero Waste Chef
In addition to the usual zero waste good stuff, Anne-Marie Bonneau focuses on going zero waste in the kitchen.
Food waste is a huge problem in our extra consumptive societies so thinking about zero waste from a food perspective makes a ton of sense.
The absolutely best thing about this blog is the recipes and menus – we will be trying all of these in due course!
About Zero Waste Guy
Ok, to be fair, being a "guy" isn't "specialist" but we needed to put the LA-based Zero Waste Guy (Jonathan Levy) somewhere different because he does seem to be one of very few men talking about zero waste (where's the gender diversity guys?).
We like that Jonathan builds waste considerations into his work and has a nice repertoire of impact in this regard.
Jonathan writes about how to waste less and provides amusing and/or matter-of-fact commentary on environmental related news. His Insta also provides some nice inspiration from a slightly different perspective.
Some examples of Jonathan's helpful articles
FINAL THOUGHTS ON BEST ZERO WASTE BLOGGERS
Considering the inspiring bloggers on this list, the zero waste community can surely only get stronger.
Importantly, these leaders are creating a whole eco-army of micro changemakers who are influencing their family, friends, neighbors and people in their local communities.
It takes a whole lot of good work to make behavioral change like this happen on a global scale. We hope you found some inspiration from these individuals to go out there and make your own change!
Tell us in the comments… who inspires you when it comes to wasting less?
Other articles you might like …