Organic Baby Toys for Non Toxic & Planet-Friendly Playtime
Who's ready for playtime with peace of mind?
Every new parent ever, obviously.
As a new, (and most probably hyper-concerned) parent, you want to do all you can to keep your baby safe and healthy.
And yet, as the New York Times expose showed, common baby products might be standing (or crawling) in the way of that goal. Flame retardants, and a slew of toxic chemicals, which are not always regulated, are often found in baby essentials.
It's hard—some might say impossible—to minimize all the risks to your baby, but a good place to start is what ends up in their mouths: toys.
Fortunately, playtime need not be a risky business.
We've explored what it means to raise a zero waste baby, but what about zero fuss babies?
You know, a baby playing happily with their new non toxic and organic baby toys.
Here's a taste of the brands behind these healthy alternatives.
Founded by a mom, Lovevery's toys for every level of development are produced by a team of mostly-women scientists and doctors. Bears for Humanity is a nonprofit that sells organic teddy bears made in the USA by at-risk women.
And if you're looking for wooden toys, Noble makes theirs from recycled and organic rubberwood.
Our natural organic baby toy box is full of other brands we recommend, but first, be sure to crawl to the bottom to check out the process we used to find them.
*This post contains affilate links
QUICK LINKS FOR THE BEST ORGANIC BABY TOYS
---
1. FINN + EMMA
About Finn + Emma
The brand Finn + Emma believes in the power of organic.
Favorited by Vogue magazine, this sustainable baby brand has been turning heads (even if their main clientele can't lift them yet).
They have a range of some of the best organic baby toys to enter eco-friendly cribs around the globe (right alongside their organic play mats).
Whether knit or wooden, they'll surely have what you need to keep fussing at bay and protect our planet at the same time.
Fill your own nursery or give the perfect baby shower gift with any one of their knit baby toys, wooden baby toys, macrame toys (including swings), baby stroller toys, and organic cotton baby swings.
Don't forget the macrame toy hanging basket to keep the baby's room looking tidy during nap time!
Finn + Emma's Ethical and Sustainability Practices
Materials:
The knit and macrame toys are made with GOTS-certified organic cotton dyed with non-toxic and eco-friendly dyes.
Many of these organic cotton toys contain a phthalate-free plastic rattle inside. Be sure to remove this if you ever need to compost the toy.
Their wood is Indian harwood that's untreated, non-toxic, and finished with an eco-friendly vegetable seed wax.
No matter what you choose, you won't be bringing home anything toxic.
All of Finn + Emma's natural organic baby toys are free of petrochemicals, PVC, acrylic, and phthalates.
Supply chain & labor practices:
Their knit toys are handmade in Peru in an artisanal women's collaborative. The wooden and macrame toys (and swings that are a combination of both) are ethically made and hand-knotted in India.
Not only is Finn+Emma operated by an executive team mostly made up of women, but they also try to partner with female artisans around the globe.
Through providing empowering and ethical livelihood opportunities, they aim to support social wellbeing in impoverished communities.
Green business practices:
The toys, particularly the wooden ones, are designed to last a lifetime. If another babe isn't in the plans for you, make sure you pass it on to a family in need.
Finn + Emma has featured in an article on organic sustainable baby clothes.
---
2. MERI MERI
About Meri Meri
Meri Meri has one goal: "To preserve the wonder of childhood throughout a whole life."
"[…] We design beautiful playthings for little people. They can make friends with mermaids, pirates and unicorns. They can discover a world at the end of a rainbow. They can turn a room into a wild jungle or fairy wonderland."
Play is their priority, and they're cultivating it in a careful and conscious way. Which is not to say boring!
They have all you could need to spell F-U-N for all ages. For especially little ones, this woman-owned company sells a range of organic cotton baby toys, like stuffed animals, rattles, musical toys, and mobiles.
Meri Meri's Ethical and Sustainability Practices
Materials:
Knitted organic cotton is the apple of Meri Meri's eye, and the primary material in their organic baby toys. The only other materials you find in some are an elastic band or a wooden grip ring.
All of these safe non toxic baby toys meet relevant Canadian, EU, and US standards for safety.
Supply chain & labor practices:
Meri Meri works with a range of illustrators, designers, and crafters who are inspired by classic and on-trend designs from around the globe.
We're not sure where the toys are manufactured, so we'll reach out to find more.
---
3. LOVEVERY
About Lovevery
Playtime is much more than "play" with Lovevery.
Their products are specifically designed by experts and help to facilitate stage-based play.
Baby brains have about 100 billion nerve cells, with essential links between them developed during the first three years of life.
Certainly highlights the need for non toxic baby toys, right?
It also means we should be intentional about the kinds of toys we give to our baby at different ages, which in turn will stimulate the right kinds of brain development.
What makes theirs some of the best non toxic baby toys for learning? The targeted design of each toy for a particular stage of your baby's development.
This care and consideration have earned them several accolades, including having been voted by Time Magazine as one of the Best Inventions just a few years ago.
Choose between play kits (based on a subscription service), play gyms, block sets, and other types of playthings.
Lovevery's Ethical and Sustainability Practices
Materials:
Lovevery's toys are crafted using sustainably harvested FSC-certified wood (with a non toxic and eco friendly finish), OEKO-Tex certified organic cotton, medical-grade silicone, and baby-safe BPA-free plastics.
Take the Play Gym, for instance.
It's a Parent's Choice award-winning gym that includes an organic cotton ball, sustainably sourced batting ring, organic cotton teether, a mirror card set, a black and white card set, a faces card set, a common objects card set, and teething rings made from silicone.
All of it is backed by science and exceeds global safety standards, being free from flame retardants, lead, BPA, and phthalates, and is better for the planet.
Supply chain & labor practices:
All toys are designed in San Francisco, California or Boise, Idaho before being manufactured in Ningbo, China.
This manufacturing partner is committed to sustainable and ethical production and safe working conditions.
Green business practices:
You'll receive your wooden and organic baby toys courtesy of carbon-neutral shipping. They support Green-e® certified renewable energy to offset all scope 2 emissions.
They also recently launched a new climate commitment program which includes goals like launching a second-hand marketplace by 2023, have 90% of materials in both products and packaging be renewable, biobased, or recycled by 2025, and achieve full carbon neutrality by 2030.
---
4. NOBLE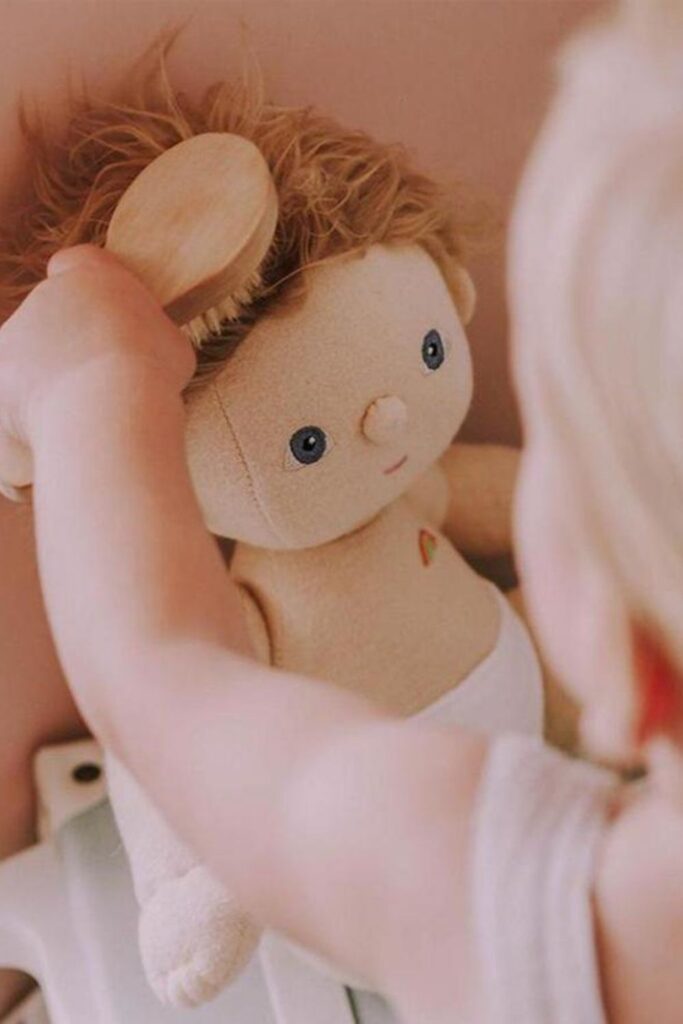 About Noble
Noble only works with noble brands and people who together make products that support a healthy baby and a healthy planet.
Organic is the starting point, but the organic baby/kids clothes and toys must also meet three of the following criteria: fair trade, made-in-the-USA, locally-made, and/or handmade.
Ethical credentials aside, their toys are cute, clever, and will likely inspire you to join in on playtime.
What better way to bond with your baby?
Between wooden toys, water toys, dolls, stuffed animals, alphabets, numbers, and sets, minds and attention spans are sure to be occupied for hours on end.
Aside from being made of safe materials, everything is safety tested, too.
Noble's Ethical and Sustainability Practices
Materials:
The organic wooden baby toys are made from recycled or sustainably-sourced organic rubberwood. They're treated with water-based dyes, organic pigments, and formaldehyde-free glues.
The stuffed animals are made from either 100% GOTS-certified organic Pima cotton or 100% OEKO-TEX certified cotton. All are stuffed with natural carded wool or a hypoallergenic polyfill.
For biodegradable reasons, we recommend sticking to the wool-fill.
Supply chain & labor practices:
Noble partners with producers and artisan groups in the USA, Thailand, and Canada who create the toys in fair trade conditions.
We'll be reaching out to learn more on what sort of standards and certifications they have to support these claims.
Green business practices:
As a part of their sustainability strategy, Noble seeks out manufacturing partners with short supply chains to keep things local so as to reduce transport emissions.
Inclusivity:
There are a lot of dolls with white faces out there, so we were excited to see POC-dolls that represent a more inclusive view of the world. They come in a unisex outfit, too.
Available: Noble
---
5. ETSY
About Etsy
We're sure you're familiar with Etsy, especially if you're a regular reader of ours.
They're a good place to source eco friendly Etsy gifts, support black owned artists, and purchase nearly anything under the sun.
Small business owners far and wide love the platform, and we do too.
As you would expect, there's no shortage of organic baby toys on Etsy, but there are a few baby-oriented Etsy shops we're especially excited about:
Etsy's Ethical and Sustainability Practices
Materials:
For those that use wood (which is most of them), there are several types of organic, reclaimed, and natural wood that goes into these toys, including cherry, maple, walnut, and more.
Some of the Etsy shops finish their organic baby teething toys and rattles with organic camelina oil, olive oil, and beeswax, along with "good vibes and happy thoughts" (in Smiling Tree Toys' case).
Finch and Folk uses GOTS organic cotton sateen, OEKO-TEX certified polyester padding, and eco water-based ink for the organic baby plush toys and map rugs. Some even feature Indigenous artwork.
Supply chain & labor practices:
While there are a lot of supply chains to cover there's one thing consistent among these Etsy shops—they're all owned and operated by mothers!
In many cases, the non toxic baby toys made in the USA are handcrafted right there at home, in a garage, barn, or at the kitchen table.
The only exceptions are some of the organic cotton mats and rugs from Finch and Folk, which are ethically produced in India or China.
Green business practices:
Some of the shops ship their toys in reusable cotton drawstring bags.
Don't forget that all shipping from Etsy is carbon neutral too.
Inclusivity:
Many of the toys sold by these brands are also designed to be gender-neutral.
Community & charitable giving:
We like Smiling Tree Toys' motto: "Kids don't need all the things. Let's give them meaningful, long-lasting toys that encourage creativity, create lifelong memories, and green the earth."
In their case, they do that and more, by planting a tree with every purchase.
---
6. OUR GREEN HOUSE
About Our Green House
Pam and Mike Davis, the owners of Our Green House, wanted to fill their home with healthy and safe products, especially after they started having children.
Their search evolved into taking charge of making the products themselves.
Now the family-first company specializes in baby gift baskets filled with natural and organic baby toys.
They've got a whole section of organic fabric toys to choose from, including teddy bears, stuffed animals, dolls, and rattles. As well as natural wooden baby toys like teething toys, bathtub toys, ring toys, rattles, and more.
Our Green House's Ethical and Sustainability Practices
Materials:
Our Green House makes it easy to shop exclusively organic. Their handmade range is made with knit organic cotton yarn, some of which is also fair trade.
While all have an organic outer, some are filled with an OEKO-TEX certified polyester stuffing, so do dispose of these carefully when the time comes, composting the outer shell only.
When it comes to wooden toys, theirs are made of the highest quality wood and finished with non-toxic materials completely safe for the teething tot.
Supply chain & labor practices:
Our Green House treats all employees like family, and encourages them to work from home, adapting their work schedules to put their own families first.
Women also make up nearly its entire leadership team.
Going global, they prioritize fair trade producers who support the wellbeing of their artisans. For example, the collective in Istanbul responsible for some of their organic stuffed animals employs talented stay-at-home moms who are supported with fair trade wages.
If you're looking for organic baby toys made in the USA, they have a search function to help you find exactly that.
---
7. UNDER THE NILE
About Under the Nile
Under the Nile was started by a mom on a mission: to produce clothing that doesn't irritate sensitive baby skin or our planet.
Which is precisely what they've been doing for more than 20 years… and we're thankful they've added toys to the mix.
Crying babies will fuss no more when they get their hands on a stuffed animal, doll, fruit, vegetable, star, or even taco.
And you'll fuss no more when you realize these are all safe non toxic baby toys made from the softest organic cotton.
Under the Nile's Ethical and Sustainability Practices
Materials:
GOTS-certified organic Egyptian cotton is what you'll find in all these organic cotton baby toys. Some are even made with leftover scraps from the production of Under the Nile's clothing.
All are free of BPA, flame retardants, AZO dyes, formaldehyde, PVC, lead, and fragrance.
Supply chain & labor practices:
As the name suggests, Under the Nile partners with an organic cotton farm north of Cairo. The farm prioritizes the wellbeing of their farming community, and so does Under the Nile.
Their 13 Villages Project supports women in rural villages by teaching them how to make the fruit and veggie toys.
Through consistent, empowering, and supportive livelihoods, the women artisans are able to use their income to transform themselves, their families, and their communities.
All workers are valued—whether they're a custodian or a manager— and all factories are certified Fair Trade.
Green business practices:
The Egyptian cotton used by Under the Nile isn't just GOTS-certified organic; it's biodynamic.
Biodynamic farming doesn't use fertilizers (even organic-approved fertilizers) and instead builds soil fertility. It's like organic 2.0, bordering on regenerative farming.
Inclusivity:
Under the Nile is a woman-owned business that is committed to supporting women.
Their Egyptian factory is made up of 30% women, all of whom are supported with education, advancement opportunities, and support to help them fight for gender equality—even when it runs counter to Egyptian society.
Through their initiatives, the interactions between men and women workers have become more respectful and have allowed women to take on management roles, virtually unheard of in the region.
Community & charitable giving:
Under the Nile supports SEKEM's Chamomile Program, which provides meals, healthcare checkups, and clothing to children who pick flowers.
They receive a full day's wage for half a day of work harvesting chamomile before school.
The program was started decades ago when children approached the farm to ask for work. SEKEM initially refused them, but after realizing that they would turn elsewhere (to far more dangerous employers), they created an alternative.
In this region, poverty and child labor are both rampant, and providing full-time wages to the children is considered to be one of the few ways parents would agree to let them go to school. The Chamomile Program was even approved by the Egyptian government.
Under the Nile also supports a daycare and a special needs program offered by SEKEM.
---
8. BEARS FOR HUMANITY
About Bears for Humanity
Like many of these non toxic baby toy brands, Bears for Humanity was started by a mother.
When Renju Prathap brought her twins home, her priorities immediately shifted to providing her babies with the healthiest alternatives.
Renju recalls a cherished memory of receiving a much-loved teddy bear from her older brother. She wanted to provide the same for her son and daughter but was shocked to discover finding an organic teddy bear was impossible.
While polyester is cheap and easy to process, organic faux teddy fur is much more difficult.
But Bears for Humanity overcame the odds and brought the quintessential baby toy into the world of organic products.
If your baby isn't beary excited about bears, they have other organic plush animals, too.
Their crib can become a full-on zoo complete with jungle animals, aquatic animals, and farm animals.
Bears for Humanity's Ethical and Sustainability Practices
Materials:
GOTS-certified organic cotton and recycled PET (rPET) are what make up the bear fur and filling.
Even though polyester is found in the toys, your baby will not be in direct contact with it.
The organic plush baby toys are totally safe, BPA-free, and make use of the millions of water and juice bottles and caps that enter landfills every day.
Supply chain & labor practices:
These organic teddy bears are produced in Northern California, close to where Renju's twins are growing up.
Bears for Humanity partners with CalWorks, an employment program, to provide at-risk mothers with stable employment at a fair trade compliant living wage.
The company is World Fair Trade certified.
Community & charitable giving:
That teddy bear becomes even more snuggly when you realize that through Bears for Humanity's Buy One – Give One model, a bear gets donated to a needy child for every purchase.
These bears provide comfort to more than a quarter of American children living below the poverty line.
Bears for Humanity recently became an official nonprofit organization.
---
9. WILD DILL
About Wild Dill
Wild Dill is a woman-owned-and-operated independent retailer for all things good and natural.
They make it easy to shop for organic, eco friendly, and fair trade baby products.
Wild Dill's range of American made organic baby toys is a pretty big deal.
While they're not all made in the USA, many are.
The rest of the selection of wooden toys, rattles, blocks and stacking toys, food toys, and stuffed animals still gets an A+ from us.
Wild Dill's Ethical and Sustainability Practices
Materials:
We're wild about Wild Dill's handmade organic plush baby toys.
Aside from being adorable, they're made with hypoallergenic polyfill and GOTS-certified organic cotton yarn.
Some other toys, like their play blocks, are made with a GOTS organic cotton fabric filled with eco corn-derived PLA. These are printed with non-toxic ink.
Their food range toys are made with 100% cotton and all wooden toys with unfinished sustainably-harvested local hardwood.
Supply chain & labor practices:
The stuffed animals are made by stay-at-home moms in Istanbul.
Wild Dill helps to support nearly 80 of these women, many of whom are Syrian refugees, with fair trade wages and safe working conditions.
Their food-themed stuffed toys have an equally-exciting back story. They're made by a non-profit fair trade organization in Bangladesh that employs rural, disadvantaged women.
Some products are also made in the USA.
Community & charitable giving:
Every purchase supports the Fruit Tree Planting Foundation, a non-profit that plants fruit, nut, and medicinal trees in communities around the world to combat hunger.
---
HOW WE FOUND THE BEST NON TOXIC BABY TOYS?
As we have done with eco friendly toys, we apply these principles to postpartum shopping.
Materials:
Soft and snuggly sustainability is made possible through the use of organic (or even biodynamic!) cotton.
Organic cotton is one of the safest and most sustainable fabrics out there. It's also a great foundation for organic washable baby toys which can be especially useful when you baby learns how funny it is to throw food.
Keep in mind that organic cotton toys are often filled with something else, like BPA-free rattlers or filling made from safe-certified or recycled polyester, plant-based PLA, or ethical wool.
For teething toys and non toxic bath toys for baby, we looked for those made with safe plastics or sustainably-sourced/recycled wood.
A safe base isn't good if it's treated with nasty chemicals, so we found ones coated with an eco-friendly vegetable seed wax or beeswax (avoid the latter if you're after organic vegan baby toys).
Regardless of the material, safety was the biggest consideration.
All these toys either meet or exceed safety standards and are explicitly free of phthalates, BPA, petrochemicals, PVC, flame retardants, lead, formaldehyde, and more.
Supply chain and labor practices:
No tears shed for transparency here!
We love that most brands opened up about who's making their toys—which usually revealed fair trade artisan collectives or organizations working with at-risk or impoverished women.
Green business practices:
It might get lost under the couch for years, but these toys are designed to last a long time.
Long enough to stick around for your baby to become "too old to play with said toys" before once again appreciating them as an adult. Or to be passed down to younger siblings and friends bringing their own bundles of joy into the world!
Inclusivity:
Inclusivity may not seem like an important criterion for toys, but remember, a baby's first years are the most formative of all.
That said, we were happy to see gender-neutral and racially inclusive toy options. We're also thrilled to see so many women-owned businesses and women leadership teams.
Community & charitable giving:
Playtime with a purpose. Some of these brands are giving back by planting trees, providing livelihood opportunities that go way beyond fair trade, and donating toys to children in need for every product purchased.
Information on the industry and why buying ethical is the way to go…
---
FINAL THOUGHTS ON NON TOXIC AND ORGANIC BABY TOYS
Play should be fun (and safe).
But toxic chemicals, exploitation and environmental degradation make it significantly less so.
It's time we put the fun in eco-fun-dly.
As these makers of organic and non toxic baby toys have shown us, a toy can contribute so much more than just a few giggles.
It can provide sustainable employment for those in need. It can give back by planting trees. And it can help start your baby's development off on the right hands and knees.
If playtime with peace of mind is on anyone else's priority list you know of, feel free to spread the word and let's support these non toxic baby toy brands.
---