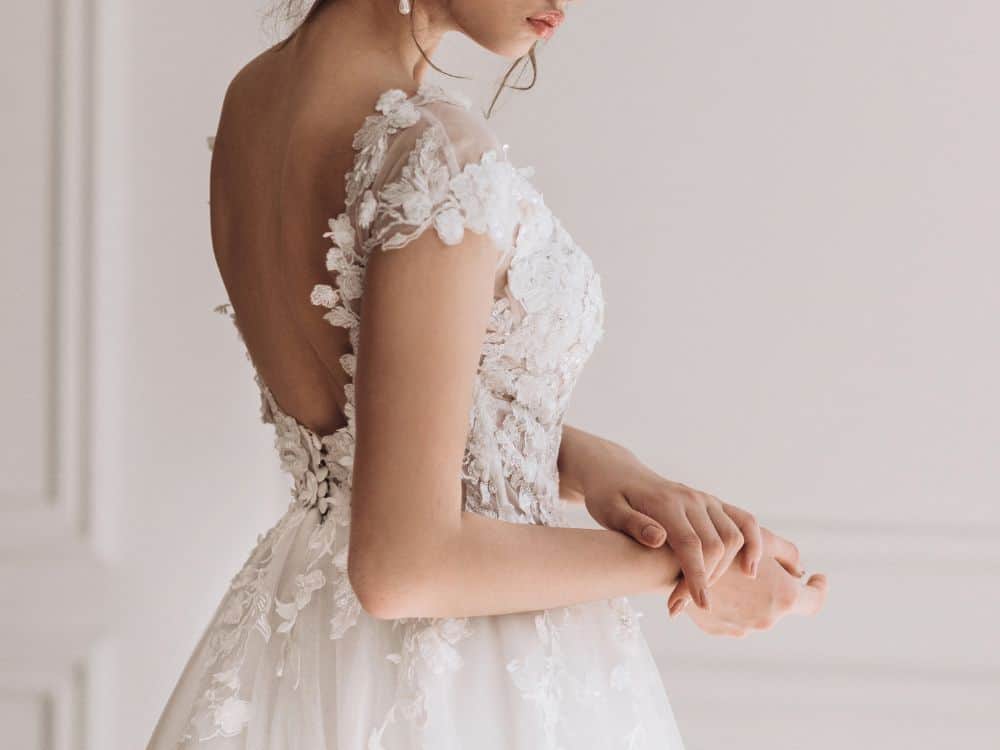 What to Do With Old Wedding Dresses: 11 Recycling Ideas To Take It From Sentimental to Sustainable
Your wedding day was undoubtedly one of the most memorable days of your life, and your wedding dress played a significant role in making it so.
But at some point, once the celebrations and honeymoon are over (of course), you'll inevitably wonder what to do with your old wedding dress.
Do you pack it away in a box, donate it to a charitable cause, or recycle the wedding dress creatively?
After all, there's no reason why you can't keep the memories of your special day alive in a meaningful and creative way—instead of gathering dust in the back of your otherwise minimalist wardrobe.
That's why we're tackling what happens beyond the Big Day with some of the most popular and unique wedding dress recycling ideas, so you can turn any retired wedding dress into a sustainable wedding dress.
Ideas On What To Do With Your Old Wedding Dress
---
1. Where To Sell Old Wedding Dresses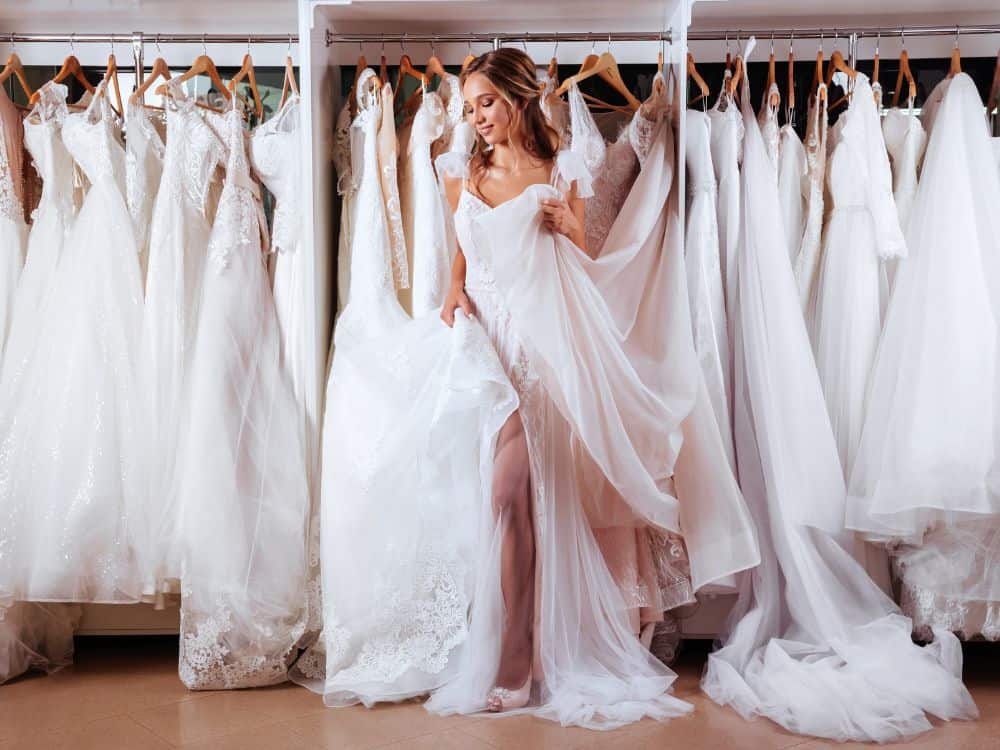 Selling your wedding dress might seem like a daunting thing to do, but what better way to make sure it continues to be loved than to let it make another blushing bride feel beautiful?
Are used wedding dresses worth anything?
Absolutely! Even if you're asking, "What can I do with my 30-year-old wedding dress?", there is a huge market featuring old wedding dresses for sale. Modern or vintage, it makes no difference.
If you're feeling the post-wedding pinch, it's the perfect way to make some cash back while helping someone else avoid a little of the financial pressure of wedding planning.
As if often the first choice for what to do with old clothes in good condition, check out any local consignment options first because it avoids the dreaded shipping carbon footprint. You'll get paid if and when the store sells your dress.
They'll probably accept old shoes from your wedding, too.
If there's nothing near you, there are plenty of wedding-specific websites to help you sell your used wedding dress with ease:
Other generic platforms to sell clothes online—like eBay and Poshmark—deal in wedding dresses, too, though you might not get as much value from these less focused online thrift stores.
---
2. Where to Donate Old Wedding Dresses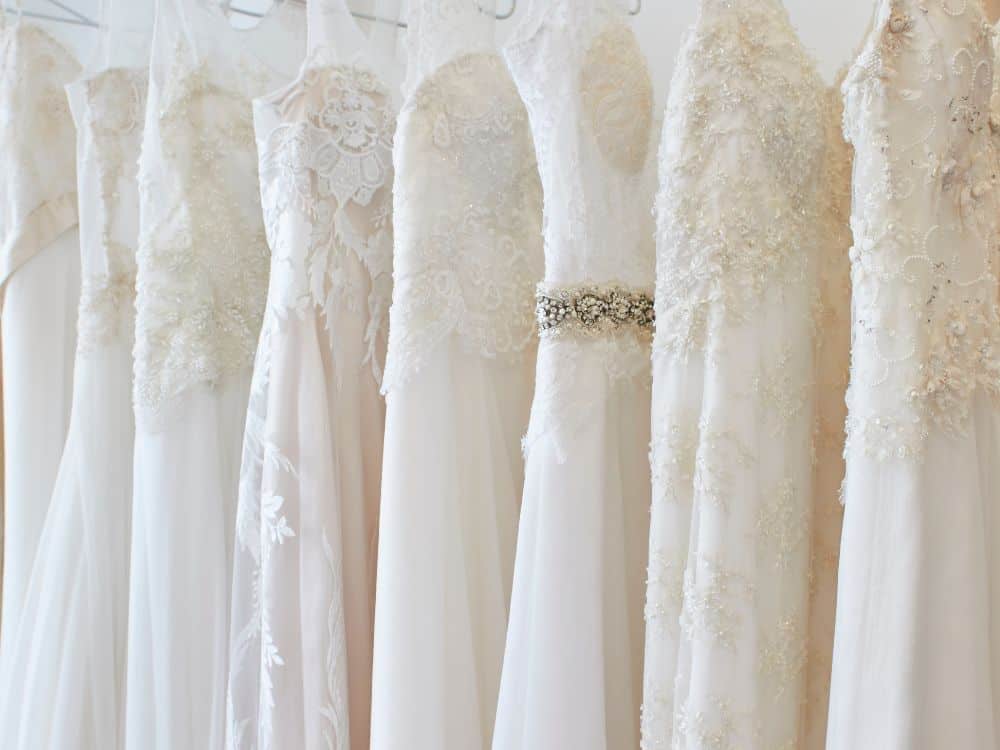 If money isn't a concern for you, an excellent wedding dress recycling option is to donate your precious wedding dress to brides in need.
This is a meaningful way to give back and help out someone who might not be able to afford their wedding dress.
The Salvation Army, Goodwill, and other local thrift stores will gladly accept wedding gown donations. Knowing your wedding dress will be well-loved over again and helping out a bride on her big day is a true win, win.
If you're struggling to find a local answer for where to donate vintage wedding dresses, try these options:
Donate your wedding dress to local theaters and performing arts programs to add to their costume repertoire. Maybe you'll get to see it onstage in an upcoming production of The Wedding Singer!
---
3. Ways To Repurpose Wedding Dresses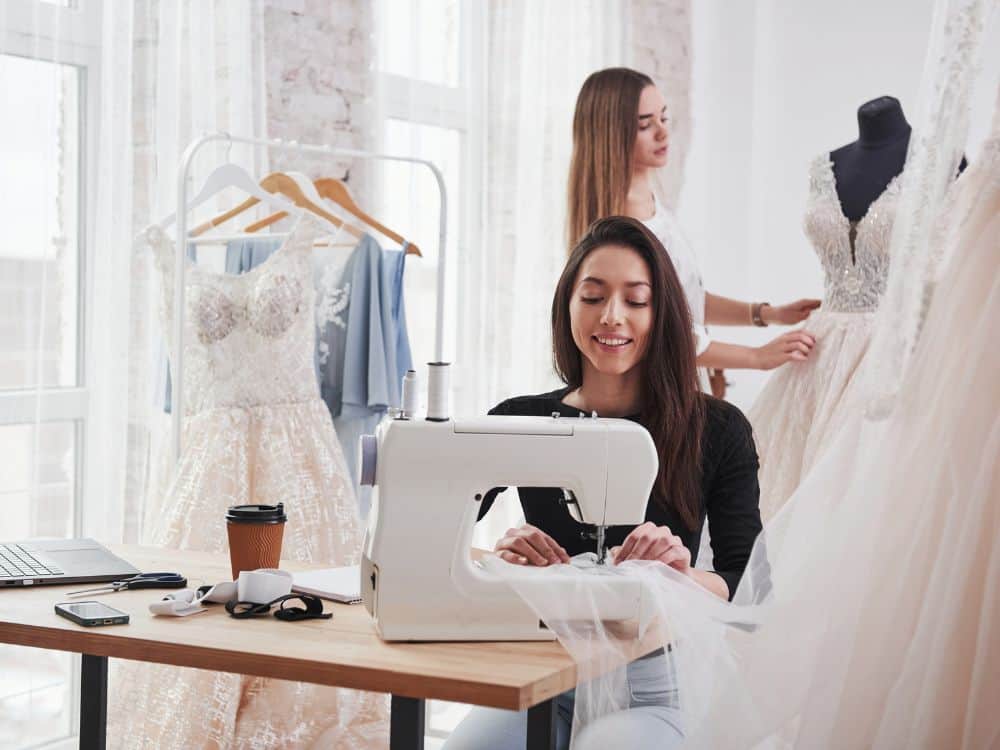 It's perfectly understandable that you don't want to part with this core memory from your happy wedding day.
Fortunately, recycling wedding gowns doesn't necessarily mean letting them go or even removing them from your wardrobe.
Consider working with a seamstress or tailor to create a new item of upcycled clothing. There's no reason why you shouldn't wear your restyled dress all over the place after its initial debut.
You could dye it a new color and transform it into a beautiful gown or cocktail dress fit for any number of special occasions.
However, not all fabrics and embellishments dye well. Lace, for example, is permeable and won't soak up color. Silk, on the other hand, usually takes dye very well. If you're not sure what to do, look for a professional.
Another popular way of recycling wedding dresses after the wedding is to commission a custom christening gown or flower girl dress, for which white is also the preferred color. There's likely to be extra fabric to work with, so keep the leftover fabric for any future additions to your family.
---
4. Ways To Upcycle Wedding Dresses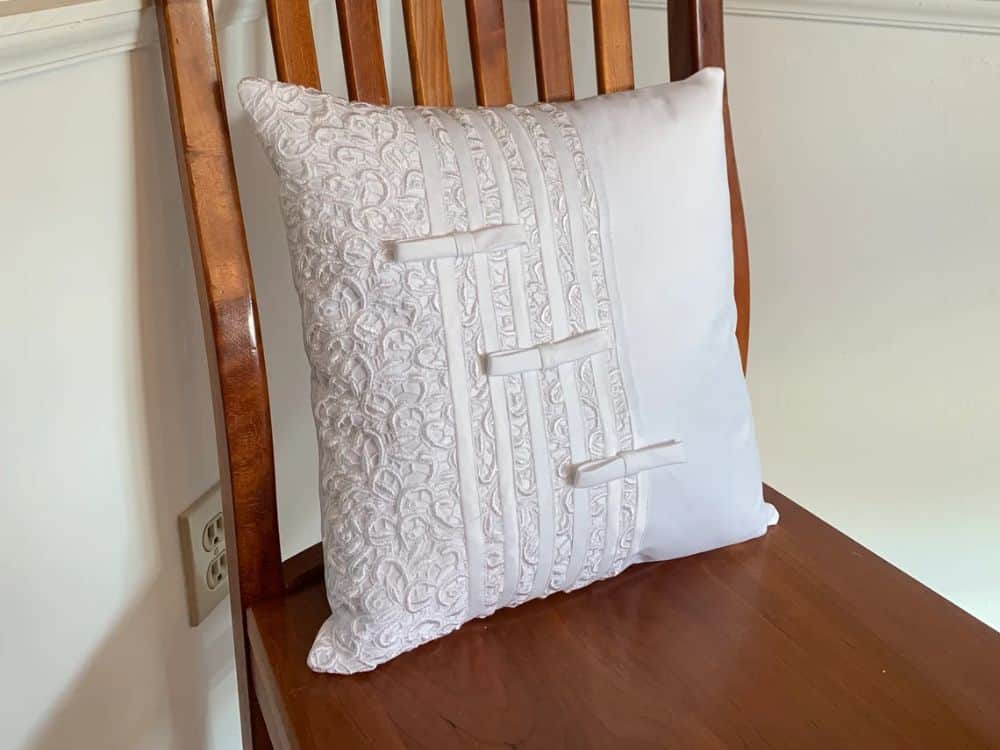 What can you make with an old wedding dress?
Anything and everything!
Choosing the upcycle wedding dress route is not limited to creating other garments.
Due to the quality and variety of materials present in most wedding gowns, there are numerous creative ideas for old wedding dresses.
If you have the time and experience, one possibility is to cut and sew bridal accessories for your family members and friends.
Or turn your dress into a piece of decor to appreciate daily—rather than just when you need to rummage into the back of your closet.
If you don't have the DIY expertise (or confidence to take scissors to your beloved gown), here are some companies that repurpose wedding dresses for you:
Jem Design takes dresses made of tulle, satin, or wedding dress lace and transforms them into beautiful handbags and clutches.
Sockcreations started out upcycling old socks and now also turns your wedding or fancy cocktail dress into keepsakes, such as teddy bears. Choose your preferred wedding dress keepsake idea, package your wedding dress up to mail, and let the company work its magic.
---
5. Gift Your Old Wedding Gown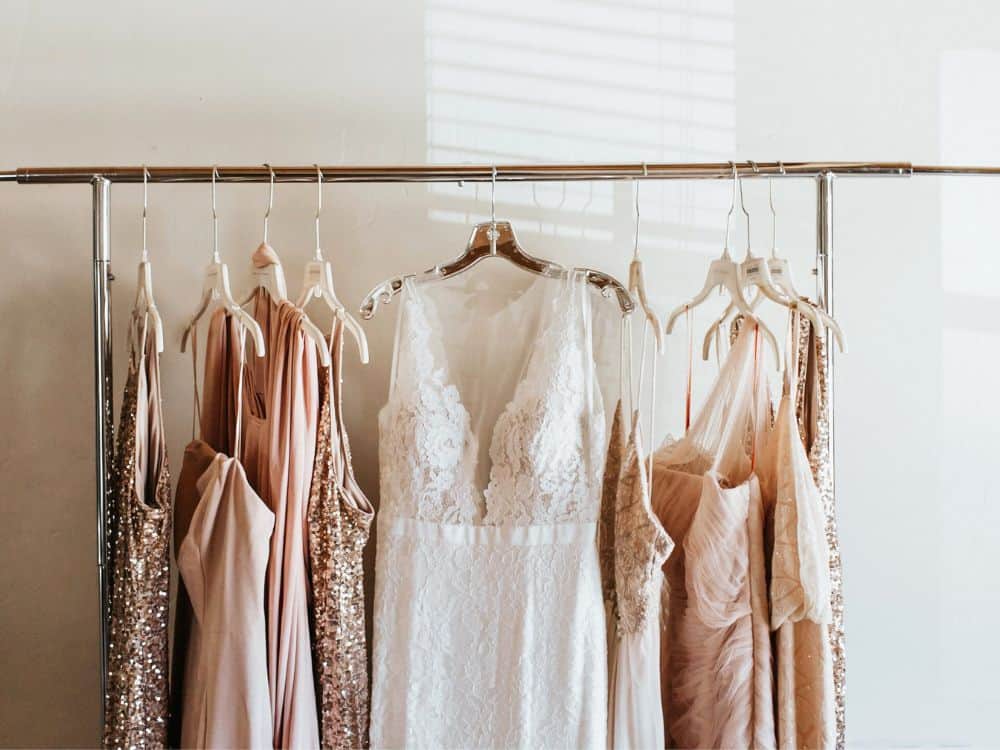 If you're wondering what to do with a wedding dress, but aren't all that attached to keeping it in your life, help out someone you care about by gifting it to them as "something old" for their special day.
They're certain to appreciate the gesture, and it'll save some money on their wedding expenses.
It will be nice for them to wear a dress that already has some sentimental value attached to it before adding sentiment of their own.
---
6. Compost Your Natural Wedding Dress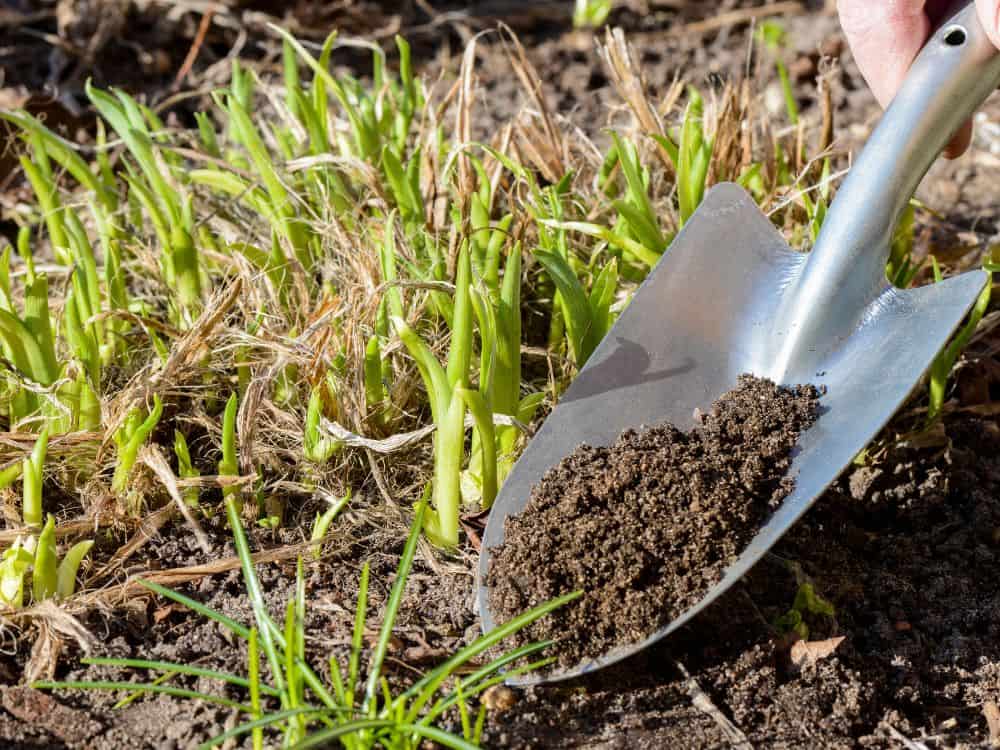 If you've not yet tied the knot and are still contemplating your wedding dress style, there is a green alternative to the traditional wedding dress.
Erin Smith has come up with a "Growable Gown", a green wedding fashion item created from panels of snow-white fungus. Once the panels are grown, they can be baked and molded into a form-fitting gown.
However, if a fungi wedding dress doesn't sit right with you, it is possible to create a biodegradable wedding dress using only natural materials. These would include organic cotton, hemp, or linen (including linen wedding guest dresses).
When your wedding is over, shred the dress and toss it in your indoor compost bin for the ultimate in wedding dress recycling. Eventually, it can help grow your ecological garden—as your marriage grows right alongside it
---
7. Try Some Wedding Dress Crafts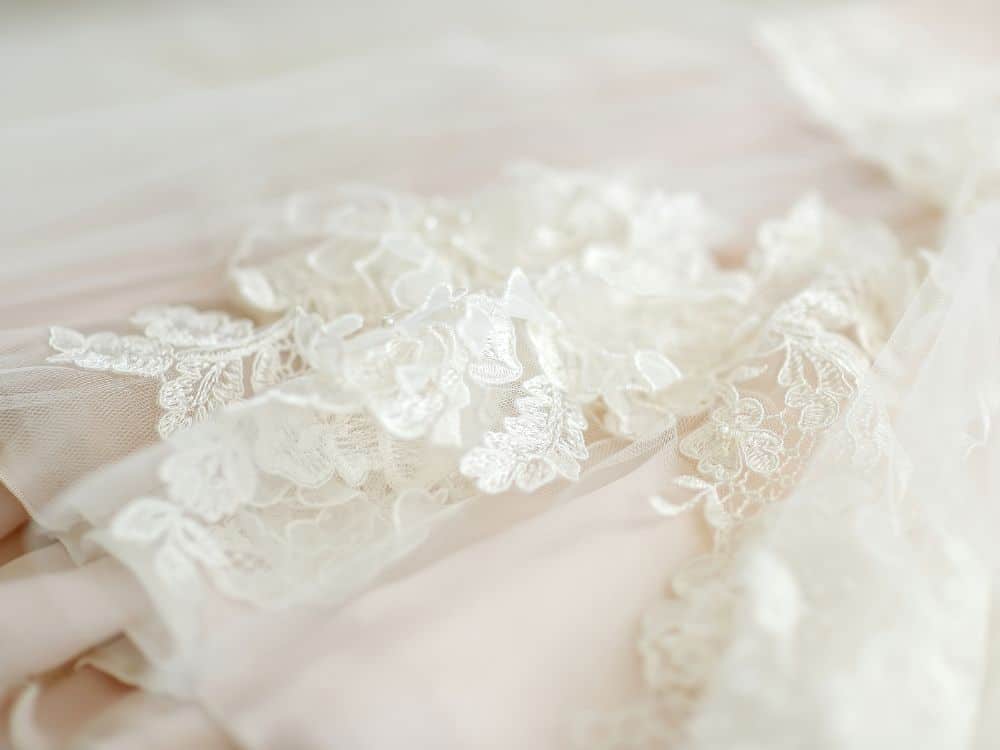 All you artsy and crafty brides out there don't need any help when it comes to wedding dress repurpose ideas, but some inspiration might come in handy.
If you're wondering, "What can I make out of an old wedding dress?", here are some possible wedding dress crafts to get your creative juices flowing:
Create a photo album or wedding card keepsake by embellishing it with material from your wedding gown. Choose some of your favorite parts from the dress, cut them out, and use them to cover a photo album.
Repurpose your wedding gown into jewelry. Take some of your favorite trimmings such as beads and buttons and turn them into earrings, or make a locket from the lace.
If you like flowers but aren't the best at remembering to water them, turning your wedding dress into fancy everlasting florals could be the answer. Take buttons from the dress, earrings you wore at the wedding, or another sentimental item of jewelry and attach it to the center of the flower for an extra special touch.
Make a beautiful throw pillow or two and you'll be putting your dress on permanent display on your eco-friendly sofa. You can choose a beaded back or jeweled neckline for the front of the pillow, and save the plainer wedding dress fabric for the reverse to replace old pillows that have seen better days.
Create a patchwork quilt using your gown and other memorable elements from your wedding, like material from the shirt or tie your husband wore or handkerchiefs used by your parents or grandparents. Offer to recycle bridesmaid dresses from your wedding party, too, or have wedding photos printed onto fabric to add to the quilt.
Place a detailed section together with other mementos such as a wedding invitation or your bouquet in a DIY shadow box.
---
8. Frame Your Old Wedding Gown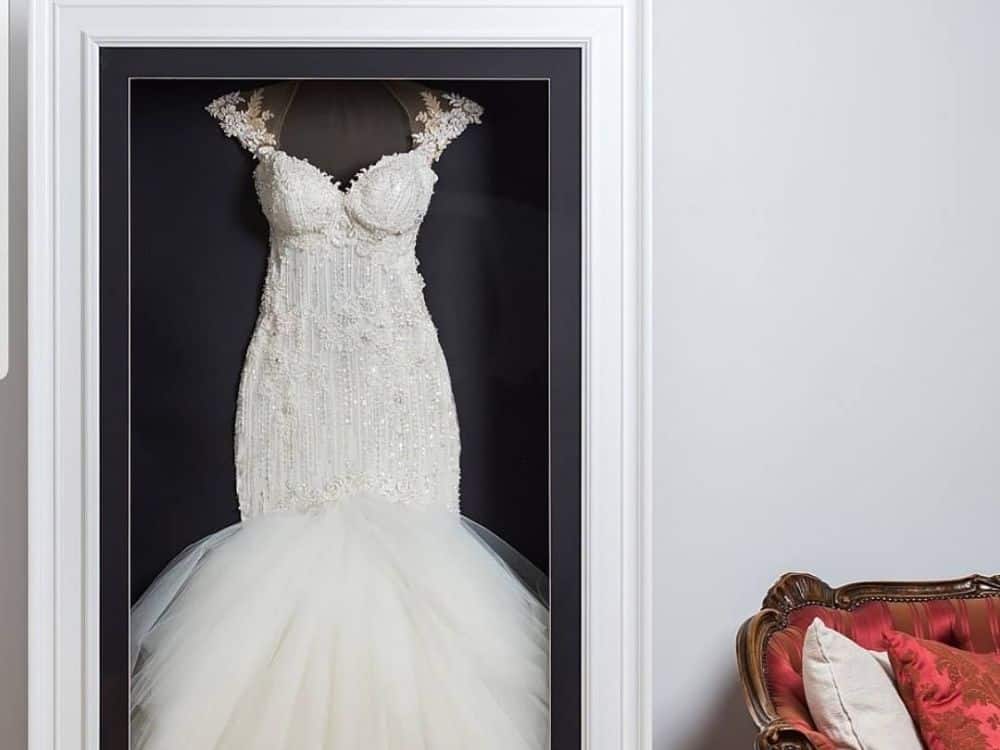 If a shadow box doesn't do your dream dress justice, frame the entire thing.
You can do so yourself or get some help from the professionals at Outrageous Framing and The Beautiful Frame Company.
Hang it on the wall as a stunning art piece, a sentimental reminder of your special day, and an inspiring old wedding dress idea.
This is a stellar option if you want to keep your dress in pristine condition or pass it down to someone in the future.
It's also perfect for those looking for what to do with vintage wedding dresses that are rare or have extra sentimental value attached—like those that were handed down from your mom or grandma.
---
9. Preserve Your Old Wedding Dress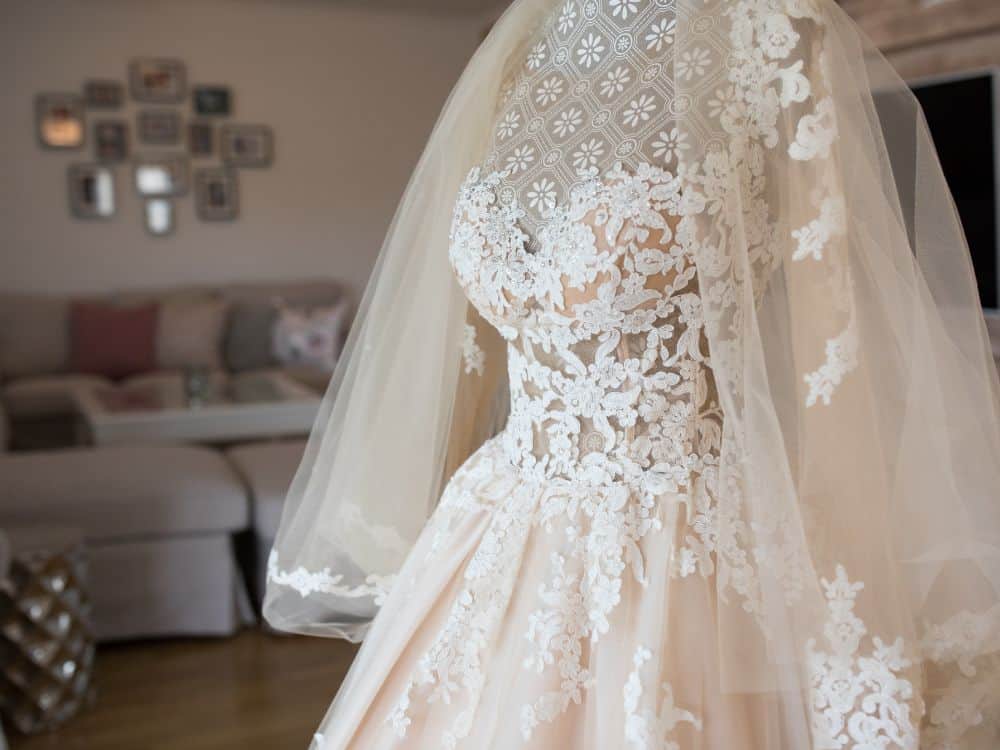 There's a lot of sentiment attached to your wedding gown and if you want to save it, there are things you need to do to keep it in tip-top condition.
When you get it out of the closet to remind you of your special day, your memories aren't going to be quite the same if your once beautiful wedding gown is musty, dusty, and full of moth holes.
A wedding gown that's been professionally preserved can be passed down to someone else, saving them the financial and ecological cost of buying a brand-new gown.
Preserving old bridal gowns can be done on your own or with the help of a service like Wedding Dress Preservation by The Knot.
Your gown will be dry-cleaned using GreenEarth Cleaning methods, repaired, steamed, pressed, and professionally folded. It will be packaged in acid-free packaging materials and comes with a lifetime warranty against yellowing.
If you're curious about what to do with a wedding dress after the wedding but aren't sure a full professional preserving service is needed, you should at least make sure the dress is clean before storing it away.
You can clean it yourself, but be sure to read the label for any special instructions. A spot test is recommended to be sure the cleaning agent you're using doesn't react negatively with the fabric, and only use a soft-bristled brush.
Once cleaned, handle the dress wearing white cotton gloves to avoid any oils on your skin soaking into the fabric. In the storage box, only use acid-free tissue paper and keep the box out of the light and away from moisture.
---
10. Save Your Old Wedding Gown For Your Anniversary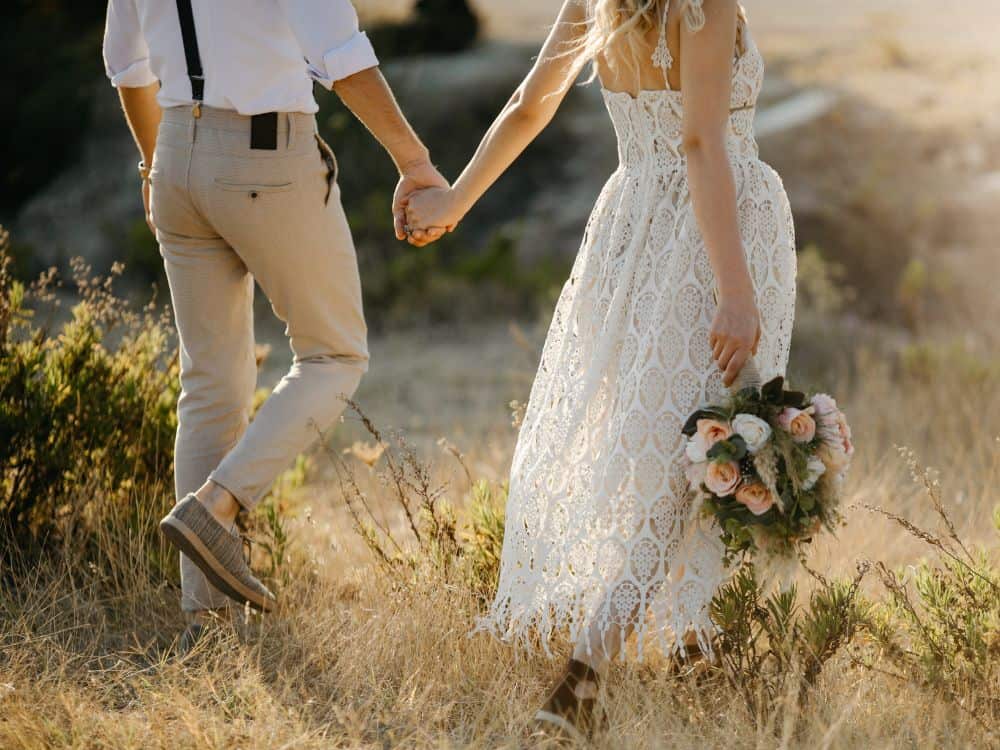 This is one of the more fun wedding dress recycle ideas and something you can do every year, fitting allowed.
If your husband still has his wedding suit, have him put that on too, and relive your wedding bliss every year—or in ten when you plan to renew your vows.
Make sure you store it properly, as this will ensure it stays in good condition for many years to come.
---
11. Rent Or Loan Out Your Wedding Dress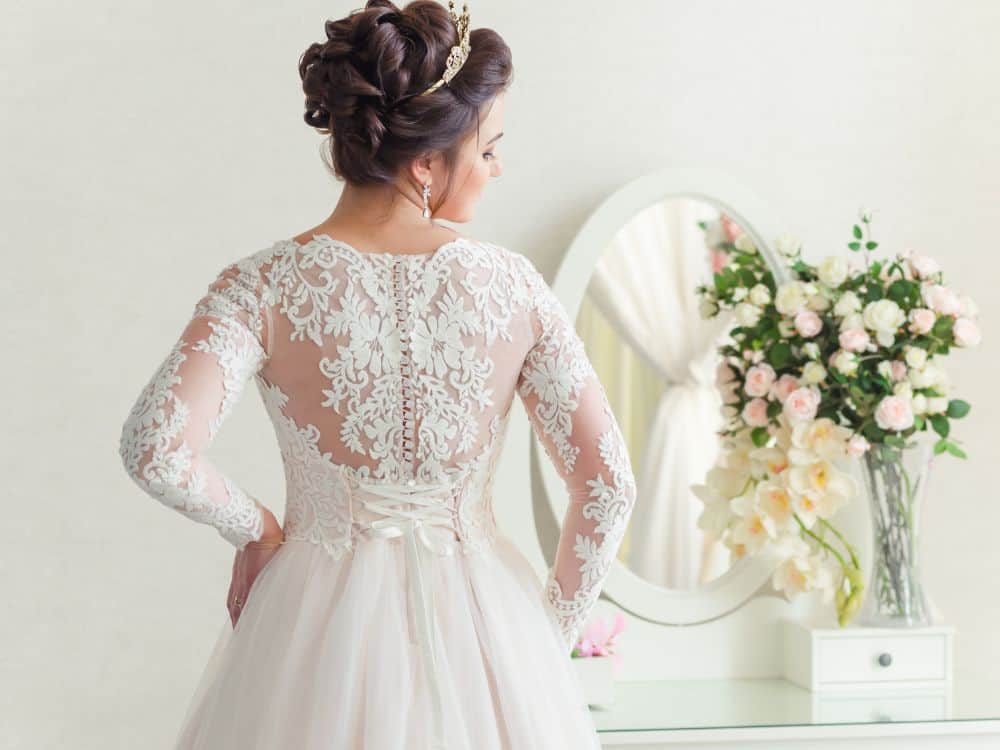 Sometimes, the best answer for how to repurpose a wedding dress may be to keep it in use with its original purpose by letting it live another (wedding) day.
Budget-conscious brides are starting to realize they only need a wedding gown for their one big day and are choosing to go with clothing and dress rental online services and spend the money they save elsewhere.
In the US, SomethingBorrowedBridals offers a consignment wedding gown rental service. You consign your wedding dress to the company and every time your dress is rented out you get paid a percentage.
The best thing about this approach is you don't have to do any work beyond getting your wedding dress to the shop.
If you live in the UK, list your dress for rent using the "By Rotation" app. It can be used for any fashion apparel, including your old denim jeans, but there has been an increase in old wedding dresses for rent on the platform.
For those who prefer the DIY route, list your wedding dress for rent on Craigslist or Facebook Marketplace and see what interest you get.
If making money is not key to giving new life to your old dress, let family members and friends know you're willing to loan it out.
---
Did you know we Have a Newsletter?
We cover the latest in sustainable living, fashion, zero waste, beauty, travel, finance and more…
Why Recycle Wedding Dresses?
Brides traditionally feel a lot of attachment and sentimentality for their wedding dress. Many lovingly pack it away and keep it as a treasured possession, but it's not something you have to do.
Fashion is one of the largest polluters in the world, and its wasteful practices have even wrapped their disposable, cheap arms around our timeless wedding gowns.
Unfortunately, there's a lot of stigma and market-driven expectations in the wedding gown industry.
All those glossy bridal magazines encouraging brides to have a bridal gown that's hers alone and never worn before don't do the planet any favors.
In our increasingly conscious world, there are so many things to do with your old wedding dress that it doesn't have to gather dust, be unseen, and unloved, and only be brought out on special occasions.
It doesn't have to be given a one-way ticket to the landfill and join the 17 million tons of US textile waste, either.
Brides (both former and to-be) should remember that recycling wedding gowns in no way diminishes their purpose or the value they held in fulfilling their intended purpose.
In fact, choosing to donate, sell, upcycle, or any one of the other uses for old wedding dresses is a way to ensure the magic of your specific day lives on, either in the hands of another bride or in some other functional or decorative way.
If you're still in the wedding planning phases, get a head-start by considering end-of-life before you say "yes" to the dress.
Prioritizing natural fabrics and avoiding synthetic fabrics, leather, and fur is one way to ensure you have more options of old wedding dress uses when the time comes.
Or help someone recycle their wedding dress by choosing to buy one of the many pre-loved old wedding dresses for sale—then keep the zero-waste chain of circularity moving once the party is over.
---
Final Thoughts On What To Do With An Old Wedding Dress
Your wedding dress was probably a large investment, and it made you feel magical on your big day—but is it necessary to keep it now?
It might make sense financially to sell it to someone else. It might not seem the most sensible thing to do to leave it hanging at the back of your closet.
Now that you know about the many options for what to do with old wedding gowns, you might not feel so bad about saying goodbye to your wedding dress.
If your own wedding dress is long gone, but you know someone with a wedding day coming up—or going through a major sustainable spring cleaning kick—share this post with them and give them some sustainable old wedding dress ideas.
Pin these: