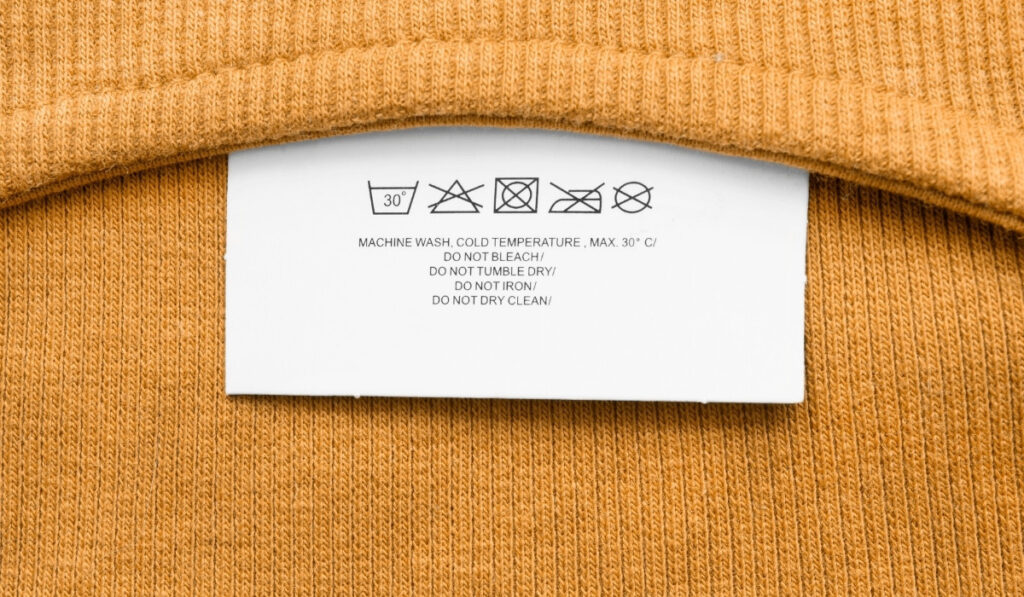 How To Read Clothing Labels: Demystifying Textile Numbers & Symbols
Your eyes size up the price tag, naturally, but learning how to read clothing labels can score some massive savings for our planet.
When we take better care of our clothes, we can wear them longer and keep precious textiles out of landfill.
A financial and environmental win-win, if you like.
Let's get to know the ins and outs of clothing labels—including all those hieroglyphic looking symbols.
1. GARMENT LABELING REQUIREMENTS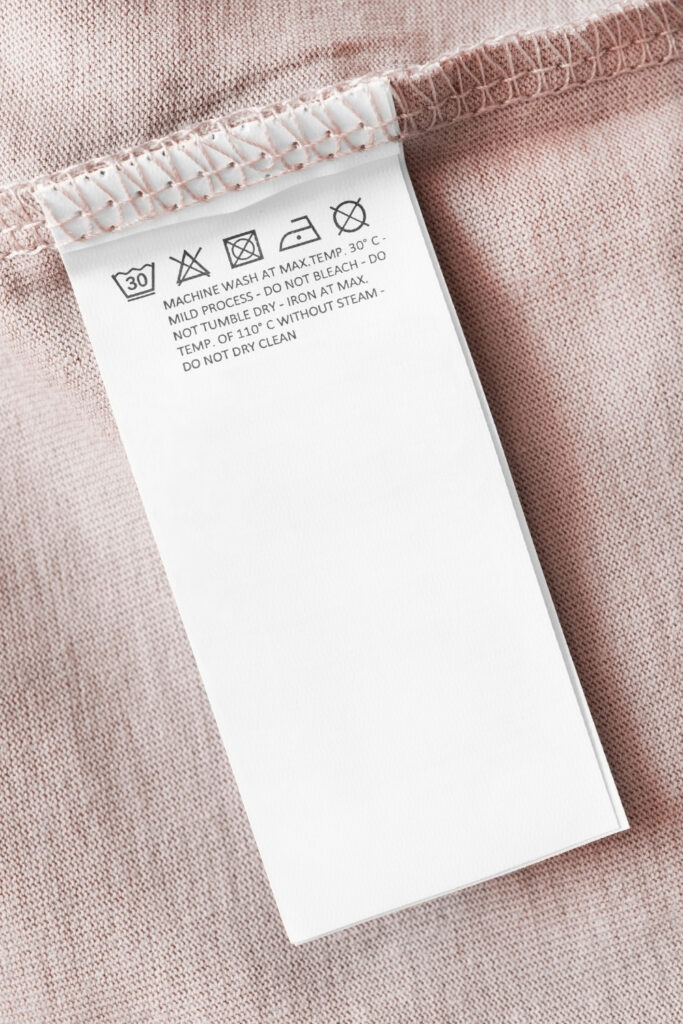 The first step to knowing how to read clothing description labels?
Knowing why they're there in the first place.
Clothing labels are legally required in many parts of the world and must be permanently attached to the garment.
For information that doesn't fit, other labels should be placed where they're easily noticed.
US & Canada Garment Labeling
In the US, the Federal Trade Commission (FTC) primarily oversees textile and apparel labeling.
The Canada Border Services Agency plays a role in overseeing textile labeling in Canada.
Aside from bilingual requirements to be printed in English and French, Canada's labeling requirements are the same as those in the US:
Fiber content: "Other fibers" can be used if non-functional fibers make up less than 5% of the total garment
Country of origin: Can only say "Made in USA" if it was manufactured with domestic materials in the US
Washing and care instructions
Manufacturer identification: AKA the registered identification number (RN) or CA (number of the importer or manufacturer)
UK & EU Garment Labeling
The Department for Business, Energy & Industrial Strategy is the body tasked with UK textile labeling regulations.
Labels must include:
Fiber content: Any decorative material that makes up less than 7% is excluded
Meets the British Standard for flammability (BS-5722) or "KEEP AWAY FROM FIRE": Only required for regular or organic baby clothes, children's clothes, and nightwear
While country of origin and care instructions are not mandatory, they are highly recommended.
The European Commission oversees textile and clothing labeling for the EU.
While this varies across member states, the EU only requires that fiber composition is on the label. Care labels, size, and country of origin are only recommended.
The voluntary EU Ecolabel can be used with textiles, footwear, and clothing that:
Use minimal substances associated with harm to health and the environment
Reduce water and air pollution
Offer color resistance to washing, rubbing, perspiration, and light exposure
AU & NZ Garment Labeling
In Australia and New Zealand, clothing labeling is overseen by the Australian Competition & Consumer Commission and Commerce Commission, respectively.
As of 2010, Australia no longer requires fiber content labeling—although it's still common practice to include it and NSW requires it.
However, country of origin and washing and care instructions are required.
In New Zealand, clothing label requirements include:
Country of origin
Care label
Fiber content (for most textiles)
Fire hazard (for children's nightwear)
---
2. HOW TO READ FABRIC CARE LABELS FOR WASHING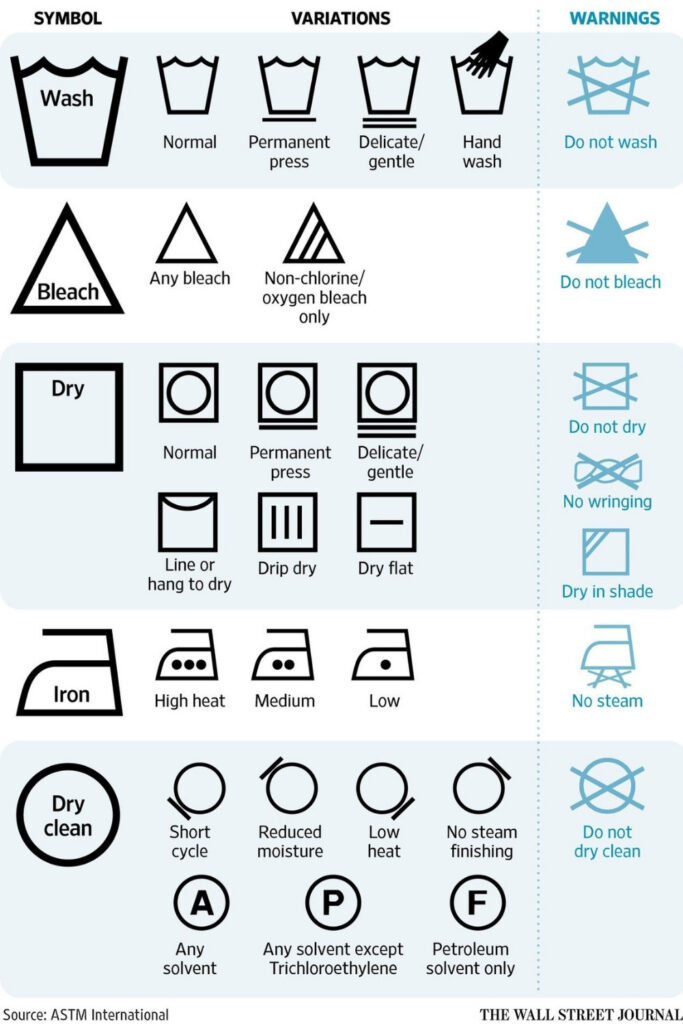 You might feel like you're translating Sanskrit but knowing how to read clothing care labels can extend the life of your wardrobe and save you from the dreaded white-turned-pink shirt or shrunken sweater.
In addition to symbols, you might receive short text instructions directing you to wash inside out, reshape while damp, or wash similar colors together.
When to machine wash clothes
If you see a label with a symbol featuring a three-sided container with wavy lines on top, you can safely machine wash your clothes.
Slight additions to this symbol indicate special washing details:
One line under it: use permanent press wash cycle
Two lines under it: use gentle wash cycle
One dot in the center: wash in cold water
Two dots in the center: wash in warm water
Three dots in the center: wash in hot water
A number at the center: wash in that temperature (40℃ = 104℉)
When to hand wash clothes
The same three-sided symbol may also come with a hand in the middle, indicating that the delicate garment should be washed by hand.
For hand washing, you might also see one of the following symbols:
Twisted garment with an X through it: do not wring
Twisted garment: wringing is okay
As a sustainability PRO-TIP that goes beyond knowing how to read clothing care labels, hand washing in cold is almost always the most eco friendly and longevity-promoting method.
When clothes can't be washed
The washing symbol with an X through it denotes a garment that cannot be machine or hand washed, and should be taken to the dry cleaner instead.
Dry cleaning will also require you to know how to read care tags on clothes. Here are a few you might see:
A plain circle: dry clean
A circle with an X through it: do not dry clean
A circle with an A in the center: any solvent can be used
A circle with a P in the center: any solvent except trichloroethylene
A circle with an F in the center: petroleum solvents only
Because dry cleaning is notoriously bad for people and the planet, we suggest avoiding it whenever possible.
However, we recognize it's not always possible, like with sustainable work clothing or sustainable wedding dresses.
---
3. READING TEXTILE LABELS FOR DRYING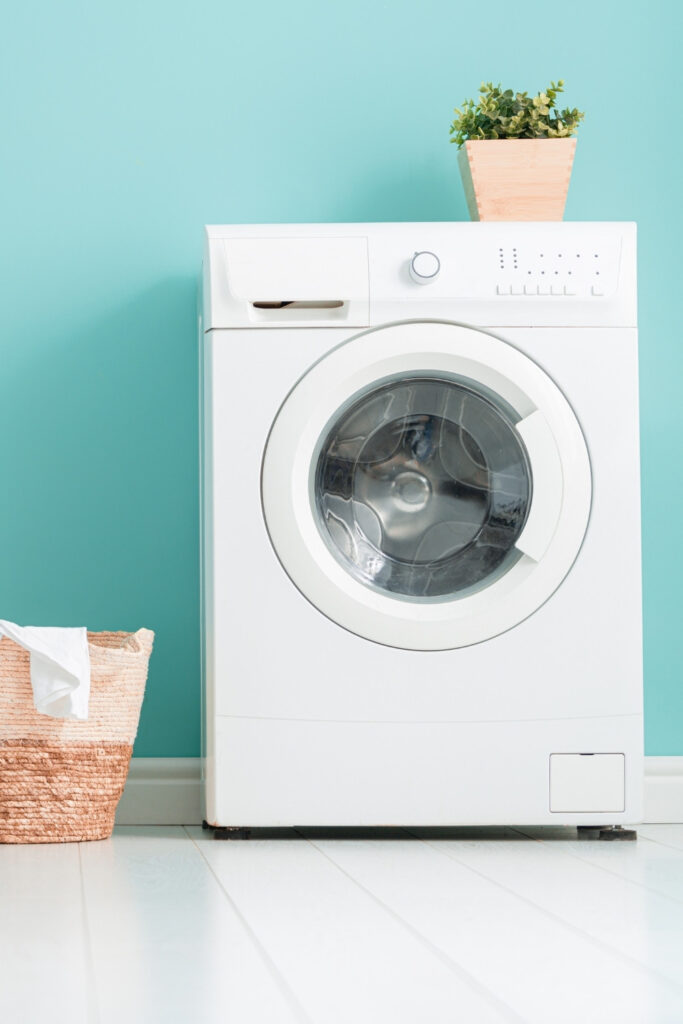 Machine drying clothes is the single biggest cause of wear-and-tear on garments—far more than actual wear.
The lint trap filled with fibers that were once part of your socks and sweaters should tell you that much.
For that reason, it's best to hand dry and lay flat dry clothing as much as possible, but for those times when you're in a rush, it's important to know how to read which garments are safe to dry.
When to use the dryer
If you see a square symbol with a circle at the center, you can safely use the dryer, no special considerations required.
Slight additions to the symbol indicate special drying details:
Dark black circle: don't use heat
One dot: dry at a low temperature
Two dots: dry at a medium temperature
Three dots: dry at a high temperature
When NOT to use the dryer
If there's an X through the middle of the dryer symbol, do not tumble-dry the garment.
You may also just see a square, with no circle in the middle. This indicates that "natural drying" should be used—which is also the best method for our planet.
Again, there could be more variations to this symbol:
U-shaped curve at the top: line dry (+ diagonal lines for line dry in shade)
Three vertical lines: drip dry (+ diagonal lines for drip dry in shade)
One vertical line: dry flat (+ diagonal lines for dry flat in shade)
Two diagonal lines in the left corner: dry in shade
Square with an X through it: do not dry
---
4. HOW TO READ CLOTHES TAGS FOR BLEACH INSTRUCTIONS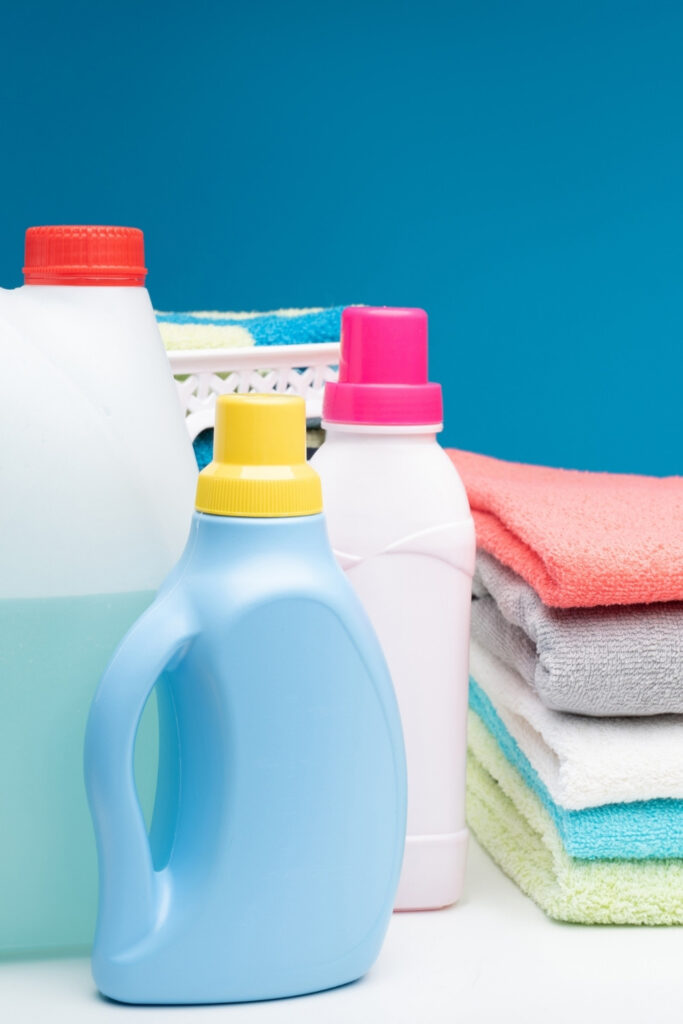 A care instruction label will also contain bleaching information, denoted by a triangle.
Variations of these symbols indicate specific directions:
A plain triangle: any bleach can be used
A dark triangle with an X through it: do not bleach
A triangle with two diagonal lines: use non-chlorine bleach
A triangle with CL in the middle: chlorine allowed
A triangle with a CL in the middle and an X through it: use non-chlorine bleach
Again, however, it's best to avoid bleach as much as possible.
While bleach itself has largely been considered safe in diluted doses, when the chlorine mixes with other minerals and elements in water, it creates "persistent organic pollutants" (dioxins, furans, and PCDDs) that remain in waterways indefinitely.
---
5. READING CLOTHING LABELS FOR IRONING DIRECTIONS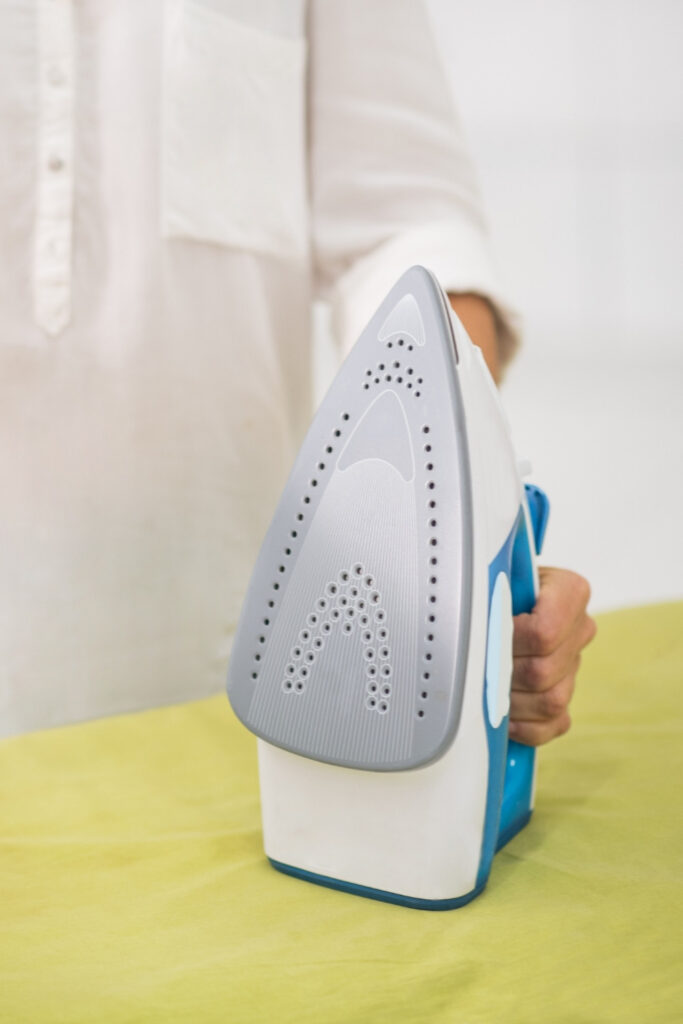 You can turn to clothing labels to find out how to properly iron your garments.
Look for the iron-shaped symbol and any of its variations:
No dots: any temperature can be used
One dot: use low-temperature settings (synthetics)
Two dots: use medium-temperature settings (wool or silk)
Three dots: high-temperature setting (cotton or linen)
X through the center: do not iron
Three lines at the bottom: iron with steam
X over the three lines at the bottom: do not steam
---
6. HOW TO READ PRODUCT NUMBERS ON CLOTHING TAGS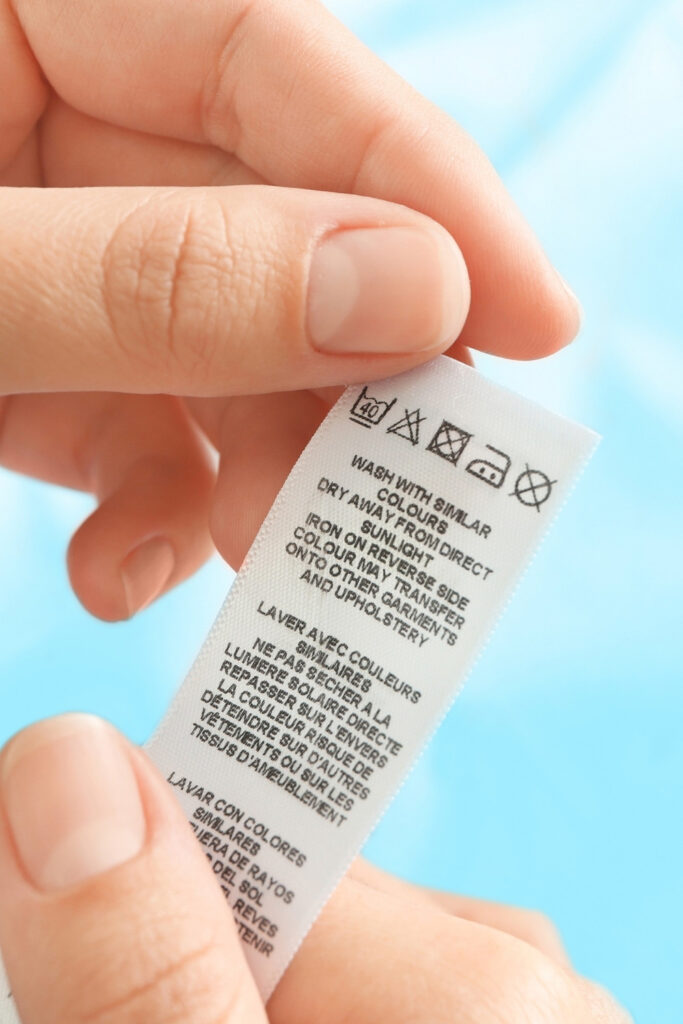 In the US and Canada, clothing labels will include a registered identification number (RN) or five-digit CA number.
Both refer to the manufacturer, processor, finisher, or otherwise engaged business responsible for importing or selling the product.
The CA and RN numbers are helpful when it comes to reading vintage clothing labels, as you can use a manufacture year equation to roughly estimate when the clothes were produced.
Even with modern clothes, the RN Database and Government of Canada database can be used to access additional information about the clothes, like the legal business name, address, and website of the entity.
While it's a far cry from information about #WhoMadeMyClothes or reasons why many want to avoid fast fashion, knowing how to read clothing label codes could be useful when the brand name is otherwise missing from the label.
---
WHAT DO CLOTHING TAGS MEAN FOR SUSTAINABILITY?
So, what do clothing labels mean for a greener fashion future?
In addition to making it easy for us to wear sustainable fabrics, they encourage us to take better care of our clothes.
Knowing which clothes should be left out of the dryer or washed in cold water can prevent laundering mishaps that result in textile waste.
…which amounts to a staggering 92 million tons every year—or a garbage truck's worth every second.
Unfortunately, knowing how to read fabric labels has its limits, as most clothes are only designed to last 30-40 washes.
That said, in addition to knowing how to read clothes tags so that your ethical leggings don't turn into a saggy, shapeless mess, consider the following eco-clothes care tips:
Wash less
Wash in cold water
Wash inside-out
Hang dry rather than machine dry
Avoid dry cleaning
Store properly (away from moisture, heat, and sunlight)
Repair damage when it's first noticed
---
FINAL THOUGHTS ON HOW TO READ CLOTHING TAGS
Knowing how to read clothing labels is woven into a more sustainable fashion world.
Keeping clothes in your closet just nine months longer can significantly reduce the environmental impact of a garment, according to #LoveYourClothes experts WRAP.
Plus, if you pass them onto online thrift stores or try to sell used clothes online, they end up in a more appealing condition for secondhand shoppers.
We need to change the fashion industry's story—and it can start by dedicating a couple of minutes to reading clothing tags.
That said, we'd urge you to pass this on to your fashion friends. Let's show our clothes a little love by taking better care of them.
---