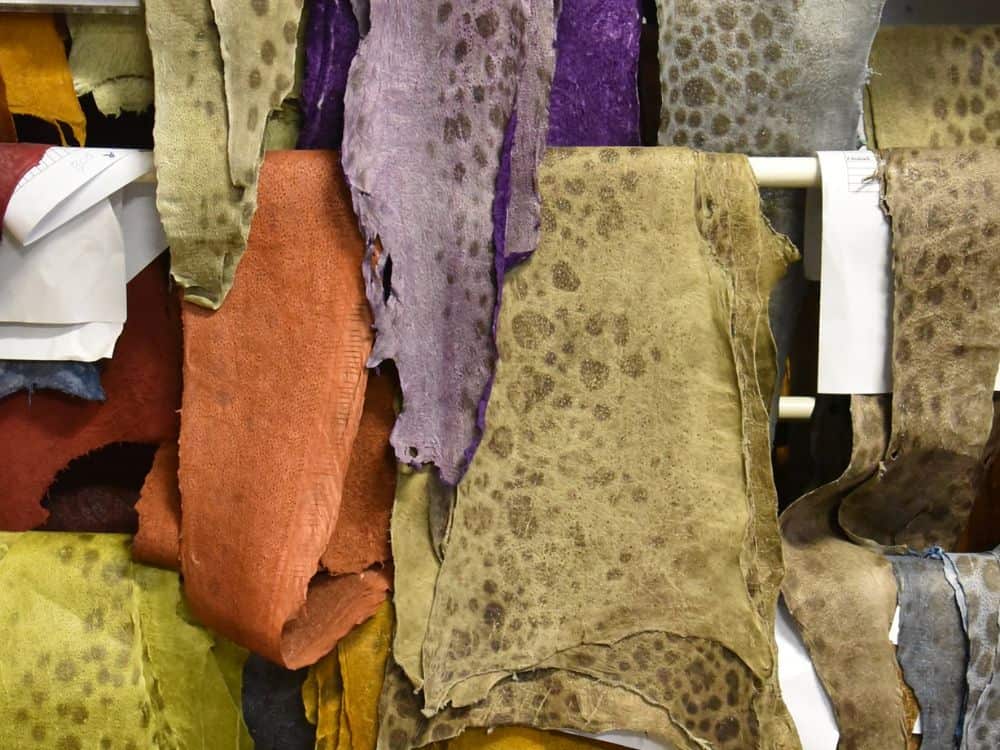 Fish Leather Sustainability: Fin-Tastic or Totally Fishy?
Ancient and esteemed or callously controversial?
Either way, pescatarians can rejoice as the world gets more sea-rious about making fish leather.
When it comes to using animal skins in fashion and design, fish skin leather weighs in as one of the better options for the environment, while also reviving economies and ancient traditions.
Between our overwhelming climate dilemma and demand for leather goods worldwide, it's of-fish-ial that the need for sustainable leather options is critical to help diminish the carbon footprint, create more jobs, and repurpose waste.
In 2015, the global market for leather accessories was worth $46 billion dollars. The following year, China saw their imports of leather goods surpass raw leather materials for the first ever time, driven by a soaring Chinese economy and flourishing middle class.
In the west, the rise of social media influencers helped spike the demand among millennials for luxury leather goods.
Now, the luxury leather market has doubled to nearly $80 billion dollars, which means more brands searching for alternative leather products.
So is fish and salmon leather as so-fish-ticated as it's scaled up to be? Or a load of carp?
Let's go fishing for the answers on what fish leather is good for.
1. What Is Fish Leather?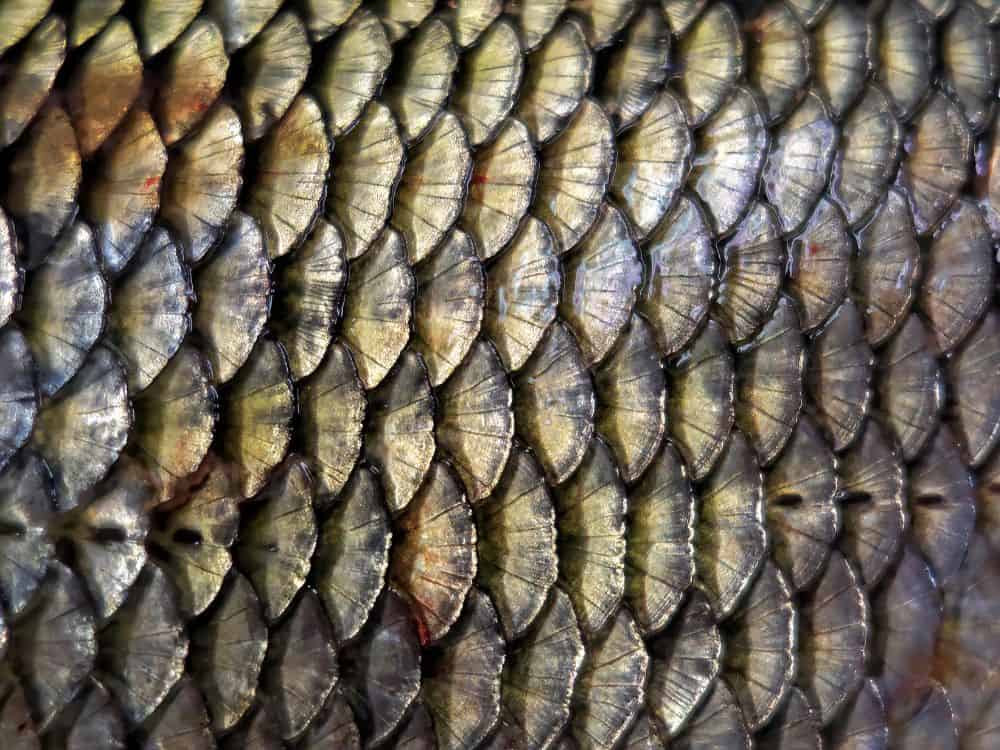 Fish leather is just that: an exotic and eco-friendly leather made from fish skins of non-endangered food species discarded from the fishing industry.
Although fish scale leather accounts for less than 1% of total global leather sales currently, the UN's Food and Agriculture Organization (FAO) promotes its production to boost the incomes of fishing communities worldwide.
It's a natural byproduct that, through a time-intensive but worthwhile process, becomes a sturdy and luxury leather to replace less sustainable exotic leathers of endangered species like alligator or snake.
Because it recycles the skin waste leftover from the seafood industry and prevents tons of fish skin from entering landfills or waterways, it's also a more eco-friendly alternative to cow leather, with the idea being that hopefully fish skin leather can help usurp the world's demands for cow hides.
It functions similarly to other leathers, and actually provides a more durable quality than cow's leather thanks to its natural cross-grain fiber structure.
Which Fish Skin Is Used For Leather?
Fish skin leather products can be made from any variety of fish species.
While certain fish are stronger, any fish can be used to make leather, scales or no scales​​. The most common are salmon, perch, tilapia, cod, wolffish, lionfish, stingray, and eel.
Though all feature a geometric pattern and texture, each fish leather has its own distinctive natural pattern, and no two skins are the same. Some have a scaly surface, while fish like catfish, eel, and stingray yield a smooth leather finish.
In one outfit, you might pull on some Alaskan salmon leather boots and pair them with a sturgeon leather jacket.
---
2. What Are Fish Leather Products?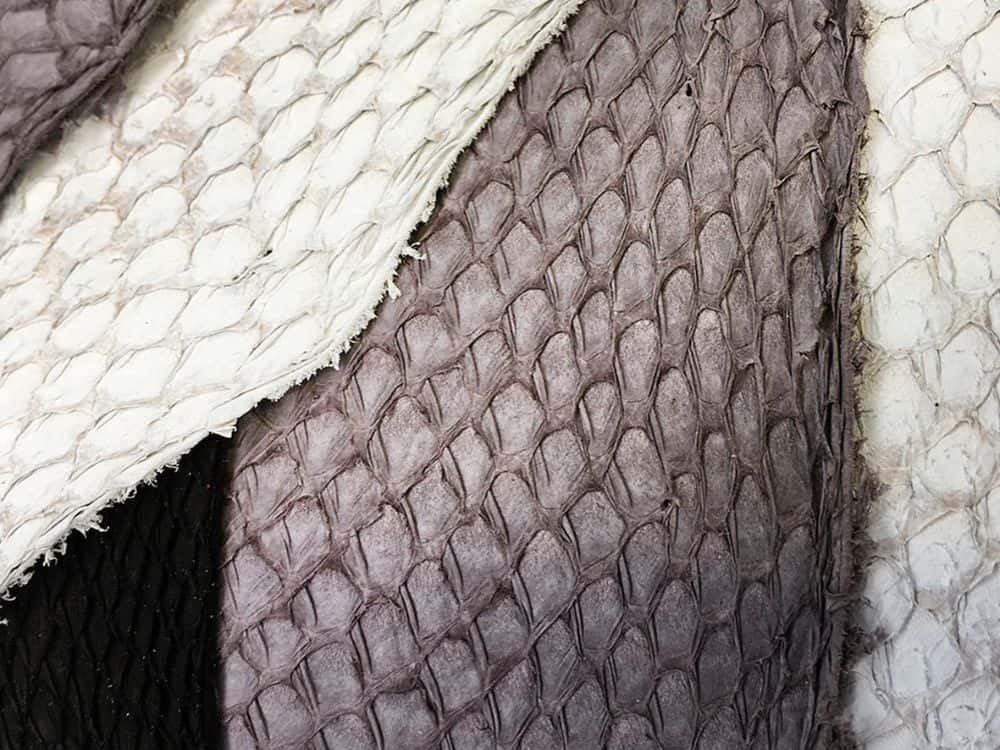 What is fish leather good for?
Well, if we're to take it from history, anything and everything!
Though its history is poorly recorded—probably because fish skin leather products were associated with poverty in most cultures that donned it—the material is attributed to a number of coastal indigenous communities from Scotland and Iceland to Alaska and Canada.
Its earliest use can be traced back to the Nainai people of the Amur Basin in Russia-Asia and the Hebrew peoples of Ancient Egypt.
Tribes and coastal communities that already relied on fishing for food and trade would use the discarded fish leather as protection from the elements, a la fish leather clothing, footwear, and shelter.
Since at least the 12th century, they've subjected it to a tanning process, which chemically extracts any living matter from an animal's skin to create the hides.
In Canada, tanning fish skins is popular among a number of native traditions, which are now being revived, since they hold historical and cultural significance in many indigenous fishing communities.
Then, in the 19th century, fish skin leather fell into obscurity when colonialism and modernization replaced fish leather boots and clothing with rubber shoes and factory-manufactured clothes.
Janey Chang, who leads fish skin workshops in Arctic Canada, said, "In doing the work with our hands, sometimes the memories come back easier."
Still, so much history of this "poor man's leather" is forgotten since it wasn't archaeologically preserved.
Fish Leather For Sale Today
Just like the salmon behind those wild salmon leather shoes, the trend is swimming back upstream as local artists and luxury designers alike are crafting shoes, handbags, and car interiors with the scaly stuff.
A research project funded by the EU is helping to find ways to make and use fish skin leather sustainably in the fashion industry.
Ironically, the link between fish leather and poverty has been turned on its (fish)head as luxury brands like Prada, Christian Dior, Louis Vuitton, John Galliano, and Salvatore Ferragamo have all sourced fish skin from Nordic Fish Leather in Iceland for various collections—at premium prices.
---
3. How Is Fish Leather Made?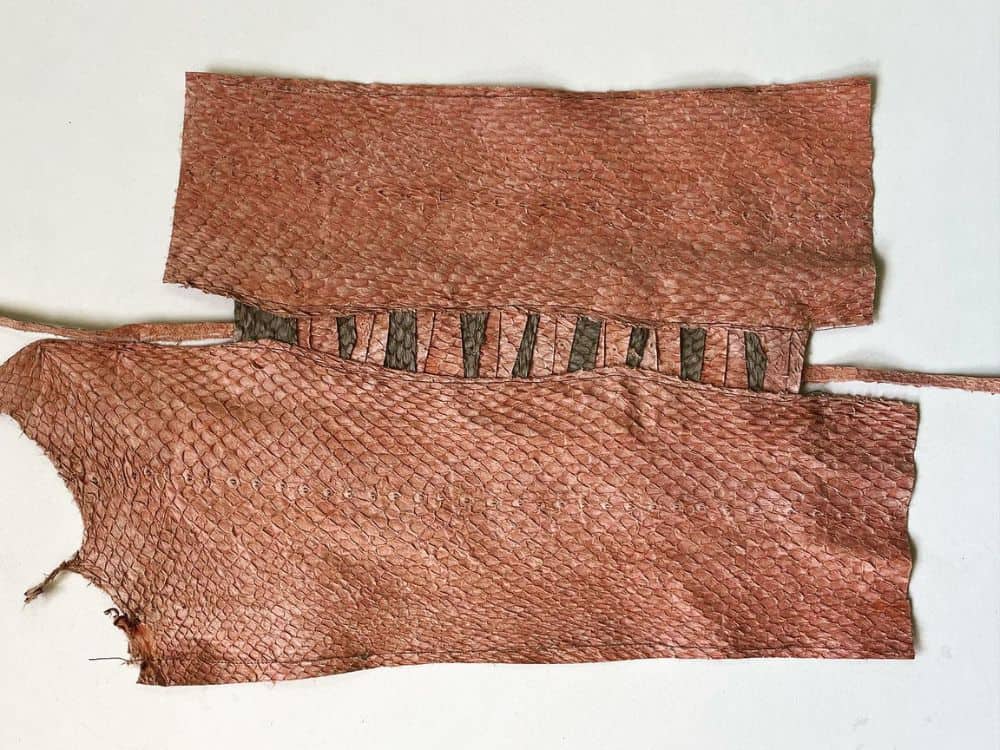 There are a number of ways to make fish leather, ranging from large-scale factory operations to grassroots, ages-old secret recipes.
To make the fish leather, skins are scraped free of any flesh or fat then stretched out flat to dry, preferably with sunlight exposure.
Then the dried fish skins undergo the dyeing and tanning process, which varies depending on who is processing the exotic leather.
For the Inuit peoples of Arctic Canada, they soak the skins in progressively stronger tannin baths, before finally oiling and drying.
Some methods for tanning fish skins, such Inversa's lionfish-leather, do use similar toxic chemicals present in cow's leather tanneries (like chromium). That said, these fish leathers use less toxic Chromium III instead of Chromium IV.
A more ecological option for tanning fish leather is vegetable tanning—the original method used by Inuit peoples—which makes use of extracts from bark and wood as tanning agents. The method helps preserve the unique characteristics of fish leather, such as its exotic scale pattern and three-dimensional surface.
UK-based Felsie tans only with non-toxic and all-natural willow bark sustainably sourced from willow trees grown for cricket bats.
Elisa Palomino, a renowned designer, professor, fish skin leather advocate, and founder of FISHSKINLAB, uses a printing process for her leathers with non-toxic indigo dyes sourced from Japan.
At Iceland's Nordic Fish Leather, facilities run off locally prevalent geothermal energy, and they have the equipment to re-use every drop of water eight to nine times in the production process. They only use natural, non-polluting dyes.
Then there's the Kenya-based fish skin leather brand, Ecodunia, which uses exclusively natural dyes such as indigo or turmeric to create a range of colors, from deep blues to bright yellows.
At Brazil's Nova Kaeru tannery—whose legally-caught Pirarucu or Arapaima fish leather was famously worn by Rihanna in her Vogue pregnancy photoshoot—only non-toxic tanning and dyeing techniques are employed.
Finally, fish leather is treated with fish fats, oils, or waxes to give it a waterproof and soft, supple texture making it perfect for that fish skin leather jacket.
---
4. Is Fish Leather Sustainable?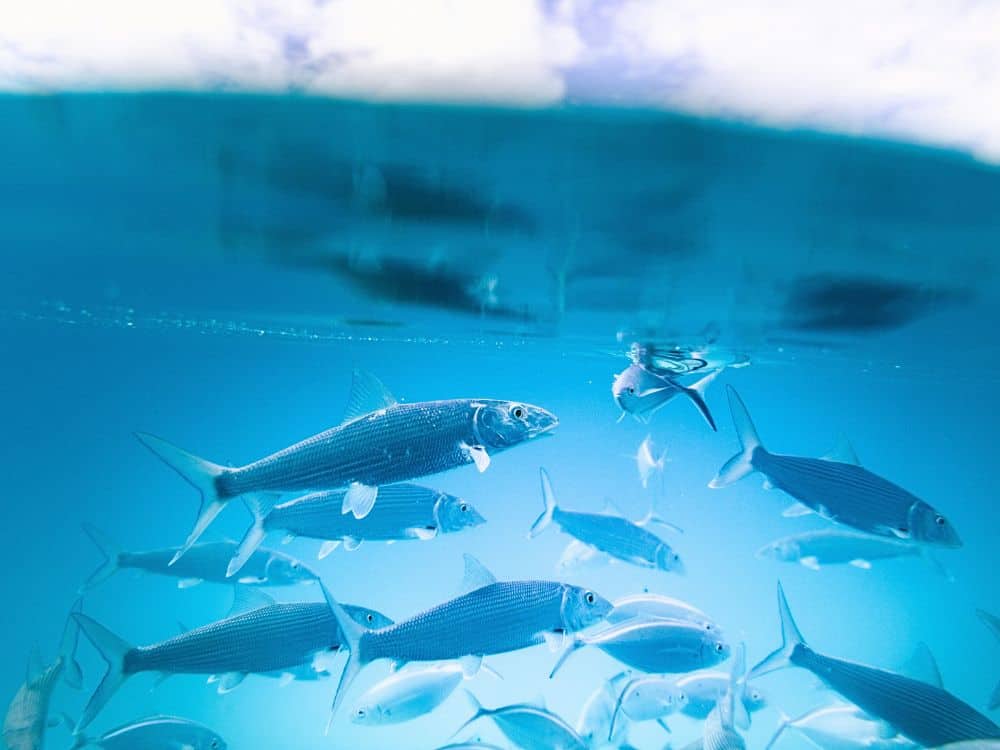 There's nothing fishy about it: almost 50 million tons of fish waste is produced every year—a large portion of which is a viable and sustainable alternative to cow leather or exotic leathers from endangered species.
In 2018, Chanel discontinued its use of reptile leathers after animal rights activists protested against the inhumane treatment of reptiles raised or hunted for their skins.
On the other hand, as long as the fish aren't farmed primarily for their skins—and none of the companies we explored do so—fish skin is a natural byproduct of the seafood industry that tends to be discarded.
There are 88 pounds of fish skin for every 2,000 pounds of fileted fish. In 2015, humans consumed 150 million tons, equivalent to 6 million tons of skins.
This helps to reduce marine pollution and to protect healthy and productive marine ecosystems.
Fish skin is seeing a surge in demand both because it serves as a more ethical leather alternative and fosters a more zero waste or circular economy.
It requires less energy and resources to cultivate than conventional materials. Skins are sourced locally from nearby fisheries, and processing raw materials close to home reduces transport routes, lowers carbon footprint and promotes transparency throughout the supply chain.
It also creates new job opportunities for coastal communities.
Because there is a wealth of sustainable innovation within the fish and salmon leather industry worldwide, we've gathered some brill-iant examples:
Nordic Fish Leather's Sustainability
Nordic Fish Leather, the longest standing Iceland-based fish skin leather producer globally, sources fish sustainably via Icelandic, Norwegian, and Faroe Islands fishing fleets.
Their facilities run off geothermal renewable energy from volcanoes, they use natural, non-polluting dyes, and they re-use all water up to nine times in the production process, unlike the tanning horrors of cow leather.
FISHSKINLAB's Fish Leather Sustainability
Elisa Palomino's research investigates the sustainability and craft innovation of fish leather. She holds 30 years of experience working in luxury fashion and her practice-based research draws upon her experiences designing with fish leather at John Galliano and Christian Dior.
Her project, FISHSKINLAB:
"Aims to promote the use of sustainable fish leather and seeks to inspire, educate and inform designers, creators, and consumers about its beauty, quality, versatility and sustainability. The project will look at intelligent ways of using ocean food waste for the development of fashionable leather articles. The aim is to turn ocean waste into higher-value products."
Palomino is currently working with the Smithsonian Institute, along with receiving a large grant through the EU to fund her work at FISHSKINLAB.
Inversa's Fish Leather Sustainability
Inversa takes fish leather a step further by using it not as a means of waste management for discarded fish skins, but as a method to manage invasive species around Florida and the Caribbean.
Lionfish are an all-consuming invasive fish species, which devour up to 80% of young marine life within a month of entering a coral reef system.
Founded by scuba enthusiast-friends Araav Chavda and Roy Salatino, Inversa relies on educating and encouraging marginalized fishermen in remote places to catch the lionfish.
"A lot of the geographies, especially the lower-income Caribbean area, have no market at all [for lionfish] – and so this fish is not only destroying the coral reefs, which sustain these fishing cooperatives' livelihoods, but they also can't do anything about it," Chavda said in an interview.
They prefer to use 'regenerative' to describe the material they say is environmentally responsible because it improves the planet and restores balance to reefs and rivers.
Salatino said in another interview:
"The sustainability question is one that plagued us long before we started Inversa. […] Not knowing what to believe or who to trust because of the greenwashing, the word has become so distorted." 
Whether it is environmentally friendly to kill a species for the survival of another is of course a question of ethics, but one Inversa staunchly supports.
Nova Kaeru's Fish Leather Sustainability
Pregnant Rihanna made the world turn its head in the famous red fish leather jacket she donned for Vogue, and the Pirarucu fish of the Amazon provide another example of how fish skin leather can help make more circular economies.
A high-end brand Noa Kaeru works with, Piper & Skye, said in an interview: 
"As far as the pirarucu being a food source and feeding local communities and putting food on the table for the folks in the areas where it's fished and beyond, it is not just a durable and beautiful material. It promotes circularity of the species in utilizing a material that would otherwise go to waste."
Ecodunia's Fish Leather Sustainability
Ecodunia, another fish leather success story, is committed to creating sustainable, ethical jobs in Kenya with the Kisumu peoples, and the company works closely with their artisans to pay fair wages and provide safe working conditions.
When you purchase their fish leather wallet, you don't only receive a unique sustainable accessory—you also support a community of skilled artisans.
---
5. Advantages & Disadvantages Of Fish Leather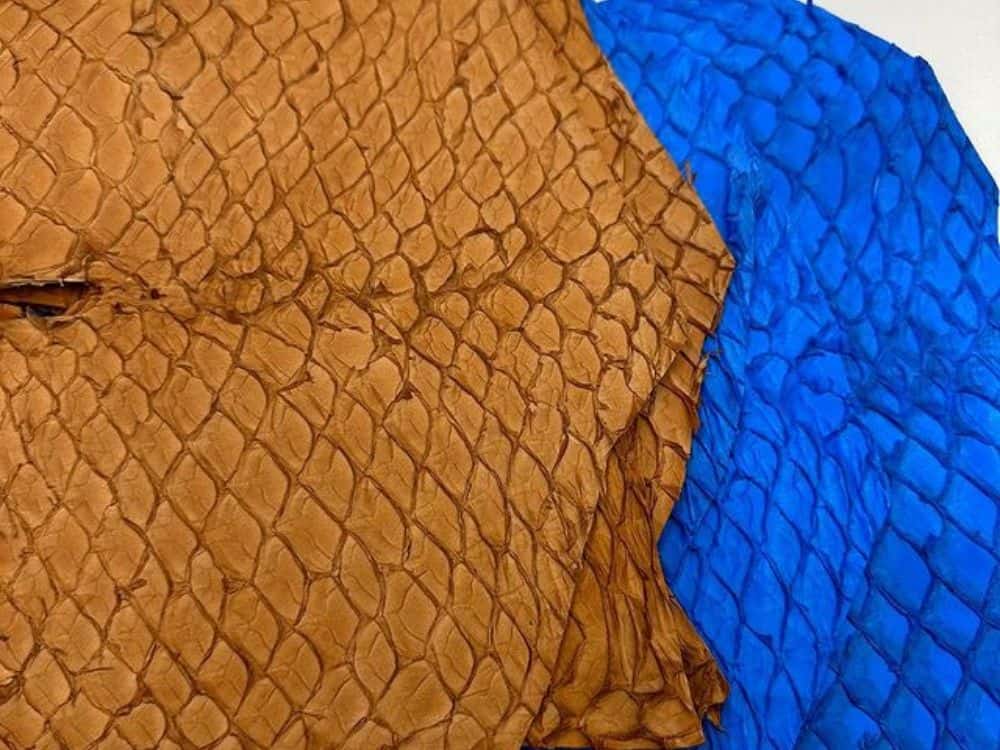 While fish skin leather is an effective way to make use of already discarded seafood waste, the most glaring disadvantage is that a living being was killed in its making—even if not for it.
This is sardinely a less-than pacifish reality we can't ignore.
Puns aside, given its historic use and the prevalence of the raw material available, there are a number of advantages and disadvantages worth plunging into.
The use of aquatic resources in the fashion industry is largely seen as a positive, as it can increase the sustainability of both the fishing and the fashion industries.
When fisheries generate enormous amounts of fish skin later turned into fish leather products, value is added to locally caught fish, which leads to higher incomes and new employment opportunities for local communities.
In Kenya, for example, Lake Turkana's invasive Nile perch grows up to six feet long, and the leather sells for $5 per square foot.
This new revenue stream for the Lake Turkana fishing community means local fishermen receive 30% more for each fish they sell.
Beyond that, it revives endangered ancient craft forms, while providing the ever-demanding fashion cycle with novelty, beauty, function, and sustainability.
Fish Leather Advantages:
It's a natural byproduct of the fishing industry.
Non-endangered species of fish are usually used.
No extra land or water is needed.
Skins are sourced locally, which reduces carbon footprint.
Many factories, like Nordic Fish Leather (formerly Atlantic Leather), use Icelandic geothermal energy from volcanoes.
Many fish leathers are tanned and dyed with vegetables and are biodegradable.
New job opportunities for coastal dwellers and remote communities increase with fish leather production.
Fish Leather Disadvantages:
Really, fish leather disadvantages depend on who you ask.
Beyond it being a byproduct of a living being killed for consumption, Nordic Fish Leather says it's the cost of production that is the most challenging, which leads to expensive products.
For this, they're passionate about transparency, to keep customers informed about the costs involved.
---
6. Fish Leather Challenges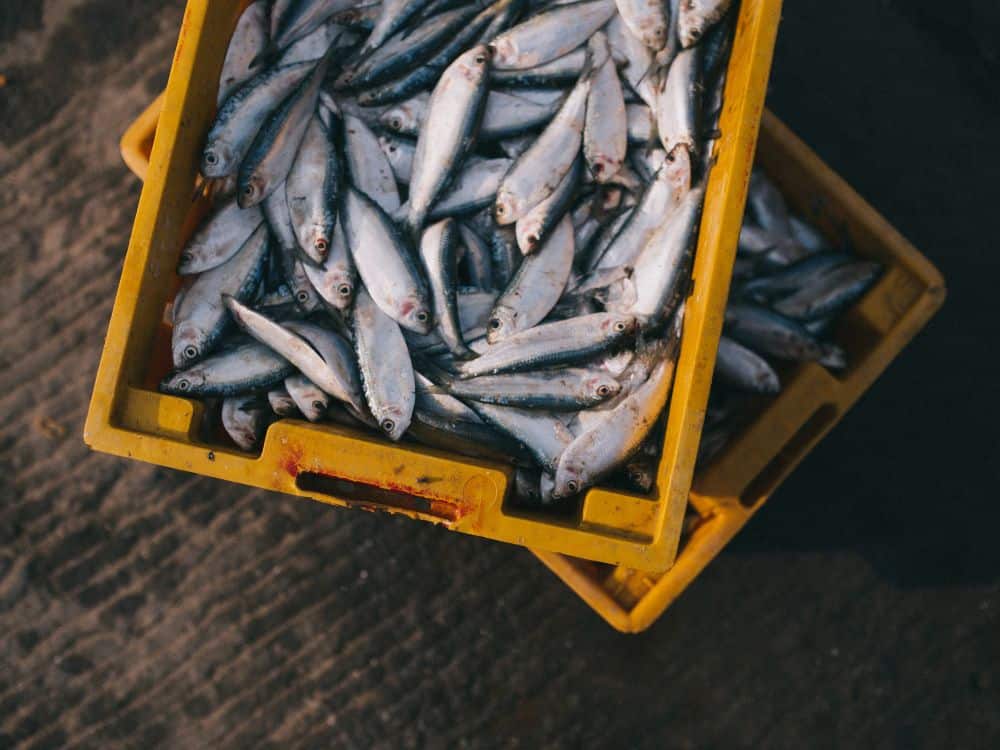 There are further challenges for the emerging fish skin industry, namely critiques of appropriation, lack of certifications or standards, and no guarantee of responsible farming or fishing.
According to Malou Koldenhof, co-owner of Wales-based The Fish Leather Company, "The primary demographic interested in fish leather is made up of art and fashion students."
In other words, the luxury and sustainable fashion industries are appropriating something historically used by economically disadvantaged peoples, which (like thrift flips) receives criticism as being non-progressive.
Because fish leather's resurgence as a contemporary fashion "must-have" is so new, the industry is entirely uncertified. This means consumers must take a brand's word for it, with no sustainability certifications that their claims of ethical sourcing and eco-friendly production methods are true.
Lastly, a huge challenge for fish leather is establishing a secure and ethical supply chain.
In recent years, there has been a huge push by animal rights and environmental activist groups to move away from animal leathers toward vegan leather, such as cactus leather.
While these leathers are innovative and important, to avoid animal-based leather altogether ignores the massive issue of waste in the seafood and meat industries.
Since 1961, the annual rate of increase of seafood consumption has outpaced population growth in all proteins except poultry. The US is one of the largest consumers of seafood in the world, which means diverting waste and repurposing its byproducts is critical.
Sustainable sourcing through waste and invasive species culling means fish leather is seen as sustainably superior over traditional leather.
That said, the potential for a toxic tanning process and for fish to be industrially farmed for leather are two main obstacles to fish leather becoming an entirely sustainable fabric.
---
7. Fish Leather Vs Cow Leather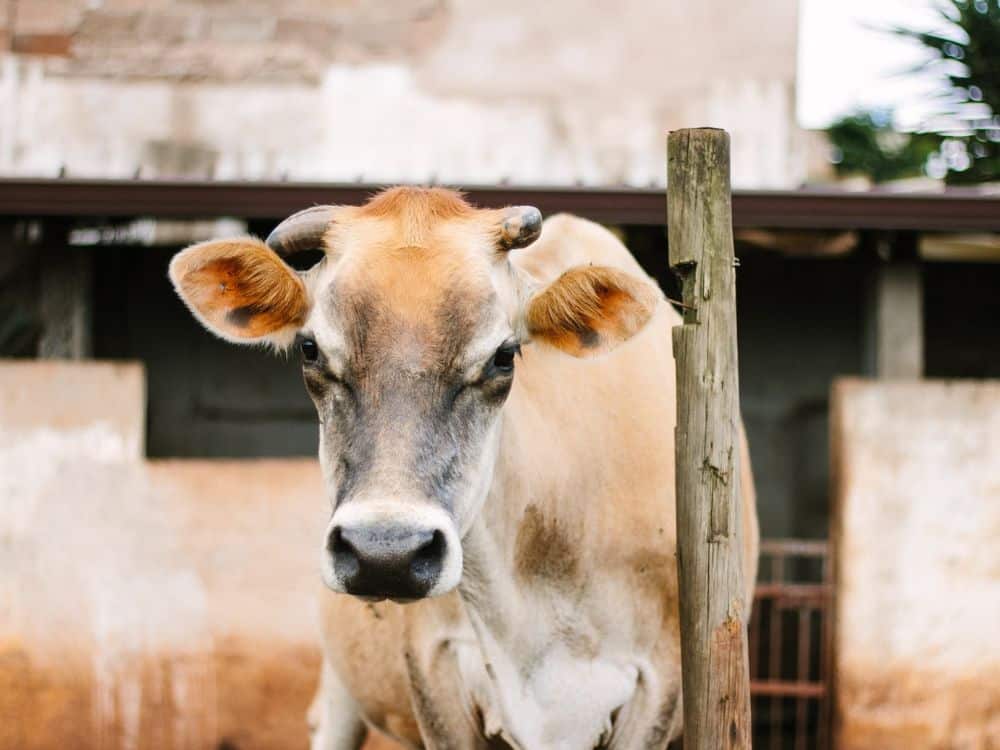 Leather is renowned for its durability, so how does fish leather durability compare? Is fish leather strong?
Fish scales tip the scales when it comes to strength.
Their resistance to breaking under tension, also known as tensile strength, is up to 90 newtons with fish leather. The toughest are salmon skin leather and perch leather.
By comparison, cow skin leather hides have just 8 to 25 newtons of tensile strength.
This is thanks to its crisscross, rather than the parallel fibers, like those of other leathers.
Fish leather is also slightly more elastic and waterproof than leather, thanks to oils added during the creation process.
Beyond the performance advantages, the process to make it is advantageous over the traditional leather industry, which is fraught with injustice.
From the devastating deforestation from the Amazon to Alabama to create cattle pastures and the methane gas released (which accounts for 20% of all global emissions), to the mistreatment of animals (who must be killed) and the toxic chemicals like chromium and arsenic used in tanneries, leather is highly problematic.
The hope in utilizing fish leather is that its raw materials' ubiquity, lack of additional water or land needs, and non-toxic processing can help address social and environmental problems in the textile, leather, and food industries.
---
8. Brands Making Fish Leather Products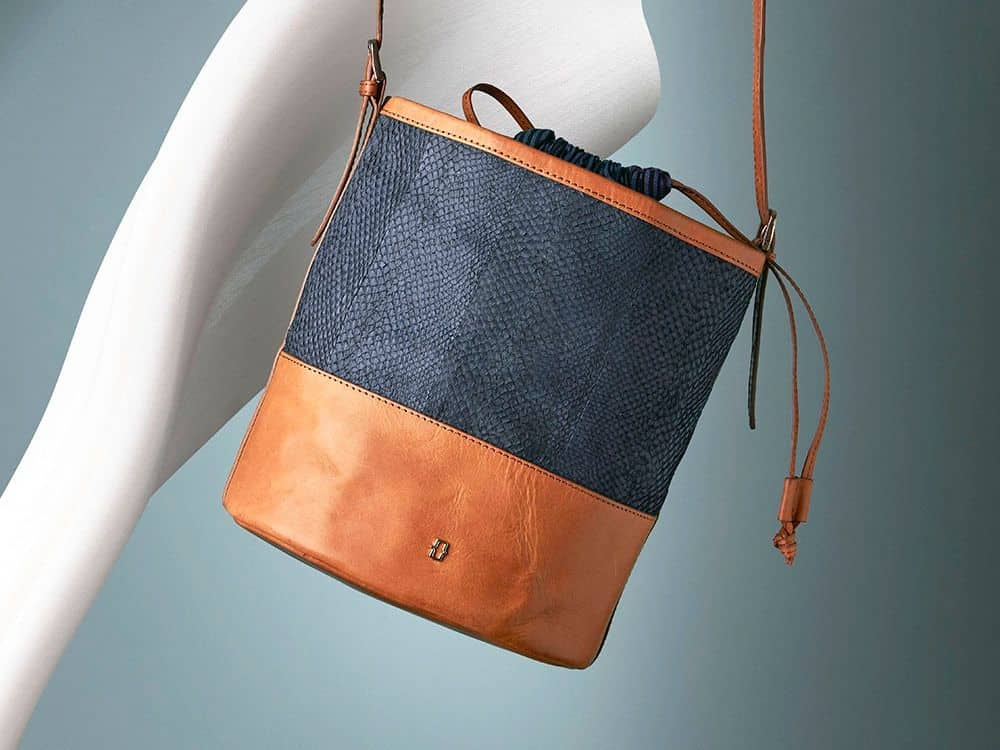 Because fish leather is so versatile, more and more brands are making fish skin leather clothing, sustainable wallets, bike seats, lamps, fish leather shoes, sustainable boots, watch straps, handbags, and more.
Nordic Fish Leather is used by Prada and Dior and sees an almost 20% increase yearly.
Even Nike experimented with making fish skin leather shoes from perch leather.
Main-stream brands aside, lots of niche, eco-friendly clothing brands are creating everything from fish skin leather boots to fish skin sandals to salmon leather jackets to fish leather belts.
Belgium-based Ms Bay, for example, offers gorgeous earthy sustainable handbags made from 100% vegetable tanned salmon skin. From using ethically certified factories to upcycling all production scraps, there's no reason to feel any guilt for indulging in one of their salmon leather wallets.
Other brands with fish leather products for sale include:
---
Did you know we Have a Newsletter?
We cover the latest in sustainable living, fashion, zero waste, beauty, travel, finance and more…
Final Thoughts On Fish Scale Leather
Depending on your ethics, fish leather may or may not be the kriller sustainable leather solution you were looking for.
But if you're ready to seas the day in a stylish, contemporary take on ancient fish fashions, fish leather could be the id-eel material for you.
Promoting the wearing of skins is seen by some as problematic because it encourages consumers to view real leather as desirable again.
But upcycling fish skins into some pretty remarkable leather goods not only makes use of waste, but also restores old practices, grows local shoreline economies, protects endangered species, and reduces demand for conventional leather.
So please, don't have a cow. Instead, strap on your fish leather cowboy boots and saddle up for sustainability with this eco, exotic leather.
Then share this article with your fashionista friends to help them learn that it's not too cool for school(s of fish) to support a sustainable aquamarine industry via eco-friendly fish leather products.
Pin these: