7 Organic Bath Bombs Turning Your Tub Time From Boring To Bliss
If you want to 10X your rejuvenating post-work soak time, think: organic bath bombs. They're exploding onto the clean bath product market.
But what are bath bombs & why use them?
Bath bombs are small balls made up of baking soda and citric acid that slowly fizz when dropped in warm water. This signature fizz works similarly to Epsom salts by creating calming bubbles to moisturize your skin and relax tired muscles.
However, swirling around in your post-work bliss may be a laundry list of harmful chemicals and synthetic fragrances causing your sensitive skin to stress out.
Even some "natural" bath bombs on the market aren't made with certified natural ingredients that can harm your skin and body.
Synthetic dyes, glitter, and unhealthy fizz begs the question: are bath bombs healthy for you? If not, what is a natural alternative to bath bombs? Can bath bombs be natural at all?
Fortunately for your self-care routine, yes!
Organic bath bomb options swap synthetic fragrances and dyes for essential oils, witch hazel, flowers, and other calming ingredients, so you can soak sans harmful chemicals.
Everything we recommend to you on Sustainable Jungle is independently researched and we ask all brands to confirm their claims. To avoid waste, we test products on an as needed basis. This post contains affiliate links. If you buy something through our links, we may earn a small commission. Learn more about why we do this here.
The Best Brands Putting The Nature Back In Natural Bath Bombs
If you're looking to BUY bath bombs (as opposed to DIY bath bombs), these companies keep their ingredients clean for when you're dirty.
Certified by the BDC, Bathorium undergoes rigorous testing to ensure their ultra-clean bath products are the (bath) bomb top of this sustainable list.
If you're soaking in the PNW, we love to see brands like La Fountain Herbal, who focus on their local supply chain, community, and customers without sacrificing high-quality ingredients.
For the scoop on how we found these safe bath bombs, sink down to the bottom of the list.
The Full List Of Non-Toxic Bath Bombs
---
1. Surfs Up Essentials
*Note: While these are organic vegan bath bombs, some of their soaps contain goat's milk.
Surfs Up Essentials' Pregnancy Safe Bath Bombs
If you're surfing the web searching for bath products filled with Epsom salts, non-GMO citric acid, sodium bicarbonate, rose water, coconut oil, shea butter, and cocoa butter, look no further.
Surfs Up Essentials offers large and small bath bombs and fizzy bath salts to up your tub time experience.
Aside from looking gorgeous even before use with visibly inlaid flowers and herbs, there's a scent for everyone, from floral rose to earthy sage. Our favorite is the invigorating coffee scent, perfect for a morning wake-up.
Either way, you're getting something vegan, palm oil, fragrance-free, and made without petroleum or parabens.
About Surfs Up Essentials
Made in her at-home studio, Carlotta takes creating conscious care products seriously, with guaranteed organic, non-GMO, reef-safe products made in small batches.
With portions of sales directed at wildfire relief, Surfs Up focuses on safe products that smell amazing and supports the natural world in which they grow.
Selling on Etsy guarantees her customers a renewable energy-powered shopping experience and carbon-neutral shipping.
---
2. La Fountain Herbal
*Note: Their soap bars contain sustainably-sourced palm oil, and all products are vegan except two soaps that contain honey. The bath bombs are both vegan and palm oil free.
La Fountain Herbal's Organic Bath Bombs For Kids & Adults
While mixing relaxing with fun, La Fountain Herbal offers packs of bath bombs made up of pure essential oils, flowers, clay, salts, and herbs to moisturize your body and mind.
Their Relaxing Bath Bomb is bursting with lavender scent as the flowers unfold, releasing moisturizing vitamin E, coconut oil, witch hazel, and Epsom salt.
Extra safe for sensitive skin, they also have some of the best natural bath bombs for kids. These Kids Bath Bombs are created with the same high-quality ingredients that dissolve to reveal a fun bath toy.
These refreshing, non-toxic bath bombs are free of synthetic dyes, artificial fragrances, and unnatural preservatives.
About La Fountain Herbal
Keeping things close to home is a priority for creators Tenaya and Rock, sourcing organic herbs from Oregon.
This company produces organic bath products—bar soaps, shampoo and conditioner, and more—while supporting local farmers and artisans.
They source as many local and organic ingredients as possible and the palm oil used in their soaps is ORGANIC Sustainable Palm Oil from local Portland company, Shay and Company.
They also support local schools and are on the board for their local Hoodland Farmers market.
La Fountain Herbal uses recycled paper for labeling and recycled materials for shipping.
---
3. Laura Botanicals
*Note: We are confirming policies directly with this brand.
Laura Botanicals' Homemade Organic Bath Bombs For Sensitive Skin
A great gift for the self-care queen in your life, the Laura Botanicals' bath bomb gift set consists of 12 different scents to soothe your senses.
Their healthy bath bomb recipe incorporates lavender, rose petals, organic cocoa butter, baking soda, and essential oil blends.
If you want to add a little sparkle, some contain biodegradable glitter.
Fragrance is listed as an ingredient in the bath bomb gift sets but not in other single bath bomb options, so we'll be double-checking which scents have synthetic fragrances.
If you're not the bathtub type, LB's organic shower bomb steamers combine aromatherapy with a quick standing rinse.
About Laura Botanicals
Handmade in Thousand Oaks, CA, these bath bombs are crafted fresh daily, with non-GMO ingredients.
Laura guarantees her products are vegan and not tested on animals—only willing family & friends!
---
4. Natural Amor
*Note: A few other products contain beeswax, but the bath bombs are vegan. We are confirming policies directly with this brand.
Natural Amor's Kid-Safe Bath Bombs
Psst…or should we say fzzzzz?
You're in for a real sweet treat with Natural Amor's uniquely shaped bath bombs, like the donut bath bomb or cupcake bath bomb, a favorite non-toxic bath bombs for kids.
These fizz-filled balls are sprinkled with flower petals and full of organic virgin coconut oil, Dead Sea salt, and Himalayan pink salt.
Choose between various scents like Flower Crown to feel like a queen (or king), or lean into the sweets theme with the refreshing bath bomb Lemon Poppy Donut scent.
About Natural Amor
Supporting a women-owned business for your suds makes Natural Amor an easy choice. Natural Amor is made in LA in small batches to ensure the highest quality.
Boasting natural, cruelty-free, and vegan-based, this bath bomb builder ensures relaxing is not only reeeally nice but really healthy, too!
Products are shipped using minimal, recyclable and reusable packaging, like corn packing peanuts and UPSable eco-friendly bubble wrap.
When they can, they support charitable initiatives surrounding breast cancer, collage students, and clean oceans.
---
5. Humble Organics
*Note: Some of their other organic skincare products include beeswax. We are confirming policies directly with this brand.
Humble Organics' Organic Vegan Bath Bombs USA
Are you searching for Peace, Power, and Love?
Soak in it with Humble Organics' extensive list of soothing and safe bath bombs, available in singles and sets.
When it comes to these bath bombs, natural ingredients include baking soda, citric acid, witch hazel, and several organic essential oils in varying scents.
And if you're wondering, "Are bath bombs safe for kids?", rest easy knowing theirs are. They even have a woodland creature-inspired line dedicated to making your children's bath time more fun. With the Dreamy, they'll have fun bathing like a bear—while you'll enjoy the calming and sleep-encouraging effects the eucalyptus and peppermint ingredients have.
About Humble Organics
A self-proclaimed hippie at heart, Annemarie began Humble Organics hoping to alleviate her daughter's eczema.
She was discouraged from seeing the harsh chemicals and artificial fragrances in many products on the market (aren't we all?).
She created Humble Organics using botanical ingredients that won't irritate sensitive skin.
Mixing natural products into a relaxing bath isn't Annemarie's only mission, 5% of profits support Lydia Home Chicago, a safe haven for children.
---
6. Bathorium
*Note: We are confirming policies directly with this brand.
Bathorium's Non-Toxic Bath Bombs Canada
Bathorium ups ooo and ahh of your bath water with a natural bath bomb that's free of fragrance oils, full of flower petals, and extra large for the ultimate fizzy fun tub.
Their Bath Lovers bomb set combines sodium bicarbonate, citric acid, and witch hazel with varying scents of citrus, grapefruit, rosemary, matcha, peppermint, honey, and eucalyptus. Voila! A bath bomb for every mood.
Bathorium's Aphrodite bath bomb delivers 12 full minutes of fizzy, relaxing goodness.
About Bathorium
Inspired by the Italian art of relaxation, founder Gregory MacDonald discovered the benefits of a rejuvenating bath swirling with natural skin care ingredients while visiting a coastal Italian Airbnb. The tub shelf offered healing clays, dried salts, and essential oils for the guest to enjoy.
After such a discovery, Gregory invested in finding organic options to create healing bath products back home in Canada.
Leaping Bunny certified, Bathorium is committed to vegan beauty products not tested on animals.
BDC certification means Bathorium willingly maintains a high standard of social and environmental performance, public transparency, and legal accountability.
---
7. Lizush
*Note: Some Lizush products contain organic beeswax and sustainable palm oil.
Lizush's Best Bath Bombs For Sensitive Skin
Lizush makes gift-giving and bubble-bathing easy with their bath bomb sets, shower steamers, natural soap, and personalized bath packs.
If you're sniffing around for your favorite scents like lavender, eucalyptus, and mint, Lizush offers the perfect end-of-day refreshing bath bomb options.
Using natural bath bomb colorants like herbs, spices, and roots means artificial dyes are down the drain for this vegan company that offers pure ingredients from nature.
About Lizush
Lizush specializes in eco-friendly gifts for all recipients and occasions. You can shop premade sets or for individual products, that include USDA organic and Leaping Bunny cruelty-free baby and personal care products, candles, and more.
And just as you care for whom you're gifting to, Lizush cares about the ingredients in their products—or more specifically, what's not in them.
Vegan and free of harmful chemicals, phthalates, parabens, PEG, sulfate, and fragrances, Lizush refuses to put anything in its ingredient list that isn't healthy for your body.
They do use some organic beeswax and their soaps contain fair trade and sustainablly sourced palm oil (but the bath bombs do not).
---
8. DIY Healthy Bath Bombs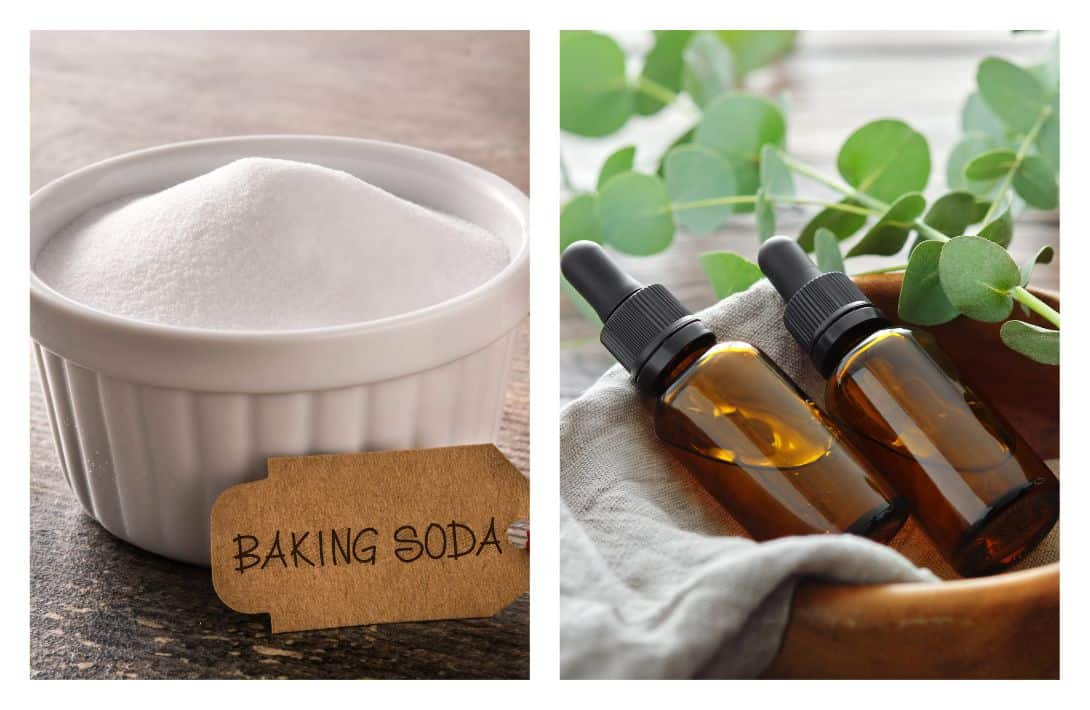 If homemade bath bombs are something you'd like to dip your toes into, consider making your own DIY bath bombs for the perfect at-home spa visit.
The most important ingredient to ensuring your diy bath bomb plans don't blow up in your face (figuratively) is using high-quality ingredients.
If you want to know how to make healthy bath bombs, you'll need the following ingredients:
1 cup baking soda
1/2 cup cornstarch
1/2 cup citric acid (for the ACV fans, you can substitute 1/4 cup each of baking powder and apple cider vinegar)
1/2 cup Epsom salt
3/4 tbsp. water
2 tbsp. organic cocoa butter, olive oil, or coconut butter or oil
20 drops of pure skin safe essential oils for bath bombs (choose your favorite scents, or combine a few if you're searching for the perfect mix – popular ones include lavender for sleepy time and eucalyptus for easing pain and sore muscles)
Boosting your bath bomb with flower petals that disperse while you're soaking adds a little extra oomph, but is optional.
Then, after a few simple steps, you could be floating in a homemade organic bath bomb bath of your favorite scent.
First, combine all dry ingredients in a large bowl to create a smooth mixture.
Second, combine the essential oils, water, and coconut oil together in a smaller bowl.
Slowly pour the wet ingredients into the dry ingredients, gently whisking as you go. The mixture should feel similar to wet sand.
Drop the mixture into your favorite molds. Molds come in all shapes and sizes (if you don't have molds on hand, ice cube trays work great!)
Mix in the extras or sprinkle flowers/herbs on top of the molds.
Place the molds onto parchment or wax paper and allow them to dry for several hours.
Wrap bath bombs in an airtight wrap to prolong shelf life.
---
Did you know we Have a Newsletter?
We cover the latest in sustainable living, fashion, zero waste, beauty, travel, finance and more…
Why Buy Natural & Organic Bath Bombs?
Are bath bombs toxic? And if so, what chemicals should be avoided in bath bombs?
Like many bath products, a pleasing aroma gets the bombs in the cart and into your care routine, but fragrances are known endocrine (AKA hormone) disruptors.
More concerning, the FDA doesn't require a further breakdown if a company lists fragrance as part of its ingredient list. Aromatherapy shouldn't come at the risk of Aldehydes in your warm bath.
Talc is often used in bath bombs, too. Harmful to children (and those thinking of having them as talc has been linked to cases of ovarian cancer), talc or talcum powder can cause irritated airways and trouble breathing.
Then there's toxic lathering agents.
Undeniably, the satisfying fizz in the bathtub makes bath bombs extra ahh-inducing, but that fizz is typically created using Sodium Laureth Sulfate (SLS). While it may feel relaxing, it's anything but for your eyes, skin, and lungs.
During manufacturing, SLS may also become contaminated with a substance called 1,4-dioxane, which has caused cancer in laboratory animals.
For something safer, we've got you covered with our clean beauty criteria before you strip down.
---
How We Chose The Best Natural Bath Bombs
We don't think bath bomb ingredients should carry names like "Relax" or "Calm" if the artificial dyes, fragrance oils, and environmentally questionable ingredients cause us to be anything but calm and relaxed.
Are all-natural bath bombs safe?
Yes, but in addition to looking at their bath bomb's natural ingredients, we used our sustainable and ethical beauty criteria to find companies that stay out of hot water for their overall sustainability practices—so you can comfortably stay in your hot water.
Non-toxic: In addition to the ingredients we talked about above, we avoid all common ingredients to avoid in skin care, ideally in favor of all-natural, plant-based alternatives, Ideally with organic and non-GMO certifications. Natural colorants for bath bombs are also essential, just like pure essential oils instead of synthetic fragrances.
Vegan: While we make exceptions for things like beeswax and honey in some sustainable skincare products, organic vegan bath bombs are all we include here.
Cruelty-free: Certifications that ensure no animal's skin was harmed while warming yours like, Leaping Bunny, Vegan, and Reef Safe.
Palm oil free: If any palm oil is used, it needs to be sustainably certified (like RSPO).
Ethical ingredient sourcing policies
Thoughtful packaging: We look for eco-friendly bath bombs in limited packaging, ideally that's zero waste (compostable or reusable).
---
Final Thoughts Organic & Natural Bath Bombs
So, are bath bombs bad for the environment? They can be—but they don't have to be.
Whether you're making homemade bath bombs or buying the perfect gift set, clean bath bombs are the only right choice.
Bath bombs—and other clean bath products like shaving soap bars and organic shampoo—free of plastics, parabens, and harsh chemicals keep your skin (and the planet) happy and healthy.
Mix it up, place it in the molds, and let it bubble in pure bath-bliss. And don't forget to share these scents and suds with your bath bomb-loving gal (or guy) pals.
Pin these: