6 Eco-Friendly Candy Brands For A Sustainable & Sweet Halloween
As the air gets crisp and the leaves don their spooky shades, it's time to put the 'boo' back in 'boo-tifully eco and low impact'. 
Forget the usual sugar rush because this year you can swap out the wicked witch's brew for a cauldron of sustainable candy (packaging and all) that won't have our planet saying, "I'm melting!"
From ghostly gummies to vampire-friendly chocolates, we've got a lineup of eco-friendly candy brands that are so sustainably scary, you'll be howling with delight. 
Grab your broomstick and join us in this candy-coated adventure as we explore the sweet side of sustainable food in the spookiest season (AKA one of the most wasteful) of all.
Everything we recommend to you on Sustainable Jungle is independently researched and we ask all brands to confirm their claims. To avoid waste, we test products on an as needed basis. This post contains affiliate links. If you buy something through our links, we may earn a small commission. Learn more about why we do this here.
The Most Hauntingly Delicious Candy With Green Packaging
Top of the list of sustainable food brands for Halloween is Alter Eco, a creator of the cleanest and greenest organic truffles that come in compostable and biodegradable candy wrappers and boxes. 
It's all organic Halloween treats and no tricks with Sun & Swell Food's ultra transparent ingredient lists.
Let's not forget the most sustainable option of all: making your DIY bulk candy.
Want to know how we chowed down on what candy brands are sustainable? Trick-or treat your way to the bottom of the page. 
The Full List of Eco-Friendly Candy Alternatives
---
1. Equal Exchange
Equal Exchange's Bulk Halloween Treats
Price Range: $31–$162
Number one in this sustainable candy list is Equal Exchange.
Fair Trade chocolate organic ingredients are used to make their range of Chocolate Minis that are the perfect size to use for eco-friendly Halloween treats.
Bite-sized and individually wrapped, these milk or dark chocolate minis are certified organic by Oregon Tilth and Kosher Pareve Certified by Rabbi Marcel Yair Ebel.
In terms of eco-friendly candy packaging, the inner wrappers are foil and paper combined while the outer wrappers are paper.
The bulk packaging is made using plastic. This can be recycled although usually not in curbside recycling.   
Equal Exchange's Ethical & Sustainability Practices
Equal Exchange is a for-profit fair trade company that partners with farmer cooperatives that are democratically organized, sharing resources and decision-making among employees.
As well as fair trade chocolates, they also distribute organic, gourmet coffee, sustainable tea, sugar, bananas, avocados, and cocoa. 
Ingredients are sourced from over 40 small farmer organizations around the world.
Equal Exchange is also co-op owned using an alternative business model based on democratic principles.
---
2. Alter Eco
Alter Eco's Eco-Friendly Halloween Treats
Price Range: $53–$60
Truffles with a sweet alter ego are what you get with Alter Eco's delicious range of organic chocolate truffles. 
Each one is made with 100% pure coconut oil and other USDA Organic and Fair Trade ingredients.
While they're not paper candies, per se, each individual truffle wrapper is 100% compostable.
You can purchase them in FSC-certified recyclable eco-friendly candy boxes that are ideal for all those trick-or-treaters knocking on your door shortly.
Alter Eco's Ethical & Sustainability Practices
Alter Eco is a Certified B Corp and one of the first registered Public Benefit Corporations, thanks to their dedication to full-circle sustainability throughout their operations and supply chain. 
They focus on four pillars: sourcing using Fair Trade principles, producing only organic and non-GMO foods, creating minimal waste, and insetting carbon emissions.
---
3. Tony's Chocolonely
Tony's Chocolonely's Ethical Halloween Candy
Price Range: $6–$50
Tony's Chocolonely is a Dutch chocolate manufacturer that produces wildly exotic chocolate with flavors like "dark milk pretzel toffee", "white raspberry popping candy", and "milk caramel sea salt."
As well as big bars, you can also buy tasting packs, 1.8oz small bars, and individually-wrapped Tiny Tony variety pouches, which are an affordable way to dish out the non-toxic candy.
Tony's Chocolonely's Ethical & Sustainability Practices
While the bite-sized options don't use entirely sustainable candy packaging, this ethical chocolate brand prioritizes the sustainability of their ingredients and sourcing. 
Tony's Chocolonely is on a mission to make all chocolate worldwide 100% free from exploitation. The company goal of "towards 100% slave-free chocolate" is printed on the inside of every eco-friendly Halloween candy wrapper.
All cocoa and sugar in Tony's sustainable Halloween candy are Fair Trade certified. The cocoa is purchased directly from cocoa farmers in West Africa and the company works with 11 cooperatives to source its cocoa.  
Wrappers for their full-size bars were changed in 2012 to uncoated, recycled FSC-certified paper. The foil used contains as much recycled material as possible and is also made as thin as possible. 
---
4. Sun & Swell Foods
Sun & Swell Foods' Halloween Candy with Biodegradable Wrappers
Price Range: $15–$22
Sun & Swell Foods is one of our favorite organic snack brands that stands for quality, organic, whole food.
If you're looking for the best individually wrapped candy for Halloween or your little one's lunch boxes, Sun & Swell's energy bites, organic fruit chews, and baked bars are soft and chewy on the inside and lightly baked on the outside.     
As unique alternatives to Halloween candy, we can confirm they taste like delicious baked sweets, but they're also nutritious and will power your kiddo's Halloween jaunt far longer than empty sugar calories. Ingredients include organic dates, cashews, oars, and cacao.
All products come in 100% compostable packaging and if you don't have access to composting, you can send the wrappers for their eco-friendly Halloween candy back under the company's Compostable Bag Send-Back Program, and they'll compost it for you.  
Sun & Swell Foods' Ethical & Sustainability Practices
Sun & Swell is a Certified B Corp and 1% for the Planet member that specializes in producing healthy, organic, and plant-based treats packaged in compostable eco-friendly candy wrappers. 
In fact, they were one of the first companies in the US to sell its sustainable snacks in compostable packaging—and we can confirm they break down in an indoor compost bin.
Everything they offer is free from heavy processing and harmful ingredients such as preservatives, added sugars, and other chemical additives, so you're getting non-toxic candy, too.
---
5. Unreal Candy
Unreal's Candy With Sustainable Palm Oil
Price Range: $20–$40
Unreal was created with the mission to create chocolate snacks that you can eat and feel good about.
They've managed to reinvent all your favorites, such as the caramel peanut nougat bars, using only real, simple ingredients with way less sugar.
Using organic, sustainable, non-GMO project-verified ingredients, and using up to 51% less sugar than many leading brands, their Grab & Go Boxes make it so you can hand out sustainable Halloween candy and sleep soundly at night.
While the packaging is plastic, it can be recycled through TerraCycle.
Unreal Candy's Ethical & Sustainability Practices
Every product in Grab and Go's lines uses Fair Trade-certified chocolate complete with sustainably-sourced palm oil for their individually wrapped candies.
This means farmers are guaranteed to receive a minimum price for their cocoa beans, have safe working conditions, and have sustainable wages.
The products are made in the USA and Canada and meet local environmental and working standards.
---
6. YumEarth
YumEarth's Organic Halloween Candy Alternatives
Price Range: $8–$45
With so many kids suffering from a range of allergies, it's hard to find the best allergen-free and sustainable candy companies for Halloween (or any other holiday or occasion).
With YumEarth's organic candy, your kids and their spooky pals can enjoy a host of delicious allergy-friendly treats.
Take the Halloween Variety Pack—it contains YumEarth gummy fruits, giggles, and pops. These treats are free from peanuts, gluten, tree nuts, milk, fish, shellfish, eff, soy, and sesame. There is no high fructose corn syrup, artificial sweeteners, or artificial dyes, and they are made with organic ingredients, non-GMO, and gluten-free.
YumEarth's Ethical & Sustainability Practices
What candy uses palm oil?
Most of them, but not YumEarth!
Unfortunately, at the moment, their vegan, organic Halloween candy does not use sustainable or biodegradable eco-friendly candy paper or packaging.
---
7. (bonus) DIY Sustainable Candy Packaging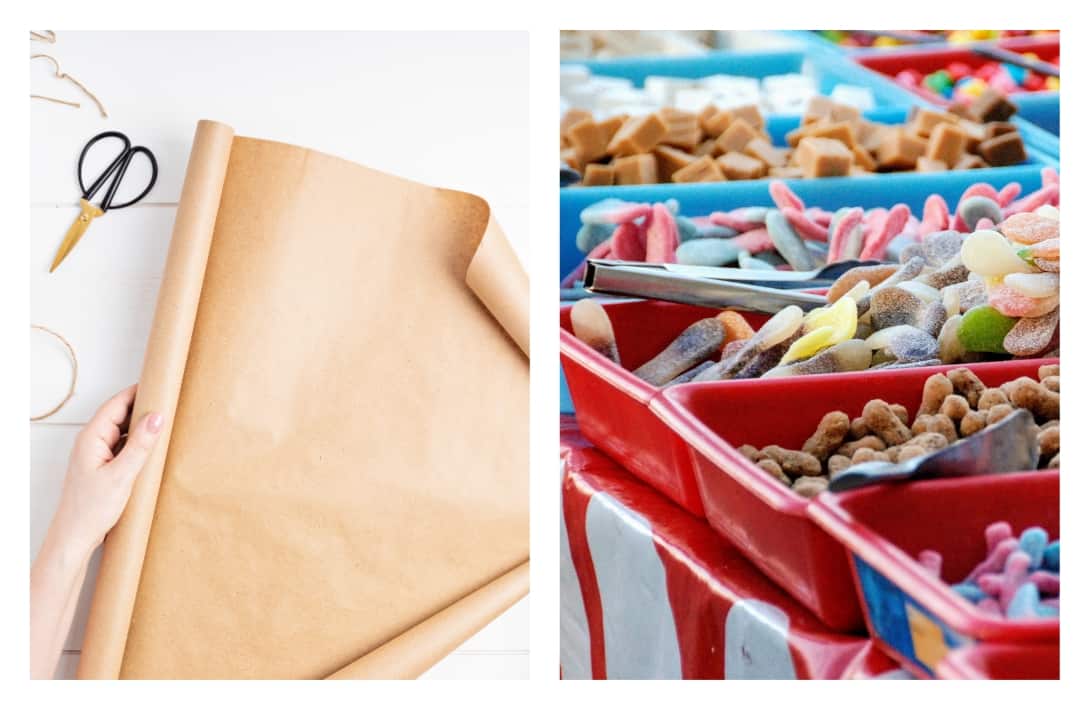 Making your DIY eco-friendly Halloween goodies is the holy grail of sustainable trick-or-treating and the only way to do truly zero waste candy—but it's not always the most practical or widely embraced option. 
Sure, crafting your own delicious cheap Halloween candy confections from scratch allows you to control the ingredients and packaging, reducing waste and the carbon impact. 
You can whip up ghostly gummies, monster munchies, and witchy chocolate delights in your cauldron of creativity, all while minimizing single-use plastics and unnecessary additives.
However, let's face it, not all of us have the time, energy, or culinary wizardry to pull off a DIY candy extravaganza.
Plus, there's the concern of homemade treats not being well-received due to safety concerns, which can haunt even the most well-intentioned eco-conscious Halloween enthusiast.
However, if you live in a mindful community where it might be acceptable to do so, try buying candy in bulk sans plastic (your local grocery store probably has bulk bins) and assembling your own sustainable candy wrappers. 
But what can you use as a substitute for candy wrappers?
Channel your inner Halloween decorator and wrap them up in kraft paper, and tie the top together with compostable string or twine.
These charming little bundles of joy not only look spooktacular but also allow you to customize each treat pack with a personal touch.
---
Did you know we Have a Newsletter?
We cover the latest in sustainable living, fashion, zero waste, beauty, travel, finance and more…
What to Do With Old Candy & Wrappers?
Most conventional candy wrappers are not recyclable due to their mixed materials and small size.
Fear not! TerraCycle—the wizards of hard-to-recycle waste—can come to the rescue. 
They offer special recycling programs for candy wrappers and other tricky-to-recycle items. With TerraCycle's assistance, you can collect and ship your candy wrappers to be properly processed and repurposed, keeping them out of landfills.
It's like sending your candy wrappers on a mystical recycling adventure!
As for leftover candy, whether it's from the bottom of your trick-or-treat bag or an overzealous candy stash, consider sharing the sweetness to reduce food waste.
You can donate unopened candy to local shelters, food banks, or community centers to bring smiles to others' faces.
Or get creative with your leftover candy by using it in baking or making fun DIY treats to share with friends and family.
Can You Compost Candy?
If the candy has seen better days and can't be salvaged, check if it's compostable. Some organic candies are designed to break down naturally, making them a tasty treat for your compost pile.
Just remember to remove any non-compostable elements like plastic or foil before tossing them in.
---
How We Chose These Sustainable Candy Brands
What is meant by 'sustainable' halloween candy?
Whether we're talking about eco-conscious Halloween or everyday sweet cravings, it's essential to consider several key factors.
From ingredients and sourcing to green practices and packaging, every aspect contributes to the overall sustainability of the treat.
Ingredients & ethical sourcing:
We look for candies made from non-GMO and organic ingredients as they are grown without synthetic pesticides and fertilizers.
Because candy should be as healthy as possible, we also look for brands that don't use artificial sweeteners or preservatives.
Supporting locally grown ingredients can reduce transportation emissions and bolster the local economy, while those made from sources that practice regenerative agriculture can help ensure Halloween doesn't become a Nightmare On Every Street for the planet.
Ethical treatment of farmers and fair trade practices further ensure that those involved in the candy's production are compensated fairly and work in humane conditions.
Carbon commitments & green practices:
Green business practices include everything from carbon offset programs to renewable energy usage.
Companies that offset their carbon emissions invest in projects that reduce or capture an equivalent amount of greenhouse gases, contributing to a net-zero carbon footprint.
Brands that go the extra mile may engage in energy-efficient manufacturing processes, reducing waste and conserving resources. They might also prioritize reducing emissions in their supply chain, further lowering their carbon footprint.
Sustainable snack packaging:
Let's not forget about packaging—a huge issue, especially for holidays like Halloween where bite-sized candy equates to handing out plastic waste en masse.
Ideally, we want zero waste Halloween treats, such as compostable materials that can return to the Earth harmlessly.
If compostable zero waste candy wrapping isn't available, we look for brands that use recycled materials in their packaging or have initiatives in place to encourage the recycling or reusing of their candy wrappers.
Even small steps toward reducing Halloween candy packaging waste can make a significant difference in the sustainability of your candy choice.
---
Final Thoughts For This Sustainable Candy Guide
As the ghosts and goblins prepare for their annual candy raid, it's heartwarming to know that we can indulge our sweet tooth without tricking the planet.
From gummy worms that wiggle in your hand, not in a landfill, to chocolates that make your taste buds dance with delight, not your carbon footprint, these eco-friendly wrapped candy treats are not just delicious but also conscious of our Earthly home.
When you're doling out goodies to little monsters at your doorstep or sharing the eerie-sistible news of sustainable sweets with your friends, remember that every wrapper saved, every organic ingredient chosen, and every ethical brand supported is a step towards a brighter, greener Halloween party.
Don't keep these eco-friendly Halloween treats; share the sustainably sweet love with both trick-or-treaters and your friends.
Whether you're swapping spooky stories or swapping eco-conscious candies, spread the word like cobwebs in an abandoned haunted house. Together, we can make this Halloween a little sweeter for both our taste buds and our planet.
Pin these: