9 Sustainable Snacks Suitable For Eco-Friendly Food Fanatics
What makes a good snack?
It depends on who you ask. To some, the most delicious snack is a fresh fruit salad on a sunny day. To others, sea salt potato chips on the couch does the trick.
Personally, we think the best snacks are relatively healthy ones that are ethically sourced from sustainable food systems and contained in sustainable food packaging.
Despite the majority of the plastic-happy, GMO-saturated grocery industry doing the exact opposite, it actually isn't too hard to find sustainable snacks that fit the criteria and taste amazing, too.
Whether you have a sweet tooth or you prefer something salty, these eco-friendly snacks are worth going nuts about (pun intended).
Everything we recommend to you on Sustainable Jungle is independently researched and we ask all brands to confirm their claims. To avoid waste, we test products on an as needed basis. This post contains affiliate links. If you buy something through our links, we may earn a small commission. Learn more about why we do this here.
Finding low-waste or compostable packaging was an obvious area of interest, but it wasn't all we looked for. Bite into the rest of what we considered mandatory for munching at the bottom.
The Full List Of Sustainable Snack Brands
---
1. Bulk Snacks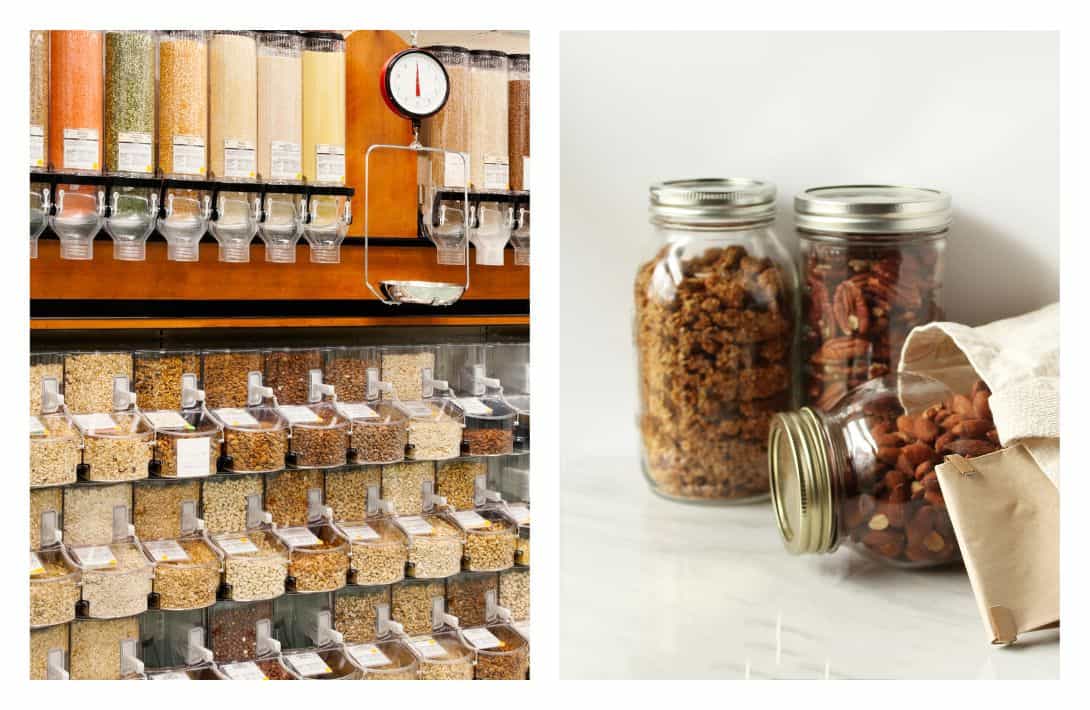 Finding snacks without plastic packaging can be difficult, even among the most sustainable snack brands. This is because consumer health and safety regulations require complete airtight sealing.
So if you're looking for truly zero waste snacks, bulk is your best bet.
If you have a bulk aisle in your local grocery store, always check there first. In addition to baking necessities and dry pantry staples, they usually offer plenty of snackable items like nuts, seeds, dried fruit, granola, and candy.
Not only do these come without packaging, but you'll find many qualify as overall sustainable foods, too.
Be sure to bring your own container—having its empty tare weight on hand so you don't pay for that—like recycled glass jars or other plastic-free food storage containers.
---
2. Patagonia Provisions
About Patagonia Provisions' Ethical Snacks
Patagonia Provisions and eco camping goes hand in hand.
They use ethical food sourcing practices.
You can find snacks such as dried fruit, sprouted almond butter, and packaged soups with bags that double the cooking pot and bowl all-in-one, designed for eco-friendly camping and other to-go uses.
They also offer eco-friendly high protein snacks from ethical meat sources, like grass-fed free-range bison jerky, smoked venison sausage links, and canned fish that are either wild-caught or from self-sustaining fish hatcheries.
All products are Non-GMO Project-verified, containing USDA-certified organic ingredients without synthetic preservatives or chemicals.
Patagonia Provisions' Sustainable & Ethical Practices
Patagonia Provisions partners with vendors that support small, family-run businesses like The Regenerative Organic Alliance and The Wild Fish Conservancy.
Being proponents of regenerative agriculture, some items are Regenerative Organic Certified (ROC).
That means this Certified B Corp supports food produced in ways that build soil health, as well as those that ensure animal welfare and protect agricultural workers through fair trade practices.
Their eco-friendly packaging consists of BPA-free recyclable fish tins (an eco-friendly alternative to those non-recyclable tuna packets), glass jars, and compostable cardboard.
Their meal pouches do not fall into the compostable or recyclable packaging category, but they're working to find better solutions.
As an offshoot of the legendary sustainable outdoor clothing brand and founder of 1% for the Planet, Patagonia, at least 1% of their revenue goes toward environmental nonprofits.
---
3. Sun & Swell Foods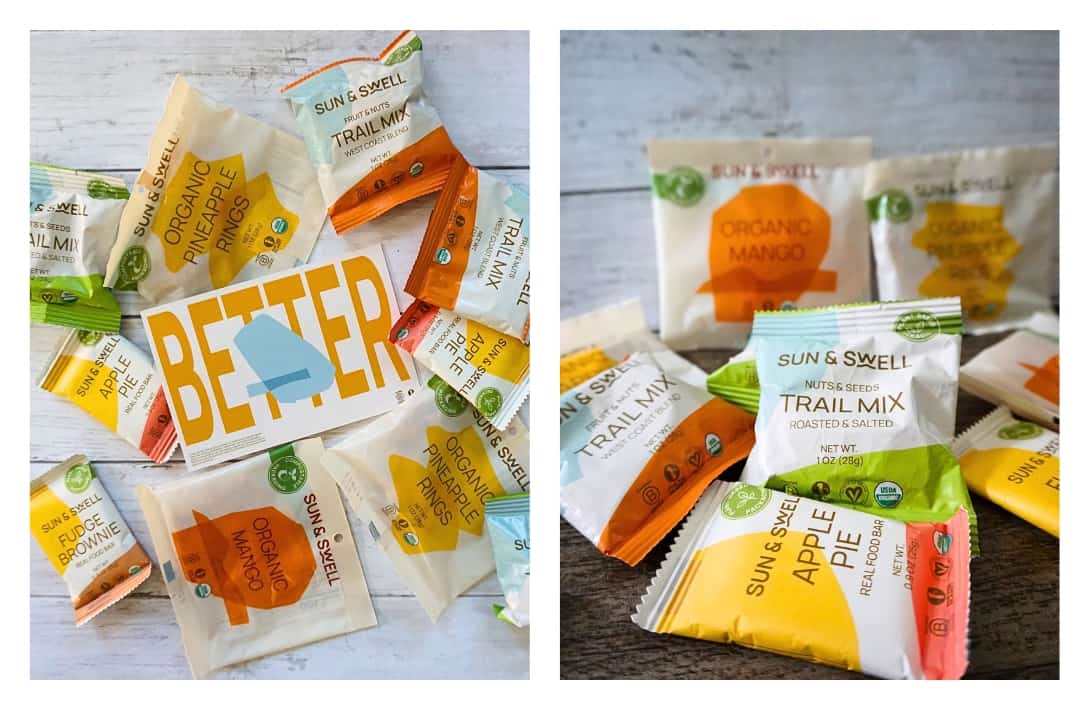 About Sun & Swell Foods' Eco-Friendly Packaged Snacks
If you're searching for organic whole foods free from preservatives, refined sugar, and harmful additives, Sun & Swell Foods might be your new favorite brand.
Their eco-friendly snacks are made from plant-based ingredients that never contain added sugars, preservatives, and artificial flavors.
You can find vegan snacks made with clean ingredients and supplied in compostable packaging such as trail mixes, brownie bites, dried fruits, energy balls. They also have a bulk food section full of an assortment of dried fruits, nuts, hemp seeds, and dates.
Sun & Swell Foods' Sustainable & Ethical Practices
In addition to portable sustainable snacks, Sun & Swell Foods offers pantry staples, like coffee, tea, and baking supplies, making them one of the best bulk stores online.
All products are sold in compostable packaging. If you don't compost yourself, they allow customers to send back packaging to be properly composted. Simply stick your bags in a prepaid envelope and send them back in the mail.
They also are part of 1% for The Planet, source fair trade from US farms as much as possible, and offer the option to choose carbon-neutral shipping at checkout.
---
4. Nature's Path Organic
About Nature's Path's Environmentally Friendly Snacks
You've probably seen these in your local health food store. This family-owned business was the first USDA certified organic cereal on the market.
Nature's Path Organic supplies delicious organic cereals, oats, and waffles.
Their more portable sustainable snacks include granola, pastries, and tortilla chips—all with ultra-minimal, organic, and whole ingredients—no artificial preservatives, added sugar or flavor, or unsustainable seed oils.
You can find many of their healthy snacks in grocery bulk sections and health food stores around the country.
Nature's Path's Sustainable & Ethical Practices
Nature's Path invests in the environment by supporting regenerative agriculture. They created the world's first Regenerative Organic Certified instant oatmeal, just the beginning of their regenerative snack regime.
They are actively working on sustainable packaging for snacks, aiming to make all of their packaging plastic-free, reusable, recyclable, or compostable.
Nature's Path offsets their electric bills in their zero-waste packaging facilities with renewable energy credits that support green energy products.
As if compostable packaging and carbon offsets weren't enough, part of their proceeds are also invested into organic research and collaborative partnerships such as Non-GMO Project and National Organic Coalition.
---
5. One Degree Organic Foods
About One Degree Organic Foods' Ethical Snacks
What are some wholesome snacks?
Those made with wholesome ingredients sourced from 100% traceable, wholesome farms, of course.
Which is exactly what you get in One Degree Organic Foods' granola, cereal, oats, bread, and flour.
Their organic ingredients are Non-GMO Project verified, third-party Glyphosatem tested, and free from artificial colors, flavors, sweeteners, and preservatives.
One Degree Organic Foods' Sustainable & Ethical Practices
Transparency is the key value at One Degree Organic Foods.
Each snack has a QR code that can be used to trace back ingredients to specific farmers. The owners personally to each farm, co-op, and processing facilities to ensure ingredients align with their values.
They only work with small farmers and producers who use organic, sustainable, and plant-based farming methods, and prioritize producers dedicated to reducing water consumption.
You can read the stories of their farmers on their website.
---
6. ReGrained
About ReGrained's Healthy Sustainable Snacks
ReGrained is a cutting-edge food lab rescuing spent grain typically discarded during the sustainable beer brewing process.
The upcycled grain is loaded with fiber, protein, and functional benefits, with over three times the fiber and twice the protein of whole wheat flour.
The nutritious super grain is incorporated into baking mixes, pasta, sustainable popcorn-like puffs, and bars. Super grain banana bread, anyone?
But order fast, because supplies are limited by their stock of upcycled ingredients, so if they're out, keep checking back.
ReGrained's Sustainable & Ethical Practices
Since their products are made out of otherwise "spent" ingredients, their snacks reduce food waste and have a low carbon footprint.
Every pound of ReGrained prevents the carbon dioxide equivalent of burning one pound of coal and saves over 300 gallons of water.
ReGrained is working with OSC2 Packaging Collaborative to develop compostable packaging as an eco-friendly packaging alternative to petroleum-based plastic, reducing their environmental impact further.
---
7. Barnana
About Barnana's Plant-Based Sustainable Snacks
Barnana creates delicious snacks out of bananas that are considered imperfect, overripe, or damaged.
This brand reduces food waste by repurposing fruit that would otherwise be thrown out. It's truly something to go bananas over.
Their sustainable snacks include plantain chips, tortilla chips, and chewy banana bites.
Business Practices:
As a Certified B corporation, you can trust that Barnana puts effort into saving the planet.
This sustainable brand supports indigenous family farmers by helping them become certified organic.
To support fair trade standards and help small businesses, Barnana purchases this organic produce 30% over the market price.
They are actively working to replace their current packaging with recyclable packaging. For now, they encourage consumers to share inspiration on how to repurpose their packaging.
---
8. Nairn's
About Nairn's Sustainable Snacks UK
The Nairn's range is created with wholegrain oats sourced directly from farmers and millers throughout the Scottish Borders and the rest of the UK.
They export their snacks to over 30 different countries and are the largest producers of oatcakes in the UK—having been around for over a century.
Their sustainable snacks include oat cakes, biscuits, bars, pops, flatbreads, and crackers. Many of these are gluten-free, as approved by Coeliac UK.
No pesticides or insecticides are used in their organic ingredients, meaning more room for flavor and less room for harmful chemicals.
Nairn's Sustainable & Ethical Practices
Aware of the environmental consequences of palm oil production, they work with RSPO-certified palm oil suppliers only.
All products are made in Scotland in a WRAP-certified facility using 100% renewable energy and an energy and waste-saving process.
In fact, they send no waste to landfills and are working with Zero Waste Scotland toward becoming net zero.
Their cycle to work scheme helps.
While not exactly snacks with environmentally friendly packaging, they're working to improve this. Currently, the packaging is recyclable PE.
---
9. Cartwright & Butler
About Cartwright & Butler's Eco-Friendly Snacks UK
For those whose eco-friendly office snacks consist of a little afternoon sugar pick-me-up, Cartwright & Butler is a luxury biscuit brand that partners with local farmers and sources from ethical-vendors.
Their luxury biscuit collection includes chocolate, crumble, and shortbread biscuits. They also specialize in savory biscuits, crackers, fudge, and luxury nuts.
Only 3% of their products are packaged with plastic, and they are actively working to make all products palm-oil free.
Cartwright & Butler's Sustainable & Ethical Practices:
To become carbon-neutral, Cartwright and Butler offsets some of their carbon footprint. In partnership with Ecologi, trees are planted each month to reduce CO2 emissions by over 52 tons.
They also strive for a more circular economy by partnering with Too Good To Go, a movement that prevents food waste by connecting businesses that have surplus food to consumers in need.
Packaging consists of reusable tins and jars, compostable cardboard boxes, and some traditional wrappers.
---
Did you know we Have a Newsletter?
We cover the latest in sustainable living, fashion, zero waste, beauty, travel, finance and more…
How We Found The Best Sustainable Snacks
So, what are eco snacks and what makes a snack sustainable?
Well, mostly the same things that determine any sustainable food brand—just in more portable packaging.
Contrary to what you may have been led to believe, you don't need to eat environmentally friendly seaweed snacks to make your munching more sustainable. Any snack can be if it meets these criteria:
Ingredients & Sourcing:
Farming is a critical component of the food chain. We look for ingredients that are organically grown and GMO-free whenever possible. Hence our focus on organic snacks.
Since buying locally cuts carbon emissions, we also prefer local sourcing.
If not local, products should be fair-trade and ethically harvested, especially when they contain palm oil.
Sustainable & Ethical Practices:
Arguably, a product is only as ethical as the company that produces it.
In addition to being organic, environmentally friendly snacks should also come from companies that are making a positive impact on the planet. This could mean companies with carbon offset programs, partner with environmental agencies, or support local farms and regenerative agriculture.
To avoid greenwashing, we always try to include companies that are officially certified.
Sustainable Snack Packaging:
We look for brands that have zero waste or compostable packaging or that are actively working on developing sustainable packaging solutions.
Always opt for a reusable container, compostable wrapper, or plastic-free packaging. If it's made of recycled materials, all the better.
---
Final Thoughts On Sustainable Snack Brands
At the end of the day, you are what you eat.
You could be a chemical-laden potato chip that harms the planet or an organic, ethically-sourced treat that supports positive environmental change.
If you prefer the latter alter eco (get it?) make sure to give these bites a try.
While it might be a challenge to resist finishing these delicious offerings all in one sitting, we would like to remind you that limited consumption is always the most sustainable, so at least try to make your sustainable popcorn last until the end of the movie.
Or if chocolate bars or your chow of choice, check out these ethical chocolate brands.
Without further ado, we encourage you to forward this list of sustainable snacks to the sustainable foodie in your life and help them tackle sustainability the easy way—by eating, of course!
Pin these: