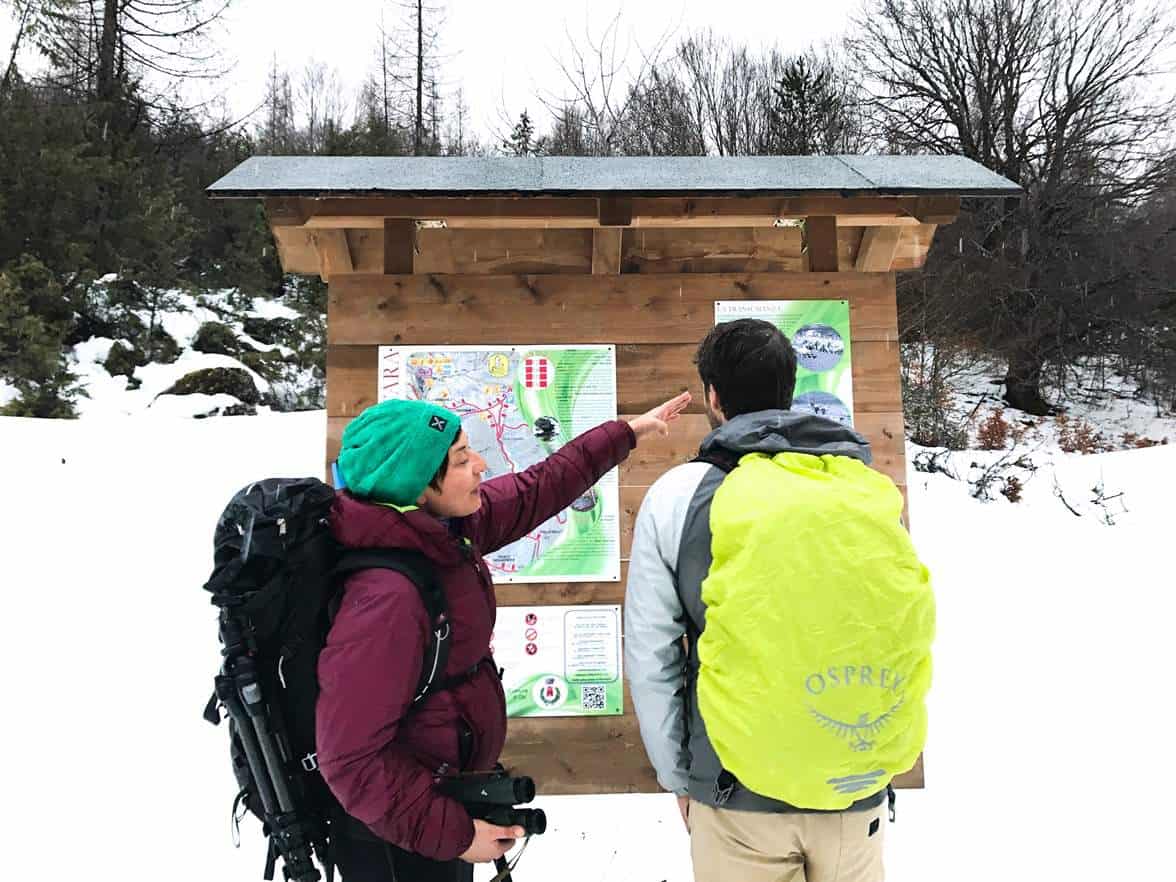 In early 2018 we were thrilled to visit the Abruzzo National Park, around 2 hours from Rome as recommended to us by Simon Collier, the founder of The European Safari Company (which offers a number of nature-based experiences throughout Europe to support rewilding efforts). Simon very kindly helped us pull together a plan to tell some of the remarkable rewilding stories that Europe has to offer. Another of these stories is that of the Faia Brava Nature Reserve in Portugal which you can read all about here and listen to our podcast interview with local wildlife heroes here or on iTunes.
"When people come from the city for the first time, they feel like they are out of their element but they should reconnect because nature is their element. Reconnecting to nature can produce a better society… at least! …We need to help people remember this kind of sensation."
– Daniela Gentile
Joy and I like to think of ourselves as seasoned yet modest "safari goers". Growing up in Africa, we were fortunate enough to spend a fair bit of time in the wild. So, while living in London, to learn that European safaris were not only a thing (who knew!) but also a successful ecotourism model contributing to the preservation of wildlife and nature in rural Europe, was by far the most exciting home away from home news we'd had all year!
ECOTOURISM WITH WILDLIFE ADVENTURES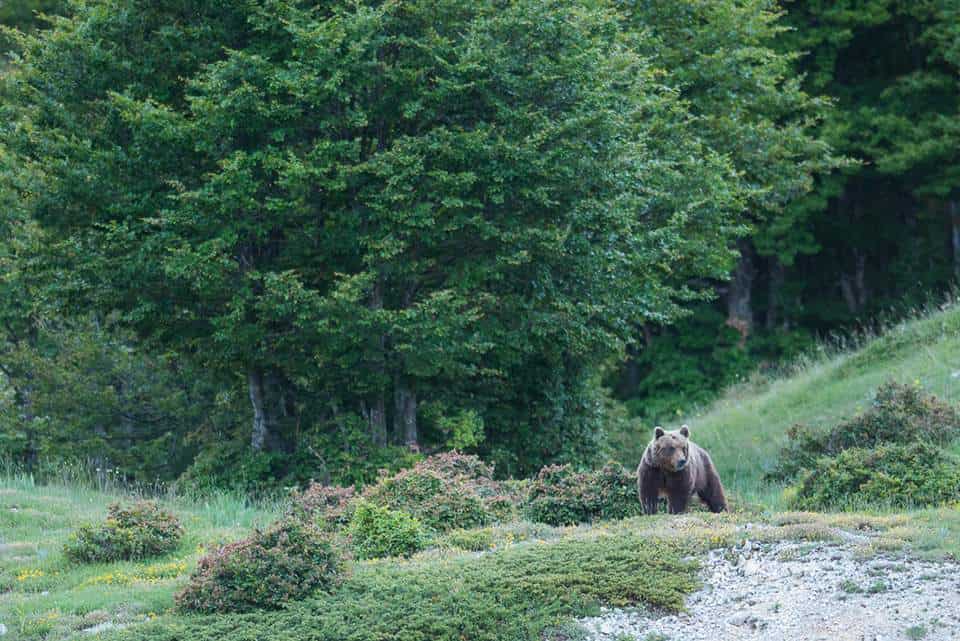 Stumbling across the ecotourism company, Wildlife Adventures was a bit of a serendipity. In 2017 on a flight to London, Joy found an article on the successful rewilding efforts in Europe and the positive impact ecotourism (and ecotourism companies like Wildlife Adventures) were having on conservation, especially in relation to larger predators like the lupo (i.e. Italian for wolf) who were not so long ago (circa 1970s) reviled and hunted nearly to extinction in that part of the world.
About a year later when looking for sustainable and ethical companies to interview we got in touch with Simon Collier from The European Safari Company (which offers a number of nature based experiences throughout Europe to support rewilding efforts). Simon recommended Wildlife Adventures as a fantastic example of rewilding supporting local communities and conservation outcomes.
We met Umberto Esposito (CEO and founder of Wildlife Adventures) and Daniela Gentile (Conservation Biologist and expert guide) in the quaint and inviting hotel Albergo Villino Quintiliani based in Pescasseroli, just 2 hours drive from Rome. We had a fascinating conversation covering a range of topics including the role of ecotourism in conserving and protecting nature, why it's important for humans to reconnect with nature and their favourite animal encounters in the oldest protected area in Italy, the Abruzzo National Park.
Of course, this discussion about nature, wildlife and specifically wolves was a preview to our very first European safari in the Central Apennines later that day.
Listen to our full podcast interview with Umberto and Daniela here and watch the video: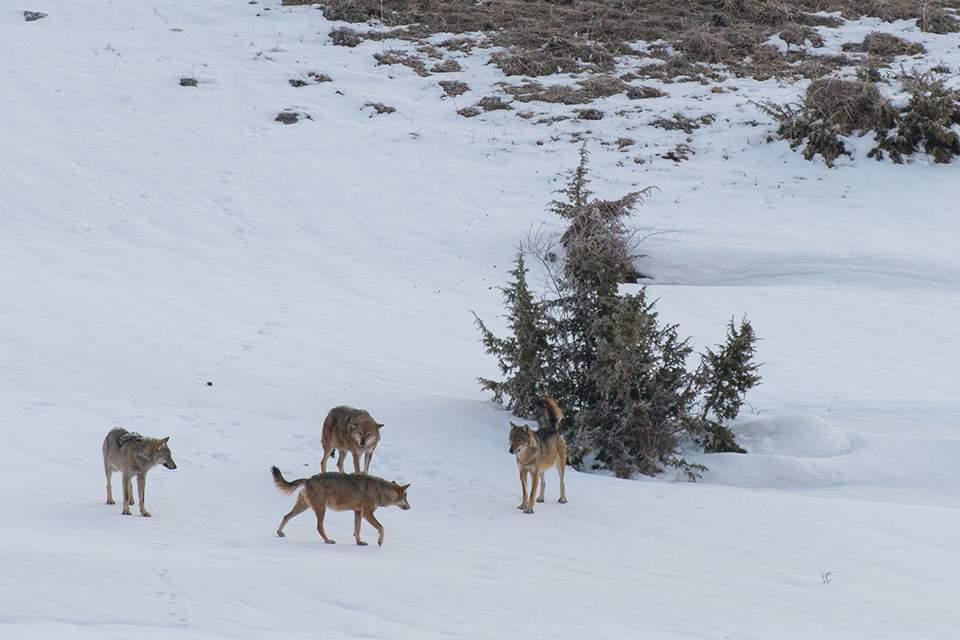 When we think of a safari, we typically think of open top Land Rovers, khaki pants and African plains scattered with lion king characters and acacia trees. What we don't think of is trekking up a mountain in snowshoes looking for the elusive wolf.
According to Daniela, wolves in Abruzzo National Park are like "ghosts", a flicker of grey and brown through the alpine trees but nothing more. To put this into perspective, you have less of a chance spotting a wolf pack (let alone a single wolf) than you do a leopard in the wild. And spotting a leopard in the wild is not so different to winning your local lottery. On the bright side, they almost certainly know where you are, especially if you're wearing "nimble" snow shoes, like we were.
As is evident from that opening, you can probably guess that we didn't win the lottery. But we did see something else… paw prints, a patch of a red deer's fur, stomach contents and what looked like half a femur…the remains of a good night had by all, except the deer, of course.
Hiking the Abruzzo National Park in February is as magical as it gets. Time permitting, Joy and I would've happily explored this winter wonderland for days. The stunning scenery and the variety of wildlife to look out for (like the endemic Chamois and Rosalia Alpina) is only half the attraction. Walking the Roman cobbled streets in small ancient towns, you can't help but appreciate the history and the beauty.  And then there's the food and drink. Handmade Italian pasta, hot espresso and a glass (or two) of local vino rosso is decidedly not a bad way to end off a day of wolf tracking.
Believe me the experience was as dreamy as it sounds. Surprisingly though, such a nature based holiday is only a relatively recent offering.
THE SUCCESS OF REWILDING IN ABRUZZO NATIONAL PARK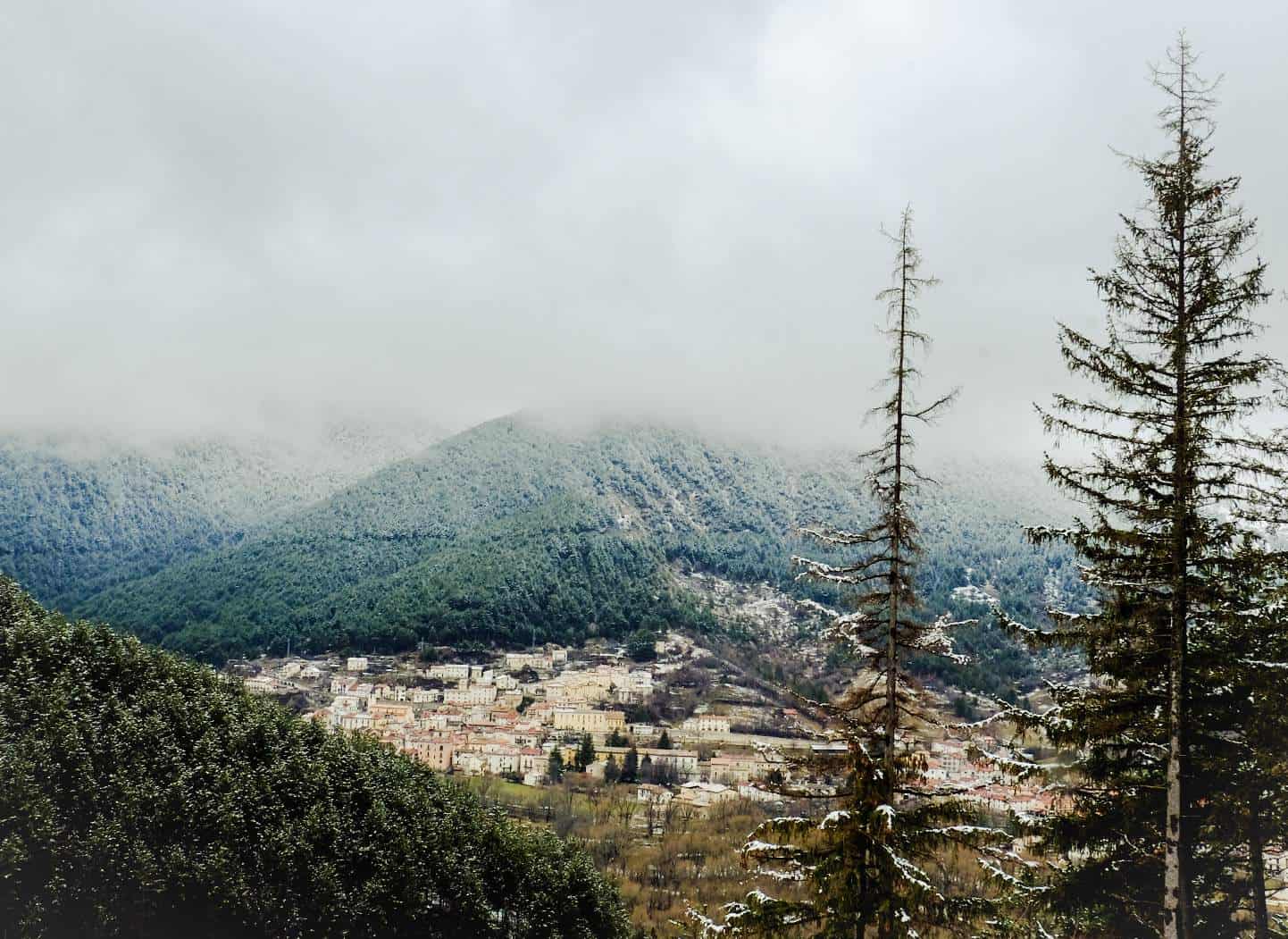 Beautiful, old Italian villages are dotted throughout the Abruzzo National Park
"This landscape and nature is nothing without people. Preserving nature here means preserving nature and people together. The park or the people in general makes this possible with ecotourism."
– Daniela Gentile
Umberto explains that the small villages located inside Abruzzo National Park (like Pescasseroli) have been critical to the park's success. It was the first of its kind to combine wildlife and local communities in a protected area. This successful partnership is now making the most of a burgeoning ecotourism opportunity, bringing in between 70% – 80% of the entire local revenue.
The local communities have a vested interest in conserving the natural habitat and all those that live in it. Daniela goes further, "this landscape and nature is nothing without people. Preserving nature here means preserving nature and people together. The park or the people in general makes this possible with ecotourism."
However, as alluded to above, this was not always the case. The relationship between the wild animals of the Abruzzo National Park and the local community was not always a happy marriage. For many years locals made a living through shepherding and farming and thus did not need or regard nature or wildlife as necessary (and indeed in many cases, wildlife was considered a nuisance). But thanks to the abandonment of traditional activities over time and the relatively recent (i.e. in the last decade) growth in ecotourism and nature based experiences, locals now see the value in the protection and preservation of these natural assets.
Though, Daniela says, while this has been a success, traditional activities (practised in a modern way) need to be encouraged. If all these activities are abandoned, many of the traditions of the past that are responsible for creating the landscape will be lost and the successful model of Abruzzo National Park will not be sustainable. She says, "We should make people stay here and do the activities of the past in a new vision".
WILDLIFE ADVENTURES AND FINAL WORDS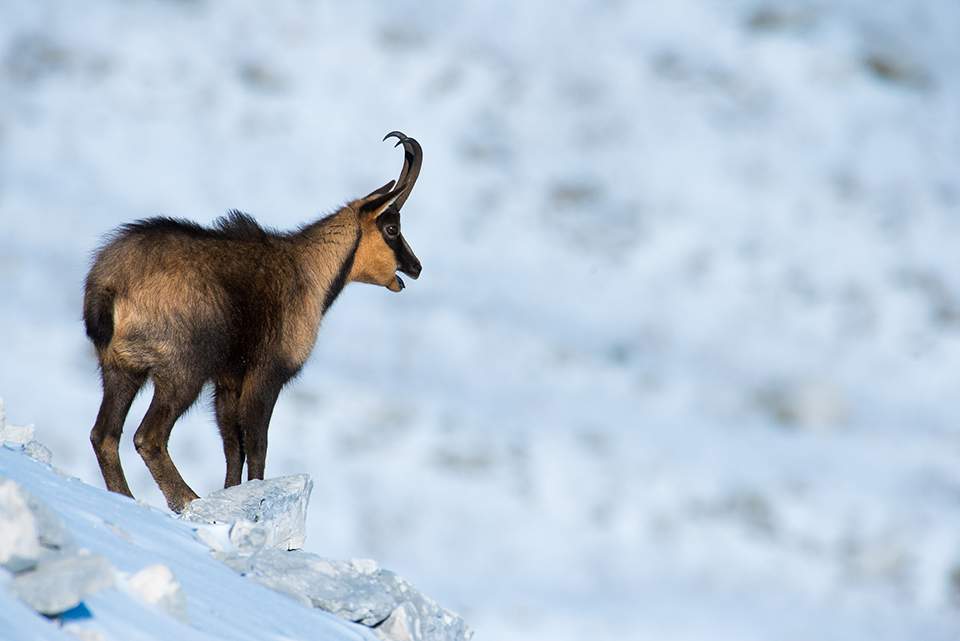 We love to travel, to discover new lands, animals, places and faces. For us, it truly is one of life's greatest pleasures. But we're also acutely aware that globe-trotting is far from an eco-friendly activity. As with all travel, it comes at an environmental cost. A cost which we try to manage and minimize the best we can. And part of managing our footprint is remembering to practise simple sustainable and zero waste habits.
But it's also about choosing our destinations wisely. Opting for an ecotourism holiday can have a net positive impact. From protecting and conserving wildlife and nature to improving the local economy and stability of communities. There are a plethora of benefits from choosing a holiday of this sort and after our experience at Abruzzo National Park we can't help but advocate ecotourism as the best possible solution to unsustainable travel.
Wildlife Adventures and indeed, the European Safari Company serve to not only support local communities and help conserve precious animal species, they also hope to reconnect a disconnected society with the peace, quiet and meditative powers of being in nature. Wildlife Adventures run a number of treks throughout the year and also offer photography excursions and lessons. In 2018 they're working on converting old shepherd huts in the mountains into comfortable accommodation for those wanting to spend a few days out in the wild on multi-day hikes. 
We couldn't recommend the European Wilderness more highly and opting for an ecotourism based holiday in the Abruzzo National Park is not only good for the environment but may very well be good for you too!
STAY IN TOUCH WITH UMBERTO AND DANIELA
Check out Wildlife Adventures and keep up to date with what Umberto and Daniela are getting up to at / on the following:
If you want to see what other rewilding experiences you can do in Europe, check out the European Safari company at / on the following: