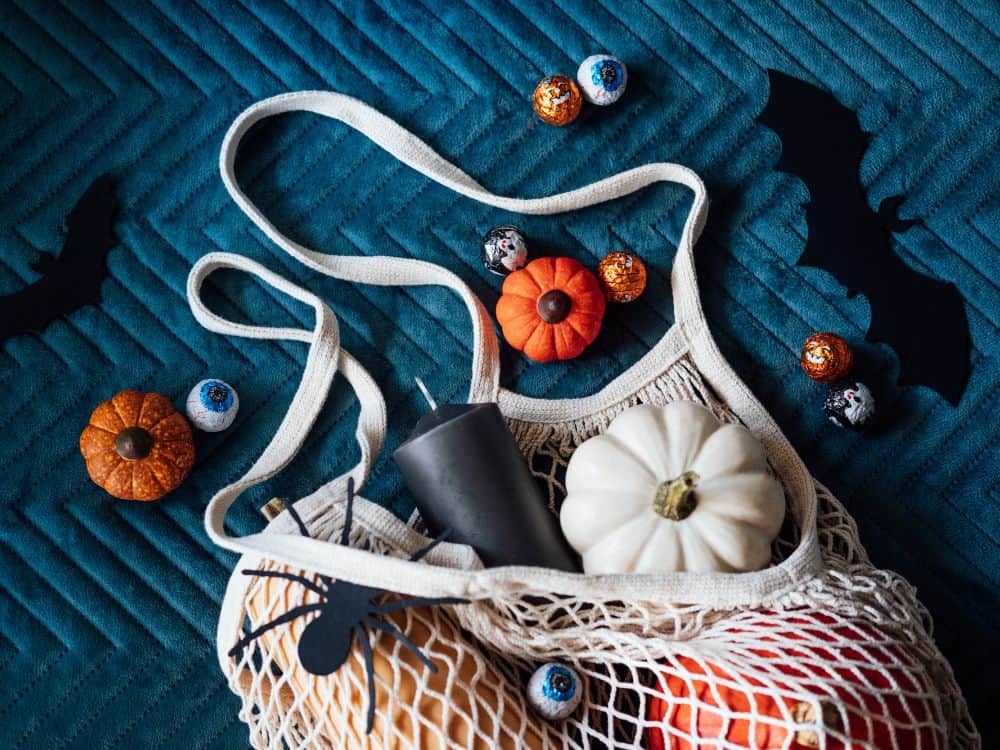 13 Sustainable Halloween Tips That Are Anything But Boo-Ring
The goblins are back in school, and the color is returning to the cheeks of all parents who have been trying to find their routine and catch their stride with zombie-like enthusiasm.
If you've just now glanced at the calendar and discovered we are only a few weeks out from this ghoulish holiday. Forget the tricks and grab the treats; it's fast approaching—as is the need for more sustainable Halloween ideas.
Speaking of fast, Halloween is not exempt from "fast fashion" trends.
Mass-produced, plastic-filled wigs, costumes, baskets, and decorations and plastic-covered candy make this disposable day scarier than Friday The 13th.
And with more than 70% of Americans planning to partake in Halloween festivities, that's a lot of potential Halloween waste.
As with most things under the low waste living umbrella, it's eek-ceptionally easy to wind up buried alive under mountains of green-washed guarantees that would scare the blackest cat.
If you're wondering, how to be sustainable on Halloween, follow this spook-tacular guide full of eco-friendly Halloween costumes, Halloween candy alternatives, and more.
The Full List For How To Make Halloween Sustainable
Sustainable Halloween Costumes
Sustainable Halloween Crafts & Activities
---
Eco-Friendly Halloween Costume Ideas
1. Secondhand Spooky Costumes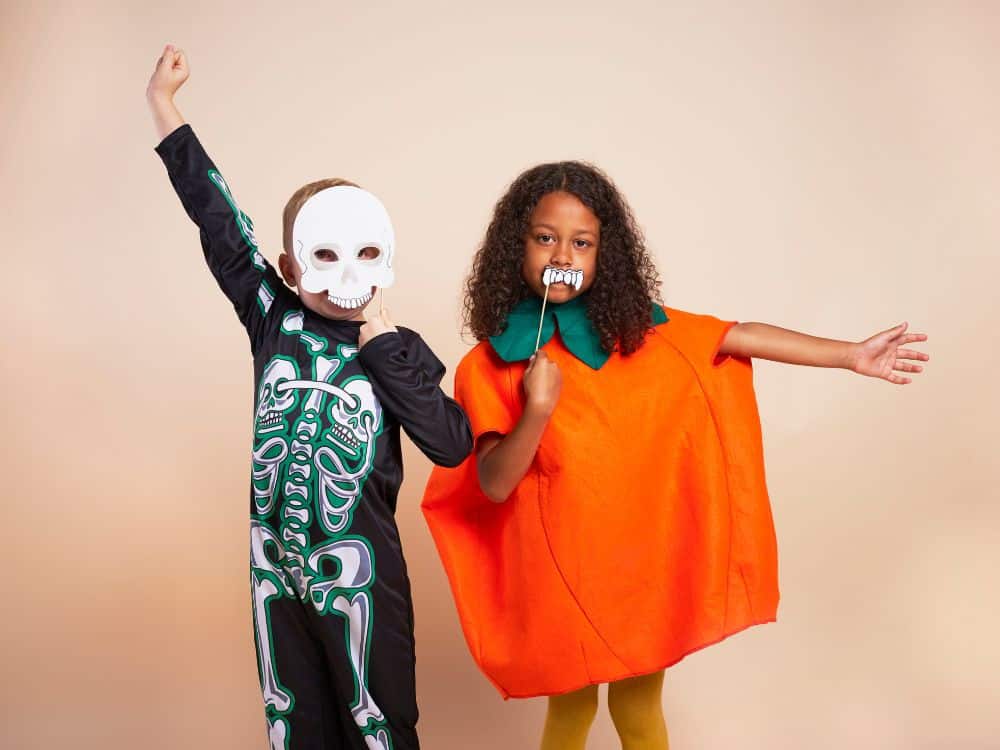 Ensuring you won't be haunted by "ghosts of garments passed" every Halloween can be a little…tricky.
Each year, as your child grows or your preferences change, you may need a "new" Halloween costume.
Thrifting this year's costume is a wonderful way to keep costumes already in circulation on the racks and out of the trash.
If you're not looking to spend much money on the holiday, thrifting Halloween costumes or decor is a great way to save a few bucks.
For an easy at-home solution, you can search for costume sets for your growing ghost, superhero, or princess via online second hand stores—or make a day of it by exploring some of the best thrift stores near you.
---
2. DIY Sustainable Halloween Costume Ideas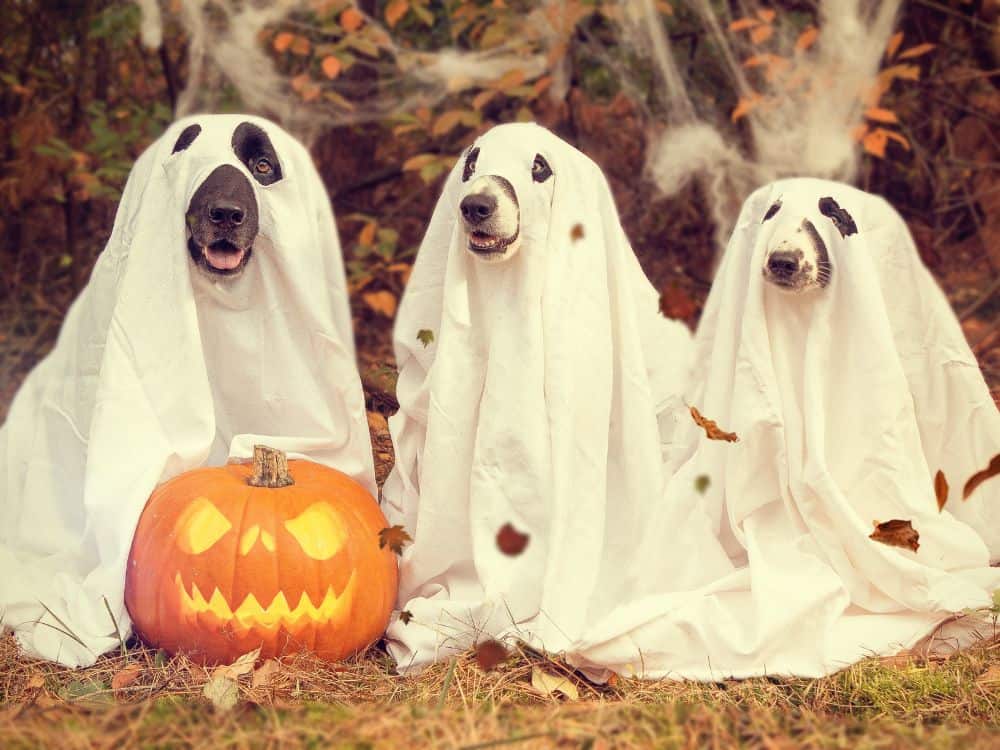 How do you make Halloween costumes sustainable?
You make it yourself!
Clever and comical costume ideas have been wowing at Halloween celebrations for years—the best of which are often homemade!
The ideas are endless: old sheets make a classic ghost, painted cardboard boxes morph into a popcorn container, and a basket with painted rings pours out a bowl of Fruit Loops!
Here's a few more fun ideas you can try if you're looking to learn how to make eco-friendly Halloween costumes:
Crayon Box: Dress in a solid-colored outfit and create a "crayon box" by attaching colorful paper to the front of your clothing. Use a strip of black paper or fabric as the crayon label.
Cereal Killer: Attach empty cereal boxes to your clothing, and add fake knives or utensils sticking out of them.
Paper Doll: Dress in all white and attach paper cutouts or drawings of clothing to your outfit, just like paper dolls. You can change your costume by swapping out different paper outfits throughout the night.
Piñata: Create a piñata costume by decorating an old dress or outfit with colorful crepe paper strips (ideally recycled ones!). Add a small basket or cardboard box as a "candy pocket" to collect treats.
Creativity and a lasting memory of piecing together amazing costumes come with each DIY costume.
---
3. Eco-Friendly Halloween Costume Swaps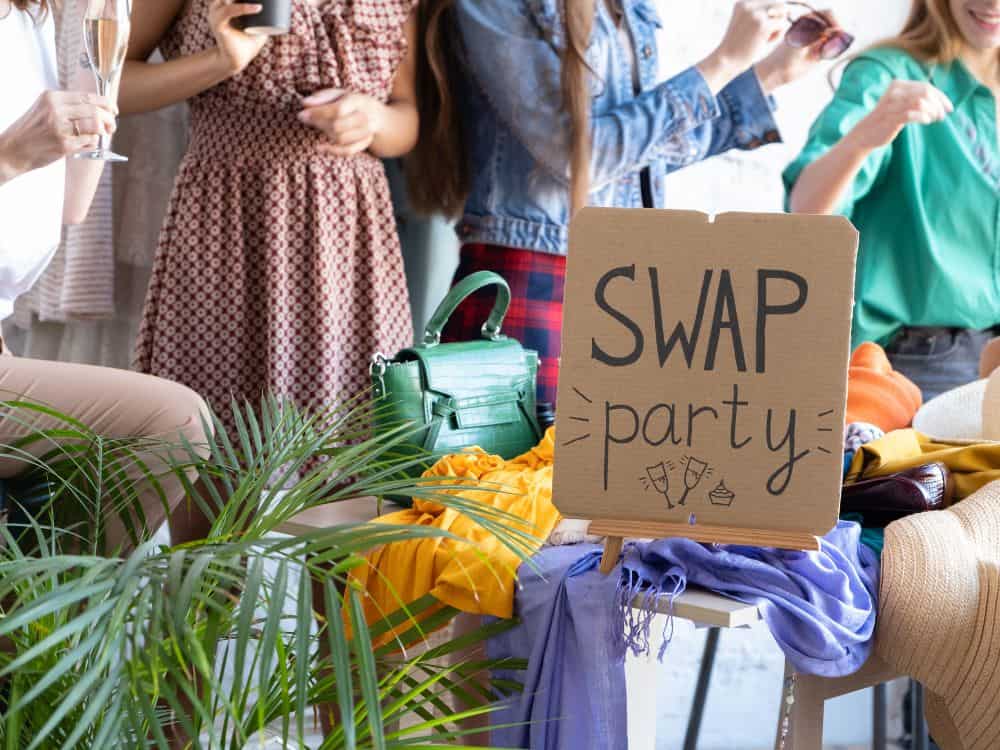 We don't know the last time you haunted the aisles of The Spirit of Halloween (if it's like us, it's been a looooong time), but costumes aren't cheap—despite being made of cheaply made plastic.
What can you do for Halloween with no money?
Organize a costume swap. This is especially perfect if you have children.
Gather together some families from your school district or neighborhood a few weeks before the big night and bring all your kiddos old and outgrown costumes.
Consider making it a potluck full of tasty, trick or treat inspired food.
---
Sustainable & Eco-Friendly Halloween Crafts & Activities
4. Pumpkin Patches & Corn Mazes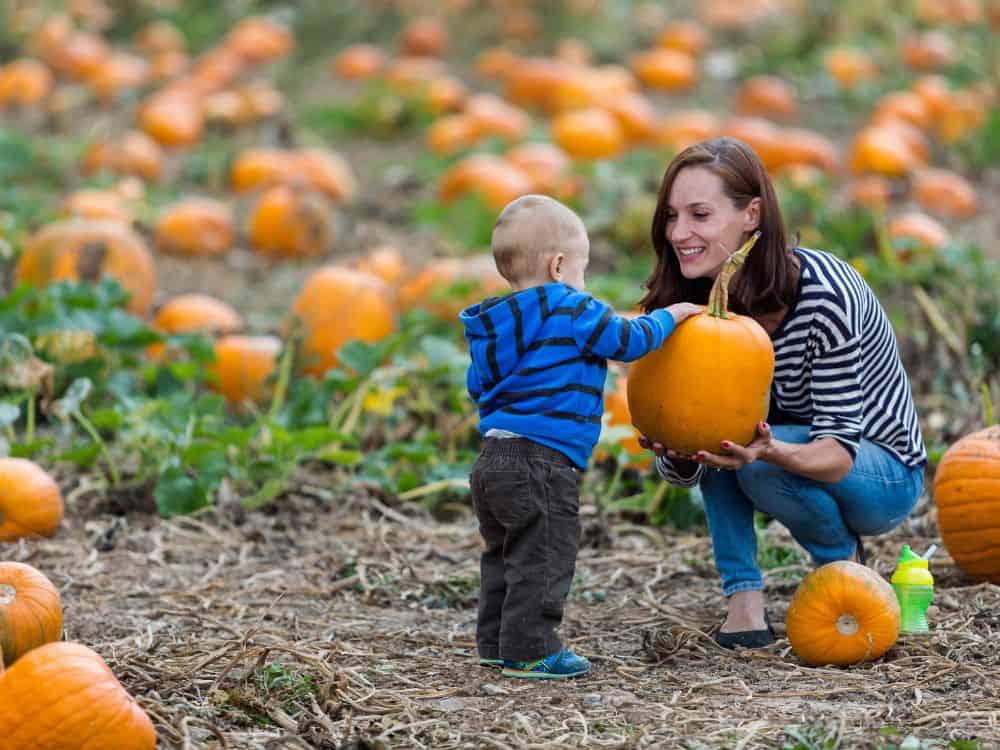 When you think of Halloween, a freshly carved Jack-o-lantern flickering beneath a cobweb probably comes to mind.
But how eco-friendly is it to get a Halloween pumpkin?
Well, that depends on a few things—first and foremost, where you get it.
Visiting your local pumpkin patch is a perfect place to select this year's prize-winning pumpkin for your doorstep and many offer Halloween-themed events in the lead up to the big day.
This not only keeps your pumpkin purchase local, but also supports a farm that may be selling other pumpkin inspired goods like pumpkin pie, beeswax candles, roasted pumpkin seeds, or other small gifts for your eco-friendly Halloween treat bags.
And corn mazes are a real scream, no matter your age!
---
5. Farmer's Markets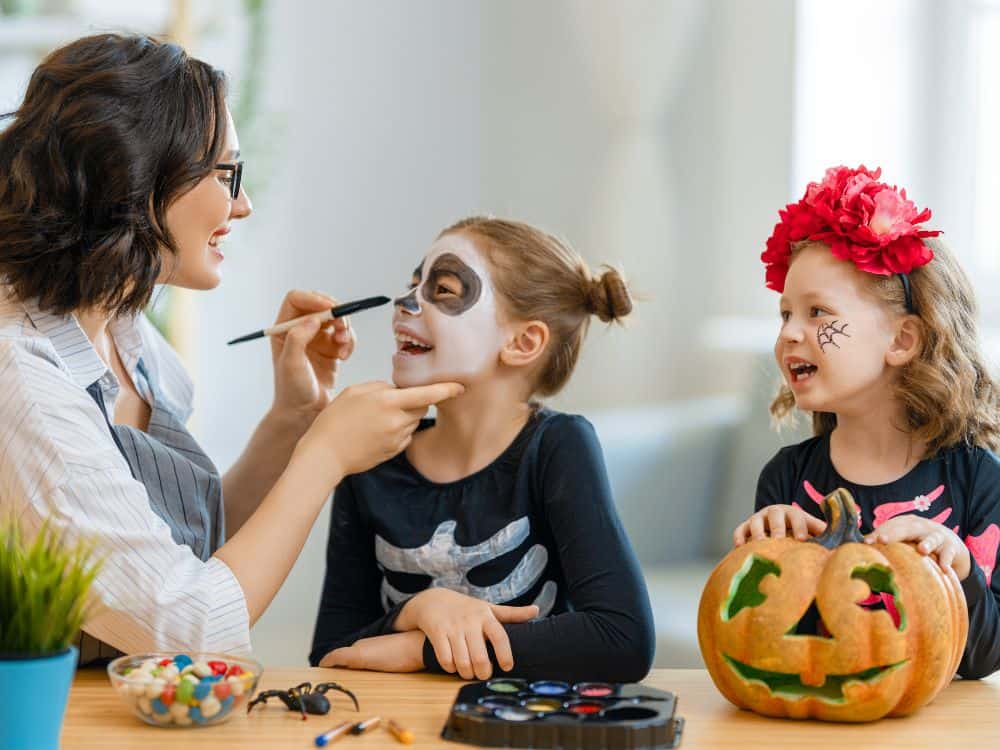 Speaking of local farms, you'll often see a collection of those represented at your farmer's market.
Peruse the market for pumpkins, out of season dried corn you can use as Halloween decor, and other treats that the people in your community handcraft.
In addition to the regular, year-round joys of the farmer's market, kids can sometimes get their faces painted with a boo-tiful spider web or witch.
---
6. Sustainable Pumpkin Carving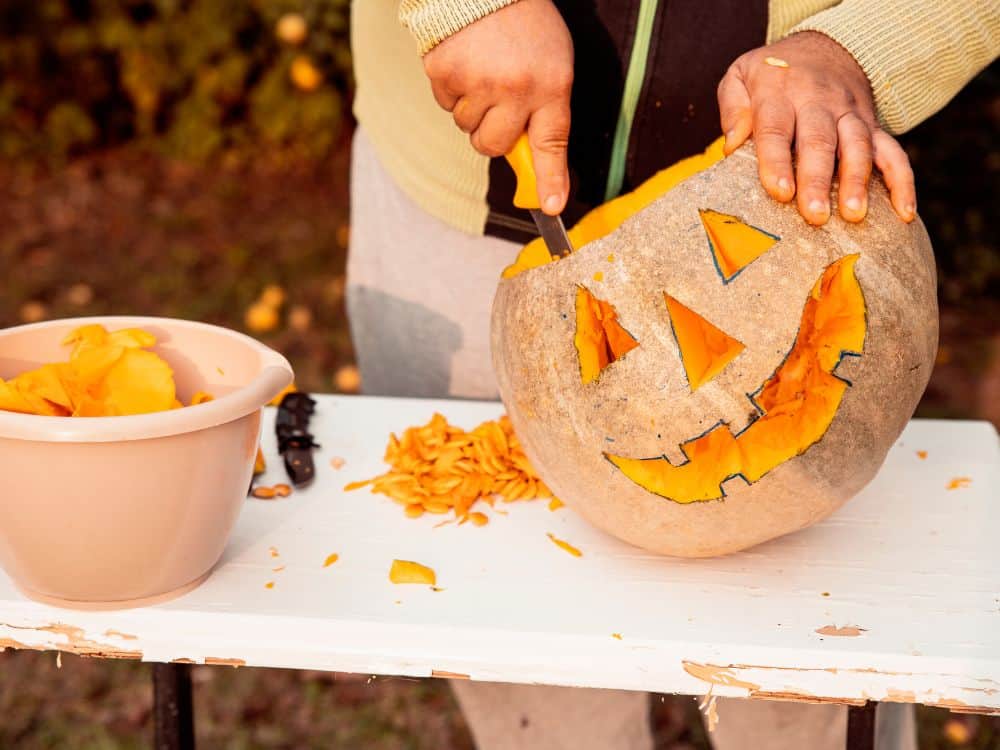 Once you've chosen to buy pumpkins locally—or better yet, grow your own in your sustainable garden—it's time to create silly or spooky faces.
Locally grown pumpkins are harvested just before you buy them, so your Monster Mash-style pumpkin isn't a mushy mess before Halloween.
Kids love this messy, goopy activity! Grab a washable marker (this is important for the pumpkin end-of-life plan), get the kids to draw a face, and bring their Jack-o-lantern dreams to life!
Not only can you save the pumpkin seeds, bake a pie, and create decor, but as long as the pumpkin doesn't have any paint, glitter, or otherwise inedible components on it, they can be returned to nature once they start to wither away.
Ask around at your local farms. Most with livestock will happily take your carved pumpkins as animal feed after Halloween.
Otherwise, compost them and turn them into some rich soil.
---
7. Sustainable Halloween Costume Swap Cookout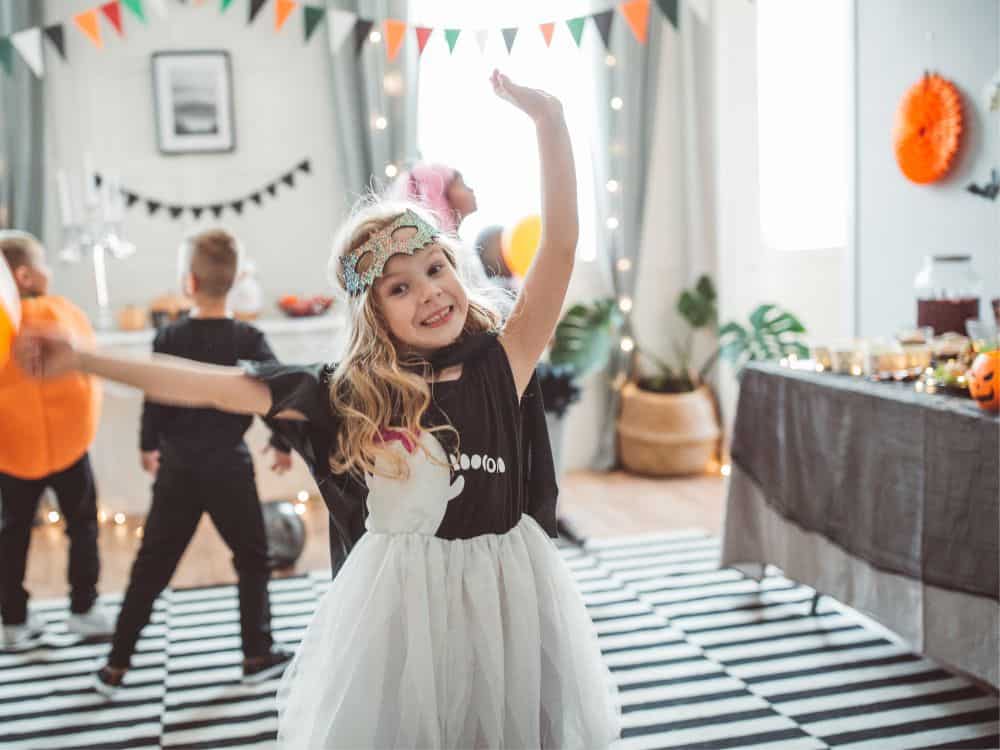 What better way to celebrate Halloween than by finding a new costume, making new friends, and chowing down on special spooky food?
We've already talked about the eco-credentials of a costume swap, but you can add to the holiday fun by having the kids create a few sustainable Halloween crafts while browsing costumes.
Spend a few hours crafting mummy jars, ghost pencils, and other quick and easy Halloween crafts while the adults gather together over some tasty food and witches brews (by which we mean organic beer!).
---
8. Green Halloween Baking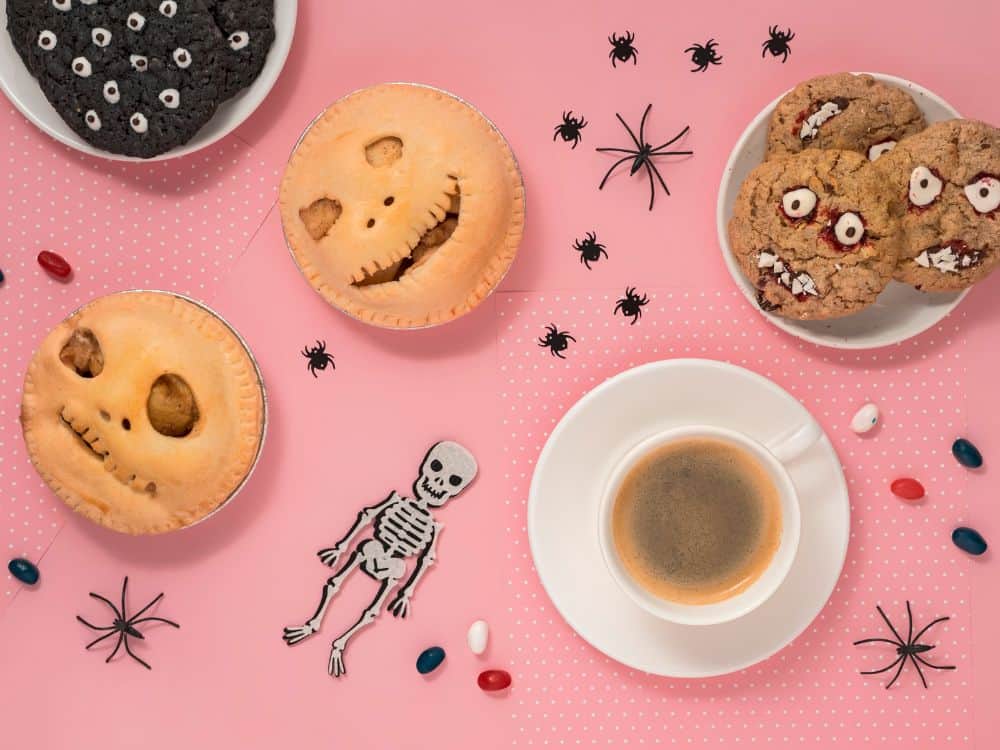 Host an eco-friendly Halloween party in your own kitchen. With a sweet tooth, it's easy to choose the ladder option in "trick or treat".
If you've been searching for alternatives to candy for Halloween, these Halloween sweet treats might be the perfect option for your treat bags.
Pumpkin Spice Muffins: Use locally sourced pumpkins and organic ingredients for a delicious treat.
Spiderweb Cupcakes: Decorate cupcakes with eco-friendly black food coloring and a spiderweb design using organic frosting.
Monster Rice Krispie Treats: Create fun and colorful monsters using rice krispie treats made with organic rice cereal and natural food coloring.
Caramel Apples: Use organic apples and make your own caramel using sustainable sweeteners like maple syrup or coconut sugar.
Mummy Pizzas: Make mini mummy pizzas using whole wheat dough, organic tomato sauce, and mozzarella cheese strips for bandages.
Ideally use fair trade, and ethically sourced ingredients from sustainable food brands in your Halloween baking.
---
Eco-Friendly Halloween Treats
9. Buy Local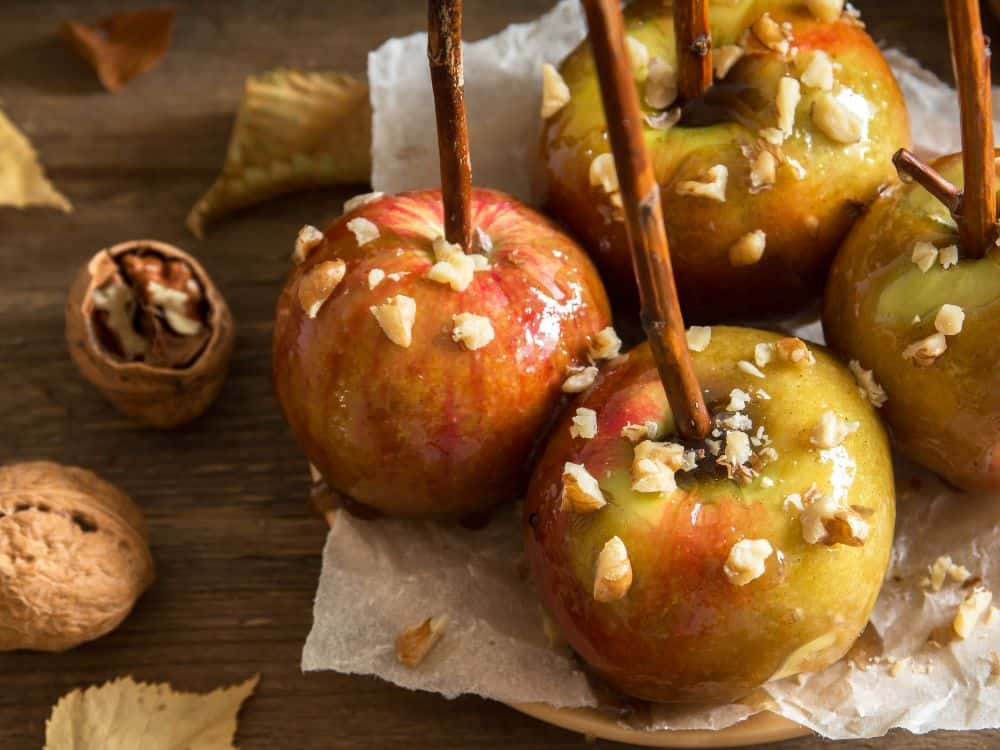 Do you remember those Farmer's Markets we discussed earlier?
They're a regular cauldron full of locally-made, unique treats, made in small batches with sustainably sourced ingredients.
Search local markets for organic lollipops, candied apples, and other homemade treats.
---
10. Sustainably-Packaged Halloween Handout Ideas
With so many safety concerns for kids these days, most parents prefer their children to get pre-packaged goodies when out and about on Mischief Night.
Which we get from a parenting perspective—but from a planetary one, not so much.
Sustainable Halloween treats can be hard to spot in your local grocery store's colorful aisles stacked high with candy boxes—but there are better options to be had.
Some brands are making eco-friendly candy in compostable or recyclable individual candy wrappers
Alternatively, classic candies like Milk Duds, Nerds, and Junior Mints come in cardboard packaging or foil-wrapping like Hershey's Kisses. Unfortunately, it's still difficult to get around the bulk plastic bag they come in.
If you're just making treats for a smaller group of kids whose parents you know, avoid plastic wrappers with options like buying bulk (in reusable glass jars) to fill eco-friendly Halloween treat bags.
---
11. Recyclable Treat Bags For Trick-Or-Treating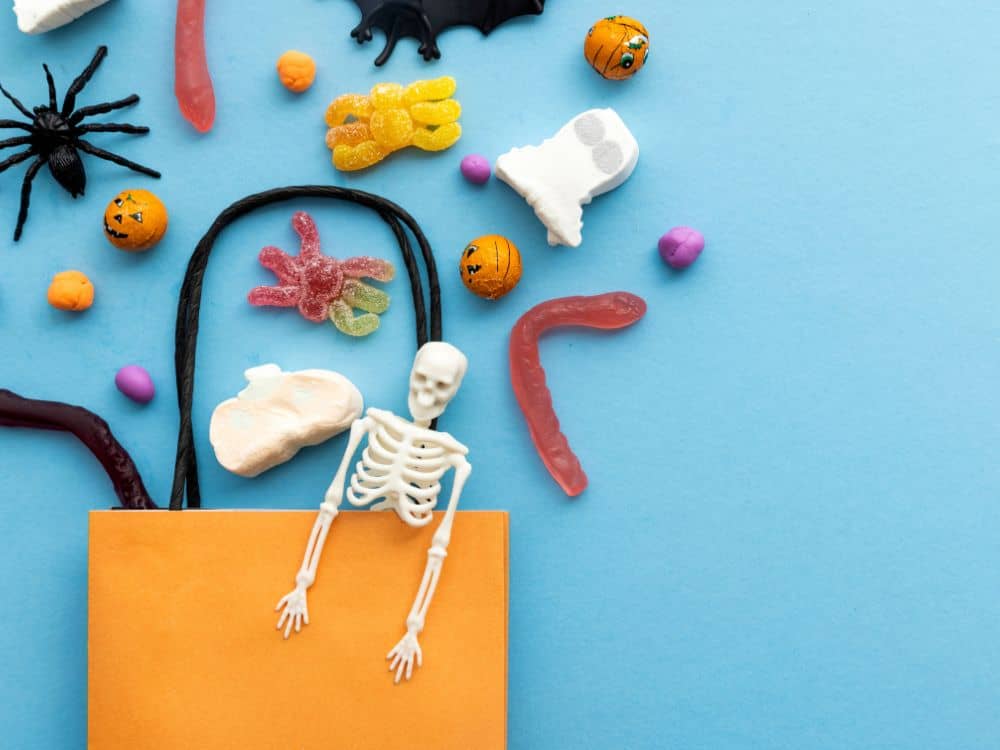 While packing your fair trade chocolate and paper wrapped candy into your goodie bags for your eco-friendly Halloween party, be sure the Halloween bags are also reusable (and then recyclable or compostable) when they're inevitably ripped open at the end of the evening.
And if you're looking at your child's plastic pumpkin bag and grimacing, keep in mind that even though it's not made of a sustainable material, the most sustainable choice you can make is still to keep it in circulation for as long as possible.
---
12. Sustainably Sourced Chocolate & Candy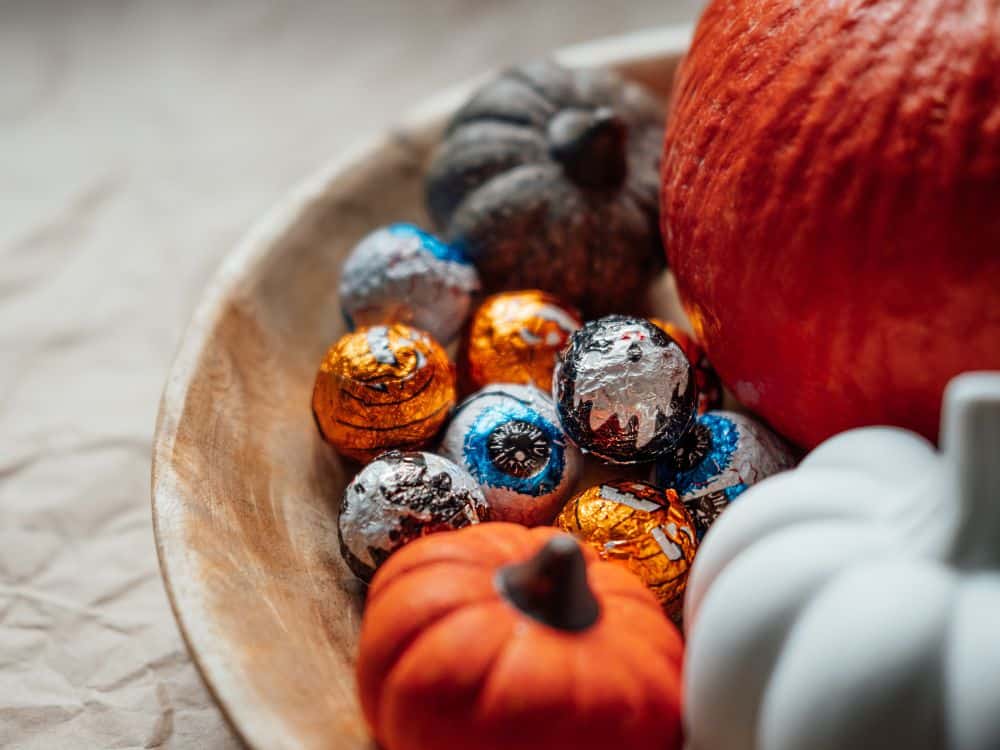 We love dark chocolate, but we don't want the companies to have a dark history of child labor and greenwashing.
Sustainably sourced, fair trade chocolate is a hot topic surrounding big holidays, as it should be!
Highlighted in the film The Dark Side of Chocolate, investigative journalists reveal the unsafe, trafficked children who are made to work in the cocoa plantations.
While our kids are trick or treating a continent away, vulnerable children around the globe are subject to poor quality living and working conditions to supply these chocolate treats.
Ethical chocolate brands like Alter Eco, Equal Exchange, Endangered Species Chocolate (kids love the animals on these bars!), and Beyond Good, to name a few, are fighting back against child labor and harvest practices that are unsafe for both the workers and the environment.
Now, we'd like to see those (and any other consumable gifts) in our bag of tricks! 
---
Eco Friendly Halloween Decor Options
13. DIY Eco-Friendly Halloween Decorations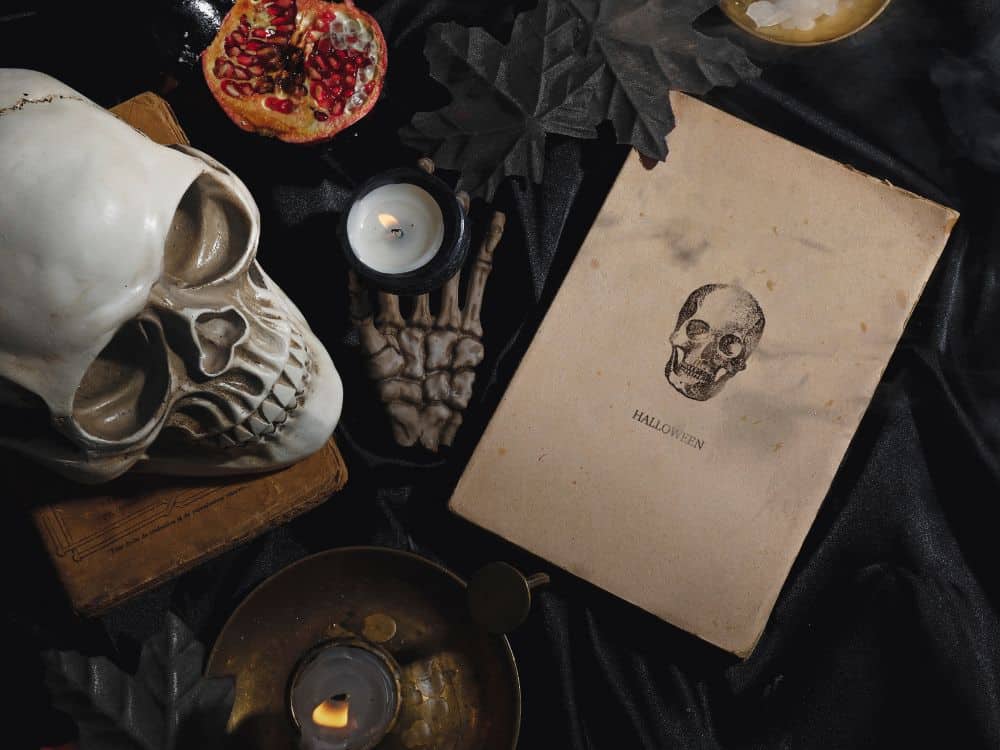 Despite what big box store Halloween displays might lead you to believe, having a green Halloween that is full of plastic wrappers, unsustainable chocolate, chemically scented candles, and plastic ghost lanterns is impossible.
So how do you make eco-friendly Halloween decorations?
There's no shortage of fun and creative ideas that can also become a hands-on activity your kids will remember (and look forward to) for years:
Straw bale displays: Purchase a few straw bales from your local farmer as a backdrop for your Halloween display. After Halloween, these bales can be dispersed in your garden as mulch or composted.
Build a scarecrow: Stop by the thrift store and have your children pick out clothes, silly hats, and buttons for their scarecrows.
Recycled paper ghosts: Salvage some old newspaper or tissue paper from your recycle bin to create some sustainably spooky ghouls.
Upcycled pumpkin lanterns: Use old glass jars or tin cans to create spooky lanterns. Paint or decorate them with Halloween themes and place tea lights or LED candles inside.
Egg carton bats: Cut and paint egg cartons to resemble bats. Hang them from strings or attach them to walls for a creepy effect.
Cardboard tombstones: Cut tombstone shapes out of cardboard boxes, paint them to look weathered, and add spooky epitaphs. Place them in your yard as graveyard decorations.
Cereal box masks: Use old cereal boxes to make masks. Cut out eye and mouth holes, and paint or decorate them to resemble your favorite Halloween characters.
---
Did you know we Have a Newsletter?
We cover the latest in sustainable living, fashion, zero waste, beauty, travel, finance and more…
What Is The Environmental Impact Of Halloween?
As the autumn leaves rustle and the jack-o'-lanterns glow, Halloween enthusiasts eagerly prepare for a night of frights and delights.
However, beneath the costumes and candy wrappers, there's a spooky truth to this beloved holiday—its bone chilling environmental impact.
For starters, candy flows like a never-ending river of sugary delight, but when the spooky night fades into the morning light, the wrappers from countless sweets become a real-life horror story.
In the US alone, almost $5 Billion (according to the NCA in their 2020 report – likely even more in 2023!) is spent on Halloween candy in the 8 week lead up each year, leaving behind a mountain of plastic and foil packaging.
Add in single-use synthetic costumes, ghastly plastic glow sticks filled with toxic chemicals, and 1.3 billion pounds of pumpkins and gourds left to a gruesome fate of rotting in landfills (where they'll release the most potent GHG around—methane gas), and you have a frightful night indeed.
So how can we celebrate Halloween sustainably?
By making small changes—like choosing alternatives to traditional Halloween candy and composting pumpkins—we can transform this spooktacular celebration into a more sustainable and Earth-friendly affair.
---
Final Thoughts On Eco-Friendly Halloween Tips
Trick or treating can be fun and planet friendly, by removing plastic waste from your treat bags, crafting eco-friendly decorations, and sporting thrifted costumes on the dark night.
Don't let this long list scare you off.
Adopting even just a few of these eco-friendly Halloween ideas will take you one dragging, zombie step closer to enjoying a more green Halloween.
Please share these sustainable Halloween ideas to inspire everyone to celebrate responsibly this Halloween—because even the tiniest ghost or goblin can make a big difference in protecting our planet.
Pin these: