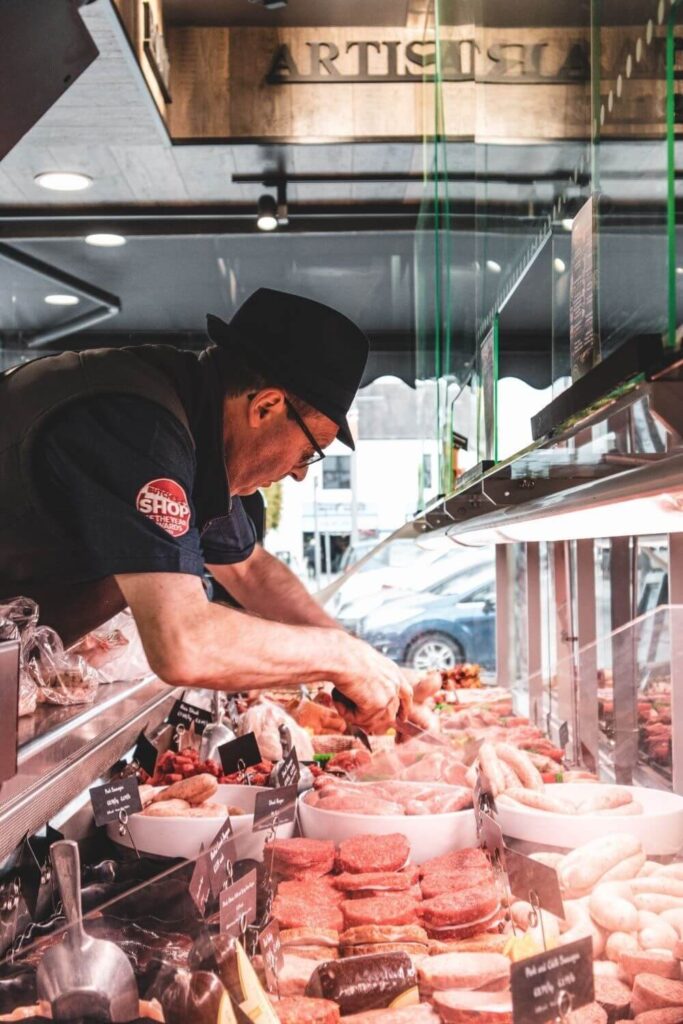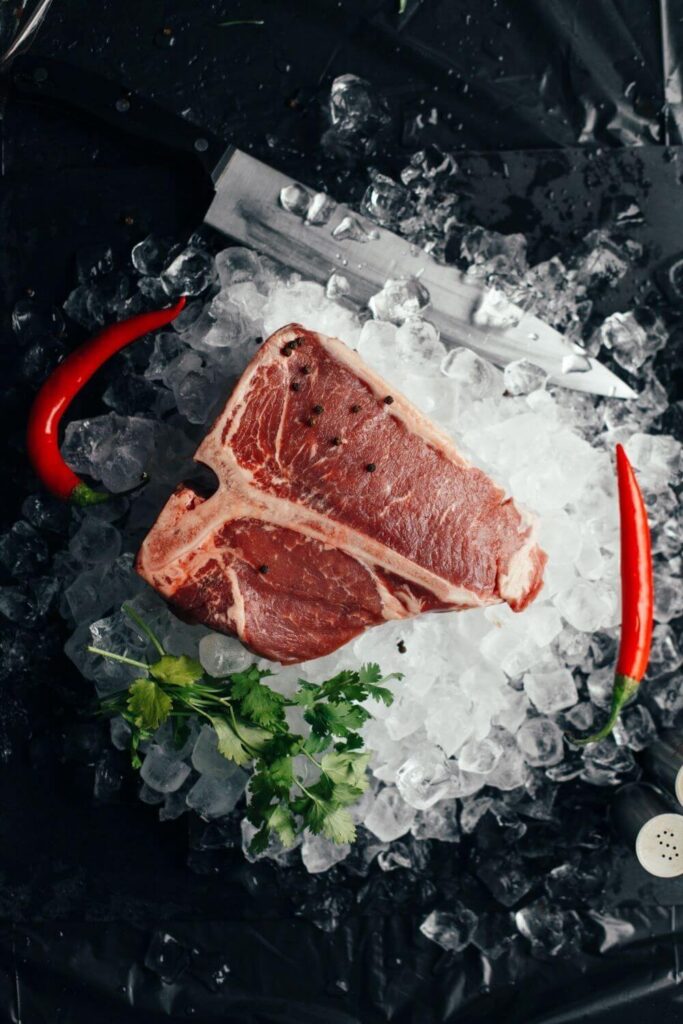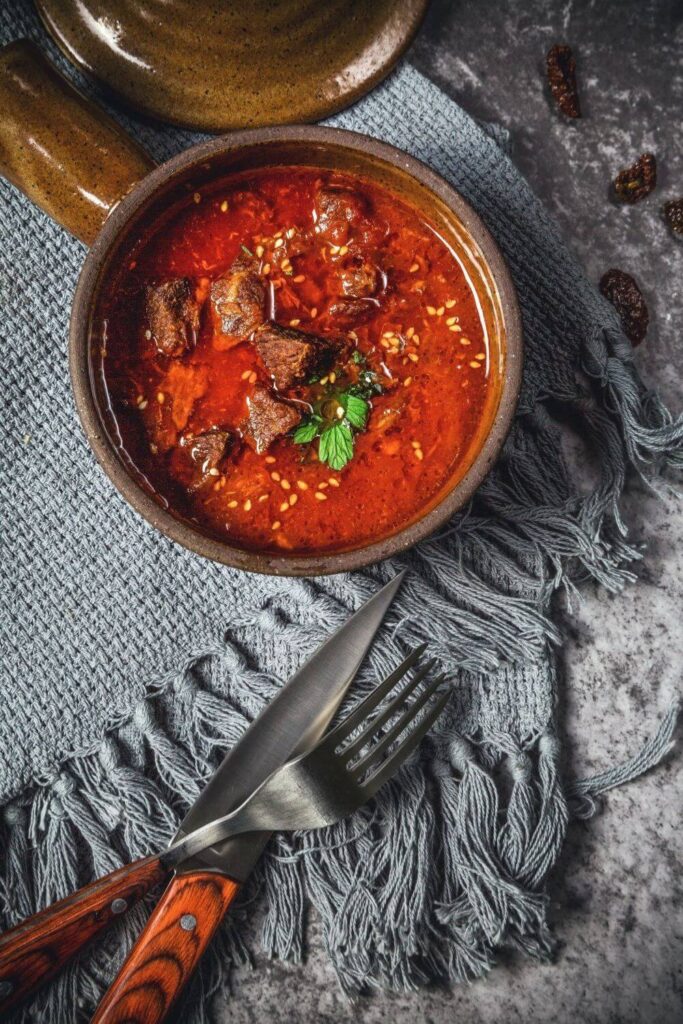 How to Freeze Meat Without Plastic: Beef Up Your Sustainable Food Storage
Congratulations on exploring ways to go plastic-free!
Chances are you're already implementing some zero waste tips. Which likely means you're also starting to tackle the hefty challenge of cooking up a zero waste kitchen.
Perhaps like many people, you've run into a big obstacle in this department: freezing meat without plastic wrap or freezer bags.
Our kitchen has become a testing ground for figuring out how to flavor kombucha, trying our hand at apartment composting, and learning how to preserve food at home.
If you eat meat, part of that will mean learning how to freeze meat without plastic (see our video below on non-plastic storage options).
Preserving food and preventing food waste is all the more important with animal products, especially considering their environmental impact is far greater than that of other types of food.
Our planet may be at steak—but we can help it by figuring out how to freeze steak properly (and without plastic).
Whether you're pescatarian, paleo, or protein-lover, let's take a bite out of some zero waste meat freezing techniques.
*This post contains affiliate links
HOW MEAT IS TYPICALLY FROZEN?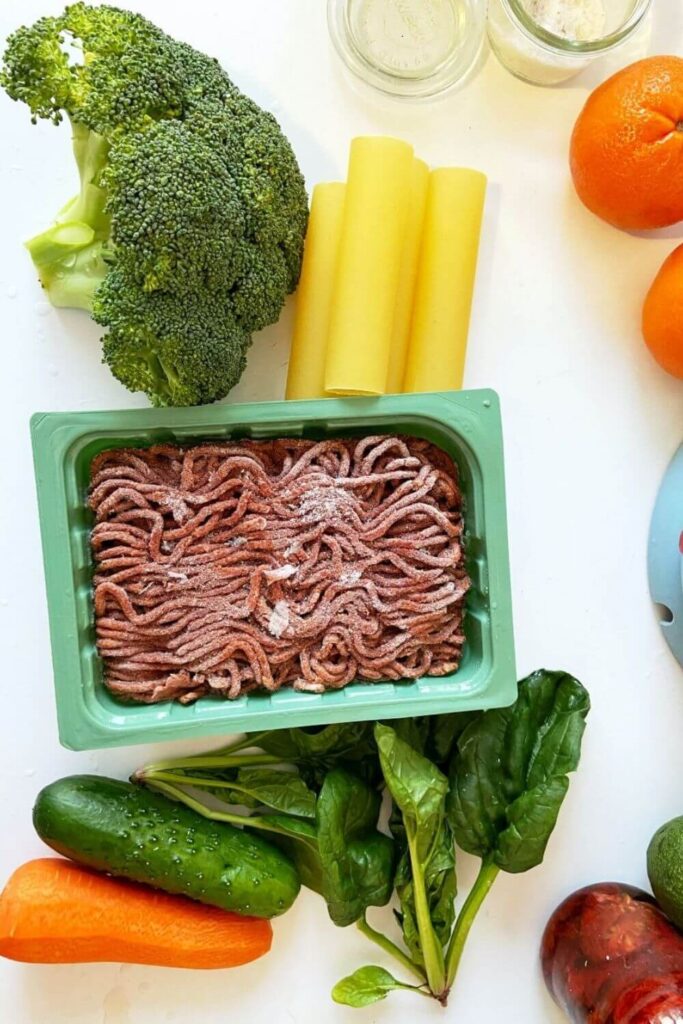 Plastic is—and has been for decades—the premier choice for food preservation. This goes for meat, too.
In fact, it goes especially for meat. Because of the higher bacterial risk meat poses, people often resort to disposable storage solutions rather than worry about thoroughly cleaning something reusable.
Plastic cling wrap and plastic Ziploc bags are found in nearly all kitchens and are typically used to store both raw and leftover meat like chicken breasts, sausage links, ground beef, and steak fillets.
Although it doesn't work as well, aluminum foil is also a common choice for storing meat in the freezer. However, it's limited by its ability to only work a short time, as holey or improperly sealed aluminum foil can lead to freezer burn and messy thawing.
Reusable plastic containers are similar. They can work for a short period of time but are prone to cracking and breaking as they get brittle in cold, freezer temperatures.
There's also the lazy approach of freezing meat directly in the wrapping it came in from the supermarket. This is only advisable for short-term freezing because it's not as air-tight as some other options—unless you suck extra air out using a straw.
For fancy meat-eaters, an at-home vacuum sealer is also often used. This utilizes a plastic film but preserves meat for long periods of time without risk of freezer burn.
Then there's freezer paper, a heavy-duty paper coated on one side with plastic. Freezer paper is often used in combination with some of the other options because it preserves the meat, holds the juices, and can be placed in a bag or wrapped in aluminum foil for even better storage.
Don't get us wrong, we commend any efforts to prevent food waste but unfortunately, a 2018 study found that plastic packaging might not even prevent food waste.
In fact, it can actually even help cause more food waste.
So you may be wondering how to freeze raw meat without using tin foil or plastic wrap…
Let's see how we can make these food preservation strategies even better—by saying "peace out" to plastic.
---
WHY IS IT IMPORTANT TO FREEZE WITHOUT PLASTIC?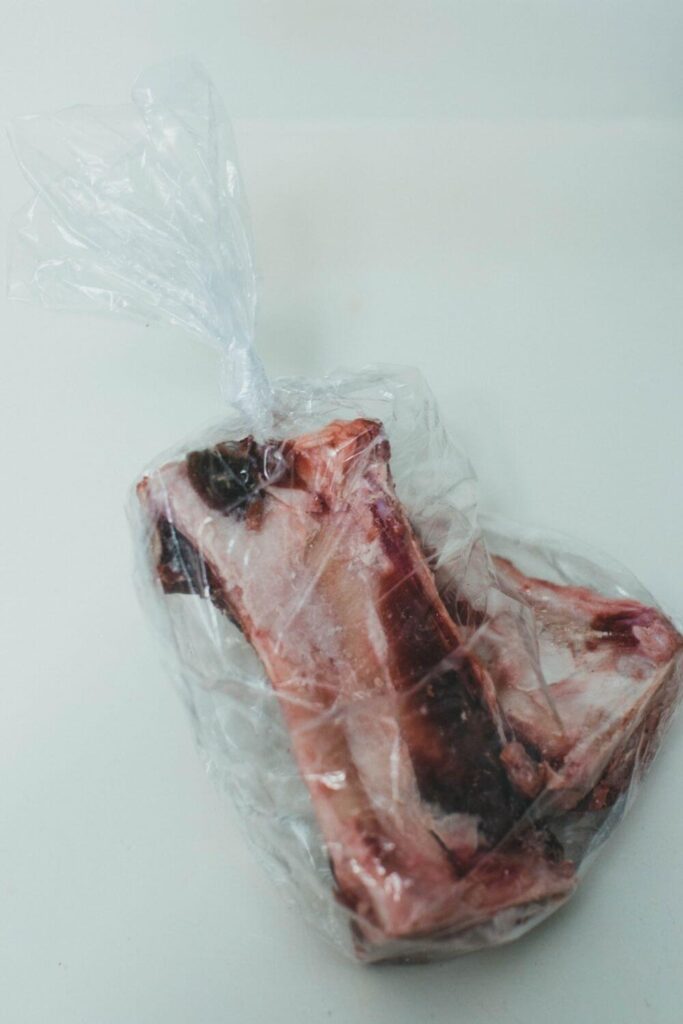 Potentially causing more food waste aside, there are several reasons why you should think twice before reaching for plastic next time you need to freeze meat.
Health reasons
Many types of plastics contain plasticizers, which are known to be high in phthalates—a group of chemicals known to pose a range of health concerns, including cancer, hormone disruption, and reproductive issues.
Let's not forget the most well-known concern with plastic: Bisphenol A, or BPA.
BPA is a weak synthetic estrogen that can also lead to several health concerns, including endocrine disorders, reproductive issues, hormone imbalances, infertility, metabolic disorders, cancer, and increased risk for cardiovascular disease, to name just a few.
A number of plastic storage containers now include BPS or BPF as replacements for BPA but these are also proving to be considered unsafe.
Saran Wrap contains vinyl chloride, which is considered to be one of the worst toxic additives—for both our bodies and the planet.
Sustainability reasons
Plastic wrap is made from polyethylene, polyvinyl chloride (PVC), or polyvinylidene chloride (PVDC)—which are all petroleum-derived and made using an energy- and chemical-intensive process.
Not only is the production of these plastic-based materials problematic, but disposal is even worse.
There are few single-use plastics as single-use as a Ziploc bag filled with bloody, thawing meat.
While in theory, some of the plastic-based materials used for freezing meat (wraps, bags, and containers) can be reused, they pose a health risk due to possible food-borne illnesses and contamination.
Their recycling rate is just as problematic. Just one-fifth of 1%, or 0.2% of Ziploc bags actually end up being recycled.
More commonly, workers must handpick them out of the recycling stream and send them to landfills—wasting precious human and planetary resources. Worse, they might just toss the whole batch because of recycling contamination.
While breaking down or being incinerated, PVC and PVDC release seriously dangerous toxic chemicals called dioxins, too.
But perhaps the worst consequences of our freezing habits come from the fact that these plastic materials either end up polluting marine areas.
When plastic wrap enters a waterway it can attract bacteria and metals. When mistakenly consumed as food by fish, it fills their stomachs with these metals and bacteria, as well as microplastics (which, as we talk about on the subject of synthetic fabrics, has all sorts of consequences up the food chain).
If nothing else, our Seaspiracy takeaway was that our oceans don't need any further plastic issues!
Storage reasons
As we mentioned above, some of the freezing options (foil, plastic containers) aren't well-suited for long-term freezing.
There are better options to freeze meat for longer and make for a neater-looking freezer… without the waste!
---
HOW SHOULD YOU FREEZE RAW MEAT WITHOUT PLASTIC?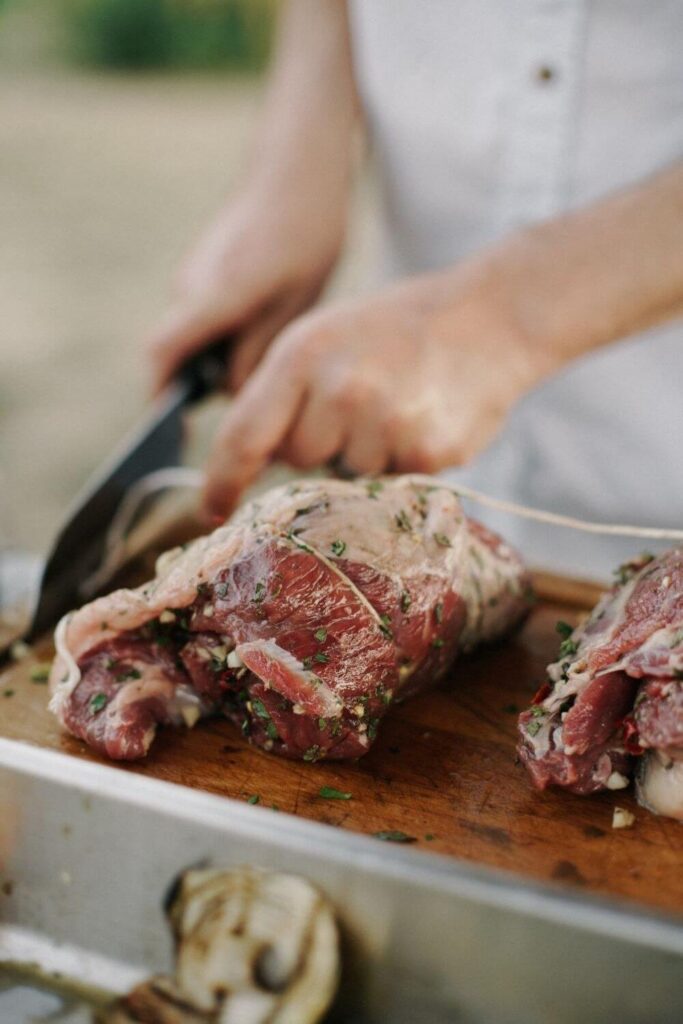 Step 1: Source raw meat without plastic
When it comes to freezing raw meat without plastic, it will require a little forward-thinking.
Will you want that entire pork shoulder for a family reunion in a few months? Or are you cooking for one?
Once you know that, you can source the meat to suit. At the butcher shop or supermarket meat counter, ask if the meat can be cut into individual portions and wrapped separately.
Hopefully, they use butcher paper wrapping. If not (and if the retailer allows it), bring your own container instead of ending up with a plastic film/styrofoam container. No point in freezing meat without plastic if you're sourcing it in plastic bags!
Alternatively, look for online meat suppliers or other bulk stores online that send meat in compostable plastic alternatives.
Step 2: Wrap it up
Once at home, the best thing to do with raw meat is to wrap something tightly around the meat itself.
Use greaseproof paper (AKA parchment paper), which is commonly made with a non-stick, cellulose-based composite that works similar to freezer paper.
However, it's important to only use compostable and unbleached brown parchment paper. The white version has been chlorine-bleached and may also leach dioxins.
If You Care's Parchment Baking Paper is made with FSC-certified paper and is certified for compostability in your indoor compost bin.
PRO TIP: Instead of freezer tape (which often contains plastic), reuse rubber bands from your produce to make a nice seal around your wrapped portion of meat.
Step 3: Place inside a bag/container
You've wrapped your meat. Now what?
To fully protect it, you'll want to place the wrapping in some sort of outer container. Instead of a plastic Ziploc bag, opt for a reusable silicone bag.
The important thing here is to minimize the amount of air in the bag or container as much as possible, as this will help to prevent freezer burn.
Many are dishwasher safe, meaning high enough temperatures to safely clean away meat residue. However, double-check to be sure that yours can handle a dishwasher before you throw it in. Trust us, we learned the hard way 🙁
Haven't included reusable silicone bags in your zero waste kit yet?
No problem and no need to buy more stuff. You can also reuse old yogurt jars, glass jars, or reusable freezer-friendly containers. More on this later.
---
HOW TO FREEZE COOKED MEAT WITHOUT PLASTIC?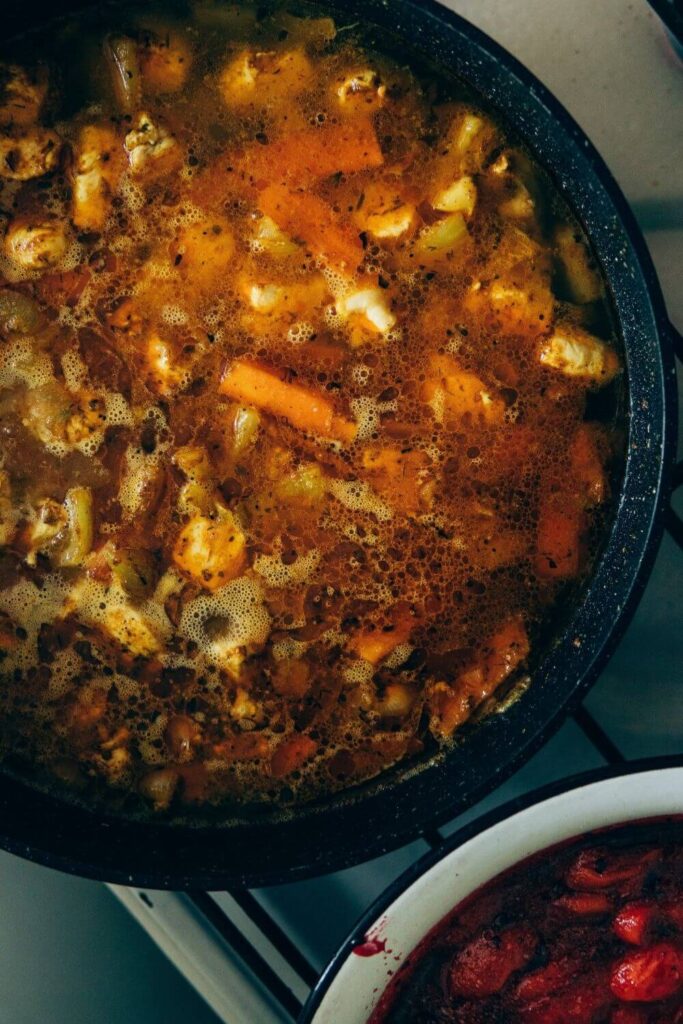 Step 1: Divide portions
If you've just made a large meal and plan on saving leftovers (or are intentionally meal prepping for the future), separate them into portioned containers. That way, you can thaw/reheat only what will be eaten.
No need to freeze meat only to waste it later.
Rectangular glass storage containers, stainless steel tiffins, or, as we mentioned above, silicone bags can be used.
For those on a budget, any glass container (an old pasta jar, pickle jar, nut butter container) should be thick enough for freezing – we use these all the time.
Step 2: Pay special attention to stews/soups/liquids
If you've whipped up a big batch of chili, be sure to leave some room—about an inch—at the top of your container.
While in the freezer, liquids will expand, so it's best to not fill all the way.
In fact, you might want to pop them in the freezer and wait an hour or two to put the lid on, just to be sure there's enough space.
---
BEST CONTAINERS FOR FREEZING MEAT WITHOUT PLASTIC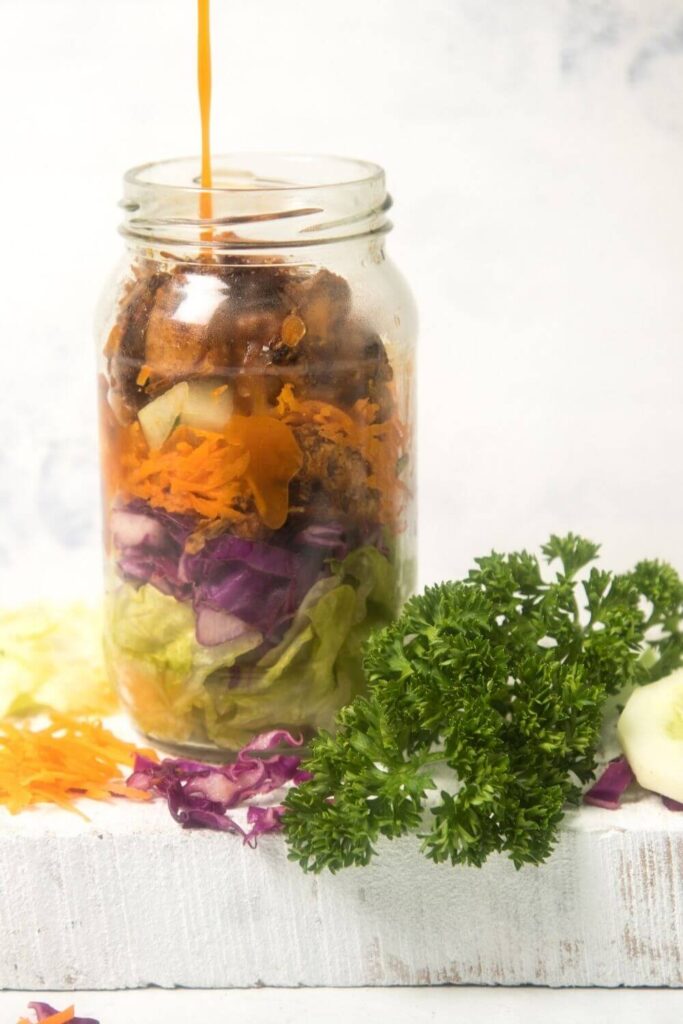 So what are the best plastic free food storage containers for freezing meat?
Perhaps surprisingly, there are multiple options.
Old glass jars
We've already given you a few tips for old glass jars that can be used, but, as this is the MOST eco-friendly option, here are a few more:
Glass baby food jars for tight storage and smaller portions
Glass milk bottles for soups and stews
Jam jars to store single-servings of cooked or raw meat
Large coconut oil jars for bigger portions
Start a collection of several sizes and shapes of used glass jars. Just don't forget to label them with the contents and date!
Again, don't fill them too full or else risk them breaking.
Metal containers
If you're ready to invest in something new for your eco-friendly kitchen, try a metal container. The best thing with metal is that you can be sure it won't break.
U Konserve has a few different sizes of stainless steel containers complete with a silicone lid. They're free of BPA, phthalates, and lead.
For something a little larger, Nestable stainless steel containers are airtight, watertight, and made from food-grade stainless steel. The bases are dishwasher safe, too.
High-quality glass containers
If you want to level up from upcycled glass jars, there are several more durable options available.
Look for borosilicate or tempered glass, which is up to five times stronger than normal glass as well as scratch, stain, and odor-resistant.
Frego also has freezer-friendly, glass storage options in different sizes and colors.
For canning-type jars with a variety of sizes and lid types (including clip top), Kilner is the brand to choose.
These are a must-have in any plastic-free kitchen.
Not only are they super useful for taking your lunch to-go, but they're one of the best solutions for freezing meat without plastic bags.
There are several different sizes to choose from, each made with 100% pure platinum grade silicone. All bags are freezer-friendly, dishwasher safe (upper rack only), and free of phthalates, latex, lead, BPS, and BPA.
They've even teamed up with TerraCycle to accept damaged or used bags for proper recycling.
---
HOW TO PROTECT FROZEN MEAT FROM FREEZER BURN
You don't want to go to all this trouble figuring out how to freeze meat without using plastic, only to end up wasting it because of freezer burn!
To prevent your meat from getting freezer burn, you should:
Make sure your freezer is at an appropriate temperature. That means at or just below freezing.
Chill the food first. Never put hot food directly in the freezer. Instead, let it cool then place it in the fridge for at least one or two hours before freezing.
Wrap tightly. Freezer burn happens when a layer of ice has room to form on the surface of the food. When there's less air available, there's less chance of freezer burn.
Use small batches. Instead of freezing a lot of food at once, add a few items at a time.
Fill the freezer adequately. Avoid overfilling or underfilling your freezer. As a rule of thumb, it should be around three-quarters full.
Keep your freezer clean and organized. Ever find something in your freezer from several years ago? It happens to all of us. Don't let your frozen meat hide in the back of the freezer. Instead, keep everything clean, organized, and labeled.
Newest stuff in the back, oldest in the front. While we're talking organization, if you're freezing new meat, add it behind meat already there so you'll eat the oldest stuff first.
---
FINAL THOUGHTS ON HOW TO FREEZE MEAT WITHOUT PLASTIC
There you have it—how to wrap meat to freeze without plastic!
It's important to reduce waste whenever we can, especially considering food waste is responsible for 6-8% of all human-caused greenhouse gas emissions.
Besides learning what foods are sustainable and adopting a more plant-based diet, properly stored meat can help to support our planet—and provide a healthier meal later on. Not to mention it ensures the life of an animal doesn't go to waste!
As with many other zero waste practices, freezing meat without plastic requires a few small changes to make a pretty big impact.
Feel free to share this article with friends and family at your next summer barbeque or Sunday roast.
---